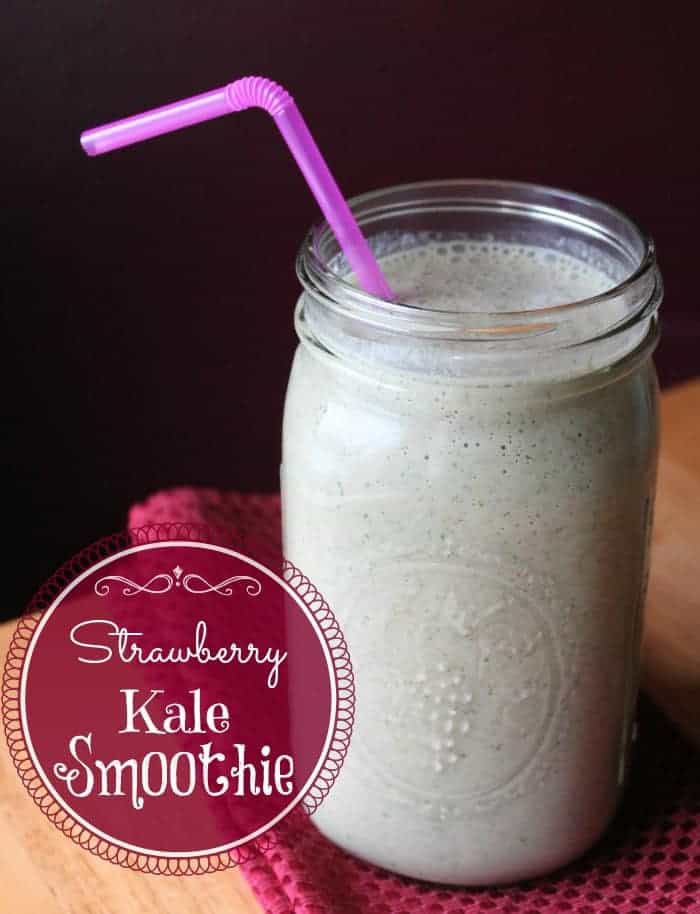 Up until about a month ago my breakfast consisted of steel cut oats, a breakfast burrito, or a couple eggs and toast. All three of those breakfast foods served me well in the morning and kept me quite satisfied until my 10:00am morning snack. However, I did not know what I was missing by not eating a veggie and fruit packed green smoothie every morning. I don't want to sound overly dramatic but I feel like drinking these green smoothies have been life changing.
Let me explain.
First of all I know it is important to have a diet high in fruits and vegetables – we all know that. However, for some reason I struggled with this. It's not that I don't like fruits and vegetables because I do. It just I could not find a way to fit them into my lifestyle without it feeling like too much work. Don't ask why it was too much work it just was. I did not want to have to think of a vegetable side every time I made dinner or remember my apple for lunch everyday. That might work for some of you but it was not working for me. Plus even if I did eat an apple a day and broccoli for dinner I wasn't even close to getting the amount of fruits and vegetables I should be eating. So right off the bat drinking a green smoothie has caused me to double if not triple my daily fruit and vegetable intake.
With increasing my fruits and vegetables I started to see other health benefits. The most noticeable was my skin. I don't want to be to TMI so I will just say this. Over the last couple years I have had some hormone fluctuations that at times wreaked havoc on my face. Honestly, there were months I swear you would think I was a teenager with the amount of acnen I had. It was awful. Within a week of drinking green smoothies my face started completely clearing up. It was amazing. And honestly if I did not experience it I would have never believe it. I also add 2-3 tablespoons of coconut oil to my smoothies, which I think also plays a big part in keeping my skin nice. From the research I have done on coconut oil I have found it to be praised as quite the miracle food. One of the known benefits is the positive effect it has on reducing or eliminating acne. I think that is a whole other post in itself so I will save that for another time. But if you have acne issues I highly recommend looking into coconut oil.
The only drawback to coconut oil is the fat and calories – both are quite high. But please do not let that scare you off because the benefits you get from coconut oil outweigh any of the calories and fat. I have not seen any weight gain issues since starting to drink these and sometimes I add more coconut oil than the recipe calls for. I just take that in consideration when I am planning out the rest of my meals.
Another benefit to green smoothies is the amount of energy and clarity I feel in the morning and throughout the day. It's kind of funny because I never really thought I lacked energy. However, within a week of drinking green smoothies I felt like a cloud lifted – a cloud I didn't know existed.
I also find that I don't drink as much coffee as I did before. As you know I am quite the coffee addict. Seriously, it is one of my last bad habits. But when I bring my green smoothie with me to work I just slurp on that instead of a caffeinated sugar filled coffee drink. This benefit was unexpected but nonetheless welcomed.
Those are just a few of the benefits I have noticed right away. I am sure there will be more and as they come about I will let you know.
Let me share my simple strawberry and kale smoothie recipe that I have been drinking for about 3 weeks. It is my goal to create different green smoothie recipes but this is the one I started off with and still use. Sometimes I switch it up by adding pineapple or berries but I always keep the base the same with kale, coconut oil, and plain greek yogurt.
One question I got when I posted this on facebook was "does it taste gross with the kale" or "can I taste the kale". My answer to this is it does not taste gross at all. I think it taste great and would not drink it if it tasted bad. Second, I feel the taste of the fruit comes through more than the kale. If you are worried then just start off with a small amount of kale and work your way up to more. I started with about 1 cup of kale and now I use 2 cups and at times will shove even more in.
Last, this recipe makes about 3 cups of smoothie – it is big. I drink the whole thing for breakfast but you probably could split this into two servings. The nutritional information is for 1 big smoothie.
Let me know if you have any more questions about smoothies and I will try to answer them in a later post. Also, stay tuned because I will be getting creative with more smoothie recipes in the future.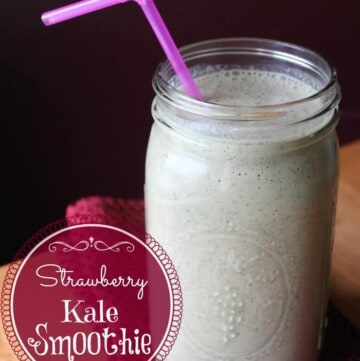 Ingredients
2

cups

frozen strawberries

2

cups

fresh kale

1/2

cup

plain greek yogurt

1

cup

almond milk

2

tablespoons

coconut oil

1

banana

optional for sweetness

1

– 2 teaspoons pure maple syrup

optional for sweetness

water to reach consistency like.
Instructions
Place all ingredients into blender and blend until smooth. If needed add water till you get the consistency you want.
Notes
Make Ahead Instructions
You can make a smoothie freezer kit by putting the strawberries, kale, and yogurt into a freezer bag. Take out the night before and let thaw slightly in the refrigerator. Put in blender with rest of the ingredients and blend till smooth.
Nutrition
Serving:
1
g
|
Calories:
441
kcal
|
Carbohydrates:
41
g
|
Protein:
6
g
|
Fat:
32
g
|
Fiber:
10
g