These healthy breakfast burritos can be thrown together in a snap. Even better? Make a batch of these frozen burritos and keep them on hand for a quick, protein-fueled breakfast in the mornings.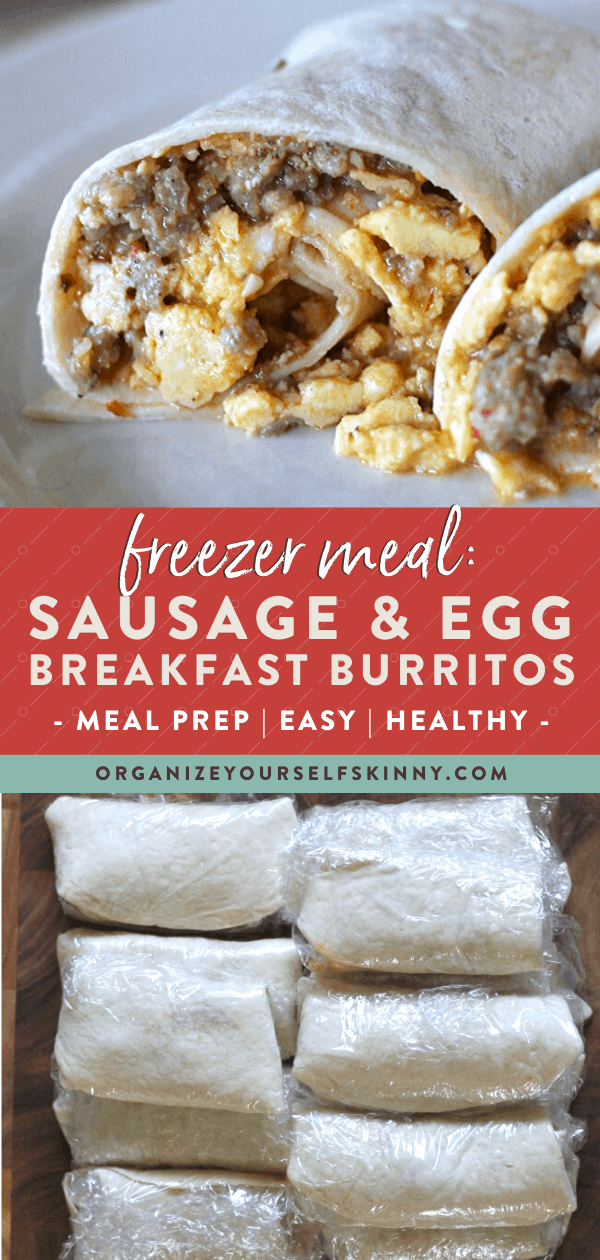 Having breakfast ready to grab and go is a must in our household. This is especially for my kids. If they can not easily grab something to eat then it's a guarantee we will be going to the drive-thru which is not good for our budget or waistline.
A few years ago, I discovered we could freeze the breakfast sandwiches that we eat basically every day. Since then our freezer has been stocked with bags of them.
However, in the last couple of weeks, I have been feeling the need for a bit more variety at breakfast time. Thankfully, I found the perfect solution for my family…frozen burritos! Not just any old burrito either – I wanted to make my own so I could ensure my family was getting nutritious, healthy ingredients first thing in the morning.
Healthy Breakfast Burrito Ingredients
Like I said above, I wanted to make my own breakfast burritos rather than purchase the pre-made ones at the store. Yes, that helps save money, but more importantly, it allows me some control over what my family consumes.
The great thing about a breakfast burrito is you can completely customize the recipe to fit what you or your family likes to eat! I love my freezer burritos loaded with potatoes and peppers, but one of my kids doesn't like peppers at all. I simply make a batch and add peppers to mine and not to hers!
These breakfast burritos are very tasty, satisfying, and are perfect for on the go. In the future I am going to play around with different flavor combinations.
What should I add to my breakfast burrito?
While you can add whatever you'd like, here's a good starting list of ingredients you can add to your freezer burritos.
Eggs – great source of protein
Sausage – I recommend turkey sausage or chicken to cut the calories and fat
Potatoes – add fiber and potassium
Peppers – bell peppers add flavor and Vitamins A and C
Salsa – extra spice and flavor without the calories
Cheese – adds protein
Black beans – added fiber and folate
As you can imagine, the possibilities are practically endless!
How to Make Freezer Burritos
Making freezer burritos is so simple! Here are the step by step directions to take.
Cook your sausage. If you opt to add meat to your burrito, cook it in a skillet, then drain the fat. Make sure the sausage is broken into small pieces.
Cook the eggs. Using the same skillet, combine whisked milk and eggs, and cook until the eggs are set. Because of the added milk, this may take a few minutes longer than usual. It's worth the wait!
If you are adding any other ingredients, like peppers or potatoes, cook them as well, then add them into the egg mix.
Add cheese and salsa. Add these into your egg mix and stir until the cheese is melted – about a minute or so. Let this mixture cool slightly before adding it to the tortilla.
Make the burrito. Place your tortilla on a flat surface, then add a scoop of the egg and sausage mixture to the middle. Roll the burrito closed.
Wrap in plastic. To keep the burrito rolled shut, roll the entire thing in plastic wrap. Then you can place it in your fridge where it will stay good for several days. Or, you can do what I like to do and make a large batch of burritos then freeze them!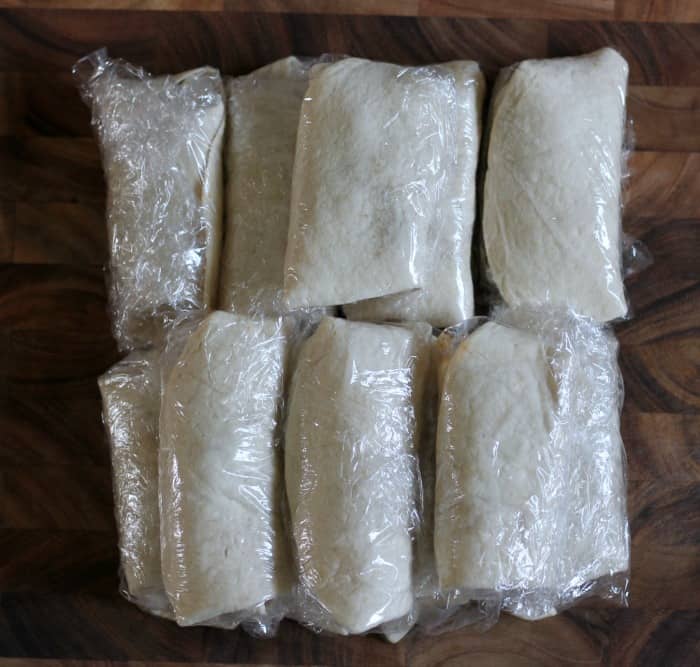 How to Reheat Freezer Burritos
When I was first putting the burritos together I was a little worried that they would not freeze well because the mixture seemed pretty wet, but they did freeze beautifully. Thank goodness!
In the last year, I learned a fantastic reheating tip with these breakfast burritos. Place a coffee mud full of water in with burrito when you are warming up in the microwave. This will prevent the edges from getting hard. It worked great!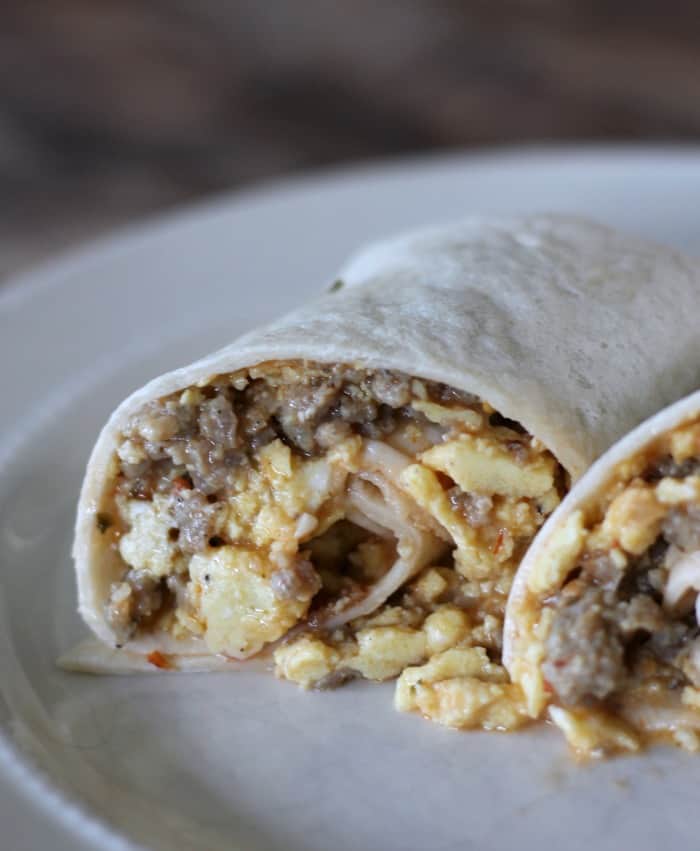 So, that's it! This recipe is so simple and absolutely delicious! Give these freezer burritos a try and see for yourself. 🙂
More Healthy Breakfast Recipes
I love breakfast! Here are a couple of healthy breakfast recipes I recommend trying out:
This recipe for healthy breakfast burritos will revolutionize your mornings—try it and see. Once you do, share a picture and tag me on Instagram or Facebook!
Ingredients
1

lb

ground breakfast sausage

12

eggs

1/2

cup

milk

1

cup

salsa

1

cup

shredded taco cheese

15

medium flour tortillas
Instructions
Using a large skillet brown the sausage and cook till done (about 8 minutes). Break into small pieces.

Combine eggs and milk and whisk together until blended. Add to skillet with sausage. Cook until the eggs are set (about 5-7 minutes)

Add in salsa and cheese to the sausage and egg mixture. Cook for another 5-7minutes or until cheese is melted and eggs are completely cooked.

After it is finished cooking let the mixture cool slightly.

Lay tortilla flat then in the center add 1/3 cup of the mixture and roll up.
Notes
Freezing Instructions Wrap each burrito in plastic wrap and then place all into a freezer bag(s). Reheating Instructions These burritos reheat better if you take them out and put in the refrigerator the night before. Don't worry if you forget. Take burrito out of the freezer bag and plastic wrap. Place in the microwave for 2 1/2 minutes. When you warm up in the microwave place a coffee mug full of water in as well. The steam from the water as it cooks keeps the edges from getting hard.
These can also be warmed up in the toaster oven or a panini press. Be careful of some of the juices that might come out when biting into it.
Nutrition
Serving:
1
g
|
Calories:
332
kcal
|
Carbohydrates:
28
g
|
Protein:
15
g
|
Fat:
17
g
|
Fiber:
2
g