It's no secret that eating a healthy breakfast is important. However, for many of us with very limited time in the morning, it's easier said than done. These breakfast freezer meals are the easiest (and healthiest) way to assure you have nutritious food to fuel your body first thing in the morning. As a bonus, having a freezer stocked full of frozen breakfast burritos, oatmeal, and smoothies will significantly reduce stress and save you money!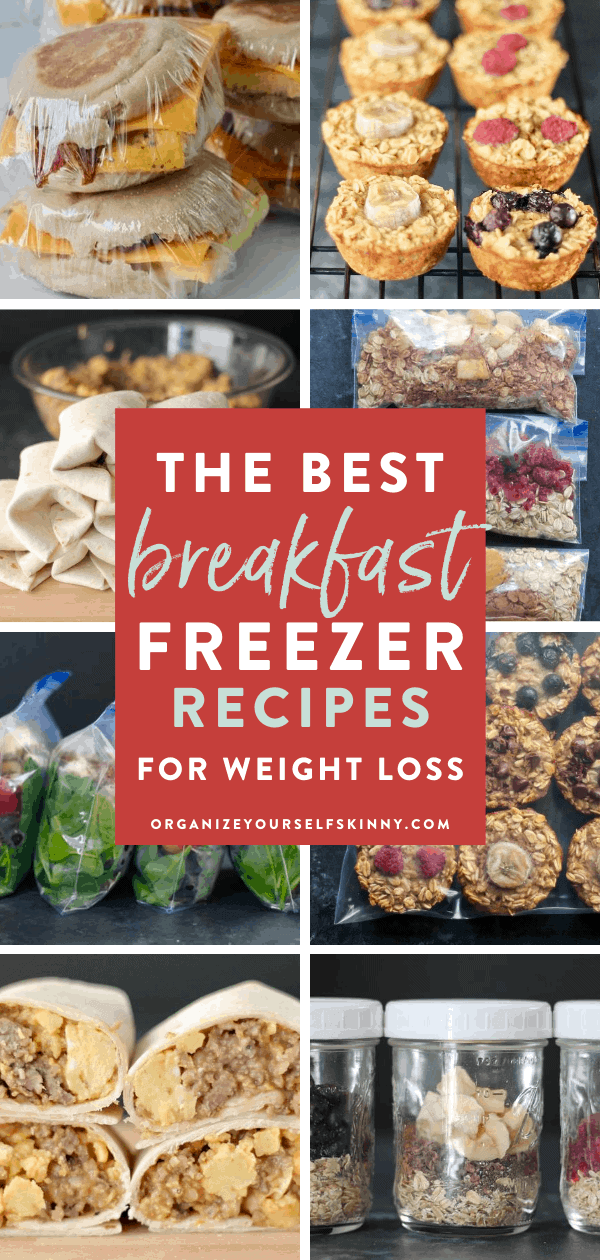 10 years ago, when I started my weight loss journey, one of the first food habits I needed to change was going to the drive-thru for a morning breakfast sandwich and coffee for me and a pack of donut holes for the kids.
Not only was I starting my day with an obscene amount of carbs, sugar, and calories but I don't even want to think about the money I wasted.
So, I knew that was something that needed to change not only for my health but also for my kids.
Quick Habits I Started Implementing For Breakfast
At first, I started to prepare make-ahead breakfast sandwiches on the weekends to enjoy during the week. This worked out okay but it became an inconvenience, especially with young kids, to cook these every weekend. Then, I noticed that I could purchase breakfast foods in the freezer aisle.
That's when a lightbulb went off – I can make ahead and freeze homemade breakfast burritos too! And that's what I did and have been doing now for close to a decade.
Of course, I didn't stop there.
After I discovered that I could freeze breakfast burritos, I started to think about other freezer breakfast recipes. Soon, my freezer was stocked with all kinds of oatmeal and smoothie packs, and eating a healthy breakfast became easy. But, I quickly learned that taking the time to freeze breakfast recipes helped me far beyond eating healthier and losing weight.
The stress in my mornings was significantly reduced.
I didn't have to worry about what we were going to eat. All I needed to do was warm breakfast up.
On top of all of that, I saved tons of money! I was spending a minimum of $200-$300 a month on drive-thru breakfast. I slashed that spending drastically when I started to make-ahead breakfast freezer meals.
Frequently Asked Questions About Breakfast Freezer Meals
I always get questions about freezer meals and I wanted to share them just in case you were wondering the same thing.
How Long Do Freezer Meals Last?
This is one of the most common questions and concerns I get with preparing freezer meals. Most freezer meals last between 3-6 months if packaged and stored correctly. However, the meals could last a lot longer.
The only issue would be freezer burn which would affect the taste more than the meal actually spoiling. Rarely do I stock my freezer with recipes that I don't plan on eating right away. So, in my experience, it's not likely I'll find recipes in my freezer 6 months later.
When I stock the freezer, my plan is to eat those meals within a month or two. Those recipes go on my meal plan every week and are usually gone within 6-8 weeks. At that point, I'll stock my freezer again. So, I plan a freezer cooking day every 2 months.
How Can I Prevent Freezer Burn?
Another main concern for many people (including myself) is freezer burn. You don't want to go through all of that cooking just for all your food to get icy and not taste good!
Here are 3 of my best tips to prevent freezer burn:
Make sure the meals are cooled prior to freezing. This prevents ice crystals from forming and eventually freezer burn. I either let the recipe cool on the counter for 10-15 minutes or longer or will put it into the refrigerator to let it all cool.
Remove all of the air from the packaging. It's important to reduce the food's exposure to any air. When it's exposed to air, then the outer layers of food can evaporate and this causes freezer burn. So you want the food to be wrapped as tightly as possible and all air to be squeezed out.
Use high-quality freezer supplies. Again, you want to make sure that all the food is stored properly using quality freezer supplies such as airtight containers, freezer bags, plastic wrap, and foil. I will share more later on in this post
How Do I Set Up A Freezer Cooking Day?
Like I said earlier, I'll stock my freezer every 1-2 months. This is what that day process looks like.
Put together a plan. Unfortunately, you can't just go into a freezer cooking day without a plan. Trust me, if you do, it won't end well. You need to know what recipes you plan to cook, have all the ingredients and supplies ready, and time block!
Clean out the freezer. This is huge and very necessary. You want to make sure to have room for all the new breakfast recipes you're going to stock up on.
Go grocery shopping 1-2 days before planning to cook. The goal is to wake up and start cooking. Trying to shop and cook on the same day is exhausting and will leave you very frustrated.
Plan for 1-2 days of cooking. Preparing freezer meals for 1-2 months is a full day or weekend task. But, keep in mind that when it's done, you'll have breakfast ready to eat for the next few months! So, make sure to plan for a weekend where nothing is going on.
Get comfortable. Being on your feet all day cooking can take a toll on your feet, legs, and back. My advice is to wear sneakers. You'll thank me later. Also, put together a playlist of your favorite music, podcasts, or shows. I love using my cooking time to watch and listen to what I want.
Don't forget labels. Relying on memory when stocking your freezer with meals never ends well. Trust me, you'll end up with a freezer full of mystery meals in 2-3 months. Label everything and organize it so you can see exactly what's in your freezer.
Freezer Meal Supplies
Remember those freezer supplies I mentioned before when trying to prevent freezer burn? I told you I would share it with you! Here's a list of supplies I use every time I do a big freezer meal stock up:
Freezer bags – I use either quart and gallon freezer bags to store recipes. The key is you need to make sure you purchase storage bags that are made specifically to go in the freezer. These are stronger and protect foods better in the freezer.
Reusable freezer bags – I've recently started moving more towards environmentally friendly storage bags. These stasher bags are super high quality and I also love the Ello brand. Both keep meals fresh in the freezer!
Souper cubes -Way back in the day, I used muffin tins to portion out and freeze recipes. Today, I use Souper Cubes because it's so much easier. These are silicone trays that come in different portions and are perfect for freezing meals.
Plastic wrap and aluminum foil – Again, the goal is to keep the food away from extra air. So, for some recipes, I'll wrap them in plastic wrap and/or aluminum foil.
The Best Breakfast Freezer Meals
Okay, this is the part I'm most excited about. These are some of my all-time favorite recipes for breakfast freezer meals!
Breakfast Burritos and Sandwiches
I'm going to start with breakfast burritos and sandwiches because that's where my love for freezer cooking all started.
If you love burritos just as much as I do, check out this post for all of my tips and tricks for meal prepping breakfast burritos as well as freezing and reheating breakfast burritos.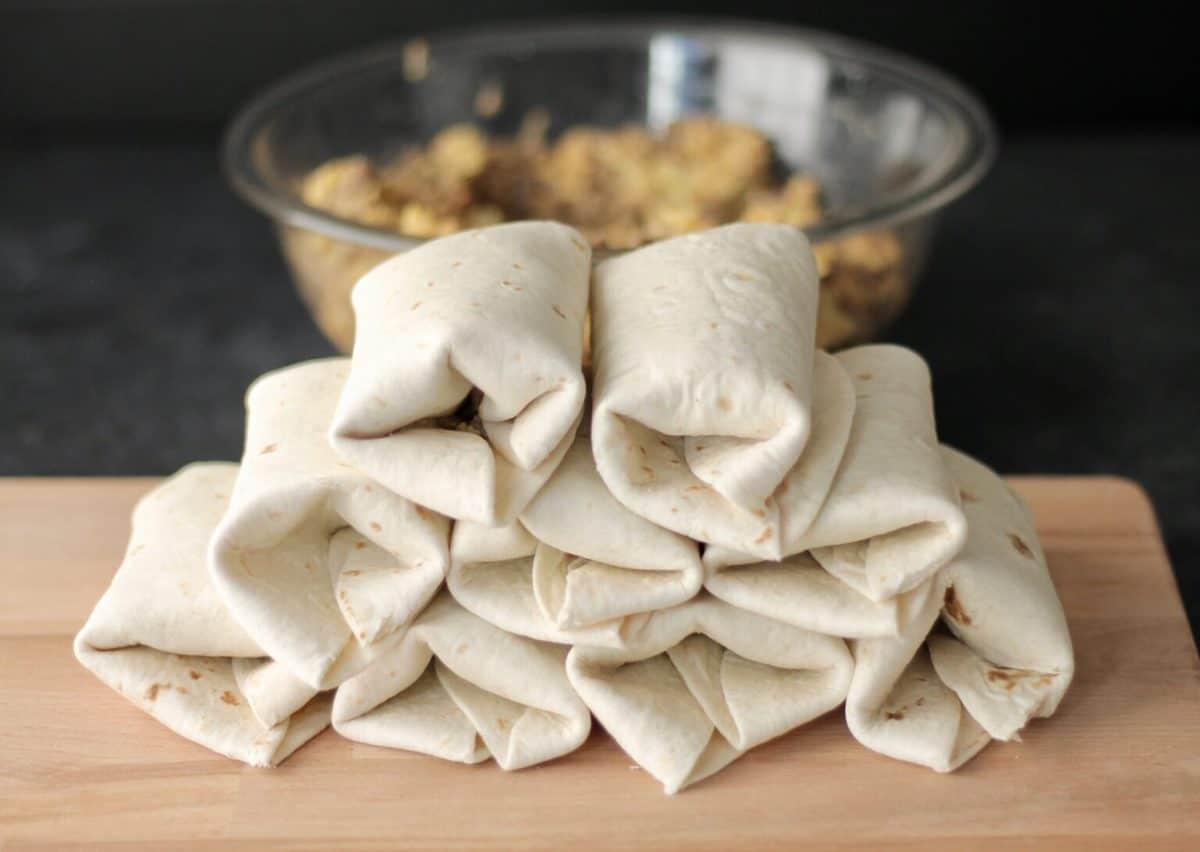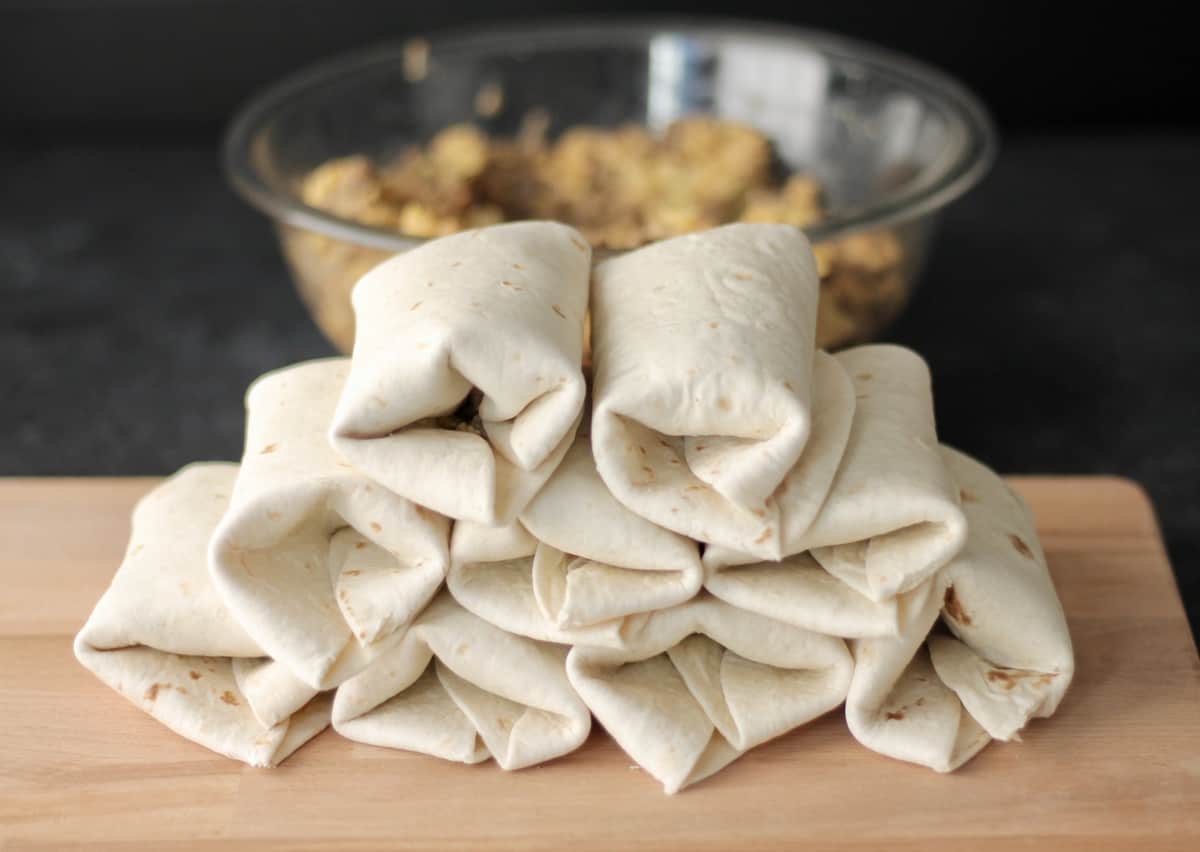 Here are my tips on freezing and reheating frozen breakfast sandwiches if that's more your style.
My entire family loves both of these so when I'm stocking my freezer, I'll prepare 30 – 40 of these at a time.
These are my favorite breakfast burritos and sandwiches to freeze: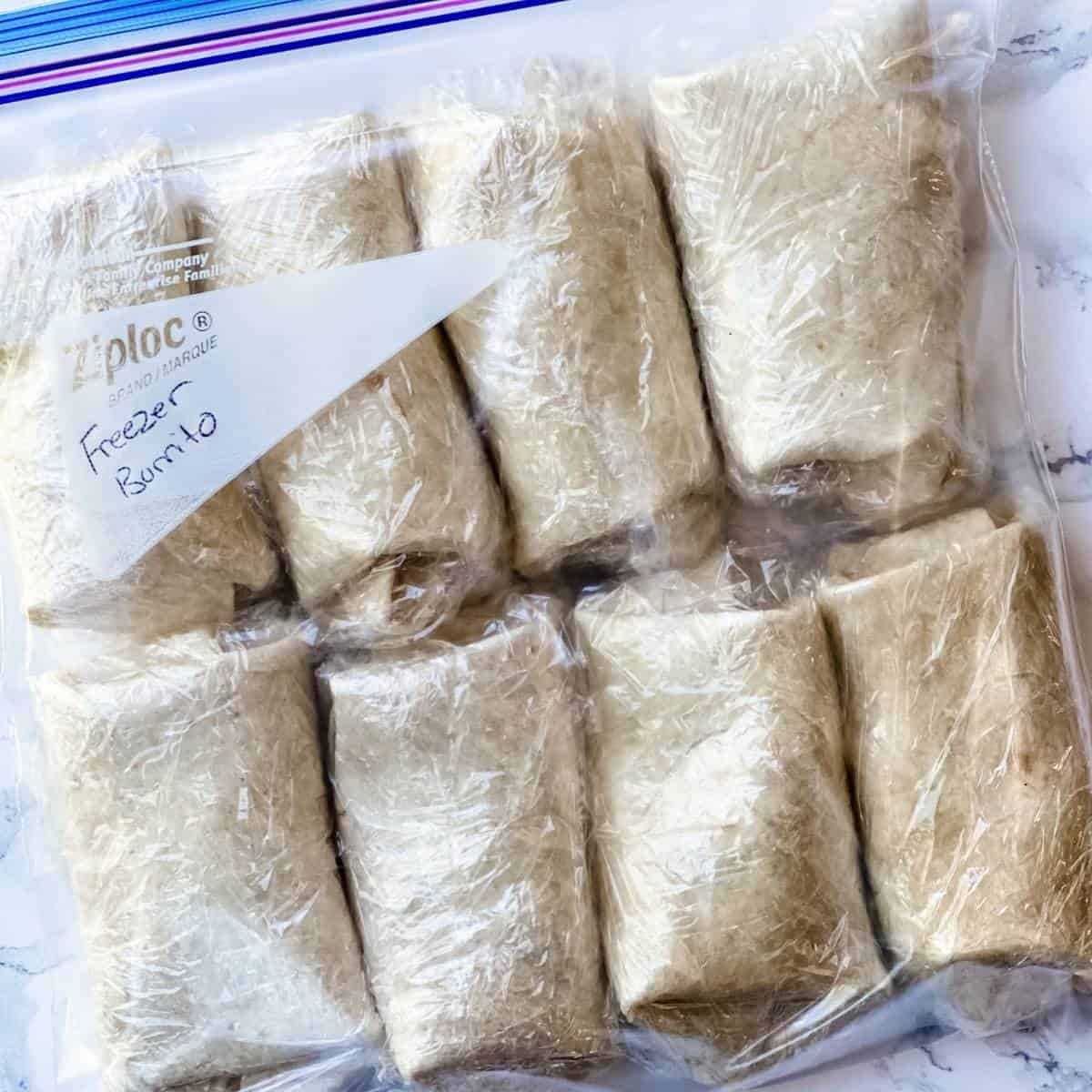 Egg Casseroles or Egg Bites
Eggs casseroles can be prepared and frozen in a couple of different ways.
If I want a quick 'heat and eat' breakfast meal, I'll cook the casserole ahead of time and freeze it into portions. Or, I'll cook it in a muffin tin for portion-controlled egg cups or bites. Then, I'll warm it up in the microwave in the morning when I want to eat it.
If I want to have a casserole ready to cook ahead of time, I'll prepare the ingredients for the casserole and then freeze it. I'll use a disposable casserole dish so I don't need to use up a casserole dish I use all the time. When I'm ready to cook the casserole, I'll take it out of the freezer and let it thaw for 1-2 days in the refrigerator before cooking it.
This is good to have when you know you're going to have company.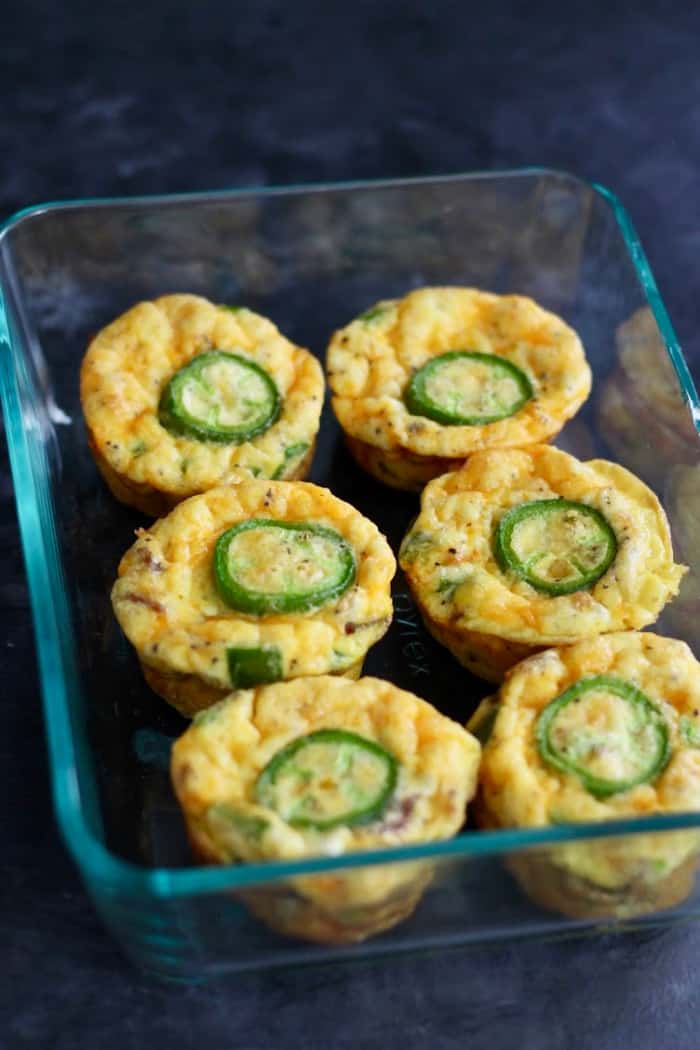 These are some of my favorite egg casserole recipes:
Steel-Cut Oats
Next to breakfast burritos, steel-cut oats are the breakfast freezer recipe I freeze most often. I make a huge batch of oats, portion them out and freeze using 1-cup Souper Cubes or muffin tins. Then, after the oats are frozen, I'll put all the portions into a large plastic bag. When I'm ready to eat breakfast, I'll take a portion and put it in the microwave to warm-up for 1-2 minutes.
You can also freeze using containers so you can grab and go on your way to work.
These are my favorite steel-cut oatmeal recipes: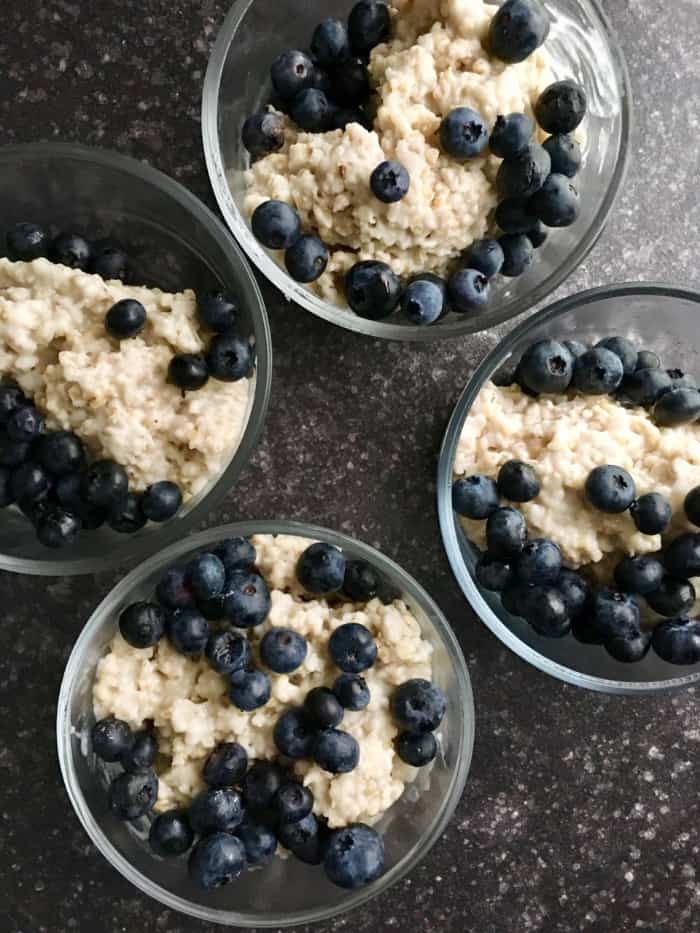 Baked Oatmeal Cups And Bars
This is another oatmeal recipe I like to make in bulk and freeze! These heat up quickly and are great for eating on the go on the way to school or work. I also pop one in my girls' lunch boxes for them to enjoy for lunch. I pop it in frozen and it's thawed by lunchtime.
Here are all of my tips for freezing and reheating baked oatmeal cups!
These are just some of my favorite baked oatmeal cup recipes: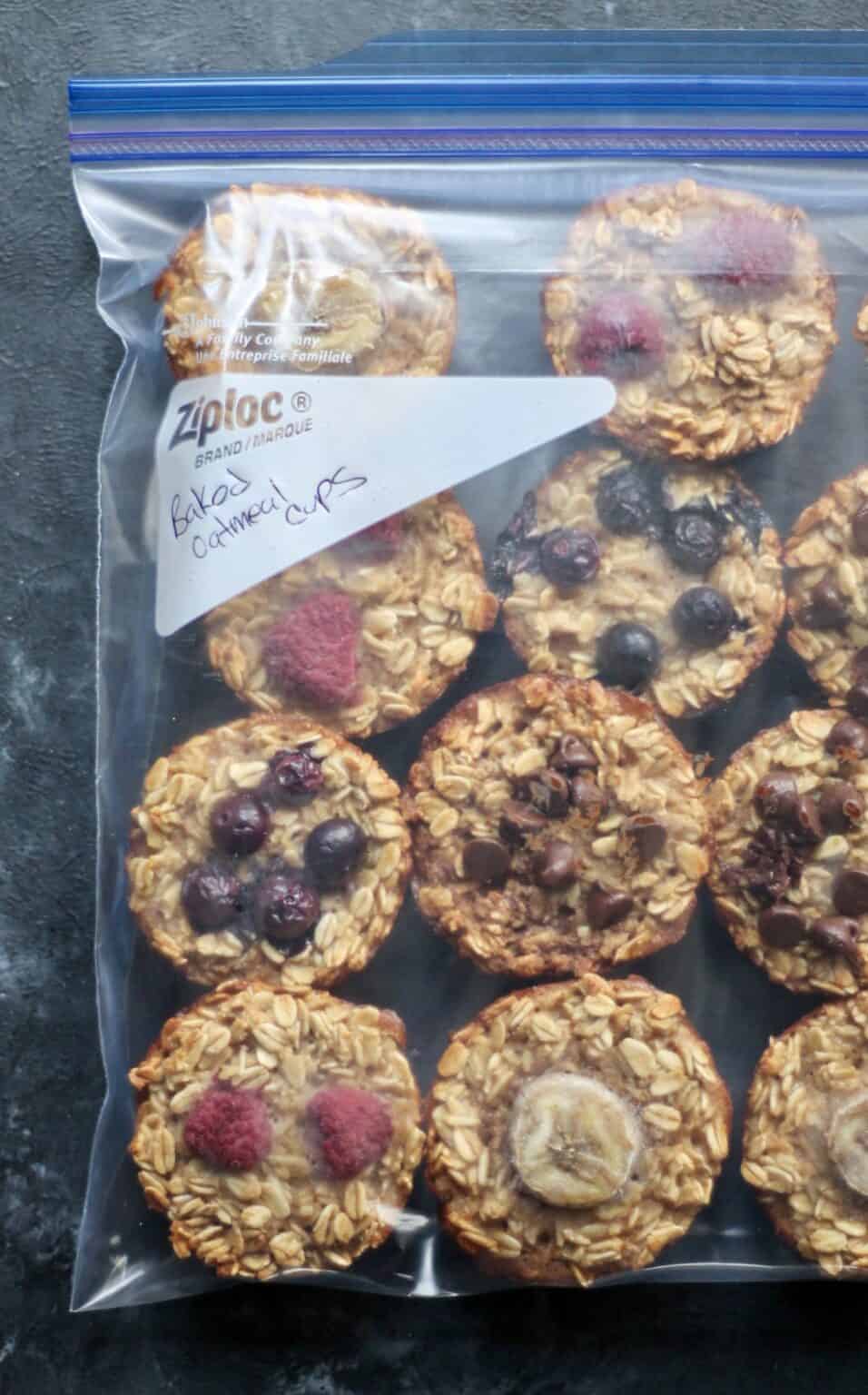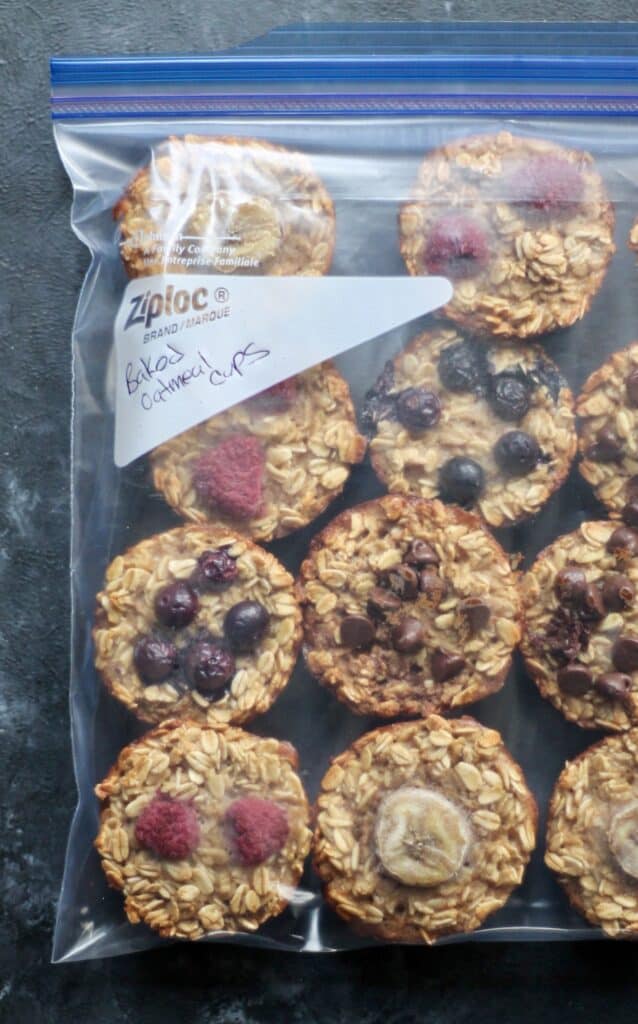 Overnight Oats
One of the easiest meal prep oatmeal recipes is overnight oats. Even without freezer cooking, this is super simple to make ahead of time.
However, you can make it even easier by whipping together some overnight oatmeal freezer packs. Then, the night before, pour the contents of the pack into a mason jar and add liquid. In the morning, you'll have a delicious creamy wholesome breakfast.
If you want to try and make this, here are all of my instructions for overnight oats meal prep freezer packs! Check out this how-to make overnight oats tutorial for more information on putting together the perfect jar of oats.
These are my favorite overnight oats recipes: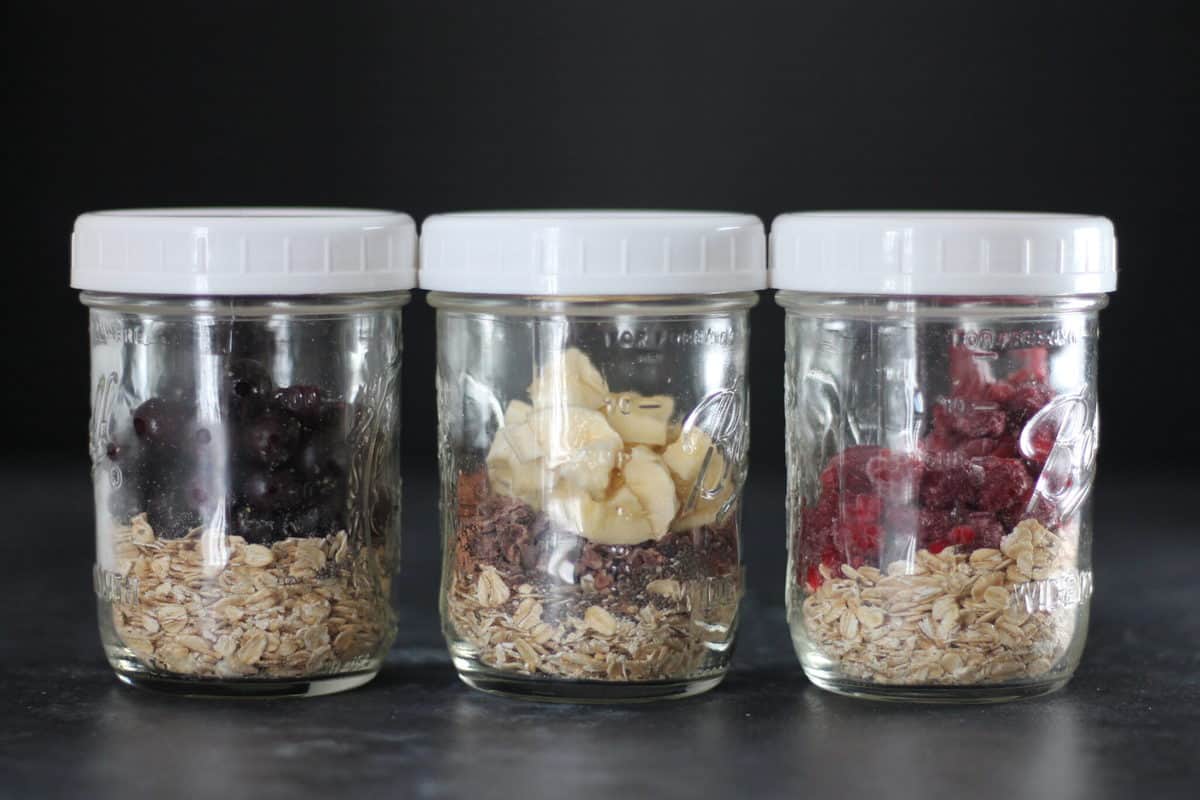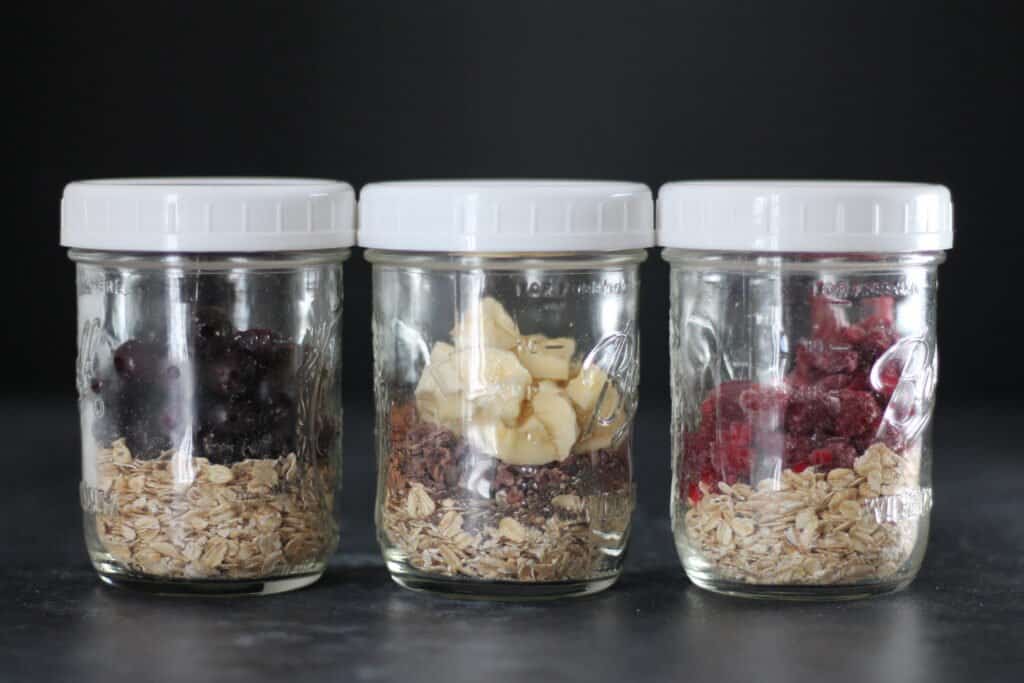 Breakfast Smoothies
Having my freezer stocked with frozen smoothie packs is essential! We all love smoothies in my house and it's not uncommon to run out of smoothie ingredients. Putting together these smoothie packs assures I have all the ingredients needed for a power smoothie every morning.
You can make these in freezer bags, reusable bags, or mason jars.
Here are my instructions to make your own smoothie freezer kits!
Here are my favorite smoothie recipes:
Check out all of my healthy smoothie recipes.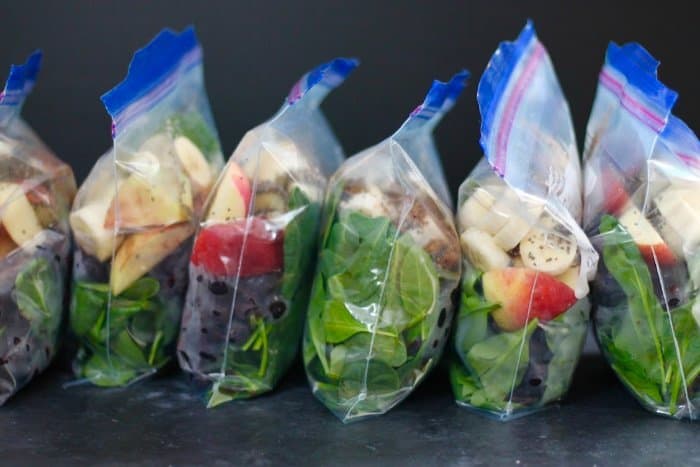 Homemade Granola
Even though the options for store-bought healthy granola has increased, I still prefer to make homemade granola because I can control the sugar and other ingredients. My kids love granola in parfaits and sprinkling it on smoothie bowls!
When I make granola in bulk, I'll keep some in a mason jar on the container and then freeze the rest in freezer bags or mason jars. When I need more, I just take it out of the freezer and it's ready to eat within ½ hour or so.
These are my favorite homemade granola recipes:
Energy Balls
We are kind of obsessed with energy balls in my house. My husband loves eating a couple for breakfast on his way to work, I love for morning snacks, and my kids love after-school snacks. So, when I stock my freezer with energy balls, I make a TON.
They freeze great and when you're ready to eat them, all you need to do is take them out of the freezer and they're ready within 10 minutes or so.
Here's a big "how-to" post I did on energy balls!
These are my favorite energy ball recipes: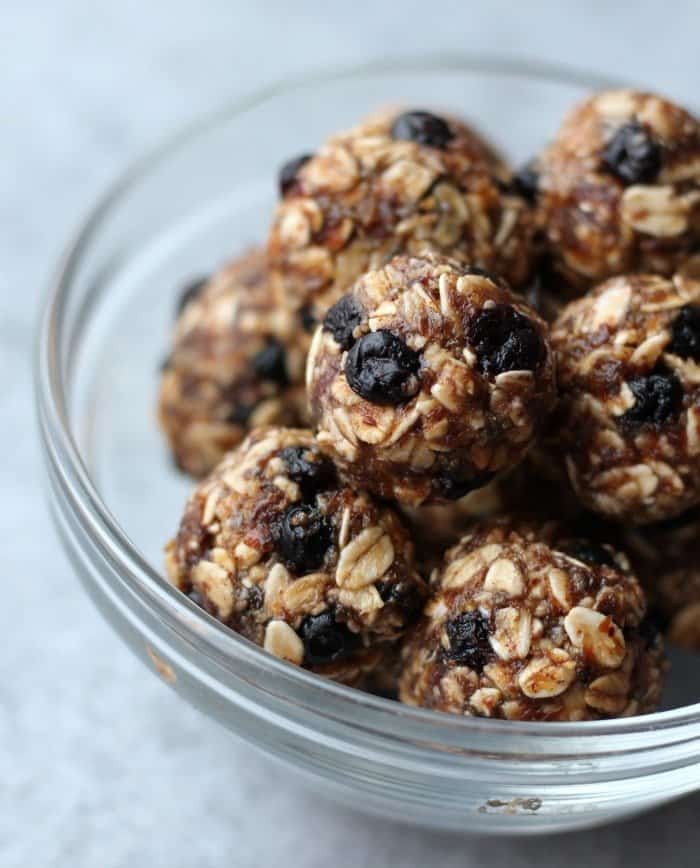 With all of these deliciously amazing breakfast freezer meals, you'll never turn to drive-thru breakfast meals again. Share a picture and tag me on Instagram or Facebook if you decide to try it!