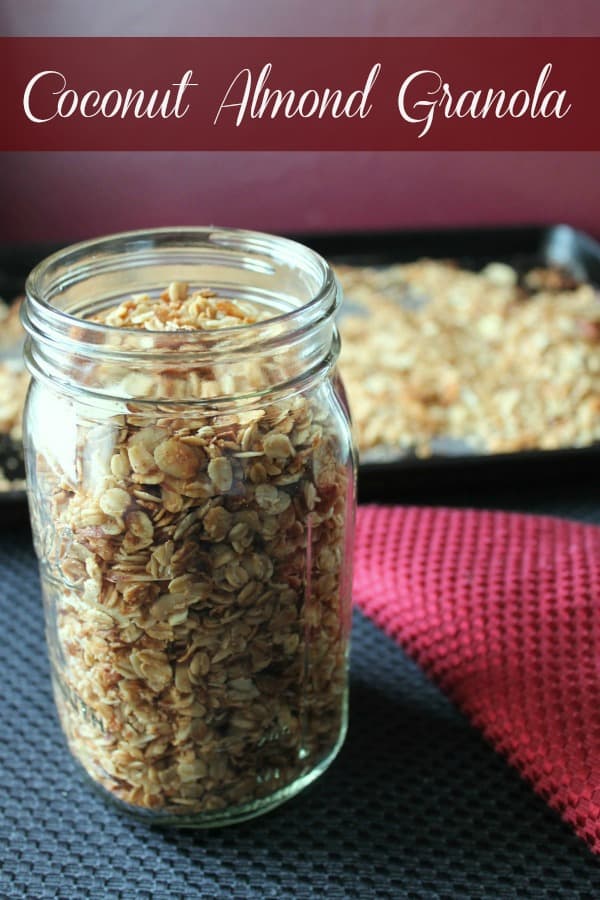 I am bit of a granola nut. Call me crunchy, but in my opinion, there really is not much NOT to love about homemade granola. It is super easy to throw together using whatever ingredients you have on hand and it makes your house smell amazing when it bakes. As an added bonus homemade granola is much less expensive and tastier than its store bought version. If you have not made granola yet I highly suggest you start.
I mostly put granola on my yogurt but my new favorite way to eat granola is as a breakfast cereal. I am really trying to stop buying store bought cereal because the good stuff is a little pricey and the high sugar and mystery ingredient boxes are…well…enough said. Therefore I am on a new mission to start creating homemade clean breakfast cereals starting with this coconut almond granola recipe
This recipe was inspired by the coconut oil and shredded coconut I had left over from the morning glory muffins I made a few weeks ago. I also had a big bag of sliced almonds in my pantry. Combining the flavors of coconut and almond into a granola was a natural fit. Of course you could have added a little bit of chocolate for an "almond joy" type flavor but I wanted to keep the sugar to a minimum. Speaking of sugar I have found that most granola recipes (even almond butter granola) calls for sugar on top of the maple syrup or other sticky sweetener. The last couple of granola batches I made I decided to leave the sugar out completely and did not miss it. I find that the maple syrup (or honey) gives the granola just the right amount of sweetness to satisfy all of our taste buds. I also reduce the maple syrup slightly with this recipe. The only difference in doing this was the granola was not as "clumpy" as it was with extra maple syrup. In my opinion this makes for a better cereal texture but if you want it clumpier then add about ¼ cup more maple syrup. My hubs and kids did not even notice the difference with the reduced sugar or maple syrup and believe me they will be the first to tell me when something does not taste right.
Before I get to the recipe I just want to give you a couple quick kitchen tips. This recipe calls for melted coconut oil. Most coconut oil will be a solid white chunk in the jar. To "melt" it all you need to do is put the whole jar in a bowl of hot tap water for about 3-5 minutes. It won't completely melt but you will be able to pour out the amount you need.
Also, this recipe calls for 2 teaspoons of pure almond extract. If you are used to using vanilla extract then start with 1 teaspoon of almond then give it a taste and decided whether or not you want the second. Almond extract is stronger in flavor than vanilla. I used the 2 teaspoons and loved it. However, after reading more about almond extract I come to realize that it may be a little too strong for others especially if you are used to vanilla. If you only have vanilla extract or would prefer to use that over almond then that would be fine – the granola will still taste great.
I wanted to keep this recipe very simple but if you want to add more nuts or dried fruit to it please do. I might reduce the amount of coconut and almonds next time because they really added a lot of fat (good fat but still fat) and replace it with some dried fruit. If I do this I may or may not need to add 1/4 cup more maple syrup to make sure it all gets coated. Keep in mind that I have the serving size at 1/2 cup because that is what I eat for breakfast. If I was to eat this with yogurt my serving size would be 1/4 cup.
This is a great base recipe! Have fun experimenting and let me know what you change!
Ingredients
3

cups

rolled oats

1

teaspoon

cinnamon

1/2

teaspoon

salt

1

cup

shredded unsweetened coconut

1

cup

blanched sliced almonds

3/4

cup

pure maple syrup

1/4

cup

coconut oil

melted

1-2

teaspoons

pure almond extract
Instructions
Preheat oven to 325

In a large bowl mix together rolled oats, cinnamon, salt, coconut, and almonds. Make sure it is well mixed before adding the liquids - this will prevent the cinnamon and salt from forming into glops on the oats.

Add in the maple syrup, coconut oil, and 1 teaspoon almond extract. Give it a quick taste. If you want to add more then add 1/2 teaspoon at a time, tasting in-between, until you achieve your desired taste.

Spread out granola mixture on baking sheet sprayed with cooking spray.

Bake for 35 minutes. Stir at 20 minutes then stir every 5-7 minutes. I found this batch to cook faster than others so keep an eye on it so the granola does not burn.

Let cool and place in large mason jar or air tight container.
Nutrition
Serving:
1
g
|
Calories:
159
kcal
|
Carbohydrates:
18.5
g
|
Protein:
3
g
|
Fat:
10
g
|
Fiber:
2.5
g
|
Sugar:
5
g