This breakfast recipe is going to blow your socks off. I've decided to take a family favorite dessert and turn it into an overnight oats recipe. That's right, meet your new favorite breakfast: Strawberry Cheesecake Overnight Oats. All it takes is 5 minutes of prep time and a quick stir in the morning. It's going to be amazing!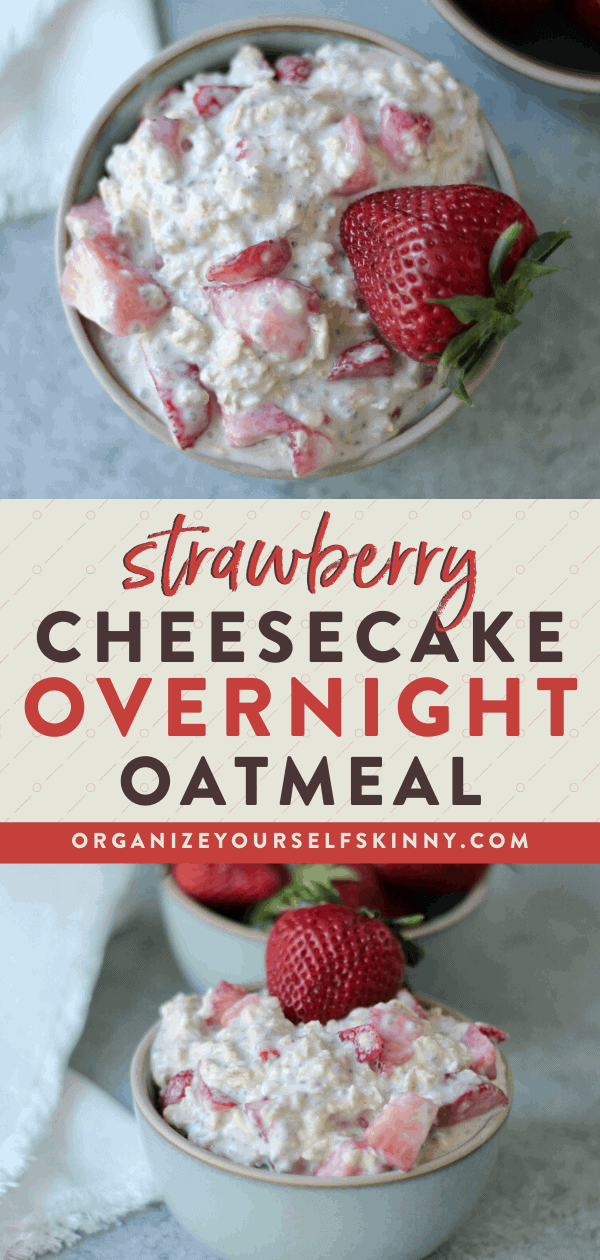 It's that time of year again, where I'm inspired to make all kinds of overnight oats recipes. There's nothing more delicious and refreshing than enjoying a cold, creamy jar of oats sitting on the porch in the middle of summer.
June is one of my favorite months. You know why? Because it's strawberry season here in Buffalo, NY!
Now it's important not to blink because strawberry season only lasts a few weeks here. So during this 3 week period, I like to take the kiddos strawberry picking and stock up on some fresh strawberries. Most of the time, we can't eat all of them before they spoil so I'll end up freezing strawberries to use in smoothies, parfaits, or in overnight oats.
Another strawberry recipe I love is strawberry cheesecake. Yum! However, it's probably not a good thing for me to make a cheesecake right before the start of summer.
Just saying, I would like to wear a bathing suit at some point this summer.
So, strawberry cheesecake is off the list but, what about strawberry cheesecake overnight oats? Yup! Genius!
Why I Love Overnight Oats and Recommend Them To Everyone
One of the things I love about overnight oats is that you can literally take any favorite dessert and turn it into a wholesome healthy overnight oats recipe. I've done it many times!
For example, this black forest overnight oats recipe, and this version of a salted turtle recipe is AMAZING and taste like the real thing.
So how does one make overnight oats taste like cheesecake? With a little greek yogurt!
Greek yogurt gives overnight oats that amazing tang and creaminess that makes you think you're eating a dessert when in reality, it's breakfast. Add some chopped organic strawberries and a little pure maple syrup and you have strawberry cheesecake overnight oats, my friends.
If that alone is not enough, here are a few more reasons why you need to have these overnight oats in your life!
Uses Basic Pantry Ingredients
The main ingredient is rolled oats. You can get a large container from any grocery store or you can get a bag of organic rolled oats online from Thrive Market.
Other pantry ingredients include:
Spices (cinnamon, cocoa powder,etc.)
Pure maple syrup
Nuts
Dried fruit
It's like you can put together a jar of overnight oats with ingredients you have in your pantry and refrigerator right now.
Can Be Made Ahead Of Time
The whole point of overnight oats is you need to make them ahead of time so this, in turn, makes them perfect for meal prep. These can be whipped together the night before or made on Sunday for the week. You can also make freezer kits with different ingredients.
Can be Made Quickly
This is one of my favorite things I love about overnight oats. It literally takes less than 5 minutes to whip up a jar for the next day!
You could have breakfast made for the entire week in less than 10 minutes.
Can Add in Superfoods
I'm a fan of any recipe where I can sneak in healthy superfoods. I use chia seeds which are filled with omega fatty acids, fiber, protein, and all kinds of nutrients.
You can also add:
Hemp hearts
Goji berries
Cacao powder
Collagen powder
Overnight oats recipes are a great way to add superfoods to your diet.
Can Be Super-Versatile
You can make these breakfast oats gluten-free and vegan, too! You can fill them with a bunch of superfoods and fruits or if you're feeling a little naughty, a handful of chocolate chips.
Frequently Asked Questions Strawberry Overnight Oats
Before I share this super simple recipe with you all, let's go over some questions.
What are Overnight Oats?
If you're new around here, then you might not know what overnight oats are. Basically, overnight oats are rolled oats that are soaked overnight in some kind of liquid, usually milk. I prefer to use non-dairy milk like coconut or almond milk but you can use dairy milk too!
Often recipes include fruits or can be more decadent using chocolate. They really are a blank canvas and a great cheap way to get in a healthy breakfast.
I put together a How to Make Overnight Oats tutorial you should definitely go check out here.
Can I Use Fresh or Frozen Strawberries?
You can use either one!
My only suggestion would be to chop up the strawberries so they are easy to mix with the oats. Another thing that I like to do with fresh strawberries is I like to mash them up before mixing them in with the other ingredients and this creates a nice jam-like consistency with the strawberries.
Ultimately, it's up to you how you want to put the strawberries in your oatmeal. Most of the time, I will do a mixture of finely chopped up strawberries and then put some sliced whole strawberries on top the next day when I'm ready to eat it.
More often than not, I use frozen strawberries. So, when you do purchase frozen strawberries, I recommend purchasing them and slicing them because it just makes it easier to combine it with the rest of the ingredients.
Another thing that I like about using frozen strawberries is as the strawberries thaw overnight, they release these delicious juices that are super tasty the next day in the overnight oats!
Can I Make This Vegan?
You can absolutely make this vegan. You can use non-dairy milk instead of regular milk.
My favorite kind of milk to use is unsweetened coconut milk but you can also use almond milk or any other type of non-dairy milk.
You can also use non-dairy yogurt! Many yogurt brands offer non-dairy variations of their flavors and all of the ones I've tasted are very good and work perfectly in overnight oats recipes.
Can I Eat This Hot or Cold?
Overnight oat recipes are meant to be eaten cold but, if you really want to warm it up, you can do a few different things.
Let it sit on the counter for 5-10 minutes to take off the chill.
Pour into a bowl and warm up in the microwave.
Pour into a saucepan and warm up on the stove.
What Containers do I Use for Overnight Oats?
Essentially, you could use any container for overnight oats recipe but my preferred container, and the one I use most often, is a 16oz mason jar container. This size is perfect for the amount of oats being served plus all the extra ingredients depending on the recipe. Don't forget to grab a pack of the plastic mason jar lids.
I like using the mason jars for portion control as well. Each has one serving so when I'm trying to keep track of calories and portions for breakfast, this is a perfect way to do that.
However, you can put this in any container that you have on hand.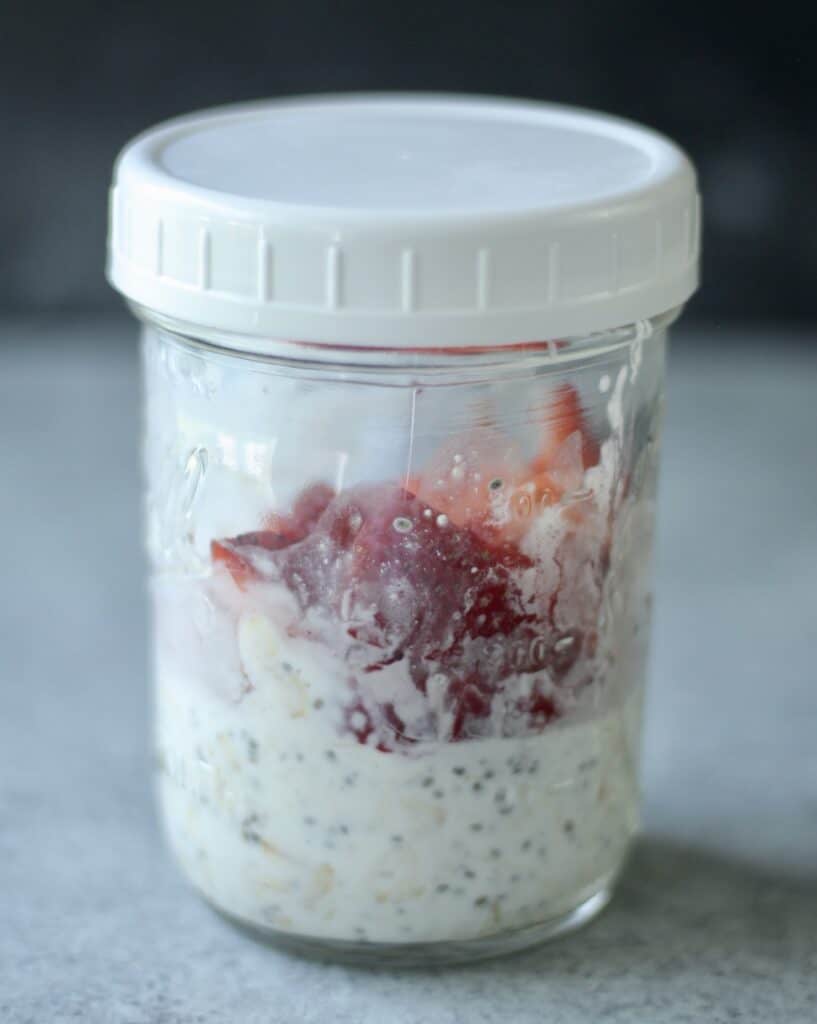 Different Variations Of Overnight Oats
If you don't have strawberries, you can easily use any type of berry in this recipe. I've made this with frozen mixed berries, blueberries, blackberries, and raspberries.
You can also leave the fruit out altogether and just make it more of a cheesecake-like overnight oats recipe without any of the berries. You can also add chocolate chips or cacao nibs to make it like a strawberry chocolate cheesecake recipe.
If you need a bit more sweetness, you can add half of a mashed banana.
You can sprinkle about a tablespoon of graham crackers over top of the overnight oats the next day to give it that graham cracker crust flavor.
Strawberry Cheesecake Overnight Oats
Here is the list of ingredients you need to prep this overnight oats recipe:
Rolled oats
Chia seeds
Unsweetened coconut milk
Vanilla Greek yogurt
Strawberries (chopped)
Pure maple syrup
How To Make Overnight Oats Taste Like Strawberry Cheesecake
The first thing you're going to do is pour a half a cup of rolled oats into the bottom of a 16-ounce mason jar container followed by the chia seeds.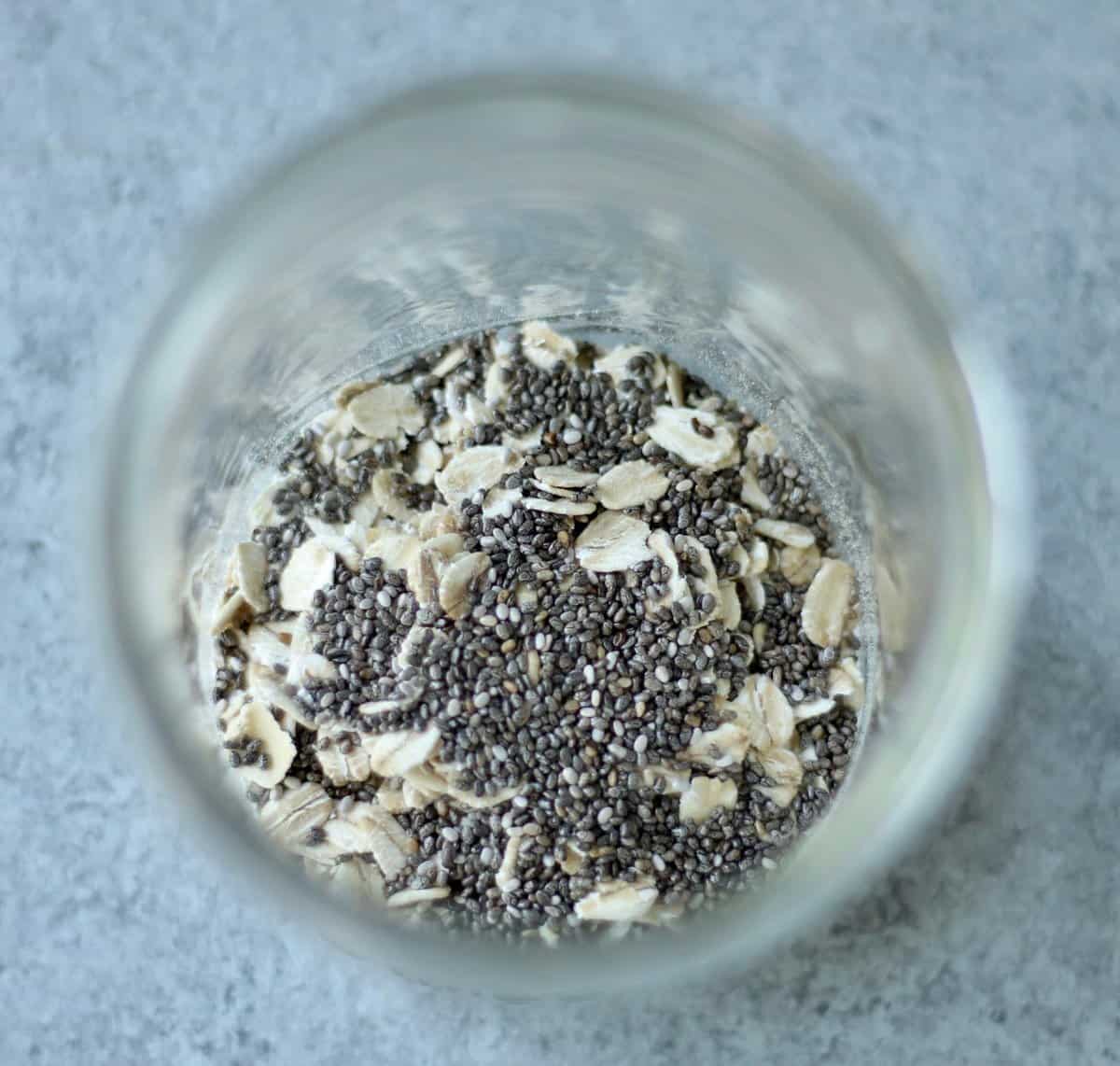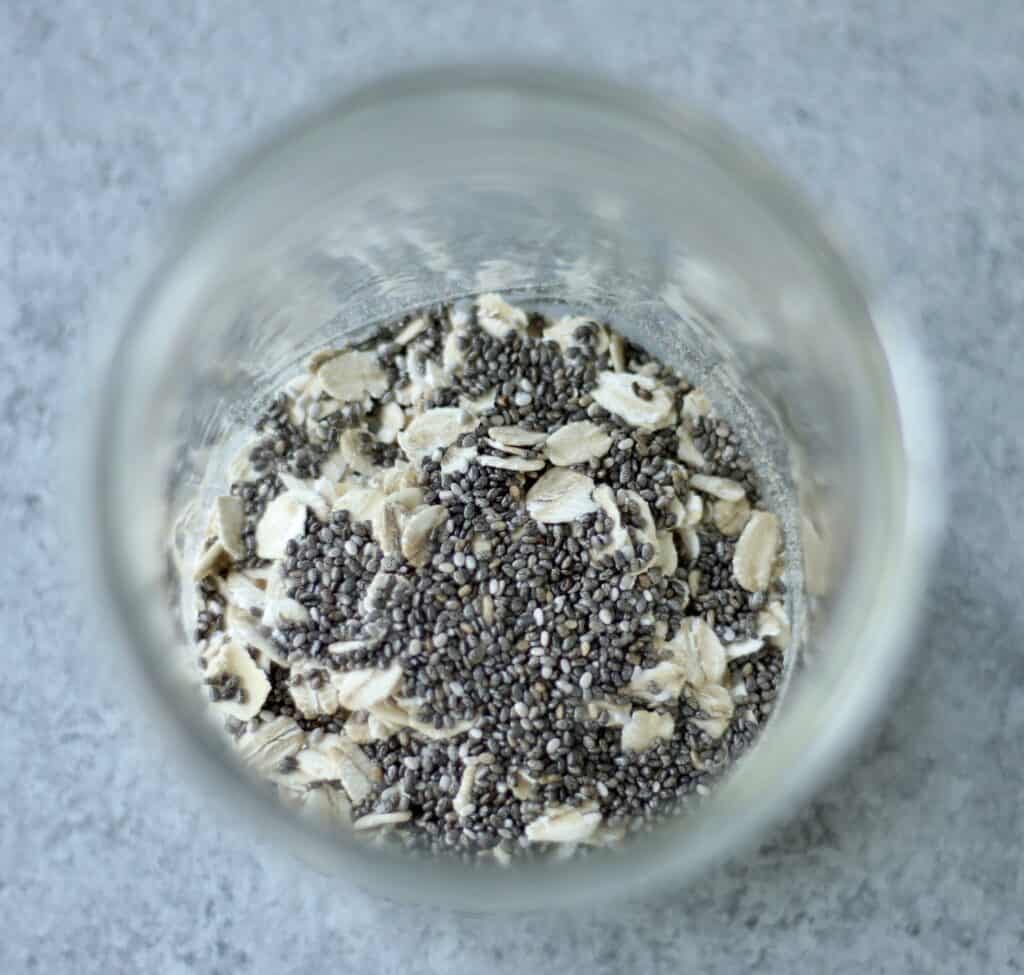 Next, you're going to add vanilla Greek yogurt, vanilla extract, and unsweetened coconut milk.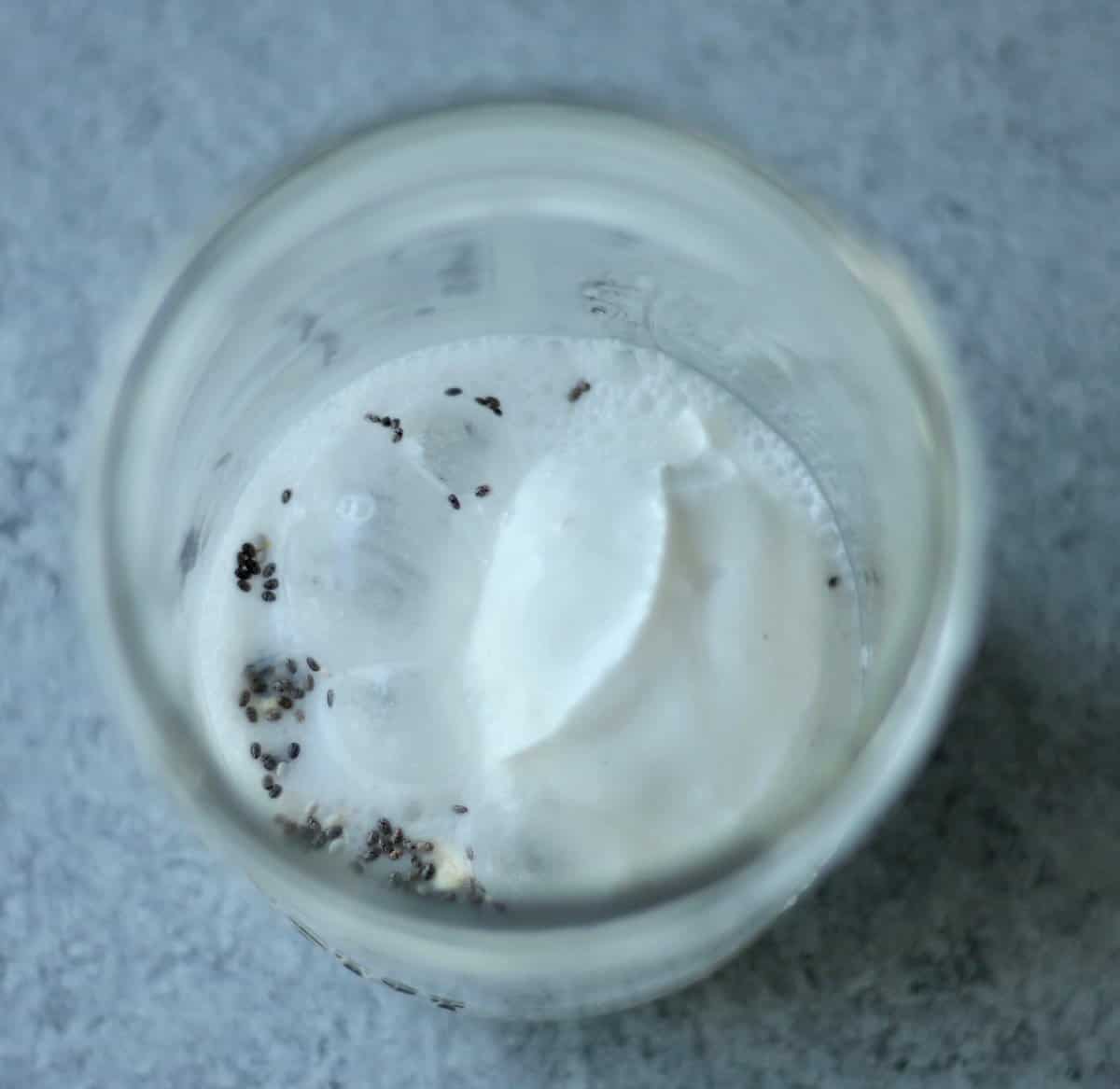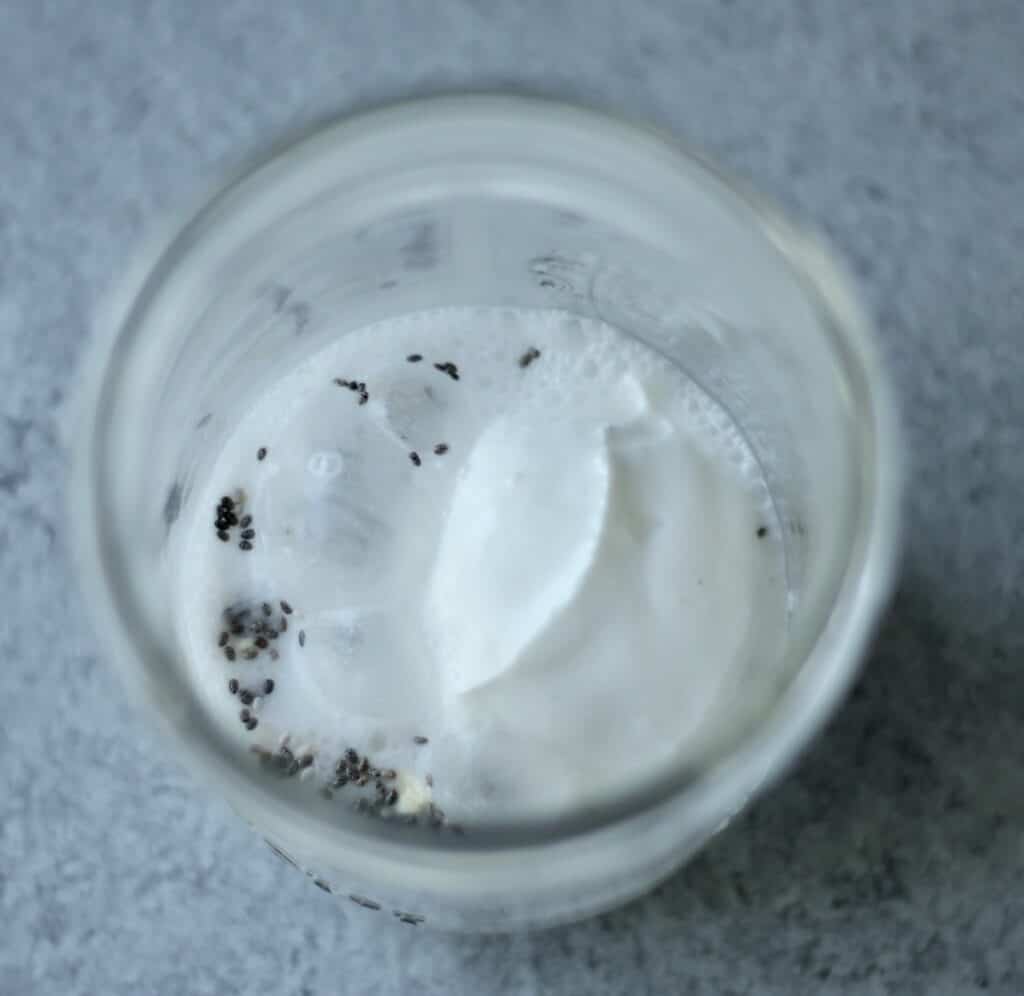 You're going to mix all of those ingredients together until all the rolled oats are covered by the liquid.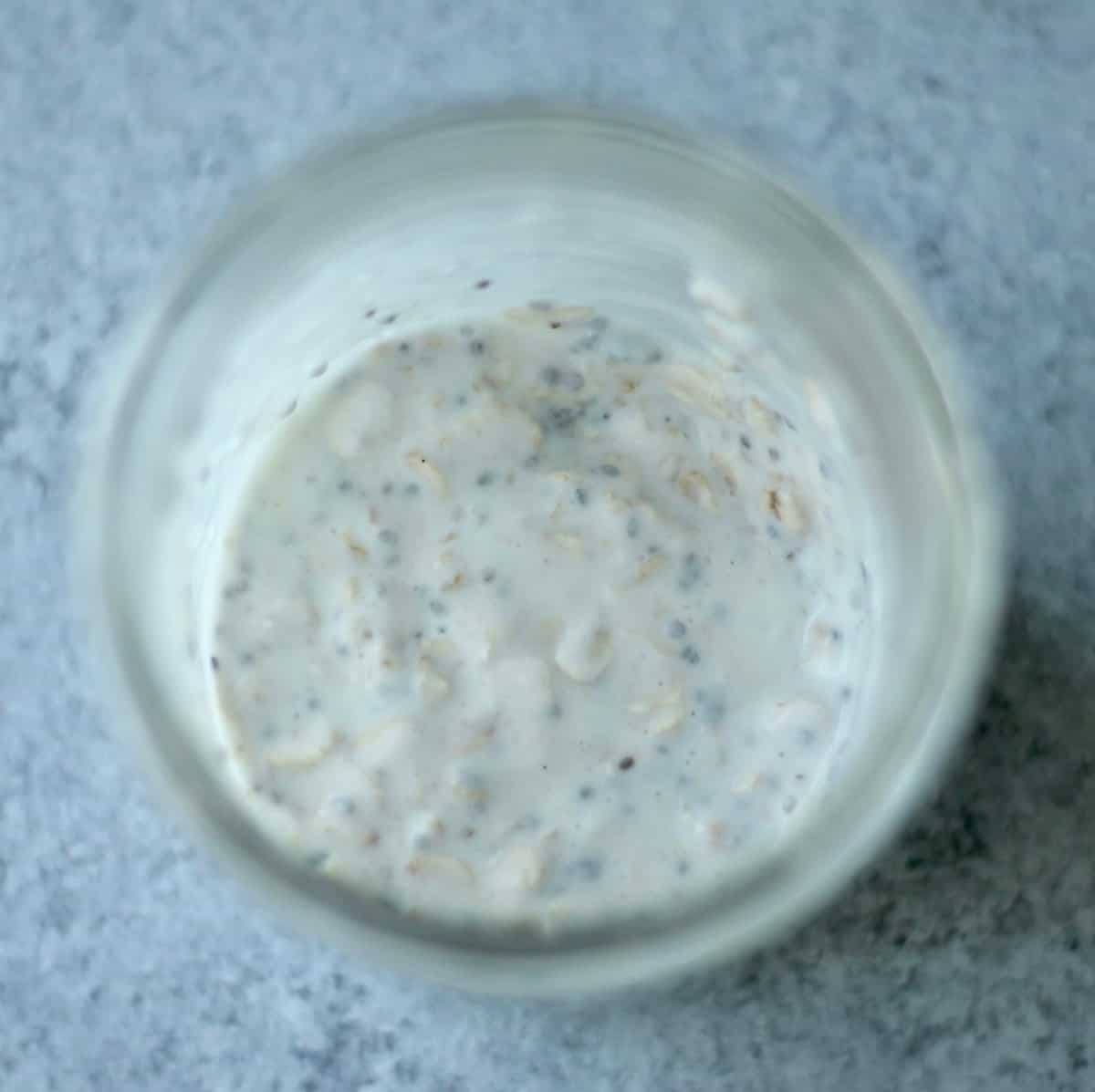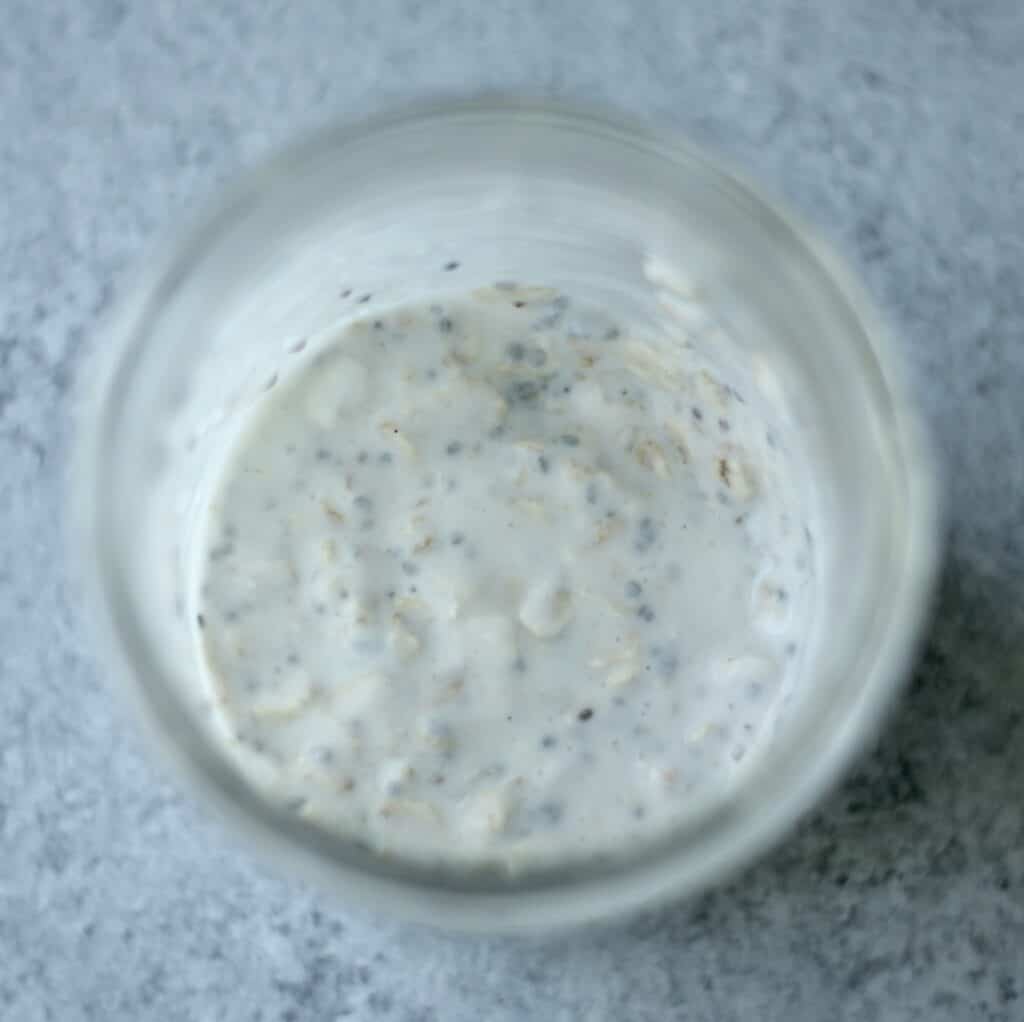 Lastly, you're going to place the strawberries on top of the rolled oats.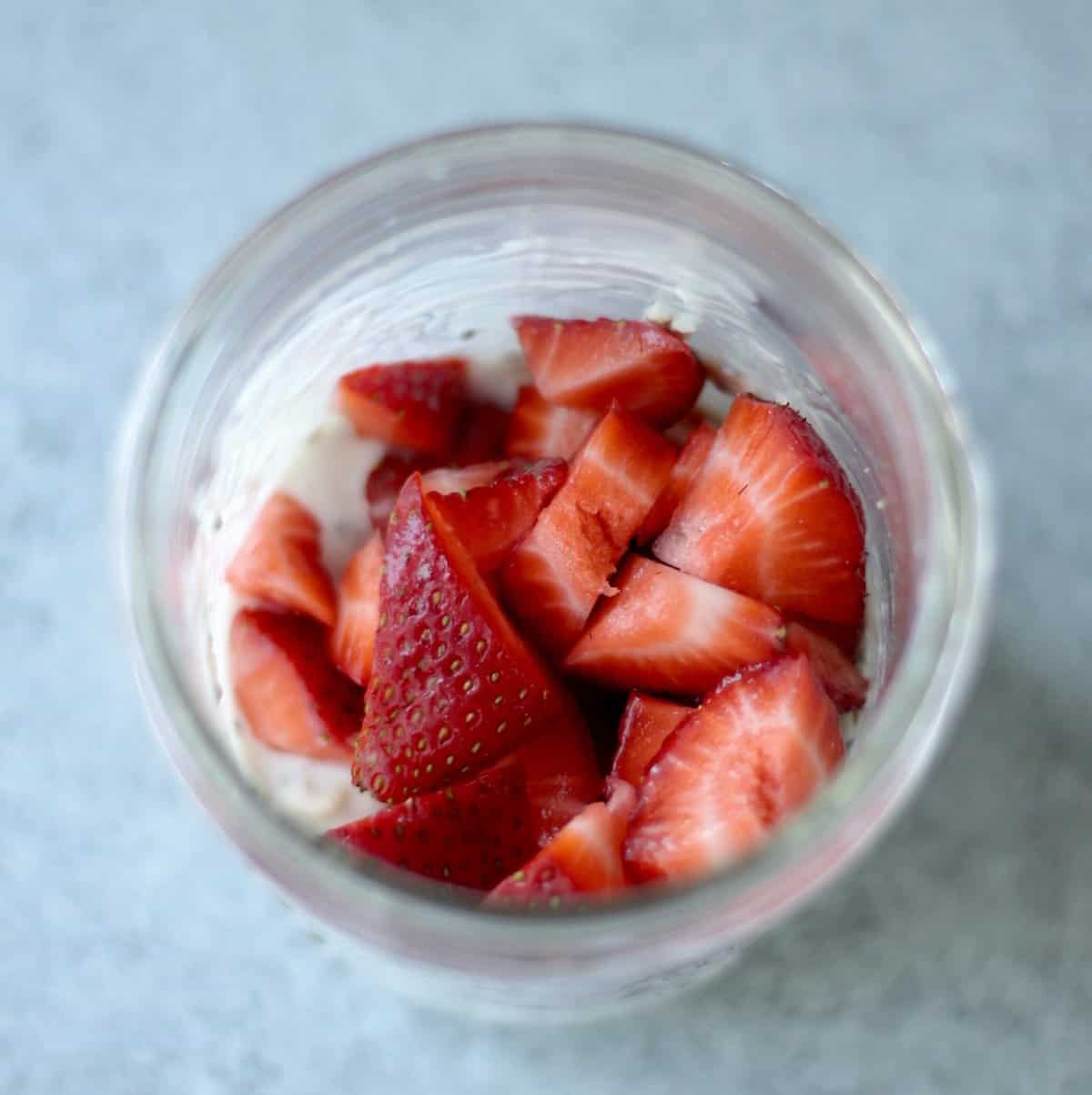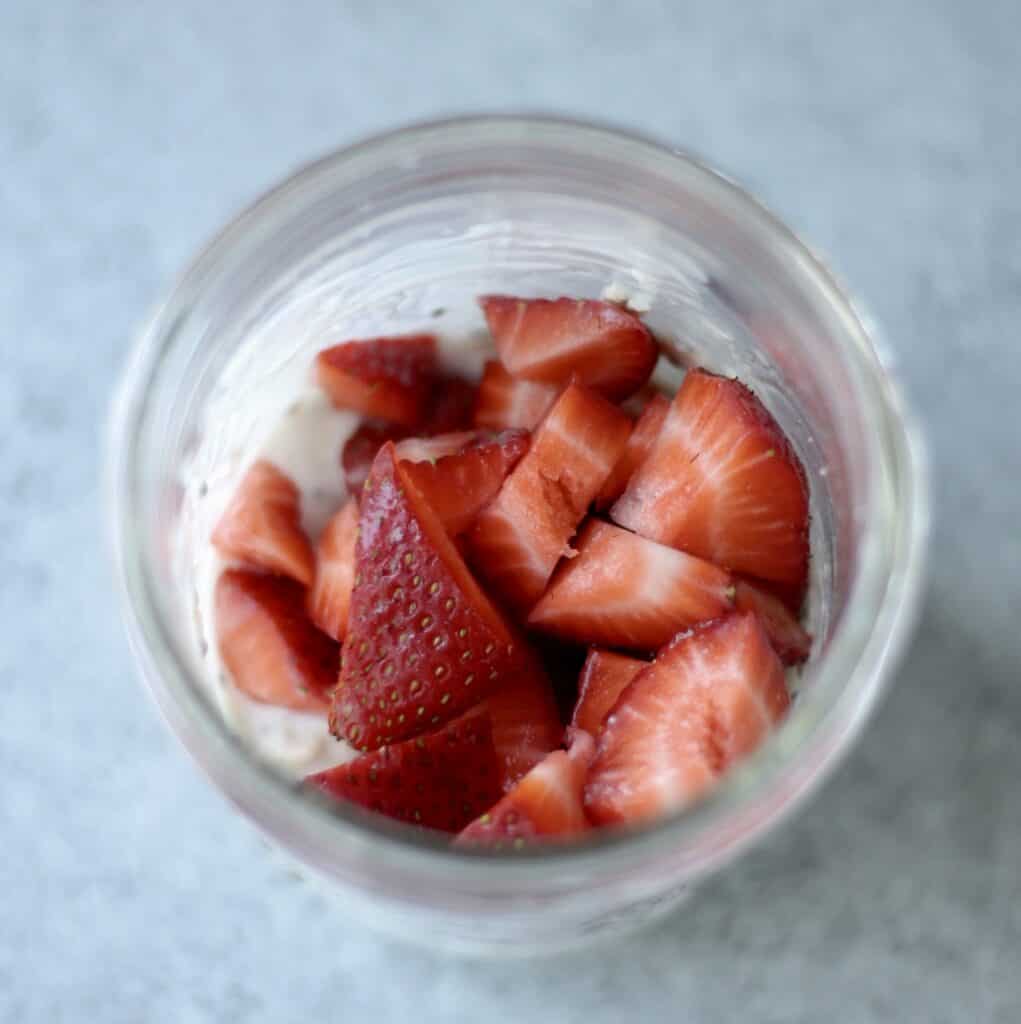 Put the lid on and then store in the refrigerator overnight or up at least 8 hours.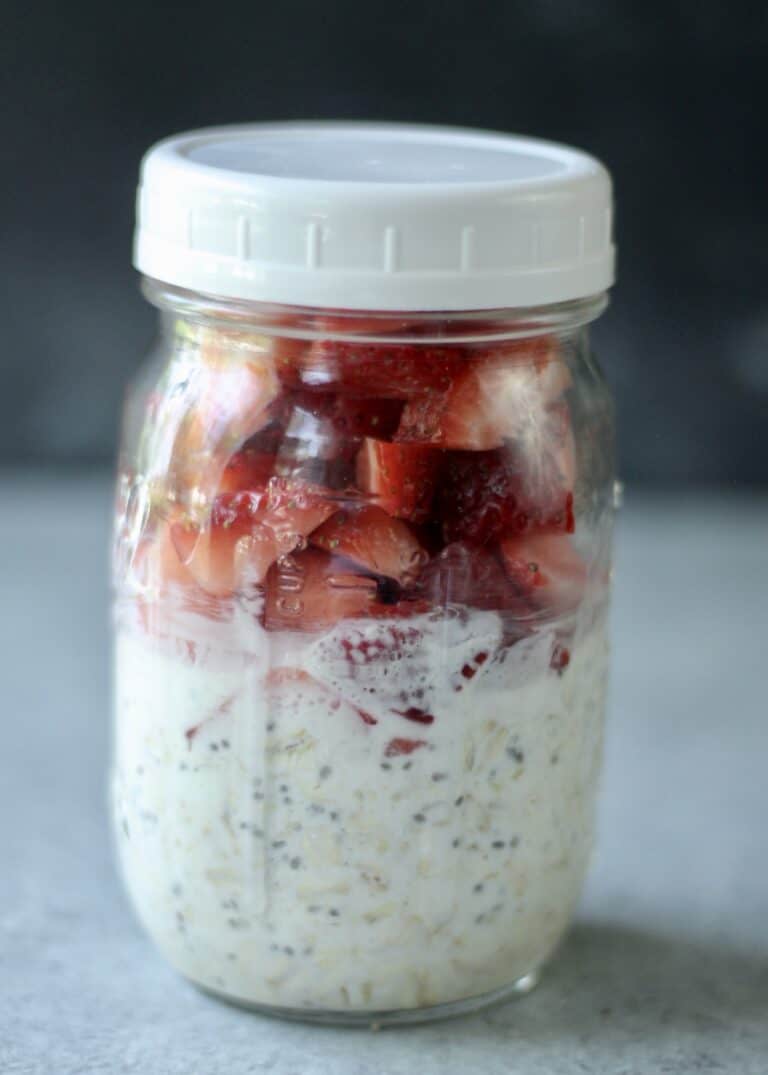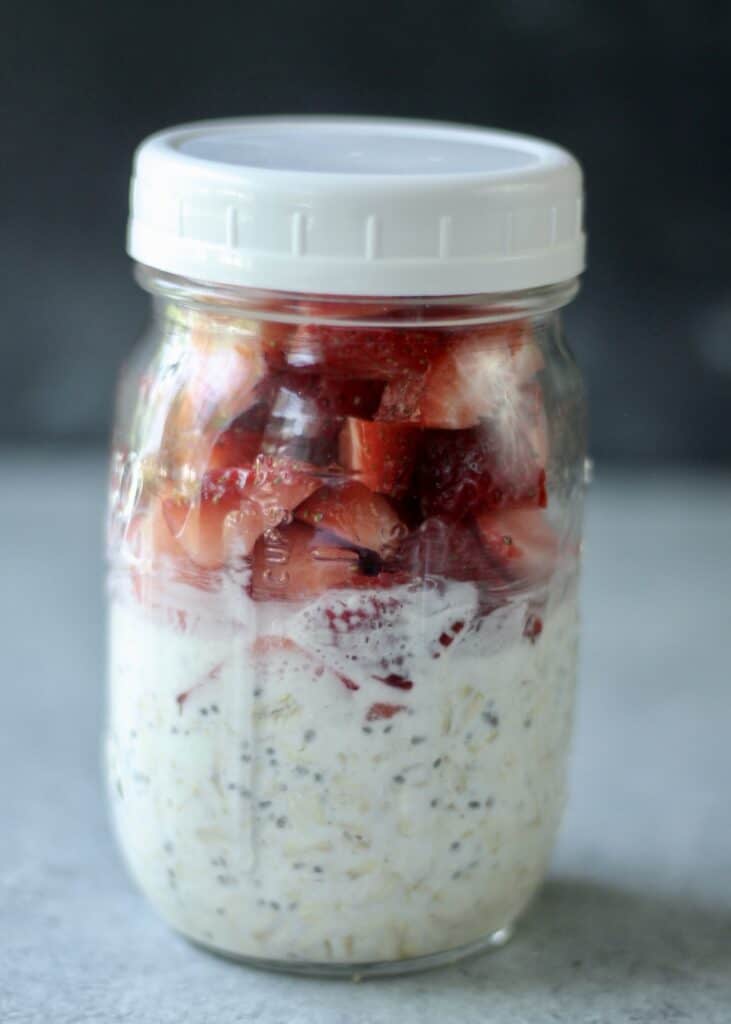 In the morning, you're going to dump the overnight oats and strawberries into a bowl. Add 1-2 teaspoons of pure maple syrup and give it a couple stirs. If it still seems a little on the thick side, then add an about a tablespoon of liquid at a time until you get the consistency that you want.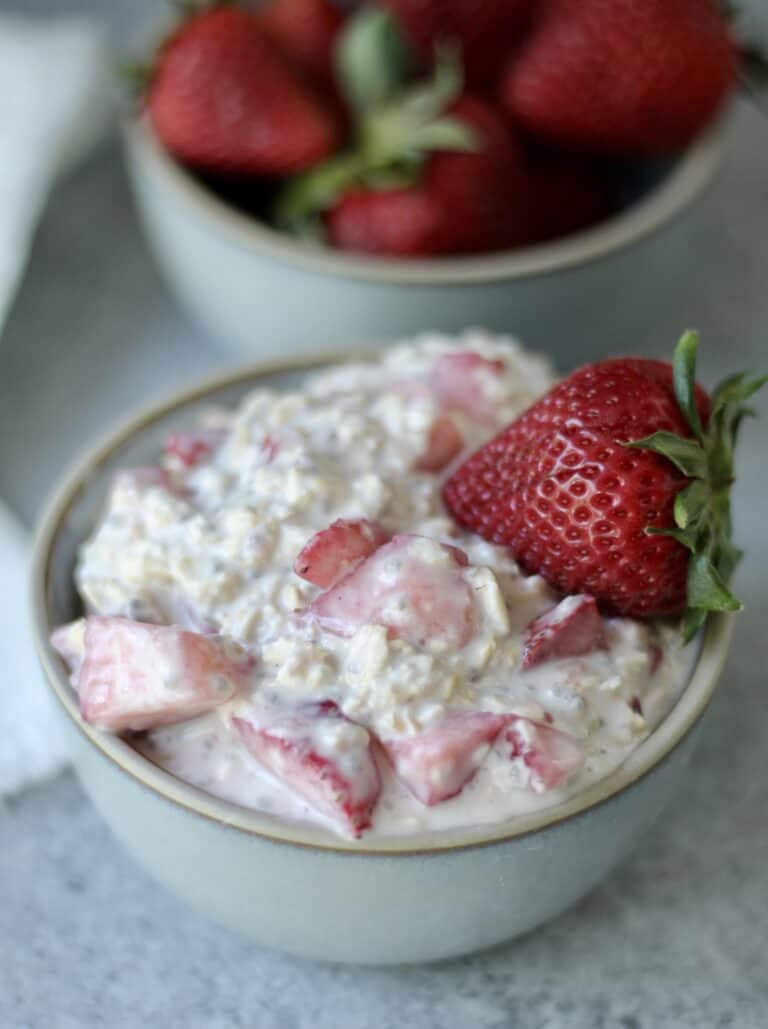 Add a couple more strawberries and then enjoy!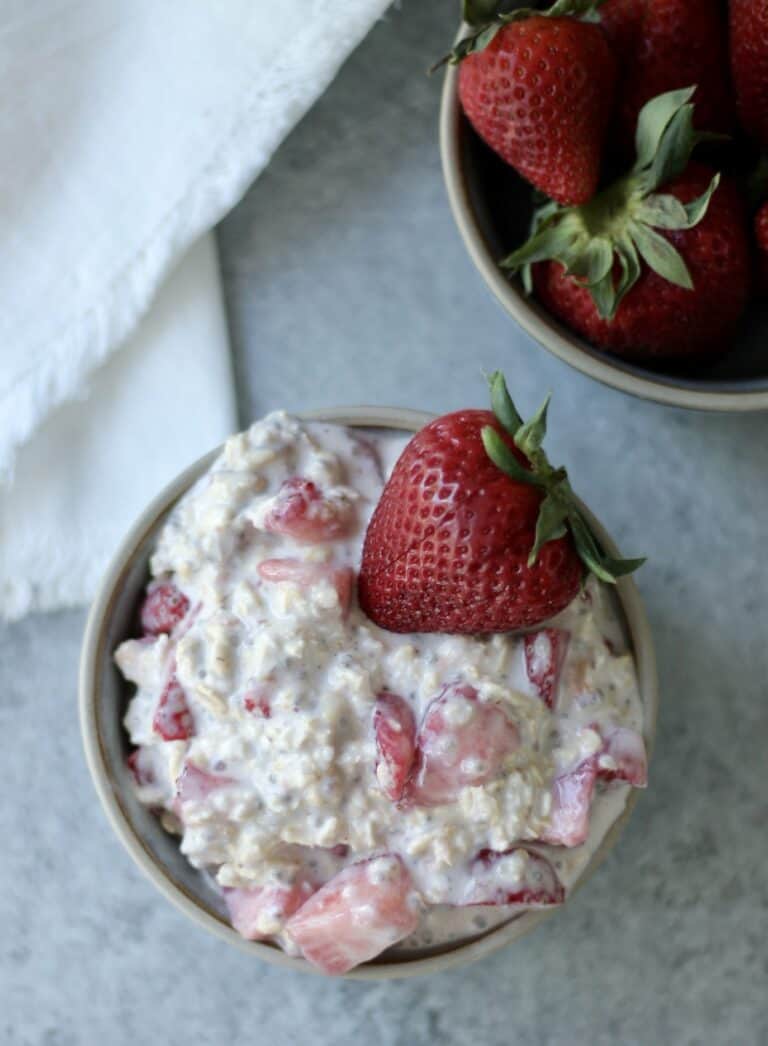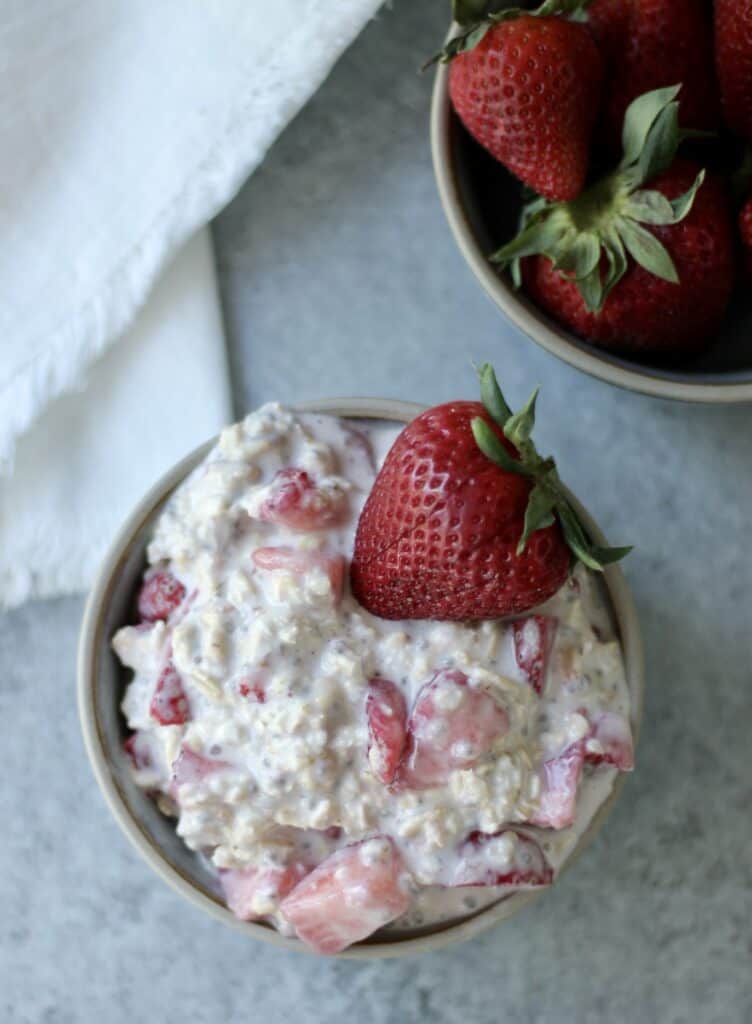 More Overnight Oats Recipe
If you loved this strawberry cheesecake overnight oats, you have to try some of these different recipes!
 Share a picture and tag me on Instagram or Facebook if you decide to make this!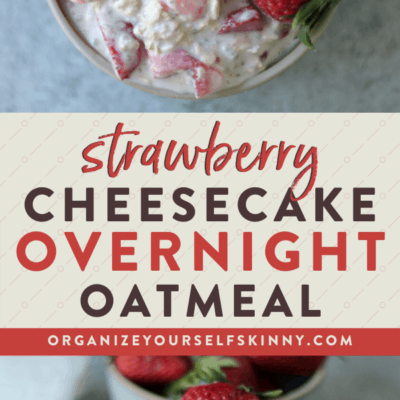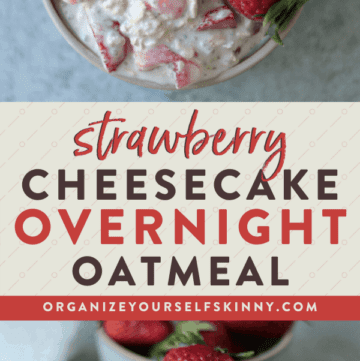 Strawberry Cheesecake Overnight Oats
This strawberry cheesecake overnight oats recipe tastes decadent and creamy with a bit of tang—just like your favorite dessert!
Print
Pin
Rate
Ingredients
1/2

cup

rolled oats

1

teaspoon

chia seeds

1/2

cup

unsweetened coconut milk

2

tablespoons

vanilla Greek yogurt

1/2

cup

chopped strawberries

1

teaspoon

pure maple syrup
Instructions
In a 16-ounce mason jar (or container of your choice) combine rolled oats, chia seeds, unsweetened coconut milk, and yogurt.

Stir until all of the ingredients are combined and the liquid is full covering the rolled oats.

Place the strawberries on top.

Tightly place the lid on and store in the refrigerator.
Nutrition
Serving:
1
g
|
Calories:
319
kcal
|
Carbohydrates:
49
g
|
Protein:
14
g
|
Fat:
7
g
|
Saturated Fat:
3
g
|
Fiber:
9
g
|
Sugar:
12
g