Chocolate and cherries make up this delicious Black Forest Overnight Oats recipe. If you are craving something sweet for breakfast time then this is it!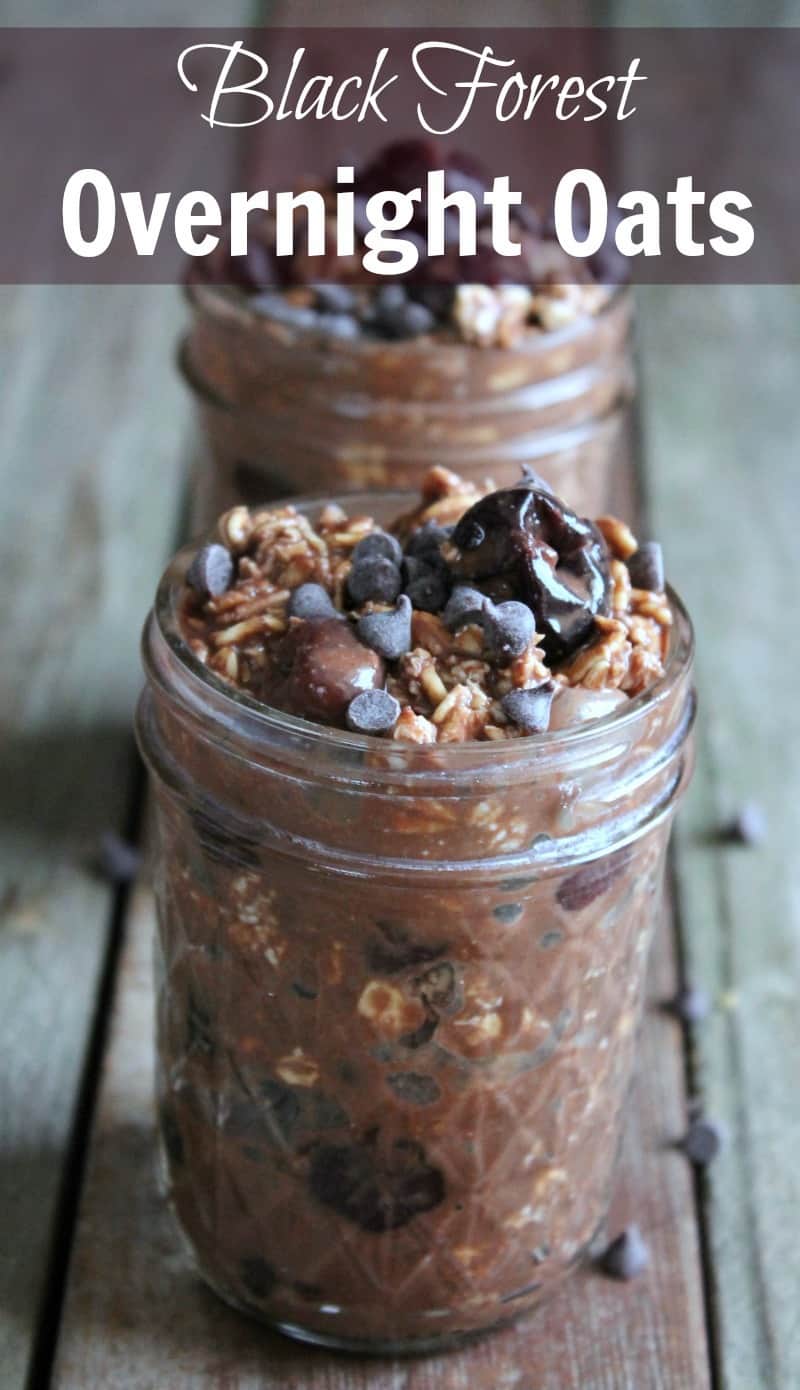 One of the things I like to do is take desserts and turn them into a healthy (or somewhat healthier) breakfast. I guess, in my own little world, it allows me to enjoy the flavors of desserts without all the calories, fat, and guilt.
I think it all started with my apple pie steel cut oatmeal. Who knew apples could taste so sinful after simmering with some steel cut oats for a little bit. Oh baby! That led into a pumpkin pie version. Which then led into a pumpkin pie smoothie. Pumpkin lovers unite!
Then I discovered overnight oats and my world shifted. Dramatic? Maybe so…but I am a professional food blogger and almost 40 years old sooooo these are the things that get me excited.
In my opinion, overnight oats are the perfect base for an amazing desert like breakfast recipe. They remind me of pudding and will absorb any flavor you stir in. I created a peanut butter and chocolate overnight oats that can curb any reese craving. Your welcome. I also prepared a strawberry and chocolate recipe that can whisper sweet nothings in your ear. Of course pumpkin found its way again into one of my recipes with these pumpkin spice overnight oats. The one that sends me to another world are these salted turtle overnight oats. Seriously pecans, chocolate, a little sweetness, and salt! Your welcome again. And the list goes on and on.
Of course overnight oats are great for breakfast but if you have a sweet tooth and can't seem to fight off the dessert urge then I recommend keeping a jar or 2 in the refrigerator at all times. My overnight oats recipes use just enough sweetener (mostly pure maple syrup) to satisfy your sweet tooth. They are filled with rolled oats and other wholesome ingredients to fill you up and keep you much more satisfied than ice cream, candy, or cake.
The classic dessert Black Forest Cake inspires my latest overnight oat recipe. Most black forest cakes call for canned cherry pie filling (hello sugar, high fructose corn syrup, and mystery ingredients), lots and lots of sugar, white flour, and a ton of other ingredients that will leave you crashed and burned about 20 minutes after you eat it. My black forest overnight oats recipe uses rolled oats, unsweetened coconut milk, unsweetened cocoa powder, cinnamon, pure vanilla extract, frozen organic cherries, 1 teaspoon of pure maple syrup, and 1 teaspoon of mini chocolate chips. Simple ingredients that result in one absolutely delicious recipe.
I used coconut milk because that is what I had in my refrigerator. You can use any milk you have on hand.
The flavors of this black forest overnight oats recipe are rich, chocolaty, and bursting with cherry goodness. As the frozen cherries thaw they release their juices, which provides a nice sweetness. Because of this I only needed to use 1 teaspoon of pure maple syrup to get the desired sweetness I wanted. You can use fresh cherries but in the cold tundra I live in frozen is all I have.
Next time you find yourself craving chocolate or another sweet treat reach for this black forest overnight oats recipe. I am confident it will satisfy your craving without sabotaging the rest of your healthy eating habits.
If you are a cherry fan (like me) here are some more recipes: 
Cherry vanilla flax overnight oats
Cherry chocolate almond smoothie
Cherry blueberry green smoothie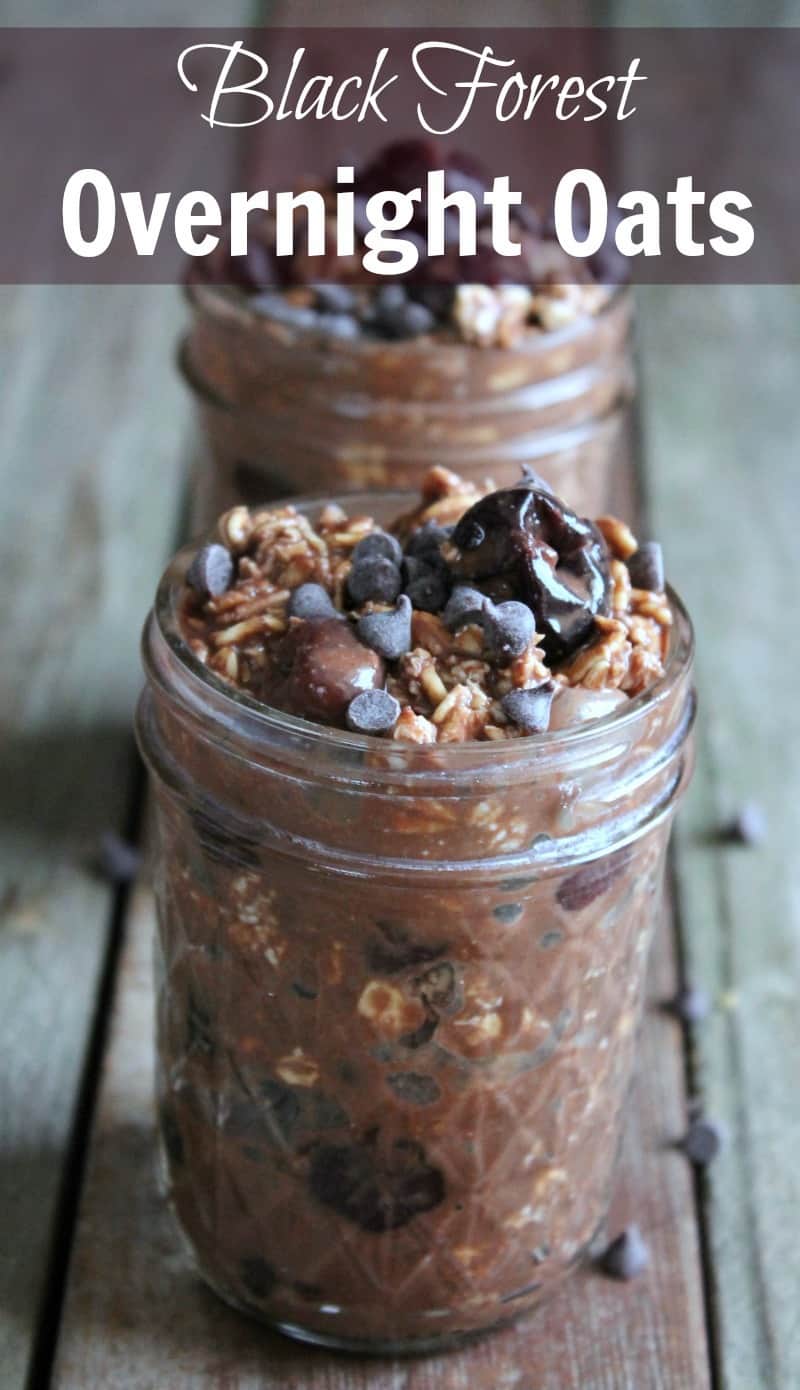 Ingredients
pint

size mason jar

1/2

cup

rolled oats

1

tablespoon

unsweetened cocoa powder

1/8

teaspoon

cinnamon

small pinch of salt

1/2

cup

unsweetened coconut milk

or any milk you choose

1/4

teaspoon

pure vanilla extract

1

teaspoon

pure maple syrup

1/2

cup

frozen dark sweet cherries

preferably organic

1

teaspoon

mini chocolate chips
Instructions
In the mason jar stir together rolled oats, cocoa powder, cinnamon, and salt. Next add the coconut milk, vanilla extract, and pure maple syrup. Stir together until all the ingredients are combined. Place the frozen cherries on top. Put lid on and store in the refrigerator 8 5-8 hours or overnight. In the morning, stir the chocolate chips into the overnight oats. Add in a little extra coconut milk, if needed, till you get the consistency you like. Give it a taste. If you need a little more sweetness then add in more pure maple syrup, 1 teaspoon at a time, until you get the desired sweetness you like.
Notes
Make ahead instructions
This recipe can be made up to 3 days ahead of time. Don't add the chocolate chips until you are ready to eat.
Nutrition
Serving:
1
g
|
Calories:
267
kcal
|
Carbohydrates:
46
g
|
Protein:
8
g
|
Fat:
7
g
|
Fiber:
6
g
|
Sugar:
7
g