In the mood for something decadent but still healthy and guilt-free? Then turn to these rich and delicious chocolate overnight oats with yogurt. This recipe comes together quickly using pantry ingredients and can be made ahead of time for a healthy breakfast all week.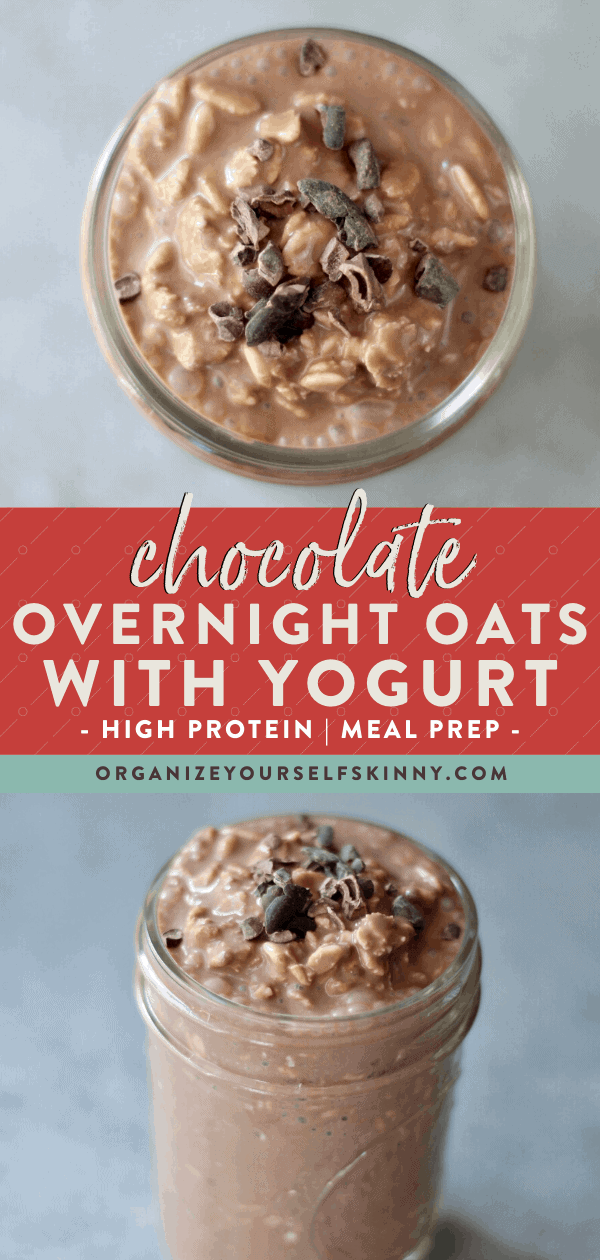 When I know chocolate is waiting for me in the morning, I get excited 😁
Easy + chocolate = my kind of breakfast food!
That's why I am completely obsessed with this recipe for overnight oats with yogurt and chocolate. It's a healthy no-cook breakfast which makes it a perfect option to enjoy during the hot summer months and those crazy busy mornings.
Frequently Asked Questions About Overnight Oats with Yogurt
Before I share my favorite recipe for chocolate overnight oats, here are a couple of questions I frequently get asked by my readers.
What Type Of Yogurt Should I Use?
Essentially, you can use any type of yogurt with overnight oats. I prefer to use Siggi's Greek yogurt because it's low in sugar compared to many yogurt brands.
My advice is to read the label. Even though overnight oats are delicious, when you add chocolate it becomes extra yummy. This can also can be a total sugar bomb if you're not reading the label, so please take caution as you still want to keep your breakfast healthy.
I either use plain Siggi's yogurt or vanilla-flavored yogurt in overnight oats recipes. Both provide a lot of protein and also give the yogurt a creamy texture. One (5.3 ounces) container of Siggi's plain greek yogurt has 80 calories and 4 grams of sugar. The vanilla flavor has 11 grams of sugar. Other flavors might be higher or lower in sugar so it's important to read the label.
Typically, I'll purchase a larger container of Siggi's Greek yogurt and use 2 tablespoons per serving. Again, you definitely want to know exactly what you're eating and make sure to measure out the yogurt before adding it to your overnight oats.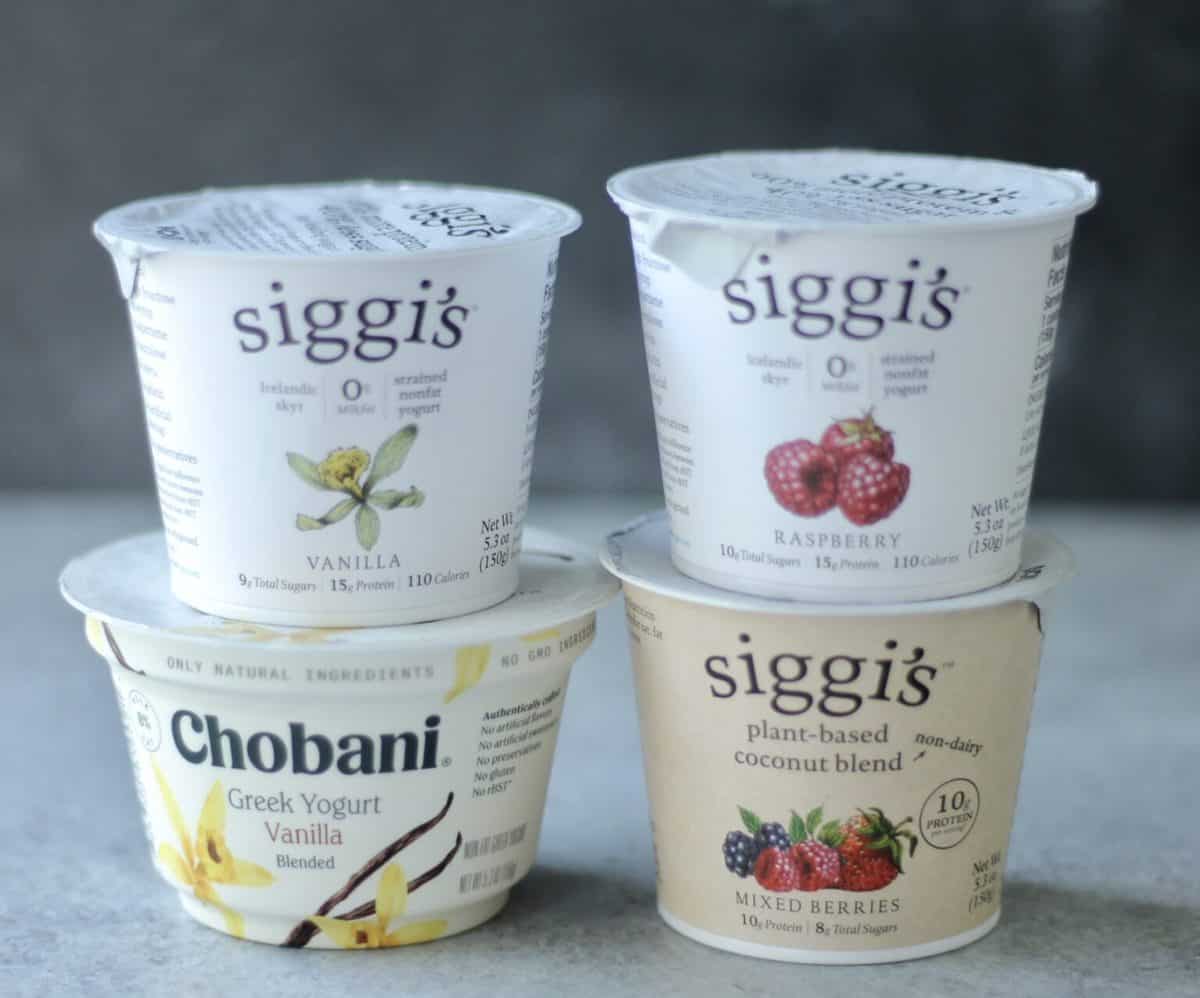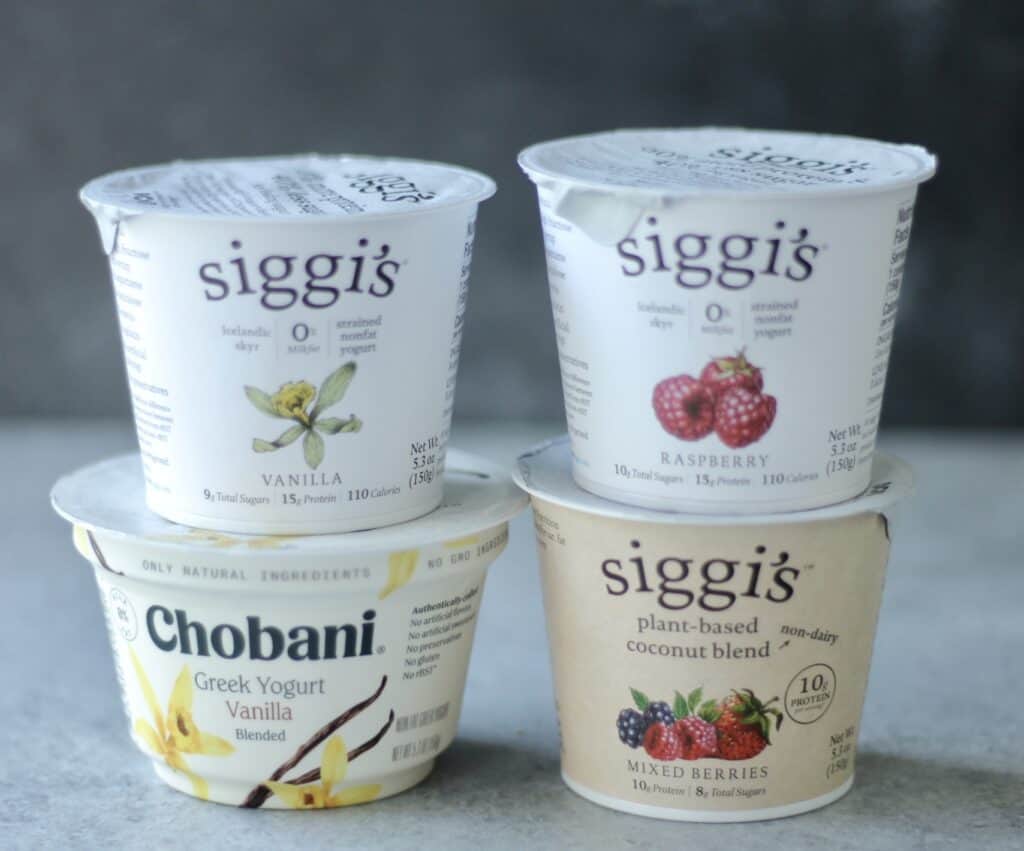 Can You Make This Overnight Oats Recipe Vegan?
It's super easy to make overnight oats recipes vegan. You can actually check out this post I did on vegan overnight oats for all of my tips and tricks.
But, for this chocolate overnight oats recipe – To make it vegan, all you need to do is use non-dairy milk like coconut or almond milk and a non-dairy yogurt that's made with coconut or almond milk. All the ratios stay the same and you'll barely be able to tell that it's vegan.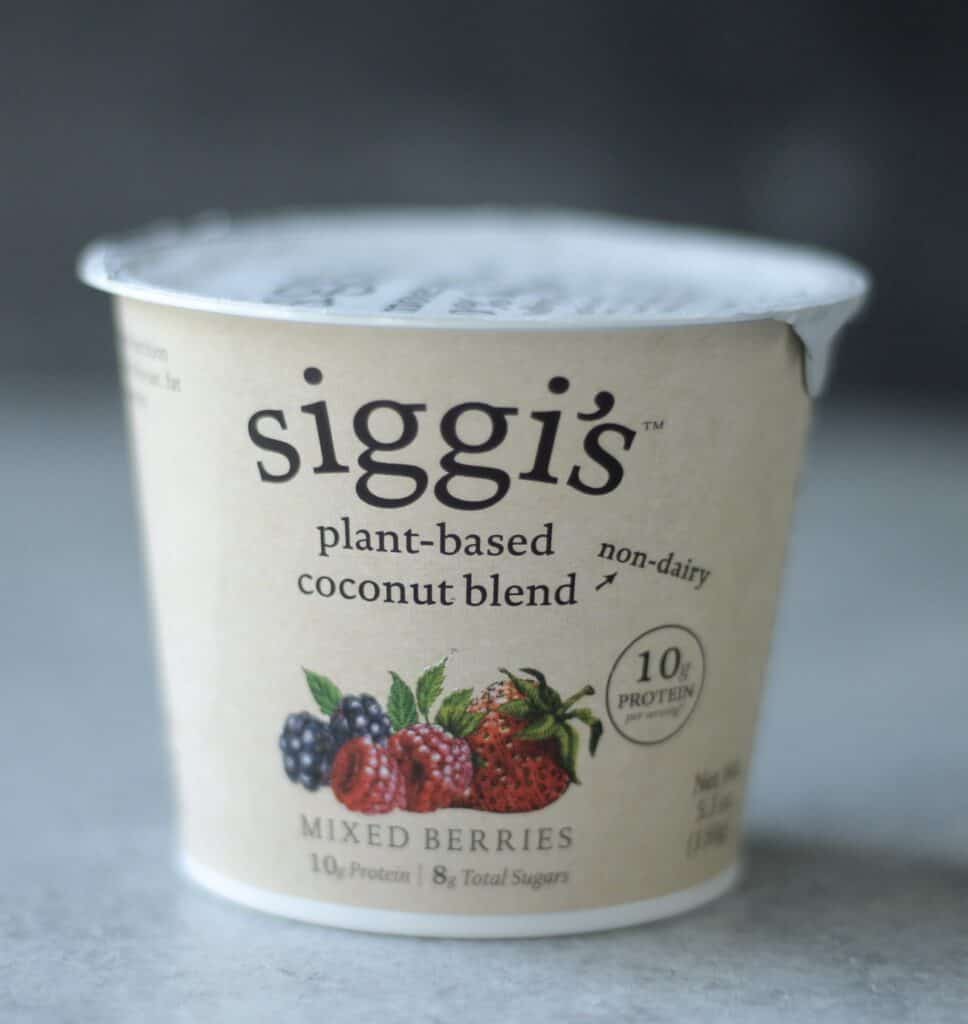 Do Overnight Oats Have To Be In A Mason Jar?
I love using mason jars for overnight oats! It's a great way to portion our breakfast for the week and I also feel that using glass mason jars keep the overnight oats fresh for longer.
With that said, you can use any container you like. I do recommend glass meal prep containers if you have them, but any container will work fine.
Can I Make A Big Batch Of Overnight Oats?
You sure can! I like to make individual portions in mason jars but if you'd rather make a big batch using one container, then that'll work too.
Simply double or triple (or more) batch the ingredients in a large container. Again, I would recommend using a glass container if you have one.
Mix all the ingredients together, place the lid on, and refrigerate!
When you're ready to eat, scoop out the amount you'd like into a bowl. Most likely, you'll need to add a little extra liquid because it will be on the thicker side. You can also add more sweetener at this time.
Give it a few stirs and enjoy it!
Quick Fun Facts About Overnight Oats
Rolled oats should be used for overnight oats. Instant oats are too mushy but steel-cut oats are too firm. Rolled oats are just right!
They are to be eaten cold. After the rolled oats soak up the liquid, they will become pudding-like. Simply take them out of the refrigerator, give a couple stirs, and add more liquid if needed, then enjoy.
You can also serve them warm. Of course, if you want to eat them warm, you can. You can warm them up in a pan on the stove or in the microwave using a microwave-safe dish.
You can make them up to 5 days ahead of time. Overnight oats are one the best and easiest meal prep breakfast recipes. It takes less than 10 minutes to prepare breakfast for the week!
Variations & Serving Suggestions With Chocolate Overnight Oats
This recipe for chocolate overnight oats with yogurt is super rich and delicious on their own but, if you want to get fancy, you can certainly add some other ingredients.
These are some of my favorites:
Cinnamon – Mixing cinnamon and chocolate together is one of my favorite flavor combinations. The cinnamon really enhances the chocolate flavor and is just delicious.
Coconut – Adding coconut to this recipe gives it an Almond Joy candy bar vibe. You can do this by adding a couple of tablespoons of unsweetened coconut. But, If you really want to up the coconut flavor, then add a small drop of coconut extract.
Pumpkin – If you have some pumpkin leftover from pumpkin bread or another recipe, then save it to use in overnight oats. Super good!
Banana – I think I can add banana into just about anything, but when I combine with chocolate overnight oats, it's a different level of special.
Cherries – If you're a black forest dessert fan, then you'll love adding in some chopped frozen or fresh cherries.
Other fruit – Think chocolate-covered strawberries! Basically, any fruit you'd dip in chocolate will taste delicious in chocolate overnight oats.
Overnight Oats With Yogurt And Chocolate
Okay, let's get to the recipe! These are the ingredients you will need to make this overnight oats recipe:
Rolled oats
Cacao powder
Chia seeds
Greek yogurt
Unsweetened coconut milk
Pure maple syrup
Cacao nibs
How To Make Chocolate Overnight Oats With Yogurt
Mix together the rolled oats, cacao powder, and chia seeds in a bowl.
I like using cacao powder in place of unsweetened cocoa powder because it's higher in antioxidants and other nutrients. It is slightly more bitter but overall, I think it tastes the same. If you prefer to use unsweetened cocoa powder or that's all you have, then that will work fine.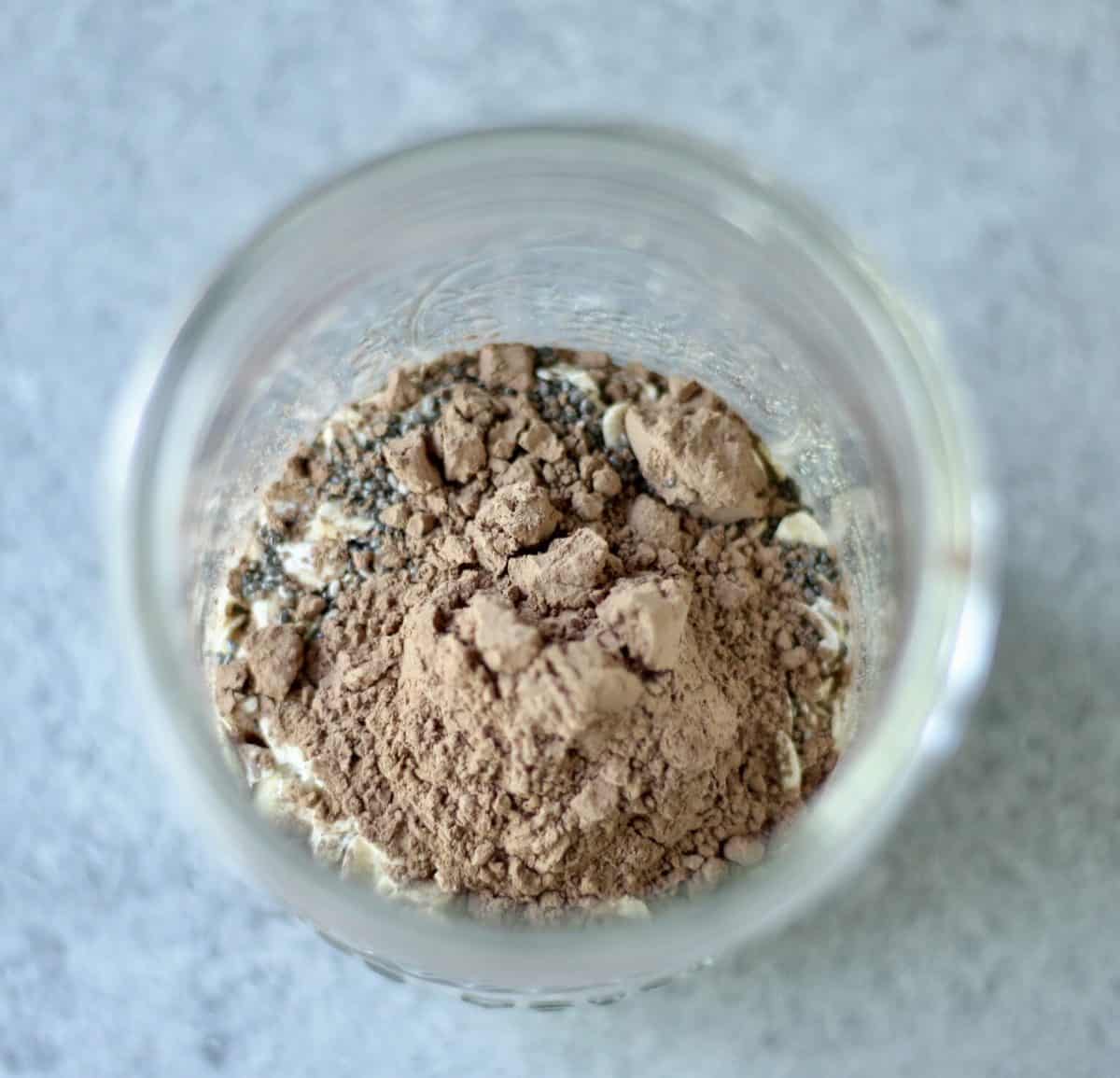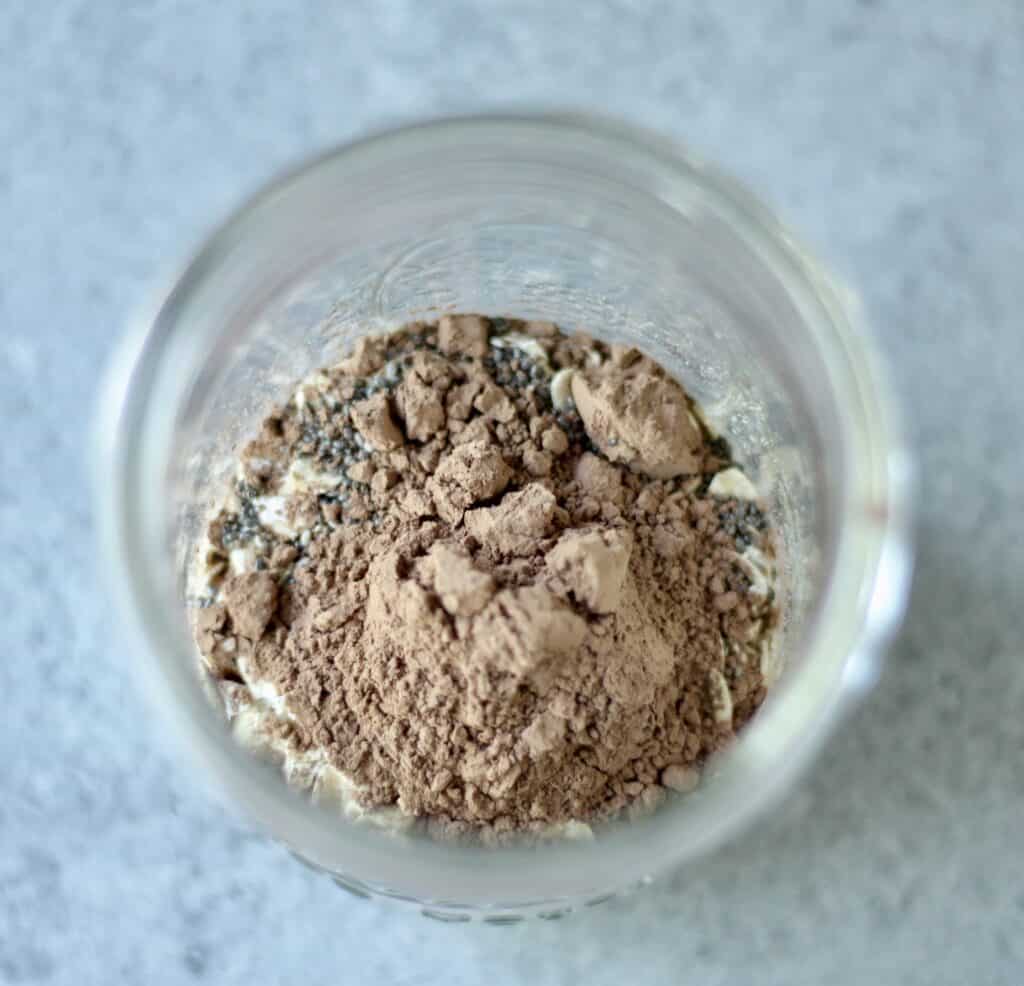 After you have mixed together all the dried ingredients, add in the coconut milk and greek yogurt. I used unsweetened coconut milk but you can use almond or really any milk you like. Same with the yogurt! I used Siggi's vanilla greek yogurt but you can use whatever you prefer.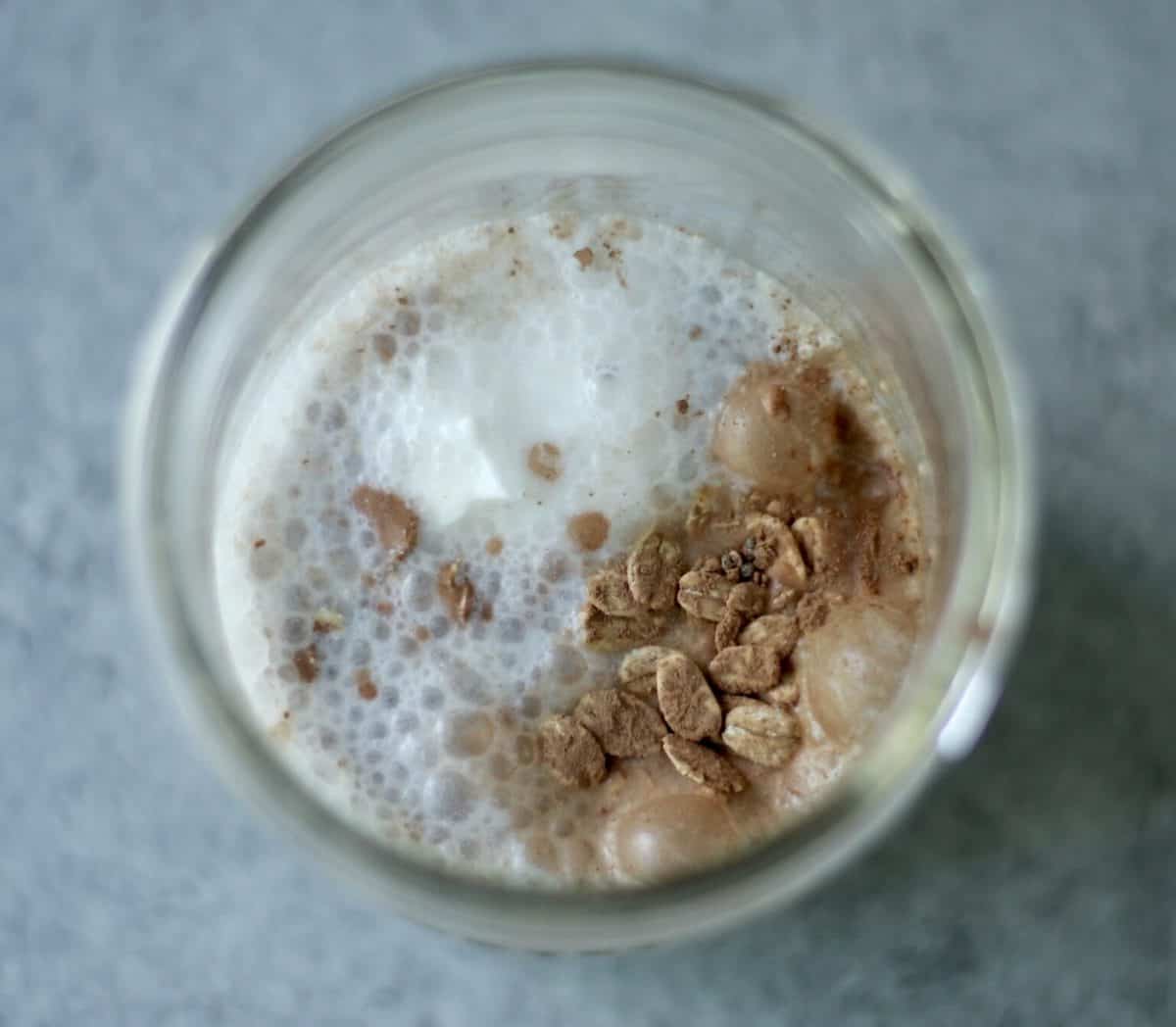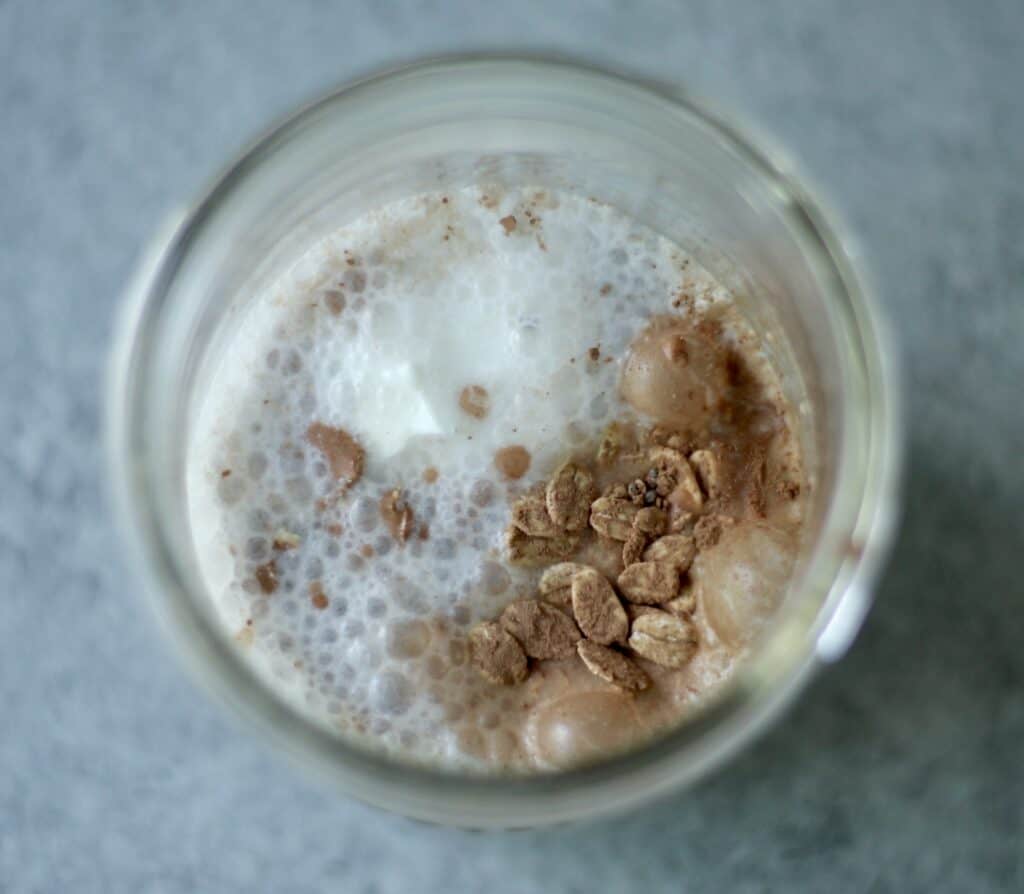 Mix all the ingredients together until they're combined and the rolled oats are covered in the liquid.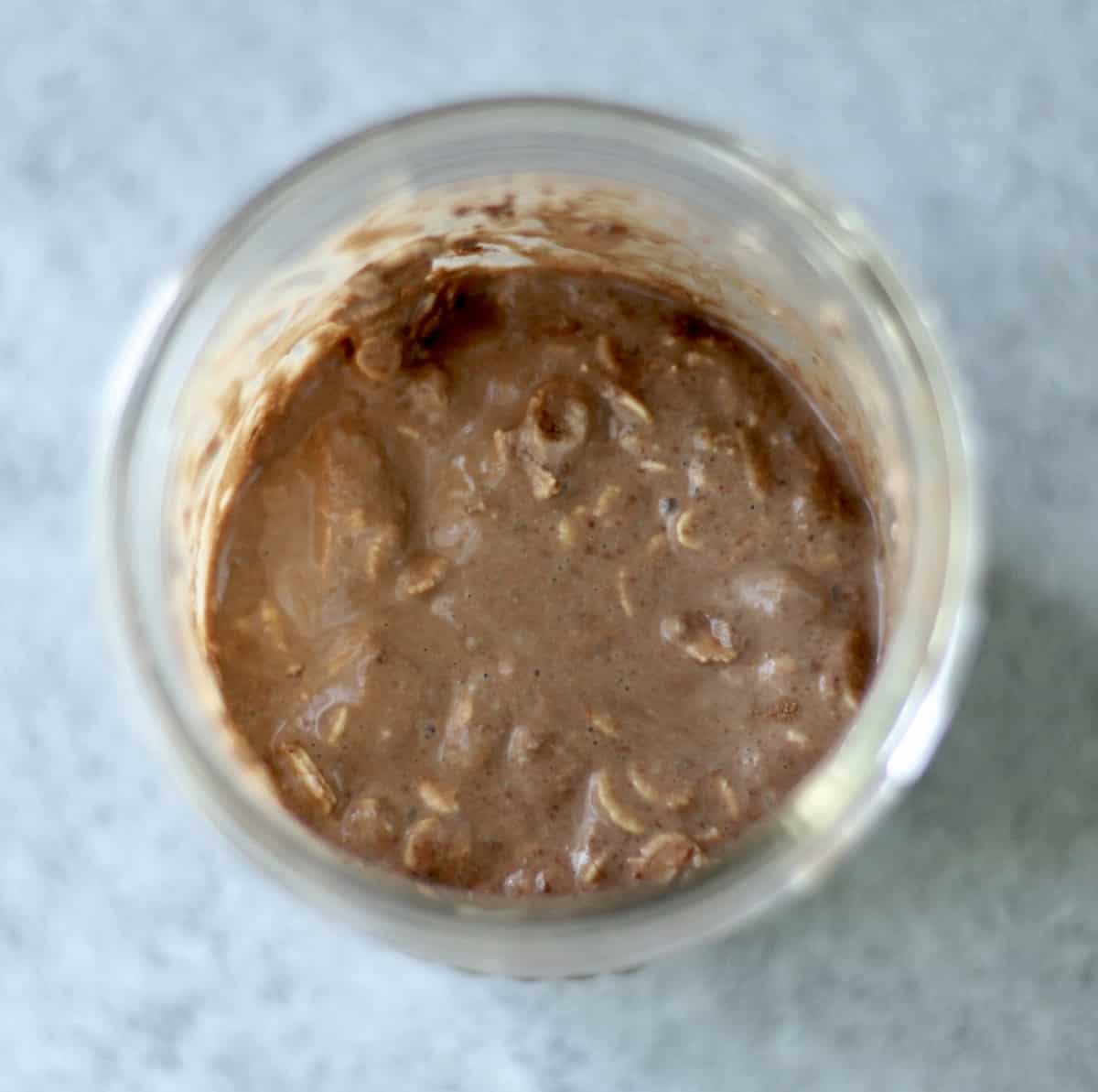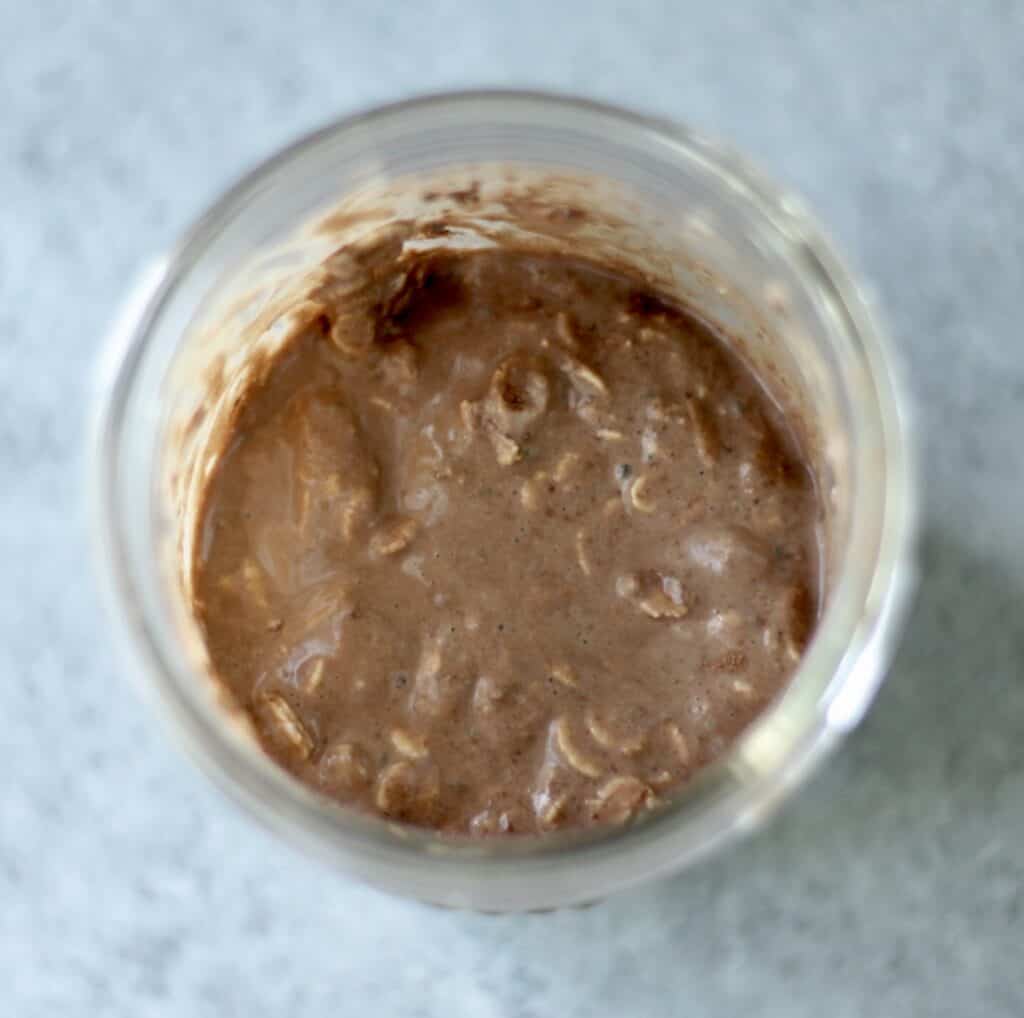 Tightly place the lid on the mason jar or container and store it in the refrigerator overnight.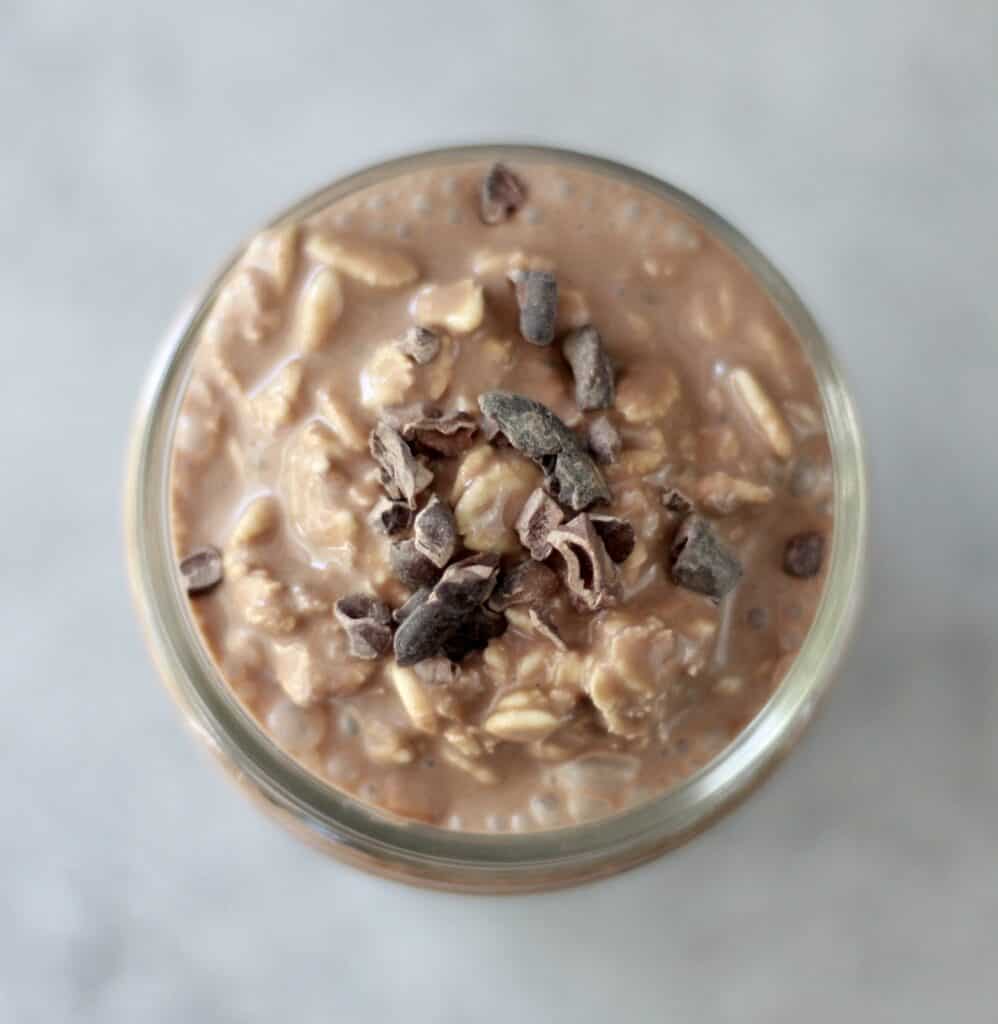 How To Prep The Overnight Oats In The Morning
In the morning, give the overnight oats a few stirs and add some pure maple syrup for sweetness. If the overnight oats are still a little thick, then add some extra liquid until you get the consistency you want.
Keep in mind that overnight oats should have a pudding-like thick consistency.
Sprinkle some cacao nibs over top and enjoy! Again, I use cacao nibs because they are healthier. But, if you only have chocolate chips, you can certainly add a few.
Just don't overdo it because this is breakfast after all.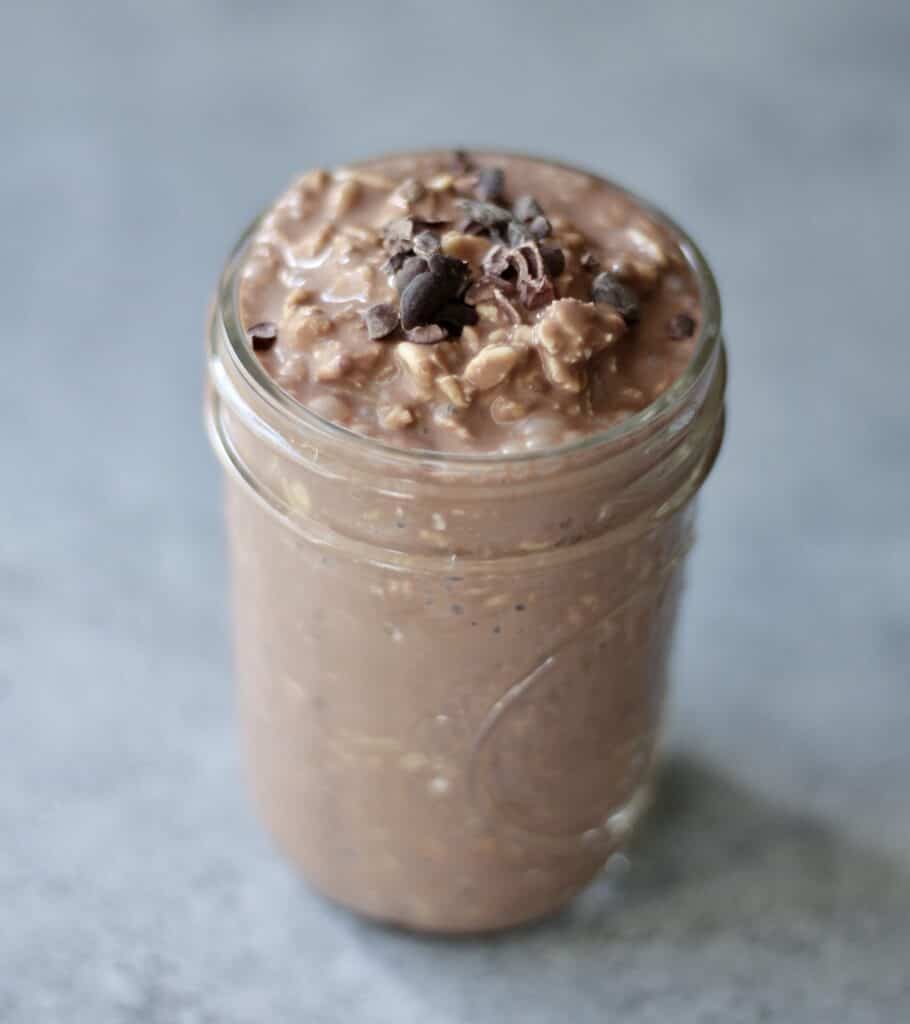 More Overnight Oats Recipe
If you loved this recipe for overnight oats with yogurt and chocolate, you have to try some of these different recipes!
If you want to learn more then check out my how to make overnight oats tutorial.
 Share a picture and tag me on Instagram or Facebook if you decide to make this!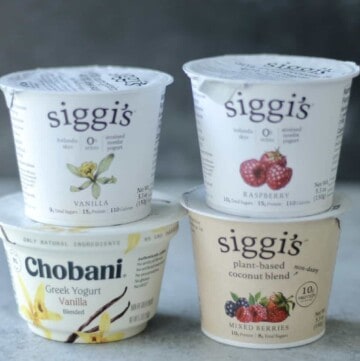 Chocolate Overnight Oats with Yogurt
This recipe is one of my favorites - chocolate overnight oats with yogurt! If you love the flavor of chocolate, you've got to give these a try!
Print
Pin
Rate
Ingredients
1/2

cup

rolled oats

1

tablespoon

cacao powder

1

teaspoon

chia seeds

2

tablespoons

vanilla Greek yogurt

1/2

cup

unsweetened coconut milk

1-2

teaspoon

pure maple syrup

1

teaspoon

cacao nibs

optional
Instructions
In a 16-ounce mason jar container (or whatever container you like) stir together the rolled oats. cacao powder, and chia seeds.

Add the vanilla Greek Yogurt and unsweetened coconut milk.

Place the lid on and store it in the refrigerator overnight.

In the morning add the pure maple syrup and give it a stir. If the overnight oats are still too thick then add some more liquid a little at a time until you get the desired consistency.

If using, sprinkle cacao nibs on top and enjoy.
Nutrition
Serving:
1
g
|
Calories:
287
kcal
|
Carbohydrates:
44
g
|
Protein:
10
g
|
Fat:
9
g
|
Saturated Fat:
4
g
|
Fiber:
11
g
|
Sugar:
11
g