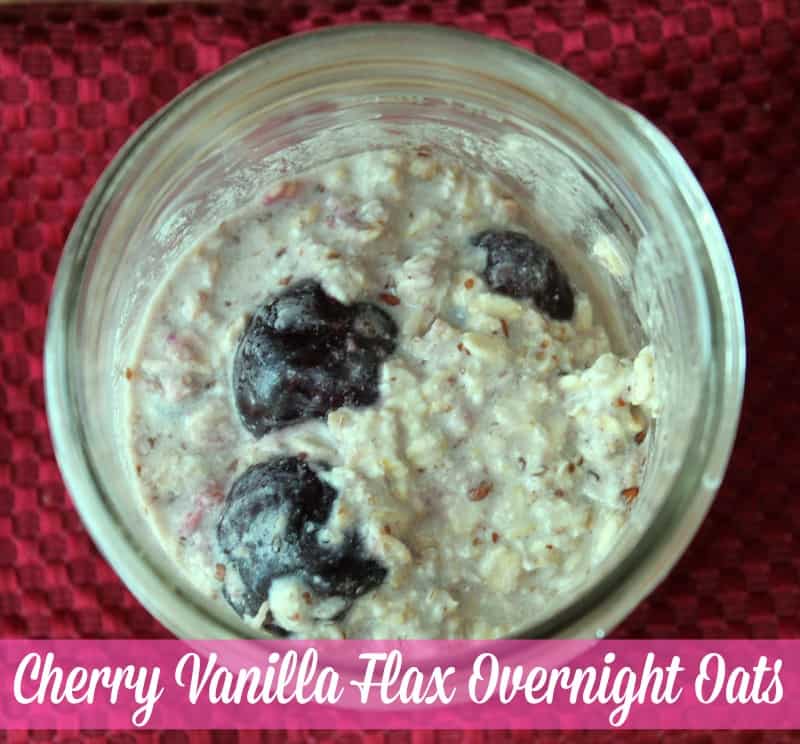 I finally made overnight oats. I have wanted to try making this for a long time now and just never got around to it. Not sure why it has taken me so long because overnight oats is probably the easiest recipe of all time.
I actually made this overnight oats recipe 3 times before finally getting it right for me. The first time I made it I used a variation of this recipe from The Yummy Life – she has a ton of overnight oats recipes. It was good but I was not crazy about the yogurt in it. I usually love yogurt with my oats but for some reason with overnight oats not so much. It seemed to be too thick for me. Then I used a variation of this recipe by Skinny Taste. The flavor was good but the consistency was to thin for me. I decided to give overnight oats a shot again when I saw this post by My Whole Food Life. Her recipes don't use yogurt and I found the amount of liquid to oats she uses to be just right. Hmmm I think I sound a little like goldie locks.
I decided to create my own recipe using My Whole Foods Life's overnight oats liquid to oats measurements as a base. I used unsweetened coconut milk for the liquid, frozen cherries, ground flax seed, and a little pure vanilla extract, cinnamon, and pure maple syrup. I just want to point out that I had all of these ingredients on hand because I use them for my Cherry Vanilla Green Smoothies.
I mixed all the ingredients into a pint size glass mason jar and let it sit overnight in the refrigerator. I was a little worried about using frozen fruit but it thawed perfectly by morning.
In the morning, I gave it a taste and loved it. I was not sure how I would like it cold but I thought it was really good. I did add a little extra coconut milk to thin it up a bit but all and all I really liked the consistency. I loved the flavors of the cherry, cinnamon, and vanilla. However, I do want to say that I did not eat this for breakfast. I always have a smoothie for breakfast time so I brought it to work with me and had for lunch. The best part about overnight oats is they are portable. You know I love portable meals. It was great!
If you have been waiting on trying overnight oats I suggest you give them a try. Especially, with the hot days of summer coming up I think refrigerator overnight oats will be a nice refreshing breakfast.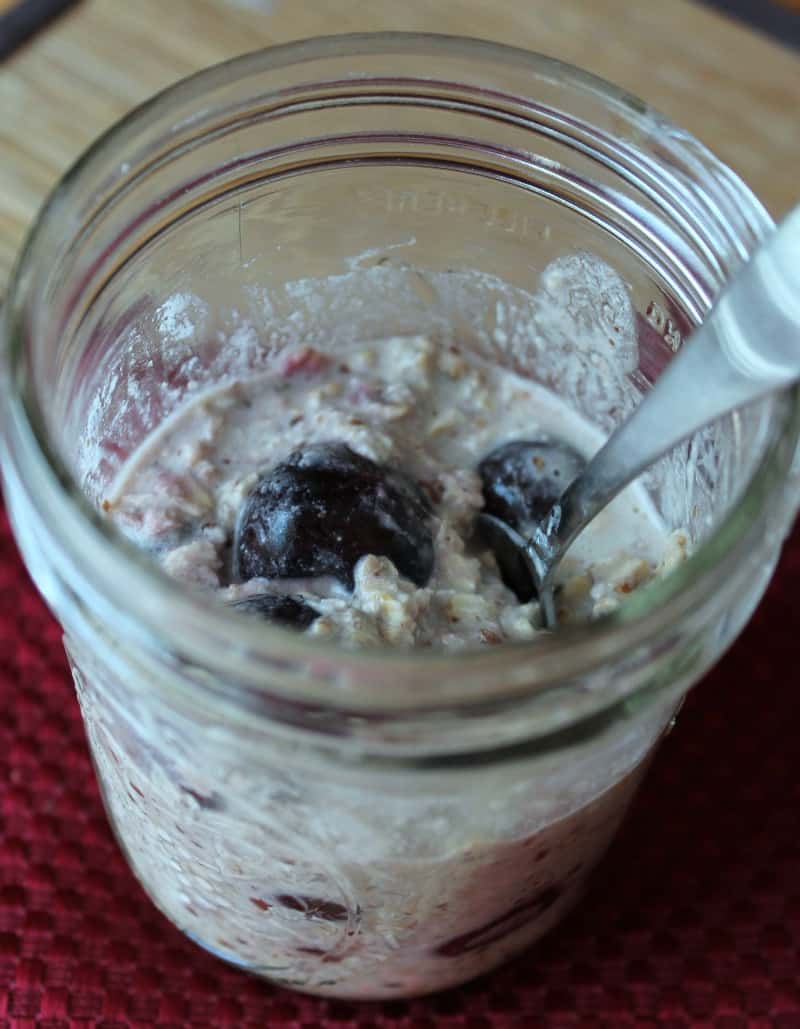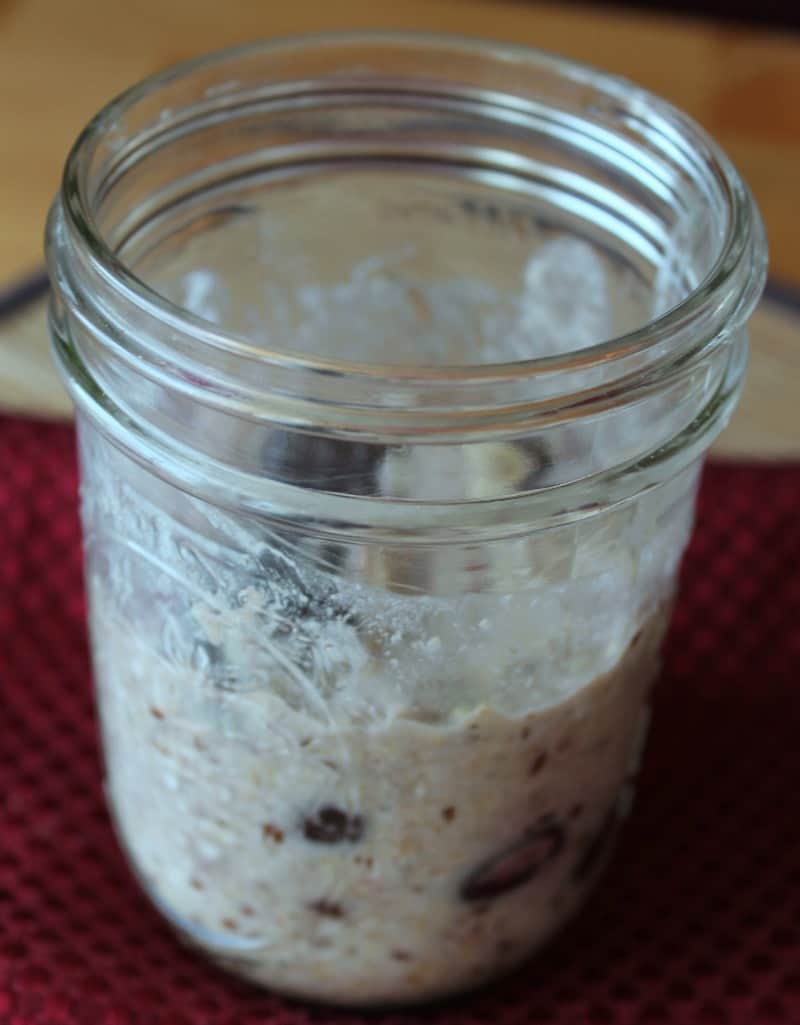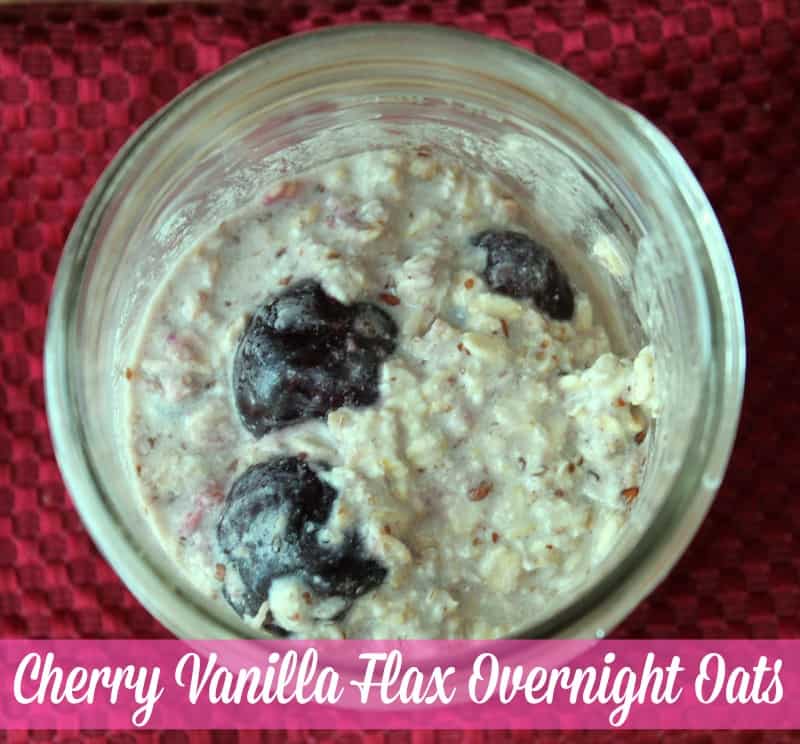 Ingredients
½

cup

rolled oats

½

cup

unsweetened coconut milk

½

cup

frozen dark sweet cherries

½

teaspoon

pure vanilla extract

2

teaspoons

flax

2

teaspoons

pure maple syrup

1/8

teaspoon

cinnamon
Instructions
Mix all ingredients into a glass pint size mason jar, close lid, and store in the refrigerator overnight. In the morning stir it up and add a little coconut if needed for consistency.
Nutrition
Serving:
1
g
|
Calories:
270
kcal
|
Carbohydrates:
49
g
|
Protein:
7
g
|
Fat:
6
g
|
Fiber:
6
g
|
Sugar:
7
g