If you're looking for a super easy meal prep breakfast recipe, don't look any further than these overnight oats! Just when you thought overnight oats couldn't get any easier, I'm going to show you how to create overnight oats meal prep freezer kits. This way, you'll never be without your favorite 'on the go' breakfast!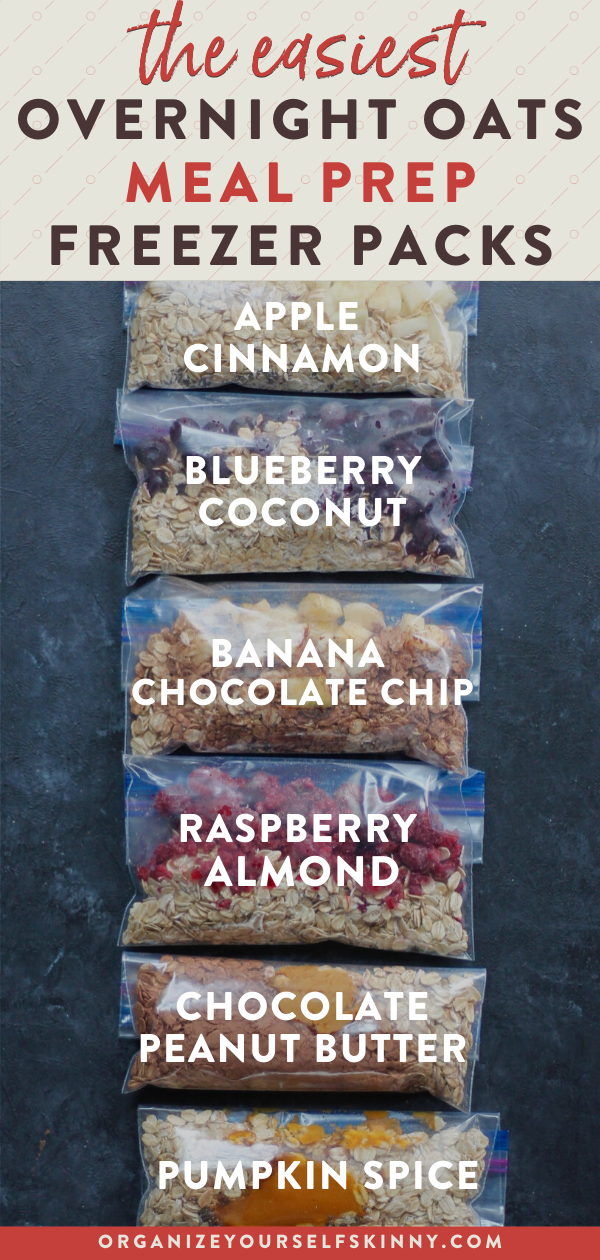 I've been an overnight oats fan forever.
Not only are they incredibly tasty, but they are a great breakfast option when it comes to my busy mornings with my kids.
Yes, I know overnight oats are a no-brainer when putting together. All we need to do is mix some oats and some sort of binding liquid (like milk) together and stick in the refrigerator the night before we want to eat.
Actually, you can make them 3-4 days ahead of time to have a healthy breakfast ready for the whole week!
So if they're already so easy to make why in the world would I need to make overnight oats meal prep freezer kits? Well, because it does make it easier. But more importantly, it lets you plan ahead of time and assures you have all the ingredients available.
Honestly, how many times have you gone to make a batch of overnight oats (or anything) and you're out of oats, cinnamon, chia seeds, or something that you need to make the perfect jar of oats? Yep, I've been there!
Putting together kits will change all of that.
Why Meal Prep Freezer Kits Are The Best
Let me back up a little.
I first started putting freezer kits together when I was trying to figure out the best way to meal prep breakfast smoothies.  These smoothie kits are so easy to make!
All you need to do is just portion out some fruit and spinach into a freezer-safe bag or container and you would have readily available smoothie kits. I like to make them in bulk so I make them for the month and know exactly how many I have and can see when I'm getting low.
These have worked out really well and are one of the freezer recipes I make the most!
So, when it came to overnight oats, I figured why not do the same thing?
Why I Made Overnight Oat Freezer Kits
I wanted to put meal prep a bunch of overnight oat freezer kits so I can easily throw together a jar when I want to add that as an option for breakfast on the meal plan.
Also, truth be told, I had the lightbulb go off after I got a couple of boxes from Daily Harvest. They offer individual frozen meals and smoothies in cups. One of the frozen meals they offer is overnight oats.
All I needed to do was add my liquid the night before. It was absolutely amazing! Honestly, some of the best overnight oats I've ever had. Everything was so fresh! If interested, check out my Daily Harvest review for more information!
Well, I decided to make my own overnight oats freezer packs. And low and behold, they turned out just as good.
Basic Necessities To Make Overnight Oats Freezer Kits
Before we start meal prepping overnight oats, you are going to need to make sure you have everything on hand. These are the basics that you'll need to make these breakfast oats:
Containers
You can use quart-sized or snack-sized freezer bags – it just depends on the recipe and the number of ingredients you are planning to use. You can also reusable freezer bags in snack or quart size!
If you have room in your freezer, then you can put together all the ingredients in an 8-ounce or 16-ounce mason jar container. In this case, all you'll need to do is add the milk or water.
If you put them into bags, then you'll need to add the ingredients into a jar the night you're going to make the oats.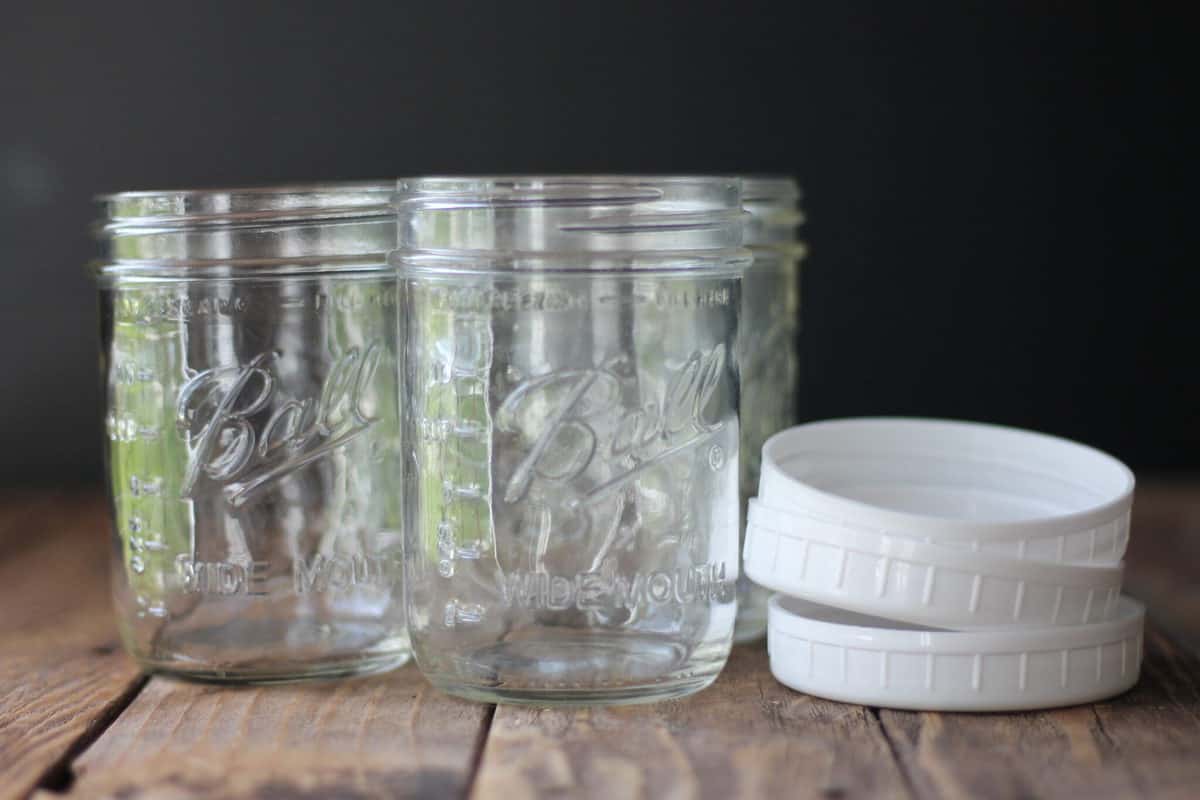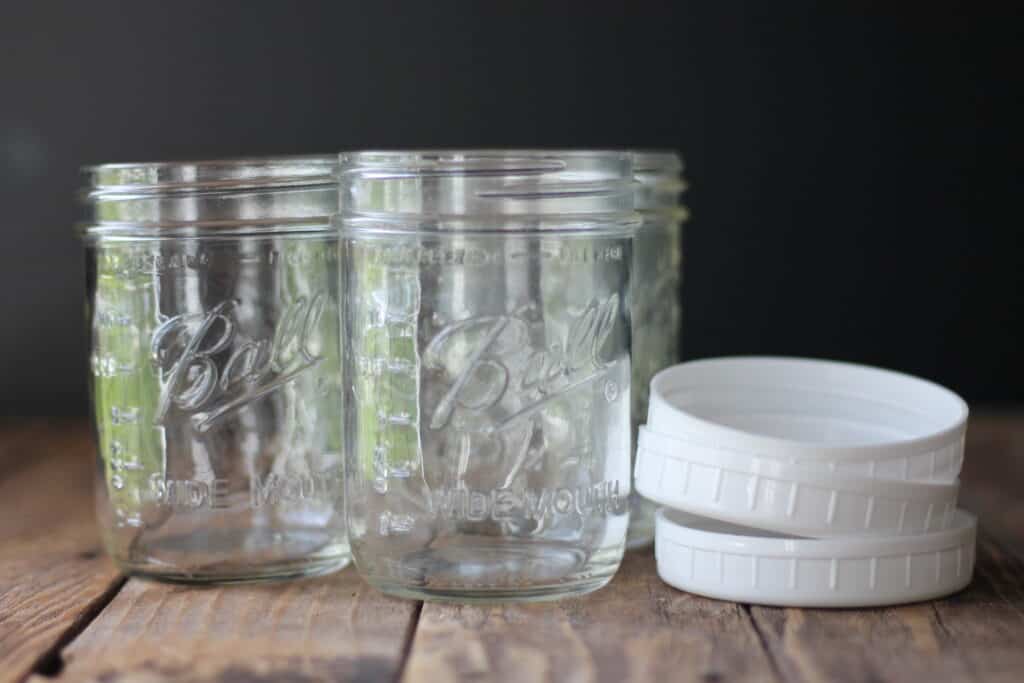 Rolled Oats
You can use regular or gluten-free rolled oats! My favorite oats are from 'Bob's Red Mill' but any rolled oats will work fine.
Chia Seeds
I use chia seeds in all of my overnight oat recipes. They add protein, fiber, omega-3's, and more nutrition!
They also soak up the liquid and create a delicious pudding texture with oats.
Milk
For liquid, I use unsweetened coconut milk but you can also use almond milk. I prefer to keep overnight oats vegan but you can use dairy milk if you like!
You'll use about 1/2 cup of liquid. You might need to use a little more depending on the ingredients used. Basically, you want all the ingredients mixed together and the liquid to be just covering the oats.
I like to press down the oats to make sure it's all covered.
Spices
Cinnamon, apple pie spice, and pumpkin pie spice are my favorites to add! I suggest adding no more than 1/4 teaspoon of spice. If you want to use something like nutmeg or cardamom, only use a very small pinch since they are very strong in flavor.
Flavors
I mostly use vanilla extract in overnight oats but you can also use almond extract. I use no more than 1/4 teaspoon per jar!
I recommend 1/8 of a teaspoon if you go with the almond extract. Other extracts that are good to add in are peppermint, lemon, and orange.
Again, I recommend using only 1/8 of a teaspoon of these flavors.
Cocoa Powder
1/2-1 tablespoon of cocoa powder is all you need to create a rich, chocolatey, delicious overnight oats recipe!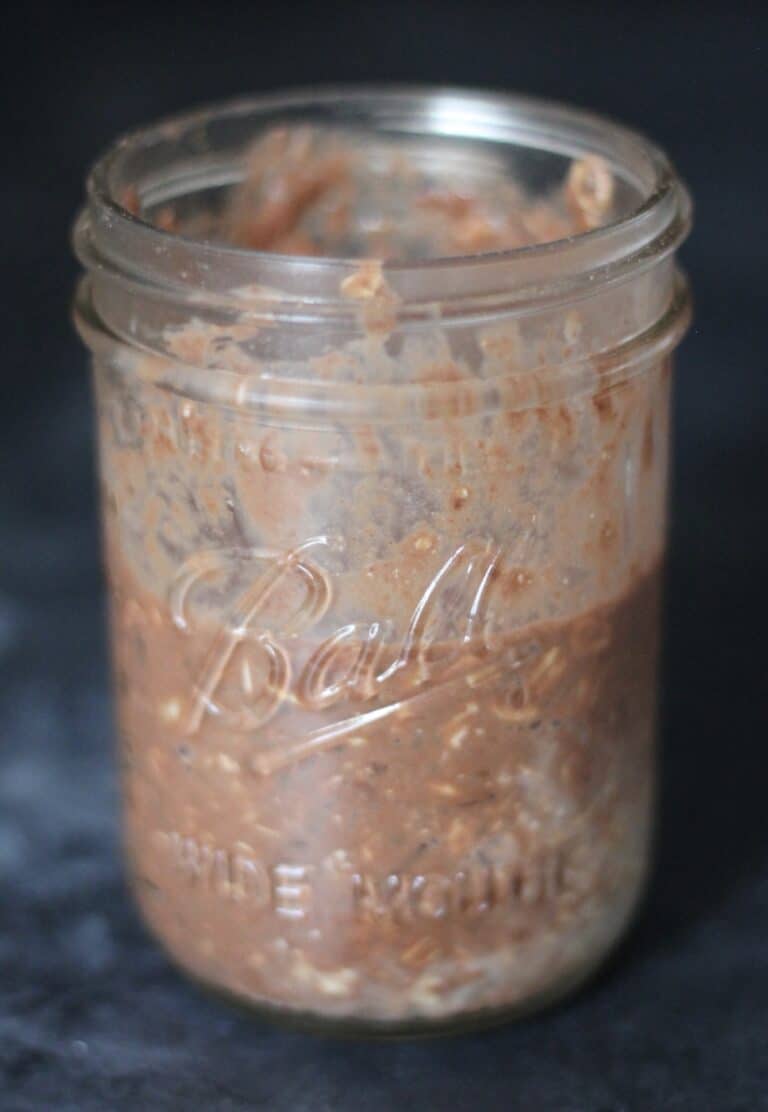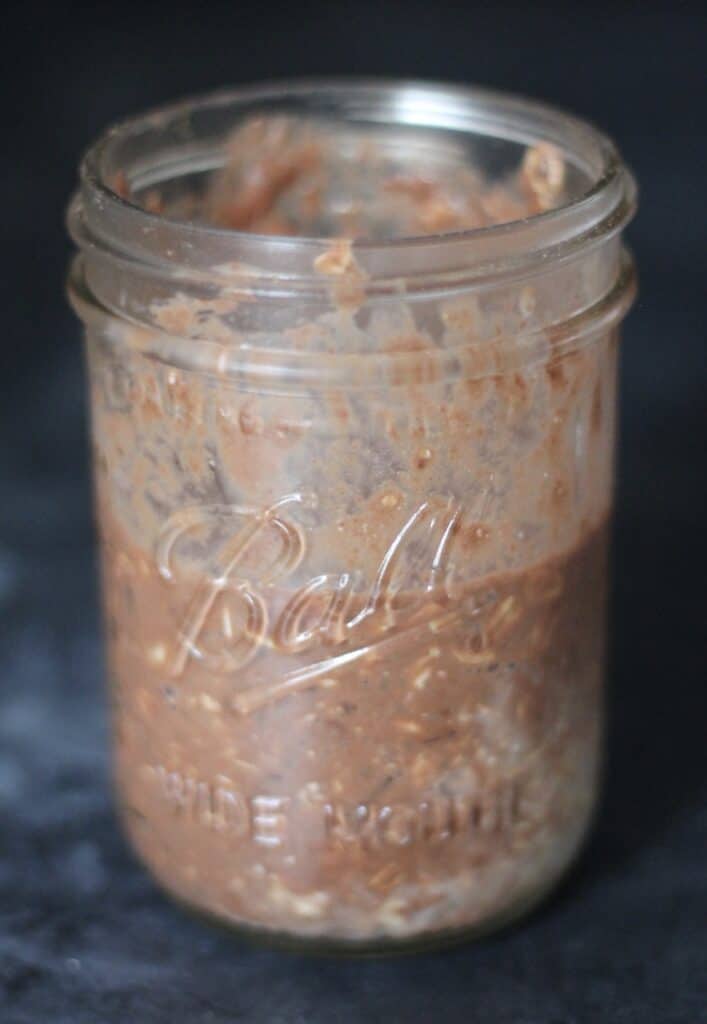 Nut Butter
Yep, you can add nut butters to all overnight oats meal prep freezer kits. My favorites are almond butter and peanut butter to add to your kit.
I use 1 tablespoon of nut butter per kit and I just throw it on top of the rest of the ingredients.
Frozen or Fresh Fruit
Fruit just tastes so good in overnight oats recipes. I use 1/2 cup of fruit per freezer kit!
I recommend for bigger fruits like strawberries, peaches, or cherries to chop them into small pieces or to slice them. You want to be able to stir everything together.
Canned Pumpkin or Sweet Potato
These two ingredients are delicious when mixed together with pure maple syrup and fall spices. I typically use 2 tablespoons of pumpkin or sweet potato in overnight oat recipes.
Dried Fruit
1-2 teaspoons of dried fruit are great for flavor and texture. Some of my favorites are raisins, dried cranberries, mangos, peaches and so many more!
Nuts
I add about 1 tablespoon of nuts (sliced almonds, pistachios, etc.) to the recipe for some added crunch.
Shredded Coconut
Add about 1-2 tablespoons of shredded coconut to bring some added sweetness and texture.
Others
You can also add:
Powdered peanut butter
Superfoods (hemp hearts, cocoa nibs,  and goji berries)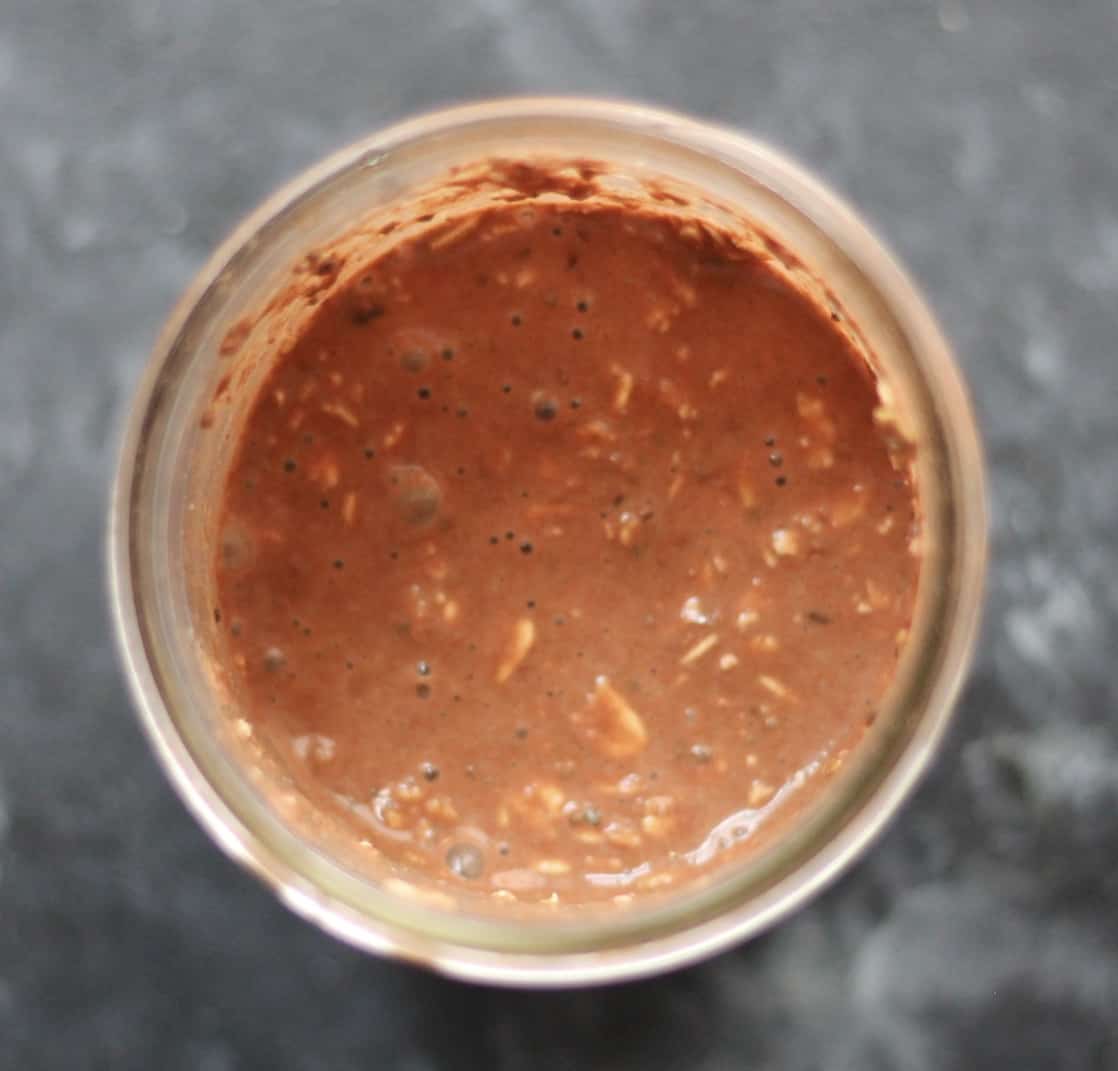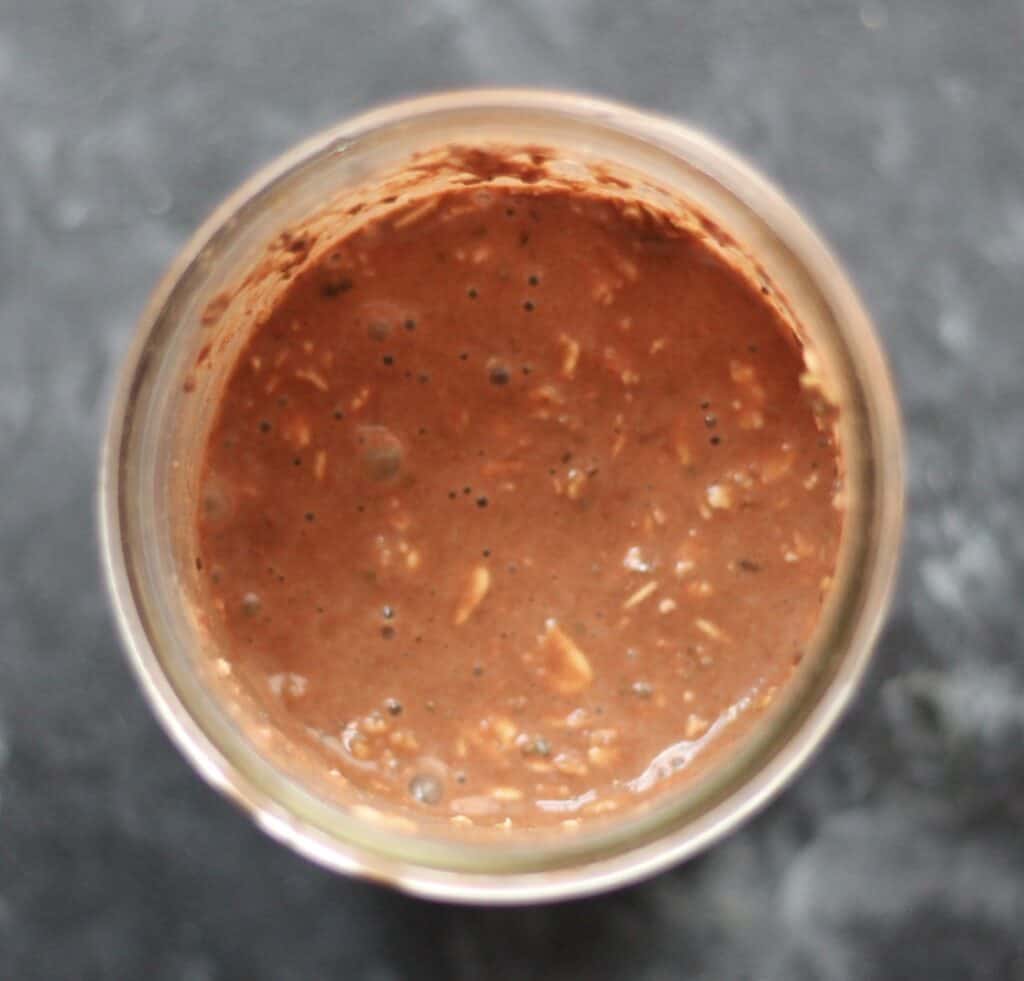 Overnight Oats Meal Prep Freezer Kits
Everything you want to put into your overnight oats can be put into the freezer kit. So when you're ready, all you'll need to do is add the milk or water.
This is actually the beauty of a kit- to have available all the ingredients that you want for a recipe available.
Here are 6 of my favorite combinations!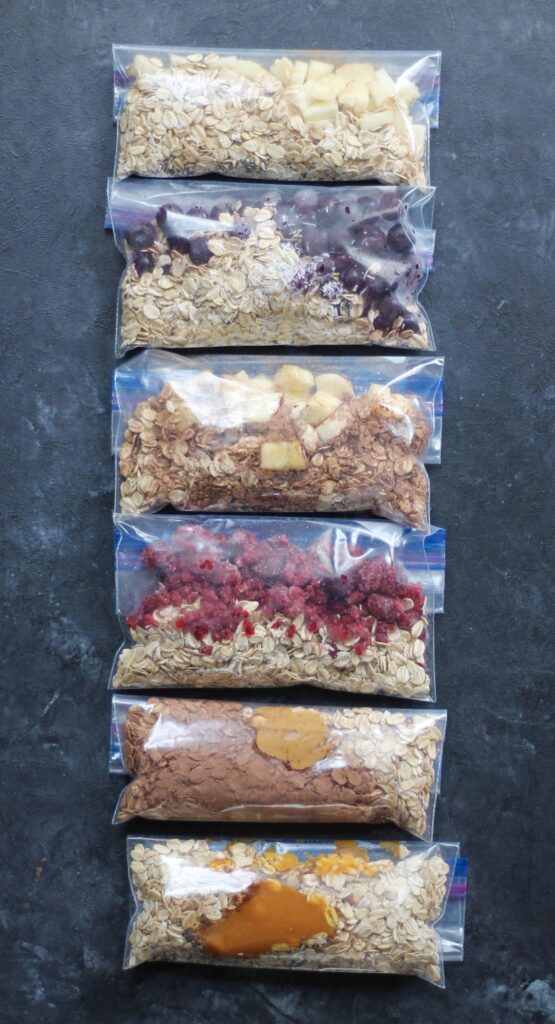 When you're ready to make any of these recipes dump the ingredients into a mason jar and add 1/2 cup of liquid. Stir all of the ingredients together. You want the oats to be just covered with liquid. Place the lid on and put it into the refrigerator overnight. In the morning, give it a couple stirs and add more liquid if you need to loosen up the oats a little bit. The dig in!
How To Make Freezer Kits For Overnight Oats
Like I said any overnight oats can be turned into a freezer kit!
The basic overnight oats formula I use is 1/2 cup rolled oats and 1 teaspoon chia seeds. So, if you just want to make a basic overnight oats kit, then add those two ingredients to each bag or jar and stick it in the freezer.
That's it!
Truly, once you have the basic overnight oats formula down, you can add in whatever extra ingredients you like!
So, essentially, any overnight oats recipe you find can be turned into a freezer kit.
With any of these combos, you can easily have breakfast ready to in less than 5 minutes and all it took was a little bit of meal prep.
If you want to learn more about this delicious breakfast recipe then check out my how to make overnight oats tutorial.
Try these overnight oat freezer kits to make your life just a little bit easier. Share a picture and tag me on Instagram or Facebook if you decide to make any of these or come up with your own flavor combination!