Vegan overnight oats are the perfect make-ahead breakfast for the busy person who is trying to eat a plant-based diet but doesn't want to skimp on flavor or protein in the morning. Put together a jar the night before, or a few on Sunday, and wake-up to a delicious creamy jar of oats.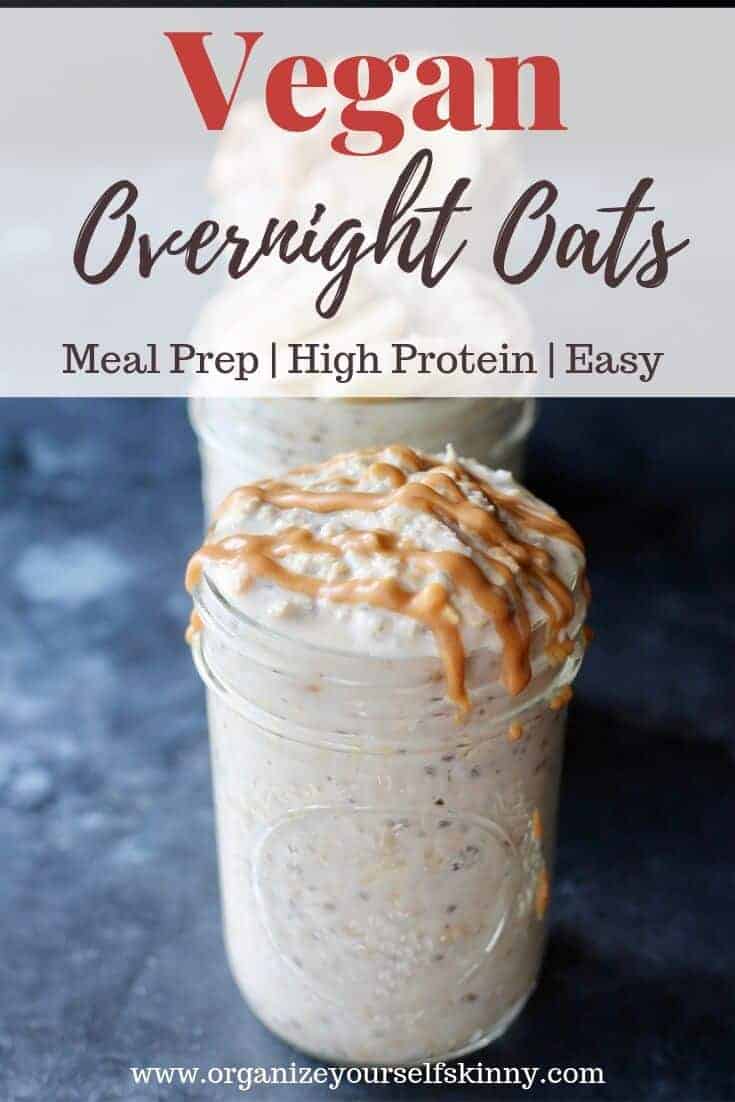 A couple questions I get often are…
Do you have any high-protein breakfast recipes that don't include eggs?
Do you have any vegan meal prep recipes, specifically breakfast?
My answer to both of these questions are overnight oats. Overnight oat recipes are super easy to adapt to a vegan lifestyle. In fact, vegan overnight oats are one of my favorite meal prep breakfast recipes.
It's kinda funny because I never intentionally try to eat vegan, or vegetarian for that matter, but it seems many of my favorite recipes fall into both of those categories. For example, my favorite green smoothie I drink every week is filled with fruits, greens, chia seeds, and unsweetened coconut milk. Or I love this  Protein Power Mason Jar Salad that has zero meat. It does have an egg but I ca easily leave it out.
For snacks these pumpkin spice energy balls or granola are a favorite, both are made without animal products.
Last, I love eating overnight oats for breakfast. All of my recipes are either vegan or very close to it. So, vegan overnight oats have been a staple on my meal plan for years. Of course, I never thought to put them in the "vegan" category until I started getting questions about vegan meal prep breakfast recipes.
Anyway, I wouldn't consider myself a vegan at all. However, I will say this. When I do eat a diet filled with more fruits and vegetables rather than meats I feel very good. My entire body feels healthier, more energized, and dare I say…lighter. So, while I don't keep meat out of my diet I do try to eat vegan and/or vegetarian when I can.
Before I share my favorite vegan overnight oat recipes I just want to answer some questions and offer some tips.
Is there enough protein in vegan overnight oats?
One of the biggest concerns with vegan meals is protein. A common misperception is that if the meal doesn't include meat then there can't be enough protein. However, with vegan overnight oats that's not the case at all. In fact, there are many ways to add protein to any overnight oats recipe.
Here are some of my favorites:
Chia seeds – chia seeds are a powerhouse of nutrition. 1 tablespoons will provide about 5 grams of protein! That's pretty awesome. But they offer so much more than that. Chia seeds are high in fiber, omega-3 fatty acids, and antioxidants. Not only do they provide a ton of nutrition but chia seeds absorb the liquid in overnight oats and create a creamy pudding-like texture that's beyond delicious. So, if you're looking for an easy way to add protein, and other nutrients, to your overnight oats then grab a bag of chia seeds. I get a big bag of organic chia seeds at BJ's Wholesale but you can find them just about anywhere now. You can also purchase chia seeds from Amazon for relatively inexpensive.
Quinoa – Next to chia seeds quinoa is one of my favorite superfoods. It's a complete protein and is perfect for amping up the protein in any vegan overnight oats recipe. It's also high in fiber and gluten-free. Simply add a couple tablespoons of cooked quinoa in with the oats and you'll never know it's there.
Nut butters or nuts – Adding a drizzle of almond butter or a tablespoon of chopped almonds to an overnight oats recipe will add a good amount of protein. The only thing to keep in mind is nuts add fat and calories to any recipe so make sure to measure to keep both under control.
Coconut or almond milk – In order for the oats to process they need to soak in a liquid overnight. Instead of using dairy milk use coconut or almond milk, both will add protein to a jar overnight oats while keeping it vegan.
Dairy-free yogurt – stir in 1/4 cup of coconut milk yogurt or almond milk yogurt to add extra creaminess and an extra punch of protein.
You can use one or all of these options to create a high protein vegan overnight oats recipe.
Can I use gluten-free oats?
Yes, gluten-free rolled oats work great in any overnight oats recipes. So if you're looking for vegan, gluten-free, AND high protein then overnight oats will work great! My favorite brand of gluten-free rolled oats are Bob's Red Mill Gluten-free rolled oats. You can purchase these at any grocery store or grab a bulk bag from Amazon.
Can I make vegan overnight oats ahead of time?
Yeppers! Vegan overnight oats are actually the perfect meal prep recipe. They are easy to whip up a few days ahead of time or the night before. You might need to add a little extra liquid in the morning to loosen the oats but they'll still be delicious. My only piece of advice is if you're using chopped nuts then add those in the morning. I find they lose their crunch if sitting in the oats too long. All other ingredients can be thrown in ahead of time.
What containers should I use?
If you want to make portion-controlled jars of vegan overnight oats then I recommend using 16-ounce mason jars. In my opinion, these work the best. If you purchase mason jars then grab a package of plastic lids too. 
However, if you'd rather make a big batch of overnight oats, and take the amount you want every morning, then use a bigger container. I prefer glass meal prep containers but plastic will work too.
If you have any other questions list them in the comments and I'll answer them.
Okay, let's get to my favorite vegan overnight oats recipes.
Vegan Overnight Oats
If you're in the mood for something fruity then you must try this delicious Raspberry Almond Overnight Oats recipe. This is actually the recipe that made me an overnight oats fan!
Or this Strawberry Overnight Oats recipe is a favorite with chunks of strawberries and ripe banana! YUM.
Or this Blueberry Banana Overnight Oats. Oh mama!
This Apple Cinnamon Overnight Oats recipe is amazing!
If you're peanut butter obsessed then this Peanut Butter Overnight Oats is right up your alley. Of course, any nut butter will work.
Or for all my pumpkin spice fans then put this pumpkin spice overnight oats recipe on your meal plan this week.
Here's a carrot cake overnight oats that's scrumptious. I use quinoa in this recipe too!
If you're feeling chocolate these overnight oats recipe can easily be adapted to vegan. Just use vegan cocoa and chocolate. Where there's a will there's a way!
Here's a list for my chocolate lovers.
Peanut Butter Chocolate Overnight Oats
Chocolate Cherry Overnight Oats
Banana Chocolate Overnight Oats
If you're looking for a high protein make-ahead vegan breakfast recipe then I hope you give vegan overnight oats a try. There's a recipe to fit any craving and when you have the basics on hand you can whip together a couple jars of overnight oats within a few minutes. Stick it in the refrigerator at night and then wake up to a delicious wholesome breakfast packed with protein!