Strawberry overnight oats is filled with juicy fresh strawberries and sweetened with ripe bananas. Make a few jars on Sunday to enjoy a healthy breakfast all week.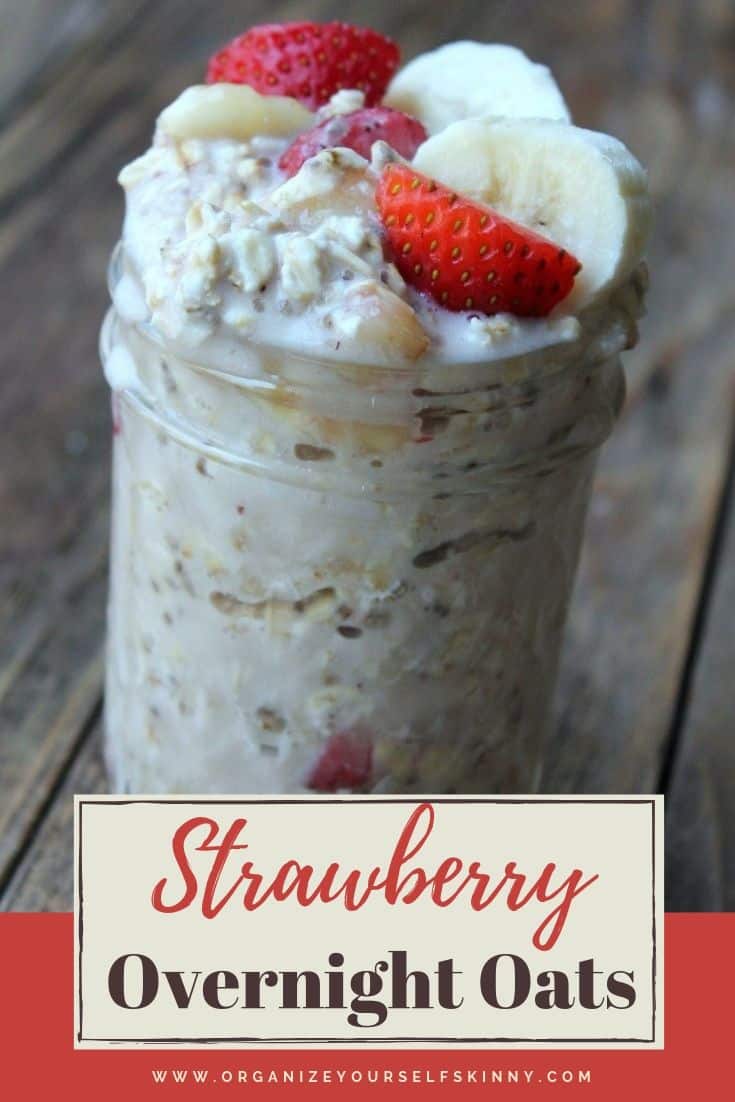 Yes I know this the third overnight oats recipe in a row. I shared my almond joy inspired recipe last week and just shared my new blueberry banana overnight oats recipe a little bit ago. If you love cold creamy oats (like me) then you're welcome because all these recipes are sooooo good! If you hate them then hold tight because I have a new meatloaf coming your way soon. Like this week soon. Yay for meatloaf!
But first let's talk overnight oats one more time. So many of you are always looking for an easy, cheap, and tasty breakfast recipe. Preferably one you can make ahead of time, is healthy, and will keep you full until lunch. That's a tall order to fill but I can tell you overnight oats fits the bill. Actually any oatmeal recipe will but overnight oats are the best because they don't need to be cooked. Just throw all the ingredients in a mason jar, store in the fridge overnight, and bam breakfast is served.
Overnight oats are versatile too. Once you have the base recipe down any ingredient can be thrown in.
The basic overnight oats recipe is 1/2 cup rolled oats and 1/2 cup milk. I use unsweetened coconut milk but any milk will work just fine. Typically, I add 1 teaspoon of chia seeds for extra protein and fiber. Fruits I put in with the oats the night before. Nuts and seeds I will toss in the next morning. Overnight oats are a great way to use up leftover fruit and other random oatmeal-type ingredients. You can check out my easy overnight oats tutorial for more step by step instructions.
Before I jump to the recipe I want to answer a couple questions.
Can I use fresh strawberries in this overnight oats recipe?
Yes, of course. Fresh strawberries would work great. I live in Buffalo, NY so fresh strawberries cost an arm and a leg most of the time. I can get a huge bag of frozen organic strawberries from my local wholesale store that I use in this recipe and many others. I also freeze fresh strawberries that I pick during strawberry and season and freeze those to use year round. Check out my how to freeze strawberries tutorial for more information on that.
Can I use gluten-free rolled oats?
Yes, I've used gluten-free oats in all my overnight oats recipes with no problem.
Alright, let's get to the recipe.
Strawberry Overnight Oats
For this recipe I decided to use up some strawberries I had in the freezer and of course a bit of banana. Yes I know I use a lot of bananas…but I love them. You can leave the banana out and just use extra strawberries.
The bananas do add sweetness so if you leave them out you will need to add some extra pure maple syrup or honey.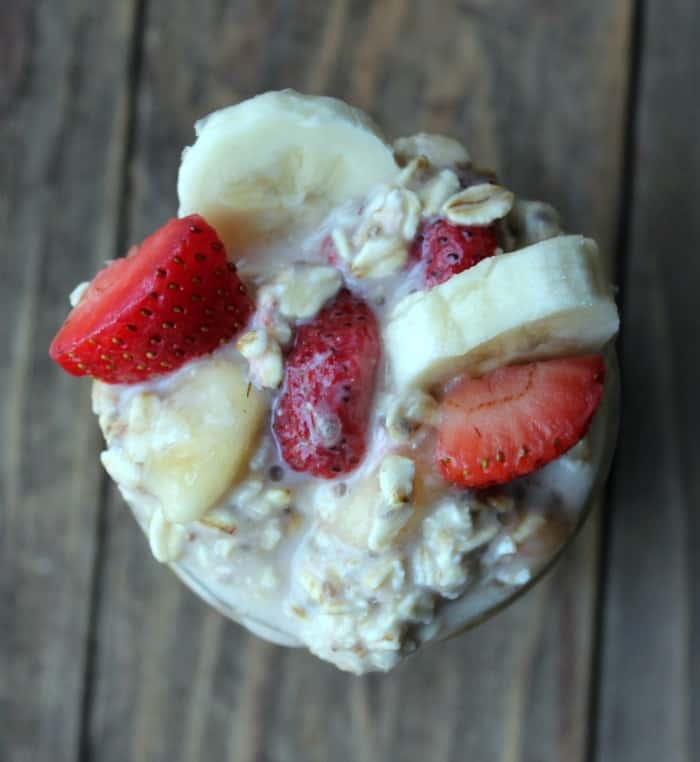 The next morning I stirred in a little more maple syrup and coconut milk then I took a big bite. YUM YUM YUM!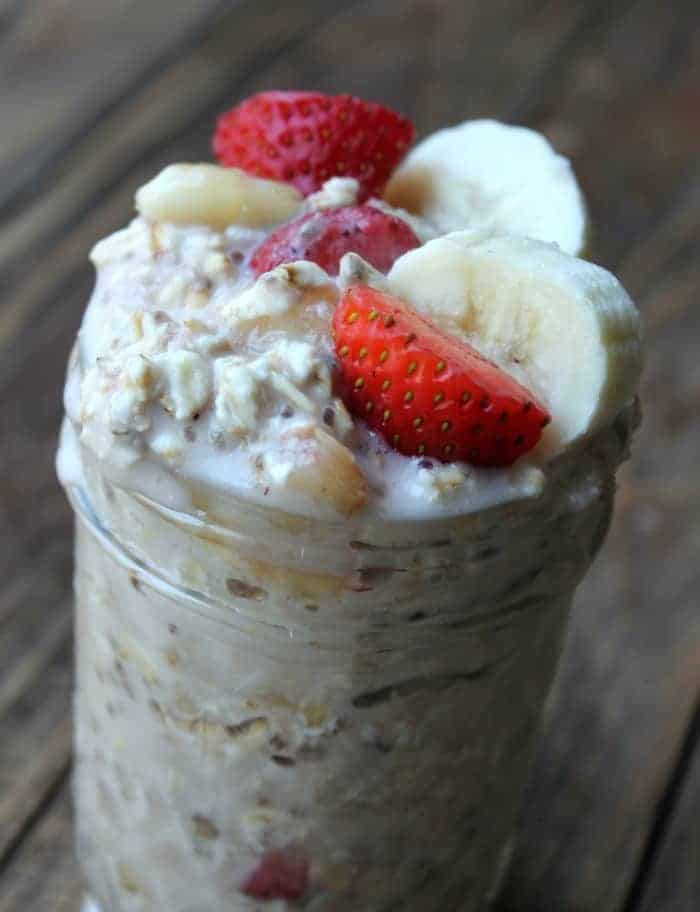 The banana and strawberries melt into the oats and you end up with the most delicious flavor.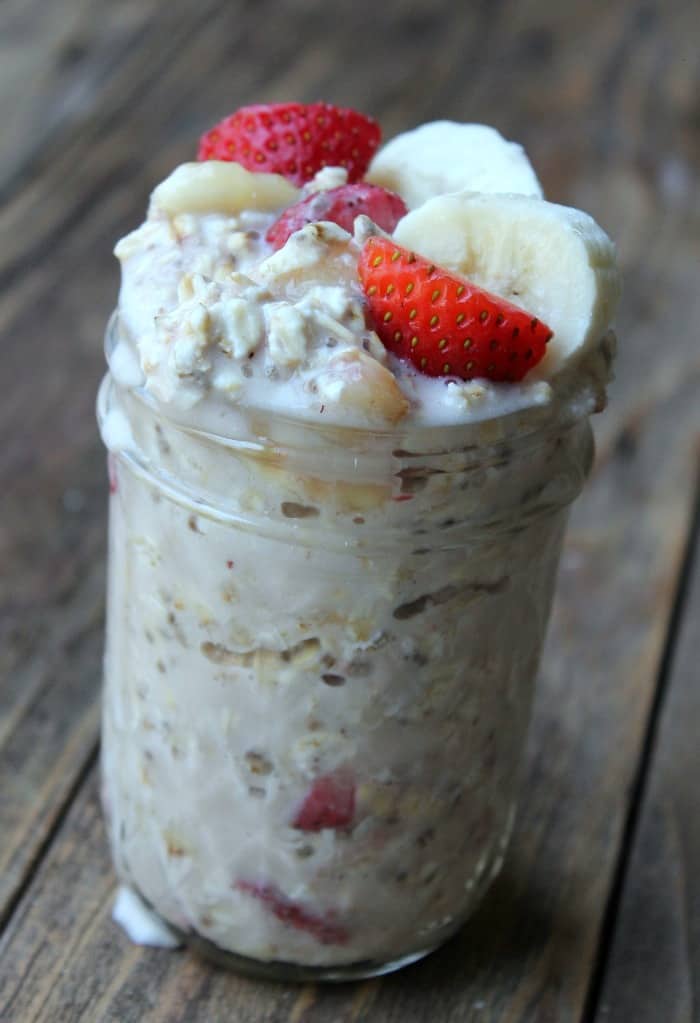 Overnight oats are such a treat. They taste like a creamy pudding and on hot humid days overnight oats hit the spot. If you need a change from smoothies or breakfast burritos then give this recipe a try.
Meal Prep Idea
Overnight oats can be made 3-5 days ahead of time so make a few to have on hand for an easy breakfast during the week.
Supplies to Make Strawberry Overnight Oats
Rolled oats – in my experience, rolled oats work best for overnight oatmeal recipes. You can also use gluten-free rolled oats.
Chia Seeds – you can find great prices on chia seeds at your local wholesale store or get some online at Amazon.
16-ounce mason jars – This size works best for overnight oat recipes.
Plastic mason jar lids – because the metal lid that comes with the mason jars will eventually rust so I recommend grabbing a package of plastic mason jar lids.
Other Overnight Oats Recipes
Pumpkin Chocolate Overnight Oats
Blueberry Banana Overnight Oats
Peanut Butter Banana Overnight Oats
Here's a quick recipe tutorial to bring this recipe to life for you.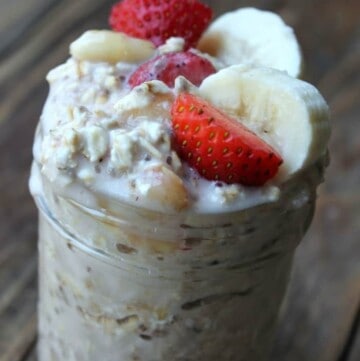 Ingredients
1/2

cup

rolled oats

1

teaspoon

chia seeds

1/2

cup

unsweetened coconut milk

1/2

of a ripe banana

peeled and chopped

1/2

cup

frozen or fresh strawberries

1

tablespoon

pure maple syrup
Instructions
In a 16-ounce mason jar combine the rolled oats and chia seeds.

Pour in the coconut milk and stir the oats and milk together.

Place the banana and strawberries on top of the oats.

Put the lid on and refrigerate overnight.

Stir in the pure maple syrup and a little extra milk to loosen up the oats. Enjoy cold.
Notes
Sugar: 24
Make-ahead instructions
This recipe can be made 3-5 days ahead of time.
Nutrition
Serving:
1
g
|
Calories:
310
kcal
|
Carbohydrates:
33
g
|
Protein:
8
g
|
Fat:
6
g
|
Saturated Fat:
3
g
|
Fiber:
9
g
Get Instant Access to My Overnight Oats Recipe E-Cookbook!
Sign up now to receive your FREE e-cookbook that I created exclusively for my email subscribers! That's you!