Blueberry overnight oats made with fresh blueberries and sweeten with ripe bananas for an easy wholesome make-ahead breakfast recipe.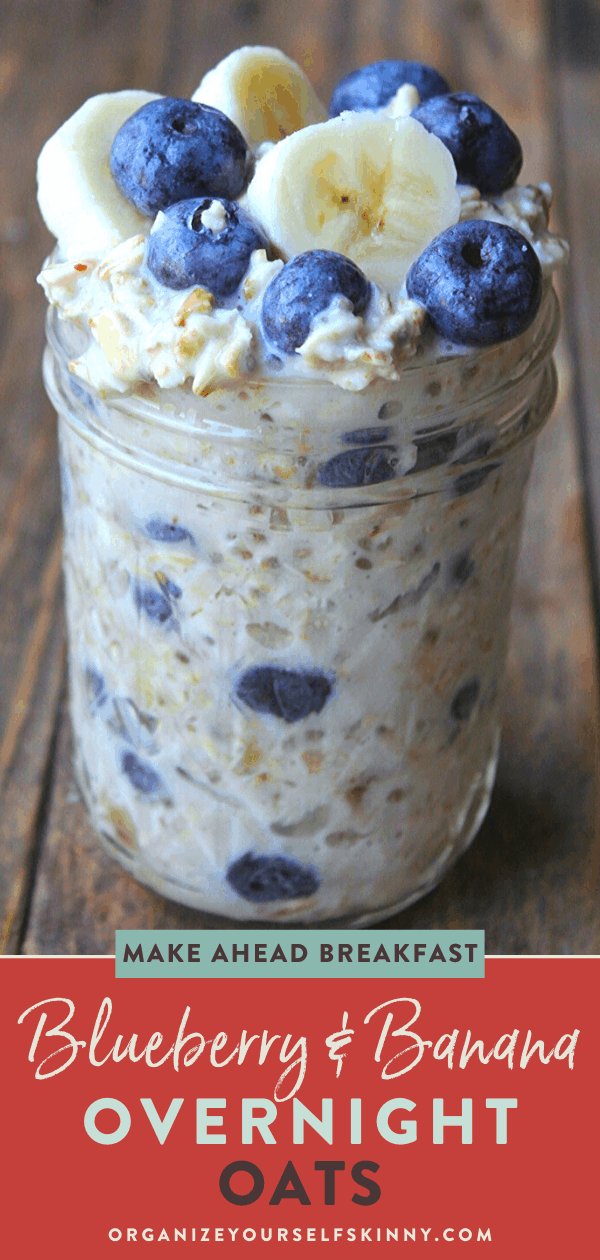 This delicious recipe marks the end of blueberry season for me. Well kinda… I still have a couple big bags of blueberries in my freezer but as for blog recipes, this is it. Check out my how to freeze blueberries tutorial to learn to freeze fresh blueberries to enjoy year round.
Over the last couple months I made a slow cooker blueberry banana steel cut oatmeal recipe, a blueberry banana baked oatmeal cup recipe, and a blueberry banana greek yogurt muffin.
I also used countless blueberries in smoothies and plan to make many more with what I have left. It has been blueberry heaven over here. Banana heaven too I guess considering each recipe has a ripe sweet banana in it.
This is the thing with bananas. I love them. I always have a couple on my counter needing to be used up so more often than not bananas will find their way into my recipes. Especially, breakfast or baked good recipes. Here's a post on using up ripe bananas.
In my opinion, blueberries and bananas were meant to be. Truly. The slight tartness of a blueberry goes perfectly with the sweet flavor of a ripe banana. And when you combine those flavors you don't even need a lot of added sugar because the fruit provides most of the sweetness.
Before I jump into this easy overnight oats recipe I want to answer a few common questions.
Can I use frozen blueberries in overnight oat recipes?
Yes of course. In fact, the only time I use fresh blueberries is within a couple days of picking them in the summer time. After that, I freeze the blueberries and use them frozen the rest of the time. So, you can purchase a bag of frozen and use them in this recipe.
Are overnight oats healthy?
I know overnight oats can seem like an indulgence because they are sweet and creamy. However, overnight oats are wholesome and nutritious. Overnight oats are made with fiber-rich rolled oats which also include a good amount of protein and other nutrients.
You can also fill overnight oat recipes with other nutritious ingredients like chia seeds, flax seeds, coconut oil, nuts, and all kinds of fruits.
Do you eat overnight oats cold?
Yes, that's the idea. Overnight oats can be prepared up to 3-4 days ahead of time. When you're ready to eat simple give them stir, add a little more liquid if needed, and eat.
The point of overnight oats is to have an easy make-ahead breakfast. With that said, if you don't want to eat them cold you can warm up in the microwave or on the stove.
Can I eat overnight oats for lunch?
You can eat overnight oats whenever you want. Overnight oats are filling and perfect to eat at lunchtime. I've also enjoyed them for snacks.
Do overnight oats need to be in a jar?
Overnight oats can be made in any container you want. I prefer to use 16-ounce mason jar containers because there transportable and portion-controlled.
Are overnight oats vegan?
Yes, overnight oats can easily be prepared vegan. I put together an entire post on vegan overnight oats with tips, tutorials, and recipes.
Let's get to the recipe.
How to Make Blueberry Overnight Oats
Overnight oats recipes are so simple to prepare and can be made 3 – 4 days ahead of time. I don't make more than 3 at a time but I've had readers tell me their oats are fine at 5 days.
Step 1: Mix together rolled oats, chia seeds, and unsweetened coconut milk. Chia seeds add extra protein, fiber, and omega-3 fatty acids to the recipe.
Chia seeds also create a delicious pudding-like texture with the oats. Overnight oats can be prepared without chia seeds so if you don't have any, or don't want to use ,then leave the chia seeds out.
Use whatever milk you like. To keep this overnight oat recipe vegan I suggest almond milk or another non-dairy milk.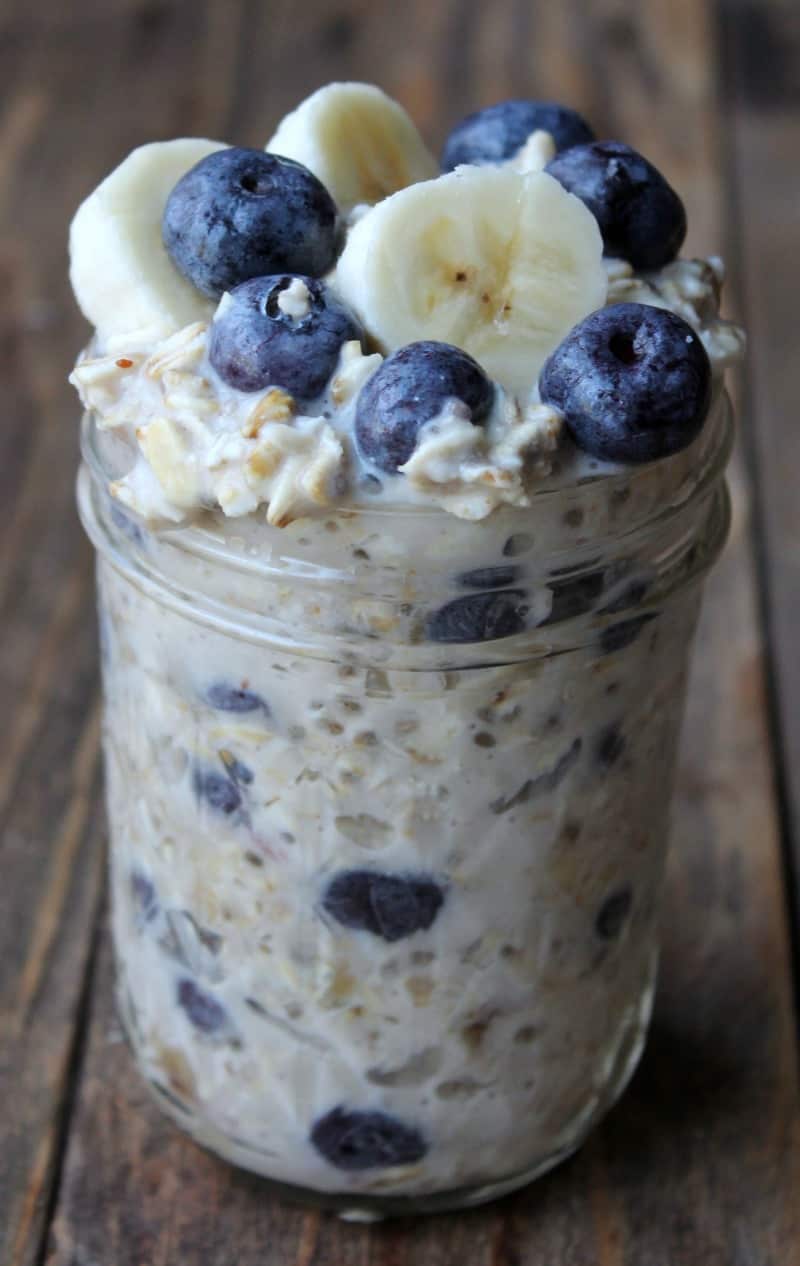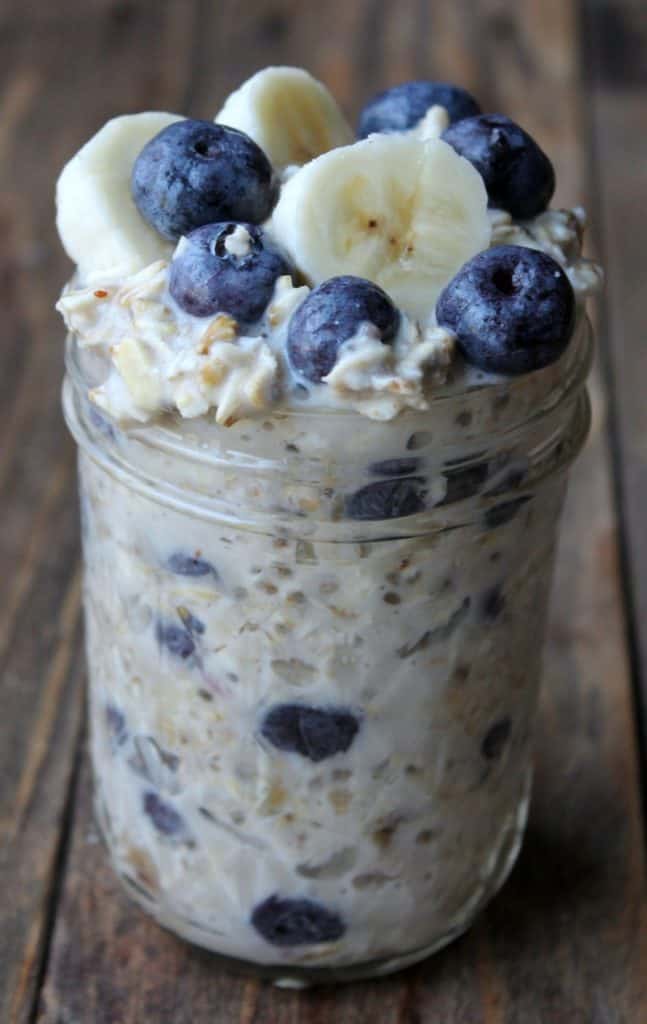 Step 2: After the basics are mixed together stir in a little pure vanilla extract and add in a 1/2 banana and 1/2 cup of blueberries. Like I said, you can use fresh or frozen blueberries.
Step 3: After the ingredients are mixed together, put the lid on, and refrigerate overnight. The oats are going to be thick when you take the jar off. Give it a couple stirs and add a little extra milk to loosen up the oats. A little pure maple syrup can also be used if additional sweetness is needed.
For all of my overnight oats recipes I use a 16-ounce (pint size) mason jar. These work great and are the perfect portion-controlled "on the go" vessel.
If you decide to make this blueberry overnight oats recipe make sure to tag me on Instagram.
Other Overnight Oats Recipes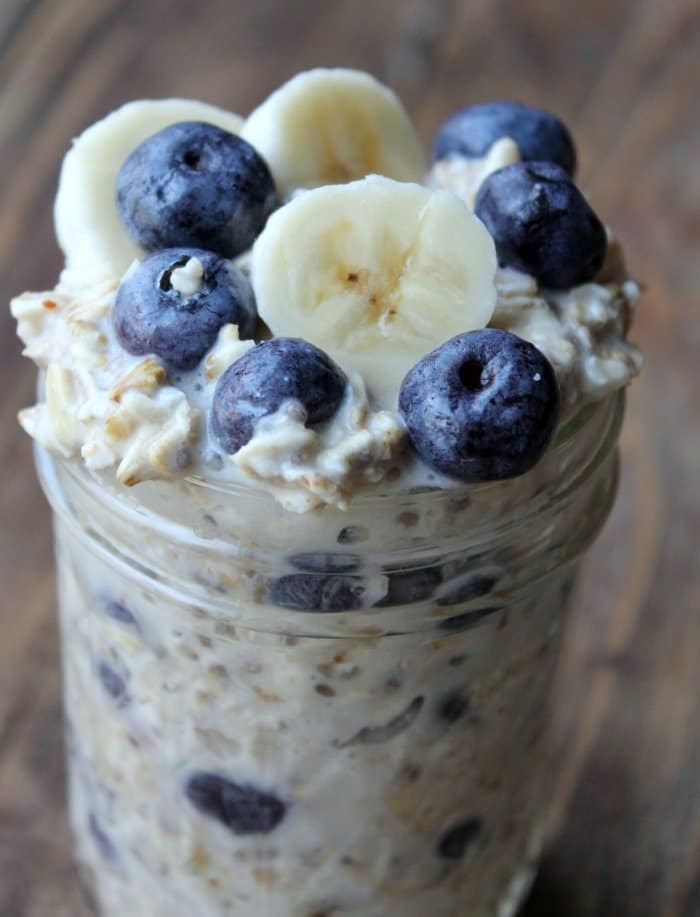 Ingredients
1/2

cup

rolled oats

1

teaspoon

chia seeds

1/2

cup

unsweetened coconut milk

1/4

teaspoon

pure vanilla extract

1/2

of a banana

peeled and chopped

1/2

cup

of blueberries

fresh or frozen

1

tablespoon

pure maple syrup
Instructions
In a 16-ounce mason jar combine the rolled oats and chia seeds.

Pour in the coconut milk and then place the bananas and blueberries on top of the oats.

Place the lid on and store in the refrigerator overnight.

Stir the oats and add in the pure maple syrup and a little extra coconut milk to loosen up the oats. Enjoy cold.
Notes
Sugar: 30
Make-ahead Instructions
These jars can be made 3-5 days ahead of time.
Nutrition
Serving:
1
g
|
Calories:
347
kcal
|
Carbohydrates:
41
g
|
Protein:
8
g
|
Fat:
6
g
|
Saturated Fat:
3
g
|
Fiber:
10
g