Peanut Butter Overnight Oats – a basic overnight oats recipe with swirls of delicious natural peanut butter! Dare I say this recipe almost taste like a peanut butter cookie? YUM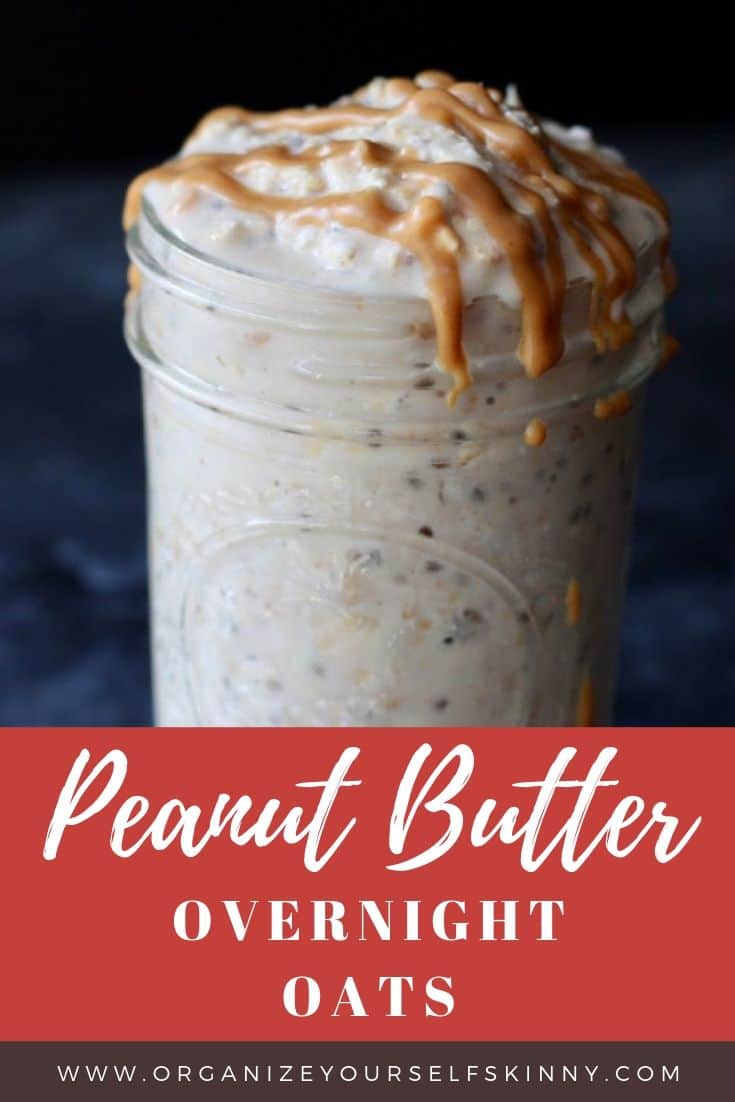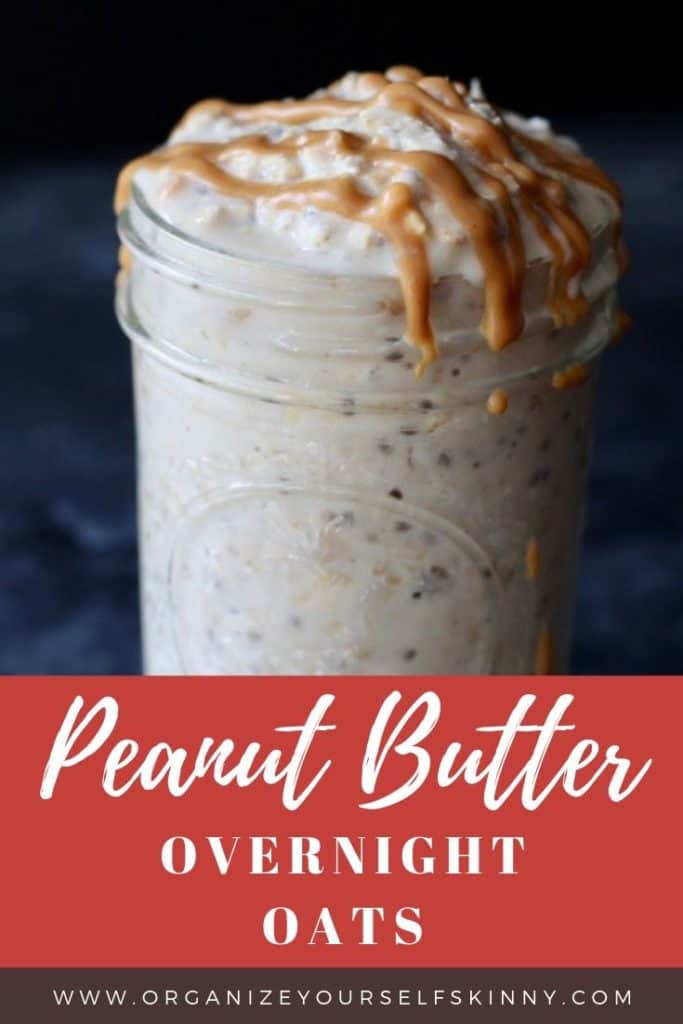 A question I often get about breakfast recipes is "How can I eat more protein in the morning without eating eggs?"
Overnight oats isn't the first meal to come to mind if you're thinking about high protein breakfast recipes. However, with a few additions you can create a jar that boasts about 15 grams of protein! Not to mention it's filled with whole grain too. This means you'll stay full all morning. Sounds good?
Another question I get is "I don't have a lot of time to prepare breakfast. I need quick and easy"
Honestly, it takes less than 5 minutes to whip together a week's worth of overnight oats recipes. Simply throw some oats, milk, chia seeds, and a few tasty extras in a jar, stick it in the refrigerator at night, and when you wake up there'll be a creamy delicious on the go breakfast waiting for you. Perfect.
So, if you're someone who needs a quick, easy, high protein breakfast option then this super simple peanut butter overnight oats has your name written all over it. It uses basic pantry ingredients and can be made up to 5 days ahead of time.
Basically, when it comes to easy high protein meal prep breakfast recipes overnight oats takes the cake – or should I say cookie because this peanut butter overnight oats recipe that I'm sharing today tastes JUST like a peanut butter cookie. But I'll get to that in a minute.
First, let's  go over some basics.
What are overnight oats?
Overnight oats are simply rolled oats soaked overnight in milk. The oats takes on a soft (but still chewy) pudding consistency. They don't require any cooking and are meant to be eaten cold.
How to make Overnight Oats?
I've been making overnight oats for a LONG time and this is the basic formula that I use in all of my overnight oats recipes.
1/2 cup rolled oats + 1/2 cup unsweetened coconut milk (or any non-dairy or dairy milk) + 1 teaspoon of chia seeds.
I'll add a little extra coconut milk in the morning to loosen up the oats and, if needed, add 1-2  pure maple syrup to sweeten it up.
Overnight oats are super versatile. You can keep it simple with just oats and milk or add in fruit, spices, dried nuts, nut butters, and even some vegetables like zucchini. I've made everything from Zucchini Bread Overnight Oats to Strawberry Overnight Oats to this super yummy Almond Joy Overnight Oats.
More Overnight FAQs
How long do overnight oats last?
Typically, when I make overnight oats I prepare them 2-3 days in advance. However, I've also enjoyed a jar 5 days after I made it. It really depends on the ingredients you're using in the overnight oats recipe. A basic overnight oats recipe (like this peanut butter one) will last 5 days in the refrigerator. One that includes fruit might be best at 2-3 days.
Can I warm up overnight oats?
Sure. Technically, overnight oats are designed to eat cold. However, if you can't get past cold oatmeal then warm it up on the stove or in the microwave using a microwave safe bowl.
Can I use any type of milk in overnight oats?
Yeppers! Any milk will work just fine in overnight oats. Of course one might be creamier but it'll still process the oats the same way.
Can I make overnight oats with steel cut oats or instant oats?
The best results I've had with overnight oats is using rolled oats. These are also called old-fashioned oats. Steel cut oats do not soften up unless you cook them slightly ahead of time. However, that defeats the whole purpose of a no-cook recipe. Instant oats get too mushy. Not to mention instant oats are not as nutritional as rolled oats. My advice is to use rolled oats in overnight oats recipes.
Can I use gluten-free rolled oats in overnight oats recipes?
Yes. They might have a slightly different texture but will still process the same.
Do I have to use natural peanut butter in this peanut butter overnight oats recipe?
You can use any peanut butter you want. I prefer natural and organic peanut butter because it doesn't have hydrogenated oils or added sugar in it.
Okay, let's get to this delicious peanut butter overnight oats recipe.
Peanut Butter Overnight Oats
Step 1: Add the rolled oats and chia seeds to a 16-mason jar container. Of course, you can use any container (glass is recommended) but mason jars are my favorite.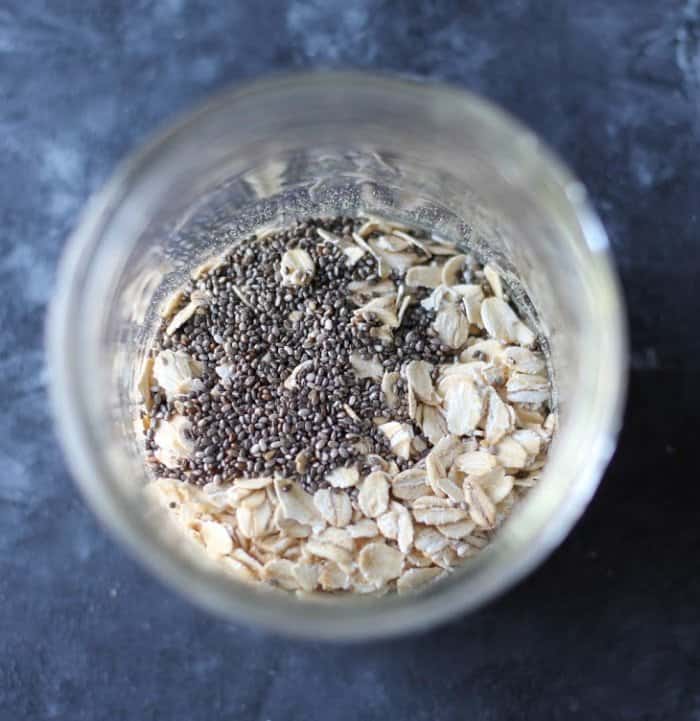 Step 2: Add the peanut butter and milk. You want to make sure the oats are submerged in the milk. If you need to add a little more liquid then do so.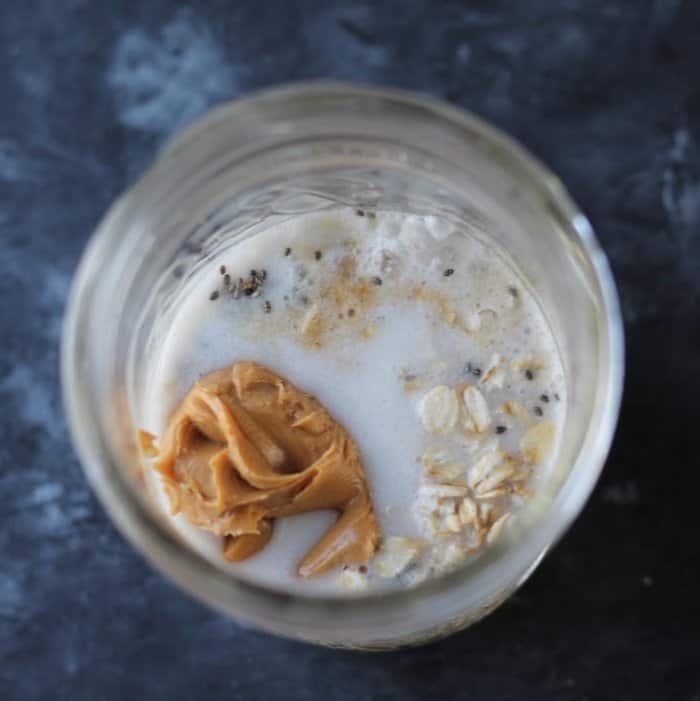 Step 3: Mix everything together. Again, make sure there is enough liquid. This is what the overnight oats should look like after you mix up all the ingredients.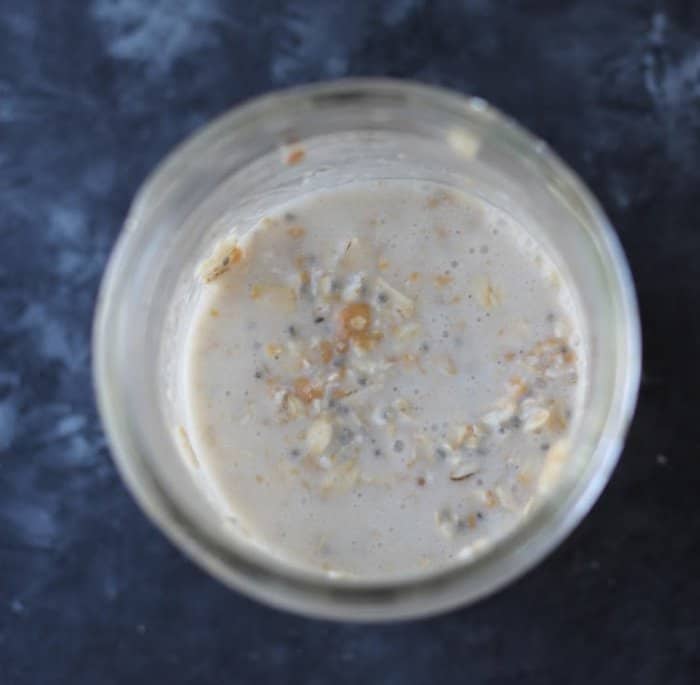 Step 4: Place the lid on and stick the overnight oats in the refrigerator for 5 hours of overnight. In the morning give it a couple stirs and add the sweetener. If the oats seem thick then add a couple splashes of milk until it's the consistency you want.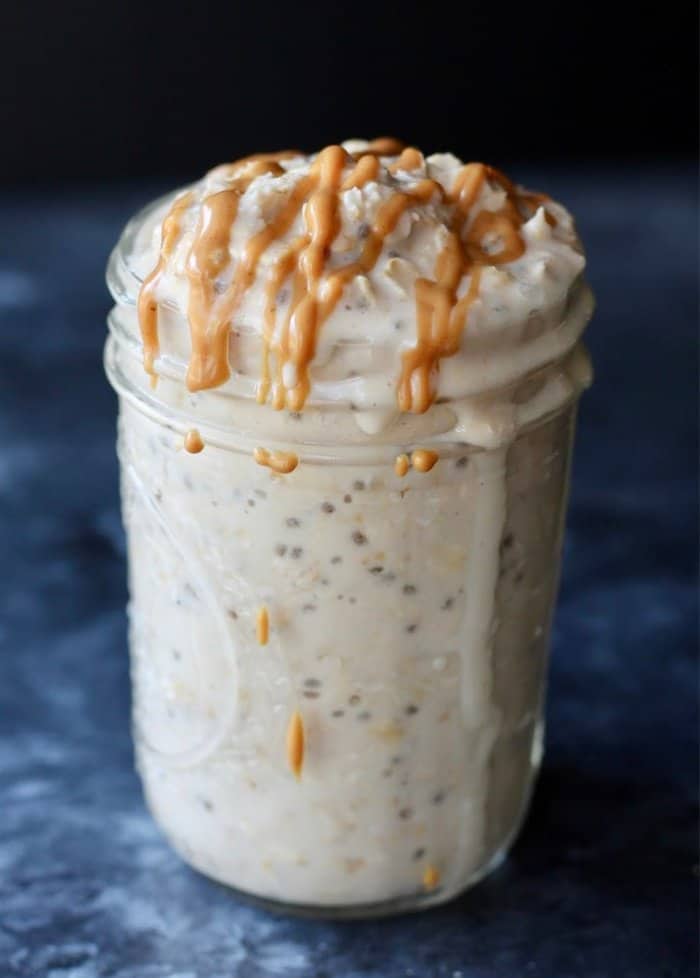 When I first sampled this peanut butter overnight oats recipe I was shocked by how much it tasted like a peanut butter cookie – considering it uses minimal ingredients and there's no cooking involved.
If you need a simple meal prep recipe that's filled with wholesome ingredients and packs in the protein then give this overnight oats recipe a try.
Now keep in mind, because of the peanut butter, this recipe is also higher in fat and calories than most overnight oats recipes I make. You can reduce the fat by reducing peanut butter to 1 tablespoon – but this also reduces the protein. My advice is to look at the rest of your meals and make sure everything balances each other out.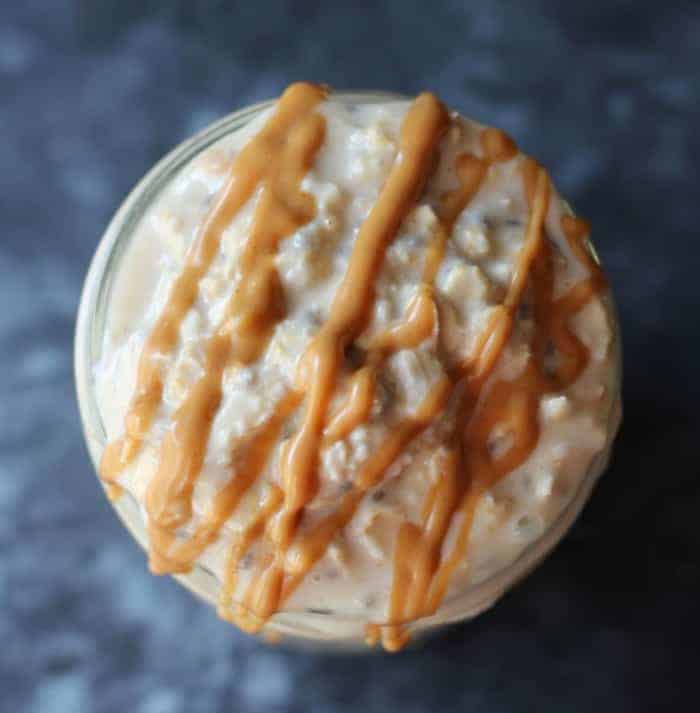 Ingredients
1/2

cup

rolled oats

1

teaspoon

chia seeds

2

tablespoons

natural peanut butter

1/4

teaspoon

pure vanilla extract

1/2

cup

unsweetened coconut milk

1-2

teaspoons

pure maple syrup
Instructions
In a 16-ounce mason jar mix together the rolled oats, chia seeds, peanut butter, vanilla extract, and coconut milk.

Place the lid on and refrigerate at least 5 hours or overnight.

Stir in the maple syrup. Add in a little more coconut milk, if needed, to loosen up the oats.
Notes
Make-ahead tips
You can make this recipe up to 3-5 days ahead of time.
Nutrition
Serving:
1
g
|
Calories:
434
kcal
|
Carbohydrates:
45
g
|
Protein:
15
g
|
Fat:
23
g
|
Saturated Fat:
7
g
|
Fiber:
8
g
|
Sugar:
10
g
Supplies to make Peanut Butter Overnight oats
Rolled Oats – Bob's Red Mill are the ones I use the most.
Other overnight oats recipes
Raspberry Almond Overnight Oats
Strawberry Chocolate Overnight Oats
Banana Chocolate Overnight Oats