In the last decade, I've become a huge oatmeal fan. If you look in my pantry, you'll always find big bags and containers of rolled oats and steel-cut oats so I can whip together a quick healthy breakfast any day of the week. In this post, I want to share everything I know about making the perfect bowl of oatmeal along with my favorite healthy meal prep oatmeal recipes.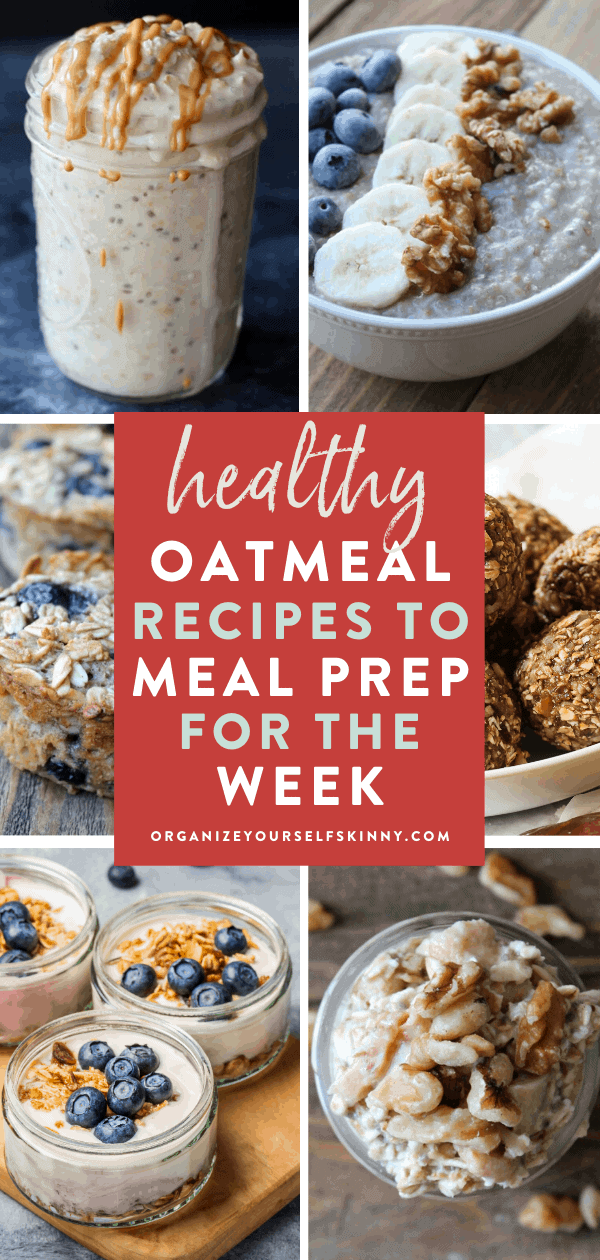 If someone asked me for an easy, cheap, healthy breakfast, my instant response would be OATMEAL. And, I'm not talking about packets of instant oatmeal. Nope, those are filled with sugar and result in a bowl of mush.
I'm talking about hearty wholesome rolled oats and steel-cut oats. Both are filled with whole grains, fiber, and protein. One bowl of oatmeal will keep you satisfied for hours!
Frequently Asked Questions About Oatmeal
Before I share some of my favorite healthy oatmeal recipes, here are a couple of questions I frequently get asked by my readers.
What's The Difference Between Steel-Cut Oats And Rolled Oats?
This is always one of the first questions I get when I'm sharing oatmeal recipes so let me go over the differences.
All oats start off as an oat groat but the difference is how they are processed.
With steel-cut oats, the oat is cut into pieces and looks more like thick short pieces of brown rice. They have more of a grainy feel to them. Steel-cut oats are also called Irish oats.
With rolled oats, there is more processing involved than steel-cut oats. These are also called old fashioned oats! They are steamed and rolled flat which makes them absorb liquid easier. They require a shorter cooking time and also are less chewier once cooked.
There's also instant oats and these are the most processed. They are fully cooked, rolled flat, then dried, and the resulting texture is a lot mushier than the other 2 oats. They are good if you want a quick breakfast but I wouldn't use them in other recipes that call for oats. I don't use instant oats very often so in the post I'm going to focus on recipes that call for rolled or steel-cut oats.
Do The Oats Have Different Tastes?
Steel-cut oats and rolled oats have very different tastes. You will definitely be able to tell which one you're eating as the textures are also quite different.
Steel-cut oats have a firmer, nuttier texture because they are less processed and absorb less liquid. Rolled oats have a softer texture and more of a bland flavor.
When I eat a bowl of oatmeal, I usually always go with steel-cut oats but when I prepare recipes with oatmeal, it's always rolled oats.
Where Can I Purchase Steel-Cut Oats And Rolled Oats?
You can find both oats at any grocery store. Both are in the same section of the cereals. You can also find both in the bulk section of the store. This is a great way to only purchase the amount you need or if you just want to get it to give them a try.
If you don't want to go to the grocery store, then you can get both steel-cut oats and rolled oats online from Thrive Market.
Can You Purchase Gluten-Free Oats?
Yes, both steel cut and rolled oats are available in gluten-free! I've used both interchangeably and never noticed a difference in taste or texture.
My favorite gluten-free brand is Bob's Red Mill and the Thrive Market brand. You can get both online from Thrive Market for a great price!
What Makes Oatmeal Healthy?
Oatmeal is a wholegrain food filled with fiber, protein, and nutrients. It's a soluble fiber which means it keeps you fuller longer. This helps to regulate blood sugar. Oatmeal is also known to reduce cholesterol. It's also great for digestive health.
How Good Is Oatmeal For Weight Loss?
As I said before, oatmeal has soluble fiber that helps you stay full longer and is also great for digestive health. Basically, it helps to keep the pipes moving. #sorrynotsorry
Both of these factors play a big part in helping with weight loss.
It's important to remember that oatmeal still needs to be part of a calorie-controlled diet. You can't eat whatever you want and expect to lose weight. Remember, weight loss is caused by burning more calories than you consume.
With that said, you need to be careful with the toppings and addons that you put on your oatmeal because the calories can add up quickly.
Reasons Why I Love To Eat Oatmeal
There are so many reasons to love oatmeal. Here's why.
Easy – Healthy oatmeal recipes are some of the easiest to make. Most of the recipes take a minimal amount of ingredients and require little cooking time. Oatmeal recipes are a great place to start for someone who is new with cooking!
Cheap – If you're trying to save money and eat healthy, then oatmeal needs to be on your list. Even the most expensive bag of oatmeal will come to maybe $0.35 per serving.
Blank Canvas – The sky is the limit with oatmeal recipes! You can add all kinds of flavors. You can keep them sweet and fruity by adding some strawberries and pure maple syrup (like this Strawberry Overnight Oats). Or, make them rich and decadent with a drizzle of peanut butter and a few chocolate chips (like this Peanut Butter Overnight Oats). You can even make it savory with some garlic sauteed kale or baby spinach with a soft boiled egg on top. YUM!
Add Lots Of Superfoods – Just about any superfood can be stirred or baked into oatmeal. You can add chia seeds, hemp hearts, flax seeds, and even some collagen powder. Oatmeal is a great way to get some superfoods into your daily diet.
Easy To Meal Prep – Just about every oatmeal recipe I've made is super easy to meal prep ahead of time. They are easy to prepare, they cook quickly, and even refrigerate and reheat perfectly. I'll go over more meal prep tips with each of the recipes below!
Ingredients To Have On Hand For Oatmeal
When you have your pantry stocked with simple ingredients, it's so easy to throw together just about any oatmeal recipe.
These are the pantry ingredients I always have on hand to make some delicious oatmeal:
Steel-cut oats
Rolled oats
Pure maple syrup
Honey
Dried fruit
Nuts
Nut Butter (peanut and almond butter)
Cacao powder and nibs
Chia seeds
Flaxseeds
I also like to have a variety of frozen fruit on hand to put in my healthy oatmeal recipes.
Supplies Needed To Cook Oatmeal
When I make a big batch of steel-cut oats on the stove, I love using my 5 ½ quart Le Creuset pot! Here are some of the other kitchen supplies and appliances you can use to make homemade oatmeal.
The Best Meal Prep Oatmeal Recipes
Okay, let's go over my favorite healthy oatmeal recipes!
Steel Cut Oatmeal
Hands down, steel-cut oatmeal is my favorite oatmeal. I love the flavor and texture! It does take a little longer to cook than other oatmeal recipes but it keeps great in the refrigerator or freezer, and it reheats perfectly.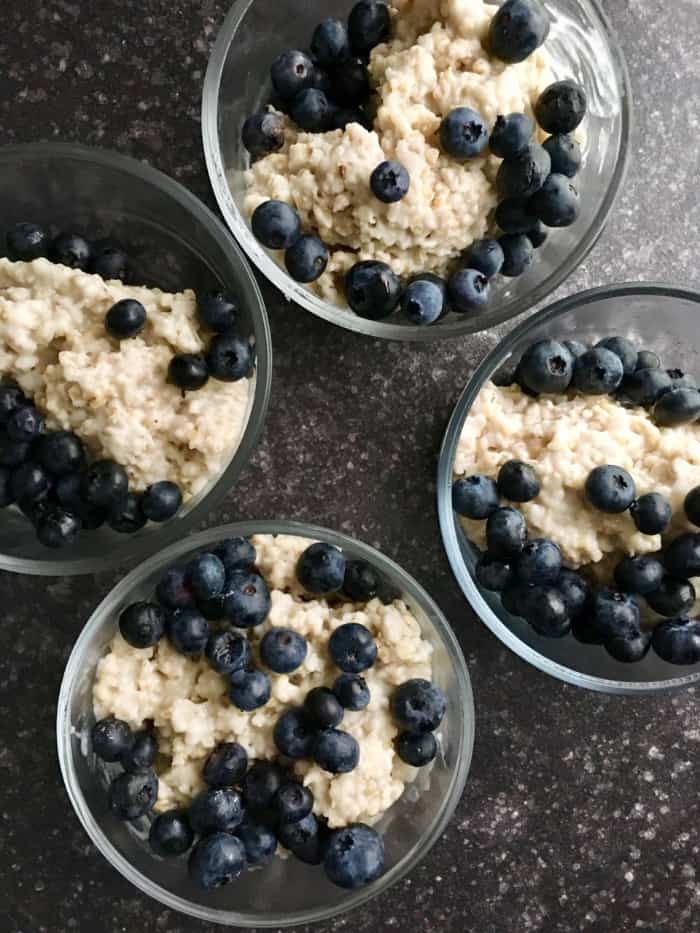 How To Meal Prep Steel-Cut Oats
After the steel-cut oats are cooked, you can do a couple of different things.
You can place it into a container or portion out into containers to have them ready for breakfast for the week.
You can also portion-freeze the steel cut oats in muffin cups or these souper cubes work great. After the steel-cut oats are frozen, place them in a freezer bag and freeze. When you're ready to eat, place the amount needed into a bowl and heat for 1-2 minutes and then stir in maple syrup or any other topping.
Here are my favorite steel cut oat recipes: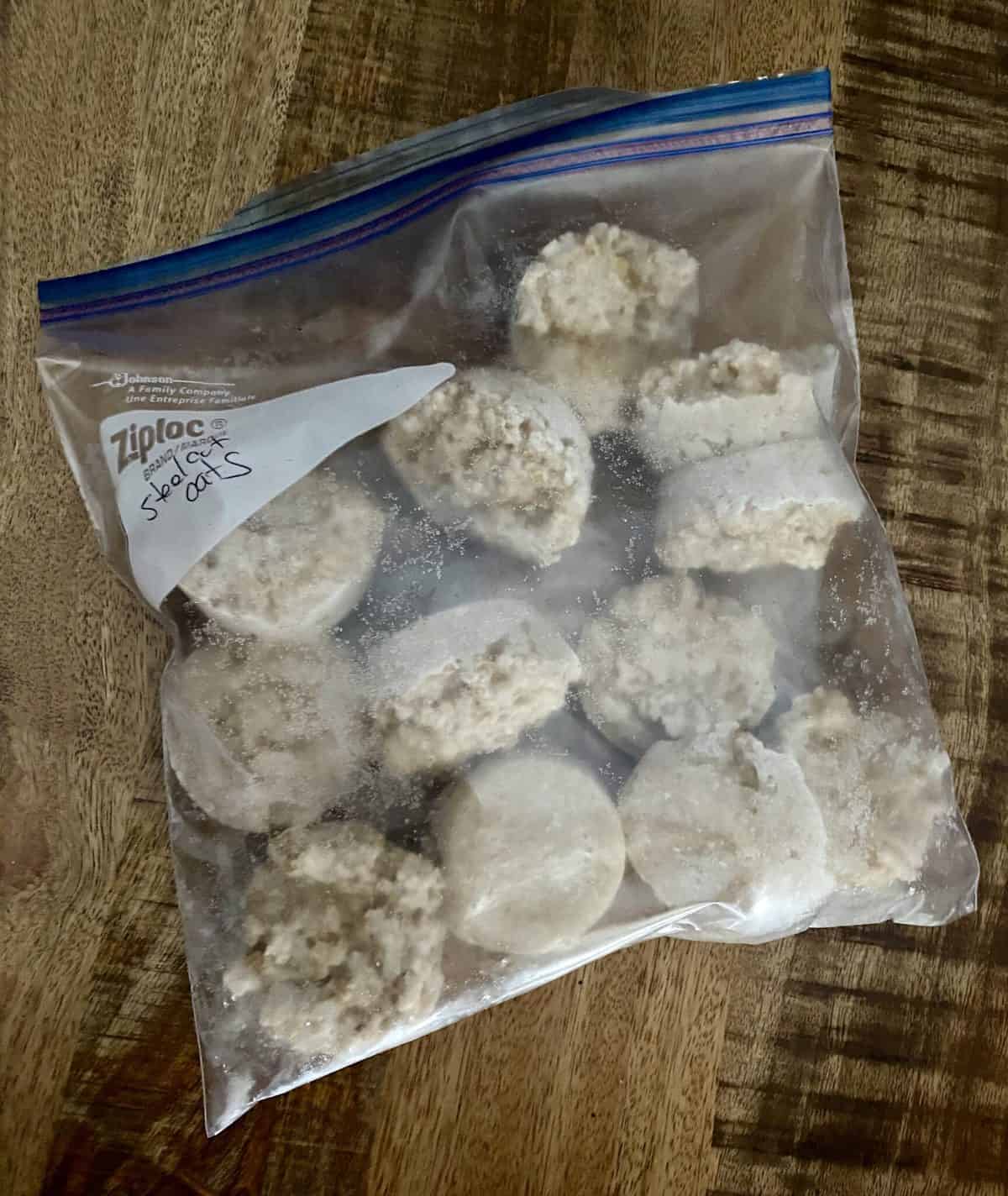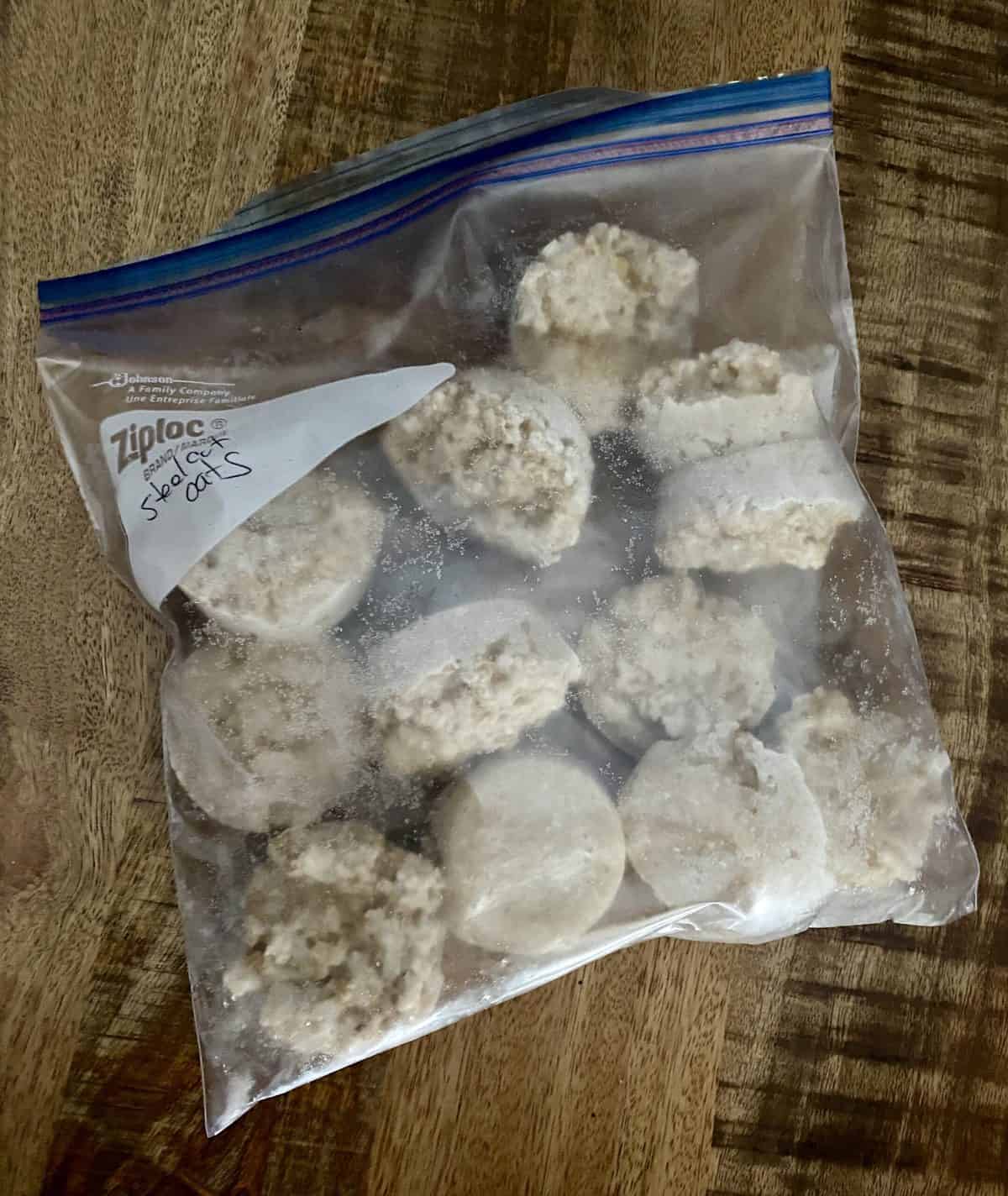 Overnight Oats
If you are craving a cold pudding-like breakfast, then you need to put overnight oats on the menu. Honestly, out of all the oatmeal recipes, this is the easiest. You only need a few simple ingredients to have breakfast ready for the next morning.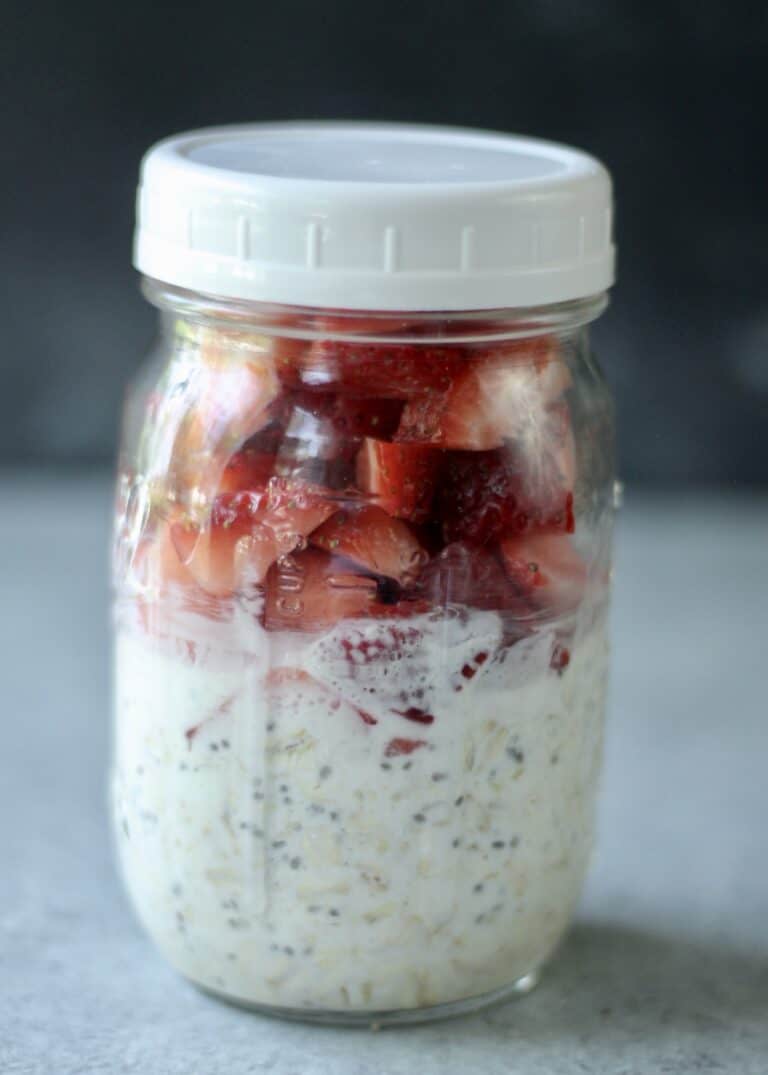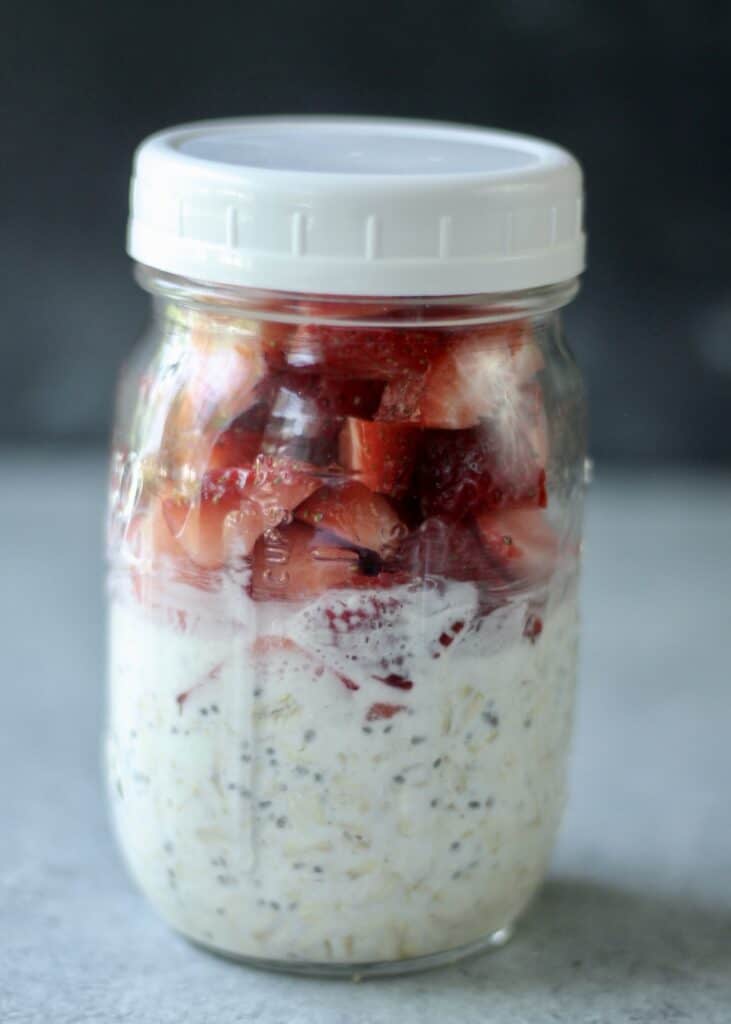 How To Meal Prep Overnight Oats
There are a couple of ways to meal prep overnight oats.
The simplest way is just to prepare the jars ahead of time. You can make 3-5 on Sunday for the week.
You can also make overnight oats freezer packs. This is a great way to assure you have all the ingredients needed ahead of time when you're wanting to make a jar of oats. After you make the kits, just dump the contents in a jar and add the liquid; or you can freeze the contents in the jar.
Here's a tutorial I did on how to put it together overnight oats freezer kits!
Here are my favorite overnight oats recipes: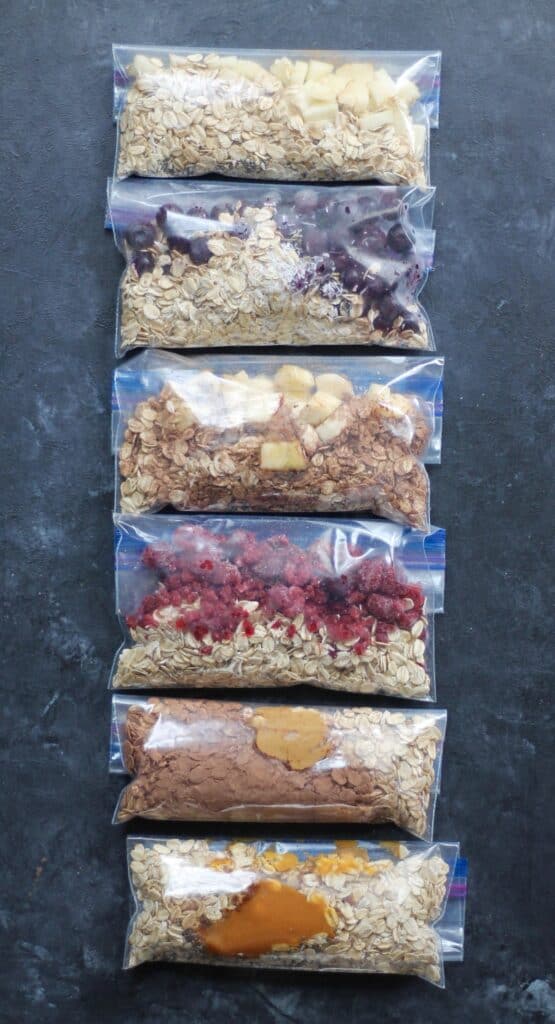 Baked Oatmeal
I discovered baked oatmeal about 8 years ago and fell in love. Actually, baked oatmeal was one of the first oatmeal recipes that taught me to appreciate oatmeal!
Baked oatmeal is basically a healthier version of a muffin.
You can add flavor to baked oatmeal with everything from bananas and chocolate to fruits and nuts. You can even stir some peanut butter in for an added boost of protein.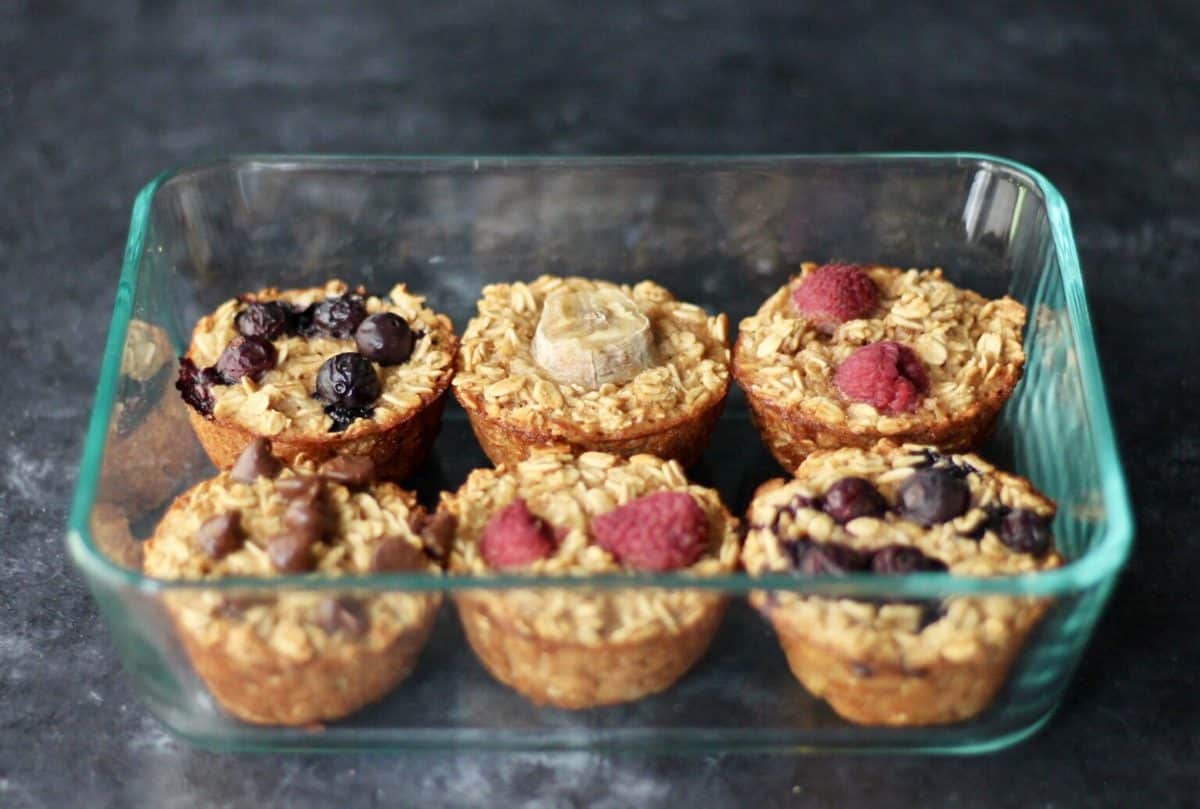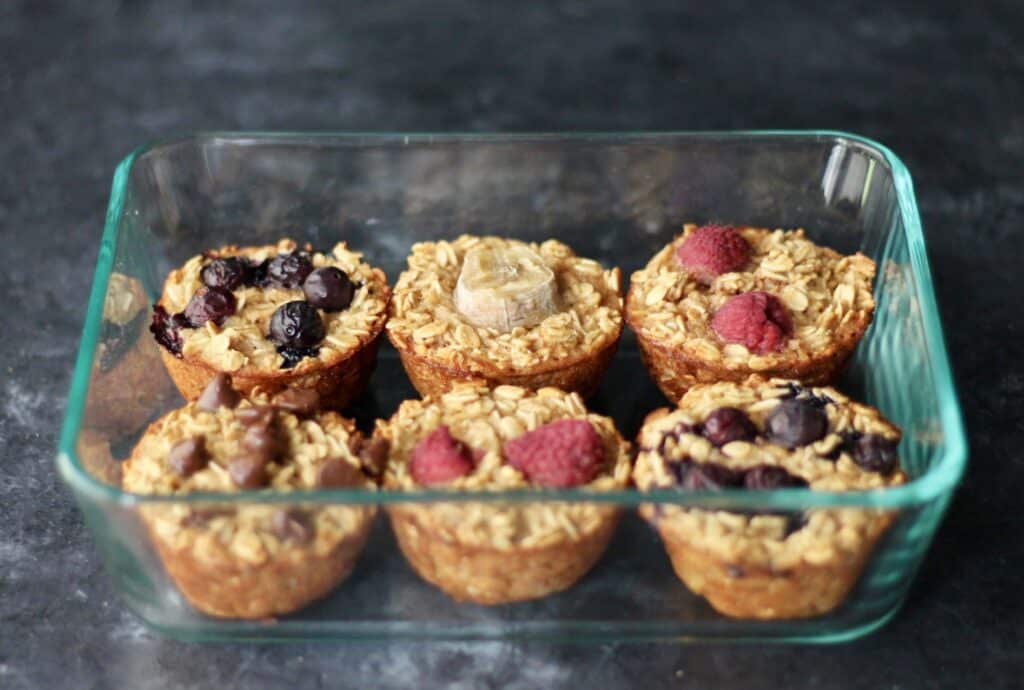 How To Meal Prep Baked Oatmeal
You can do a couple of things:
After the baked oatmeal cooks and cools down, put into a glass container, cover, and refrigerate.
Baked oatmeal also freezes great! After the baked oatmeal cups have cooled, then store in a plastic freezer bag and freeze flat. Once the baked oatmeal cups are frozen, you can move them to wherever you want in the freezer.
Learn more about preparing baked oatmeal cups ahead of time.
Here are my favorite baked oatmeal recipes: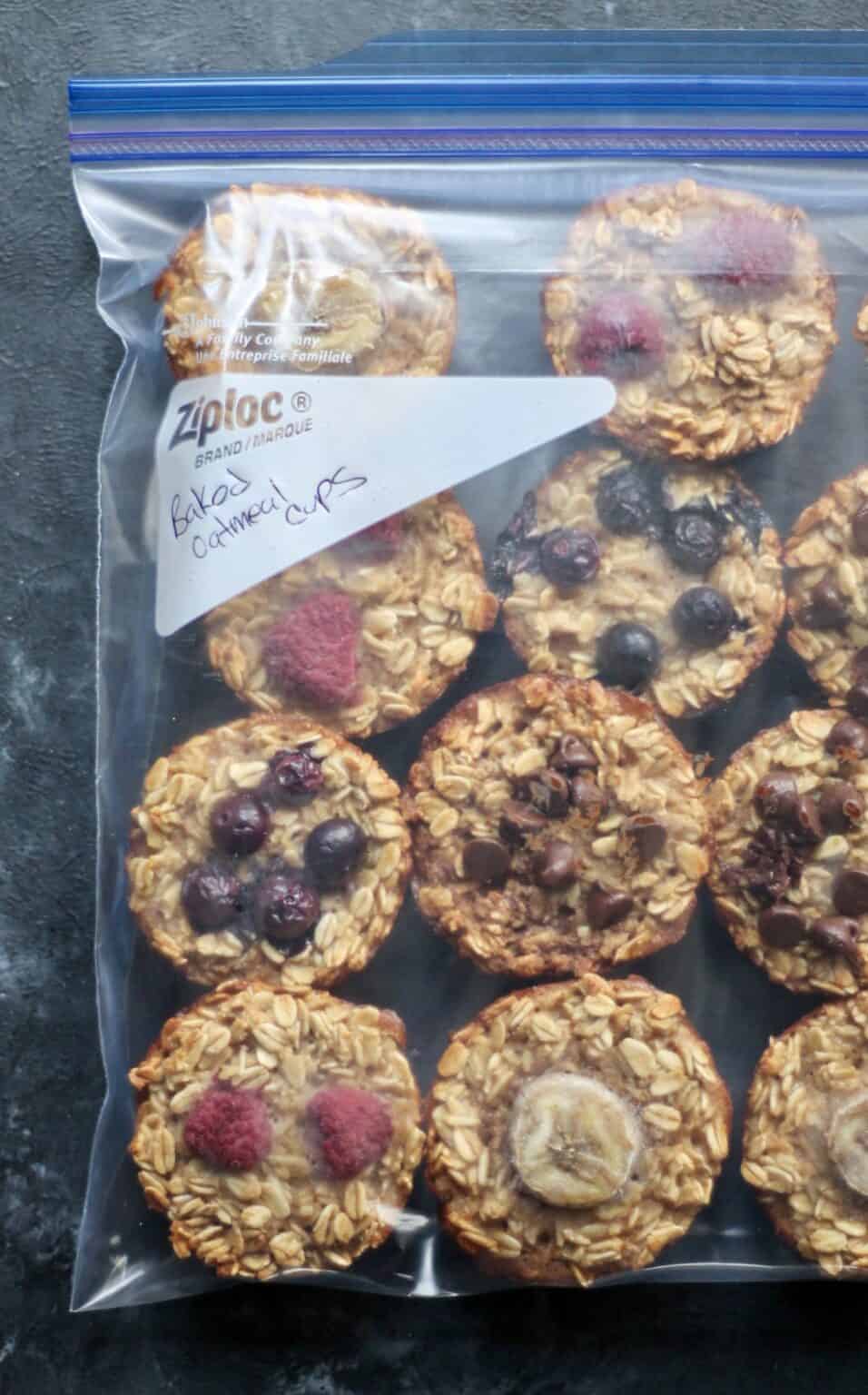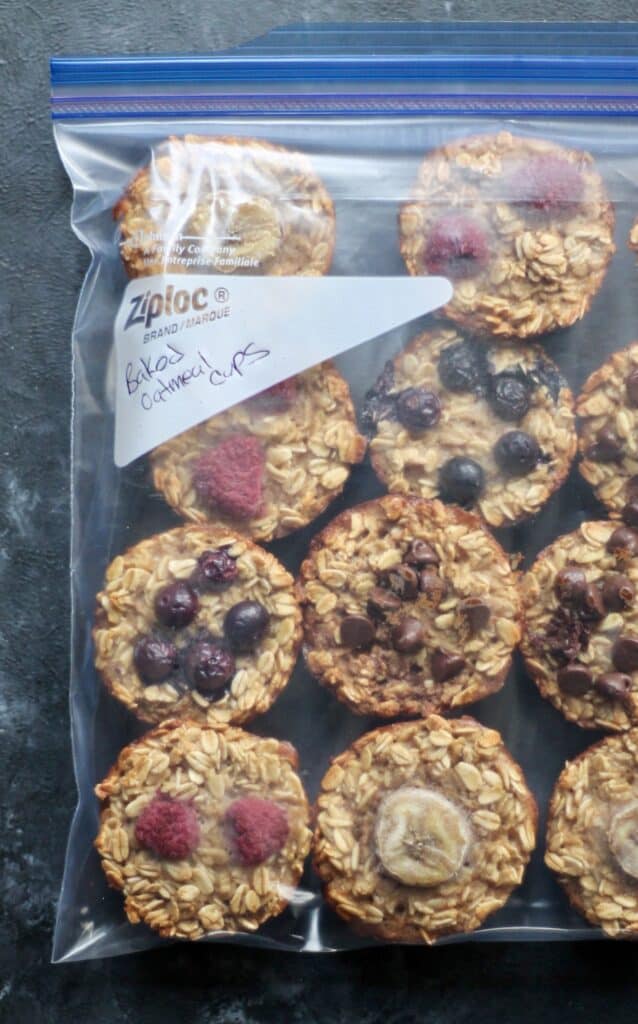 Energy Balls
This isn't necessarily an oatmeal recipe but it's one of my favorite ways to use rolled oats so I wanted to throw energy balls into the mix.
Energy balls use simple ingredients, come together quickly, and the best part is they are no-bake. If you want a wholesome snack recipe that will fill you up, then make a batch of energy bites.
How To Meal Prep Energy Bites
These can be stored in the refrigerator or freezer.
After you make the energy bites, put them into a glass container, and store in the refrigerator for up to 7 days.
If you want to freeze the energy balls, then place into a freezer bag and be sure to lay it flat for a couple of hours or until they are frozen. Then, move the bag to wherever you want in the freezer.
You can learn more about how to make and meal prep energy balls in this post!
Here are my favorite energy ball recipes:
Whichever way you decide to go, all of these healthy oatmeal recipes are delicious and the perfect way to go!
Share a picture and tag me on Instagram or Facebook if you decide to make any of these!