You know fall is here when you walk into the grocery store and are greeted with a sea of apples and gallons of apple cider. Oooooh apple cider. I live for cider. Love it! My cousin made a huge batch of hard apple cider a couple weeks ago and it was DELISH! But that's another post for another time. Here we are enjoying a taste.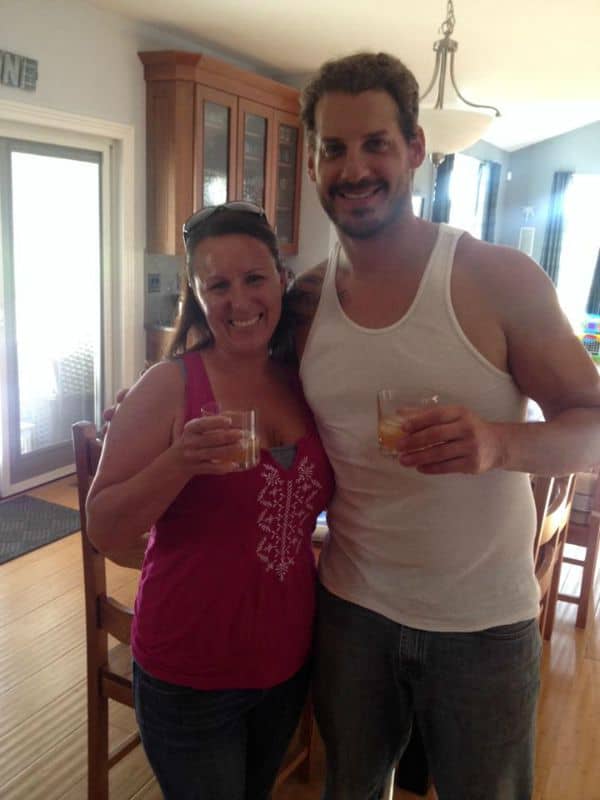 Can you believe that is my "little" cousin. He is a beast. I definetly think I lost out on the "tall" gene in my family.
Anyway…let's talk about apples, apple cider, and steel cut oats. I know I just made a pumpkin spice steel cut oat recipe last week, and I tend to get on oatmeal kicks, but I could not remove the image of chopped apples cooking until tender and delicious in a huge pot of oatmeal. Cooking apples in the slow cooker is like apple magic. Don't believe me? See this apple butter recipe. Oh boy. Anyway, I knew tossing chopped apples into a slow cooker steel cut oat recipe would be amazing. I was right.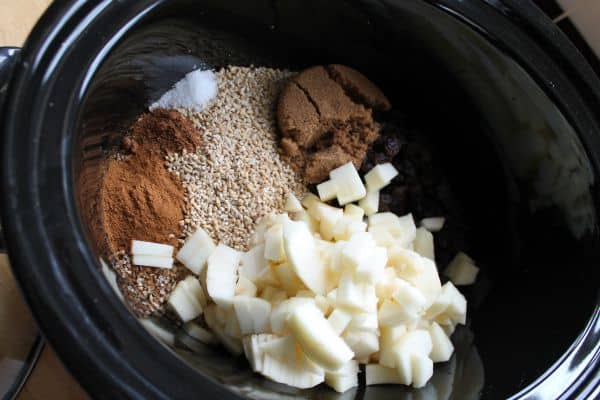 But I did more than that. Are you ready for this? I also used part apple cider in place of some of the water. Bam! Originally, I was going to use just water and coconut milk but decided at the last minute to throw in apple cider. I knew the apples would give it a nice apple taste but I wanted a cider kick. The taste of the cider in this oatmeal is like everything you love about fall but in oatmeal form.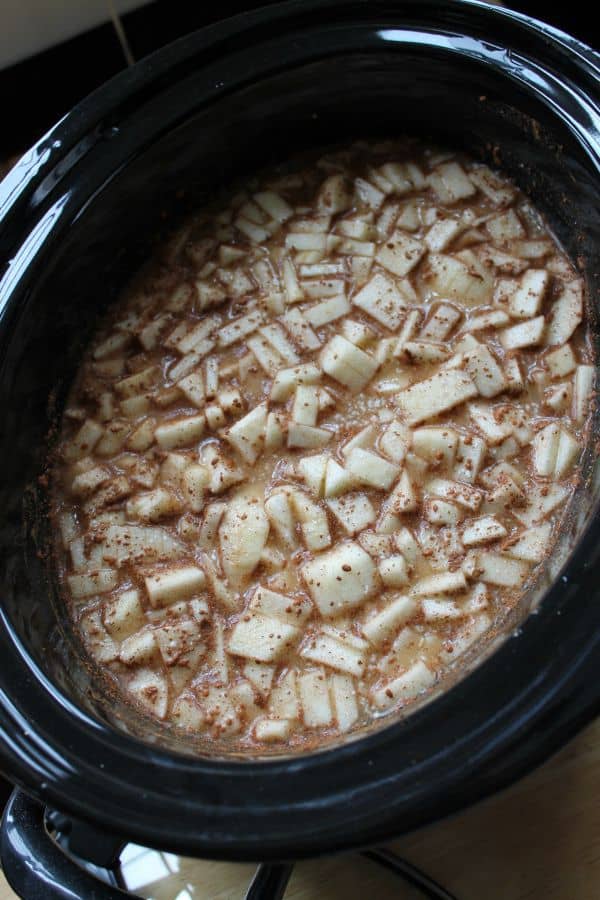 You might be questioning the coconut milk. I always use part milk when I make steel cut oats – I like the creaminess. You could use dairy milk, almond milk, or any milk. You could also use all water. Obviously, the flavors and consistency will depend on your ingredients but overall this recipe is flexible.
The type of apple I used were Acey Mac apples. They were on sale. I don't have any specific apple recommendation I suggest just using whatever apple you like.
I love everything about this recipe but I think my favorite part are the raisins. The raisins are amazing and bring something special to this oatmeal. They plump up as it cooks and give a burst of flavor when you eat it. Mmmmmmm look at this creamy apple raisin lusciousness. Me love it.
This picture was taken right when it was done cooking. It thickens up as it sits.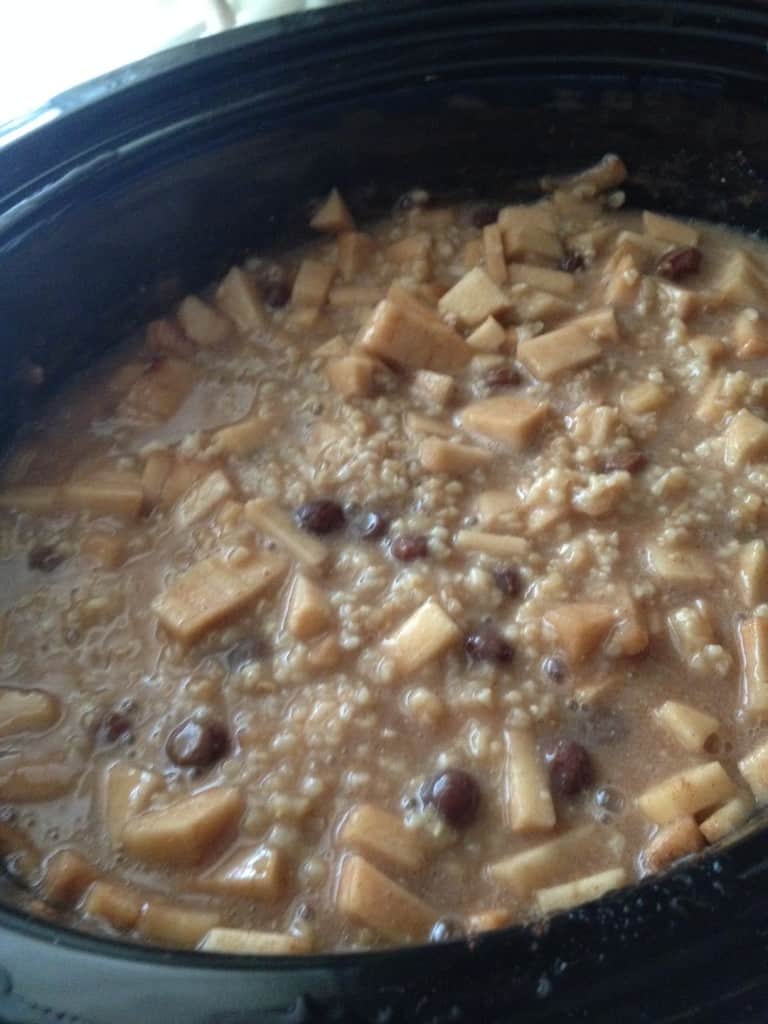 Be prepared for a lot of oatmeal with this apple harvest steel cut oat recipe. I kept some in the refrigerator to eat during the week then portion out the rest to freeze. Between my pumpkin spice oatmeal and now this apple harvest oatmeal I will have enough hearty wholesome oatmeal to last me until the new year.
One last thing. I only used ¼ cup of brown sugar in this recipe. As wth all my oatmeal recipes I like to sweeten it up with pure maple syrup after it is done cooking and I portion it out. This way I have better control over the calories from the sweetener.
Oh and did I mention your house with smell AAAAmazing as this apple harvest oatmeal cooks? No? Well it will and you will be in fall smelling heaven.
Enjoy.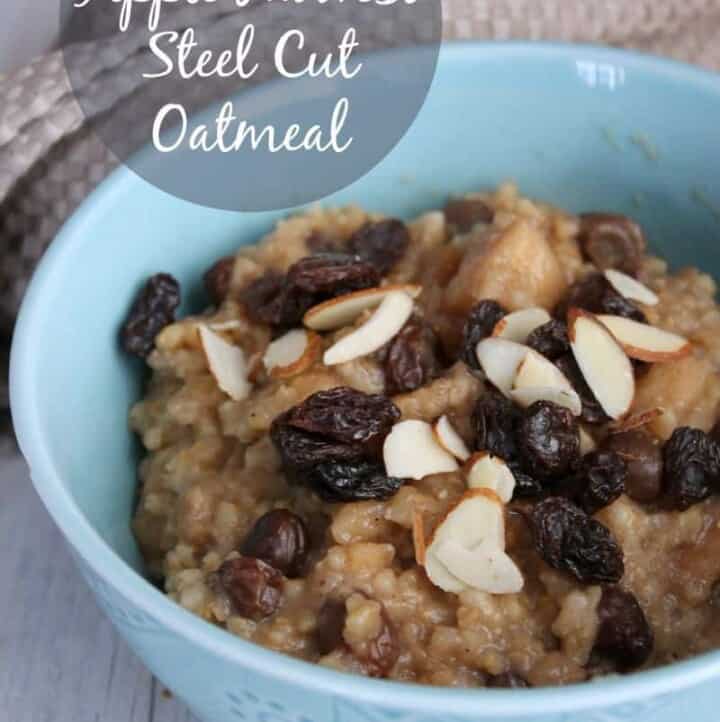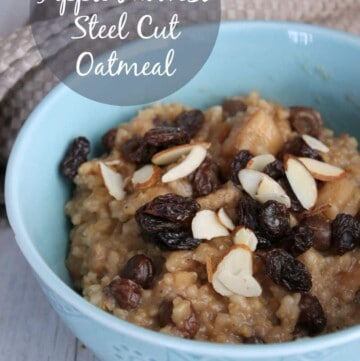 Ingredients
2

cups

steel cut oats

3

medium apples

peeled and chopped into small pieces

1

cup

raisins

2

teaspoons

cinnamon

¼

teaspoon

nutmeg

¼

cup

brown sugar

¼

teaspoon

salt

1

tablespoon

pure vanilla extract

4

cups

water

2

cups

apple cider

2

cups

unsweetened coconut milk

pure maple syrup
Instructions
Place steel cut oats, apples, raisins, cinnamon, nutmeg, brown sugar, salt, pure vanilla extract, water, apple cider, and unsweetened coconut milk into the slow cooker.

Set to low and cook for 4 – 5 hours. Stir a couples times to make sure the oatmeal is not sticking to slow cooker and/or burning. My recipe cooked perfectly at 4 ½ hours.

After it is done cooking let it sit for about 15 – 20 minutes. Serve hot.
Notes
Make ahead tips
This oatmeal can be cooked fully ahead of time and store in the refrigerator for up to 5 days and frozen up to 3 months. If you freeze it I recommend portioning it out first.
Nutrition
Calories:
254
kcal
|
Carbohydrates:
49
g
|
Protein:
6
g
|
Fat:
3
g
|
Fiber:
7
g
|
Sugar:
6
g