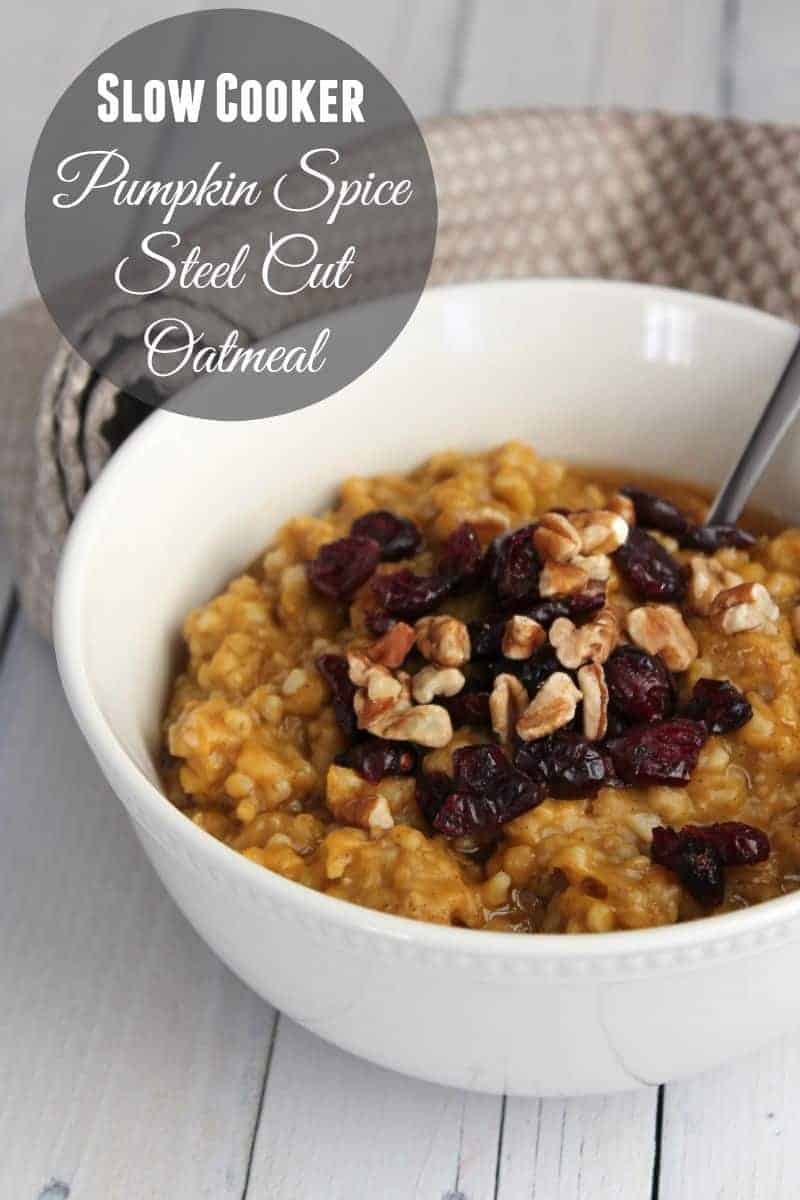 We have entered pumpkin season! Starting September 1st all things turn orange and smell like cinnamon and nutmeg in my house. Honestly, I can't get enough of the fall flavors and aromas. They are good for my emotional well-being. In my opinion, there is nothing more relaxing then lounging in my velours, watching a 80s movie, and taking in the smell of fall spices. Mmmmmmm.
Pure fall smelling utopia is what you get with my new Slow Cooker Pumpkin Spice Steel Cut Oatmeal. I try to incorporate pumpkin into healthier wholesome recipes like oatmeal or smoothies because if I only prepared pumpkin muffins and pie I would have to change the name of this website. Just sayin. I do my best to create guilt-free ways to enjoy the flavors of pumpkin.
For this recipe I used 2 cups of steel cut oats, 2 teaspoons pumpkin spice, ¼ teaspoon salt, ¼ cup brown sugar, 1 (15-ounce) can pumpkin. Everything goes into the slow cooker.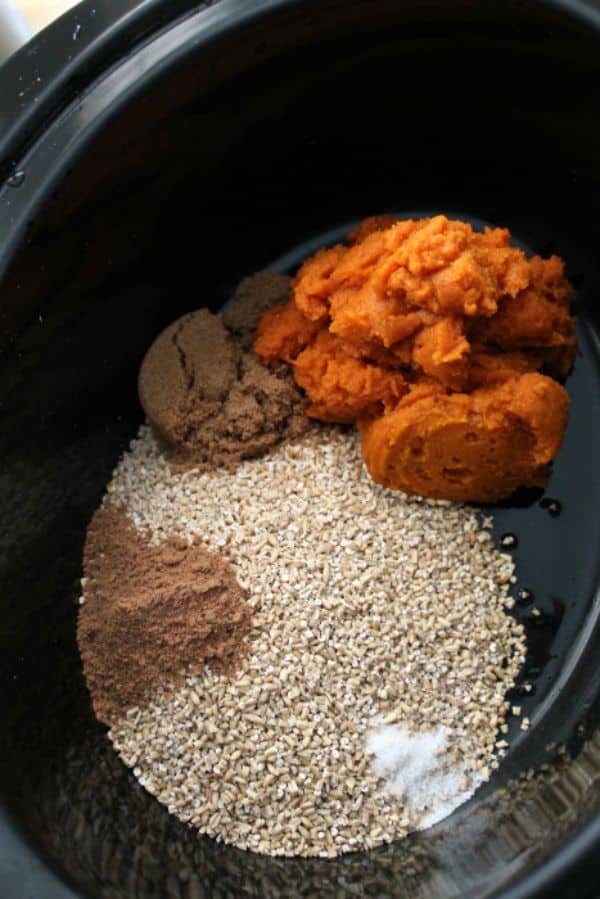 I mixed those ingredients with 1-tablespoon vanilla, water, and coconut milk. You could certainly use all water or substitute the coconut milk for almond milk, dairy milk, or any milk you like. Personally, I love using coconut milk in recipes. It gives a creamy texture and keeps the recipe dairy-free. Recently, dairy milk has been upsetting our tummies so I try to avoid it when I can.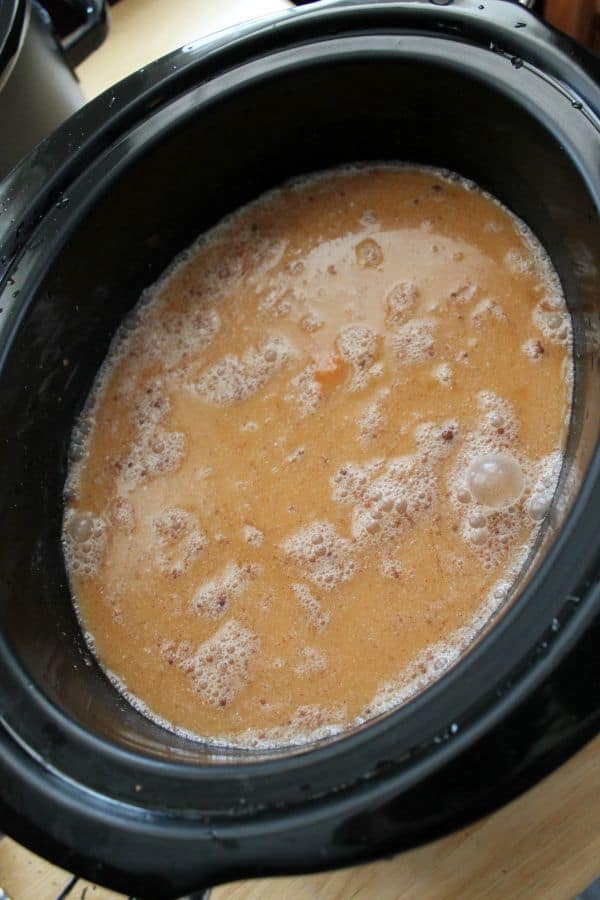 I set the slow cooker to low and let the oatmeal cook for 5 hours. This setting, and amount of time, cooked the steel cut oats perfectly. I ended up with a chewy oatmeal that still had a little bite to it. It was not mushy at all. I know a lot of you want to set your slow cooker to cook overnight and wake up to a delicious breakfast in the morning. However, I never had luck with cooking this for more than 5 hours – it always burns or turns into mush. 5 hours on low is the perfect time. This oatmeal stores and freezes great so I recommend making a batch on the weekend and keeping it in the fridge or freezer for a quick healthy breakfast.
This oatmeal is not going to be overly sweet when you first taste it. It will have a little sweetness from the pumpkin and the brown sugar but not a lot. I find it's best for everyone to add their own amount of sweetness individually using pure maple syrup. That works for us. However, if you would like it sweeter as it cooks then just add extra brown sugar to the recipe.
I highly recommend adding dried cranberries to your oatmeal when enjoying a bowl. It is delicious! The tart of the cranberry complements the pumpkin and spices so well. Next time I might even throw some cranberries into the slow cooker as it cooks. Delish! I also sprinkled about a teaspoon of chopped pecans on top. Oh mama. Between the creaminess of the oatmeal, tartness and chew from the dried cranberries, and crunch from the pecans this bowl of pumpkin spice steel cut oatmeal was the perfect fall morning breakfast.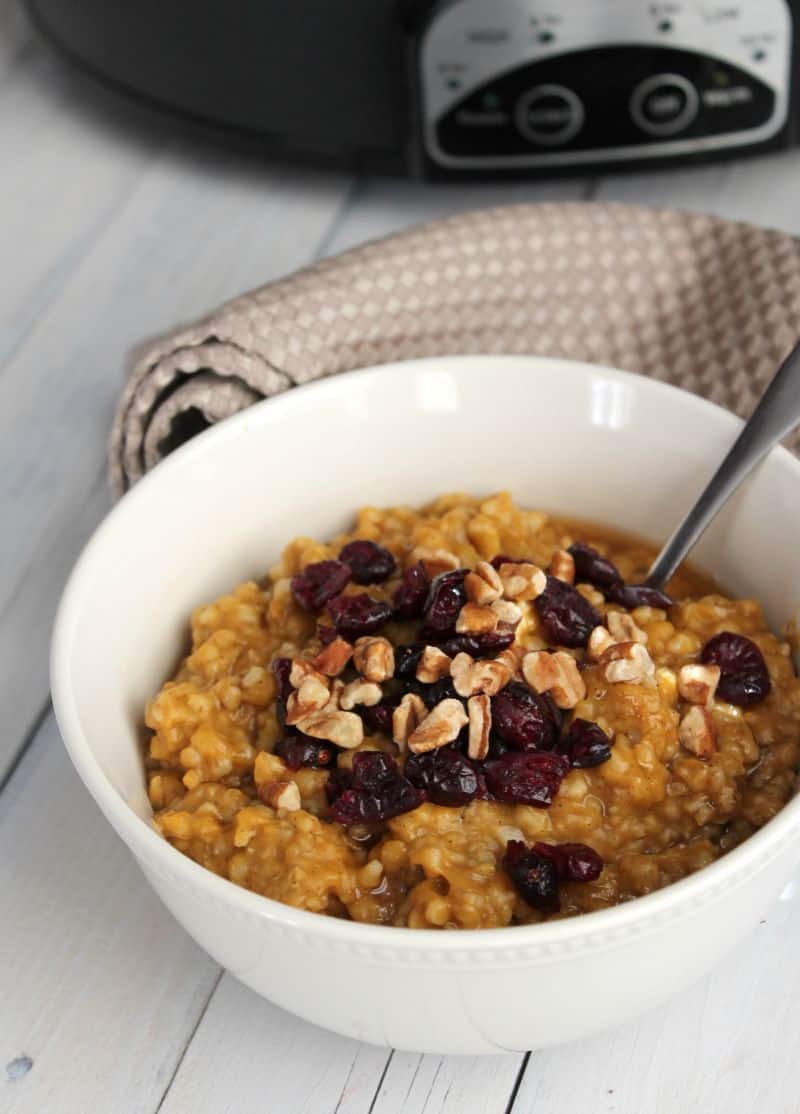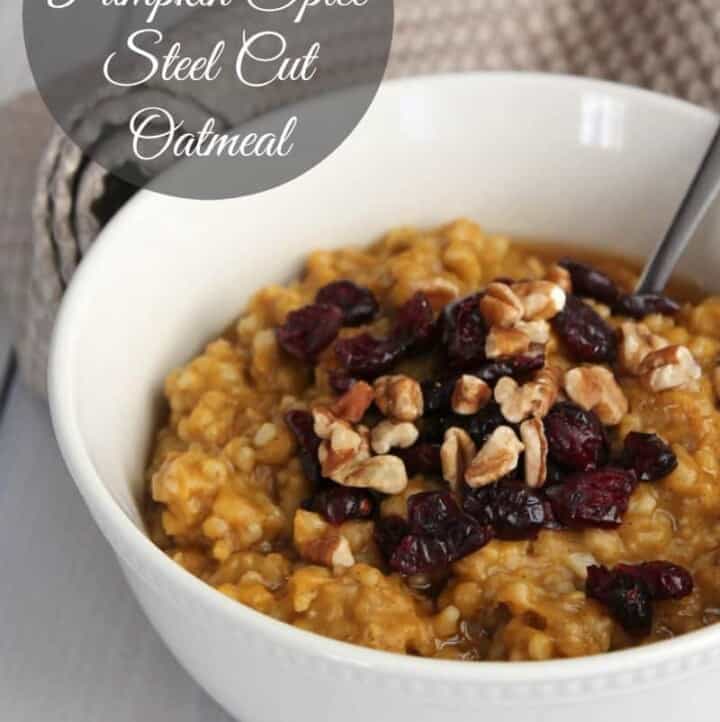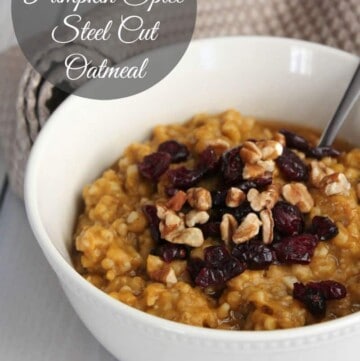 Ingredients
2

cups

uncooked steel cut oats

1

15-ounce canned pumpkin (not pumpkin pie filling)

2

teaspoons

pumpkin pie spice

¼

teaspoon

salt

¼

cup

dark brown sugar

lightly packed

6

cups

water

2

cups

unsweetened coconut milk

1

tablespoon

pure vanilla extract

pure maple syrup

dried cranberries, and chopped pecans for serving.
Instructions
Place steel cut oats, canned pumpkin, pumpkin pie spice, salt, and brown sugar into the slow cooker.

Next, stir in the water, coconut milk, and pure vanilla extract.

Put the lid on the slow cooker and set it to cook on low for 5 hours.

Remove lid and let it sit for another 15 – 20 minutes.

Serve with pure maple syrup, dried cranberries, and chopped pecans.
Notes
Make ahead instructions
This recipe can be make completely ahead of time, portioned out, and stored in the refrigerator or freezer. Reheat on the store or in the microwave.
**Please note the nutritional information does not include the pure maple syrup, cranberries, or pecans.
Nutrition
Calories:
231
kcal
|
Carbohydrates:
41
g
|
Protein:
8
g
|
Fat:
4
g
|
Fiber:
7
g
|
Sugar:
6
g