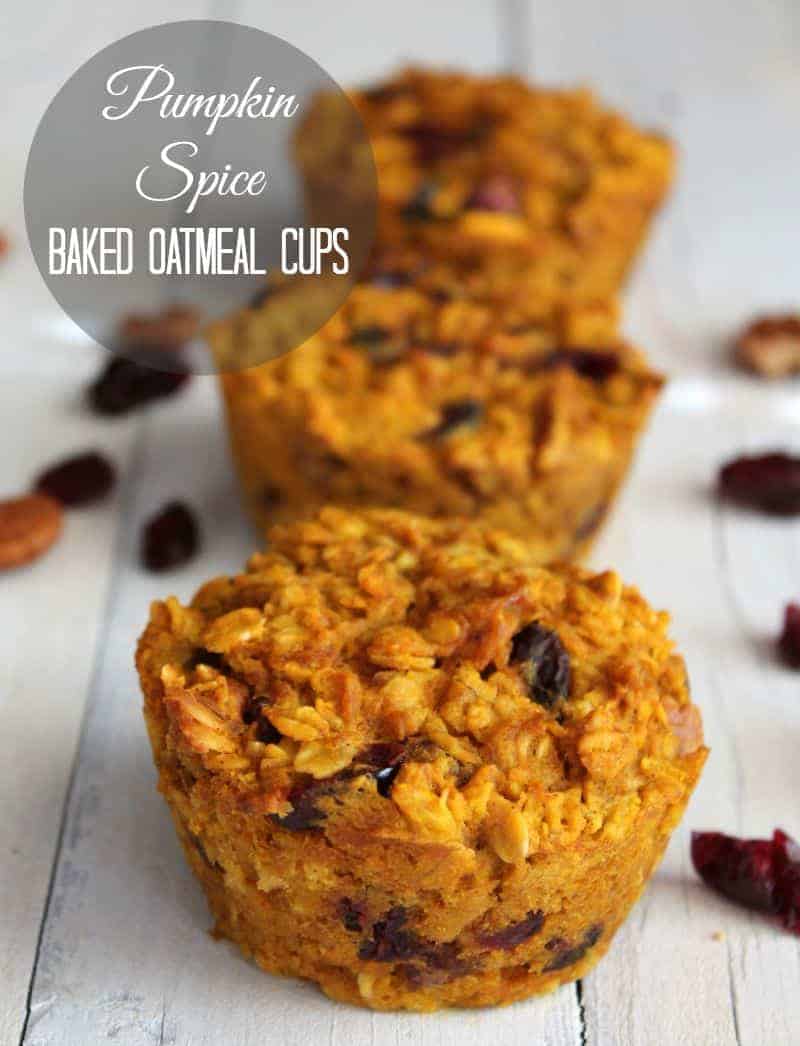 Okay friends! I know this flavor combination might be old news and you might be getting pumpkined out…but I am going to share it anyway. OMG pumpkin, cranberries, and pecans mixed together and baked into adorable oatmeal cups is YUM YUM DOUBLE YUM!
No joke!
Originally, I made this recipe with no cranberries and it was eh. It was good and exactly what you thought pumpkin spice bake oatmeal should taste like but it didn't make me swoon. I look forward to pumpkin recipes all year so I like to swoon at first bite.
So I made it again and this time added cranberries along with the pecans. Have I mentioned before that pecans are my all time favorite nut? They are. Me love pecans.
Let's just say cranberries + pecans + pumpkin = fallfoodgasm. Use your imagination. Ha!
It was absolutely delicious.
Okay, time to break down the recipe because I know you look forward to my recipe making commentary. If not, keep scrolling because the full recipe is below.
I started with the oats and spices. In many of my pumpkin recipes I use pumpkin pie spice but for this one I stuck with cinnamon. No real reason I just wanted to keep it simple. I am sure you all have cinnamon in your pantry, right?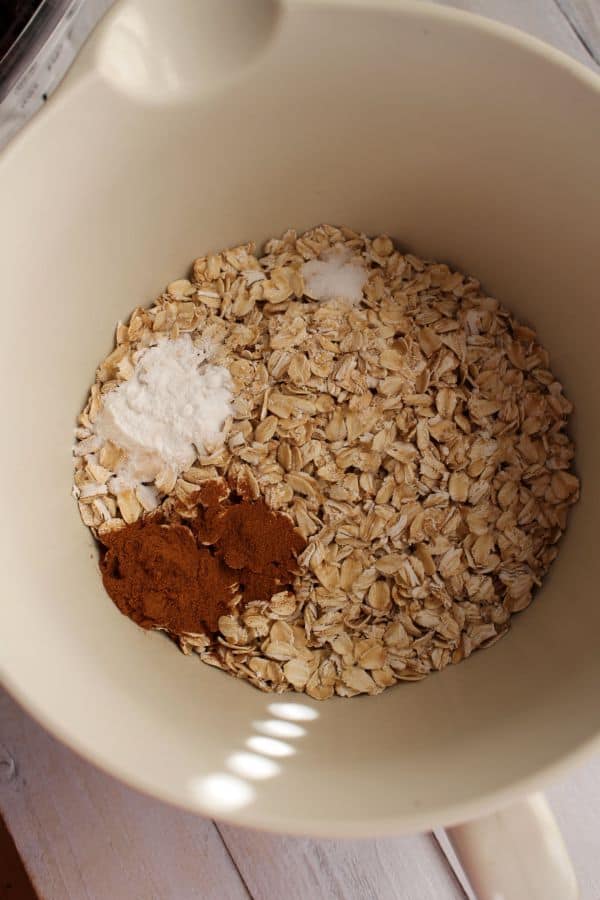 It's important to mix the oats and spices first. This allows all the cinnamon to distribute evenly. One time I didn't do this and I ended up with a glop of cinnamon. It wasn't pretty nor did it taste good. #beginnerfoodbloggerissues. So give it a few stirs until everything is mixed up nicely.
Then get out another bowl for the wet ingredients. The first thing I did was mix together the eggs, brown sugar, and vanilla.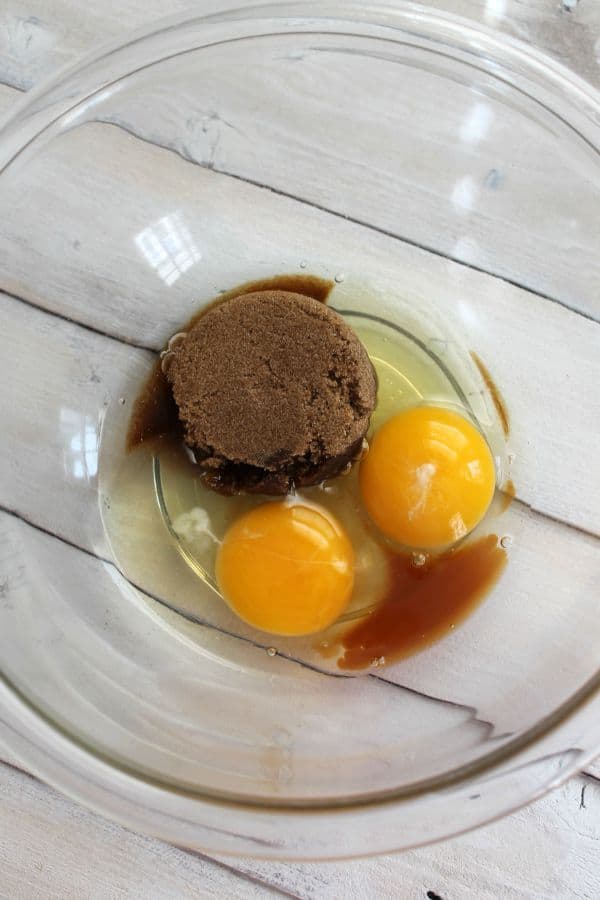 Then I whisked in the pumpkin. The first time I made it I used a whole can. WAY.TOO.MUCH.PUMPKIN. 1 cup of pumpkin is perfecto.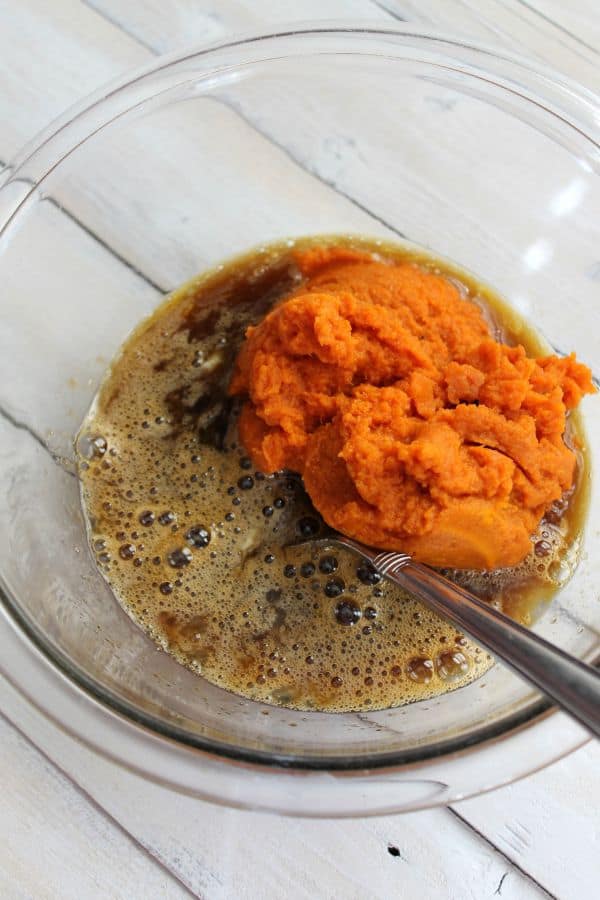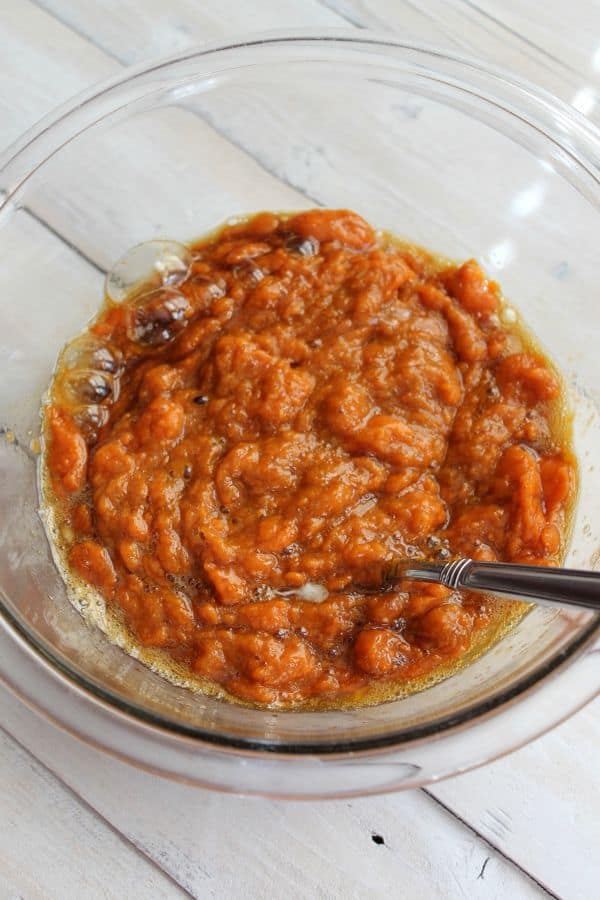 Next, I whisked in the coconut milk and coconut oil. For those of you that are curious…no it does not taste like coconut. I tried making it with butter and dairy milk and did not like the texture. In my opinion coconut milk and oil does glorious things to baked goods. It is my preference but you can certainly use any oil or milk.
After all that was mixed together I stirred in the cranberries and let it sit for a few minutes. This gives the cranberries a little time to rehydrate so you don't end up with hard baked cranberries. Don't ask me how I know?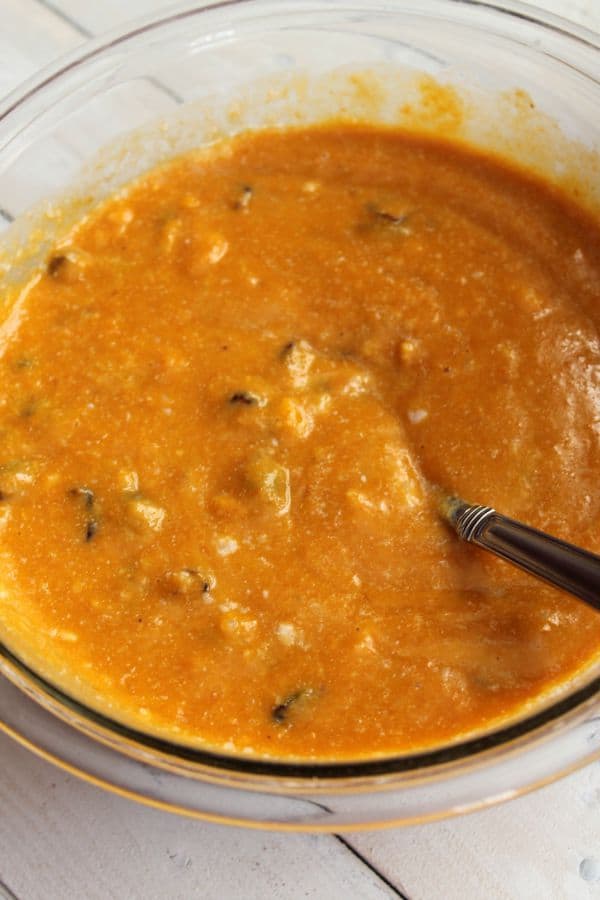 Then I stirred the wet ingredients and pecans into the dry ingredients. Make sure to scrape all the way to the bottom. If you don't then you might be greeted with dry oats at the bottom and that might make you mad. It makes me made.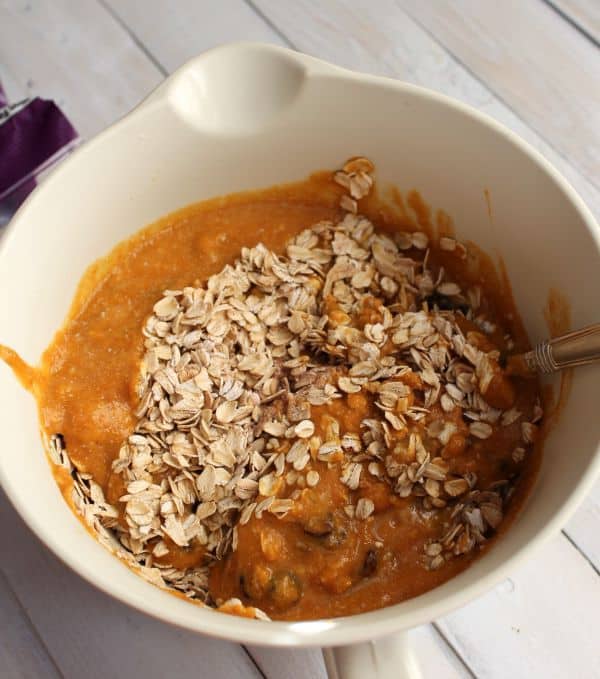 After I got all the ingredients mixed together I divided it evenly among a 12-cup muffin pan sprayed with cooking spray.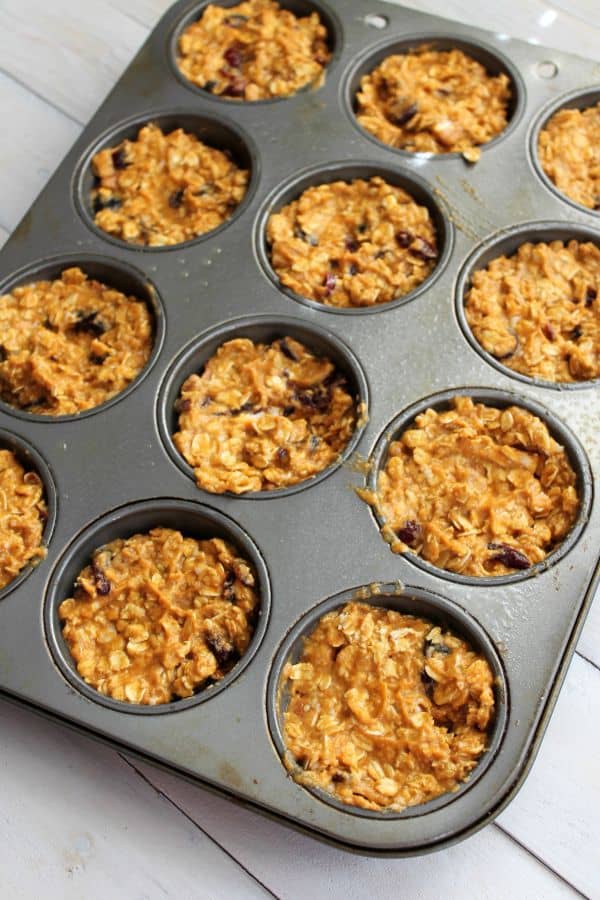 Using a spoon I flattened the oatmeal mixture down. This makes sure all the oats are covered in the liquid.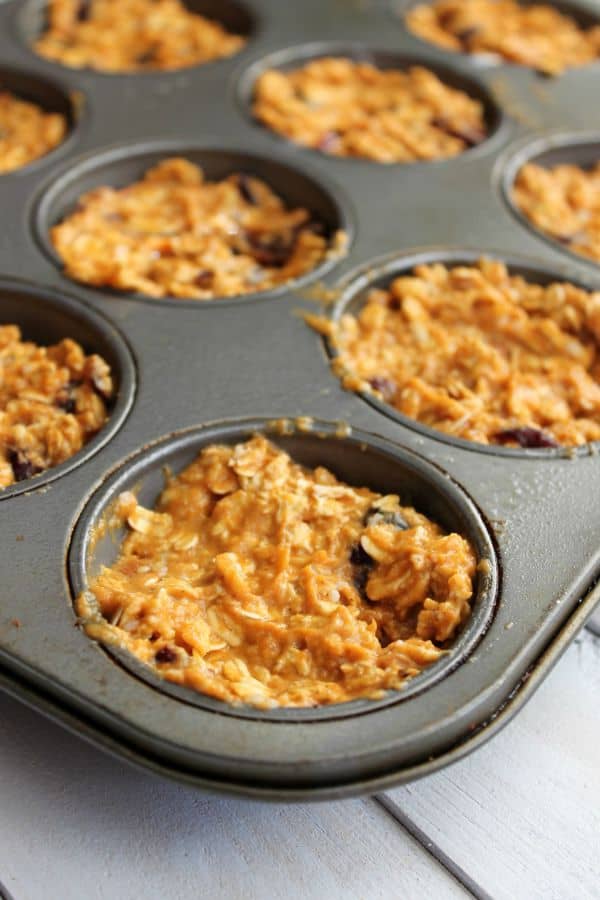 The oats are now ready to bake. I baked the oatmeal for 25  minutes at 350 degrees. During that time I highly recommend sitting on the couch and taking in all the beautiful delicious smells of pumpkin and spice. Mmmmmmm
After the oatmeal cups were done I let the them sit for a couple minutes so I didn't burn my tongue off. You don't realize how important your tongue is until you burn it. #justsaying. Then I put one on a plate, drizzled on a little pure maple syrup, and relaxed.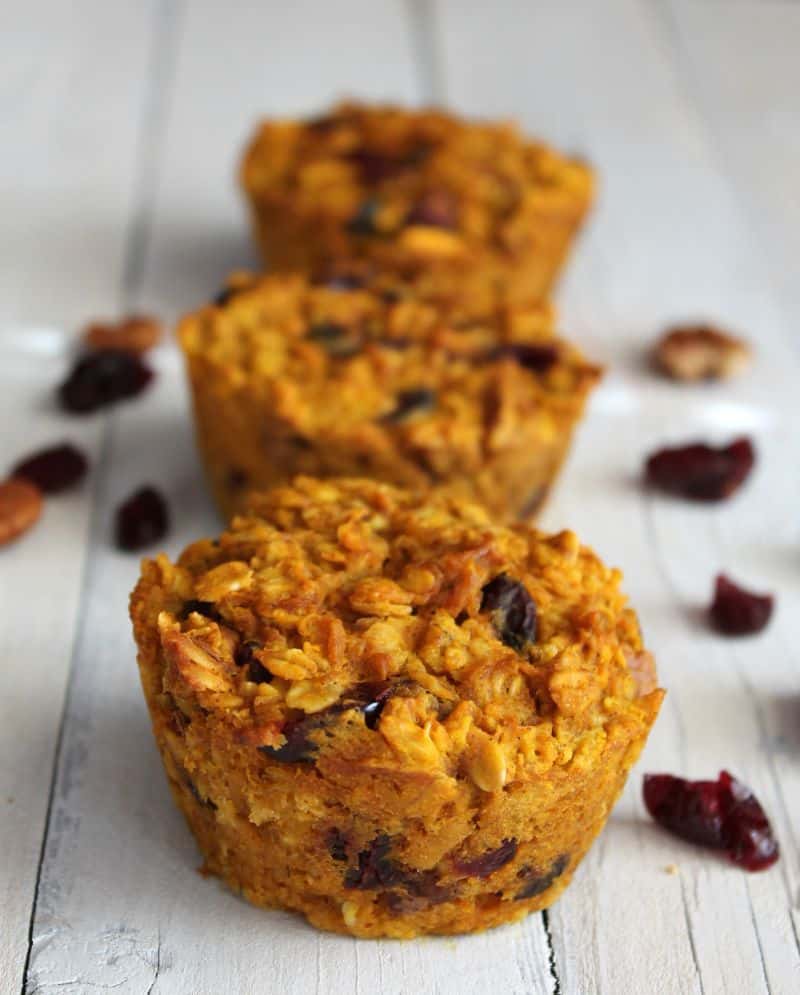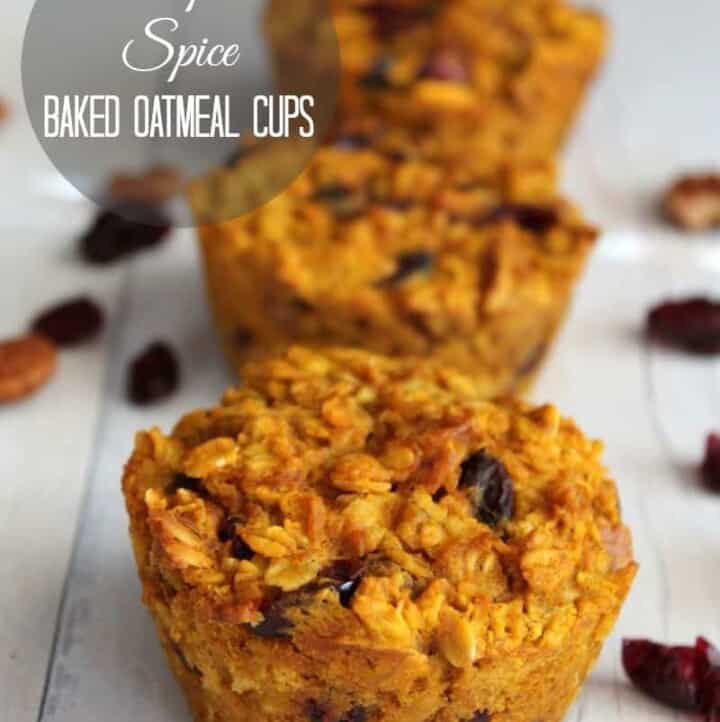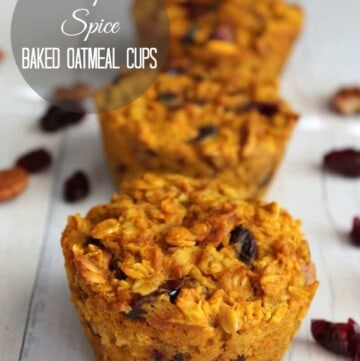 Pumpkin Spice Baked Oatmeal
Healthy and wholesome pumpkin spice baked oatmeal cups made with cranberries and pecans.
Print
Pin
Rate
Ingredients
3

cups

rolled oats

1

teaspoon

cinnamon

1

teaspoon

baking powder

¼

teaspoon

salt

2

eggs

¼

cup

brown sugar

1

teaspoon

pure vanilla extract

1

cup

pure pumpkin puree

not pumpkin pie filling

¼

cup

melted coconut oil

1

cup

unsweetened coconut milk

1

cup

dried unsweetened cranberries

¼

cup

chopped pecans
Instructions
Preheat oven to 350 degrees.

In a large bowl combine rolled oats, cinnamon, baking powder, and salt. Mix together until all of the ingredients are evenly distributed among the oats.

In another large bowl whisk together eggs, brown sugar, and vanilla extract.

Add pumpkin, coconut oil, and coconut milk. Whisk together until blended.

Stir in dried cranberries and let sit for about 1-2 minutes.

Pour wet mixture and pecans into dry mixture. Stir until all the oats are coated with the pumpkin mixture.

Divide baked oatmeal mixture among a 12-cup muffin pan.

Bake 25 -27 minutes. Let sit for about 3-5 minutes.

Serve warm with pure maple syrup.
Notes
Make ahead instructions prepare oatmeal cups completely, let cool, and then wrap in plastic wrap to freeze. I store all the wrapped baked oatmeals in one larger labeled bag.
To reheat remove plastic wrap and heat in the microwave for 1-2 minutes or until heated through. I recommend placing a coffee cup of water in the microwave as it cooks. This keeps the oats from drying out.
Nutrition
Serving:
1
g
|
Calories:
231
kcal
|
Carbohydrates:
32
g
|
Protein:
5
g
|
Fat:
9
g
|
Fiber:
4
g
|
Sugar:
6
g