Apple Cinnamon Overnight Oats – healthy overnight oats recipe filled dried apples, cinnamon, and unsweetened coconut milk to create a delicious make-ahead breakfast.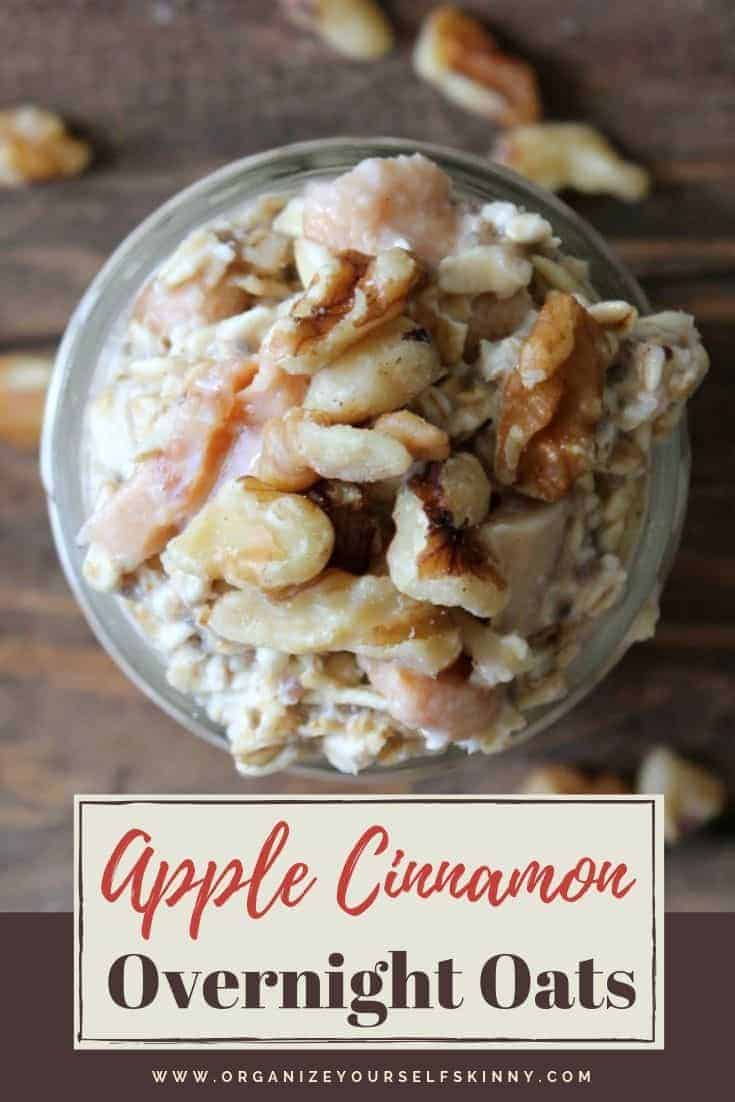 Apples and cinnamon is a classic oatmeal combination. In my house, it's often the first flavor to go out of the variety instant oatmeal box. Yes I still purchase instant oatmeal. My kids love it, it's easy, and I'm always grateful to have a few packets available on busy mornings. Just saying…I'm not above instant oatmeal.
With that said, I try my best to create healthier and more wholesome versions of our favorite foods. My kiddos have not embraced the deliciousness of overnight oats yet, they are creatures of habit and prefer oatmeal hot. However, I love to enjoy my oatmeal cold and creamy. My girls call it "adult oatmeal" and maybe they're right.
4 Reasons I love overnight oats
Pantry ingredients – All of the overnight oat recipes I make start with basic pantry ingredients – rolled oats and spices. The only other ingredient you need is a liquid. So, if you just want a simple jar of overnight oats the basic formula is 1/2 cup oats and 1/2 cup liquid (any type of milk will work).
Made ahead of time – overnight oats are designed to be made ahead of time so you can make 3-4 on Sunday for a quick breakfast all week.
Portion-controlled – each jar you put together is one portion making it easy to know ahead of time the nutritional information. This is important, especially if you're eating overnight oats to lose weight.
Can sneak in super foods – I stir chia seeds into all my overnight oats recipes. This adds fiber, protein, omega fatty acids, and many other nutrients. Chia seeds also help to absorb the liquid and give the oats a creamy pudding like texture. You can also add in flax seeds, hemp seeds, coconut oil, and even protein powder. Basically, any super food you want to add to your diet can be snuck into overnight oats.
Supplies to make this apple cinnamon overnight oatmeal
Rolled oats – in my experience, rolled oats work best for overnight oatmeal recipes. You can also use gluten-free rolled oats.
Dried apples – you can find dried apples at your local grocery store or get some online at Amazon.
Chia Seeds – you can find great prices on chia seeds at your local wholesale store or get some online at Amazon.
16-ounce mason jars – This size works best for overnight oat recipes.
Plastic mason jar lids – because the metal lid that comes with the mason jars will eventually rust so I recommend grabbing a package of plastic mason jar lids.
Other healthy overnight oats recipes
Banana Peanut Butter Overnight Oats 
Blueberry Banana Overnight Oats
Chocolate Cherry Overnight Oats
Check out my easy overnight oats step by step guide for more information and all my favorite recipes.
Apple Cinnamon Overnight Oats Recipe
Let's discuss this new apples and cinnamon overnight oatmeal recipe. Originally, I wanted to use fresh apples. Right now it's apple season in New York and there's no shortage of delicious crisp apples. But, fresh apples did not work for me in this recipe. I didn't get the flavor I wanted and the apples turned brown. I've seen a few recipes that used applesauce but I didn't have any or the time to make it. Instead, I decided to go with dried apples.
I used 1/4 cup of chopped dried apples and found this brand in the natures food section at Wegmans.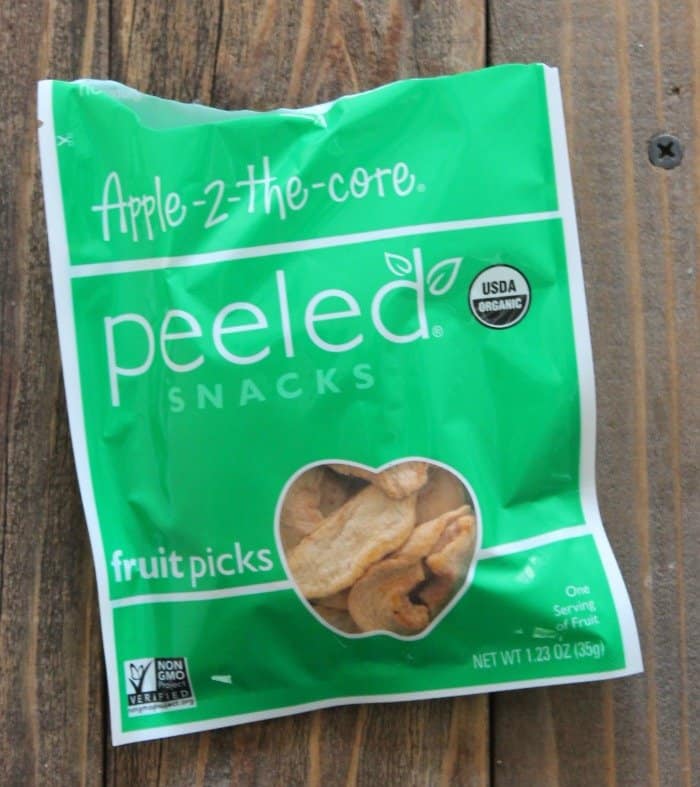 I'm glad I went with dried apples because I ended up with the delicious apple flavor I was looking for.
I started this recipe by combining the rolled oats, dried apples, cinnamon, and chia seeds.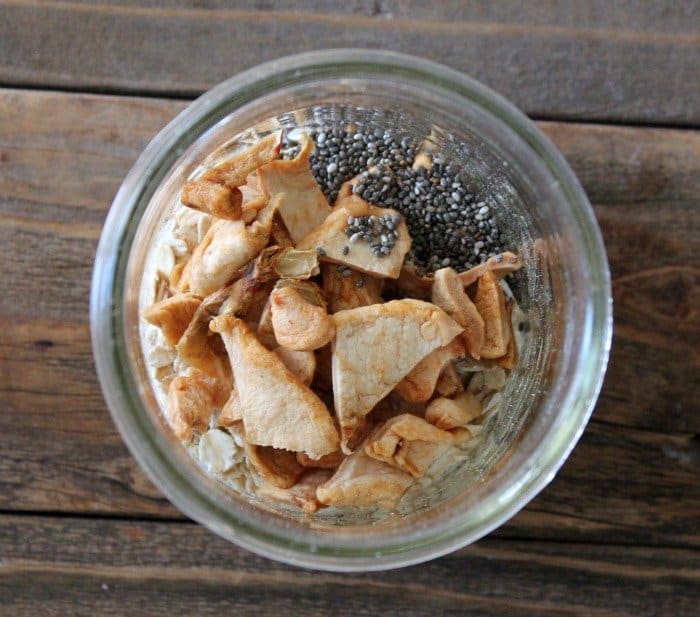 Then I stirred in 1 tablespoon of honey, 1/2 cup of milk, and vanilla. I decided to use honey instead of pure maple syrup because I wanted to switch things up. You can use pure maple syrup if that's all you have. But if you have honey use it because I thought it tasted great.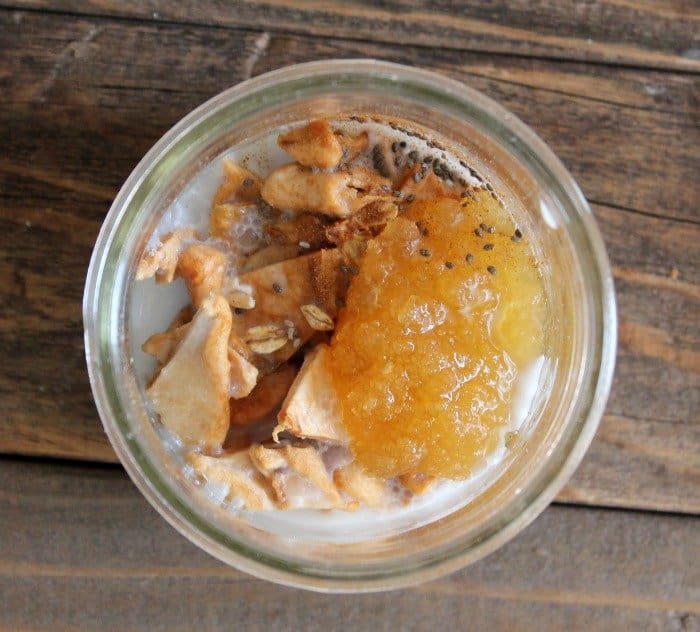 I mixed all the ingredients together, place the lid on, and then stored in the refrigerator overnight. The apples will hydrate overnight and release a delicious apple flavor into the oats.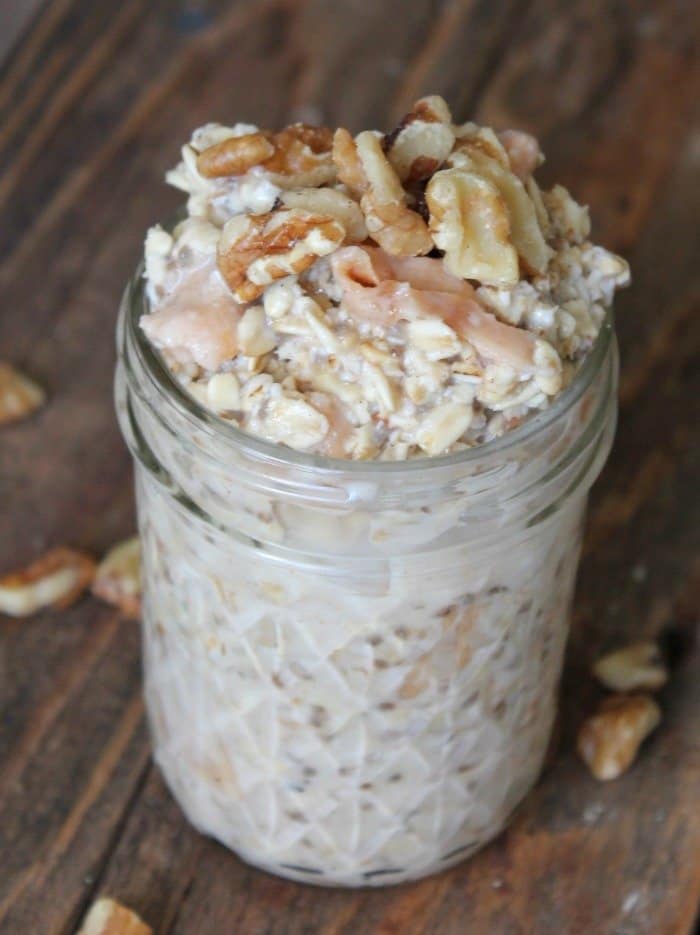 In the morning, I stirred the oats with a little extra unsweetened coconut milk to loosen it up and then sprinkled some walnuts on top for crunch.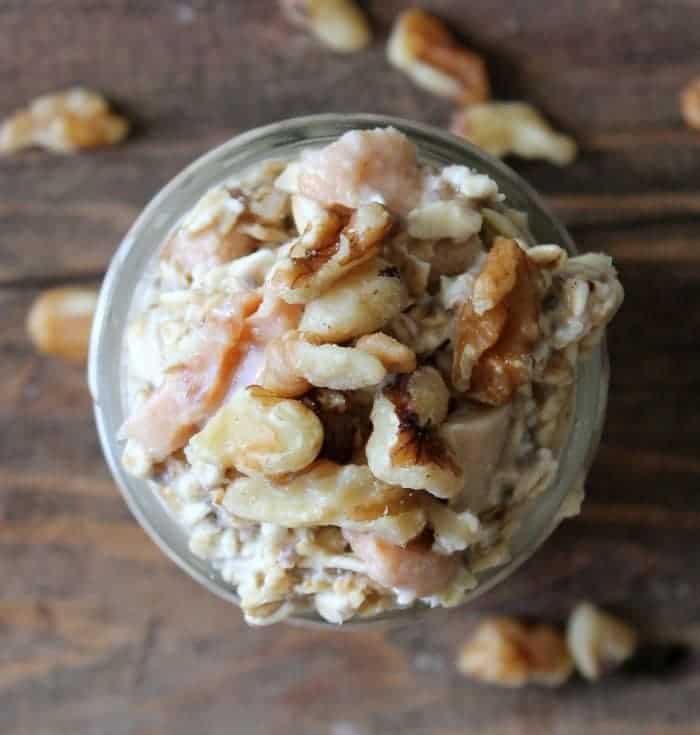 This apples cinnamon overnight oats recipe is beyond scrumptious. It's so simple and can be made ahead of time for a healthy breakfast all week. If you like to drink smoothies for breakfast then enjoy this recipe for a snack or even lunch. If apples and cinnamon is a flavor combo you enjoy then give this overnight oats recipe a try.

Apple Cinnamon Crunch Overnight Oats
Author:
Organize Yourself Skinny
Ingredients
½ cup rolled oats
¼ cup chopped dried apple
¼ teaspoon cinnamon
1 teaspoon chia seeds
½ cup unsweetened coconut milk (or any milk)
1 tablespoon honey
¼ teaspoon vanilla
1 tablespoon chopped walnuts
Instructions
in a pint size mason jar mix together rolled oats, dried apple, cinnamon, and chia seeds.
Stir in the coconut milk , vanilla, and honey.
Stir all the ingredients together, place the lid on, and store in the refrigerator overnight (at least 5 hours).
Remove lid and stir the oatmeal. Add a little extra coconut milk if the oats need to to be loosened up. Sprinkle walnuts on top and enjoy.
Notes
sugar: 28


Make-ahead instructions


This recipe can be made up to 5 days ahead of time.
Nutrition Information
Serving size:
1 jar
Calories:
361
Fat:
11
Saturated fat:
3
Carbohydrates:
61
Fiber:
10
Protein:
8
Get Instant Access to My Overnight Oats Recipe E-Cookbook!
Sign up now to receive your FREE e-cookbook that I created exclusively for my email subscribers! That's you!