If any of you have a serious obsession with chocolate, caramel, and pecans, this chocolate overnight oats recipe is for you! With the addition of Medjool dates, this healthy breakfast is the perfect option to add to your meal plan when you just want something sweet or if you have a busy week ahead of you.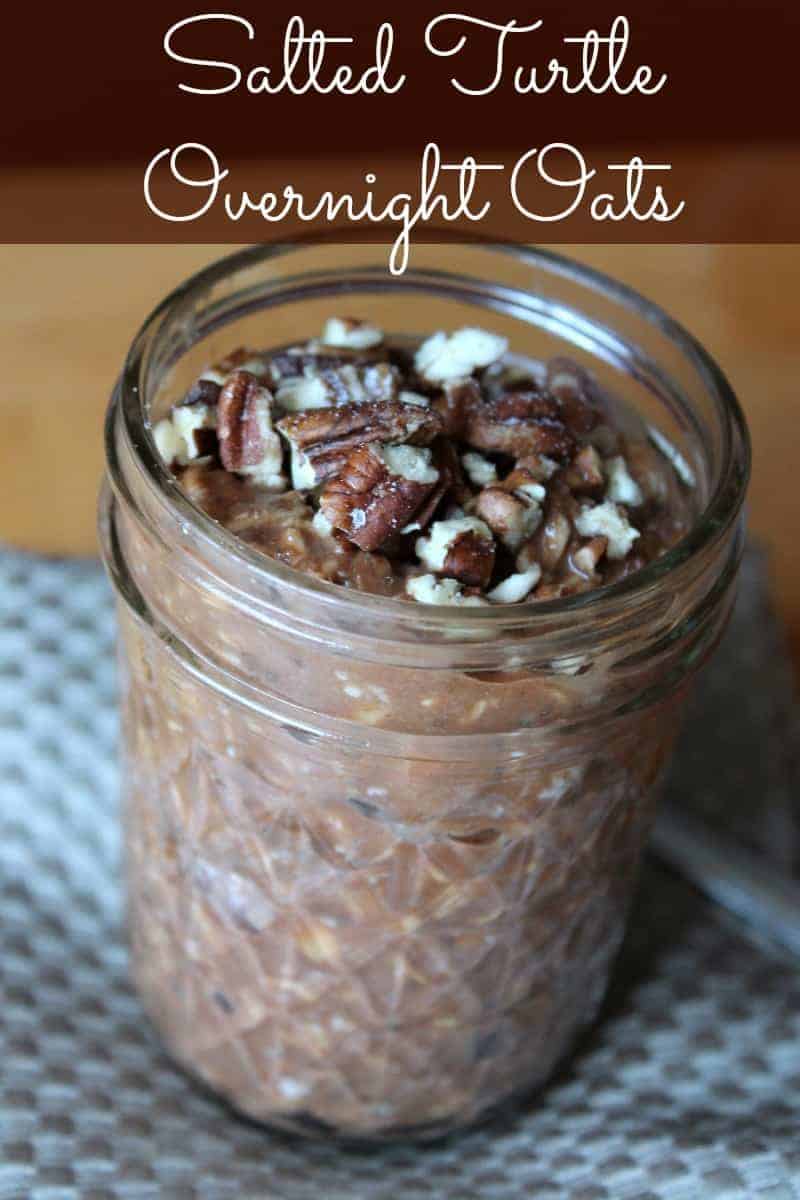 Turtle chocolates are some of my favorite sweets to eat. I just love the combination of chocolate, caramel, and pecans together. Yummy! Now add a little salt and oh mama, I am in heaven. Nowadays, I don't get to enjoy turtles very often (for obvious reasons) but like most "sometimes" foods, I try to figure out a way to fit them into my lifestyle with minimum guilt.
Enter my new overnight oats recipe – Chocolate Overnight Oats With Caramel and Pecans.
I actually had intentions of making this recipe for a long time, but I never got to it because I kept forgetting to purchase Medjool dates.
If you aren't familiar with this ingredient, earlier this year, I read that Medjool dates have a caramel-like flavor and go really nicely in oatmeal recipes, especially overnight oats. So, of course, I needed to try this!
After I found the dates, I thought, "What am I going to make with these?".
That's when the delicious idea of salted turtle overnight oats entered my brain. If Medjool dates tasted like caramel, then it seems only natural to add chocolate, pecans, and a little salt too!
Frequently Asked Questions About Overnight Oats
Before I jump into this recipe, I wanted to answer a few questions I received from some of my readers about these delicious overnight oats…
What Kind Of Oats Can I Use For This Recipe?
For this recipe, I used some old-fashioned rolled oats because they work better in this recipe. You can use steel-cut oats but they tend to become dense and mushy. Same with quick-cooking oats.
While rolled oats are usually gluten-free, make sure to read the ingredients and look for that certified gluten-free label if you have an allergy!
Do I Have To Use Almond Milk?
Nope! I used almond milk because it's personally my favorite. You can easily swap it out for coconut milk or any other non-dairy alternative.
You can also regular milk if that's what you prefer!
Where Can I Find Medjool Dates?
I personally found Medjool dates in the organic food section of Wegmans. They were with other containers of dried fruit – right next to the bulk items (nuts, oats, etc).
They were really tricky to find! So, if you are having a hard time, ask someone that works there to find them for you.
You can also buy them on Amazon (LINK).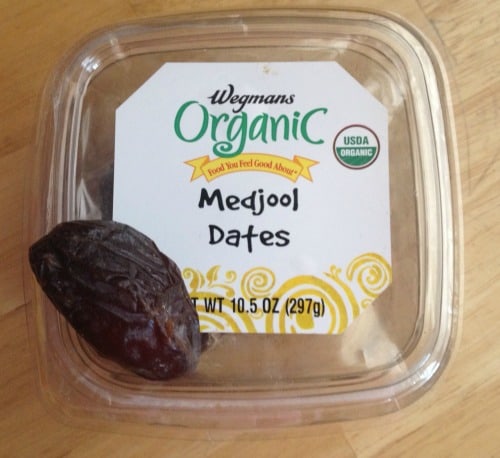 Can I Meal Prep Overnight Oats?
Yes! These oats can be made up to 3 days ahead of time.
Chocolate Overnight Oats With Caramel and Pecans
I'm so excited to show you all how to make these "salted turtle" overnight oats for breakfast. You're going to love it!
Here are the ingredients you need to make the recipe:
Unsweetened almond milk
Medjool date (pitted and chopped)
Pure vanilla extract
Unsweetened cocoa powder
Rolled oats
Pure maple syrup
Chopped pecans
Sprinkle of sea salt
How To Make "Salted Turtle" Overnight Oats
In a pint-size mason jar, add the almond milk, date, vanilla, and unsweetened cocoa powder, then stir everything until it's all combined.
Gently stir in the rolled oats but make sure to not overwork them.
Place the lid back on the mason jar and let it refrigerate overnight (at least 8 hours).
In the morning, stir in a little extra almond milk to loosen up the oats and to get the consistency you prefer.
When making this recipe, I thought the dates would add enough sweetness but after giving it a taste, I thought it needed just a tad more. So I decided to add in some maple syrup! Start with 1 teaspoon and then give it a taste.
If you need more sweetness, then add in another.
After the oats are all ready, sprinkle some chopped pecans and sea salt over the top!
Try Making These Chocolate Overnight Oats
This is seriously so delicious! The chocolate and dates give the oats a richness that is sinfully good.
The dates do have a "caramel-like" flavor and are perfect for this recipe, but they did not add the amount of sweetness I was expecting, maybe because I only used one in this recipe. I was going to use more but these little beauties are 66 calories each and a lot of carbs to the recipe. So when I added a little pure maple syrup for extra sweetness, it was perfect!
The pecans give it great flavor and crunch. The addition of the sea salt just brings it over the top.
Like my chocolate peanut butter overnight oats, this recipe is like a breakfast dessert in a jar. Delish!
Best of all, my overnight oats recipes are hearty and filling. No matter which one I eat, I am always full till lunchtime. So if you need an 'on the go' hearty breakfast, then I highly recommend giving these chocolate overnight oats a try.
More Overnight Oats Recipes:
So as much as I LOVE these overnight oats, I have plenty of other overnight oats recipes – with a huge variety!
Here are some of my go-to's:
If you are looking for a hearty breakfast that'll keep you full for the rest of the morning, give these chocolate overnight oats a try! Share a picture and tag me on Instagram or Facebook if you decide to make this!

Salted Turtle Overnight Oats (Chocolate, Dates, and Pecans)
Author:
Organize Yourself Skinny
Ingredients
½ cup unsweetened almond milk
1 medjool date, pitted and chopped
¼ teaspoon pure vanilla extract
½ tablespoon unsweetened cocoa powder
½ cup rolled oats
1-2 teaspoons pure maple syrup
2 teaspoons chopped pecans
sprinkle of sea salt
Instructions
In a pint size mason jar stir together almond milk, date, vanilla, and unsweetened cocoa powder until all combined.
Stir in rolled oats.
Place lid on and refrigerate for 8 hours or overnight.
Stir in a little extra almond milk to loosen oats up and to get the consistency you like.
Stir in maple syrup. Start with 1 teaspoon then give it a taste. If you need more sweetness then add in the rest.
Sprinkle with pecans and salt. Enjoy.
Notes
These oats can be made up to 3 days ahead of time.
Nutrition Information
Serving size:
1 recipe
Calories:
313
Fat:
6
Carbohydrates:
57
WW Points +:
8
Fiber:
8
Protein:
8
Get Instant Access to My Overnight Oats Recipe E-Cookbook!
Sign up now to receive your FREE e-cookbook that I created exclusively for my email subscribers! That's you!