I love coming up with new green smoothie recipes for breakfast and this one takes the cake! This chocolate green smoothie has a subtle nutty flavor from the raw almonds while the dark red cherries give it this tart sweetness that is balanced out by the chocolate. Not to mention, the cherries help hide the green color which means this is kid-friendly! 
You guys know I am NOT a newbie when it comes to green smoothies- it's one of my favorite go-to breakfast options!
So much so, I've been sharing with you all of my green smoothie recipes as I come up with them, starting with this "not so green" green smoothie.
Today, I want to share another green smoothie that lacks green color and also big on flavor and nutrition – my chocolate green smoothie with cherries and almonds! The cherries give the smoothie a dark reddish color hiding all the greens in this smoothie.
This is definitely one I can sneak by my kids. They have no idea!
Get instant FREE access to my green smoothie recipe e-cookbook here! I share 20 of my best green smoothie recipes along with tips, tricks, and a tutorial.
Why This Chocolate Green Smoothie Is The Best
I made a cherry vanilla green smoothie a couple of months ago and it quickly became one of my favorites! So, I decided to play around a little bit with it for a new green smoothie. Two flavors that came to mind when I thought about cherries were chocolate and almonds.
Not sure why but, as I was brainstorming ingredients to add, that is what popped into my mind so I went with it.
And, I'm so glad that I did!
For the chocolate part, I used unsweetened cocoa powder. Usually, when I use cherries, I don't need to add any additional sweetener but with the cocoa, I did use 2 teaspoons of pure maple syrup to sweeten it up a bit.
I decided to use raw whole almonds along with almond milk for the almond flavor in this smoothie. I've seen raw nuts used plenty of times in green smoothie recipes and I thought this would be a great smoothie to try it out. I loved it!
The almond flavor was subtle but still there. I really enjoyed it.
Almonds do add a lot of extra fat and calories to this smoothie but keep in mind, it is a good healthy fat. Plus, almonds also add a lot of fiber and protein making this smoothie very filling.
All in all, the flavor of this chocolate green smoothie with cherries and almonds is absolutely delicious! It actually tasted more like a dessert which always makes everything better in my book. I love having recipes that satisfy my sweet tooth but still offer lots of goodness and nutrition too.
Best Blender To Make Smoothies
When it comes to blending smoothies, having a really great blender makes all the difference in my opinion.
To make my breakfast smoothies, I used the new Vitamix S30 to blend up this smoothie recipe and it worked great!
This blender is a perfect size for someone cooking for 1 or 2 people or maybe just has a small kitchen. It is small, sleek, and easy to hide away when done using. It comes with a 20-ounce to-go cup to drink smoothies and a 40-ounce container to blends soups and sauces.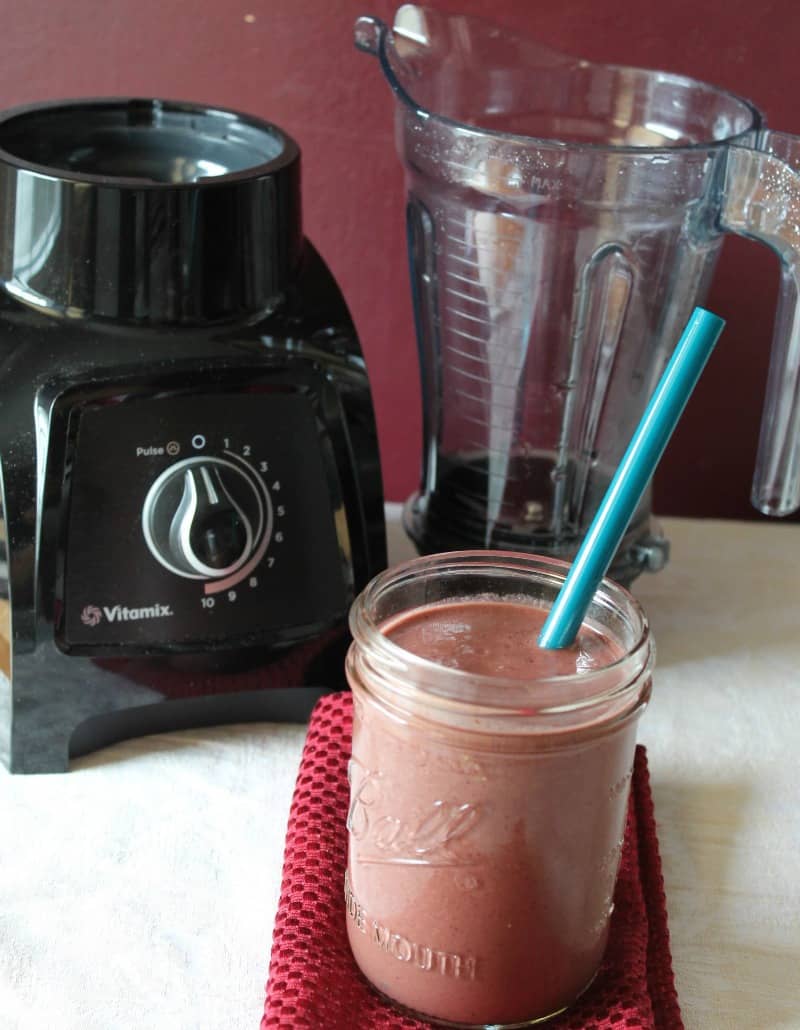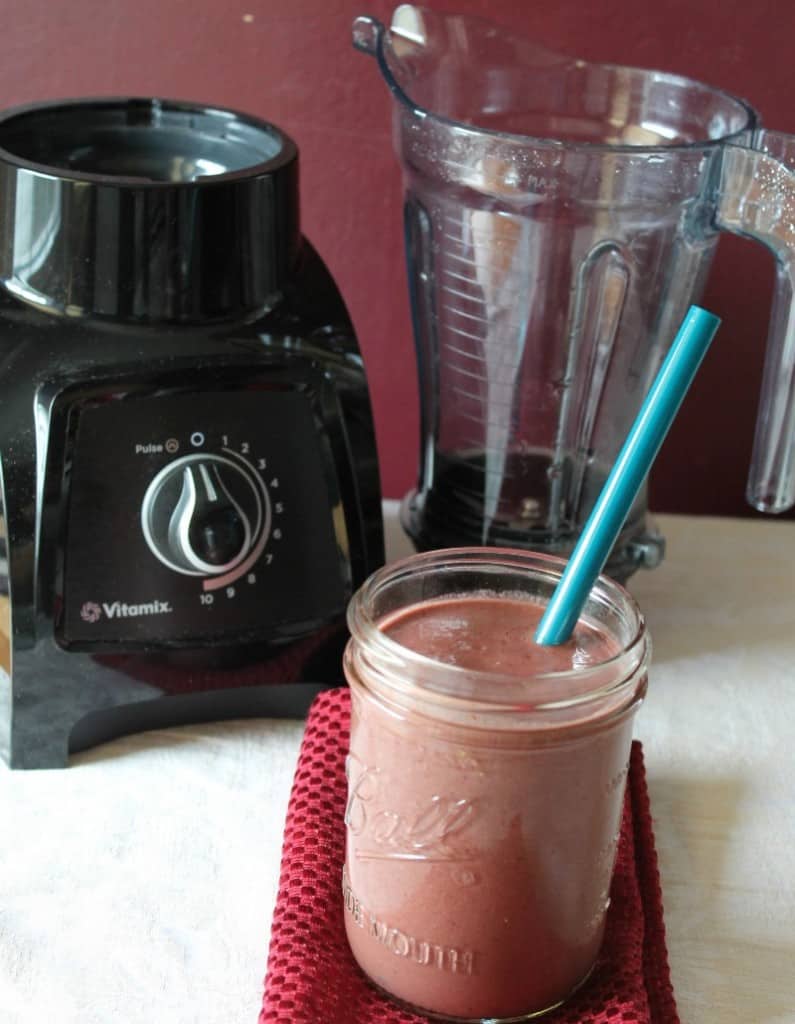 Chocolate Green Smoothie With Cherries and Almonds
Time to get blending! Here are the ingredients you will need to make this green smoothie recipe:
Frozen dark sweet cherries
Raw whole almonds
Unsweetened cocoa powder
Pure maple syrup
Baby spinach
Almond milk
Water (if needed for consistency)
How To Make This Chocolate Green Smoothie At Home
Place all of your ingredients into the Vitamix container and secure it into place on the blender.
Turn the dial to 1 and slowly work your way up and increase to 10.
Blend the green smoothie for 25 – 30 seconds or until you get the consistency you would like. If it is too thick, add in a splash of water and blend some more.
How To Make This Green Smoothie Recipe Ahead Of Time
As much as I would love to make my green smoothies every single morning, I just don't always have the time! After trying a few different methods, I was finally able to figure out how to make ahead and freeze my green breakfast smoothies!
When I made them ahead, I sometimes store the smoothies in mason jars and I leave a few in the fridge to have for a few days (usually 2-3 days) and the rest in the freezer.
If you prefer to make the smoothie the day of, you can always prep all of the smoothie ingredients and make smoothie freezer kits!
More Healthy Smoothie Recipes
If you loved this recipe, you'll love some of these easy healthy smoothie recipes!
Ingredients
1

cup

frozen dark sweet cherries

2

tablespoons

raw whole almonds

1

tablespoon

unsweetened cocoa powder

2

teaspoons

pure maple syrup

1/2

cup

baby spinach

1

cup

almond milk

water if needed for consistency
Instructions
Place all ingredients into the Vitamix 32 ounce container and secure into place on the blender.

Turn dial to 1 then slowly increase to 10.

Blend for 25 - 30 seconds or until you get the consistency you would like. If it is to thick add a little water and blend again.
Nutrition
Calories:
288
kcal
|
Carbohydrates:
45
g
|
Protein:
9
g
|
Fat:
12
g
|
Fiber:
10
g
|
Sugar:
8
g
Disclosure: Vitamix gave me a Vitamix S30 Blender to use for this recipe. All opinions are my own.