Get instant FREE access to my green smoothie recipe e-cookbook here! I share 20 of my best green smoothie recipes along with tips, tricks, and a tutorial.
Yesterday, to kick off my green smoothie week, I shared with you a starter "not so green" green smoothie. Today, I want to share another green smoothie that lacks green color and also big on flavor and nutrition – my cherry chocolate almond green smoothie. The cherries give the smoothie a dark reddish color hiding all the greens in this smoothie.
I made a cherry vanilla green smoothie a couple months ago. It quickly became one of my favorites so I decided to play around a little bit with it for green smoothie week. Two flavors that came to mind when I thought about cherries was chocolate and almond. Not sure why. But as I was brainstorming that is what popped into my mind so I went with it.
For the chocolate part I used unsweetened cocoa powder. Usually, when I use cherries, I don't need to add any additional sweetener but with the cocoa I did use 2 teaspoons of pure maple syrup to sweeten it up a bit.
I decided to use raw whole almonds along with almond milk for the almond flavor in this smoothie. I have seen raw nuts used plenty of times in green smoothie recipes and I thought this would be a great smoothie to try it out. I loved it. The almond flavor was subtle but still there. I really enjoyed it. Almonds do add a lot of extra fat and calories to this smoothie. But keep in mind it is good fat. Plus almonds also add a lot of fiber and protein making this smoothie very filling.
The flavor of the chocolate cherry almond green smoothie is absolutely delicious. It actually tasted more like a dessert. I love having recipes that satisfy my sweet tooth but still offer lots of goodness and nutrition too.
I used the new Vitamix S30 to blend up this smoothie recipe. It worked great. This blender is a perfect size for someone cooking for 1 or 2 people or maybe just has a small kitchen. It is small, sleek, and easy to hide away when done using. It  comes with a 20 ounce to go cup and a 40 ounce container that the recipe can be blended in. I will post my full Vitamix S30 review on Friday.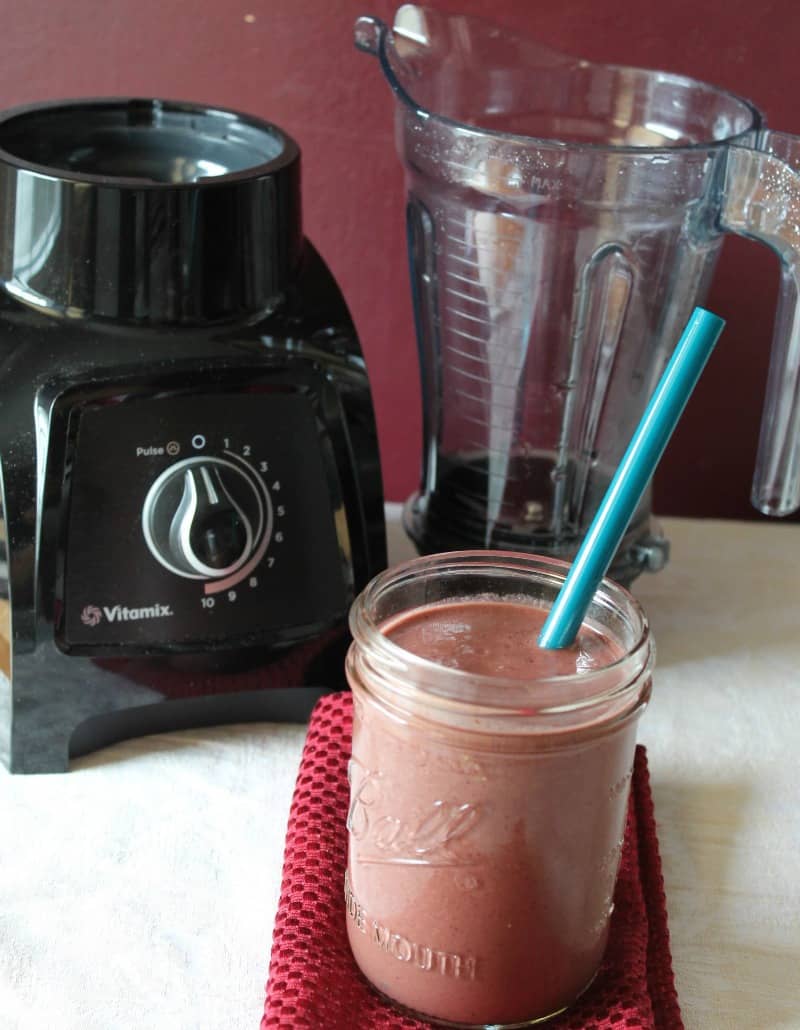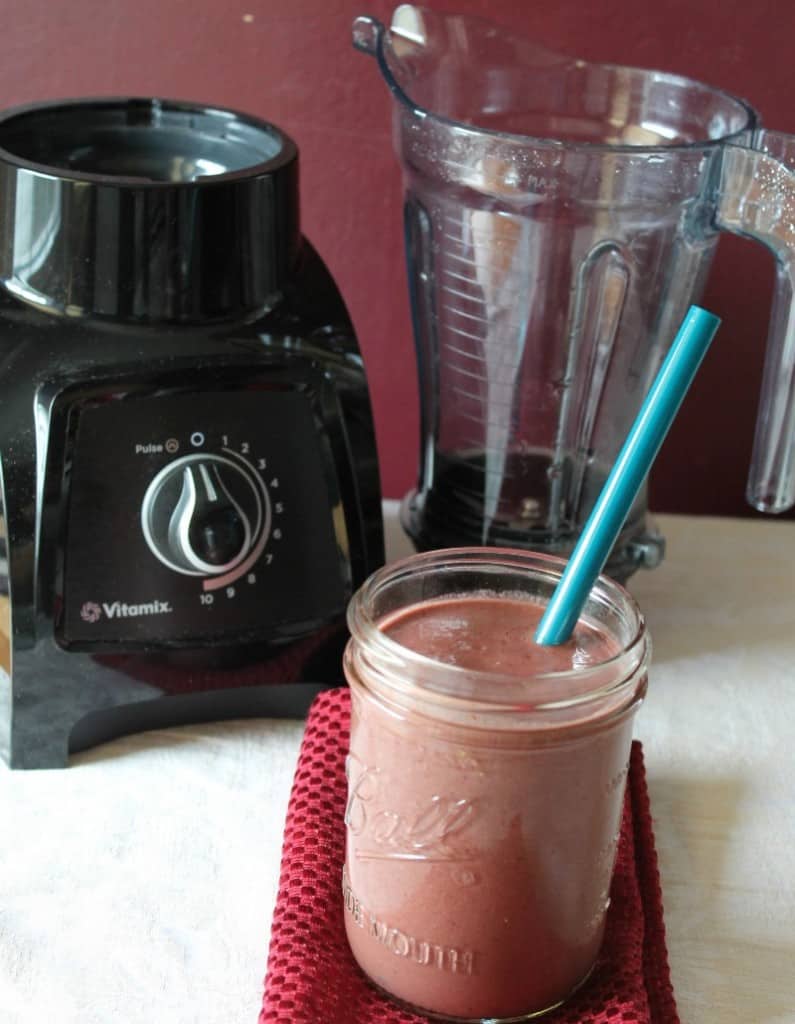 Cherry Chocolate Almond Green Smoothie
Author:
Organize Yourself Skinny
Recipe type:
green smoothie recipe, vitamix recipe
Ingredients
1 cup frozen dark sweet cherries
2 tablespoons raw whole almonds
1 tablespoon unsweetened cocoa powder
2 teaspoons pure maple syrup
½ cup baby spinach
1 cup almond milk
water if needed for consistency
Instructions
Place all ingredients into the Vitamix 32 ounce container and secure into place on the blender.
Turn dial to 1 then slowly increase to 10.
Blend for 25 - 30 seconds or until you get the consistency you would like. If it is to thick add a little water and blend again.
Nutrition Information
Calories:
288
Fat:
12
Carbohydrates:
45
WW Points +:
8
Fiber:
10
Protein:
9
Disclosure: Vitamix gave me a Vitamix S30 Blender to use for this recipe. All opinions are my own.
Get Instant Access to my Green Smoothie Recipe E-cookbook!
Sign up now to receive your FREE e-cookbook that I created exclusively for my email subscribers! That's you!