This might be my favorite green detox smoothie recipe! If you are new to all of this, then this detox smoothie is for you! This smoothie recipe makes about 2 (3-cup) servings. Each serving is 222 calories, 3 grams of fat, 13 grams of fiber, and 5 grams of protein. I honestly feel very full after drinking this and also stay full for quite a while.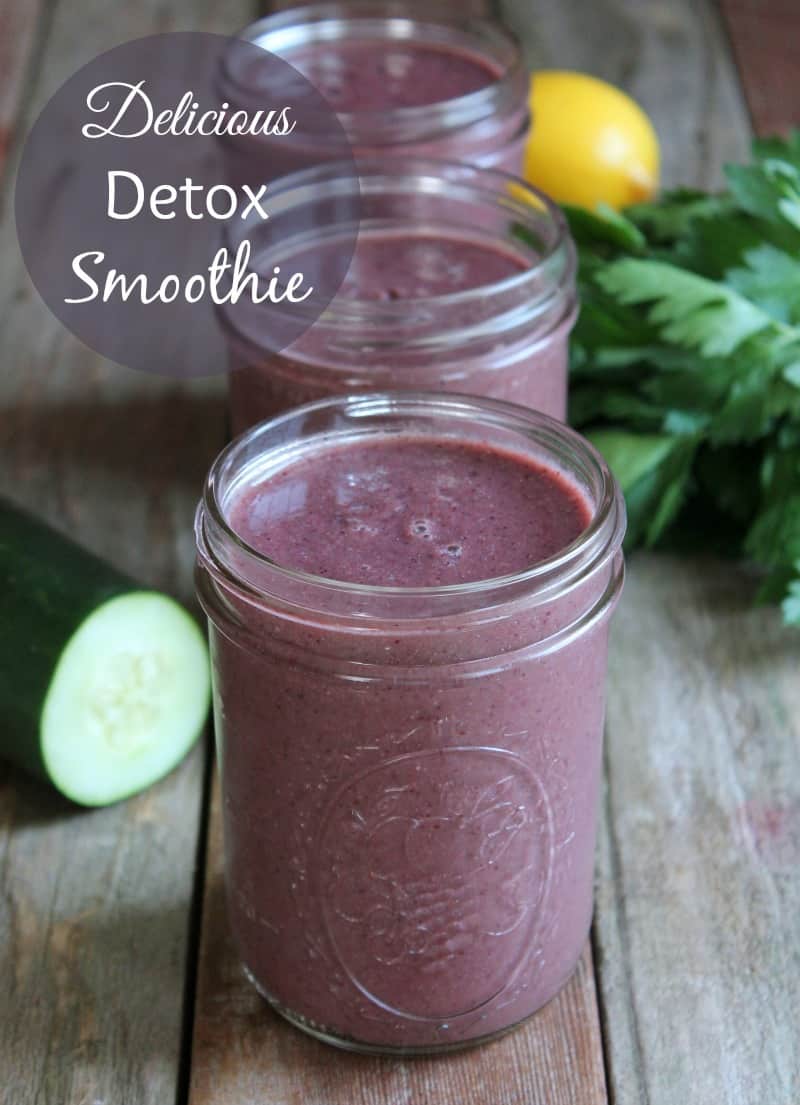 Yummy Detox Smoothie
It is no secret that I love green smoothies.
I try my best to drink one every day and can feel a difference right away if I don't. My body has almost become dependent on them and, personally, I think that's a good thing.
It beats being dependent on chocolate! Not that I don't want chocolate but I certainly don't crave it as much as I used too.
Well sometimes…but you get my point.
Smoothies are great because you can increase your vegetables or consumption of other superfoods without even noticing. All you have to do is throw them into a blender, blend for a minute or so and poof. You have a nutrient-dense powerhouse of a drink.
So, this week I decided to work on a new detox smoothie recipe—just for you guys!
Frequently Asked Questions About This Detox Smoothie Recipe
Before I show you how I make my daily green smoothie, here are a few questions I have gotten from some of my readers.
What Does A Detox Smoothie Do For My Body?
Most smoothies will have a cleansing and detoxifying effect because they are filled with fiber-rich fruits and vegetables. However, there are so many superfoods and herbs you can add to give it even more of a cleansing boost.
My favorite superfood to add are chia seeds. The provide a huge punch of fiber, protein, omega-3's, and other antioxidants.
Other superfoods to add to smoothie recipes are:
Hemp – this adds protein, omega-3's, and fiber.
Matcha powder – this superfood is a concentrated form of green tea and know for it's anti-infective properties. It's also know to boost metabolism.
Cacao powder – this has been show to to help you feel more energized while also providing an anti-inflammatory effect.
Collagen – this is another favorite I often add to detox smoothies. Collagen helps with skin, hair, and nails. It also promotes good digestive health. I purchase the powder collagen from Thrive Market – this is the price I've found on collagen.
Turmeric – this superfood is great for achey joints.
Goji berries – If you're looking to add a little sweetness to your smoothie goji berries will work. They also provide antioxidants that help with eye health.
All of these superfoods can be blended right into your green smoothie.
Where to get superfoods?
All of these superfoods can be purchased in the nature section of your local grocery store. You can also purchase directly from Amazon or Thrive Market. See my Thrive Market review for more information.
Can You Drink A Green Smoothie Every Day?
Yes! Drinking one green smoothie a day is a great way to get most (if not all) of your fruit and veggie servings in one drink. I typically like to start of my day having one of my smoothies so I know I can start the day off right and full of energy.
Which Blender Is The Best For Making a Smoothie?
I have the Classic Vitamix blender 5200 Getting Started Blender- that's what you see in all my green smoothie recipes.
This specific blender is a bit on the expensive side BUT let me just say this; I've had this blender for over 9 years and use it 4-7 times a week AND never had one malfunction with it. I can honestly say that my Vitamix blender creates a perfectly smooth green smoothie every time.
Prior to getting a Vitamix, I went through about 3 cheap blenders. Not only did they last a measly 3 months but didn't even come close to creating a perfectly blended smoothie – I was always left with chunks of fruits and leftover spinach. If you plan to make green smoothies a part of your daily diet then I strongly suggest you invest in a Vitamix.
You can purchase a Vitamix directly from their website. I recommend doing this because they offer amazing customer service and great warranties.
You can also purchase a Vitamix from Amazon. My advice is to make sure it comes with a warranty before purchasing. I haven't had any issues with my Vitamix (at all) but with such a large investment I reccomend getting a warranty.
Quick And Delicious Detox Smoothie
Now, it's time to make this green smoothie detox recipe. First, let's make sure you have all the right ingredients:
Mixed berries
Banana
Apple
Lemon
Cucumber
Italian flat-leaf parsley
Kale or baby spinach
Chia seeds
Unsweetened Almondmilk or Coconut Milk
Water
When I make these types of smoothies, I always try to buy organic fruits and veggies so I am keeping my detox smoothie as clean as possible.
Also, for this recipe, some of the ingredients I used were already frozen in my freezer. You can use frozen or fresh, whichever is easiest for you. A lot of the time I already have frozen kale and mixed berries in my freezer from when I buy fruit and vegetables in bulk.
Why I Chose These Smoothie Ingredients
For my detox smoothie recipe, I decided to add parsley in with my greens. Parsley is packed with nutrition, can potentially help with weight loss by reducing water weight, and has a wonderful detoxifying effect on our bodies. Personally, I had no idea about the benefits of parsley – I just thought it was a garnish.
I also wanted to add some lemon. Who knew that drinking raw lemon juice could have so many health benefits? I only had to do a little research to find that lemons can potentially help with everything from indigestion and constipation to kidney stones and glowing skin. It is like a citrus powerhouse!
For the rest of the green smoothie, I wanted to be very intentional with the ingredients by making sure they were high in fiber and water to help flush toxins out of my body. I decided to use frozen mixed berries (blueberries, raspberries, and blackberries), an apple, banana, chia seeds, cucumber, and kale.
All of these ingredients have tons of fiber and nutritional value!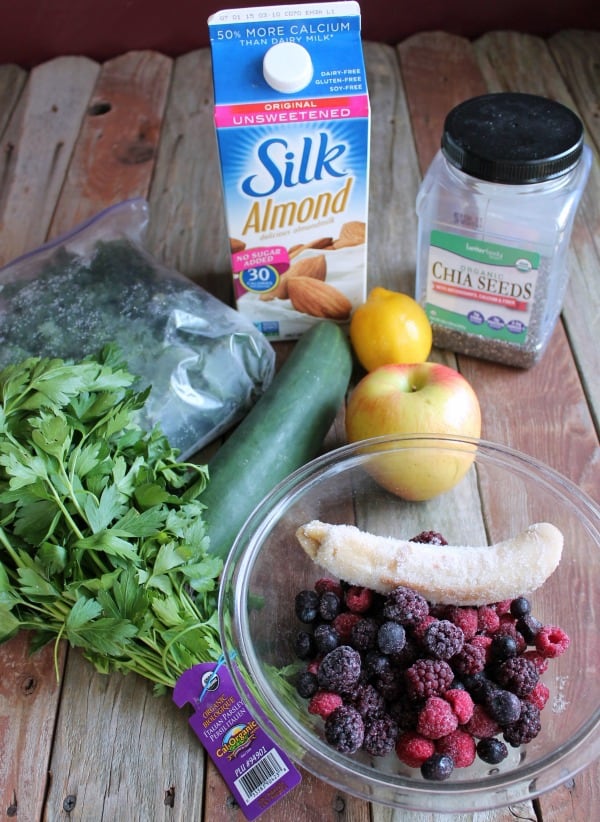 How To Make A Detox Smoothie
Okay, back to making this detox smoothie.
Let's be honest if you were going to try to eat all these ingredients (without blending them into a smoothie), it would be quite difficult. Smoothies, in my opinion, are the only way to get all this goodness into your body without needing to find 5 or more different recipes.
It's also super easy!
And as a busy mom, I like easy. So, I just like to throw all of the ingredients into my Vitamix blender and blend it until it's at the consistency I like.
This dark pink kind of purple "green" smoothie concoction is the result of all the ingredients becoming one. I think it's so pretty!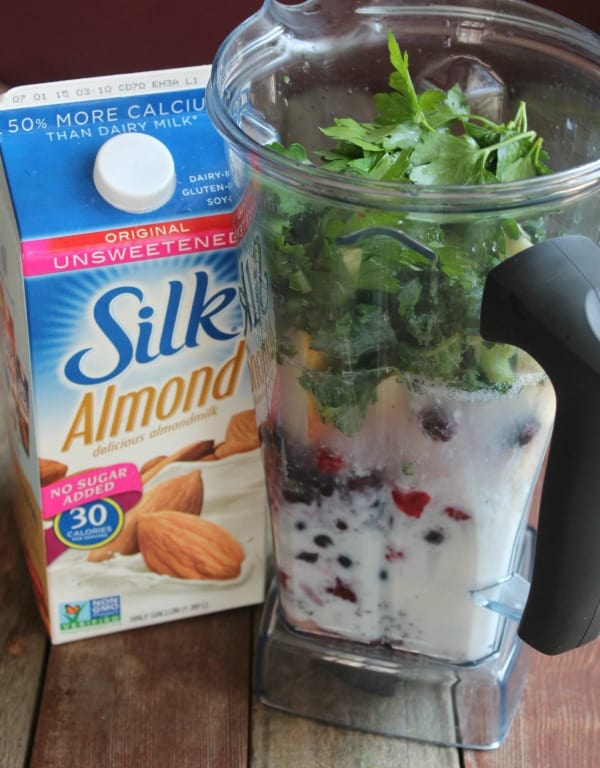 Typically, I use coconut milk in my green smoothie recipes but for this detox recipe, I decided to use 1 cup of almond milk and water. Almond milk is low in calories and fat but still provides a delicious creaminess that I love with my smoothies.
I know a lot of people like to use yogurt in their smoothies but, personally, I do not like to use dairy in my green smoothies, especially detox recipes. This is because dairy can hinder digestion, potentially cause inflammation, and has been known to cause a breakout or two.
So basically everything I am trying to get out of my body, I would be putting back in by using dairy in my detox smoothie.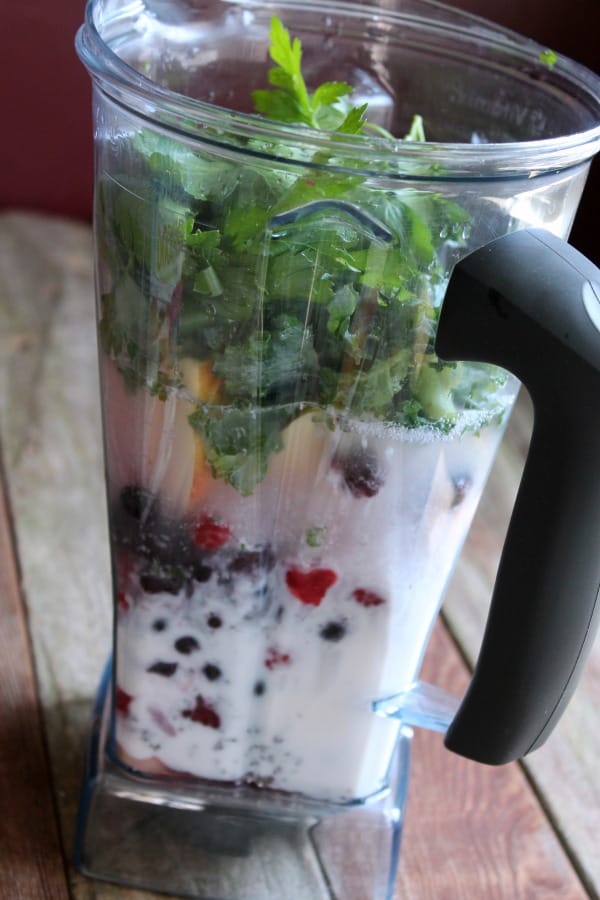 How Does a Detox Smoothie Taste?
Okay, it looks pretty but…how does it taste?
Because let's be honest if it did taste horrible then what's the point? The last thing I want to do every morning is to force down a drink I hate.
Well…this detox green smoothie is delicious! I could slightly taste the parsley but the flavors of the berries, apple, banana, and lemon more than made up for it. You can't even taste the cucumber and I used a big chunk with the skin on.
I am actually shocked by how tasty this detox smoothie is. You never know what you're gonna get when mixing parsley, cucumber, kale, and a bunch of fruit but it was super good.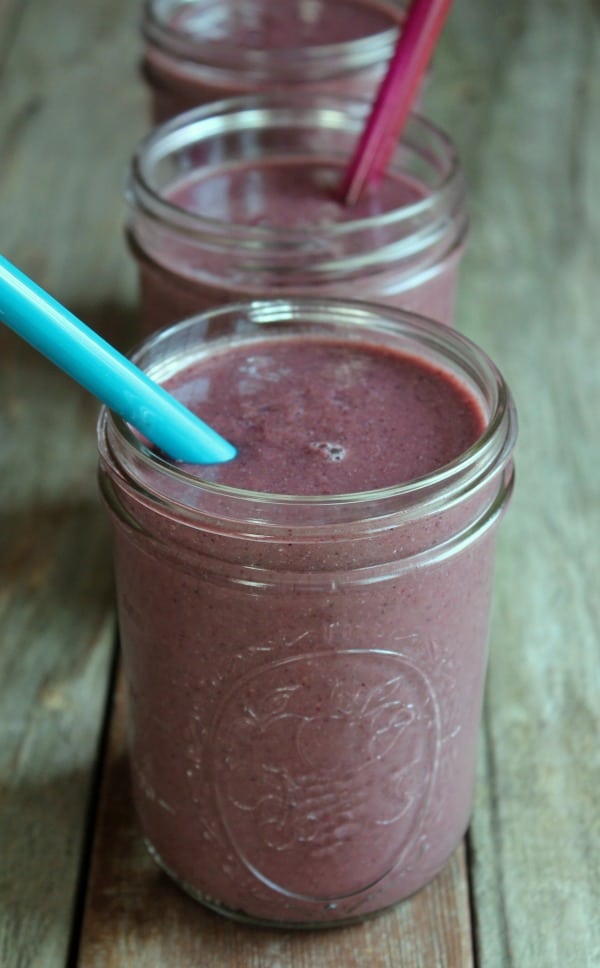 How To Make Frozen Smoothie Packs
To make mornings go smoother, I like to meal prep all of my detox smoothie ingredients into quick frozen smoothie packs. I can easily just pull a pack out and dump it into my Vitamix.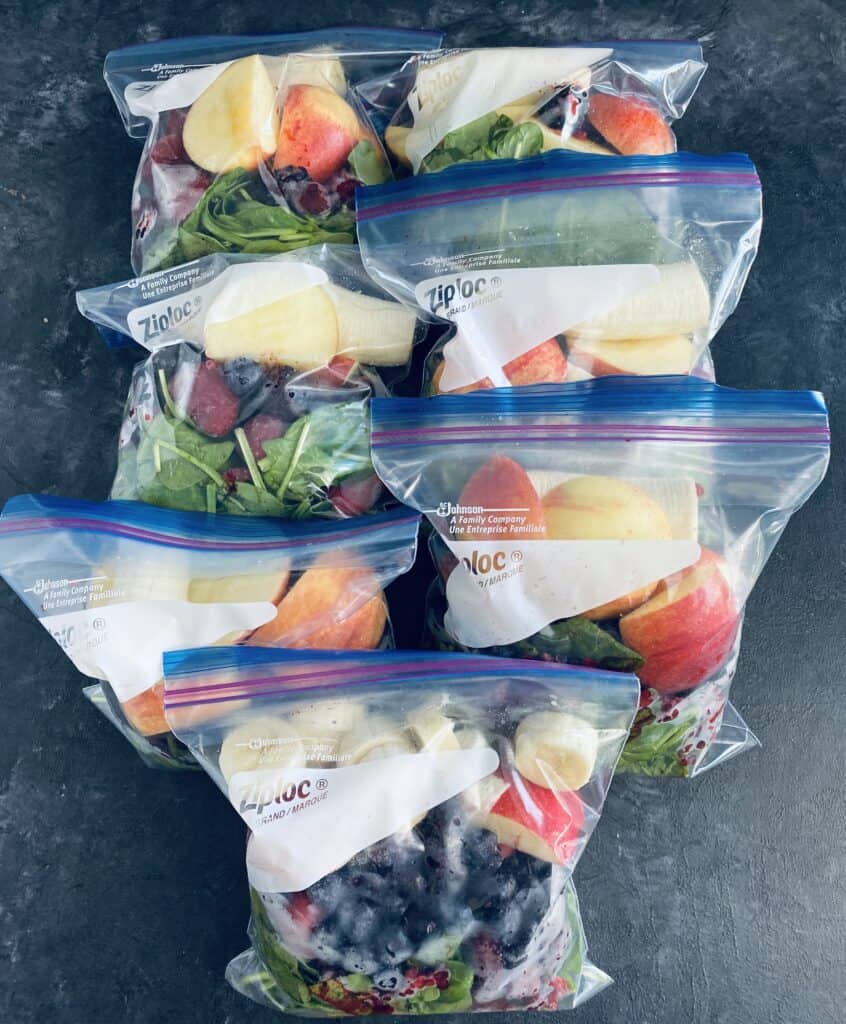 Here's a quick video I put together to show you how I make these ahead of time into green smoothie freezer kits.

I drank this smoothie all week and felt amazing! Not only did I have a ton of energy, but I also had so much clarity, and just felt refreshed.
So, I am going to continue drinking this detox smoothie for the next month so I can continue to reap the benefits of all these nutrient-dense and cleansing foods. Give it a try and let me know what you think!
More Healthy Green Smoothie Recipes:
Share a picture and tag me on Instagram or Facebook if you decide to your own detox smoothie at home!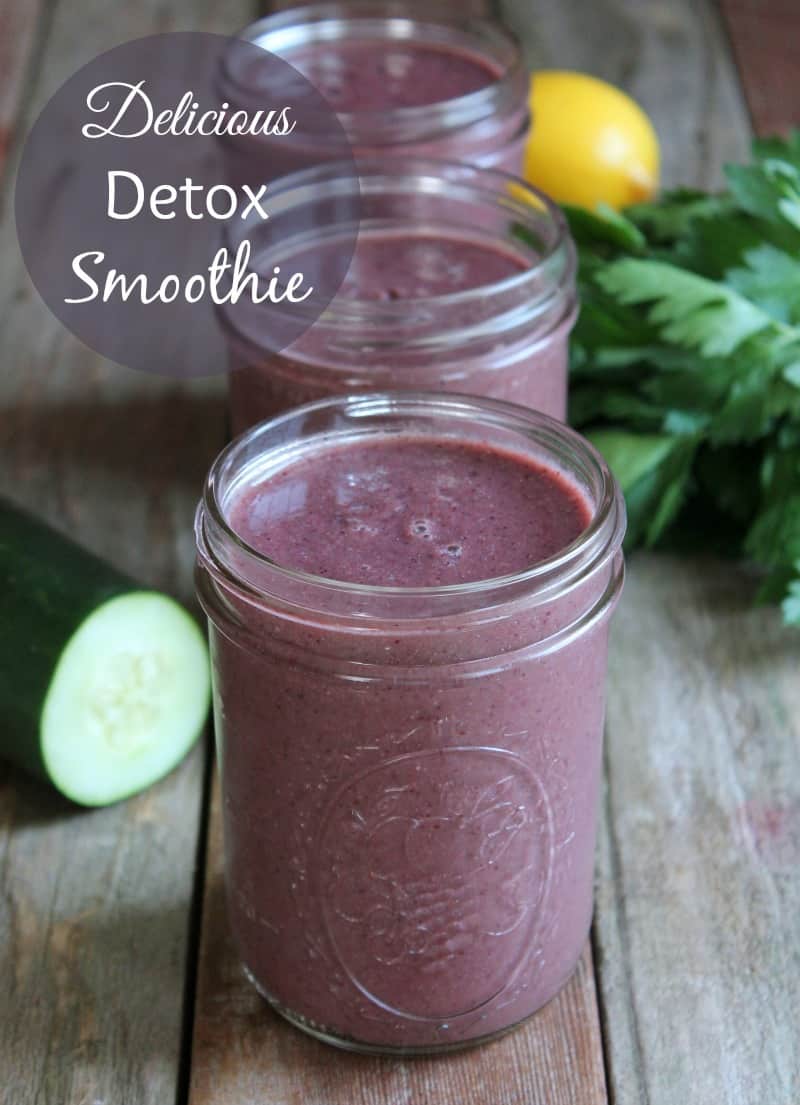 Quick and Delicious Detox Smoothie
This might be my favorite green detox smoothie recipe! If you are new to all of this, then this detox smoothie is for you! This smoothie recipe makes about 2 (3-cup) servings. Each serving is 222 calories, 3 grams of fat, 13 grams of fiber, and 5 grams of protein. I honestly feel very full after drinking this and also stay full for quite a while.
Print
Pin
Rate
Ingredients
2

cups

frozen mixed berries

1

medium banana

1

large apple

cored

juice of 1 lemon

3-4

inch

chunk cucumber

1/2

cup

italian flat leaf parsley

1

cup

kale

1

tablespoon

chia seeds

1

cup

Almondmilk or coconutmilk

1

cup

water

more if needed
Instructions
Place all the ingredients into a blender. Blend on high for 1-2 minutes or until all the ingredients are smooth and blended. Add more water till you get the desired consistency.
Notes
Make ahead tips
This smoothie can be made 1-2 days ahead of time and store in the refrigerator or you can freeze for up to 3 months.
Nutrition
Serving:
3
g
|
Calories:
222
kcal
|
Carbohydrates:
47
g
|
Protein:
5
g
|
Fat:
3
g
|
Fiber:
13
g
|
Sugar:
5
g