Are you looking for a delicious way to give your body a boost? Our 5-star detox smoothie recipe is a perfect choice! Packed with nutrient-dense ingredients like mixed berries, banana, apple, cucumber, lemon, spinach, chia seeds, and coconut milk, this smoothie will help clean out your body of toxins, increase your energy levels, and help you feel your best. Trust us; this is one of our all-time favorite detoxifying smoothie recipes!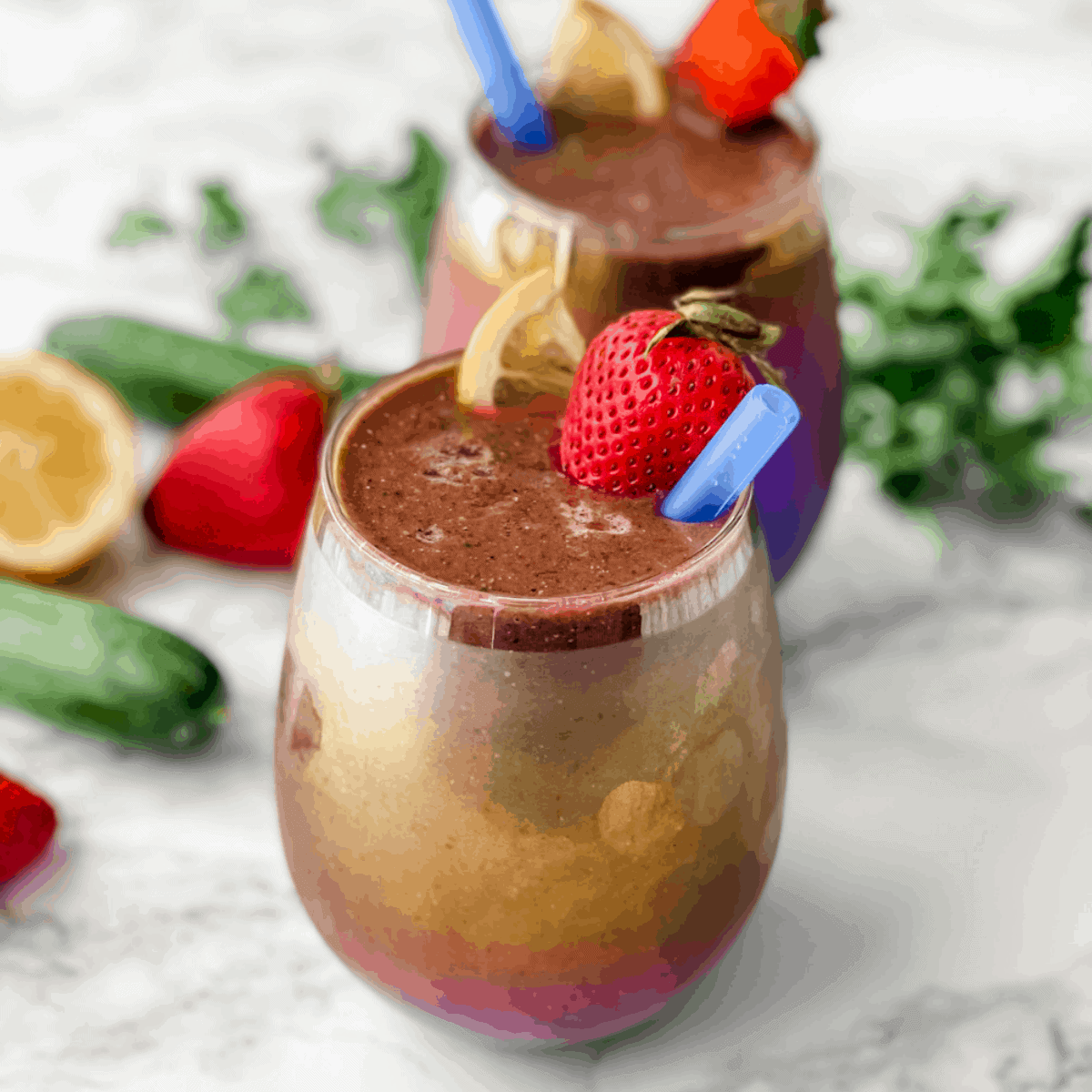 This post contains affiliate links. I am an affiliate for Amazon Associates and other brands and earn a small commission on qualifying purchases. You're by no means obligated to use my links but, if you do, thank you for supporting Organize Yourself Skinny.
I have a little secret: I'm a big fan of healthy smoothie recipes! If you check out my blog, you'll see it's full of them. I try my best to have a smoothie every day because it feels so good for my body.
One type of smoothie I love is a detox smoothie; it's packed with wholesome ingredients that naturally cleanse my body, boost my energy levels, and help me focus.
And when I want to lose weight or get rid of bloating, it's the first thing I turn to. I've noticed that my body craves them now – it's like it knows how good they are for me!
I can immediately feel a difference when I don't prioritize smoothies. My body has almost become dependent on them, which is good.
This triple berry smoothie, spinach smoothie, blueberry kale smoothie, super green smoothie, strawberry mango, strawberry pineapple smoothie, blueberry smoothie, chocolate cherry smoothie, strawberry avocado smoothie, and this detox smoothie are in constant rotation for breakfast in my house. See all of my healthy smoothie recipes.
Jump to:
Reasons you'll love this recipe
There are many reasons to love this detox smoothie recipe, but here are my favorites.
It's super easy to make! All you need to do is toss everything into a high-speed blender, and in just 3 minutes, you'll have a delicious and nutritious breakfast ready to drink.
You'll increase the number of fruits and veggies you eat. Let's be honest; eating all these ingredients separately would be tough. But blending them into a smoothie is a great way to pack in all the necessary nutrients without making multiple recipes.
You can find all the ingredients in your local grocery store, and you won't need any fancy powders or hard-to-find fruits and veggies for this recipe. Everything you need can be found at your local grocery store or online.
It tastes delicious! There's no need to force down this vegan detox smoothie, and it's full of bright and refreshing flavors you'll enjoy drinking.
You can boost your nutrition even more with extra superfoods. Smoothies are a great way to sneak in extra superfoods without changing the taste or texture of the smoothie. I love adding chia seeds, but you can try plenty of other superfoods too.
It will make you feel amazing! Adding this healthy smoothie into your daily routine can help improve focus, energy, and weight management. Plus, smoothies are known to prevent bloating and promote glowing skin! it's also gluten-free so everyone can enjoy it!
You can even make it ahead of time. Keep a detox smoothie in the fridge or freeze the ingredients into kits for easy meal prep. I'll give you more tips on that later on!
How to Make a Detox Smoothie Recipe
This detox smoothie recipe is the perfect way to start your day on a healthy note. Packed with natural, nutrient-dense ingredients, this smoothie will help cleanse your body, boost your energy levels, lose weight, and leave you feeling your best. Plus, it's super easy to make and tastes delicious!
The Ingredients
Here are all the detox smoothie ingredients you'll need. I'll provide additional shopping tips below to help you get the best ingredients for affordable prices.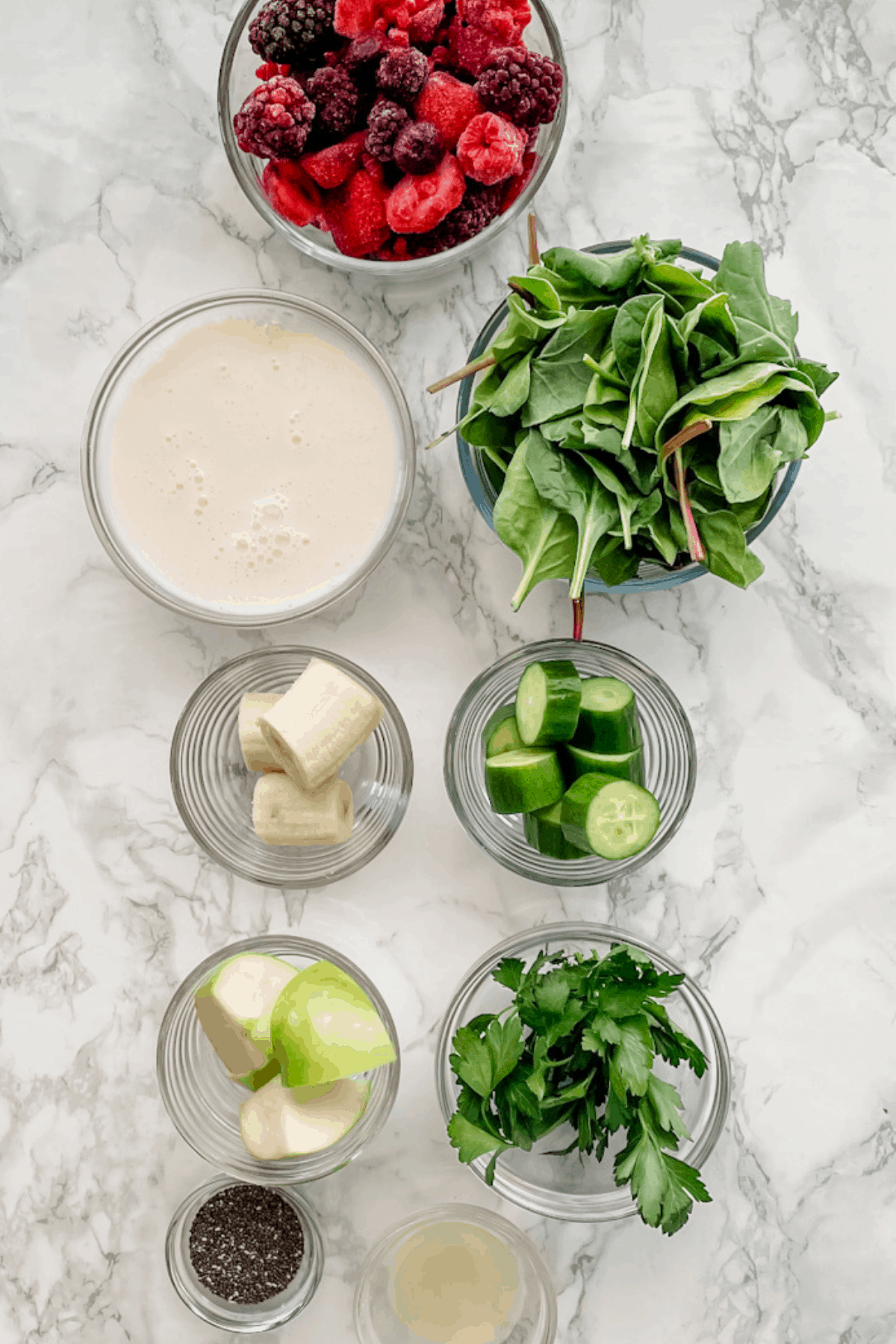 Frozen mixed berry blend: I prefer frozen fruits, but fresh ones also work. I recommend adding 1 cup of ice to get that slushie consistency if you use fresh. Or, you can freeze fresh fruit for later use. Check out my how to freeze strawberries and how to freeze blueberries posts for instructions.
Cucumber: This adds fiber and hydration without many calories. I use a baby cucumber, but a 3-4 inch chunk of a regular cucumber works too. Save time and leave the skin on, as it blends in with the other ingredients and adds extra fiber.
Baby spinach: This leafy green is my go-to choice for most smoothie recipes. Its mild flavor is barely detectable, and it's packed with vitamin K for bone health, vitamins A and C for immune health, and folate, iron, and fiber. It's a nutritional powerhouse.
Banana: I use half a banana for the perfect sweetness and creamy texture.
Italian parsley: This herb is packed with nutrition and can potentially help with weight loss by reducing water weight. It has an excellent detoxifying effect on our bodies.
Lemon juice: Who knew drinking raw lemon juice could have many health benefits? Lemons are high in Vitamin C and can help with everything from indigestion and constipation to kidney stones and glowing skin. It's like a citrus powerhouse!
Green apple: The tartness of a granny smith green apple is the perfect complement to the other detox smoothie flavors. Green apples are good for gut health and your entire digestive system.
Chia seeds: My favorite superfood to add is chia seeds. They provide a massive punch of fiber, protein, omega-3s, and other antioxidants.
Almond milk: To experience the full benefits of a detox smoothie, I use unsweetened almond milk to keep it dairy-free. I also use unsweetened coconut milk.
Shopping Tips
Want to get the best deals on the ingredients for your detox smoothie recipe? Here are some shopping tips that can help you save some cash while still getting quality ingredients.
First, consider checking out your local wholesale stores, like BJ's, Sam's Club, or Costco. They often offer large bags of frozen fruits, like organic mixed berries, and bulk bags of chia seeds and other smoothie essentials. If you plan to make smoothies regularly, it might be worth checking out their prices.
Another option is to shop at Thrive Market. They offer a variety of superfoods at affordable prices, including chia seeds, collagen powder, protein powder, hemp hearts, flaxseeds, and more. See my review of Thrive Market for more information, or if you're already a subscriber, check out my smoothie shopping list.
How to Make a Detox Smoothie
To make this green detox smoothie:
Gather all the ingredients and toss them into a high-speed blender.
Blend everything on high for 1-2 minutes or until the mixture becomes smooth and well-blended.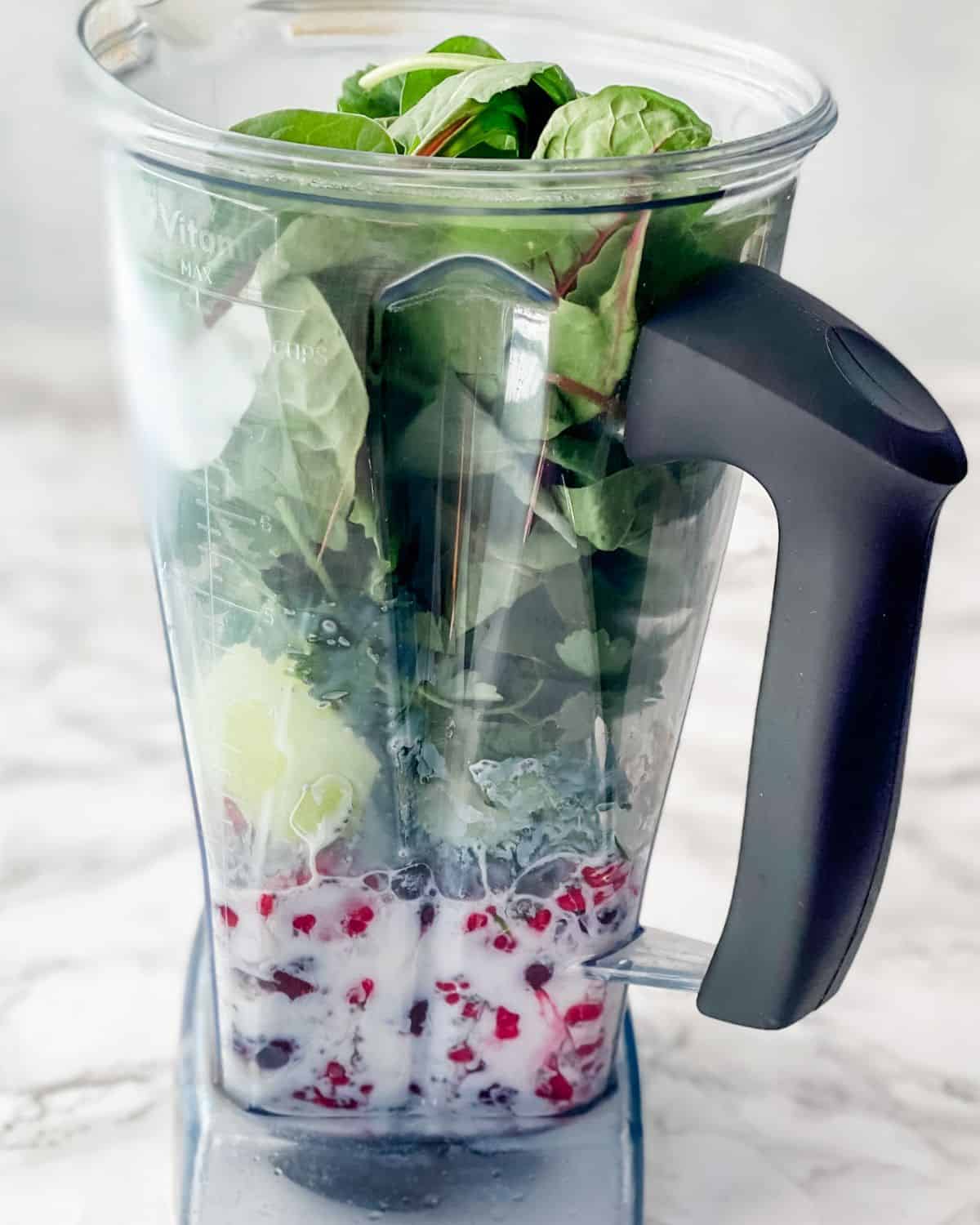 If you prefer a thinner consistency, add water gradually until you reach your desired thickness.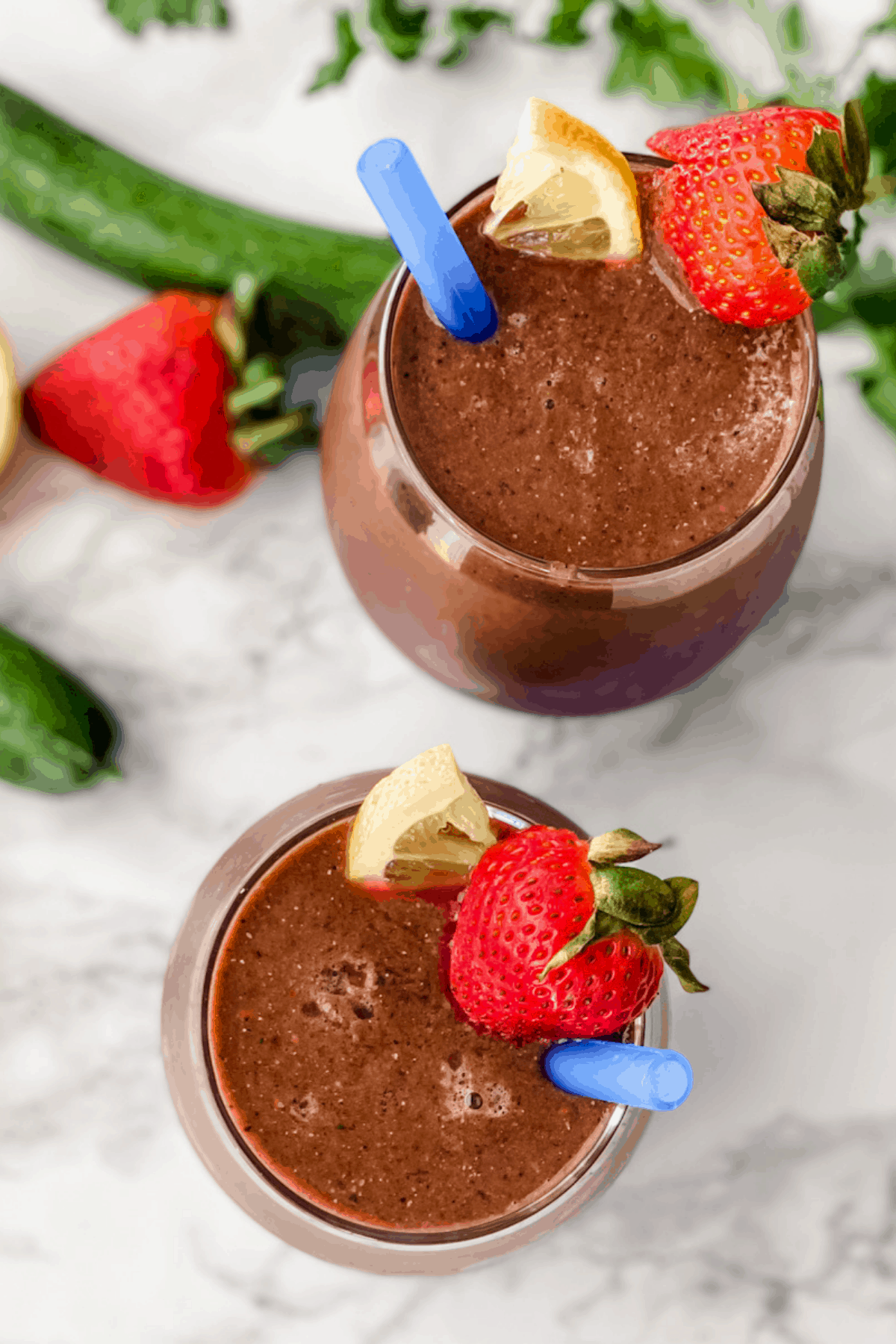 Smoothie Tips
I've been blending up breakfast smoothie recipes for years. So, I've learned a few tips and tricks to help you prepare a delicious smoothie. You can see more tips in my tutorial on making a green smoothie.
Blend the spinach (or other greens first). If you're worried about chunks of spinach in your smoothie, start by blending the spinach and some liquid first. Pulse it a few times until blended, then add the other ingredients. This tip works great if you don't have a high-speed blender.
Freeze spinach to create a milder flavor. Spinach doesn't have a strong taste like kale and other greens, but it can have an earthy flavor if you're not used to it. If you freeze fresh spinach beforehand, it will have a milder flavor than fresh. Just place it in a freezer bag, remove what you need, or freeze it into smoothie kits.
Use less spinach at first. Adding spinach (and other greens) into a smoothie is an excellent way to increase the number of vegetables you eat, but it can be a little overwhelming if you're not used to it. My recommendation is to start slowly and add small amounts of greens. As you get used to it, you can add more.
Purchase organic. To get the full benefits of a detox smoothie, it's essential to use all organic fruits and vegetables. Conventional produce is treated with pesticides and other chemicals that can harm our bodies.
Change up the liquid. You can use coconut water or green tea instead of coconut milk, but keep in mind that this will change the consistency of your smoothie. Also, watch out for added sugars.
Switch up the flavors. You can add fresh ginger, use a different variety of apples, or swap in other fruits like pineapple or kiwi for extra citrusy flavors. You can even add a bit of vanilla extract to change things up.
Add celery, carrots, romaine, or other vegetables. It's incredible what veggies you can hide in a detoxifying smoothie!
Keep the yogurt out. While many people use Greek yogurt in their smoothies, it's not ideal for detox smoothie recipes. Dairy can hinder digestion, potentially cause inflammation, and even cause breakouts. Instead, try almond butter, peanut butter, collagen, or non-dairy yogurt for extra protein.
Add in other superfoods. Chia seeds are an excellent choice, but plenty of other superfoods exist.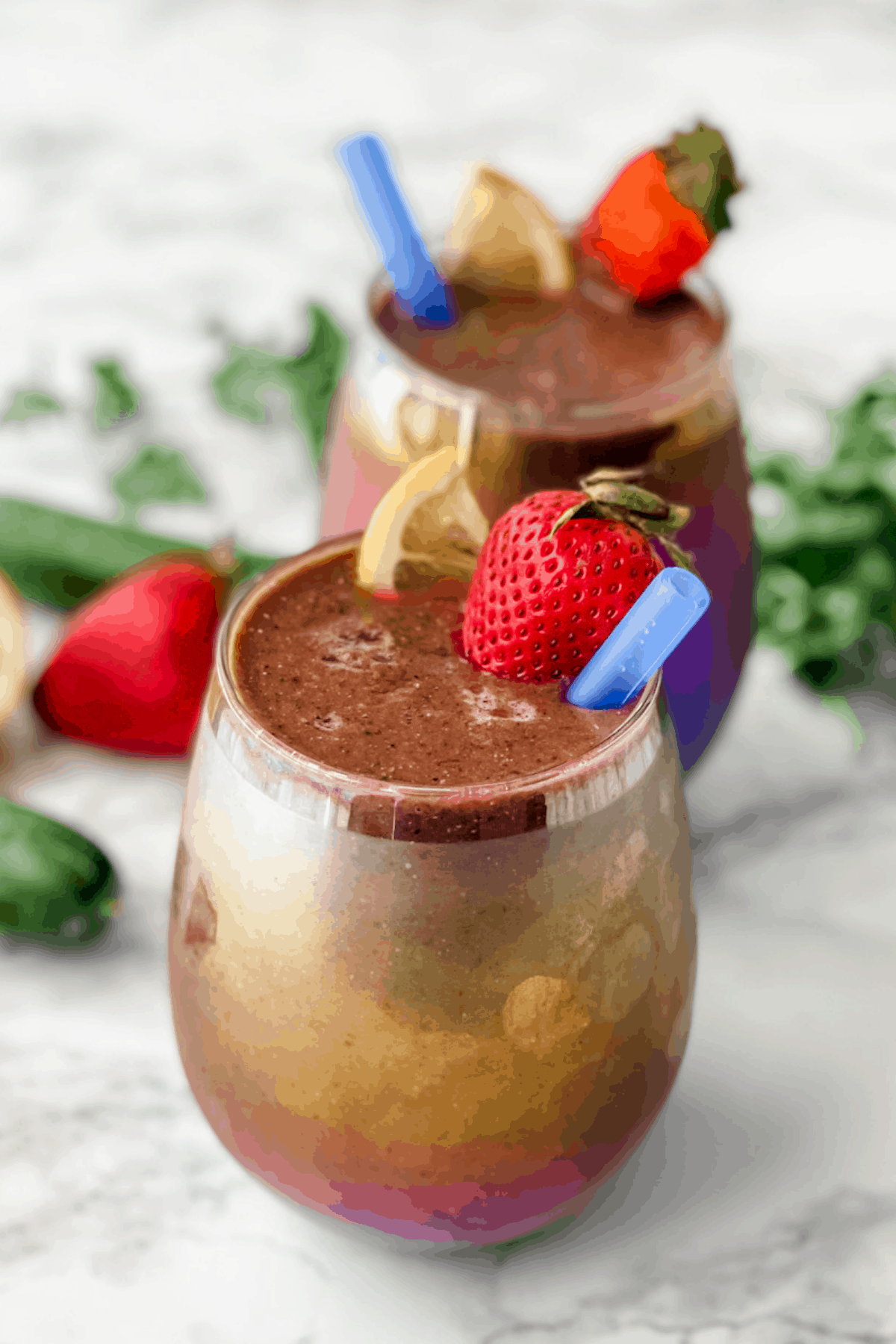 Swaps & Substitutions
Liquid: You can swap coconut water for coconut milk or use water instead. Just be mindful of added sugars in some liquids.
Greens: Instead of spinach, you can try kale, chard, or collard greens. You can also use frozen greens, like kale or spinach, if fresh is unavailable.
Fruits: Mix the flavors by swapping different fruits, like pineapple, mango, or cherries. You can also use one berry (like all blueberries) instead of mixed berries. You can also use lime juice instead of lemon.
Vegetables: Add different veggies, such as celery, cucumber, carrots, or romaine lettuce. Just make sure to balance the flavors and not overdo it with strong-tasting vegetables.
Protein: If you don't want to use dairy, you can use non-dairy yogurt or protein powder, like pea or hemp protein. You can add nut butters, like almond or peanut butter, or even collagen powder.
Superfoods: Chia seeds are a popular superfood to add to smoothies, but you can also use flax seeds, hemp seeds, or goji berries. Just be mindful of portion sizes, as these foods are nutrient-dense.
Other Superfood Options
Here are some other superfoods you can add to your green detox smoothie recipe:
Flax seeds or hemp seeds are excellent protein, omega-3s, and fiber sources.
Matcha powder: This concentrated green tea is known for its anti-infective properties and can boost metabolism.
Cacao powder: Adding cacao powder to your smoothie can help you feel more energized while also providing an anti-inflammatory effect.
Collagen: Collagen is excellent for promoting good digestive health, as well as improving skin, hair, and nails. You can use Thrive Market Collagen or any other brand you prefer. Check out my post on Collagen vs. Protein Powder for more information on which is better for weight loss smoothies.
Turmeric: This superfood is known for its anti-inflammatory properties and is great for achy joints.
Goji berries: If you want to add sweetness to your smoothie, goji berries are a great option. They also provide antioxidants that help with eye health.
You can easily blend any of these superfoods into your detox green smoothie for an added boost of nutrition. Feel free to experiment with combinations to find the best one for you.
Storage Tips
For the week: To keep your detox smoothie fresh, blend it and store it in an airtight jar, like a mason jar, for up to two days. Give it a good shake before drinking, as the consistency may change a bit over time, but it will still be tasty.
For the freezer: Another option is to freeze the ingredients in pre-measured kits that you can use for 1-2 weeks. This way, you'll always have everything you need to make a delicious detox smoothie every morning. Just make sure to have some almond or coconut milk on hand to add to the mix.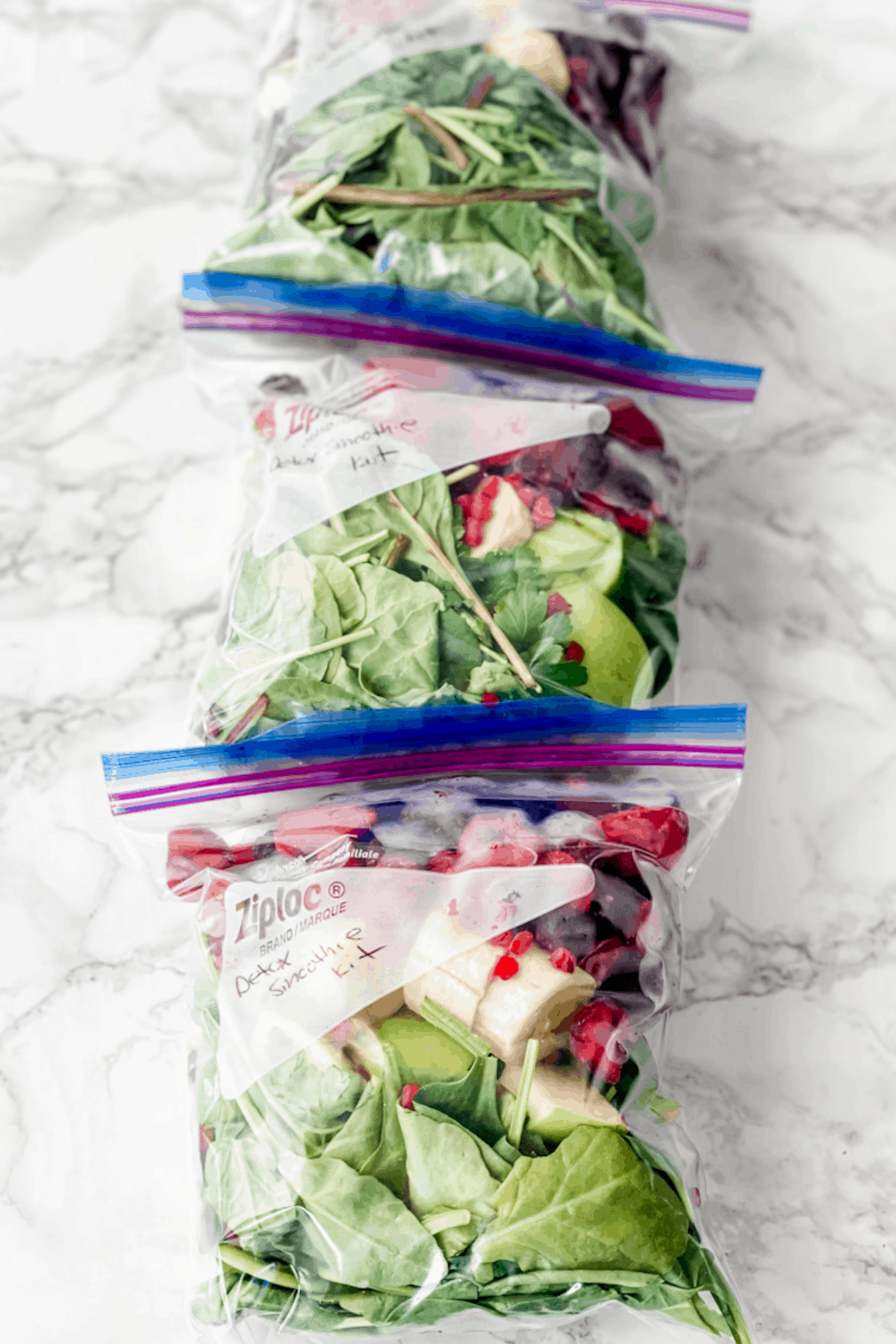 Other Healthy Smoothie Recipes
Other Smoothie Information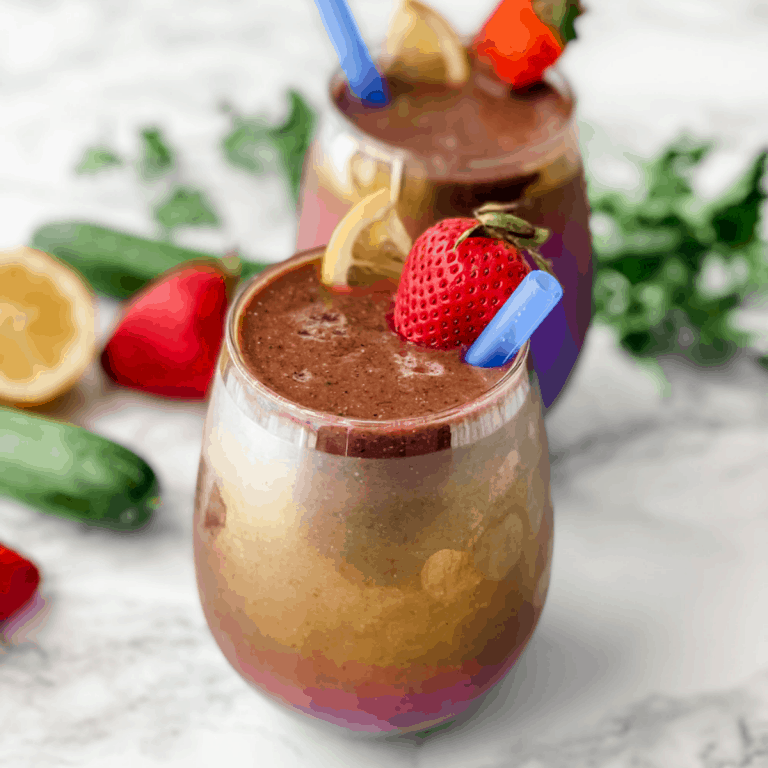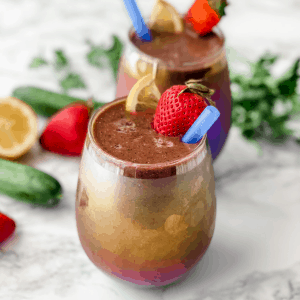 Detox Smoothie
This easy detox smoothie recipe includes mixed berries, banana, apple, cucumber, lemon, spinach, chia seeds, and almond milk. Only natural nutrient-dense ingredients that'll clean out your system, boost your energy, and help you refocus on feeling your best.
Print
Pin
Rate
Ingredients
2

cups

frozen mixed berries

1/2

of a ripe medium banana

1/2

medium green apple

1

baby cucumber

or 3-4 inch chunk of cucumber

1/2

cup

italian flat leaf parsley

1

cup

baby spinach or super greens

juice of 1/2 of a lemon

1

tablespoon

chia seeds

1

cup

unsweetened almond milk or coconut milk

extra water

if needed
Instructions
Place all the ingredients into a high-speed blender. Blend on high for 1-2 minutes or until all the ingredients are smooth and blended. Add water, if needed, until you get the desired consistency.
Notes
 The nutrition information is for 1 detox smoothie recipe. This recipe makes between 28 – 32 -ounces. You can divide it into two servings if you want.
Store the Recipe
This detox smoothie can be blended and store in an airtight jar for up to two days. I recommend using a mason jar. Give it a couple of shakes before drinking it. The consistency won't be the same as when you initially blended it, but it will still be tasty.
You can also freeze smoothie ingredients into a kit. I like to make kits for 1-2 weeks' worth of kits at a time. This way, you can assure you'll have everything to make a delicious detox smoothie every morning. All you need to do is make sure to have almond or coconut milk. 
Nutrition
Serving:
1
g
|
Calories:
305
kcal
|
Carbohydrates:
65
g
|
Protein:
5
g
|
Fat:
4
g
|
Sodium:
215
mg
|
Fiber:
21
g
|
Sugar:
37
g
FAQs
What Does A Detox Smoothie Do For My Body?
So, what exactly does a detox smoothie do for your body? Well, think of it as a refreshing way to give your system a good cleanse. Detox smoothies are packed with fiber-rich fruits, veggies, and superfoods that work together to help flush out toxins from your body. They also keep you hydrated, reduce inflammation, and get your digestive system moving, which can help you feel more energized and focused. Plus, they can even aid in weight loss! So, if you want to give your body a little reset and feel great, try adding a detox smoothie to your routine.
When should I drink a detox smoothie?
Detox smoothies are best consumed in the morning as a breakfast replacement or mid-morning snack. This is because they are hydrating, full of fiber, and packed with nutrients that help to jumpstart your day and give you sustained energy. Plus, drinking a detox smoothie first thing in the morning can help to kickstart your digestive system and promote regularity throughout the day. However, if you prefer to have your detox smoothie at a different time of day, that's fine too! Just listen to your body and how it makes you feel.
Can You Drink A Green Smoothie Every Day?
Yes! Drinking one green smoothie daily is a great way to get most (if not all) of your fruit and veggie servings in one drink. I typically like to start my day with one of my smoothies, so I know I can start the day right and full of energy.
Are smoothies good for losing weight?
Are you wondering if smoothies can help you lose weight? The answer is yes! Detox smoothies, in particular, are a great choice because they are packed with fiber and protein to keep you feeling full and satisfied. Starting your day with a detox smoothie can also set you up for success and help you make healthier daily choices.

But let's not forget that weight loss ultimately comes down to burning more calories than you consume. So, as long as you stay within your daily calorie needs, a detox smoothie can be a helpful addition to your weight loss plan.
Have you made this recipe?
Have you tried this Detox Smoothie recipe? If so, I'd love for you to rate this recipe and leave a comment below. We all learn from each other's experiences. Also, it would be awesome if you could share a picture on Instagram and tag it #organizeyourselfskinny. I can't wait to see it!