I'm sure you guys have heard me talk about green smoothies over and over again. Today, I want to share with you a quick tutorial on how to make a green smoothie right at home. Plus, I'll share some of my favorite green smoothie recipes at the bottom of this post. There's something for everyone!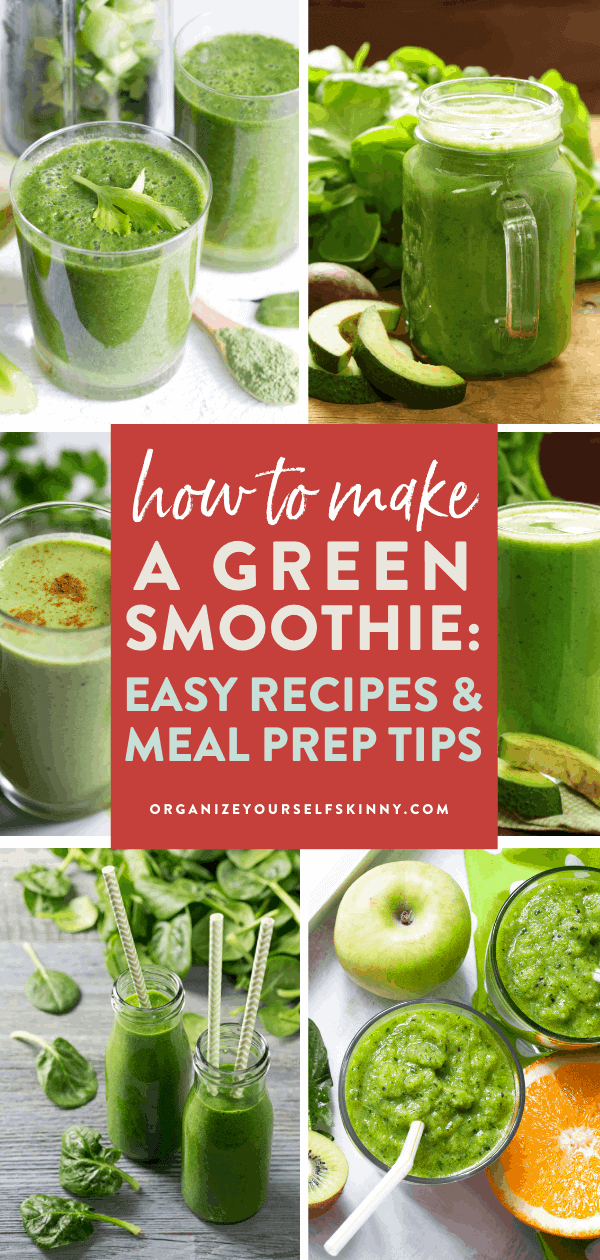 When I first started my weight loss journey, I would make non-green smoothies for my kids but – for me – my morning meal centered on overnight oats or breakfast burritos. In fact, healthy smoothies in general were not something I craved. And now that I think about it, I never really craved fruits and vegetables at all – I was more of a carb and protein girl.
Then, I decided to give green smoothies a try. I started to see a bunch of green smoothie recipes pop up on Pinterest and Facebook. It wasn't so much the recipes themselves that piqued my interest but what people were saying about them.
Everyone that was an avid green smoothie drinker raved about the way these smoothies made him or her feel physically, mentally, and even emotionally. Some even went as far as to describe them as life-changing.
Life-changing? My interest was peaked and I decided to give them a shot.
Now, I wouldn't say I was looking for a life-changing smoothie potion but I was feeling a little sluggish and needed a boost. So I bought my ticket and hopped onto the green smoothie train…
Since then, life has never been the same!
Within a week of drinking green smoothies, I noticed a HUGE difference in the way I felt. I had more clarity, increased energy and over time, I noticed my skin start to clear up and develop a glow. My PMS got better and I noticed that my stomach area did not look or feel bloated when I was drinking green smoothies.
I felt amazing!
And I thought to myself, why not share all of my secrets and show all of you how to make a green smoothie yourself? Trust me- it's not that hard!
Jump to:
5 Reasons Why You Should Drink Green Smoothies
If I had the power to go back in time and give myself some advice – prior to losing weight – I would say start drinking green smoothies.
Honestly, that is the truth, and here are 5 reasons why.
1. Significantly increased my consumption of raw vegetables and fruits.
I don't know about you but I have always struggled with consuming enough vegetables. If I did not eat a salad every day or intentionally make a side of broccoli or green beans to go with dinner, then most likely, I was not eating enough vegetables.
By drinking a green smoothie every day, I am consuming 1-2 cups of leafy green vegetables and at least 2 cups of fruit. That brings me very close to getting in 3-4 servings of fruits of vegetables before 10 am.
If I did not drink green smoothies, that would never happen. Even if I did eat a vegetable with dinner every night, I wouldn't consume that much.
Also, drinking green smoothies makes it very easy to get fruits and vegetables into my diet without a lot of fussing around with a recipe. No need to cook, bake, or sauté. All you need to do is throw everything into a blender, add some sort of liquid, and in 2 minutes, you have your smoothie ready to drink.
So, if you struggle with getting in fruits and vegetables, I highly recommend giving green smoothies a try!
2. Keeps me hydrated, energized, and alert.
Most of the time, the only symptom people think of when they are dehydrated is being thirsty. While this is certainly a symptom of being dehydrated, other symptoms include:
Feeling tired
Sluggish
Getting headaches
Losing focus
Sometimes feeling hungry when you're not
Your physical and mental well-being is very connected to your hydration. Before drinking smoothies, I had no idea I was dehydrated. I thought I had all those symptoms because I live a busy life and I tried to increase my energy in the mornings with coffee but oftentimes that made it worse.
I didn't really know I was dehydrated until I started to drink green smoothies. After a few days of drinking them, I felt like a brand new person!
I had so much more energy, clarity, and it felt like the fog had been lifted. I did not feel sluggish at all and my headaches literally went away. It was truly amazing! I know I might sound like an infomercial but seriously, I could not believe the difference I felt by drinking a green smoothie each morning.
I know for a fact these positive changes are due to drinking green smoothies because now anytime I don't drink one, I go right back to feeling sluggish, tired, getting headaches, all the other negative symptoms.
Look, my life is always going to be busy. With 2 kids, a husband, a full-time job, and a business- that is just the way my life is. Drinking green smoothies has now become essential in giving me the energy and stamina I need to get through my days.
3. Increased my daily nutrition.
One green smoothie made with fruits, vegetables, and other power foods is packed with nutrition. Sometimes more nutrition than you would get all day eating 1500 – 2000 calories. And because a green smoothie is blended, it is easy to add in power foods or additional ingredients without a lot of effort making it a great way to increase your daily nutrition.
For example, if you want to get more omega-3 fatty acids in your diet, you can throw in some chia or flax seeds. Want to experience the benefits of coconut oil? No problem, add a tablespoon to your smoothie! You won't even know it is there. Need more protein? Add in some peanut butter or yogurt.
The possibilities are endless when making smoothies!
Also, one smoothie – depending on what you add – is only about 200 – 300 calories per serving. This means you are getting a lot of nutrition for very little calories. When your body is nourished, you will naturally feel more satisfied and healthy. So if you are struggling with balancing and/or increasing your nutrition, then I think you will find drinking green smoothies very beneficial.
4. Green smoothies are naturally cleansing and detoxifying.
I am always reading about people "doing a cleanse". Basically, from what I gather, they take a week and either eat nothing but vegetables or take some kind of pill regimen to cleanse out their system. The other weeks, they are just eating "normally", whatever that means.
Personally, I don't find this healthy. I feel if you are incorporating a lot of fruits and vegetables into your diet daily there is no need to go on cleanses. Drinking green smoothies on a regular basis provides all the nutrients your body needs to naturally cleanse and detoxify.
A benefit that I experienced from the cleansing and detoxifying effects of green smoothies is clearer skin. I'm over 40 and still experience acne and it seemed that no matter what products I bought I could not get control over the constant pimples that kept showing up.
Of course, they always got worse around "that time of the month". Sorry if that is TMI but hey, we are all adults here!
Anyway, now that I drink green smoothies on a regular basis, my skin is more clear and has even developed a nice glow. I still get the occasional pimple but nothing like I was experiencing. Beauty starts on the inside and green smoothies definitely help with that.
5. They are simple to make and portable.
When you want to eat healthier foods, there is always an easier way to include them. With smoothies- they are simple to make and portable, especially for a busy working mom.
It takes me about 5 minutes to throw ingredients into a blender, blend, then transfer the smoothie to a mason jar and bring it to work. Or, if I am staying home, I can carry it around the house with me as I am trying to motivate my kids to get dressed and ready for school.
Either way, I am able to prepare a very nutritious meal with minimal effort.
How to Make a Green Smoothie
To make it even easier, I put together a bunch of smoothie freezer kits once a month or so.
All I do is put the ingredients for 1 smoothie into a quart-size freezer bag. This includes all of the fruit and dry ingredients so when I'm ready to blend all I need is the liquid.
I place all of the smoothie kits in my freezer. Then, when I'm ready to have a smoothie, I add the smoothie kit to my blender, add liquid, and blend.
These frozen smoothie packs assure I have all the green smoothie ingredients ready to make a smoothie every morning.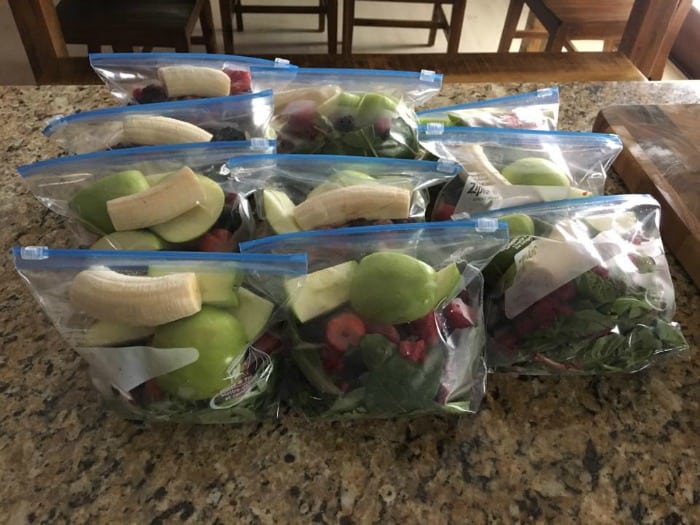 Supplies to Prepare a Smoothie
FAQs
Now that I have you convinced, here are some questions I have gotten over the years about how to make a green smoothie!
What type of blender is best to make green smoothies?
If you are going to drink green smoothies on a regular basis, then I HIGHLY recommend you invest in a quality blender. Blending up frozen fruit puts a lot of strain on the blades and motor of a blender, which can lead to parts breaking sooner than later.
When I first started making green smoothies, I bought a $40 blender thinking that was all I needed. It broke within 3 months.
Then, I bought another $40 blender, and again it broke after only a few months. After that, I purchased a Ninja blender for a little less than $200. The Ninja works great but I wasn't crazy about the blades. There seemed to be a lot of them and it didn't feel safe when I was trying to wash it. However, it still did the job.
Later on, I got Vitamix and was blown away by the power of this blender. I loved that the blades were at the bottom and it was super easy to clean without worrying about losing a finger. A Vitamix can run you upwards $750 depending on the model you get.
However, they are not all that expensive so I suggest looking on their site and checking out your options.
I absolutely love my Vitamix and believe it is worth the investment, especially if you plan to use it on a daily basis.
Take a look at this post where I share all of the best blenders for smoothies I recommend buying!
Which leafy greens are the best to use?
Leafy greens are what make a green smoothie green. So, leafy greens are kind of an essential green smoothie ingredient.
I use spinach in all of my green smoothie recipes. Mostly, because the taste is mild and I can purchase huge bags of spinach from my local warehouse store.
However, you can use all different kinds of leafy greens in your green smoothie.
Some greens include:
Kale
Mustard greens
Collard greens
Turnip greens
Swiss chard
Dandelion greens
Parsley
Romaine lettuce
Basically, if it is a green leafy vegetable, you can use it. Just keep in mind some have a strong flavor than others so experiment and see what you like.
Don't worry about having purchasing big bags of greens because you can easily freeze leftover kale, spinach, and other greens for future smoothies or other recipes.
Do green smoothies taste gross?
Not at all! In fact, if it didn't turn a green color you probably wouldn't even know there was spinach (or other greens) in there.
The taste might be different with stronger greens but with my smoothies, all I can taste is fruit. If you are just starting out with greens smoothies, then I recommend using baby spinach and a smaller amount of greens at first. Once you get used to it, then add more. If it is too strong, then add less next time.
What fruits to use in a green smoothie?
You can use any type of fruit in a green smoothie.
Please note, that when you use fruits like berries or cherries in a green smoothie the color will turn browner. These smoothies are still delicious but the color isn't a bright green.
If you want a bright green color then use fruits like mango, pineapple, or peaches.
Also, fruits like berries, pineapple, mango, bananas, and peaches will give a more smooth thicker consistency. Fruits like oranges, nectarines, grapes, and kiwi will be a bit more fibrous.
You can still use these fruits but use them as an added fruit and not the main fruit.
If you're looking for a sweet green smoothie then bananas will do the trick. The more ripe a banana is the sweeter the green smoothie will be. I recommend freezing ripe bananas to have on hand for green smoothies. Frozen bananas provide a nice smooth texture as well.
Should I use fresh or frozen fruits?
I always use organic frozen fruit in my smoothies.
One, it is much cheaper because I can get huge bags from my warehouse store, and second, I don't need to worry about the fruit spoiling. I even freeze my spinach or kale ahead of time!
The only fresh fruit I use is bananas but most of the time I'll freeze ripe bananas ahead of time to use in smoothies.
So, you can certainly use fresh fruit but for the reasons I stated, I prefer frozen.
What kind of liquid should I use?
My favorite smoothie liquid to use is unsweetened coconut milk – the kind in the milk carton, not can. I love the thickness and richness it brings to my green smoothie. It also has good fat in it, which helps to keep me full and satisfied longer. I have also used unsweetened almond milk!
You can also use coconut water, rice milk, soy milk, or just plain water. Really any liquid would be fine. However, I wouldn't use dairy milk because this inhibits the cleansing and detoxifying benefits of a green smoothie.
If you don't have any of the other liquids, just use filtered water.
Should I use a sweetener?
The only sweetener I use in my green smoothies is the natural sweetness from the banana. I never ever add refined sugar to my green smoothies. If you must add a sweetener then I recommend something natural like pure maple syrup, honey, or dates.
If you don't like banana then here's a post I put together on how to make a breakfast smoothie recipe without bananas.
The amount of sweetness you need will depend on your personal taste along with the type of ingredients you are using.
Will green smoothies fill me up?
I drink a green smoothie every morning at around 7 am, and it keeps me full until 11:00 am for my mid-morning snack. Sometimes I make it to have for lunch. So, yes I think green smoothies are substantial enough to get you through the morning.
If you feel like you need a heartier smoothie, maybe add some peanut butter, almond butter, or high-quality protein powder. I used to add greek yogurt to my smoothies but I am trying to keep them dairy-free so I only add yogurt once in a while now. But, if you want to try with a little yogurt for added protein, then do it and see if that works for you. Here are my favorite ways to add protein to smoothie recipes.
Should I use ice?
Personally, I do not use ice because I always use frozen fruits. If you are using fresh fruits, then you will probably need to use ice to get the consistency you want and for the smoothie to be cold. Some people don't mind using ice but I find that adding ice causes the smoothie to be a bit watered down so I prefer to just use frozen fruits.
Green Smoothie Formula
I do offer green smoothie recipes on my site but really, all you need for your own smoothie recipe is a basic formula. This is what I use whenever I putting a new green smoothie recipe together.
2 cups fruit + 1 banana + super foods + 1 cup greens + 2 cups liquid + extra for consistency.
Add fruit first and then end with the greens. Basically, you want to add the ingredients that need the most help blending first. Then add your liquid and blend. If you want a thicker smoothie then use less liquid and for a thinner smoothie consistency use more.
Green Smoothie Recipes
Now that you know how to make a green smoothie, here are some of my favorite recipes to try!
Blueberry Kale Smoothie
This Blueberry Kale Smoothie recipe is a nutritional powerhouse that'll keep you satisfied all morning and feeling fabulous all day! It's creamy, delicious, and you don't even taste the kale!
Check out this recipe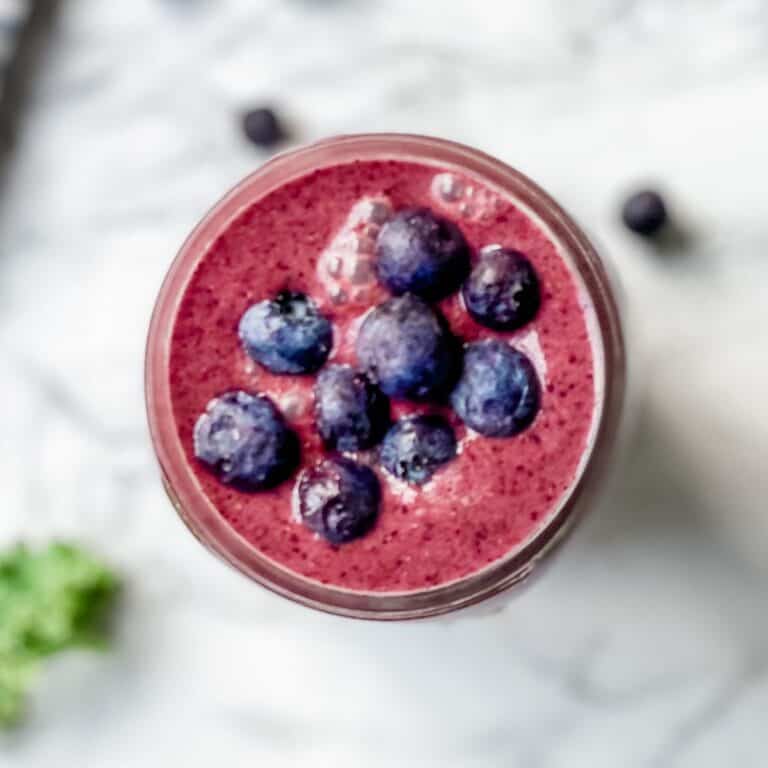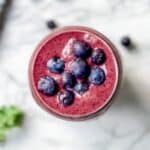 Detox Smoothie
This easy detox smoothie recipe includes mixed berries, banana, apple, cucumber, lemon, spinach, chia seeds, and almond milk. Only natural nutrient-dense ingredients that'll clean out your system, boost your energy, and help you refocus on feeling your best.
Check out this recipe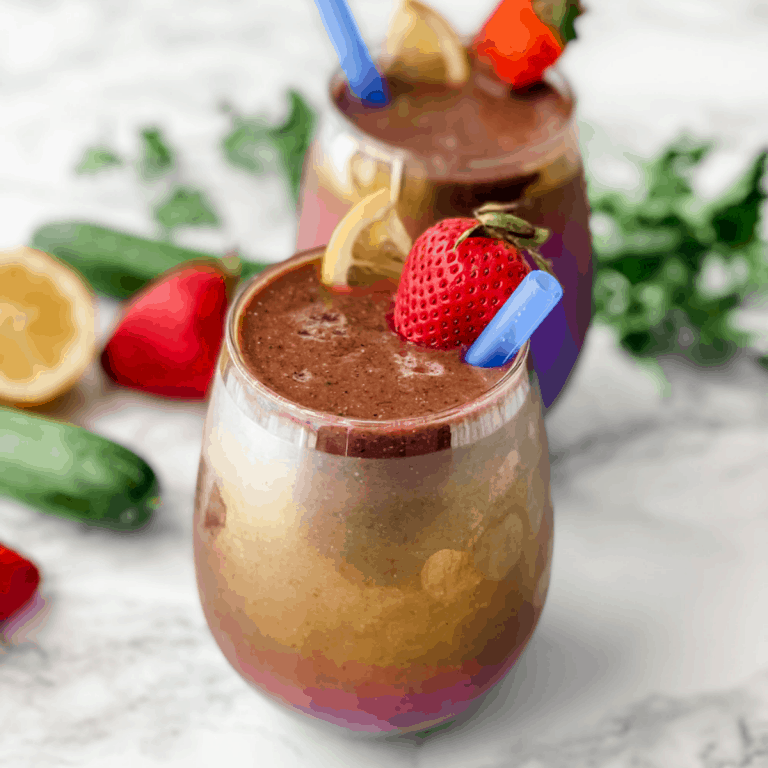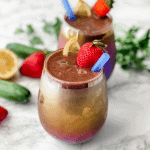 Mango Berry Smoothie
This delicious Mango Berry smoothie is easy to make and will give your morning a bright tropical vibe. It's gluten free, dairy-free, and packed with fiber, antioxidants, and immune-boosting vitamins. This is the perfect healthy breakfast or snack you can have ready in less than five minutes!
Check out this recipe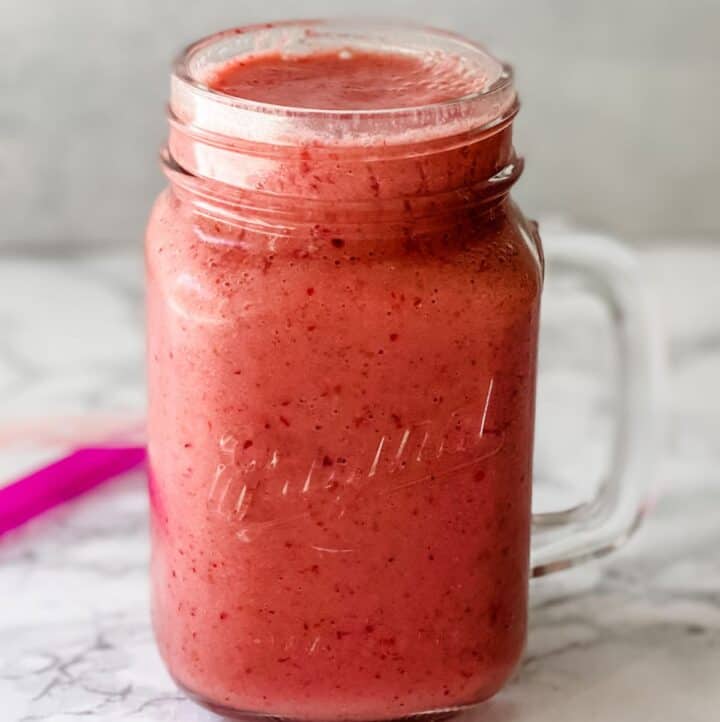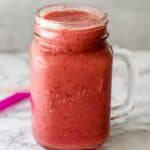 Super Green Smoothie
This Super Green Smoothie is delicious, easy to make, gut-healing, and will give you a massive burst of energy! Make this green smoothie a daily healthy habit, and get ready to feel amazing!
Check out this recipe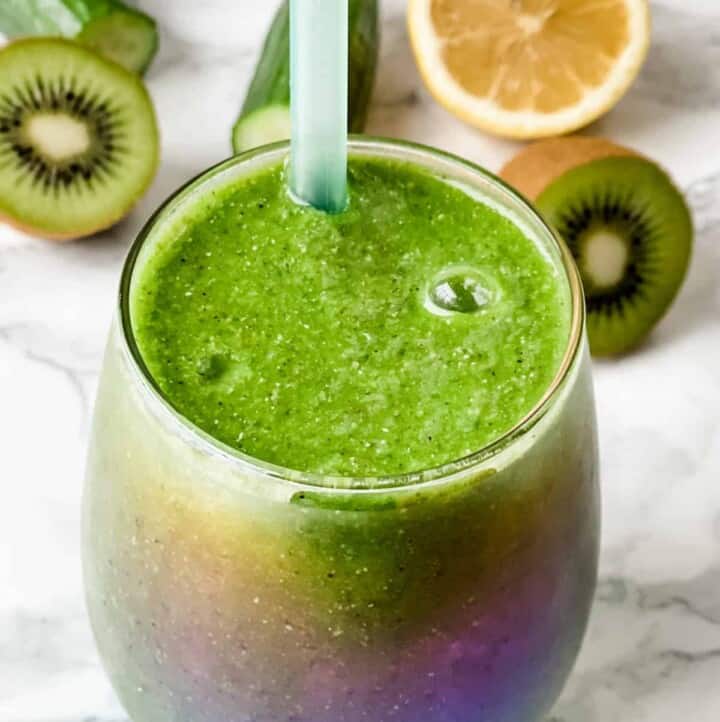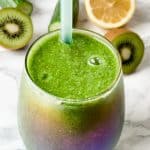 Spinach Smoothie
If your body is craving a boost of nutrition, then this spinach smoothie will do the trick. This healthy smoothie recipe using simple ingredients that are easy to find and blend up quickly for a delicious breakfast that'll have you feeling great all day.
Check out this recipe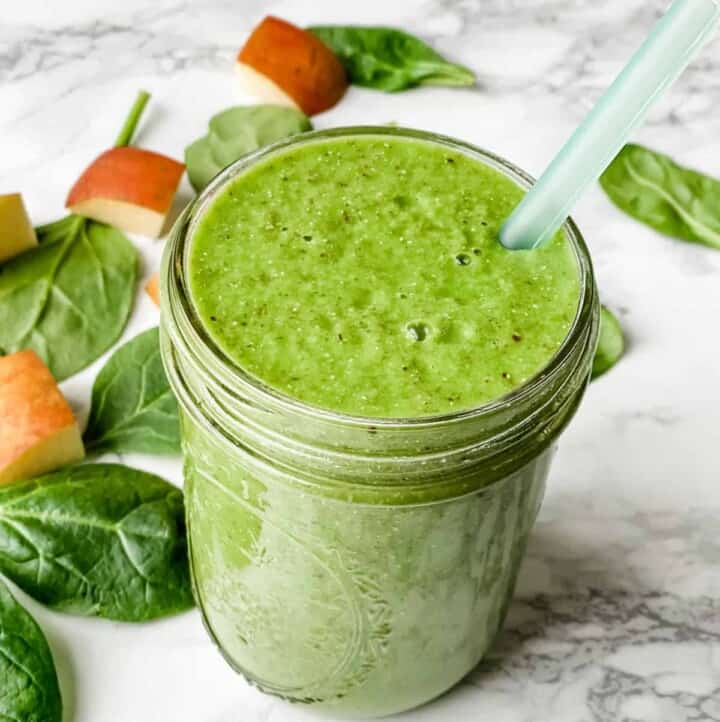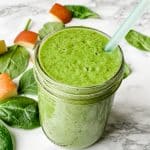 More smoothie recipes
I can tell you all about the benefits of green smoothies but honestly, you must try them out yourself because once you learn how to make green smoothies, you will never go back. Share a picture and tag me on Instagram or Facebook if you decide to try making any of these healthy green smoothie recipes!