Frozen smoothie packs are one of the meal prep recipes I make most often. Having green smoothie ingredients ready to blend each morning makes it so much easier to keep up with drinking a daily green smoothie.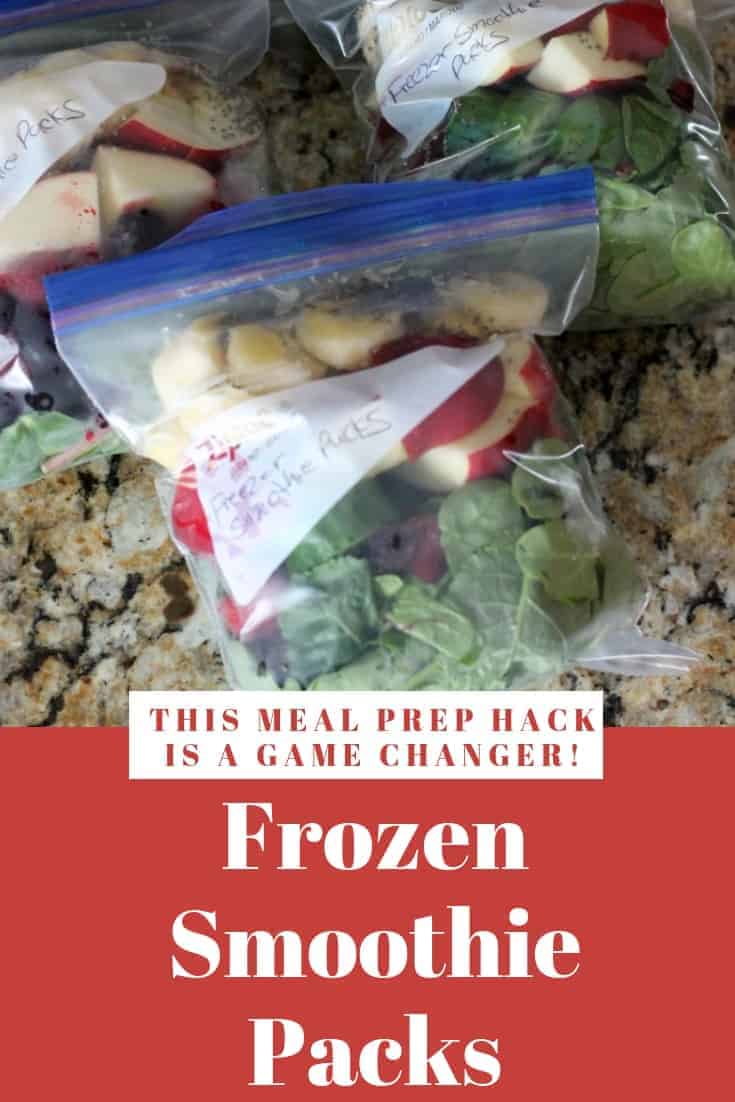 I didn't discover green smoothies until 2 years (or so) into my weight loss journey. Up until then I focused more on keeping calories under control rather than adding more fruits and vegetables. Honestly, counting calories worked for me so I thought why try to fix something that wasn't broken? Sounds good, right?
Of course I must credit Pinterest to sparking my interest in green smoothies. Seriously, how did we ever survive without the almighty Pinterest? I was blown away by the positive impact green smoothies had. In fact, I feel confident calling them life changing.
Green Smoothie Benefits
I wrote a green smoothie tutorial of sorts a few years ago. In that post, I go over all the reasons I feel green smoothies are life changing. Here are a few more I'd like to add to the list.
Removes belly bloat. Whether it's the massive hydration I get from drinking smoothies, the increase in fiber, or both my belly bloat goes down considerably when I regularly drink smoothies.
Keeps hormonal issues in check. This might be TMI but hey we're all friends here. Anyway, since I turned 40 (3 years ago) my hormones have changed significantly, and not in a good way. During certain times of the month I feel extreme exhaustion, get migraines, skin issues, and all other kinds of bodily changes that I never experienced before. Personally, I don't like turning to prescription drugs so that wasn't an option. I believe food is healing so I turn to nutrition first. The two things that keep my hormones in check, and help me feel 90% better is taking a whole food multivitamin (this is the one I take) and drinking green smoothies. When I'm consistent with both I experience very few hormonal disruptions…but the key is consistency.
Easier to lose and maintain weight loss. Hydration plays a big role in weight loss. Green smoothies keep you hydrated. Not to mention they are filled with tons of nutrition and fiber. When I'm consistent with green smoothies AND mason jar salads losing weight, and maintaining, is much easier.
Again, I'm not going to get into all the benefits of drinking green smoothies because I already wrote about that in this post.
Today, I want to share a quick tutorial on frozen smoothie packs. Pre-made smoothie kits (or packs) are complete game changers when you're trying to drink a daily green smoothie.
Why are frozen smoothie packs game changers?
Because they assure you'll have all the ingredients to prepare a green smoothie every morning. Sure, you can wing it, and keep frozen fruit and greens in the refrigerator, but at some point you'll run out of something.
This only needed to happen a few times before I figured out that preparing ingredients ahead of time was the best way to stay consistent. Now I prepare a bunch of frozen smoothie kits on meal prep day…or whenever I needed to stock up.
Meal prep is designed to make life easier. Simply, it's about having ingredients ready ahead of time so you don't need to waste time when you're ready to eat or prepare the recipe.
Meal prep also keeps you on track with your weight loss goals. When you have healthy food ready you're more likely to eat healthy. Easy enough, right?
Frozen smoothie packs are one of my favorite meal prep recipes. Every other week or so I'll put together a 7 – 10 green smoothie kits. Each kit makes around 2 green smoothies so once they're made I'm all set with smoothie ingredients for a couple weeks.
Okay, let's talk about ingredients and some tips.
Ingredients for Frozen Smoothie Packs
I use a mixture of frozen and fresh fruit in my green smoothies. My "go-to" smoothie often resembles this detox smoothie recipe but I change it up with the ingredients I have on hand.
My green smoothie formula looks something like this:
1 cup frozen berries
1 apple (I love red delicious or granny smith)
1/2 of a ripe banana
1 mini cucumber (sometimes)
1 big handful of baby spinach or super greens
1 tablespoon chia seeds
When blended this makes 2 (32 ounce) smoothies, give or take. I drink one that morning and then store the other one in a mason jar for the next morning.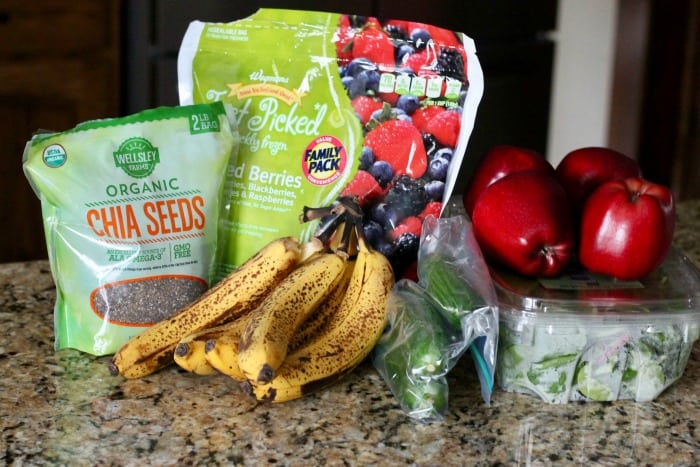 You can use any fruit you'd like. I purchase frozen berries because it much cheaper than buying fresh. Most of the time I get 3lb bags of organic frozen berries from Bj's Wholesale for $10 – $11. When I can't make it to BJ's then I grab a bulk bag from Wegman's.
The great thing about frozen smoothie packs is you can throw any "soon to go bad" fresh pieces of fruit into the bag. So, if you purchased a bunch of peaches, plums, apples, grapes, or any fruit and noticed they are started to get a little too ripe for your taste then chop it up and throw into a smoothie kit.
Even if you're not ready to make a bunch of kits you can still stick the fruit into a freezer bag to use later on. I do this all the time with bananas and apples.
Again, you can use any fruit (frozen or fresh) in a frozen smoothie kit.
If you like avocados in your green smoothies then this is a great way to preserve a ripe avocado instead of tossing it. Remove the skin and pit then chop it up and throw it into a premade smoothie kit.
For greens I either use baby spinach or super greens. I can get huge containers of both from BJ's wholesale and Wegmans. I use to be a big kale fan but now I like the midler taste of the other greens.
Just like with fresh fruit you can easily freeze kale or other greens ahead of time. So if they are nearing the end of their life span just toss into a freezer bag and save for future freezer smoothie packs or other recipes.
Another ingredient that I like to add to my green smoothies is cucumbers. Cucumbers add water, nutrients, and fiber. I can barely taste them so I think it's a great way to use up cucumbers while also adding some bulk to your green smoothies. Oh, and I've used yellow squash and zucchini too, both are surprisingly tasty in green smoothies.
In addition to the fruits and veggies I like to add some chia seeds for add oomp! By oomp I mean fiber, protein, and omega's. Again, I can purchase a large bag of organic chia seeds at BJ's Wholesale so make sure to check out you wholesale stores to get bulk smoothie ingredients at cheaper prices.
You can add all kinds of power foods into green smoothie freezer kits.
Some favorites are:
hemp seeds
green tea powder
protein powder
acai powder
flaxseed
coconut flakes
cacao powder
coconut oil
Of course, just keep in mind the calorie and fat count when adding ingredients. You can figure out the nutritional information by plugging all the ingredients in the My Fitness Pal recipe builder. It's free and easy to use.
Basically, you can add everything, but the liquid, when preparing frozen smoothie packs.
Other Frozen Smoothie Pack Supplies
Besides the ingredients, you need quart size freezer bags. I prefer freezer bags where I can write on the front and also that stay closed. These bags get stuffed with ingredients so you want a high quality bag. If you're worried about recycling you can always rinse these out and reuse them for future frozen smoothie packs.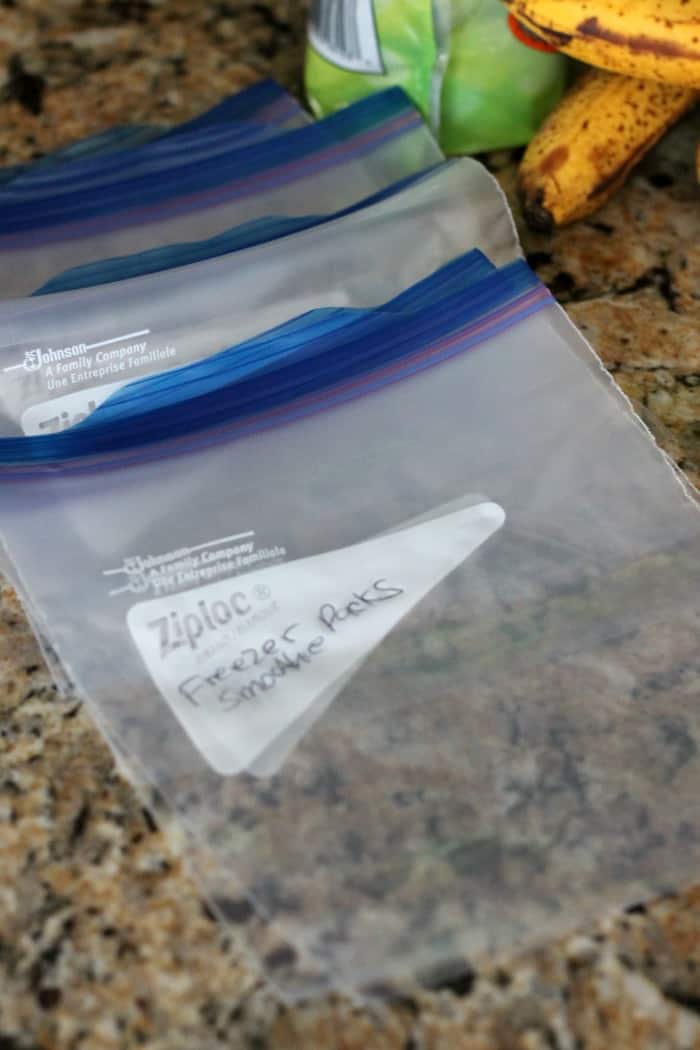 Another thing you'll need is a blender. I highly recommend investing in a high quality blender. Blending frozen fruit daily puts a beating on a blender so you'll need one that's up for the challenge. I got my Vitamix around 4 years ago and it's still going strong, and I make smoothies 4-6 times a week…if not more. If you can afford it I think a Vitamix is the best choice.
The next best blender is a Ninja. I owned this one prior to getting a Vitamix and thought it was good…not as good as a Vitamix…but it did it's job. You can get a Ninja for under $80 at Amazon.
How to Layer Frozen Smoothie Packs
When I first started making green smoothie freezer kits I'd just throw everything into a freezer bag and call it a day.
Well, I quickly learned there is a better way.
Start with the greens. This way, when you dump all the ingredients in the blender the greens are at the top. The greens are easy to process so they don't need to be close to the blades.
Then add the fruit. I put the berries in next because they are smaller and don't need as much power for blending.
Then I add all the heartier or chunkier fruit and veggies. A tip is to chop all the fruit and veggies into smaller chunks. I used to cut the apple into 4 big slices and sometimes I'd end up with a piece or two not getting blended. Chopping everything up makes it easier to blend.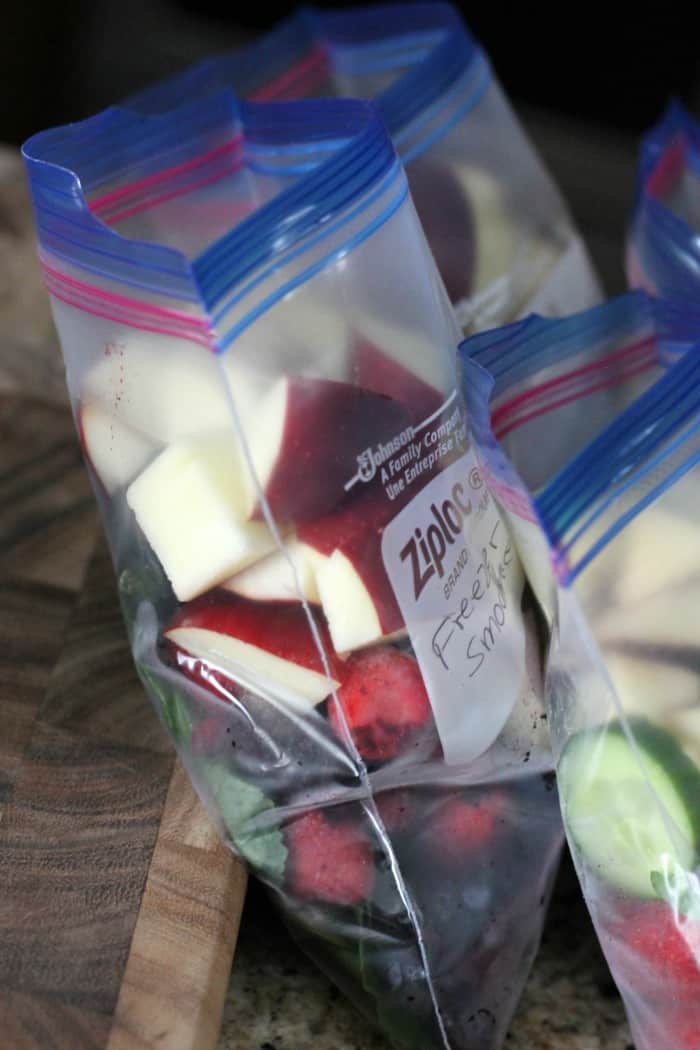 I finish with the bananas and chia seeds. Again, if you're using different fruit then just layer the ingredients that would need the most processing at this time.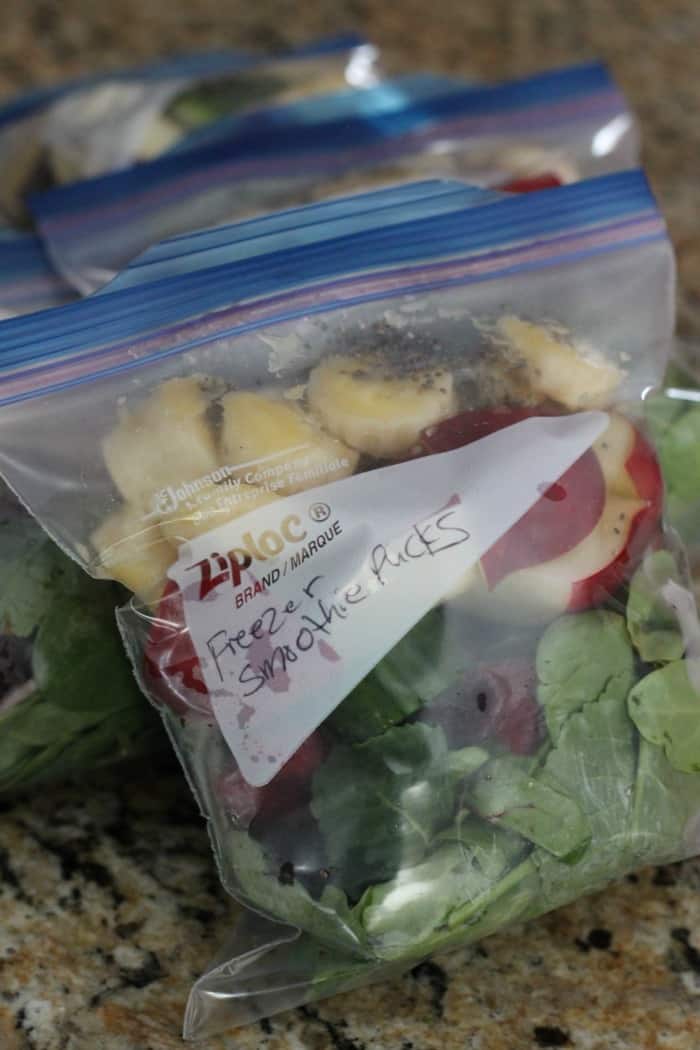 After you prepare all the frozen smoothie packs then stick in the freezer. You can prepare as many as you like a head of time. These will last for 3 months or longer. Typically, I make them for 2-3 weeks at a time. But if you're feeling motivated, and want to purchase all the ingredients, then make frozen smoothie packs for the month or longer.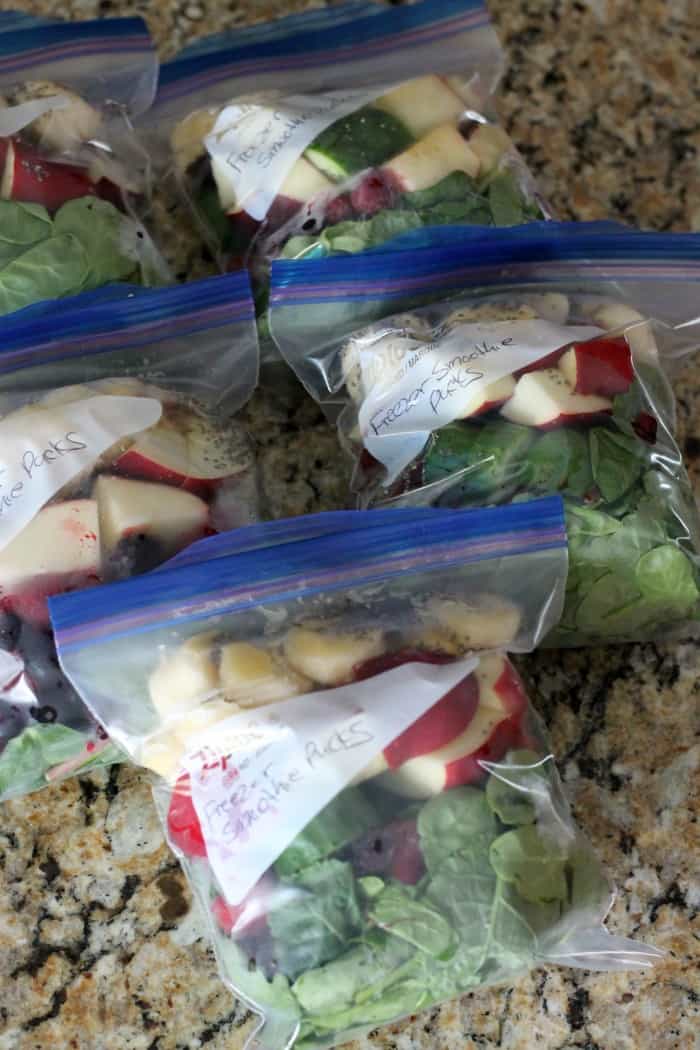 When you're ready to drink a smoothie dump the smoothie kit ingredients into the blender. Actually, before I do this I'll smack the bag onto the counter a couple times to loosen everything up. This helps the ingredients come out in pieces instead of one big chunk.
Then I add my liquid. I use coconut or almond milk, some water and blend it up! As I said earlier, one kit makes about 2 (32-ounce) smoothies so I'll just store the extra's in a mason jar for the next day.
I use 32-ounce mason jars and these plastic lids to store the smoothies.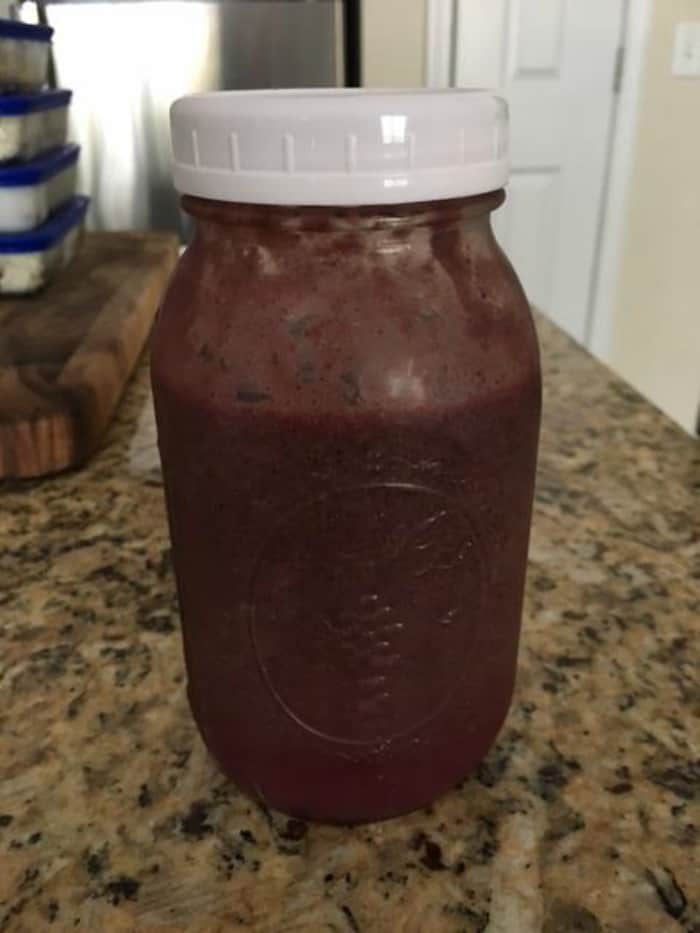 Any smoothie recipe can be turned into a smoothie kit. Here are some of my favorite green smoothie recipes:
Cherry Chocolate Almond Green Smoothie
Freezer smoothie packs are a great way to stick with a new green smoothie habit. Make a bunch on meal prep day to have all the ingredients ready every morning for a nutritious smoothie? These have been a huge game changer for me!
Let me know if you have any other questions.