How to freeze apples – a step by step easy to follow guide for freezing apples. Whether they are freshly picked, or purchased from the grocery store, never waste a delicious apple again!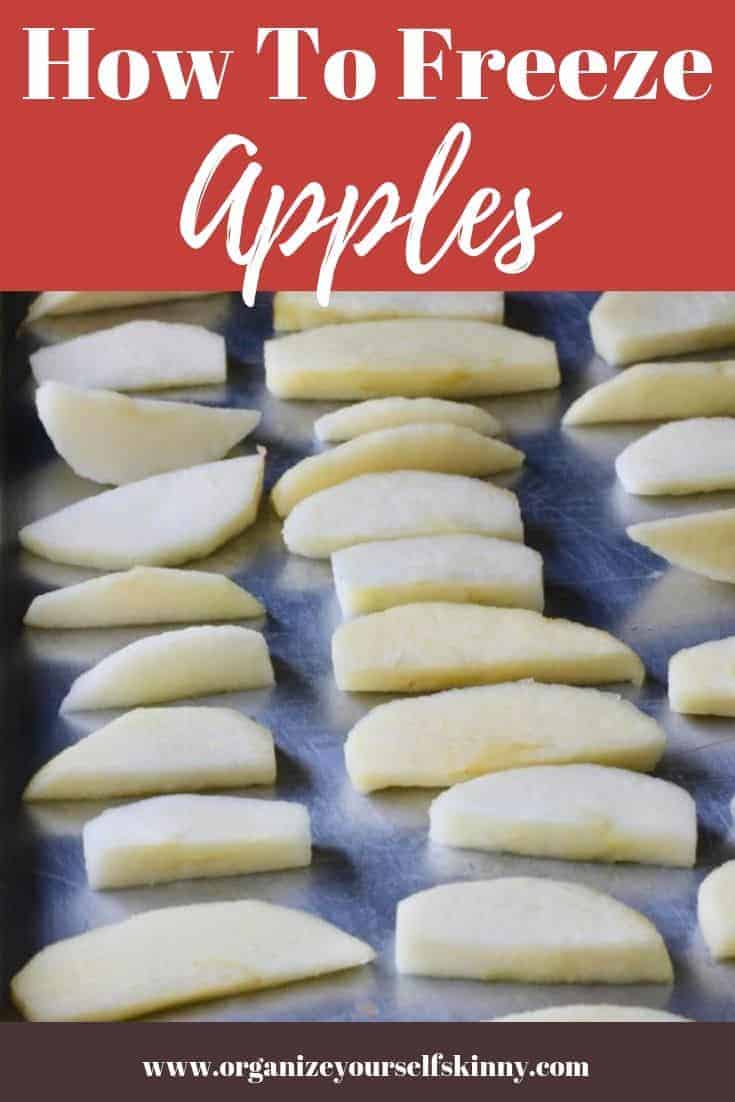 Here's a fun fact about me – apples are my favorite fruit. Yep. Even above the popular strawberries, bananas, or juicy peaches. My favorites are Granny Smith but I'll eat any of them.
The unfortunate thing about apples is sometimes I purchase more than I can eat in a week. I find that after a week or so they lose their crispness and end up in the trash…next to the overly-ripe bananas. Well, that's how it is used to be, at least.
About 5-6 years ago I discovered I can freeze all fresh fruit. Since then, I have seriously cut down (if not eliminated) on fruit waste in my house. In case you didn't know the same, I wrote this helpful guide to show you how to start freezing apples the right way.
How to Freeze Apples and Other Fruit
I know freezing apples, or any fresh fruit, should seem like basic knowledge but it wasn't for me and I don't want to assume it is for you. This is why I've been putting together quick tutorials showing you how to freeze fresh fruit. So far I've shown you:
In the next few weeks, I'll share my freezing tips for zucchini and some other garden favorites!
Not only is freezing apples a great way to ensure you enjoy your apples year-round (and save them from being tossed into the trash!), but it's also an option during the picking season when you come home with a big haul of apples.
Before I get to the easy step by step instructions for how to freeze apples, I want to go over a few questions.
Common Questions for Freezing Apples
Can I freeze any type of apple?
Yeppers! Curious what apples freeze well? The good news is that any apple will freeze just fine. I like storing apples in the freezer to use for smoothies, so my favorites for that purpose are granny smith. My favorite for apple pie and baked goods are Fuji's. What you decide will widely depend on personal preference, so this method can be used with any apple you want to freeze.
Do I need to core the apple before freezing?
Yes. My advice is to core and slice the apple prior to freezing. This is the best way to retain quality.
Can I freeze apples with the skin on?
Yes. If you're going to use the apples in a recipe that doesn't need the skin removed then leaving it on won't be a problem. For example, smoothie recipes. I never remove the skin when I use apples in smoothies. My advice is to freeze the apple so its recipe ready.
Just remember once it's frozen it'll be hard to remove the skin so if you're planning to make an apple pie or muffins then I'd remove the skin before cutting and freezing.
Does the texture of the apple change after it's frozen?
Yes. Thawed apples have a softer texture than fresh apples. If you're looking to enjoy an apple with peanut butter then using a frozen apple slice won't work. Frozen apples are best used in smoothies, apple sauce, apple butter, compotes, crumbles, pies, breads, muffins, and other baked goods.
From my experience, I get the best results from thawing (in the microwave, refrigerator, or on the counter) the apple slices prior to using in a pie or baked good. This way I can drain any access liquid before it goes into the recipe.
I don't thaw frozen apples when using in blended recipes, apple sauce, steel-cut oatmeal recipes, or overnight oat recipes.
How do I keep the apples from turning brown?
The best way to keep frozen apple slices from turning brown is to soak them for about 5 minutes in water and lemon. I used about 4 – 5 cups water and the juice from 1-2 lemons. After the apple slices soak I drain in a colander and give a light rinse. When I first did this I thought the apples would taste like lemon and ruin an apple pie, but I was wrong. The apples were delicious and honestly made one of the best apple pies ever.
How long will frozen apples last?
Frozen apples will last up to one year in the freezer.
How to Freeze Apples for Pies
When you are freezing apples for pies, make sure the apple is skinned, then sliced. Give it a lemon soak as outlined above, then give the apples a rinse. Pat dry, then freeze them lined on a baking sheet. Once frozen, you can put them into a sealed freezer-safe container or bag. Just don't forget to label it!
What recipes can I use frozen apples in?
How to Freeze Apples
Now that you know how useful it is to start freezing apples, let's talk about how to actually do it the proper way.
Step 1: Peel, core, and slice the apples.
Again, if you're using these apples in smoothies, or any blended recipes, then you can leave the skins on. Slice (or chop) the apples so they are recipe ready.
Step 2: Soak the apples for about 5 minutes in a bowl full of lemon and water.
I use about 4 – 5 cups of water and the juice from 1-2 lemons. After the soak, I put the apples in a colander and give them a quick rinse. Don't skip this step! This is what will prevent your apples from turning a pretty unappealing brown color. You really won't taste the lemon at all.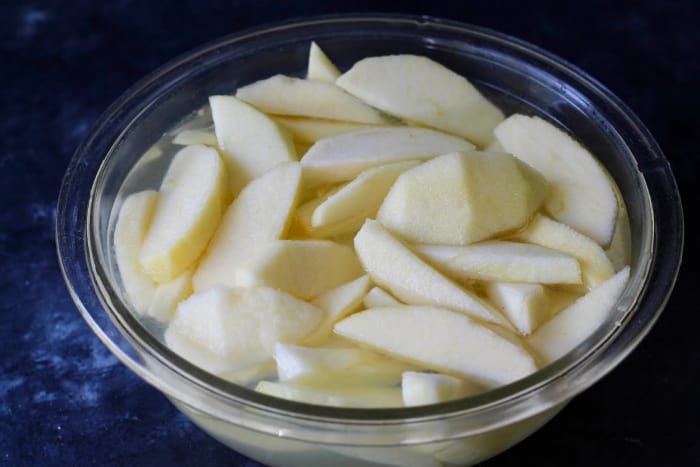 Step 3: Pat the apples dry and lay on a cookie sheet.
Place the cookie sheet in the freezer for about 4 hours or overnight if possible. It's important to flash freeze so the apple slices don't stick together once frozen.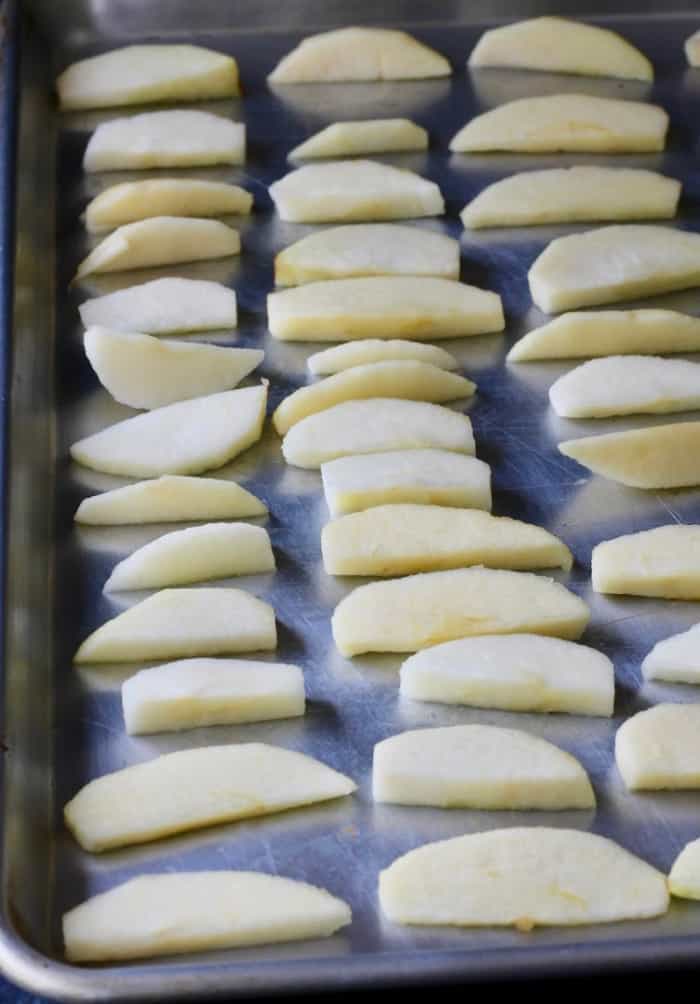 Step 4: After the apples are frozen place into a large (gallon-sized) freezer bag and freeze.
You could also store in individual bags if you want to freeze in smaller portions.
Another way to freeze apples, and I do this quite often, is to freeze them in frozen smoothie packs. In this case, all you need to do is cut the apple into chunks, and stick them into a quart-size freezer bag with the other smoothie ingredients.
I can't tell you the number of times my smoothie packs have been filled with fruit that was close to being thrown out.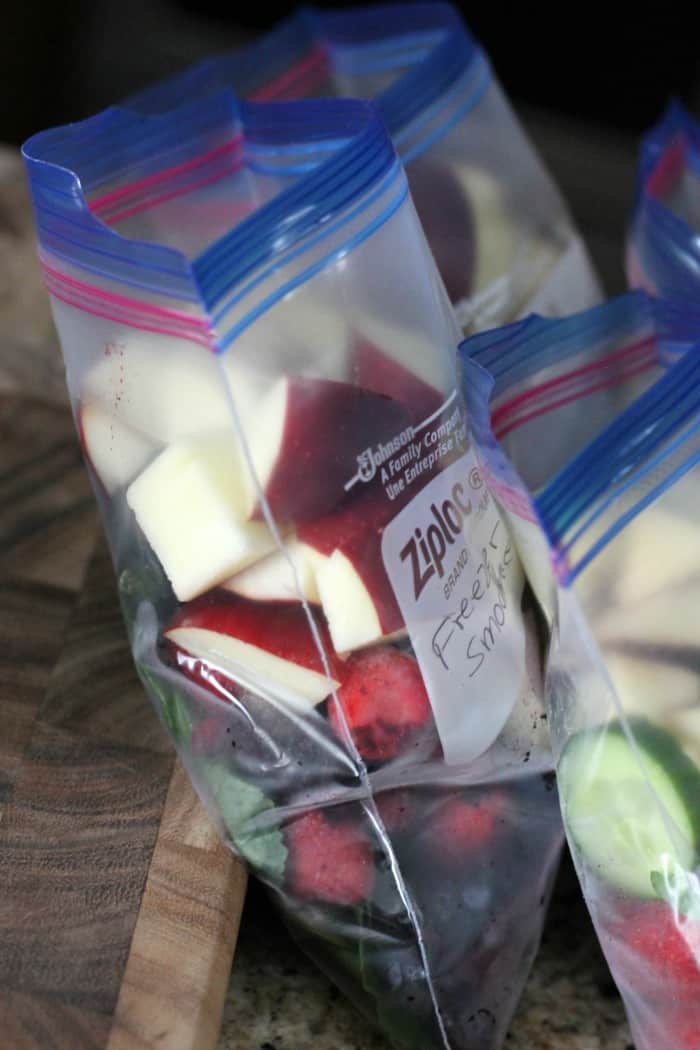 Supplies for Freezing Apples
Now that you know how easy it is to start freezing apples, you can stock up on your favorites while in season and have a supply ready to go in your freezer at any time. Enjoy!