Dear Fall,
I love you. Like truly love you. You bring the cool crisp weather, beautiful leaves, and the most delicious foods. Thank you.
Love,
Me 🙂
In my part of the world we experience all four seasons and I don't know anybody in Buffalo, NY that does not consider Fall to be the best time of year. It's probably one of the busiest times for parents but all of the stress seams to melt away with the first pumpkin or apple recipe baking in the oven.
If you are feeling any stress at all or maybe you just want your home to smell like a Yankee Candle then bake my new pumpkin apple harvest bread recipe. I am not kidding, when I tell you, this recipe will make your fall world shine bright. It takes every flavor you love about fall and wraps it into a hearty wholesome quick bread. Just thinking about it makes me a happy girl.
Let's take a stroll down pumpkin apple harvest bread lane, shall we?
The base of this bread includes white whole-wheat flour, 1-minute oats, cinnamon, salt, baking powder, and baking soda. I prefer the texture of minute oats to rolled oats in bread and muffin recipes. That's just my preference. You can certainly use rolled oats but the texture will be heartier.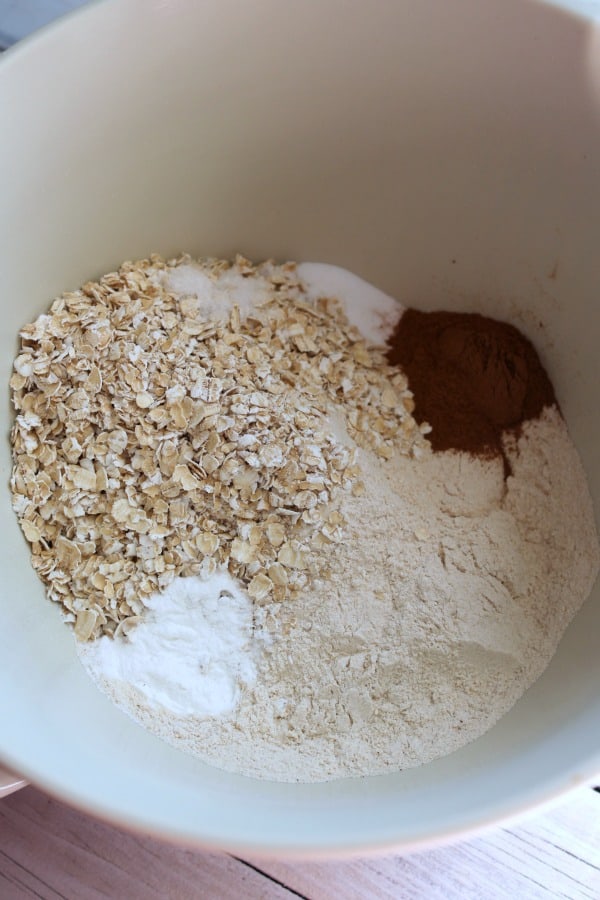 Now let's discuss the apple. I do not have an "apple" preference. I like all apples. I know some might be better than others for baking but in my experience I use what I like. For this recipe I used a medium sized apple. It's an Acey Mac. I never heard of this variety before but it was on sale so that's what I used. It was great.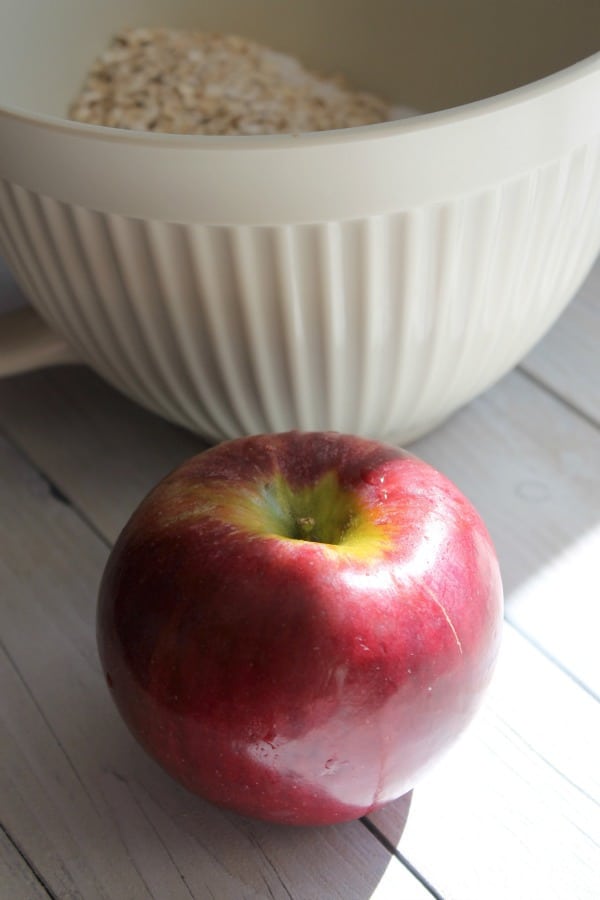 Next, I needed to decide whether to chop or grate. #foodbloggerproblems. I opted to chop only because I was lazy. I liked the chunks of apple in my bread but if you prefer minimal chunks then go ahead and grate. After you chop or grate it up set it aside for a few moments while you whip up the wet ingredients.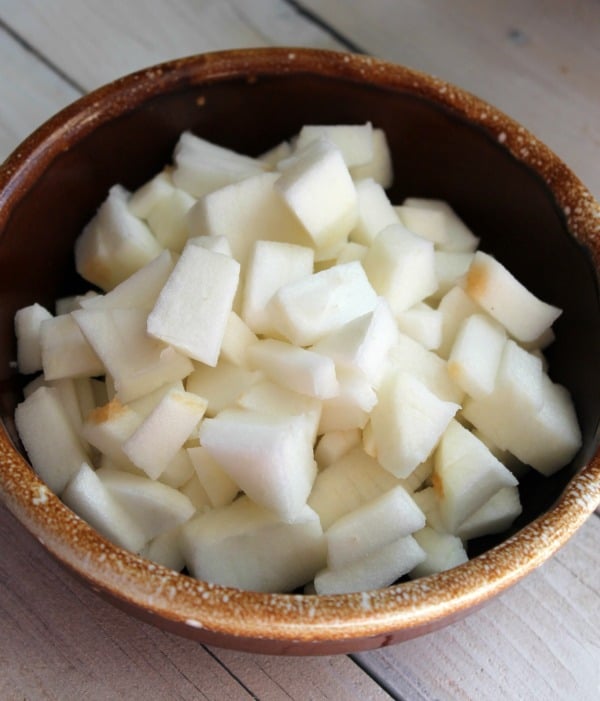 For the wet ingredients I first whisked together brown sugar, white sugar, 2 eggs, milk, and the vanilla.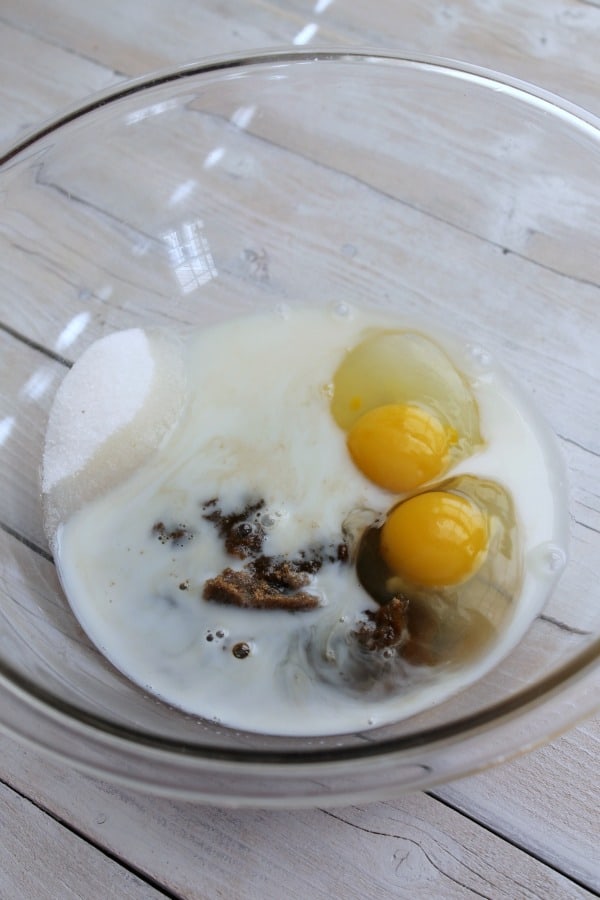 Then I whisked in the coconut oil and pumpkin. I love using coconut oil but if you don't have it then use canola or vegetable oil.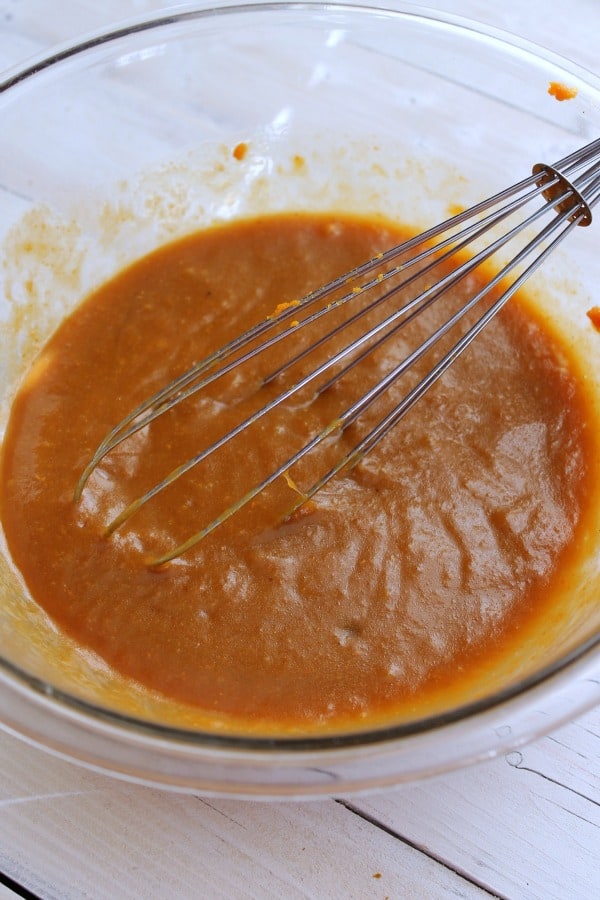 Now it's time to pour the wet ingredients into the dry. I gave the ingredients a couple stirs until the flour and oats were just moistened with the pumpkin mixture.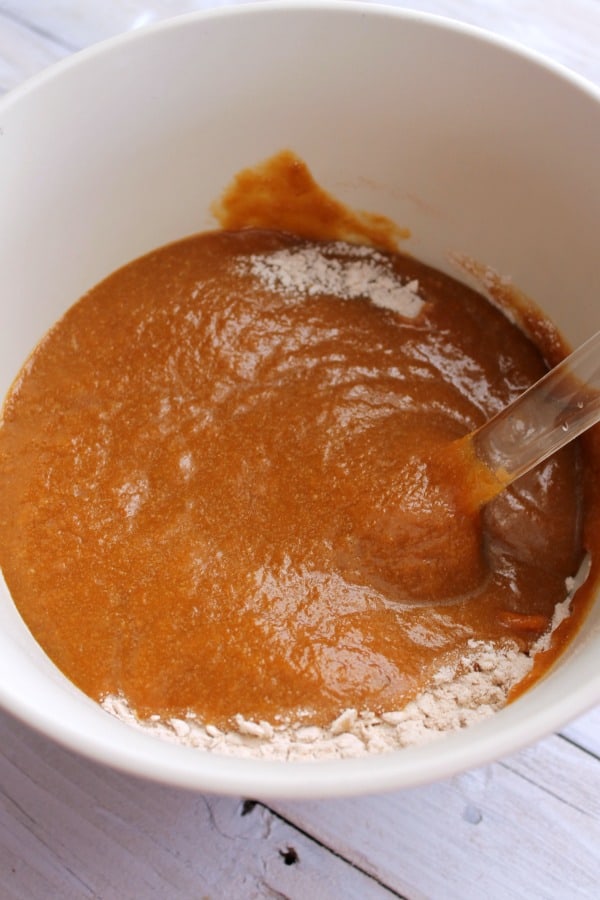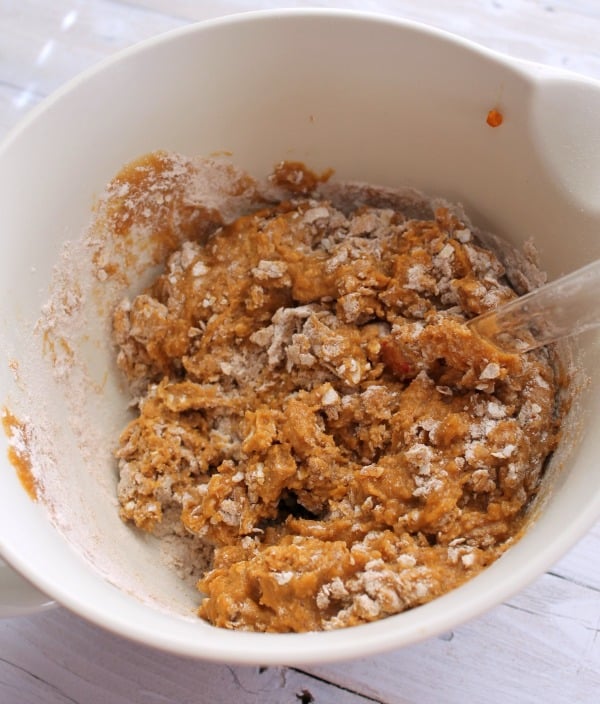 Now my favorite part…the add ins! In addition to the chopped apple I also decided to throw in dried unsweetened cranberries and walnuts. I LOVE cranberries. Love them! Now my kids like them but would rather I didn't always go add in nutso when making quick breads. So if you want to leave out the cranberries and walnuts go ahead. But if you like a hearty nutty bread with the delicious tartness of cranberries (like me) leave them in and tell the kids to eat something else (like me). Ha!
Look at the beauty in that bowl. I don't understand how anyone could not like all of those ingredients wrapped up in a bread. But I won't judge. I love you anyway.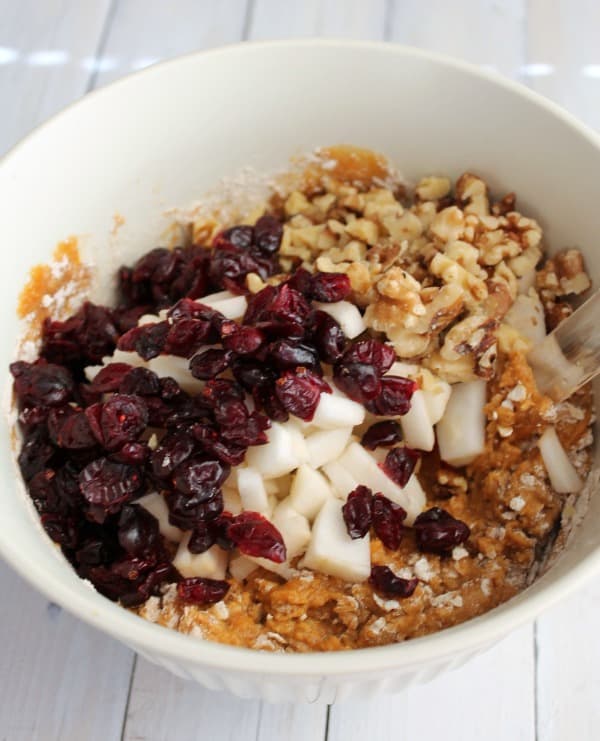 I gave the mixture a couple more stirs. This obviously took a bit more effort because of all my lovely add ins but it's worth it.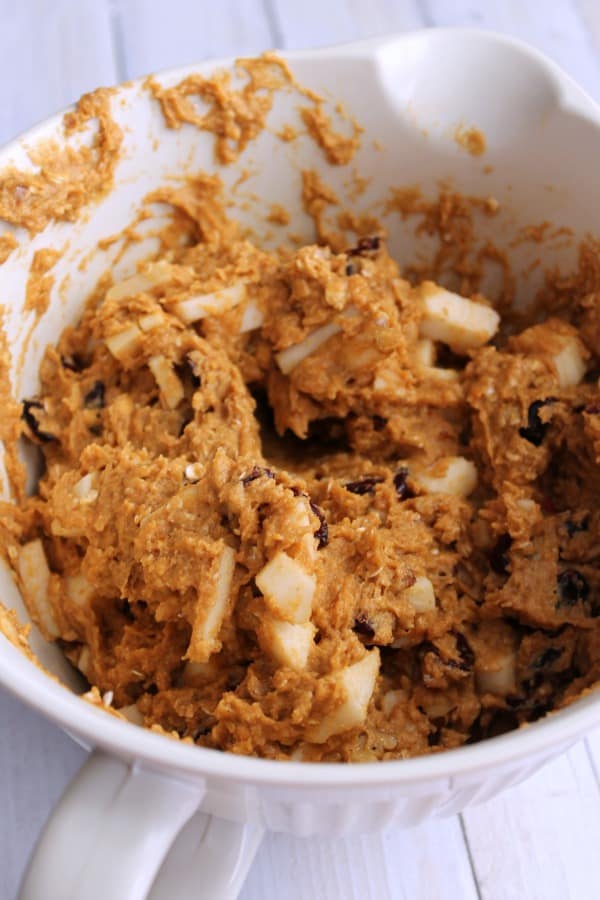 The last thing I did was put the batter into a bread pan sprayed with cooking spray and cooked for 45-50 minutes at 350 degrees. Do not over cook this bread. You want it to be moist and delicious. Not dry and yucky. Mine cooked perfectly at 45 minutes. You will know when it's done when you can stick a tooth pic (or knife) into the middle of the bread and it will come out clean with just a few crumbs.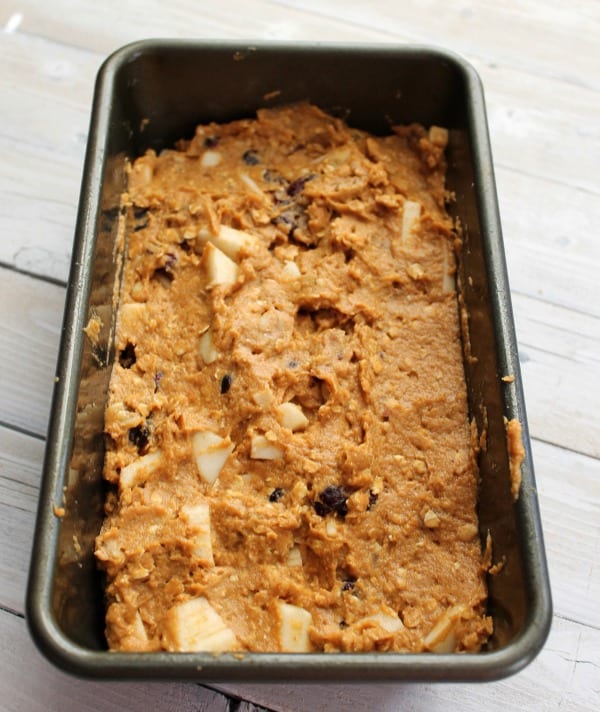 As it cooks you will be overcome by the most amazing smells of your life. Just take it in and think to yourself "life is good".
I let the bread cool for about 10 minutes before cutting a piece to try. Then after it cooled completely I cut it into portions and froze. This bread is too good to have sitting on my counter. I will eat it all!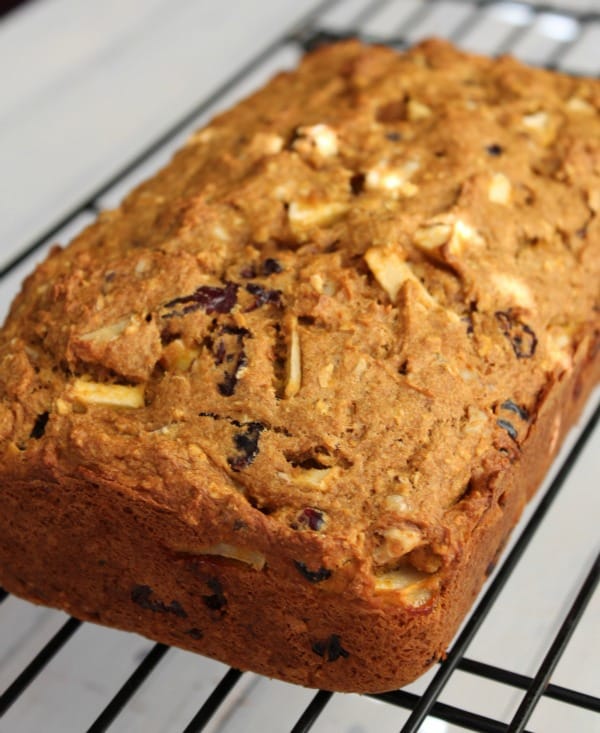 Ingredients
1 ½

cups

white whole wheat flour

½

cup

minute oats

1

teaspoon

baking powder

1/2

teaspoon

baking soda

1

teaspoon

cinnamon

1/4

teaspoon

salt

1/2

cup

packed brown sugar

¼

white sugar

2

large eggs

⅓

cup

milk

1

teaspoon

pure vanilla extract

1/3

cup

melted coconut oil

you can also use canola or vegetable if you don't have coconut

1

cup

canned pure pumpkin

1

medium apple

peeled and chopped

½

cup

dried unsweetened cranberries

¼

cup

chopped walnuts
Instructions
Preheat oven to 350 degrees.

In a medium bowl whisk together whole wheat flour, minute oats, baking powder, baking soda, cinnamon, and salt. Set aside.

In another medium bowl whisk together sugars, egg, milk, and pure vanilla extract.

Whisk coconut oil and pumpkin into the wet mixture.

Pour wet mixture into dry mixture and stir just until combined.

Slowly stir in the chopped apple, unsweetened cranberries, and walnuts.

Pour bread batter into a bread pan that is coated with cooking spray.

Bake for 45-50 minutes or until done in the middle.

Let the bread cool in the pan for about 5 minutes and then take it out of the pan and place ion a wire rack to finish cooling.
Notes
Make-ahead instructions
This bread can be made completely ahead of time and frozen into portions. Wrap each portion in plastic wrap and stick in the freezer. Take out and let it thaw for 20 minutes or so on the counter when your are ready to eat.
Nutrition
Serving:
1
g
|
Calories:
237
kcal
|
Carbohydrates:
36
g
|
Protein:
4
g
|
Fat:
9
g
|
Fiber:
3
g
|
Sugar:
6
g