Can you freeze pumpkin? Yes, you can! If you have leftover canned pumpkin and are unsure what to do with it, freezing pumpkin puree is a great option. I also included my favorite canned pumpkin recipes to use up leftover pumpkin puree.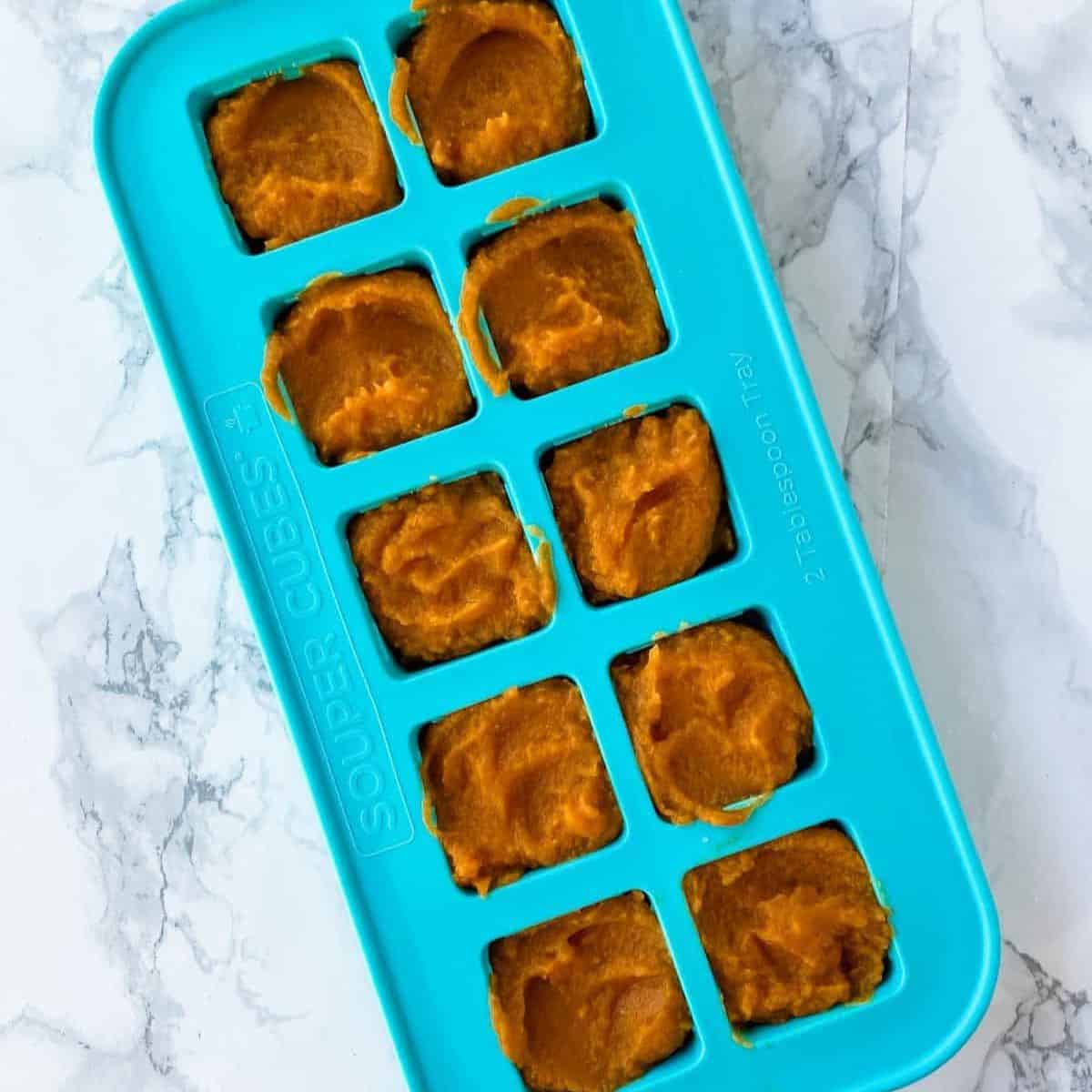 This post contains affiliate links. I am an affiliate for Amazon Associates and other brands and earn a small commission on qualifying purchases. You're by no means obligated to use my links but, if you do, thank you for supporting Organize Yourself Skinny.
Most canned pumpkin recipes rarely call for an entire can of pumpkin puree. So, once you make that delicious healthy pumpkin bread recipe, pumpkin banana bread, or pumpkin apple bread, you'll likely be left with about ¼ cup of canned pumpkin that you're not entirely sure what to do with.
In the past, I'd stick canned pumpkin leftovers in the refrigerator, hoping to use them at some point during the week. However, the reality is, I'd end up throwing the pumpkin out after about a month or so once I noticed fuzz growing on it.
Now, instead of wasting pumpkin puree, I freeze it!
Jump to:
Can you freeze pumpkin?
Yes, you absolutely can freeze canned pumpkin. Freezing canned pumpkin is my favorite way to preserve it. Instead of using the pumpkin puree immediately, I'll freeze the pumpkin into portions to use later. This way, I don't have to worry about preparing another recipe or wasting pumpkin.
How to freeze pumpkin?
Here are the three ways I freeze canned pumpkin puree. You can also do this with homemade pumpkin puree, pumpkin pie filling, canned sweet potatoes or butternut squash.
Freeze using small freezer bags. This is the method I initially started with; I'd take the leftover pumpkin and place it into a freezer bag and then freeze it.
The problem with this method is I'd end up with a few random bags of leftover pumpkin chunk in the freezer. Also, I felt the freezer bag method was wasteful because I used a plastic bag every time I had a small amount of leftover canned pumpkin. However, if all you have are freezer bags, that'll work fine.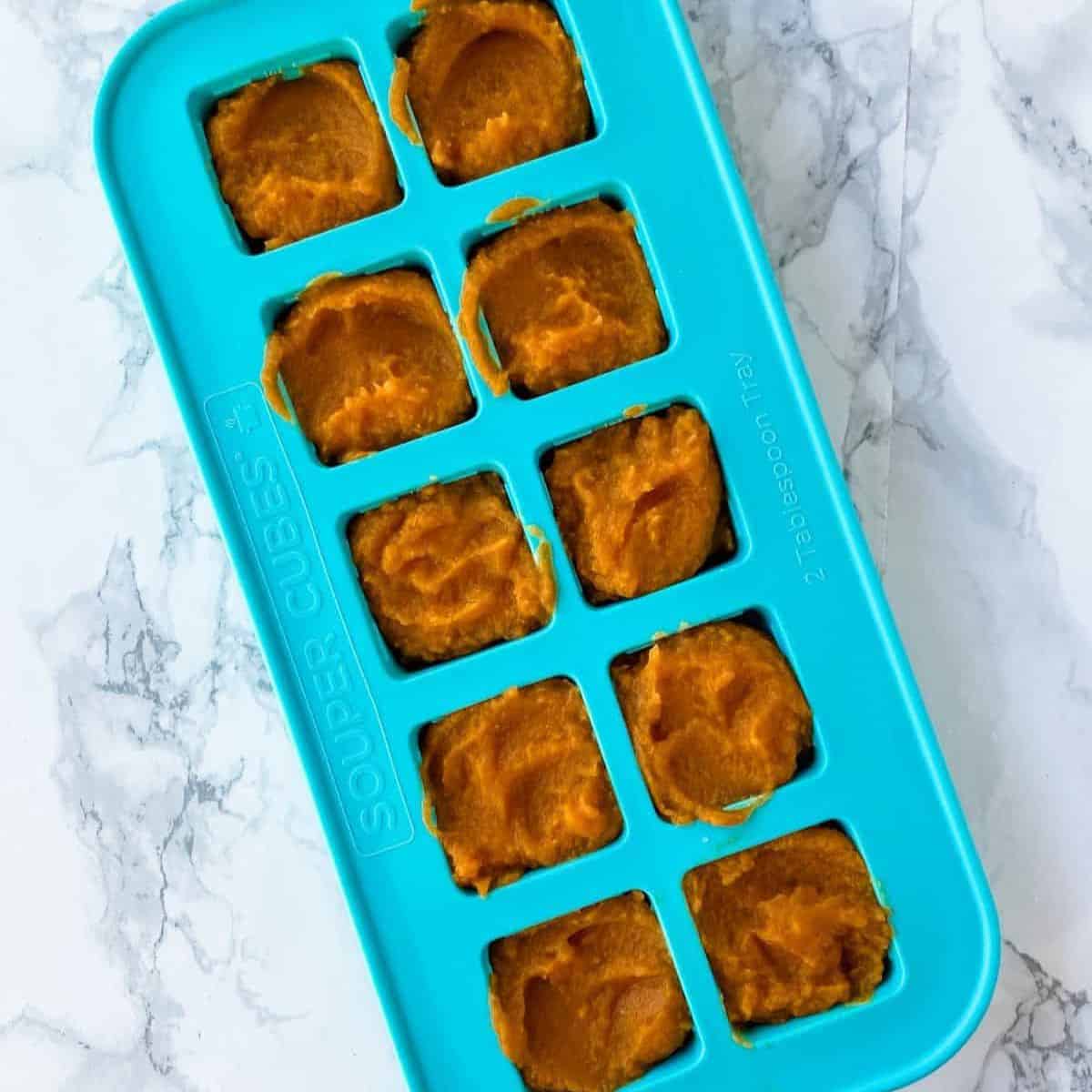 Freeze into portions using a silicone tray. Recently, I discovered Souper Cubes. Super Cubes are silicone trays used for freezing food into portions. They come in various sizes and are great for freezing everything from soups to small portions of leftover pumpkin.
I use the two-tablespoon size tray to freeze canned pumpkin. This size works great to have portions of canned pumpkin recipe ready.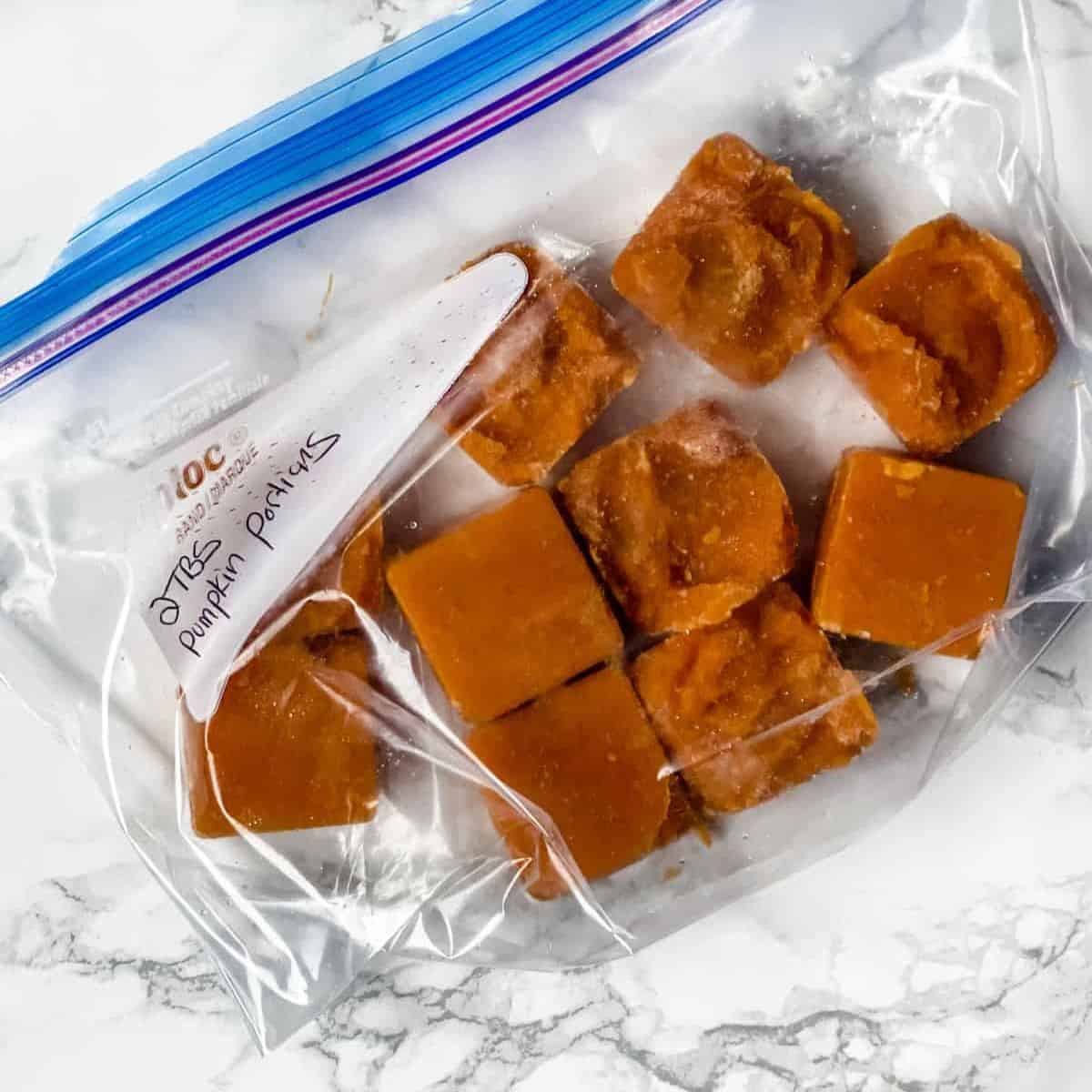 Ice cube trays or muffin tin. Use ice cube trays or muffin pans if you don't have Souper Cubes but want portioned amounts. Place the pumpkin puree into the pans and freeze. Pop the portions out of the pans and place them into a freezer bag.
How to thaw frozen pumpkin puree?
The best way to thaw frozen pumpkin is to let the portions thaw on the counter for a couple of hours or overnight in the refrigerator.
You can also thaw it in the microwave in 30-second increments. I find that thawing in the microwave does make the puree a little watery so drain it if you need to before using it in a recipe. I use a mesh strainer to do this.
After the pumpkin puree thaws, then continue with the recipe. Please note, even if the texture is a little mushy it still taste good and will work great in recipes.
Recipes to make with leftover canned pumpkin
Okay, here are my favorite pumpkin recipes to make with leftover pumpkin puree.
This might be one of my favorite ways to use leftover canned pumpkin. This recipe uses only two tablespoons of pumpkin puree and basic pantry ingredients to create a delicious breakfast recipe full of fall flavors!
Also, when putting this recipe together the night before, you can add the frozen pumpkin directly to the jar. It will thaw overnight in the fridge.
Pumpkin Overnight Oats
Pumpkin overnight oats are what fall breakfast dreams are made of. These oats are made with pumpkin puree, greek yogurt, and pumpkin spice and sweetened with just the right amount of pure maple syrup. It's genuinely like Fall in a jar! If you wait all year to enjoy pumpkin spice, then make sure to put this wholesome, delicious healthy pumpkin pie overnight oats on the meal plan.
Check out this recipe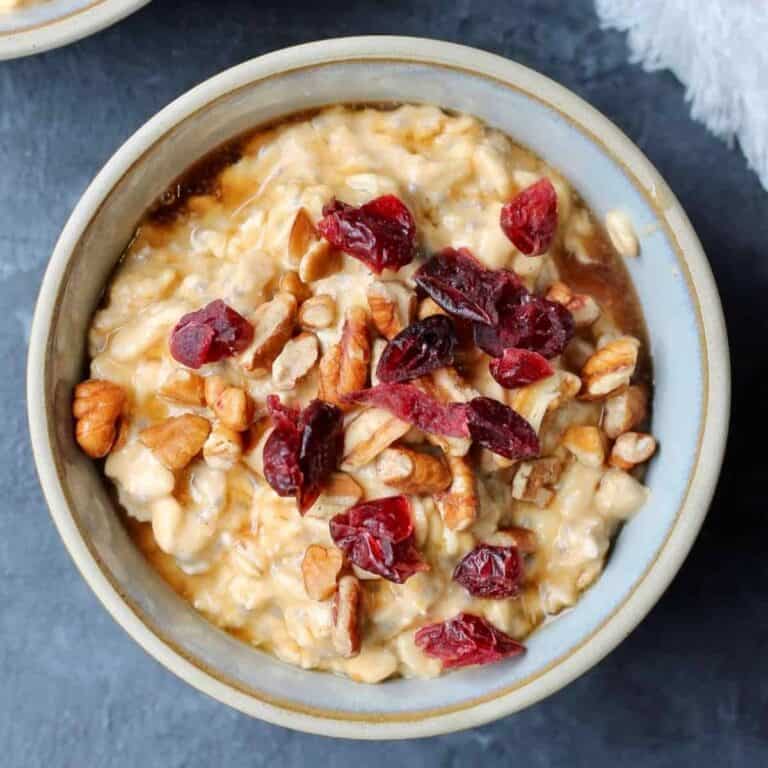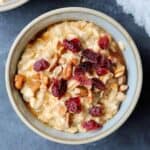 These pumpkin energy balls use up ¼ cup of canned pumpkin puree and simple pantry ingredients. This recipe is simple to put together by hand or using a food processor and doesn't require any baking.
Mix all the ingredients, and the pumpkin energy bites are ready in less than 15 minutes. I've prepared this recipe with less than ¼ cup, and the energy balls still turned out great.
I love this granola! It uses ⅓ cup of canned pumpkin, pumpkin pie spice, and crunchy pecans and is sweetened with pure maple syrup! The smells that come from your oven are amazing! We sprinkle this granola on yogurt or pour some in a bowl and enjoy with unsweetened coconut milk. Trust me; you'll never purchase store-bought granola again.
Pumpkin Granola
This Pumpkin Granola is everything Fall dreams are made of. Each bite is filled with crunchy pecans, maple, and all the flavors of pumpkin spice. It's delicious and addicting! Enjoy this perfect healthy breakfast or snack recipe sprinkled on top of yogurt, in a bowl with milk, or with a side of fruit.
Check out this recipe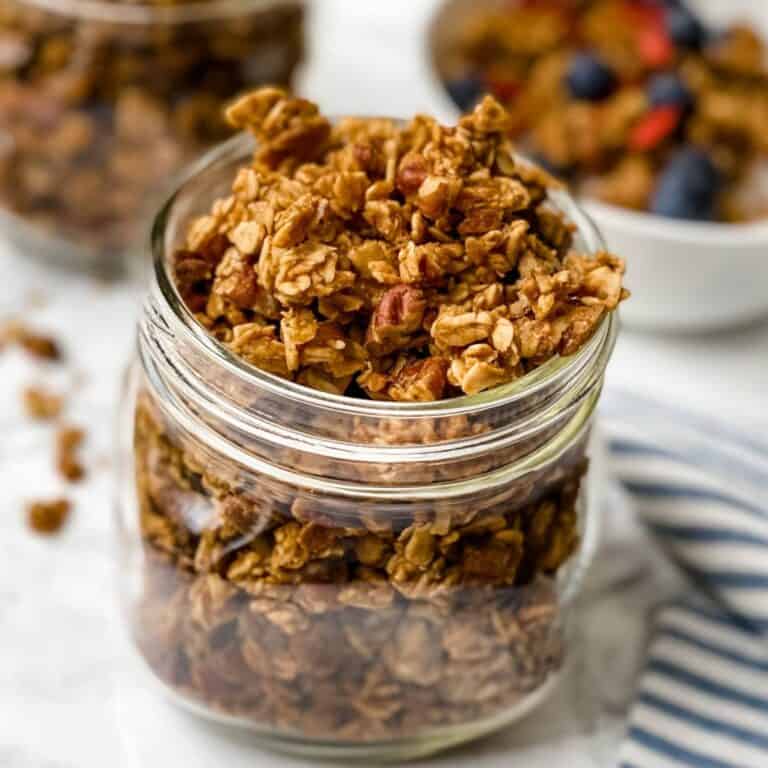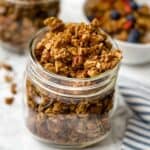 Pumpkin Oatmeal
We all love steel-cut oatmeal for breakfast in our house. On the weekends, I'll make a batch of this steel cut oat recipe and then stir in 1-2 tablespoons of canned pumpkin and spices in the morning we eat it. Of course, I'll add a drizzle of pure maple syrup for a sweet touch. If I want it extra creamy, I'll add a swirl of cream. So delicious!
Smoothies are a great way to use up all kinds of fruits and vegetables, that includes canned pumpkin! In a blender add up ¼ cup of canned pumpkin with some greek yogurt, banana, maple syrup, and pumpkin pie spice for a deliciously creamy smoothie filled with all the flavors of pumpkin pie.
You can also use frozen pumpkin in pumpkin soup, pumpkin chili, pumpkin cookies, pumpkin pies or any recipes that calls for canned pumpkin puree.
What are your favorite healthy canned pumpkin recipes to make? Leave a comment or share in our Healthy Meal Prep Recipes OYS Facebook Group.