Pumpkin banana bread bring your two favorite breads together into one delicious easy quick bread recipe! As a bonus you only need one bowl!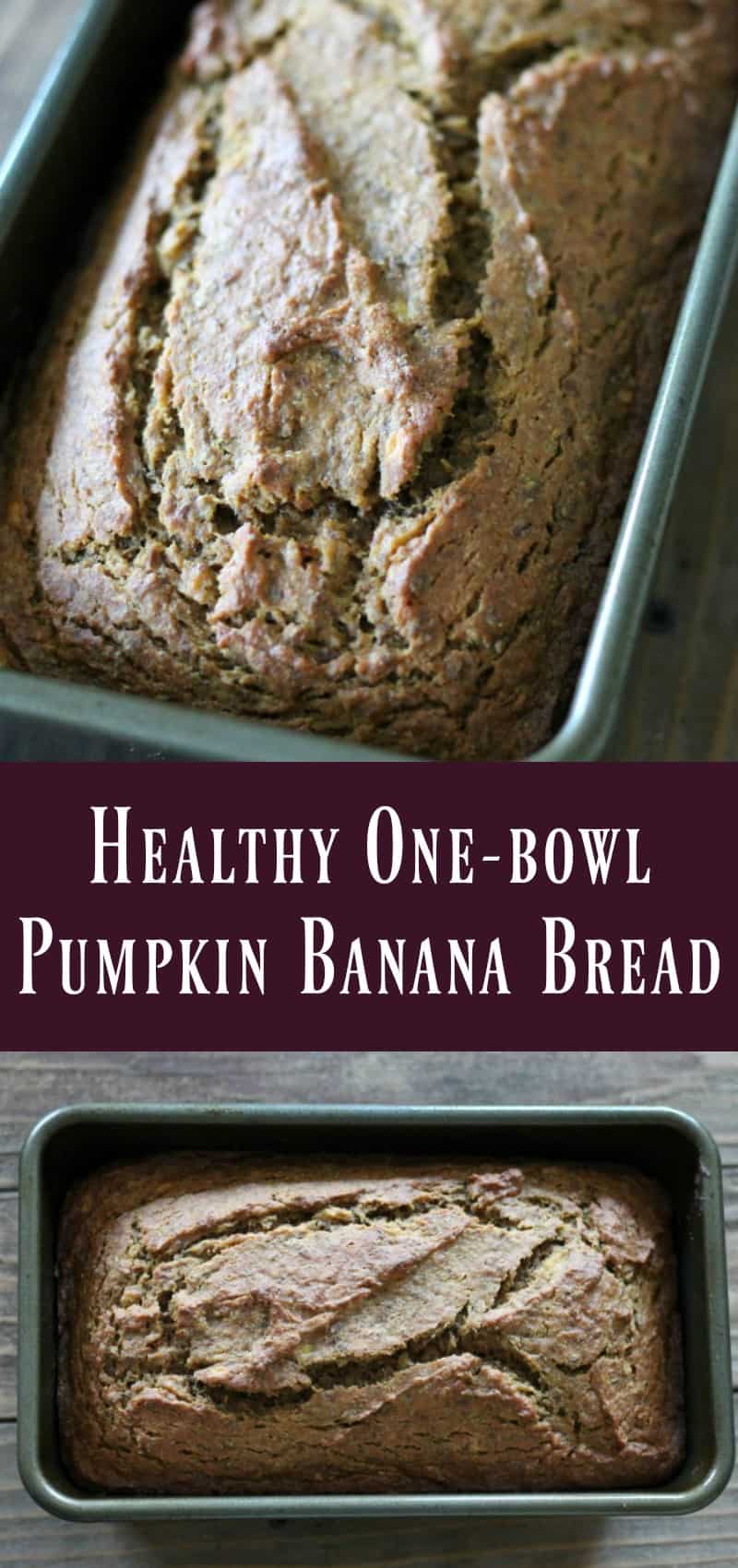 This pumpkin banana bread recipe is literally the love child of a couple leftover bananas and some extra canned pumpkin I had in the refrigerator. My original plan was to make a recipe video for my one-bowl banana bread buuutt as I started to get the ingredients together I realized I didn't have enough bananas. Well my heart was set on a making a bread – hello it's fall baking time – so I improvised. I remembered I had leftover over pumpkin from the pumpkin spice energy bites I made late last week. And this, my friends, is how pumpkin banana bread was born.
I think this bread was meant to be because I had the perfect amount of pumpkin and banana to create this recipe. Also, I should say that I had no intention of this being a "blog worthy" recipe. However, as I started to put the concept together in my head I thought I better get my camera out just in case. Well good thing the battery was charged because this is one of the most delicious quick breads I've ever prepared. It's tender, full of flavor, and everything you'd want in a fall bread.
Pumpkin Banana Bread
Let's talk about the recipe. Basically, I followed the one-bowl banana bread recipe and just made a few adjustments.
I started with the pumpkin, mashed bananas, sugars, and eggs. I mixed all the ingredients together until everything was combined.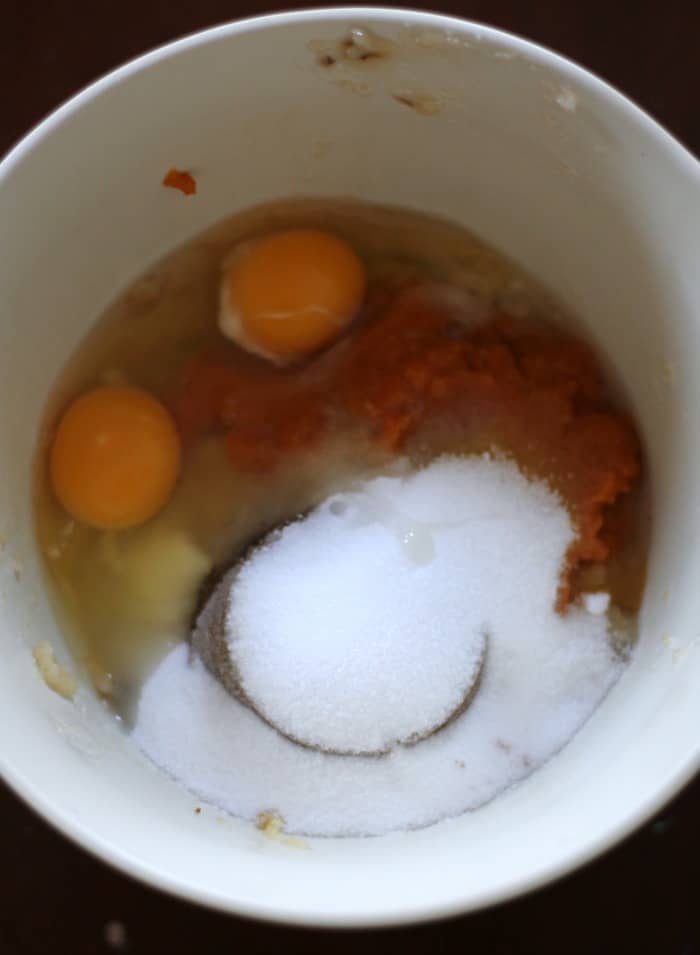 Then I stirred in the vanilla and melted butter. You can certainly add the vanilla in the first step but I forgot. However, I recommend keeping the melted butter to the second step because you don't want to accidentally cook the eggs. Just saying..it could happen.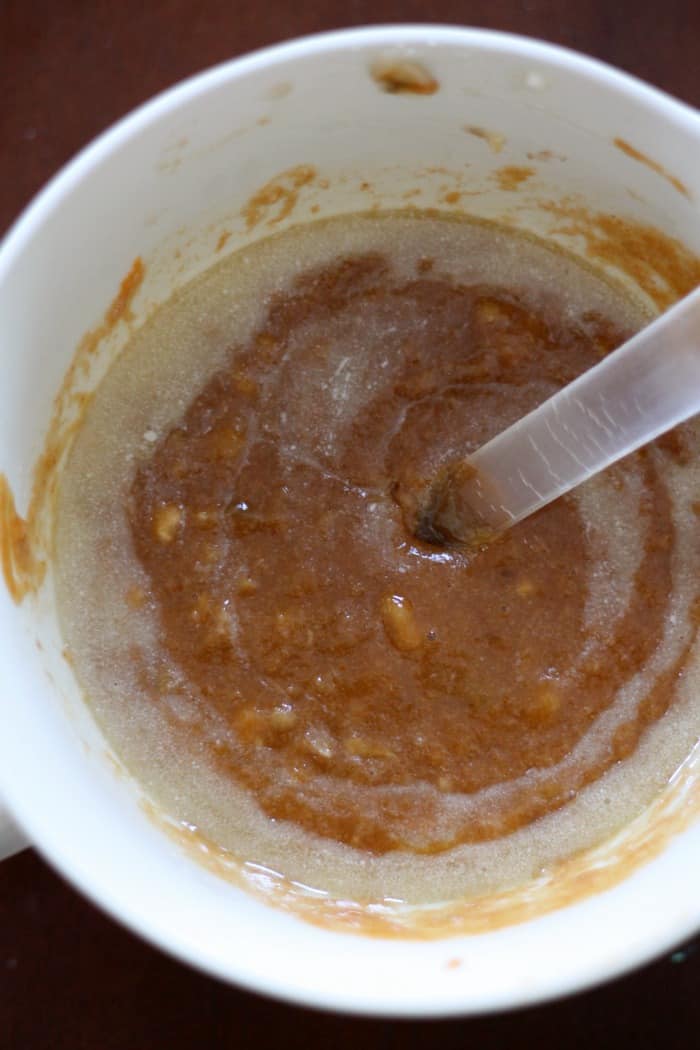 Next I added all the dry ingredients on top. I mentioned this in my banana bread recipe post, but I'll say it again, the one-bowl recipe concept was developed out of pure laziness. I don't know about you, but I'd much rather wash 1 bowl over 2.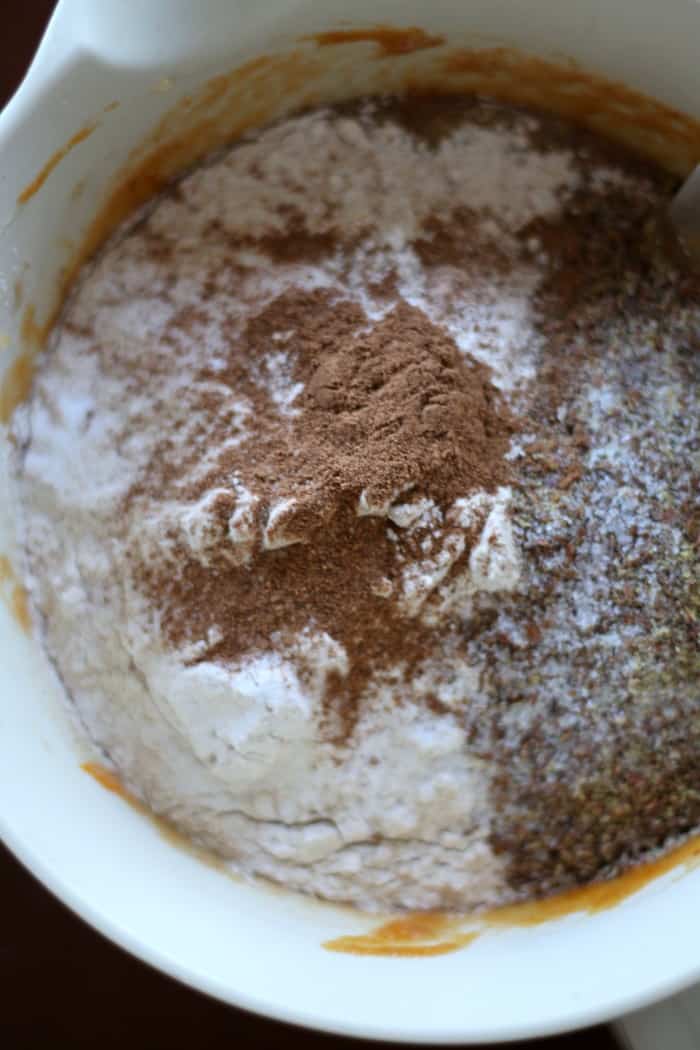 I slowing stirred the ingredients just until the wet and dry were combined. You don't want to overwork quick bread or muffin dough because it will create a tough bread instead of tender one.
This dough should be on the thicker side but still easily spreadable.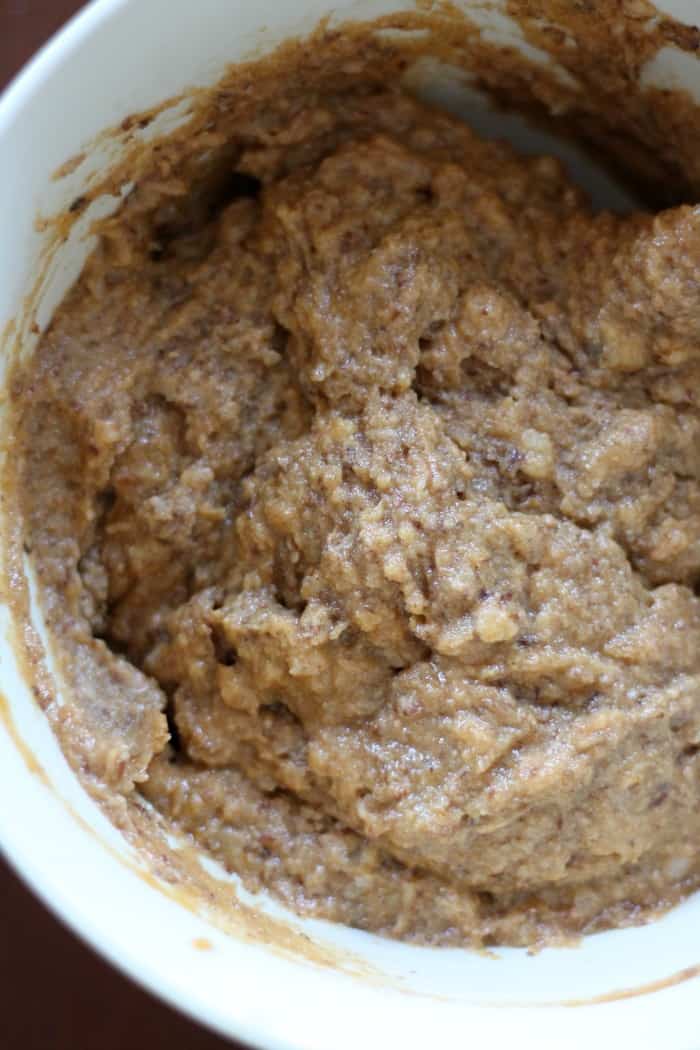 Pour the dough into a bread pan and bake in a 350 oven for 55 minutes. My secret (or not so secret) to delicious quick bread, muffins, and cookies is to undercook by a couple minutes. More importantly don't overcook. This creates a dry bread that will end up taking up counter space until it's ultimately thrown out.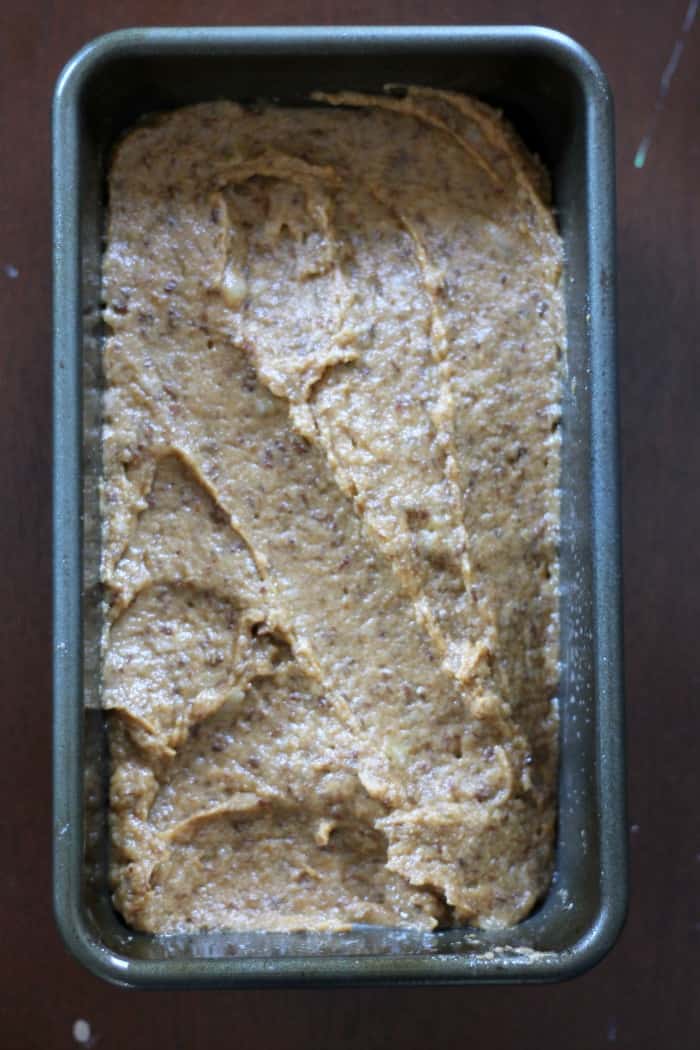 This is what a perfect quick bread looks like! First, let me say the aromas that came out of my oven were heavenly. It's been at least a year since I smelled pumpkin spice in the air. Mmmmmm. Second, I could tell just by looking at it that this banana pumpkin bread was going to be a treat!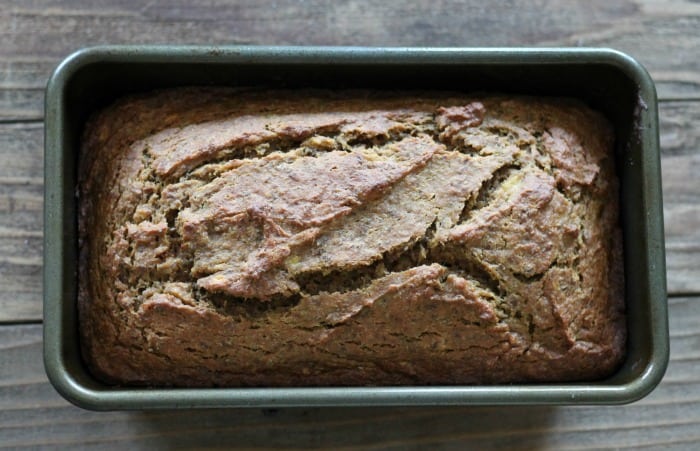 Oh mama! I let the bread sit in the pan for about 5 minutes to cool and then I had it finish cooling on a wire rack. Seriously, I could not wait to dig in.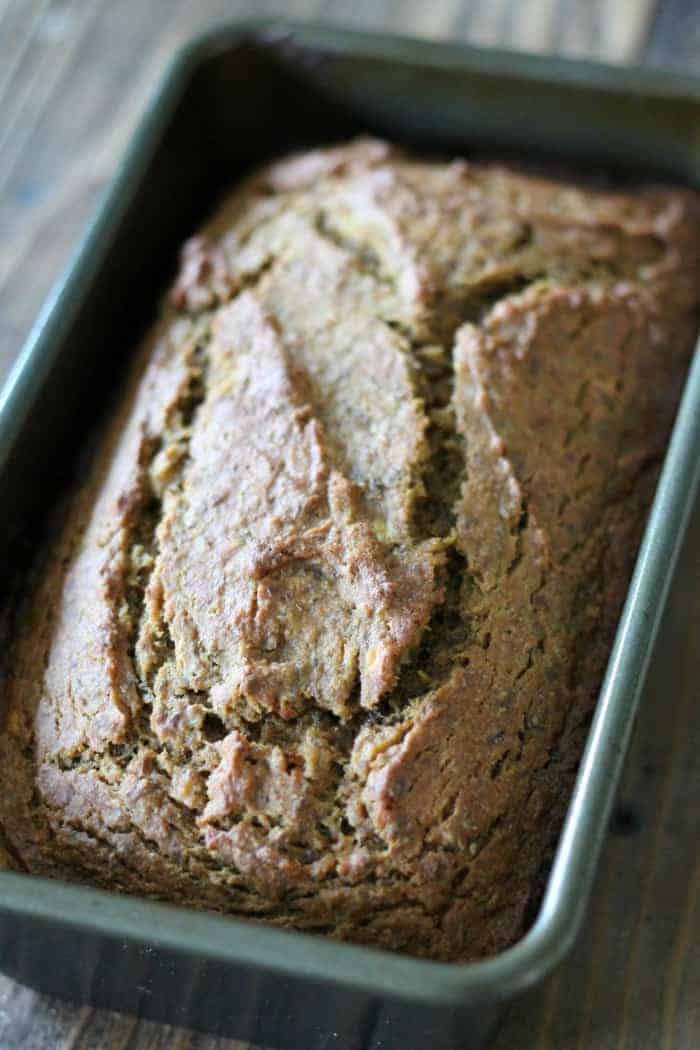 Everything about this pumpkin banana bread is amazing. I can't believe this recipe almost didn't happen. I mean, what if I had 1 extra banana? This bread wouldn't be happening. The moral of the story here is don't give up when you run out of an ingredient. Instead get creative because you never know what new delicious recipe is waiting for you.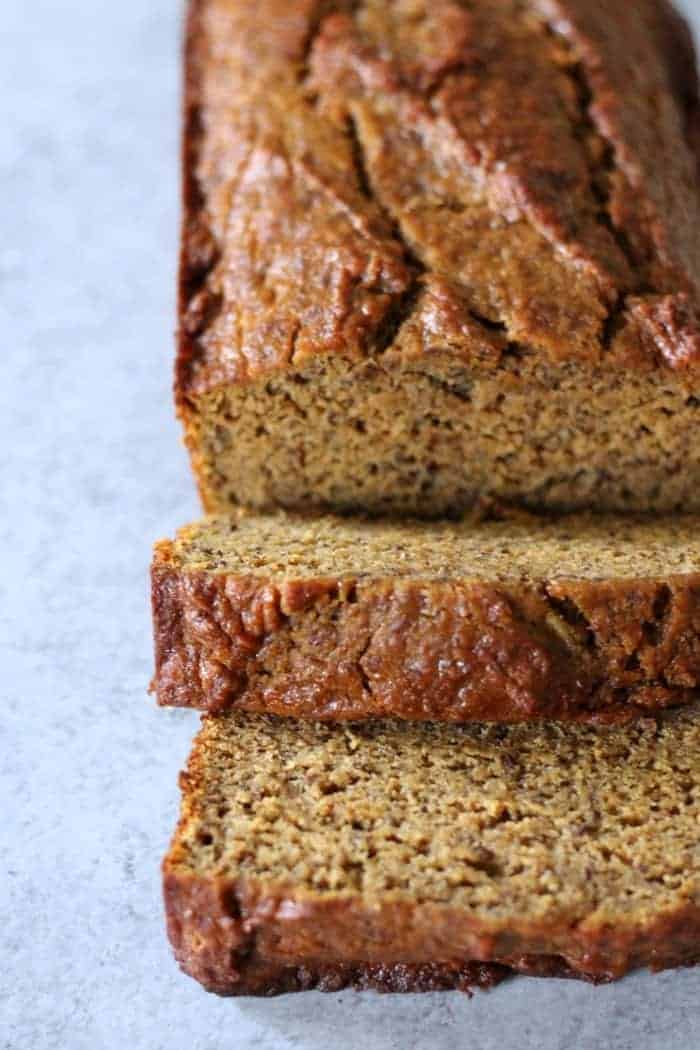 Like all quick breads this pumpkin banana bread can be made ahead of time and frozen for a quick healthy snack. Just bake it completely, let cool, and then cut into portions and freeze. You can store in plastic bags, wrap in foil, or plastic wrap. The pumpkin banana bread thaws quickly so take it on your way to work or for lunch and it will be ready to eat when you are.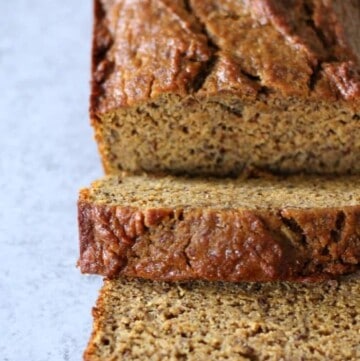 Ingredients
2

medium ripe bananas

peeled and mashed

1

cup

canned pumpkin

not pumpkin pie filling

2

large eggs

1

teaspoon

pure vanilla extract

1/2

cup

white granulated sugar

1/2

cup

dark brown sugar

5

tablespoons

unsalted butter

melted

1 1/2

cups

white whole wheat flour

1/2

cup

ground flaxseed

3/4

teaspoons

baking soda

1

teaspoon

pumpkin pie spice

1/2

teaspoon

salt
Instructions
Preheat oven to 350 degrees.

In a medium to large bowl mix together the bananas, pumpkin, eggs, vanilla, and sugars until the ingredients are combined and creamy.

Slowing stir in the melted butter.

In the same bowl, on top of the wet ingredients, add the flour, ground flaxseed, baking soda, pumpkin pie spice, and salt.

Slowly stir ingredients together just until combined.

Bake for 55 minutes. When you put a toothpick in it should come out with some bread stuck to it but not raw dough.

Let the bread sit for 5 minutes in the bread pan.

Remove from the pan and let the bread finish cooling on a wire rack. Cut into 16 pieces. Do this by first cutting into 8 thick slices and then cut those slices in half.

Enjoy.
Notes
sugar: 15g
Make-ahead instructions
Bake bread completely ahead of time. Cut into pieces and store using plastic wrap or bags. Store up to 7 days in the refrigerator or freeze up to 3 months.
Nutrition
Serving:
1
g
|
Calories:
160
kcal
|
Carbohydrates:
25
g
|
Protein:
3
g
|
Fat:
6
g
|
Saturated Fat:
3
g
|
Fiber:
3
g
Other pumpkin recipes:
Pumpkin Chocolate Overnight Oats recipe