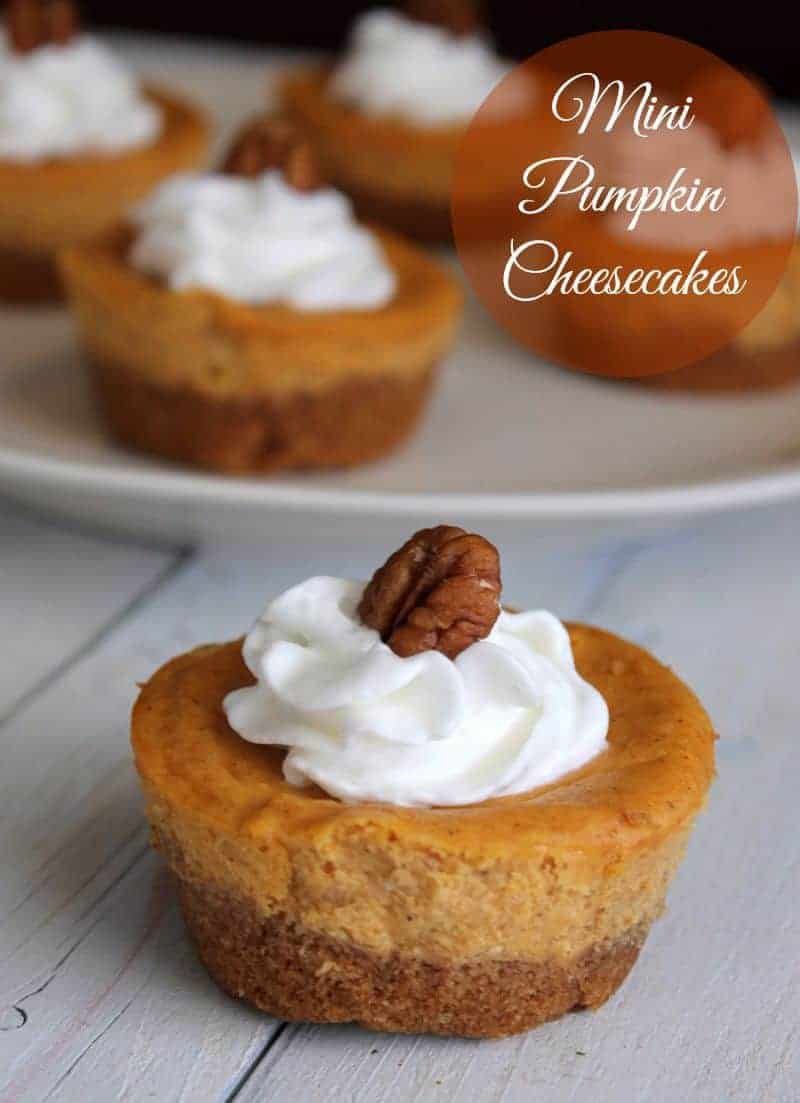 Years back I worked at the Olive Garden – I am positive this has been mentioned before. If not, now you know. Anyway, every year I looked forward to one item on the menu. One item that only came out once a year to grace us with its pure awesome deliciousness.
Do you know what that one item is?
I bet you can guess?
Yep! PUMPKIN CHEESECAKE. OMG I swear – if I could – I would fill a bathtub with pumpkin cheesecake, dive in, and eat until I passed out from a pumpkin cheesecake food coma. Hmmm I am guessing this slight obsession had something to do with my weight issues back then. Details.
Actually, lets talk about Olive Garden Pumpkin Cheesecake details. For those of you still in denial that cheesecake has calories you want to look away at point. Okay….1 slice of Olive Garden Pumpkin Cheesecake has 870 calories and 46 grams of fat!! Friends, even if we share this we are still looking at 435 calories and 23 grams of fat. Dang! My jeans get tight from just reading that.
Hey denial peeps you can look back now.
Obviously, that is an insane amount of calories and while you can enjoy a slice once in the greatest while you certainly can't make Olive Garden a part of your weight loss plan. Until now…
You know I gots you.
Last week, I got the hankering for pumpkin cheesecake. Yes I just used the word hankering. Is that even a real word. Moving on… instead of ruining a weeks worth of exercise on one slice of Olive Garden pumpkin cheesecake, I made my own instead.
Yay!
Even better, I decided to create the perfect portion controlled size using a muffin pan. Double yay!
Let's talk about the recipe starting with the crust. A few weeks ago I was watching the Food Network (can't remember the exact show) and the chef made a graham cracker crust that included pecans. I love pecans and thought that sounded delicious so I decided to throw some in for this cheesecake crust.
I used 10 sheets of graham crackers, ¼ pecan halves, and 2 tablespoons softened butter. I put everything into a food processor and processed it on high until it turned into crumbs.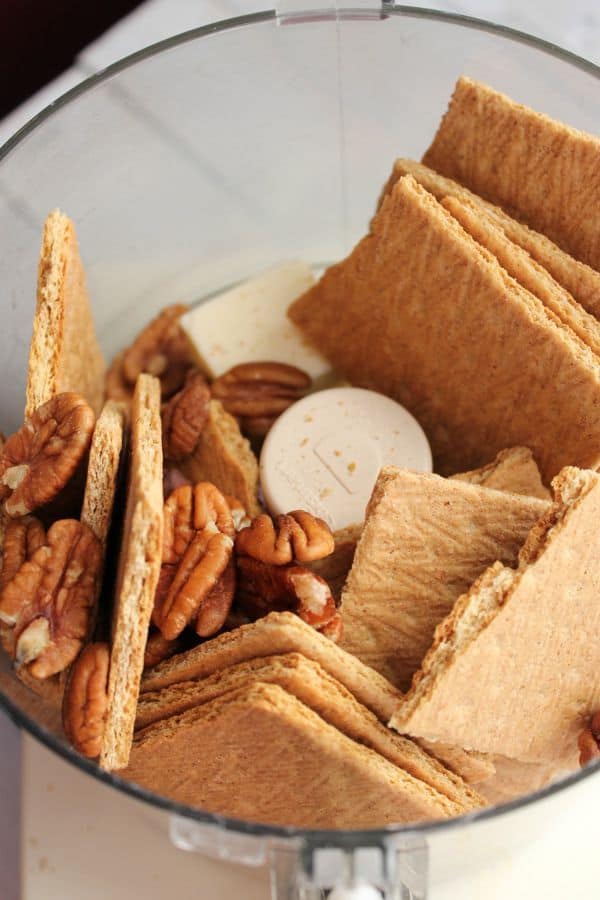 Next I sprayed a 12-cup muffin pan with cooking spray and lined each cup with a strip of foil. This little trick helps to lift the cheesecakes out after they chill and set.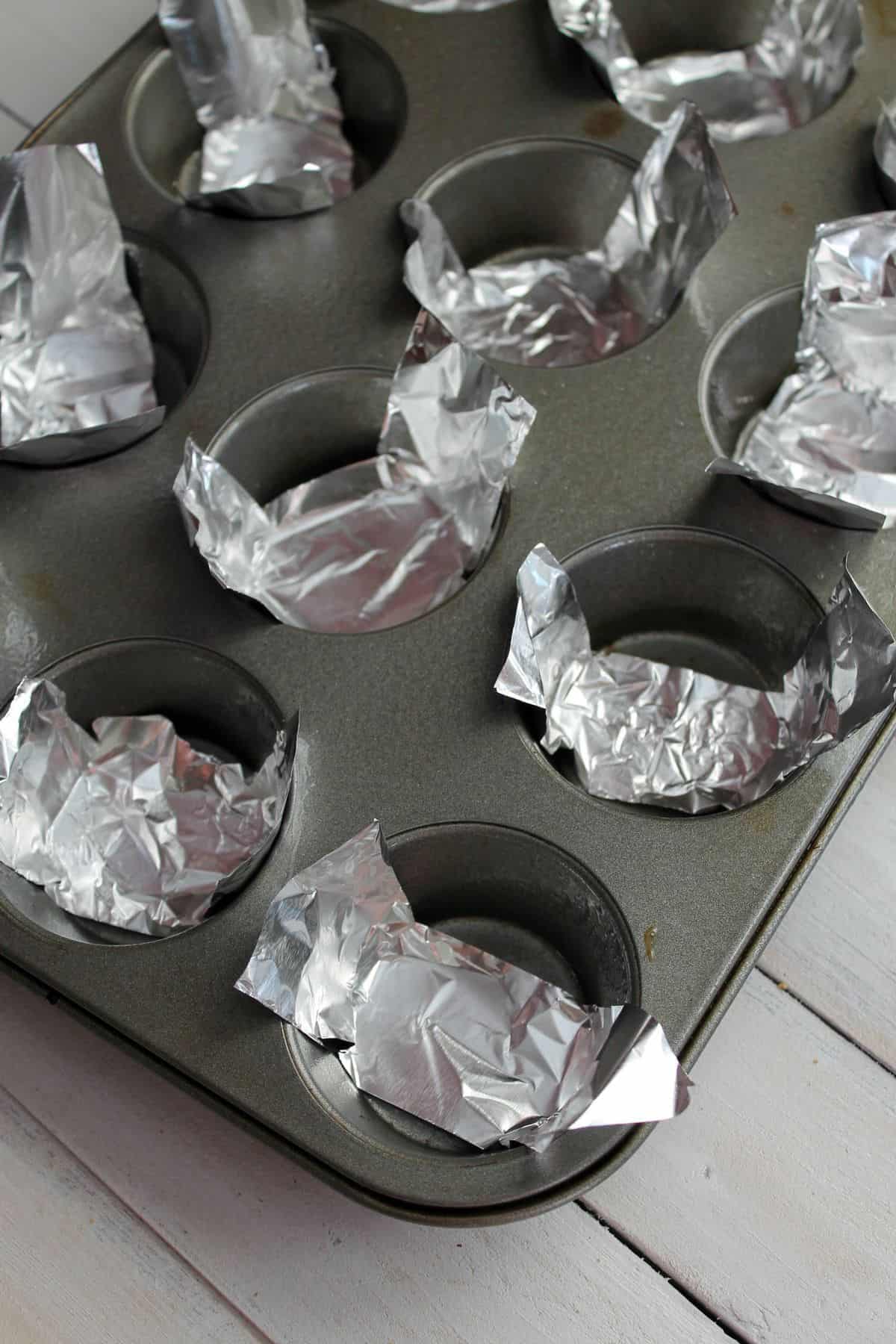 Into each cup I scooped about 2-3 tablespoons of crumb mixture.
Then, using a spoon, I flattened down the crumb mixture. Afterwards, I stuck the muffin pan in the refrigerator for about 15 minutes. This helps the crust to chill and firm up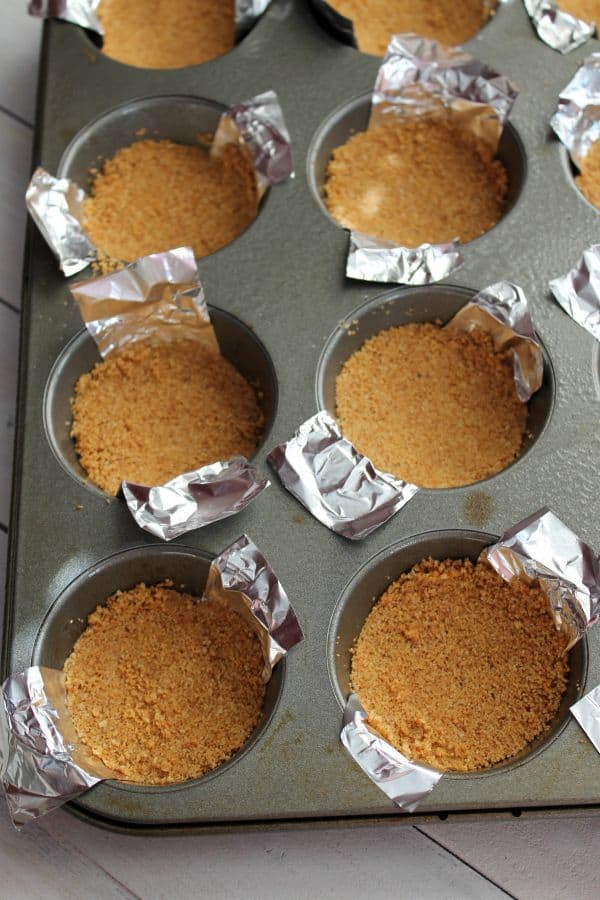 While the crust was chilling I made the pumpkin cheesecake filling. Just typing this is making me excited and wanting more. The filling is so easy to make. Start with 2 (8-ounce) blocks of softened cream cheese. I used one low-fat block and one full-fat one.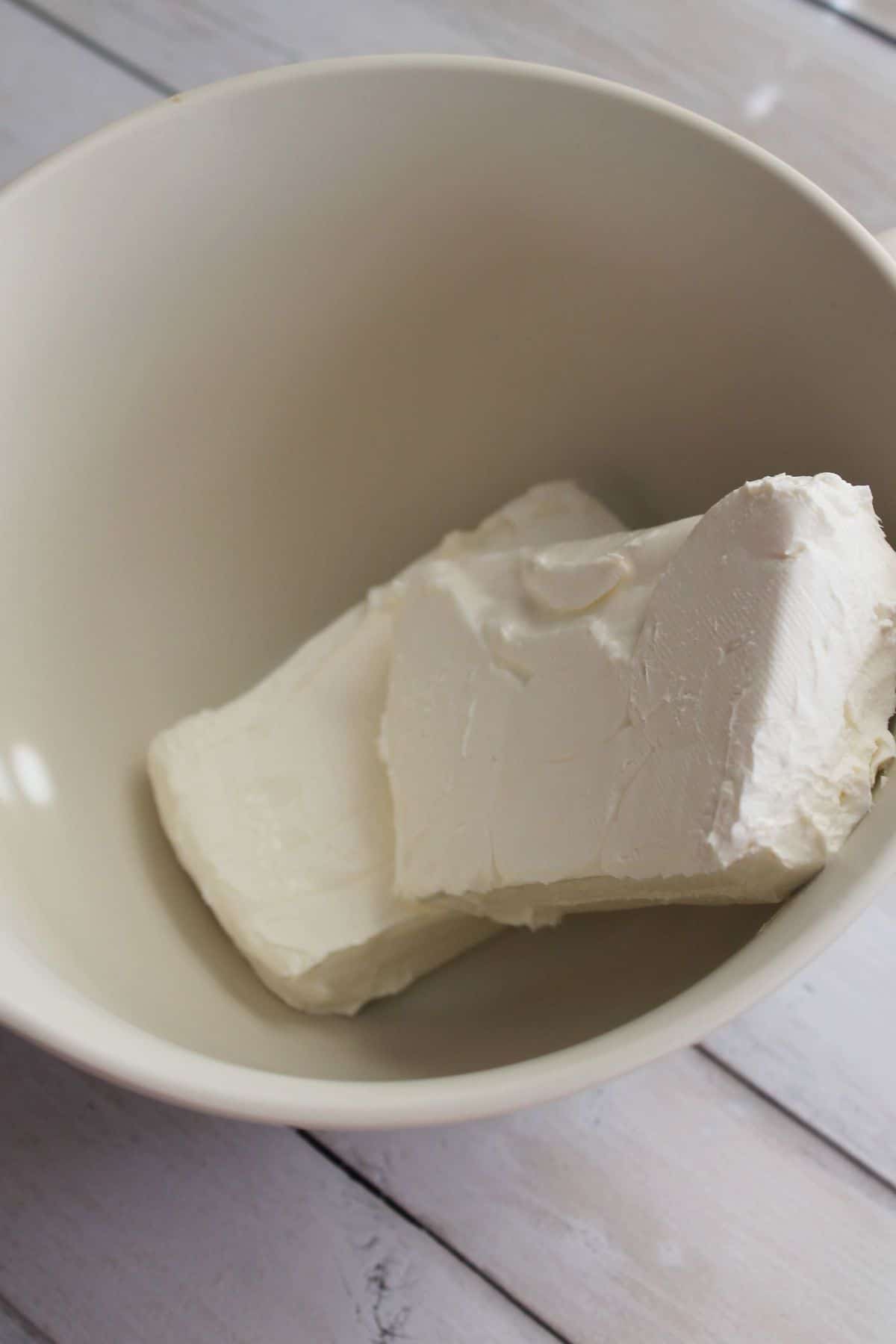 Using my hand mixer, I beat the cream cheese on medium high until it was creamy.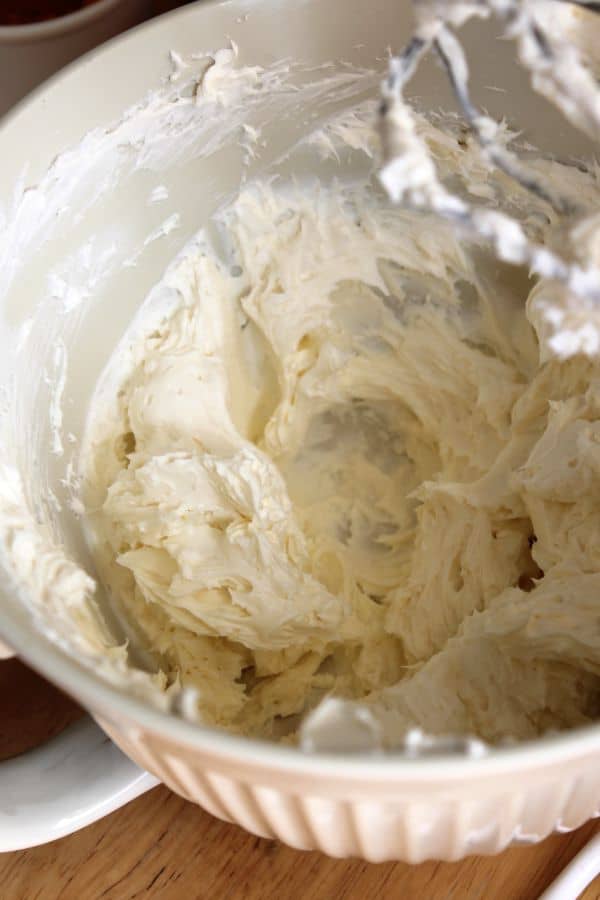 Then I added in the eggs, pure vanilla extract, pumpkin pie spice, both sugars, and continued to blend on medium high until the filling is luscious and creamy. This only takes about 2-3 minutes.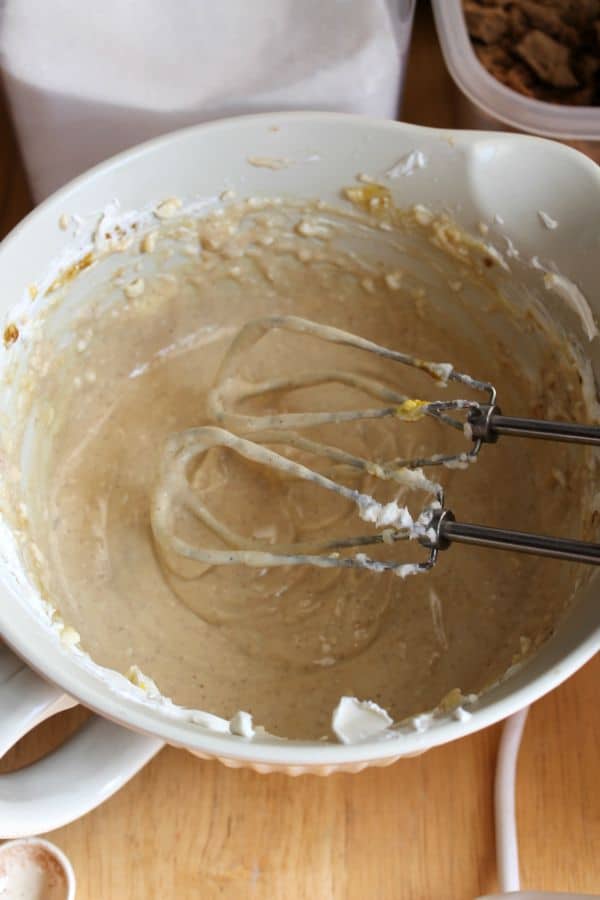 Now it's time to add in the star ingredient pumpkin. I used 1 cup of pumpkin. That seems to be the standard amount in most recipes. Pumpkin adds a lot of moisture to recipes so you need to be careful with the amount used. 1-cup seems to be just enough to get that amazing pumpkin flavor and color.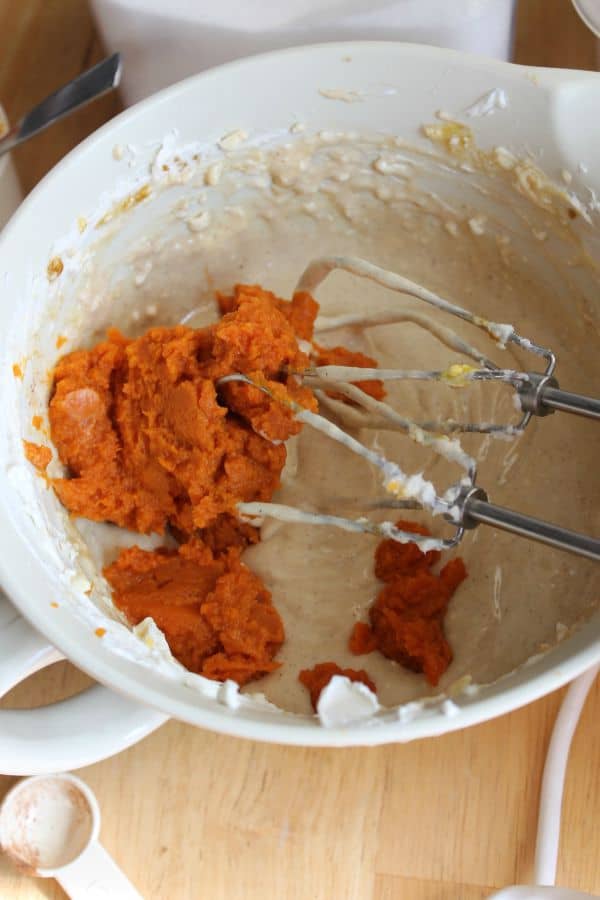 Continue to beat on medium high until you get a bowl of this silky pumpkin deliciousness.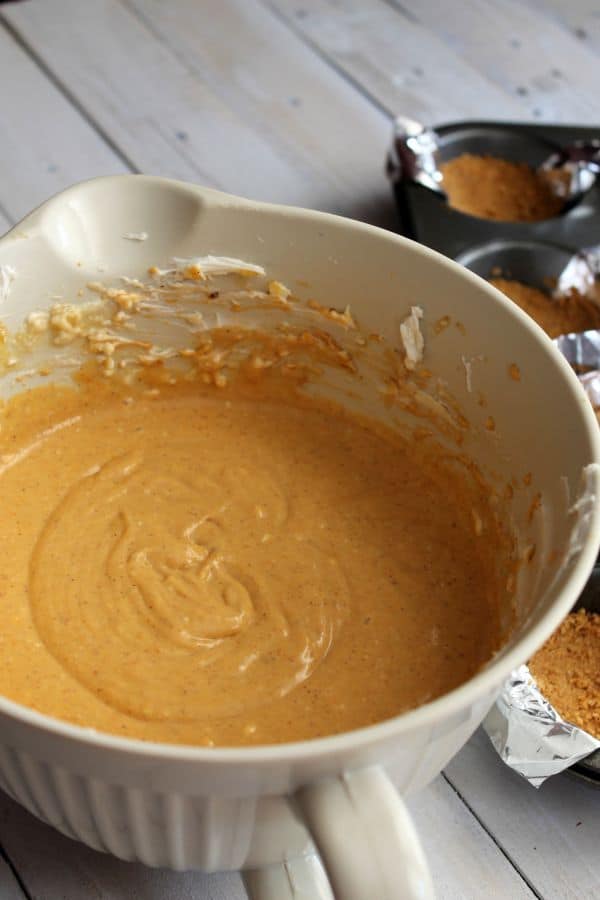 After the filling was done I got the muffin pan out of the refrigerator. I filled each cup to the top with the pumpkin cheesecake filling. Looking back, I probably could have made 18 cheesecakes instead of 12. There is a lot of crumb mixture and filling. Of course the cheese cakes will be smaller but I think it would be fine. Plus, you will get more and each one will have less calories and fat. Something to think about.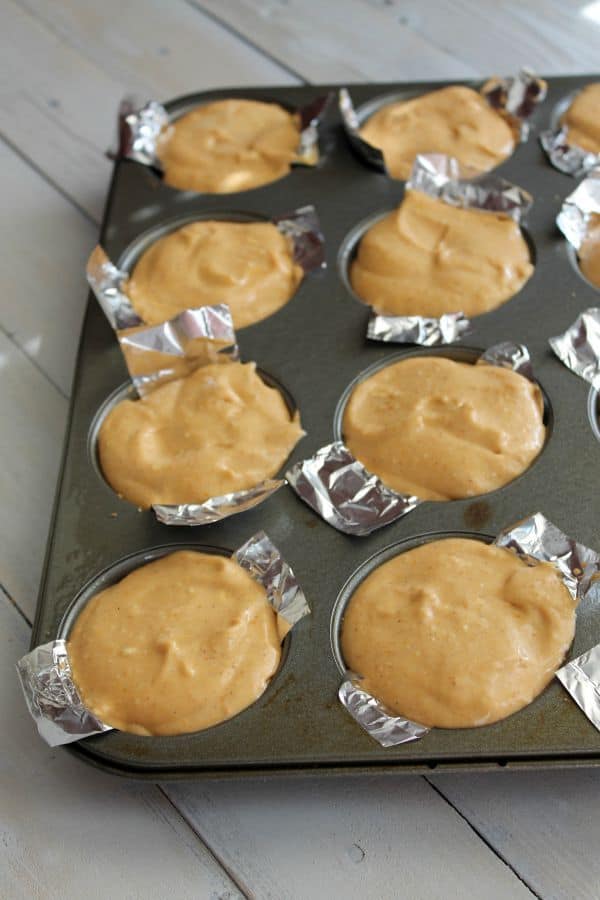 I baked the cheesecakes in a 350 degree oven for about 22 minutes. The cheesecakes will still have a little jiggle in the middle (kinda like me HA!) after they bake. Don't worry they will continue to bake and set after out of the oven.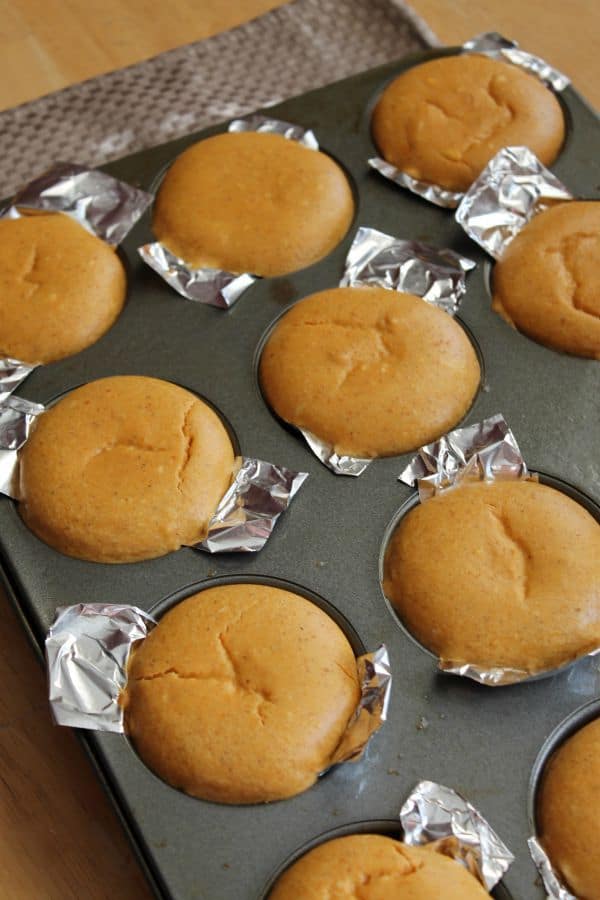 After the cheesecakes are done baking they need to cool on the counter for about 30 minutes and then chill in the refrigerator for at least 4 hours but preferably overnight.
Once the cheesecakes are chilled and set lift each one out of the muffin pan. Spray a little whip cream on top and garnish with a pecan.
You will LOVE these mini cheesecakes. Each one is the perfect amount to satisfy any pumpkin dessert craving and at only 306 calories so you can certainly fit them in your meal plan.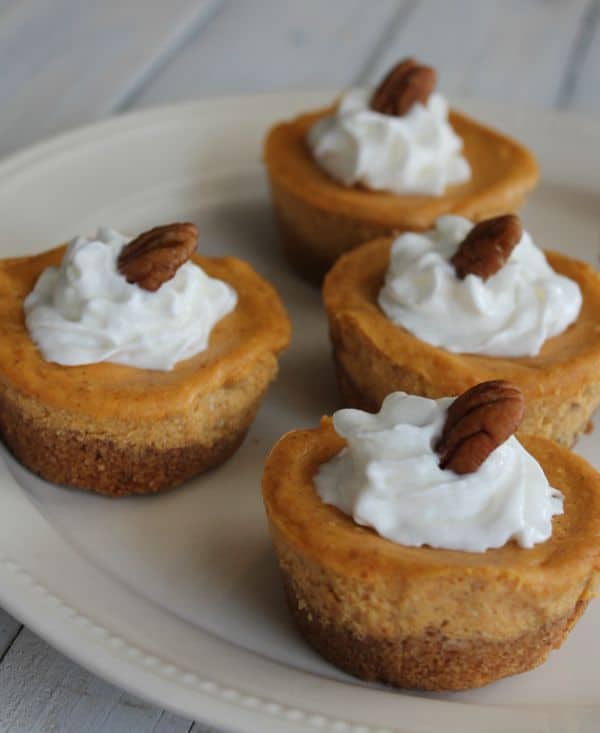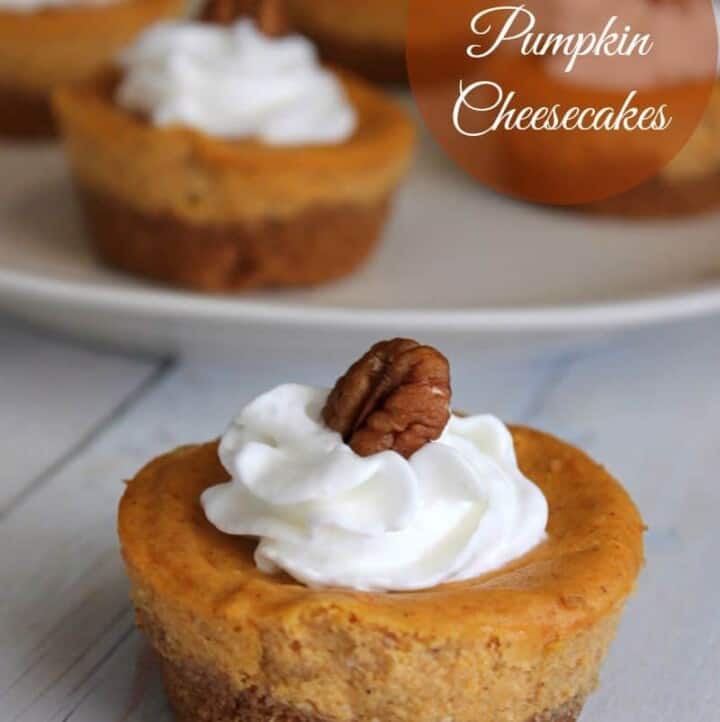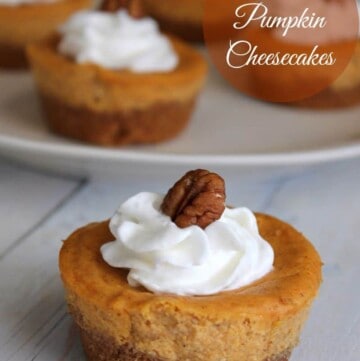 Ingredients
Cooking spray

10

full Graham cracker sheets

¼

cup

pecans

2

tablespoons

unsalted butter

soften

1

8-ounce package low-fat cream cheese, softened

1

8-ounce package regular cream cheese, softened

2

eggs

1

teaspoon

pure vanilla extract

1

teaspoon

pumpkin pie spice

½

cup

sugar

¼

cup

brown sugar

1

cup

pure pumpkin

not pumpkin pie filling

whip cream and pecans for garnish

optional
Instructions
Place graham crackers, pecans, and butter into a food processor and blend on high until you get crumbs. This takes about 2 minutes.

Spray a 12-cup muffin pan with cooking spray and line each cup with a foil strip. Spoon 2-3 tablespoons of crumb mixture into each of the muffin cups. Using a spoon, flatten the crumb mixture down into each cup to form the crust. Place the muffin pan into the refrigerator for 15 minutes. This helps the crust chill and firm up.

Place the cream cheese into a large bowl and, using a hand mixer, beat until creamy.

Add in the eggs, vanilla extract, pumpkin pie spice, both sugars, and beat until blended and creamy.

Add in the pumpkin puree and continue to beat until blended and creamy.

Preheat oven to 350 degrees.

Remove the muffin pan from the refrigerator and divided the cheesecake filling among the 12 muffin cups.

Bake for 20 - 22 minutes or until the cheesecakes are set but the center still a little jiggly.

Let the cheesecakes cool, in the muffin pan, on the counter for 30 minutes.

Place cheesecakes in the refrigerator to chill for at least 4 hours or overnight.

Using the foil handles, lift each cheesecake out of the muffin cup. If using garnish the top with a little whip cream and a pecan. Enjoy.
Notes
Make-ahead instructions
These cheesecakes can be made up to 5 - 7 days ahead of time.
Nutrition
Serving:
1
g
|
Calories:
306
kcal
|
Carbohydrates:
36
g
|
Protein:
5
g
|
Fat:
16
g
|
Fiber:
2
g
|
Sugar:
8
g