How to Freeze Cherries – A step by step guide to show you exactly how to freeze cherries so you can stock up during the summer and enjoy year round. Keep reading for some of my favorite cherry recipes!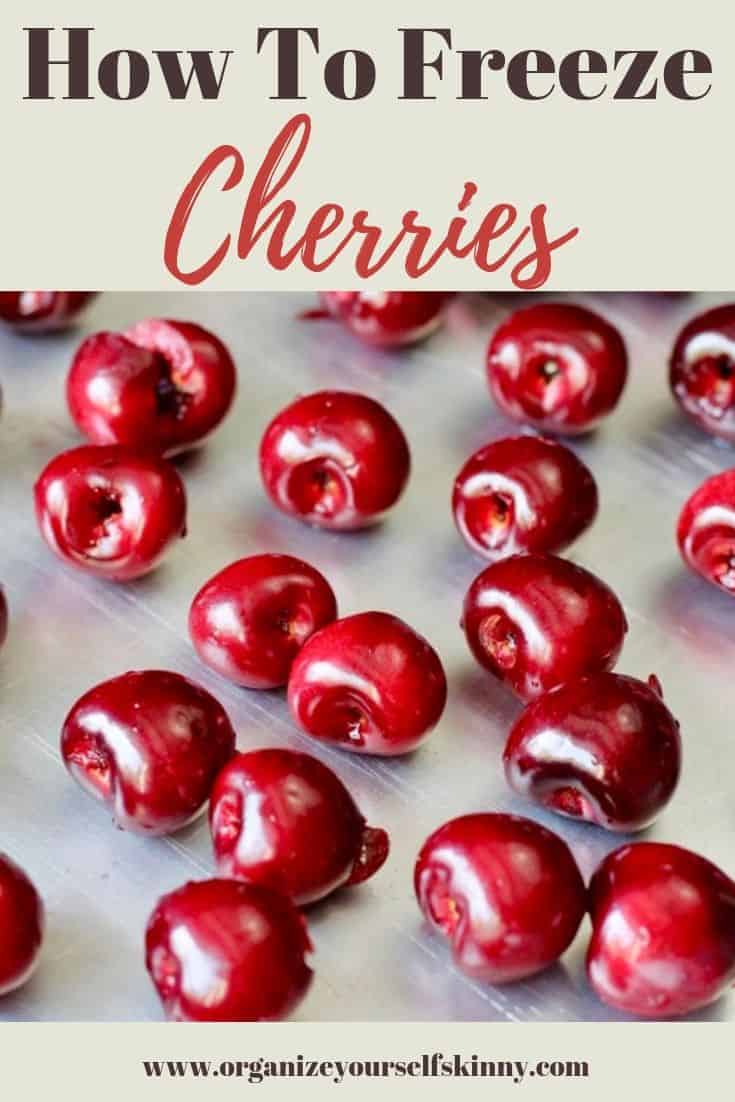 Right now it's cherry season! We need to take advantage of any fruit season here in Buffalo, NY because it's short lived. Seriously, there's like a 2 month window where we can pick fresh fruit. In June, for a couple weeks, we can grab fresh strawberries. In August, it's blueberry galore and right in the middle of the summer we have cherry season.
If you like fresh cherries then during the summer months is the time to stock up. Of course, you can't possibly eat the huge amounts of cherries that one can pick in a day so today I want to show you how to freeze cherries so you can enjoy your summer harvest year round. Last month, I showed you how to freeze strawberries.
Before I jump to the "how to's" I want to go over some cherry facts and answer some common questions.
Health Benefits of Cherries
1 cup of cherries is less than 100 calories and filled with fiber, vitamin c, potassium, and other nutrients that help your body perform at its best. Cherries definitely do the body good!
Cherries are filled with antioxidants so they work hard to keep us looking vibrant and young.
They also have anti inflammatory benefits. This means making cherries a regular part of your diet can help with arthritis relief. Cherries are also known to help with gout.
If you struggle to fall asleep then adding cherries to your diet can help with that too.
Cherries also help to reduce muscle pain after exercise.
Cherries are delicious, and make for a healthy snack, but they have benefits far beyond being a tasty treat. I truly believe in the power of food so if you want to add a nutritional boost to your diet then including cherries will definitely help.
I know finding fresh cherries year round is difficult that's why I'm going to show you how to freeze cherries so you can stock up when they're in season.
Should I pit cherries before freezing?
Yes! You want to freeze cherries so they are recipe ready. Keeping the pit in the cherry will make it very difficult to use in any recipe.
I also recommend pitting cherries if you're going to keep some in the refrigerator for snacks. My kids love cherries but the mess that is made when they're trying to remove the pit is like no other. Honestly, it almost becomes like a murder scene! Hahaha…but seriously. Pitting the cherries ahead of time keeps the cherries safe for the kids to eat and keeps my entire kitchen and couches from becoming a red cherry stained mess.
I highly recommend getting a cherry pitter. I have this one by OXO and love it. All you do is put the cherry in, press it down, and poof the pit comes out. It's under $13 and, trust me, money well spent. Click here to purchase it right now on Amazon.
How to use frozen cherries?
Frozen cherries work great in any recipe that call for fresh or frozen cherries.
My only advice would be if you use frozen cherries in a pie or baked good recipe I'd thaw ahead of time and then drain any access liquid. Too much liquid can ruin a pie or baked good recipe. A mesh strainer works great to thaw out liquid from frozen cherries. I have this mesh strainer set from Cuisinart.
Frozen cherries can be use without any issue in smoothie and overnight oats recipes.
Here are some of my favorite cherry recipes.
Black Forest (chocolate and cherries) Overnight Oats
Cherry Vanilla Flax Overnight Oats
Also, you can also throw cherries in with make-ahead yogurt parfaits or stir into some make-ahead steal cut oats. Just put the frozen cherries into the jars on meal prep day and they'll be ready to eat during the week
How long do cherries last in the freezer?
Cherries, that a properly frozen, will last up to 12 months in the freezer. This means you can pick enough during cherry season to freeze for the entire year!
Supplies to Freeze Cherries
Cherry Pitter – I have this one by OXO and it works great. You can get it on Amazon for under $13.
Sheet Pan – to flash freeze the cherries. I have this set from Nordic Ware. You can get it on Amazon for under $20.
Colander – to rinse the cherries. I have this one by OXO – it works great and is under $10 on Amazon.
Gallon size freezer bags – to freeze the pitted cherries in.
Meal prep containers – to store cherries in that you might not want to freeze. You can see all the glass meal prep containers I use in this post.
How to Freeze Cherries
Step 1: Wash cherries. When it comes to freezing cherries, and any fresh fruit, you want to make sure the fruit is completely clean. Once the cherries are frozen it'll be difficult to clean them and even after they're thawed the cherries won't be as firm making them difficult to clean. So, my advice, freeze cherries the way you plan to use them.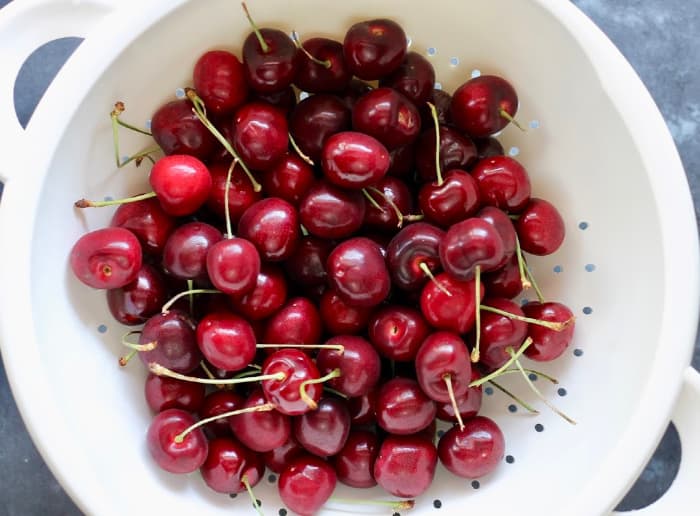 Step 2: Pit the cherries. This is essential because once the cherries are frozen it'll be near impossible to remove the pit prior to using it in a recipe. It does take a little time to pit all the cherries but it's worth it. You can make this task 1000% easier by investing in a cherry pitter. See above for the cherry pitter I have and recommend.
Also, during this step, you can slice or chop the cherries. So if you know you'll use these cherries for overnight oats, in oatmeal, or maybe in a muffin recipe then cut and freeze them into the size needed for that recipe. Of course, this isn't mandatory I just find it to be helpful.
My advice is anything, including cherries, that you're freezing for a future use should be recipe ready.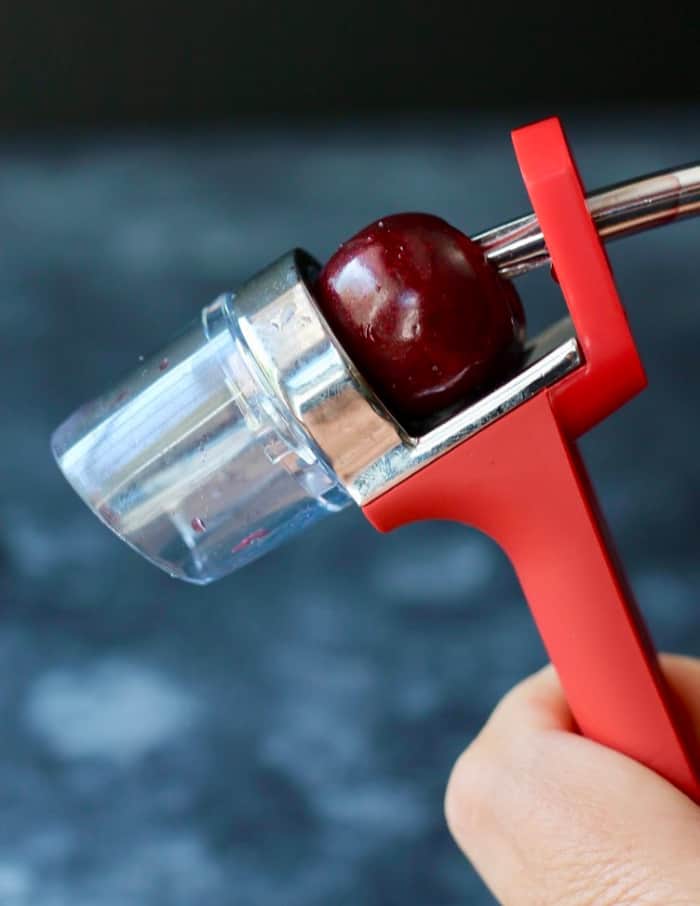 Step 3: Lay cherries flat on a sheet pan. Flash freezing cherries keeps the cherries from freezing together and forming one big cherry ball. After you lay them on a sheet pan then freeze for 2-3 hours or overnight if you can.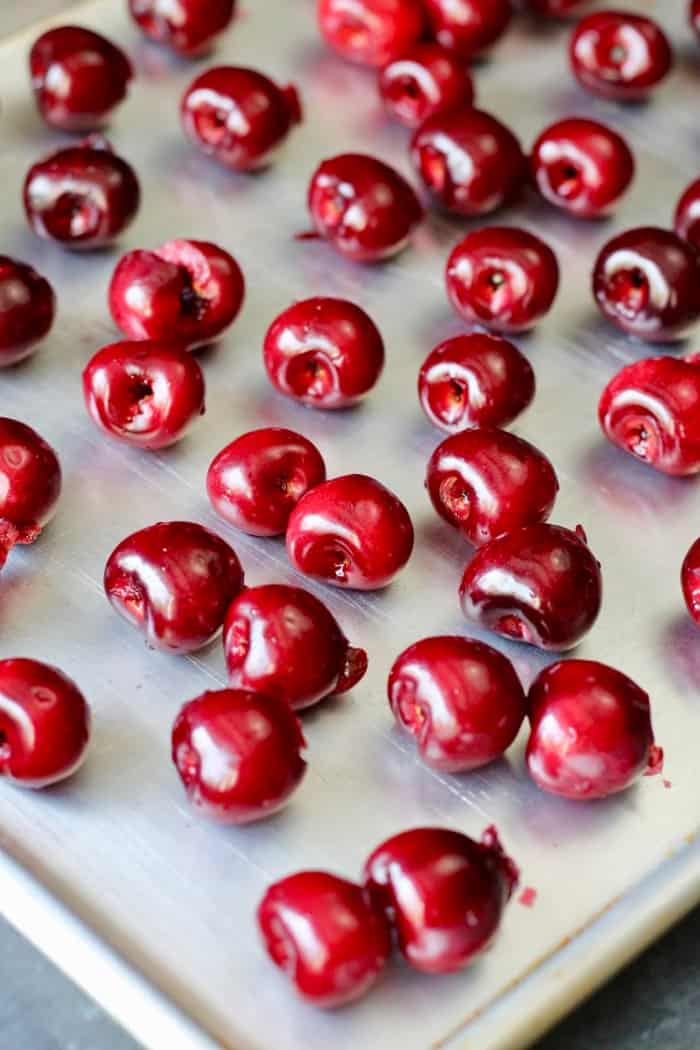 Step 4: Put into a large freezer bag. Once the cherries are frozen you can place into a large freezer bag and freeze. You can also store the cherries into smaller portioned out bags.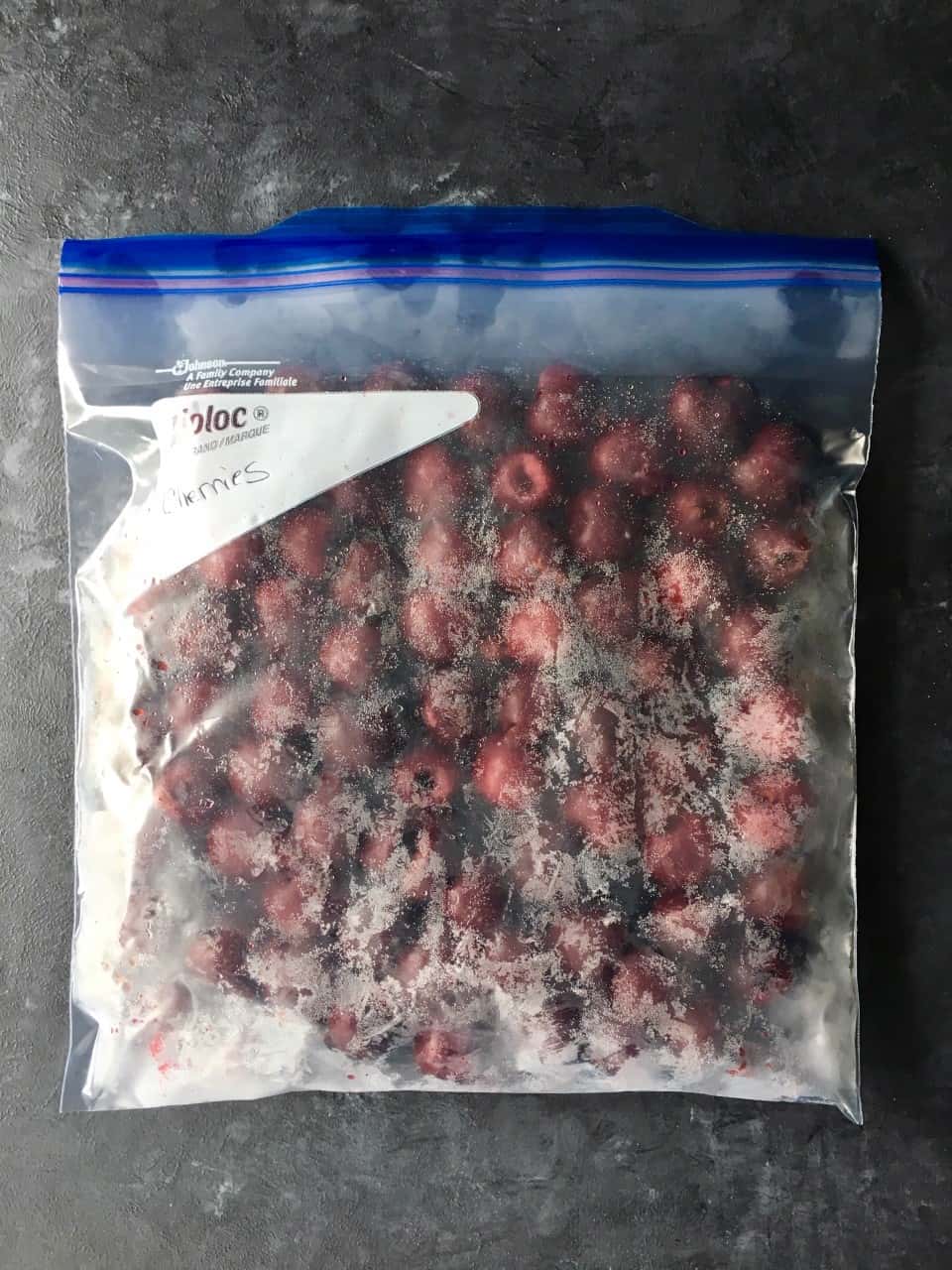 Another way to freeze cherries is to put them into frozen smoothie packs. In this case, you'd just stick the desired amount of cherries into each smoothie bag. You don't need to worry about flash freezing with this method because everything just gets thrown into a blender.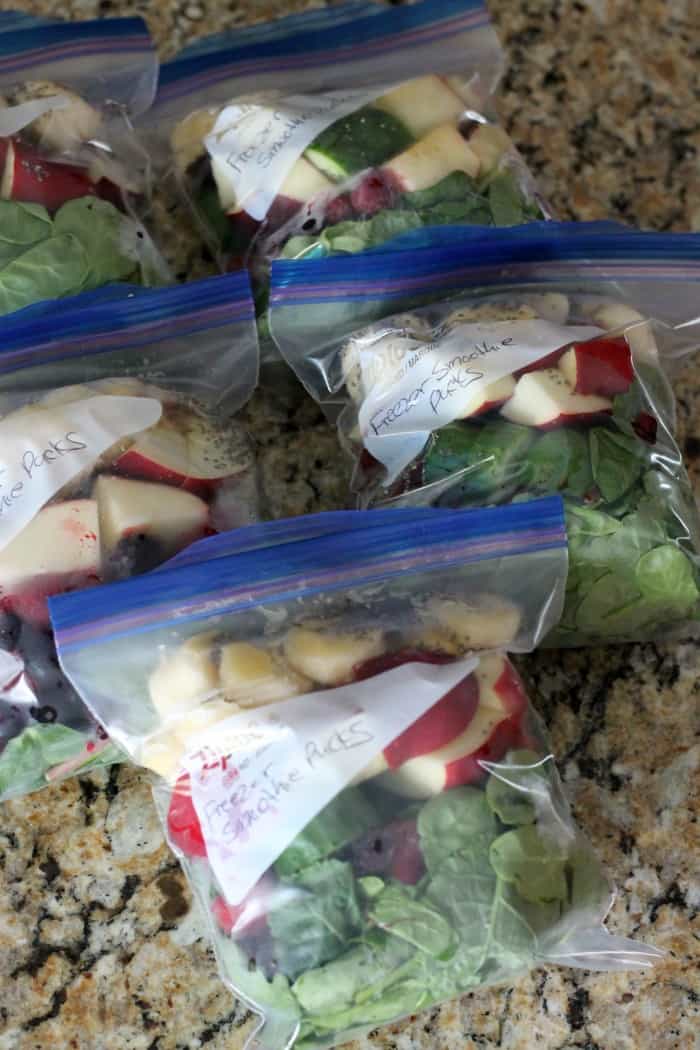 Other meal prep ideas
If you don't want to freeze cherries I still recommend taking time to pit the cherries and then store in a glass meal prep container in the refrigerator. This makes for easy for snacks.
Other posts you might like