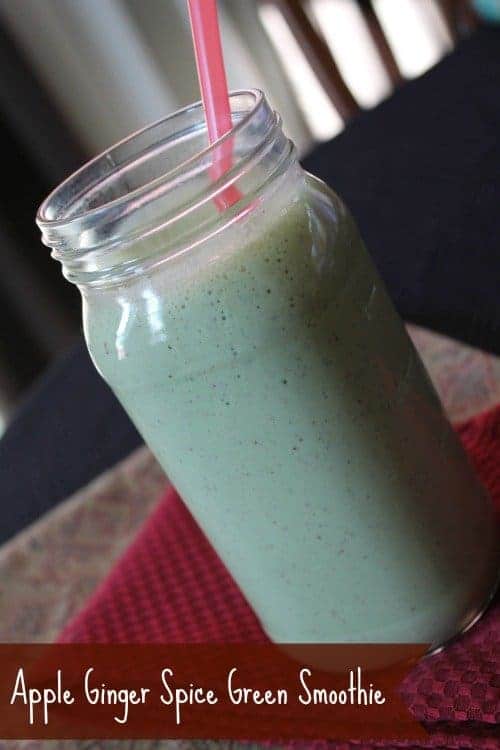 Ginger is one of those flavors that people either love or hate. It has a spicy peppery flavor and a strong aroma. For me I love the taste and smell of ginger, it is one of my favorite flavors. I find it to be a pleasant refreshing taste. My husband on the other hand, not so much. He feels that ginger can overwhelm a dish and prefers to not include it in recipes at all. So, if I decide to make a recipe that includes ginger I need to keep in mind I might be the only one eating it.
When I was brainstorming another smoothie recipe for my Vitamix my first thoughts were going towards an apple pie version. I loved the idea of having the flavors of apple pie wrapped up into a cold smoothie. As I started to put the ingredients together a couple things occured to me. First, I feel like to get the full apple pie flavor I would need to cook the apples first, then freeze, then use in the smoothie. Yep to much work. Scratch that. Second, I did not have apple pie spice. But I did have the spices that make up apple pie spice which include cinnamon, nutmeg, ground ginger, allspice, and cardamom. However, I only need a very small amount so I was not sure how much of each I should use and I new using a bunch of dry spices in a smoothie might give it a chalky taste. Scratch that.
But then I notice some fresh ginger I in my freezer. Hmmmm. I never thought to use  fresh ginger raw in a recipe before. But since I would be the only one in my house drinking this I became intrigued. I decided to do a little google searching and quickly found that many people put fresh ginger in their smoothies. So I decided to give it a try.
Vitamix states in my many of their recipes that you do not need to peel or remove edible skin from ingredients. This made me happy because that saved me the step of peeling the apple or ginger. Plus, we all know there is lots of fiber and nutrients hiding in the skin of apples. So, I chopped the apple, slice off a 1/4 inch slice of ginger then threw that into my vitamix with all the other ingredients. You can adjust the ginger to suit your taste.
In less than 2 minutes I had a delicious gingery smoothie. I loved it.
I will say the ginger flavor is front and center in this recipe. I really enjoyed it and found it to be complex yet refreshing. Every time I took a sip I was like "ooh I like this". It was good. With this smoothie recipe I opted to use coconut milk which I have to say is quickly becoming my favorite "milk" to use in smoothie recipes. It makes the smoothie silky and creamy.
If you are a ginger fan – like me – then I highly recommend giving this recipe a try.
You can find other vitamix recipes here.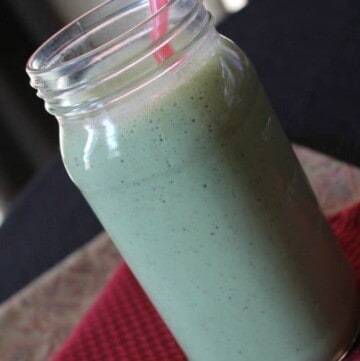 Ingredients
2

medium red delicious apple

cored and chopped

1

1/4 inch slice of raw ginger root

1/2

cup

plain greek yogurt

1/4

teaspoon

cinnamon

1

teaspoon

pure maple syrup

1

cup

unsweetened coconut milk

1

cup

kale

water if needed for consistency
Instructions
Place all ingredients into the Vitamix container in the order listed and secure lid.

Select Variable 1. Turn machine on and slowly increase speed to Variable 10, then to High.

Blend for 1 minute or until desired consistency is reached. Add water, if needed, for thinner consistency. Serve immediately.
Nutrition
Serving:
1
g
|
Calories:
308
kcal
|
Carbohydrates:
58
g
|
Protein:
13
g
|
Fat:
5
g
|
Fiber:
11
g
** Disclosure: I was provided with a Vitamix blender along with compensation to purchase ingredients for this recipe. All opinions are my own.