Banana Overnight Oats – This overnight oats recipe uses basic pantry ingredients and is the perfect beginner meal prep recipe. Make a few jars on Sunday to enjoy throughout the work week.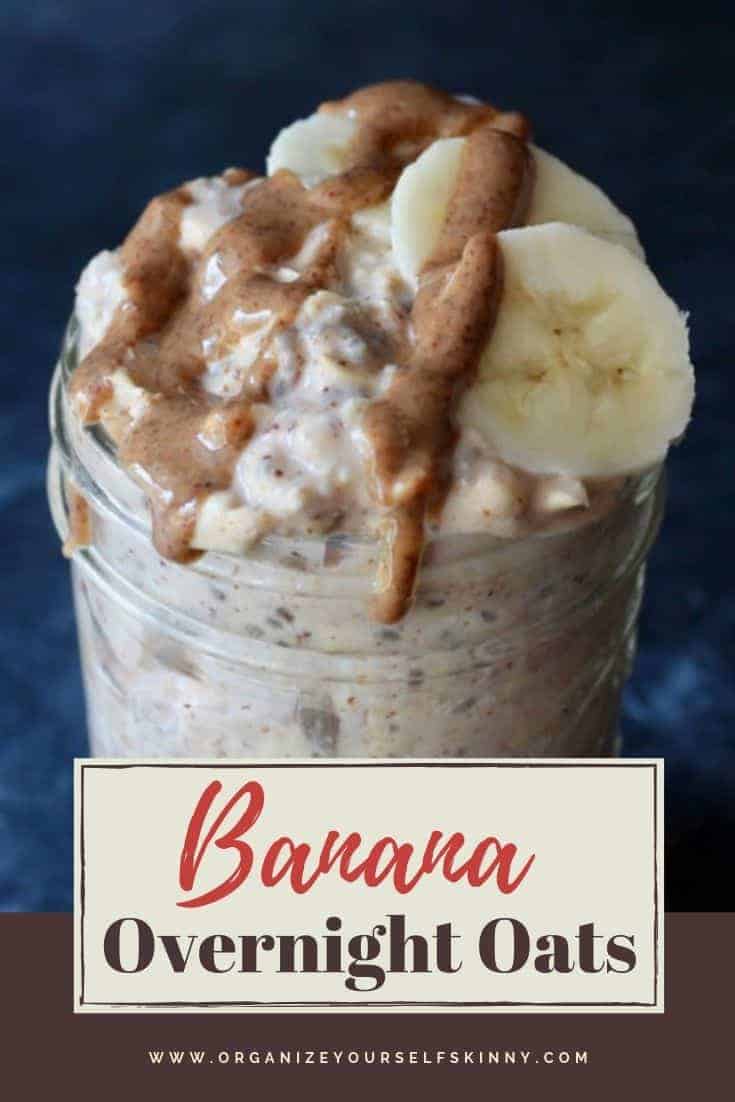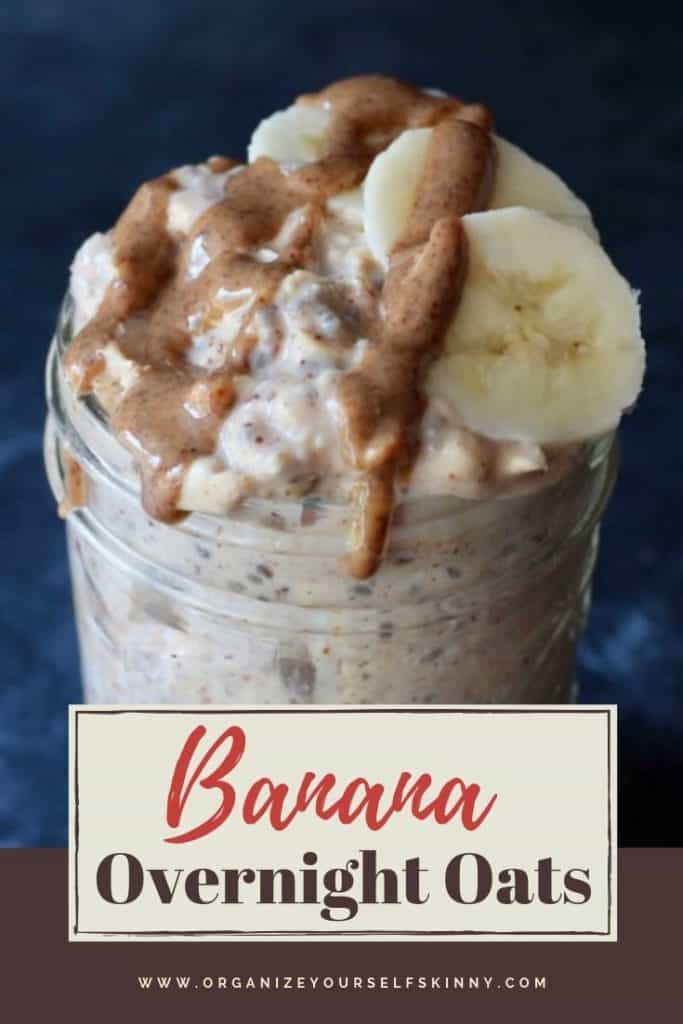 It's been an overnight oats party lately on the blog! You know me, once I get a hankering for a recipe I tend to go with it for a a couple weeks or so. Plus it's still summer. Of course, I love overnight oats year round but during the summer months I'm all about no-cook easy meals.
Anyway, today I want to share a basic banana overnight oats recipe that's perfect for beginner meal prep. Not to mention, it uses ingredients that are, most likely, sitting in your kitchen. This means it's easy and you don't need to go and spend extra money. My kind of recipe!
Before I jump into the easiest recipe on earth I want to answer some overnight oats questions. I do have this easy overnight oats tutorial I put together but just in case you don't want to click over lets go over some of the basics.
What are Overnight Oats?
If you're new to overnight oats, let me quickly explain. Basically, overnight oats are rolled oats processed overnight in milk to create a creamy pudding-like breakfast. They are meant to be consumed cold but you can warm them up on the stove or in the microwave.
Since I discovered overnight oats (about 8 years ago) I've made many many MANY jars. The basic formula I use is this:
1/2 cup rolled oats + 1/2 cup milk (any milk but I prefer unsweetened coconut milk) + 1 teaspoon chia seeds.
If you don't have chia seeds you can leave them out but I find they help create that pudding-like texture plus chia seeds adds a huge boost of nutrition. You can find chia seeds in the nature section of your grocery store or purchase online on Amazon or Thrive Market.
How to Make Overnight Oats?
Overnight oats gets its name because the oats need to sit overnight in the refrigerator prior to eating. So after you combine all the ingredients into a mason jar then stick it in the refrigerator and let it process overnight.
In the morning, give the oats a couple of stirs and enjoy them. Now, the oats might be on the thicker side after sitting all night. If this is the case, stir in a few more splashes of milk until you get the desired consistency.
If you'd like a step by step tutorial (and more recipes) then check out my How to Make Overnight Oats tutorial.
Can you use steel cut oats?
I think this is one of the top questions I get about overnight oats recipes. The short answer is not really. I've tried to make overnight oats using steel cut oats a few different times and it never works out. The steel cut oats never seem to process completely and you're left with crunchy oats – and this was even sitting in the milk for 3 days!
A solution I've seen from other bloggers is to slightly cook the steel cut oats prior to using in the overnight oats recipe. However, the whole point of overnight oats is they're no-cook so I feel that defeats the purpose.
In my opinion, I don't feel steel cut oats are meant for overnight oats recipes.
Can I use instant oats?
Instant oats are meant to process quickly so if you let them sit overnight in milk you'll end up with mush. So again, no these don't work.
My advice is to stick with rolled oats. They work perfectly for overnight oats recipes.
Where to purchase rolled oats?
Rolled oats, also called old-fashion oats, can be purchased in any grocery store. You can find them in the cereal/breakfast section next to all other oatmeals. You can also purchase rolled outs from the bulk section – this is a great way to only purchase the amount needed.
Do I need to use a mason jar for overnight oats?
Honestly, any container will do. Personally, I prefer glass mason jars because they help with portion-control and I feel keep foods fresh longer. But, if you don't have mason jars, then use what you have.
Let's move on to this basic Banana Overnight Oats recipe.
Step 1: Mix together rolled oats and chia seeds.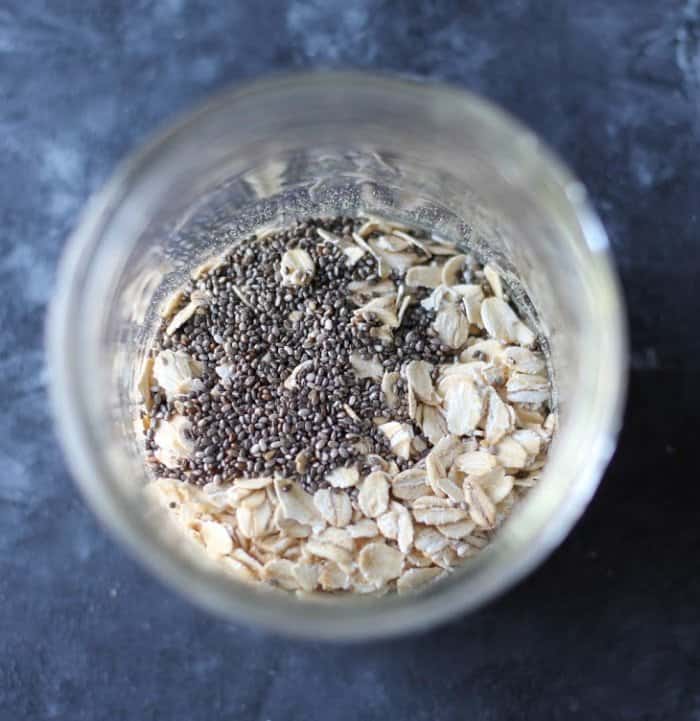 Step 2: Add in the banana and milk, then stir everything together. You can also add in some nut butter, like I did here. I love adding almond butter or peanut butter for extra protein. Adding 1 tablespoon brings this jar of overnight oats to 9 grams of protein. But if you want to keep the fat and calories on the lower side then keep the nut butter out.
Also, I just want to mention that the more ripe the banana is the sweeter your overnight oats will be. You can either mash up the banana or simply slice it up. You can even use bananas that you have frozen. I've done it all ways and either one will get you a nice banana flavor. Basically, use what you got!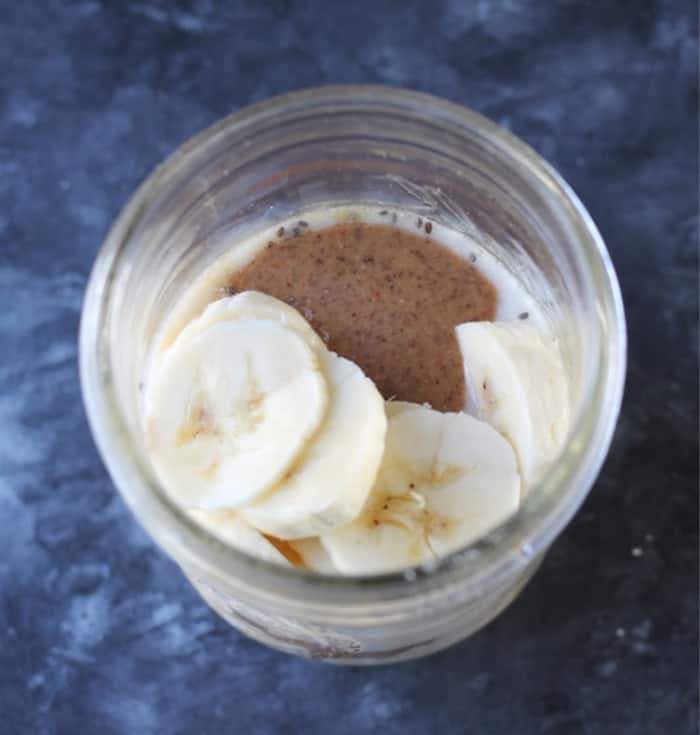 Step 3: Mix it all together. The oats should be completely submerged in the milk so, if needed, add more milk to the jar. Add some more bananas on top if you like.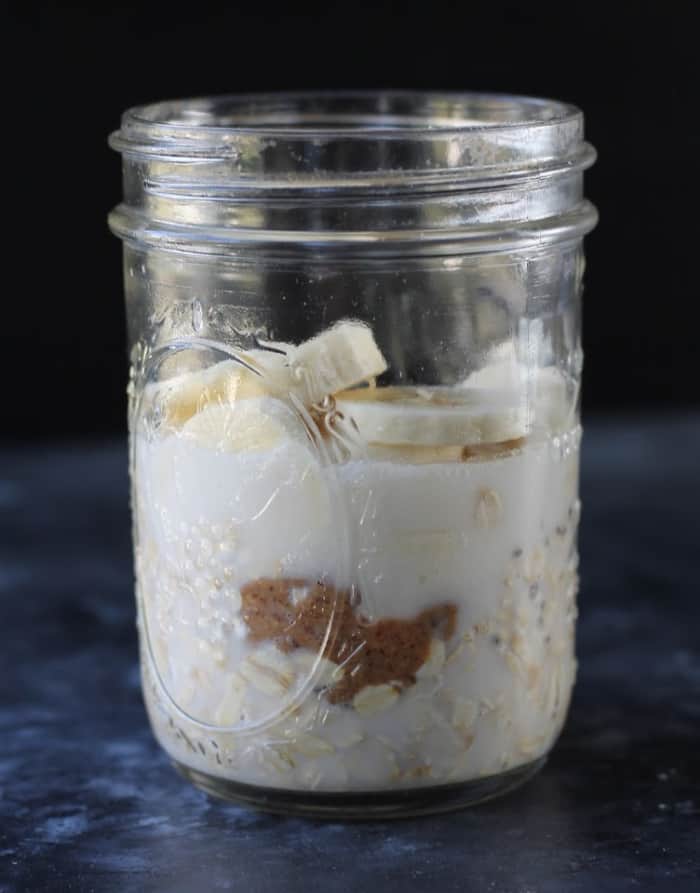 Step 4: Stick the banana overnight oats in the refrigerator overnight. In the morning, give it a couple of stirs and add more milk, if needed, to loosen it up. The bananas provide a lot of sweetness to the oats but if you need a little extra then stir in some pure maple syrup or honey. 1-2 teaspoons should be sufficient.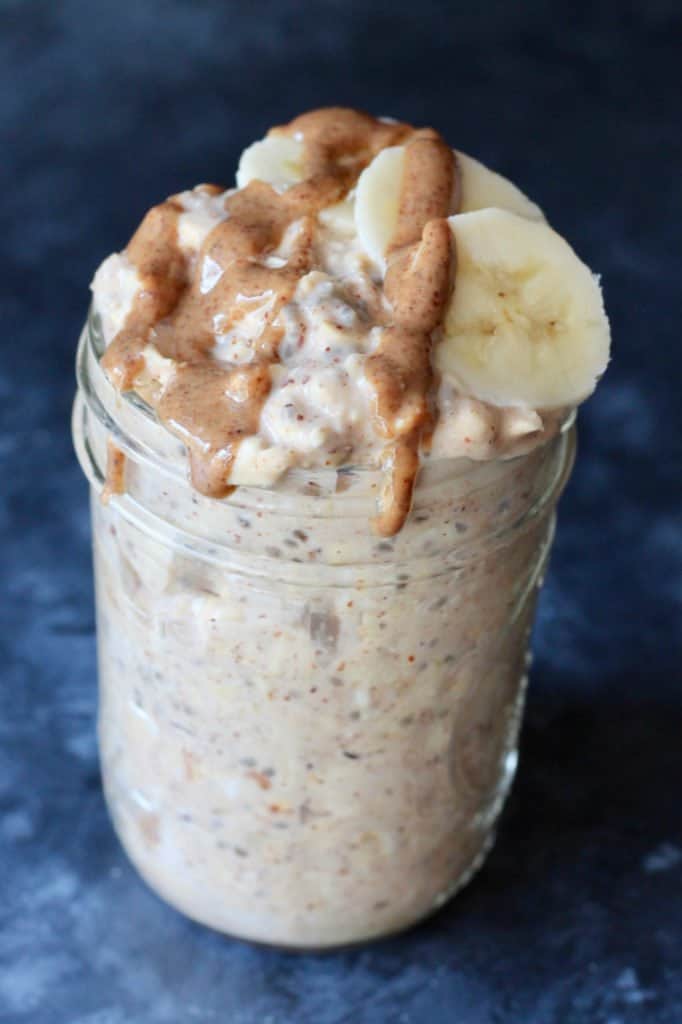 Again, you can leave the nut butter out but I love it. Almond butter swirled into this basic banana overnight oats recipe brings it to the next level.
Like I said earlier, this is the perfect beginner meal prep recipe. If you're looking for a wholesome portion-controlled breakfast, that can be made with basic pantry ingredients, then definitely keep this recipe in mind. You can easily make 2-3 jars on Sunday for a healthy on the go breakfast (or snack) during the week.
Supplies for Banana Overnight Oats
Rolled Oats – Bob's Red Mill are the ones I use the most.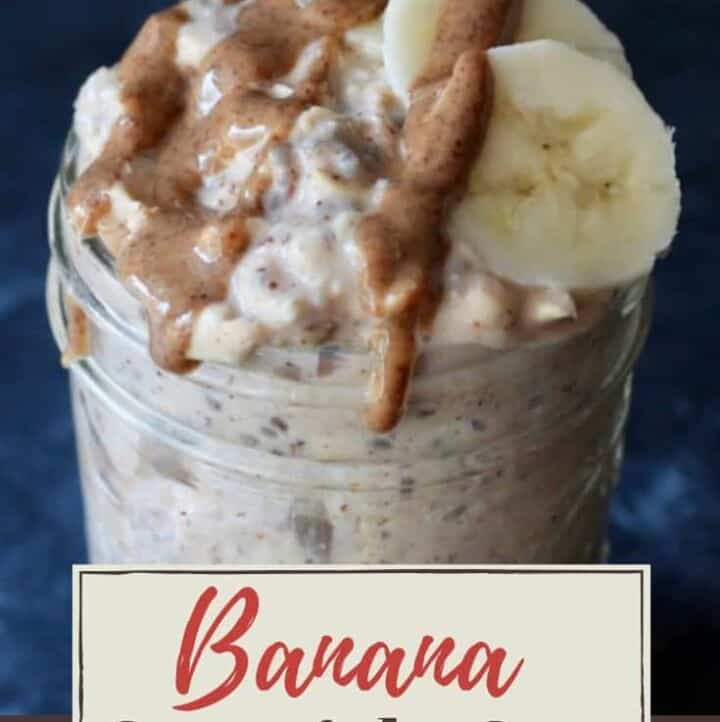 Banana Overnight Oats
Banana Overnight Oats - This overnight oats recipe uses basic pantry ingredients and is the perfect beginner meal prep recipe. Make a few jars on Sunday to enjoy throughout the work week.
Print
Pin
Rate
Ingredients
1/2

cup

rolled oats

1/2

cup

unsweetened coconut milk

1

teaspoon

chia seeds

1/2

banana

1-2

teaspoons

pure maple syrup
Instructions
Combine all ingredients in a 16-ounce mason jar.

Stir everything together and add more milk, if needed, to completely cover the oats.

Put the lid on and place in the refrigerator for at least 5 hours or overnight.

Give the oats a couple stirs and add more milk, if needed, to loose up the oats.

Enjoy
Notes
**If you add 1 tablespoons of almond butter this changes the nutritional information to:
Calories: 373 Fat: 16 Sugar: 17 Protein: 9 Fiber: 8
Make-ahead instructions
This recipe can be made 2-3 days ahead of time.
Nutrition
Serving:
1
g
|
Calories:
278
kcal
|
Carbohydrates:
51
g
|
Protein:
7
g
|
Fat:
7
g
|
Saturated Fat:
3
g
|
Fiber:
7
g
|
Sugar:
16
g
Other Overnight Oat Recipes
Blueberry Banana Overnight Oats
Chocolate Cherry Overnight Oats