Whether you want to eat healthier, lose weight, reduce stress, or get your grocery budget under control, meal prep can be the solution. Here are my best beginner meal prep tips to help get you started!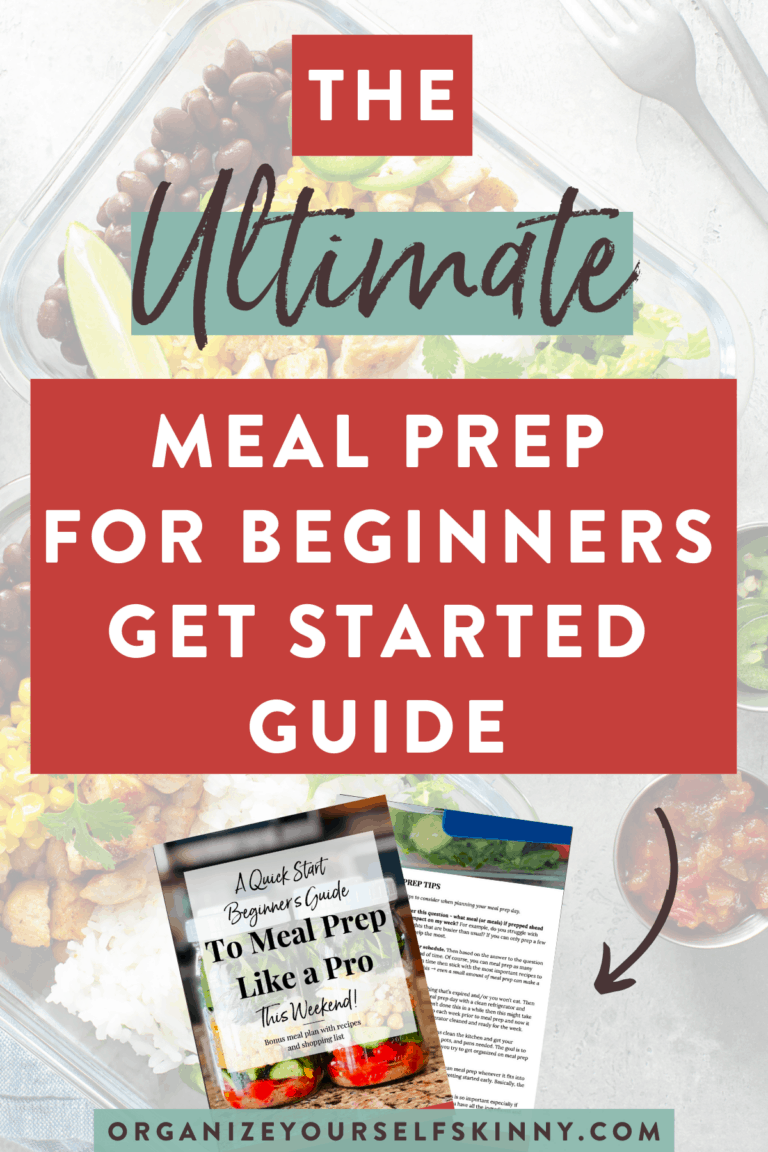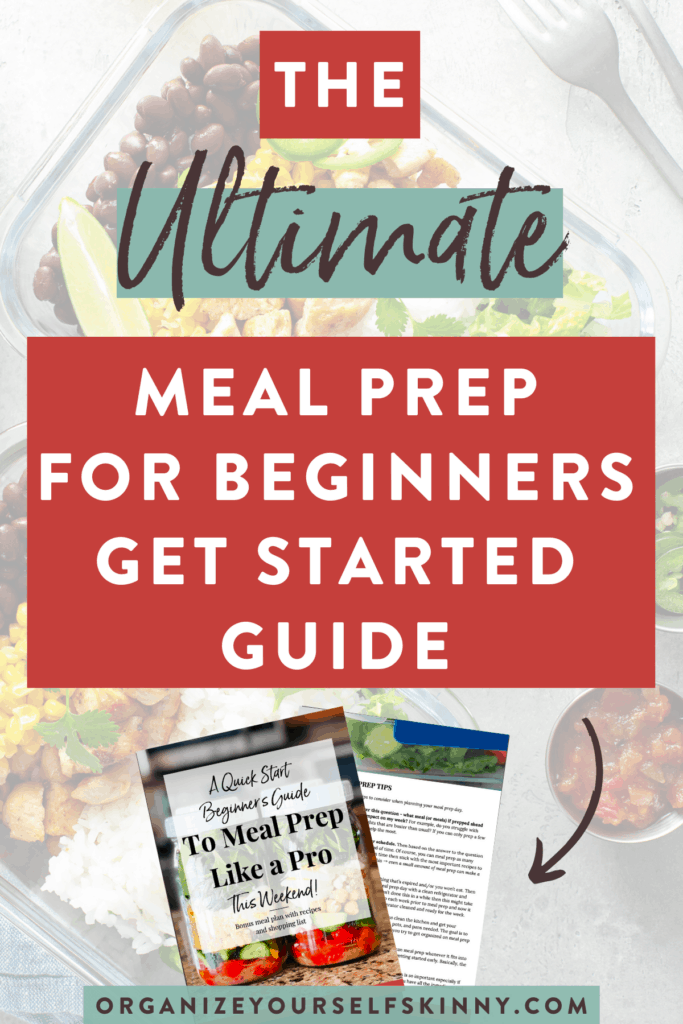 When I first started to meal prep, my main goal was to have healthy food ready during the week. I wanted to lose weight and the first step was to ditch the frozen pizza and start preparing more food at home.
However, like you, I'm a busy woman and don't have time to cook from scratch every night. So, I started cooking food on the weekend to have ready during the week. At first, I didn't realize I was "meal prepping". I was just doing what I had to do to eat healthy.
Meal prep has since been a huge game-changer for me and the #1 reason I successfully changed my eating habits and dropped 30lbs in the first 6 months. It's incredible how easy it is to eat healthy when foods are ready ahead of time. #genius
Sure, I'll admit—it takes more time (and effort) than ordering take out or throwing a frozen "whatever" in the oven but it's exactly what I needed to fit homemade nutritious food into my busy week.
Meal prep worked wonders with my healthy eating habits but here's what I didn't expect.
All Of The Amazing Benefits
My goal with this beginner meal prep guide is to obviously teach you. I want you to understand all of the "how to's" and to answer all your questions. BUT, I also want to convince you that meal prep is the solution to many of life's challenges.
Time-Saving
I had no idea the time I'd save during the week by preparing food on the weekends. The 1-2 hours I'd spend getting dinner ready after work was slashed to no more than ½ hour. Not to mention I didn't have to listen to my kids whine about their starvation. Depending on the meal, all I needed to do was to come home from work, warm-up dinner, possibly prepare a couple of other things (salad, pasta, etc.), and dinner was ready.
No More Binge Eating
Also, now that I think about it, having dinner ready prevented the snacking I'd do while waiting for dinner. Not only were my kids hungry, but so was I! So, most nights I'd eat 500 – 700 in random calories while I was desperately trying to get dinner together.
Meal prep has solved this problem!
Easy Clean-Up
Oh and let's talk about clean-up. Cleaning up after dinner became a breeze once meal prep entered my life. I didn't need to scrub pans, wash cutting boards, or soak any dishes. Nope! All I had to do was clean up the dishes we used to eat.
Better Eating Habits
But, it wasn't just dinner. Preparing lunch for the week changed my eating habits significantly. My lunches used to be a cheese sandwich, a bag of Doritos, possibly a cheese stick, and maybe an apple that only came along for the ride because I barely ate it.
I was starving by 3:00pm.
At that time, I'd dig up some loose change and head over to the vending machine to get either a candy bar or another bag of chips. Does any of this sound familiar? Puuhhhlease tell me I'm not alone?
Once I started preparing mason jar salads everything changed. Every day, I'd enjoy a delicious salad FILLED with vegetables and lean proteins. I ate more veggies during lunch than I used to eat all week…possibly all month.
Even better, my salads kept me satiated until 3:00 pm snack time where I'd have some almonds (that I brought with me) or a cheese stick. I came to work prepared and it paid off!
As I said, I started meal prep to eat healthier. Obviously, that worked, but I didn't realize some of the other benefits that'd come my way.
Less Stress
Also, meal prep led to less stress!
Think about it…
As a busy working mom to two little girls (in daycare at the time), stress and chaos became the norm. Having meals ready to eat made life much easier. I didn't have to worry about preparing lunches every morning or figuring out what to make for dinner.
Everything was done on Sunday! That stress was removed from my week!
Money-Saving
Another unexpected benefit was I started to get control over my grocery bill. By putting a meal plan together, and preparing those foods ahead of time, I only bought the ingredients I needed. So, even though I was purchasing higher-quality foods, I was actually saving money.
My grocery cart wasn't filled with frozen pizzas, banquet chicken, or frozen garlic bread anymore. It was filled with clean wholesome ingredients that I was going to use in possibly more than one recipe.
No More Throwing Out Food
Last, preparing foods ahead of time led to less food waste. As I said, I knew what I was going to eat ahead of time and that's all I purchased.
Preparing food ahead of time assured it was ready to eat. So, no longer was I purchasing ingredients for a recipe and throwing everything out by Friday because I ran out of time to cook it. I didn't have a pantry filled with boxes of processed foods or a freezer filled with mystery packages. I knew the foods I needed and that's what I bought and prepped.
Beginner Meal Prep
Meal planning and prep made me very intentional (and organized) with food and, ultimately, this helped me eat healthier, lose weight, save money, and reduce food waste! Win all around!
Have I convinced you that meal prep is the way to go? Great! Here are my best beginner meal prep tips to get you started.
Tip #1: Clean Out Your Pantry, Fridge, And Freezer
This beginner meal prep tip is at the top of the list for a couple of reasons.
First, you need to get rid of all the trigger foods and ingredients that you don't need anymore. Your home is your castle. It needs to be set up to support your weight loss efforts, NOT sabotage them.
A word of advice, don't rely on willpower when you're at home. Trust me, you'll need to dig into willpower enough when you're out in the world. Fill your home with the foods you can eat.
Second, you need to make room for all the new healthy meals coming into your kitchen. You don't want mason jar salads competing with a 2-week old container of Rice A Roni.
Just saying…clean it out and get rid of it.
Bonus tip: The goal is to look into your pantry, refrigerator, and freezer and find healthy ingredients you can prepare a meal with. Better yet, you want to find healthy meals ready to eat. The less work you have to do to eat healthy the better. Check out this list of healthy pantry staples I put together.
Keep this in mind- Your kitchen needs to become the biggest weight-loss tool you have. Not to mention, you feel 100% better when your kitchen is clean and organized. I know I do!
Here's a list of everything to get rid of.
Pantry
Cream of anything soup.
Canned goods that been there since you got married in 2002.
Boxes of processed rice or pasta meals. These have tons of sodium and weird ingredients. Yes, I know they're good but let's get rid of it and move on to home rice bakes!
Packages of cookies.
Basically anything that's expired, old, and you'll never eat or use it.
Refrigerator
Expired anything.
All the containers of "leftovers" in the back of the refrigerator.
Salad dressing and condiments that have been sitting there forever.
Spoiled vegetables and fruits.
Anything you'll never eat or use.
Freezer
All the mystery packages. If it's not labeled, and you don't know what's in it, then get rid of it.
All the junk. Frozen pizzas, fried chicken, and every other process food from the freezer section.
Now, if you can't stand the thought of throwing food out, then either donate it or spend a couple of weeks eating it up. However, if you don't know what's in that freezer bag, or container in the fridge, then just get rid of it.
Could it be chicken, leftover macaroni and cheese, or maybe a piece of pie from Thanksgiving? Who knows?! Chuck it!
After you clear out the food then wipe everything down. You want to start with clean shelves.
This should only take 1-2 hours at the most. But, once it's done, then you're ready to start stocking your kitchen with healthy foods and ingredients.
Beginner meal prep bonus tip: Get into the habit of cleaning out your refrigerator, freezer, and pantry prior to grocery shopping every week. Once the big clean out happens, it's easier to organize every week.
Tip #2: Get Your Meal Prep Containers
When I first started to meal prep, I used the containers I had available. Basically, I had a collection of Gladware and Ziploc plastic bags and containers. You can certainly do the same thing.
My advice is to simply organize everything so you know what you have and still need.
Over the years, I've expanded my meal prep container collection.
This is what I use now!
Mason jars are probably my favorite meal prep container and the one I use the most. Every week, I use them for mason jar salads but I also use them to make:
Yogurt parfaits
Transport and store smoothies
Keep fruits and vegetables fresh
Store and freeze soups
In my opinion, mason jars are my most utilized meal prep container!
I use 32-ounce and 16-ounce wide mouth mason jars the most. You can purchase them at any grocery store, Target, and/or Walmart. Of course, you can get mason jars from Amazon too!
If you do purchase mason jars, I recommend purchasing a set of plastic lids too. I discovered these over a year ago and they have been super beneficial.
Mason jars come with metal lids but those will rust over time. The plastic lids work great and wash nicely with no issues.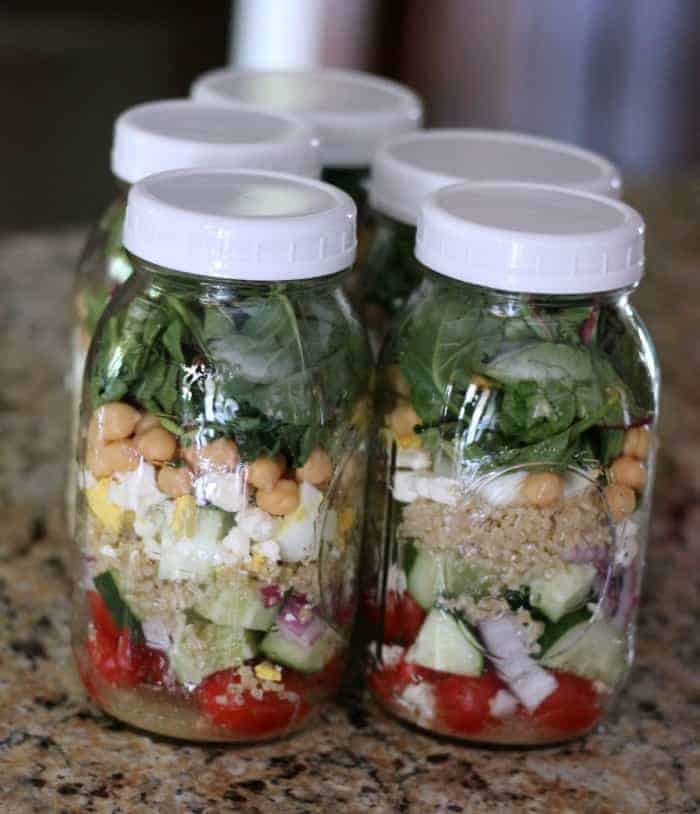 Glass Meal Prep Containers
Originally, I started with plastic containers. I still use plastic but have moved towards using more glass. Personally, I think glass containers keeps meals fresh longer. Also, if you're worried about putting plastic in the microwave, then glass is a great alternative.
I own 2 sets of Pyrex Simply Store. These come in all sizes! I love the 3-cup rectangle size you see in the picture below. You can purchase these containers at Target, Walmart, or on Amazon.
If you are interested, you should take a look at this blog post I put together showcasing all of the best glass meal prep containers money can buy!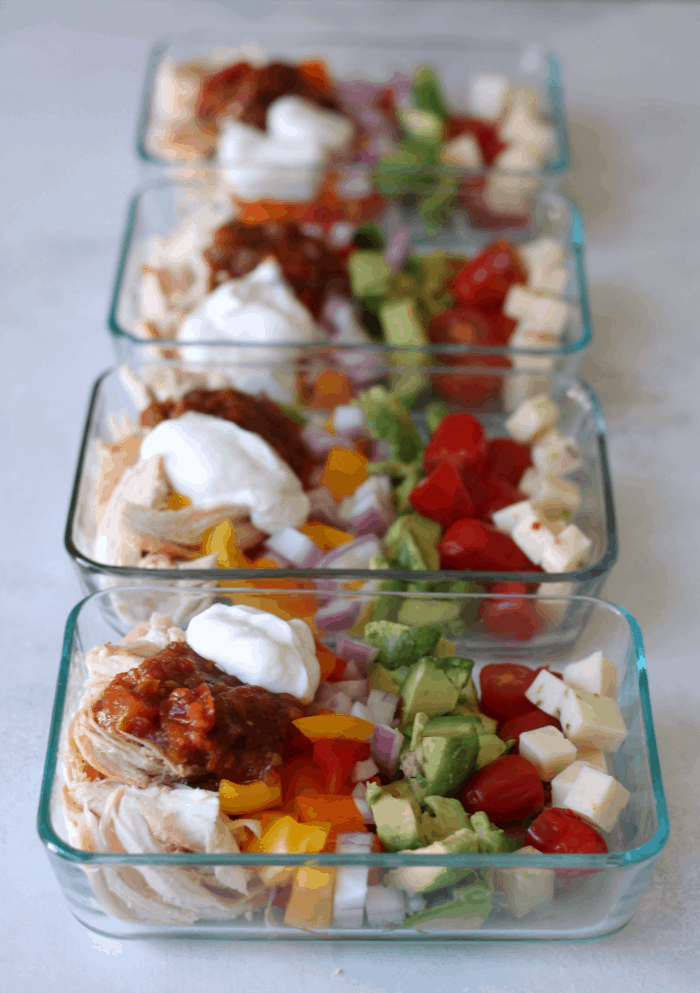 I also recently purchased a set of 5 glass meal prep containers. These work great too for salads and other meal prep recipes. I haven't seen these in stores, I purchased mine from Amazon.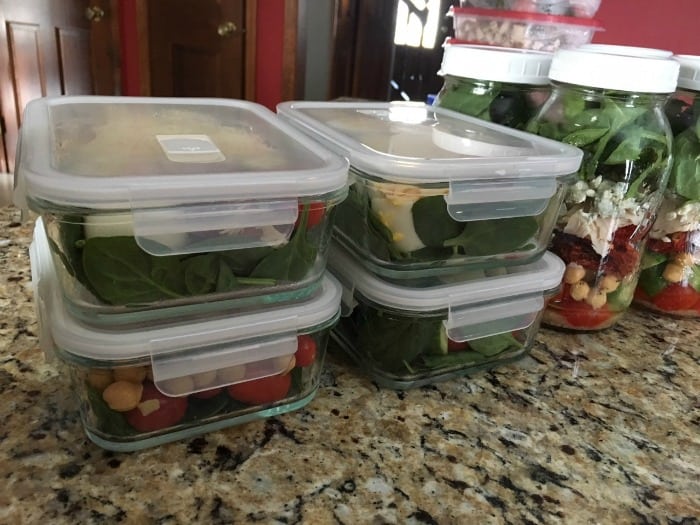 Plastic Containers
Like I said, I still use plastic containers. I have a bunch, in all different sizes from Gladware and Ziploc.
I've also purchased the meal prep containers you see below that are specifically designed for portion-controlled meal prep recipes. I got these containers from Amazon, of course.
Bonus tip: The meal prep container you'll use depends on the recipe. However, I recommend having a variety of meal prep containers so you have options regardless of the recipe you're preparing.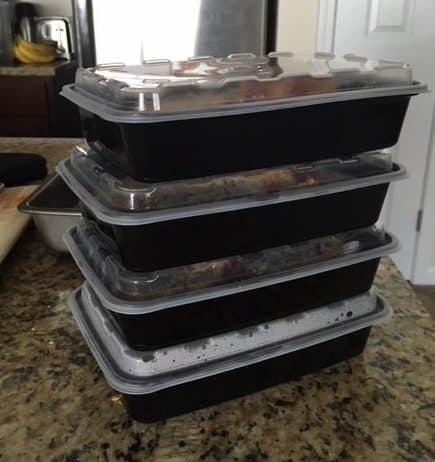 Tip #3: Plan Out Your Meals
Meal prep isn't exactly a "fly by the seat of your pants" kind of thing – you need to put together a meal plan first. This makes sense because how would you know what to prep if didn't know what you're eating.
I could go on and on about meal planning. But, for the purpose of this beginner meal prep post, I'll keep it simple.
Here are some basic meal planning tips.
Since the goal is to eat healthier and lose weight, you want to plan recipes that reflect that.
To keep it simple, don't plan a new recipe for every meal. Try to eat the same thing for breakfast and lunch every day. For example, I drink a smoothie every morning and eat a mason jar salad every afternoon. So, I only need to make one recipe for both meals during the week. For dinners, I try to double-dip recipes, use my slow cooker on busy days, and prepare as much ahead of time for dinners during the week.
Save your meal plans (and grocery lists). Trust me, you'll thank me! Type it into a google doc and save it in google drive. Over time, you'll have a collection to pull from and this will make the entire process so much easier.
Check your schedule before planning any meals for the week. For meal planning (and prep) to work, it's essential that the meals you make reflect your schedule.
Put together your grocery list the same day you prepare your meal plan. Again, this makes it easier and streamlines things. Don't forget to save it! Another tip is to write out your grocery list in order of how your grocery store is laid out. This will help you move through the grocery store a lot faster!
Tip #4: Don't Meal Plan, Grocery Shop, And Prep On The Same Day
If you try to do all three in one day, that'll become a recipe for disaster. I understand life happens, and sometimes you have no choice. Just don't make a habit of it.
Trust me, you'll burn out faster than you can say meal prep!
I recommend putting together a meal plan during the week, grocery shopping Friday or Saturday, and then prepare meals first thing Sunday morning.
That's the schedule I find works best.
If you absolutely hate to meal plan and/or grocery shop, then keep in mind there are other options. You sign up with a meal planning service like Emeals. Emeals puts together weekly meal plans and sends it directly to your email. They have a variety of meal plans to choose from so check it out and see if it's something that'd work for you!
Or, if you want meals delivered to your door, check out a meal kit delivery service. My favorite healthy meal kit companies are Green Chef and Sun Basket. I shared my experience with both of these companies in my reviews. You can read each of them here:
If you don't mind preparing a meal plan but don't want to grocery shop, then consider ordering groceries online from Thrive Market. You can read my Thrive Market Review for more info
You can also get organic grass-fed high-quality meat from Butcher Box Online Meat Delivery. You can read my Butcher Box Review for more info.
The point is, there are a lot of options available now to help all of us fit a healthy lifestyle into our hectic schedules.
Tip #5: Setting Up Your Meal Prep Day
Yay! You made it to meal prep day! Now what?
The first thing you need to do actually happens the night before. Make sure your kitchen is clean and all of your containers are washed and ready to be used. Trust me, you DO NOT want to wake up to a messy kitchen and search for containers. Nope, you want to hit the ground running.
Of course, depending on the recipes you're making, your meal prep day might look a little different.
Example Of a Schedule For Meal Prep Day
In general, this is what I recommend.
Start slow cooker recipes first. Obviously, those take the longest to cook so getting them started makes sense.
Then, start cooking any ingredients you'll use for other recipes. For example, I need to cook the quinoa and hard-boiled eggs for my Protein Power Mason Jar Salad, so I get those going right away.
While those ingredients are cooking, I'll start a dinner recipe. For example, I'll make taco meat or prep a meatloaf recipe. Or, maybe I'll prep vegetables for a sheet pan dinner later in the week.
Then, put together the mason jar salads.
After the slow cooker recipe is done, let it cool slightly, then store it in the refrigerator (or freezer). The slow cooker recipes I typically make on meal prep day are shredded chicken or other shredded meat recipes that I plan to use in other recipes during the week. For example, shredded Buffalo chicken to use on subs and later in macaroni and cheese.
If you have the energy, prep the slow cooker insert with another recipe for the next day. Then, I'll just store the insert in the refrigerator and get it started in the morning. If I don't plan to eat the slow cooker recipe until later in the week, then I'll put everything into a large freezer bag and stick into the freezer. I'll take it out the day before we plan to eat it and then dump it into the insert the morning of and continue with the recipe.
After you're done with meal prep, clean up the entire kitchen. Then, sit back and bask in the glory of accomplishment! It feels amazing going into the work week prepared with healthy meals!
Bonus Tips:
You don't have to prep your entire meal plan. Focus on the meal that'll make the biggest difference in your week if prepared ahead of time. For me, I need lunches or I'll struggle. So, I make sure if nothing else gets prepped, at least mason jar salads are done.
Wear comfortable shoes. Being on your feet for a couple of hours does not feel good on the back.
Have music ready or your favorite show on. Catch up on your favorite shows during meal prep time. I do this and now I actually look forward to meal prep so I can watch some Bravo reruns!
Try to put everything in clear containers and/or label so everybody knows what's in the refrigerator.
Keep your meal plan handy so you don't forget what to eat that day.
Freeze food you're not able to eat.
If you feel overwhelmed, or short on time, know that you can adjust meal prep to meet your needs and situation. Start small with meal prep and as you become comfortable add more on. Once you start to experience the benefits of having food ready, I know you'll want to keep going.
At the end of the day, there isn't a right or wrong way to meal prep. It's really about what works for you.
Ultimately, the goal is to have nutritious food and meals available so it's easier to make healthy eating choices throughout the week. Meal prep is a tool to help you do just that.