If you are wondering how to jumpstart or support your healthy style when it comes to meals and recipes, weekly meal prep is essential. In this beginning meal prep guide, I share how to meal prep for the week, easy meal prep ideas, and the best meal prep recipes!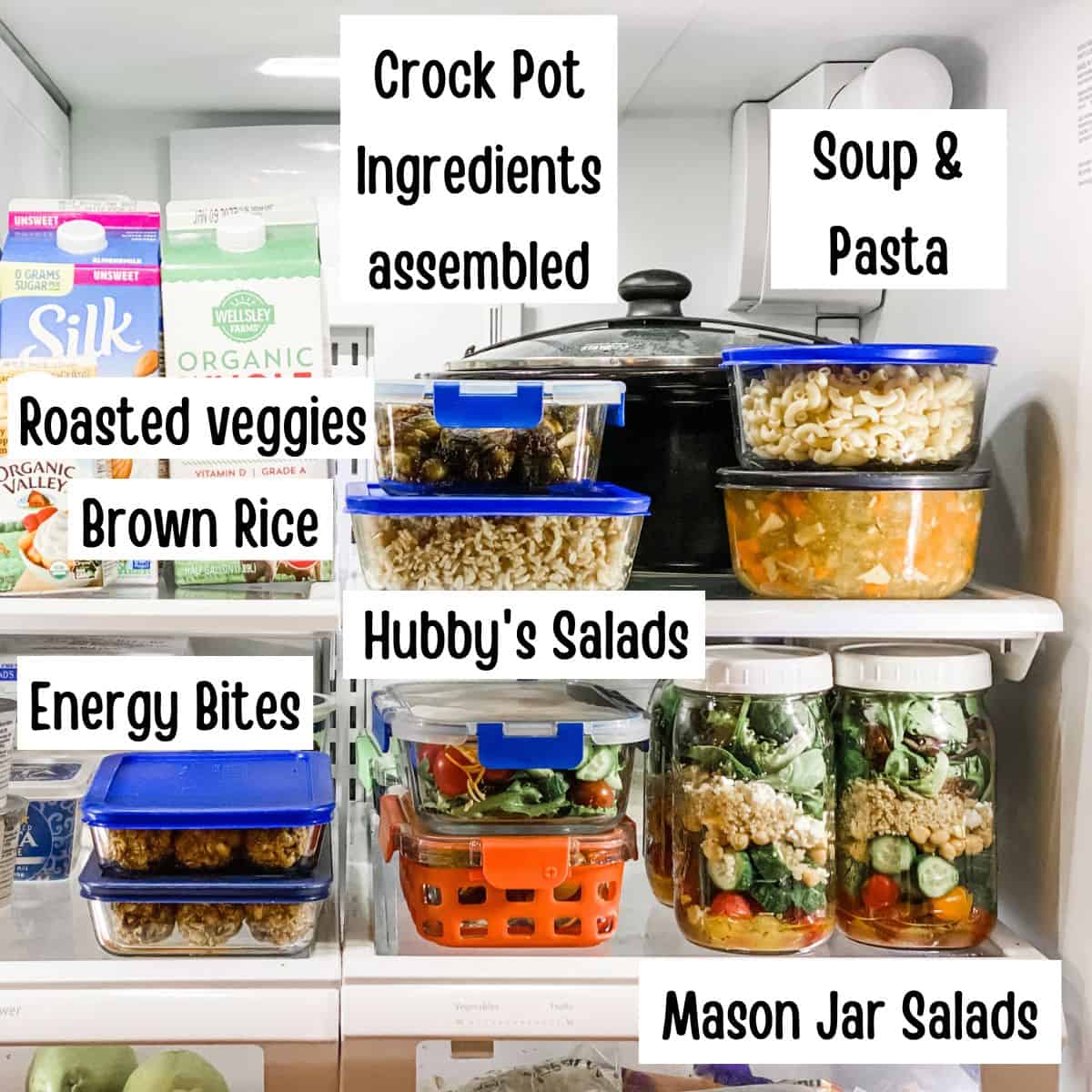 This post contains affiliate links. I am an affiliate for Amazon Associates and other brands and earn a small commission on qualifying purchases. You're by no means obligated to use my links but, if you do, thank you for supporting Organize Yourself Skinny.
Whether you want to eat healthier, lose weight, reduce stress, or get your grocery budget under control, weekly meal prep can be the solution.
When I first started meal prep, my main goal was to have healthy food ready during the week. I wanted to lose weight, and the first step was to ditch the frozen pizza and start preparing more food at home.
Meal prep has been a huge game-changer for me and the #1 reason I successfully changed my eating habits and dropped 30 lbs in the first six months. It's incredible how easy it is to eat healthy when foods are ready ahead of time.
You can read more about how I use meal prep for weight loss. I want to share more information on weekly meal prep in this post. You can see all my meal prep posts for tips and tutorials.
Jump to:
What is meal prep?
Meal prep means preparing meals, meal components, and ingredients once a week when you have time so food is available to eat when time is limited.
Benefits of Weekly Meal Prep
Today, meal prep is still a large part of my healthier lifestyle, and it's safe to say it's essential for my entire family to eat healthy meals daily. Here are the benefits we experience using weekly food prep.
Time-Saving. Taking a couple of hours to do Sunday meal prep will save you 3 -4x that during the week preparing dinner after work! Depending on the type of meal prep, all you'll need to do after work is warm-up or quickly cook and maybe prepare a couple of other things (salad, pasta, etc.).
No More Mindless Eating. If mindless eating while preparing dinner is a problem, then meal prep can help solve that. No more grazing and consuming 500 – 700 in random calories while desperately trying to get dinner together. Instead, everyone can eat healthy meals prepared when they're hungry.
Money-Saving. Another significant benefit to weekly meal prep is controlling your grocery bill and ultimately saving money. You only buy the ingredients needed by putting a meal plan together and preparing those foods. So, even by purchasing higher-quality foods, you'll likely save money. You won't fill your grocery cart with frozen pizzas, banquet chicken, or frozen garlic bread anymore. Instead, you'll purchase whole ingredients that you'll use in more than one recipe.
Easy Clean-Up. This is a big one, because who likes to clean a kitchen after working all day. Not many! Cleaning up after dinner becomes a breeze with meal prep. No need to scrub pans, wash cutting boards, or soak dishes. Nope! All you have to do is clean up the dishes used to eat.
Less Stress. Having meals ready to eat made life much easier, and I didn't have to worry about preparing lunches every morning or figuring out what to make for dinner. I did everything on Sunday! So I removed that stress from my week!
Better Eating Habits. Planning and preparing meals ahead of time allows you to be intentional with your food. If you're struggling with lunches, putting together healthy mason jar salads will help you eat more veggies during the day. If you frequent the drive-through for breakfast, make homemade breakfast sandwiches instead.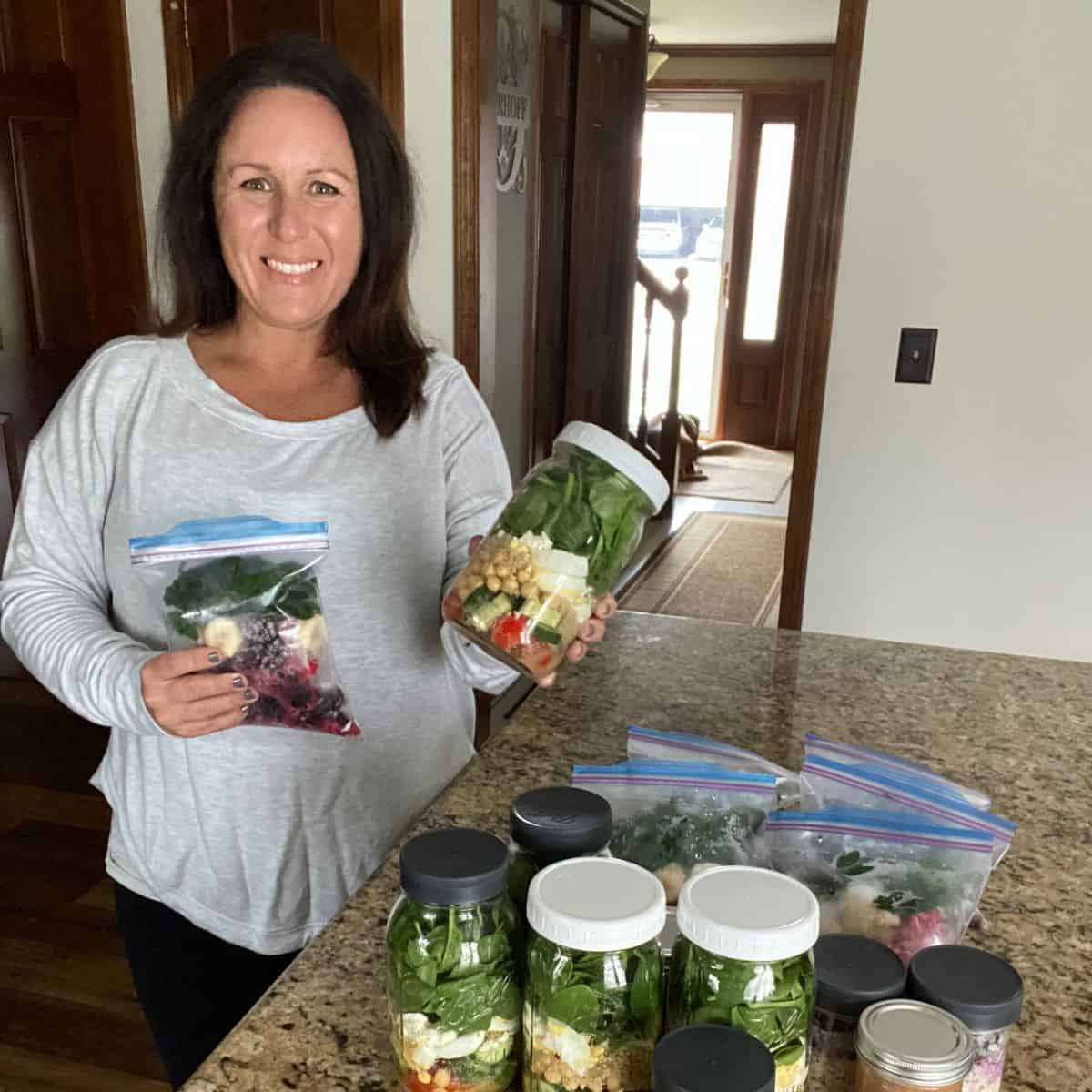 Easy Meal Prep Ideas
Preparation can be everything from washing and chopping vegetables to cooking your entire meal plan ahead of time. The key is to do what works for your lifestyle. Here are some of my favorite make-ahead ideas. Keep in mind that you can prepare every single recipe ahead of time in one way, shape, or form.
Batch cook the basics. This is an excellent meal prep method when you don't want to commit to specific meals. Instead, you make a big batch of a few components and then build meals around them. For example, shredded chicken or other lean proteins, brown rice, other grains, potatoes, sweet potatoes, beans, lentils, chopped vegetables (broccoli, bell peppers, onions), roasted vegetables, or marinara sauce, to name a few.
Recipe components. If you want dinner to come together quickly but don't want to cook the recipe ahead of time, then preparing all the meal's components, so it's ready to cook on the day you eat is a good solution. For example, marinate chicken, make the meatballs for meatball subs or make the seasoned beef and cheese sauce ahead of time for cheeseburger macaroni.
Cook meals completely. This method does all the cooking and preparation on Sunday, so you have to do minimal or no cooking during the week. For dinner, this means cooking recipes and storing them in the fridge to heat and eat all week. However, you can also prep steel-cut oats or baked oatmeal ahead for breakfast. You can make soup for the week or mason jar salads for lunch.
Meal prep bowls. This means preparing a recipe and portioning it out into 4-5 servings for lunch or dinner. For more information check out my tutorial on meal prep bowls.
The night before. Assembling recipes the night before is a great way to have meals ready to eat or cook the next day. For example, this works great when making slow cooker recipes. Take time the night before to assemble the ingredients; then, in the morning, you'll need to turn it out. Here are some other slow cooker meal prep ideas.
No-cook recipes. Overnight oats or mason jar salads require no cooking and can be thrown together in less than 30 minutes. Energy bites are also a super easy no-cook recipe.
Freezer meal prep. This means making meals or prepping ingredients and storing them in the freezer. You can see my freezer meal posts for more information and recipes.
How long does food last?
I've been at this food prep game for a very long time – over ten years! I prep on Sunday for the week, so my make-ahead meals must last five days. This has been my experience with food storage.
Most food lasts 4-5 days in the refrigerator. If you're not going to eat the meal right away and are concerned about freshness, then consider freezing the food and taking it out the day before you eat. Or make a few meals later in the week—for example, overnight oats or mason jar salads.
Raw fruits and vegetables stay fresh all week if stored in glass containers. You can also freeze both if you're not going to eat them. They won't taste fresh once thawed, but you can use them in smoothies and soups.
Raw meat should be frozen if not used within a couple of days.
Cooked meat is good for four days. Freeze if you're not going to eat it within those days.
In the decade I've been meal prepping, I haven't had any food spoil. However, it's good to follow food safety guidelines, and it's also a good idea to plan your meal plan around the recipes you should eat first.
Meal prep storage containers
The right meal prep containers are essential to keeping food fresh all week. I started with plastic containers and what I had available. Since then, I've evolved to glass containers, and now that's what I recommend for ultimate freshness. See this post with my favorite glass meal prep containers for a complete list.
Here are a few of my must-haves.
Beginner Meal Prep Tips
After so many years of trying out all the different tips and hacks, these are the ones that worked out the best when first starting meal prep.
Don't try to meal prep everything. This is the #1 tip I give to people, starting with meal prep. It's important to start slow and then add on as you get comfortable.
Focus on meals that will make the most significant difference in your week. Whether you are a beginner or a seasoned meal prepper, one of the best pieces of advice I can give, especially if you're overwhelmed or short on time, is to focus on the meal that will help the most during the week. So, if you struggle with lunches, then start with some of those recipes.
Put it on your calendar. You'll need time for meal planning, grocery shopping, and preparing meals. If you're not used to doing this, you'll need to block chunks of time to ensure all 3 of these things are a priority during the week. Have a running list of favorites. This is something I recommend to new and experienced meal preppers alike. There's no need to try new recipes every single week.
Wear comfortable shoes. Being on your feet for a couple of hours does not feel good on the back.
Have music ready or your favorite show on. Catch up on your favorite shows during meal prep time. I do this, and now I look forward to meal prep to watch some Bravo reruns!
Try to put everything in clear containers or label, so everybody knows what's in the refrigerator.
Keep your meal plan handy, so you don't forget what to eat that day.
Freeze food you're not able to eat.
Save your meal plans (and grocery lists). Type it into a google doc and save it in google drive. Over time, you'll have a collection to pull from, making the entire process much more manageable.
If you feel overwhelmed or short on time, know that you can adjust meal prep to meet your needs and situation. Start small with meal prep, and as you become comfortable, add more on. Once you start to experience the benefits of having food ready, I know you'll want to keep going.
There isn't a right or wrong way to meal prep, and it's really about what works for you.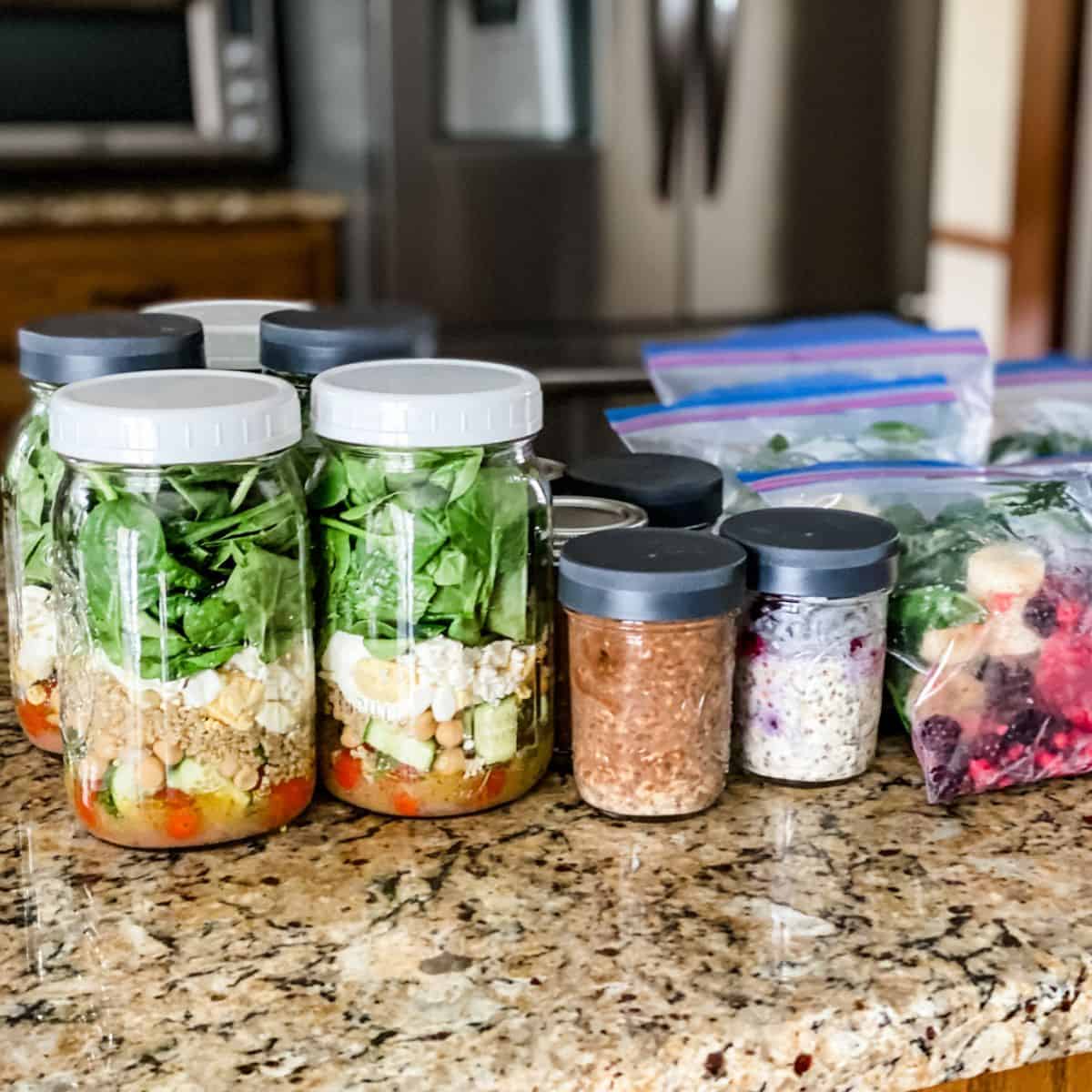 How to Meal Prep For The Week
Sunday food prep day (depending on the meals) usually takes about 2-4 hours to complete. The key is planning your day ahead of time. This way, you can get right into it without thinking about where to start. Here are step-by-step instructions for planning out your meal prep day. Keep in mind, yours might look different depending on the recipes you use.
Step 1: Put together a meal plan and grocery shopping list. Do not try to meal prep without doing this first; don't do it. Also, it's helpful to do both of these tasks before meal prep day. If you try to do everything on Sunday, you'll be exhausted before even starting.
Step 2: Clean your kitchen and gather supplies. The goal is to start meal prep day ready! Nothing is more frustrating than wasting time looking for containers and trying to find room in a disorganized fridge or spending precious energy cleaning dishes on the morning of meal prep. Get that all done the night before.
Step 3: Start slow cooker recipes first. Those take the longest to cook, so getting them started makes sense.
Step 4: Then, start cooking any ingredients you'll use for other recipes. For example, I need to cook the quinoa and hard-boiled eggs for my Protein Power Mason Jar Salad, so I get those going immediately.
Step 5: While those ingredients are cooking, I'll start a dinner recipe. For example, I'll make taco meat or prep a meatloaf recipe. Or, maybe I'll prep vegetables for a sheet pan dinner later in the week.
Step 6: Then, I put together the mason jar salads. If I'm short on time then these salads are made first because it's a priority to have lunches made for the week.
Step 7: After the slow cooker recipe cooks, let it cool slightly, then store it in the refrigerator (or freezer). The slow cooker recipes I typically make on meal prep days are shredded chicken or other shredded meat recipes I plan to use in other recipes during the week. For example, shredded Buffalo chicken on subs and later in macaroni and cheese.
Step 8: If you have the energy, prep the slow cooker insert with another recipe for the next day. Then, I'll store the insert in the refrigerator and get it started in the morning. If I don't plan to eat the slow cooker recipe until later in the week, I'll put everything into a large freezer bag and stick it in the freezer. I'll take it out the day before we eat it, then dump it into the insert the morning of, and continue with the recipe.
Step 9: After you're done with meal prep, clean up the entire kitchen. Then, sit back and bask in the glory of accomplishment! It feels fantastic going into the workweek prepared with healthy meals!
The Best Meal Prep Recipes
Here are my favorite easy meal prep recipes! All are family-friendly and quick to prepare.
Other meal prep posts:
That's how to meal prep for the week. What are some questions you have about weekly meal prep? Do you have any tips to share?