If you are just starting out on your meal prep journey, this guide to Homemade Freezer Meals is a MUST! In this beginner's guide, you will learn all of my tips and hacks to stay on track throughout the week with freezer cooking and stocking up on the necessities.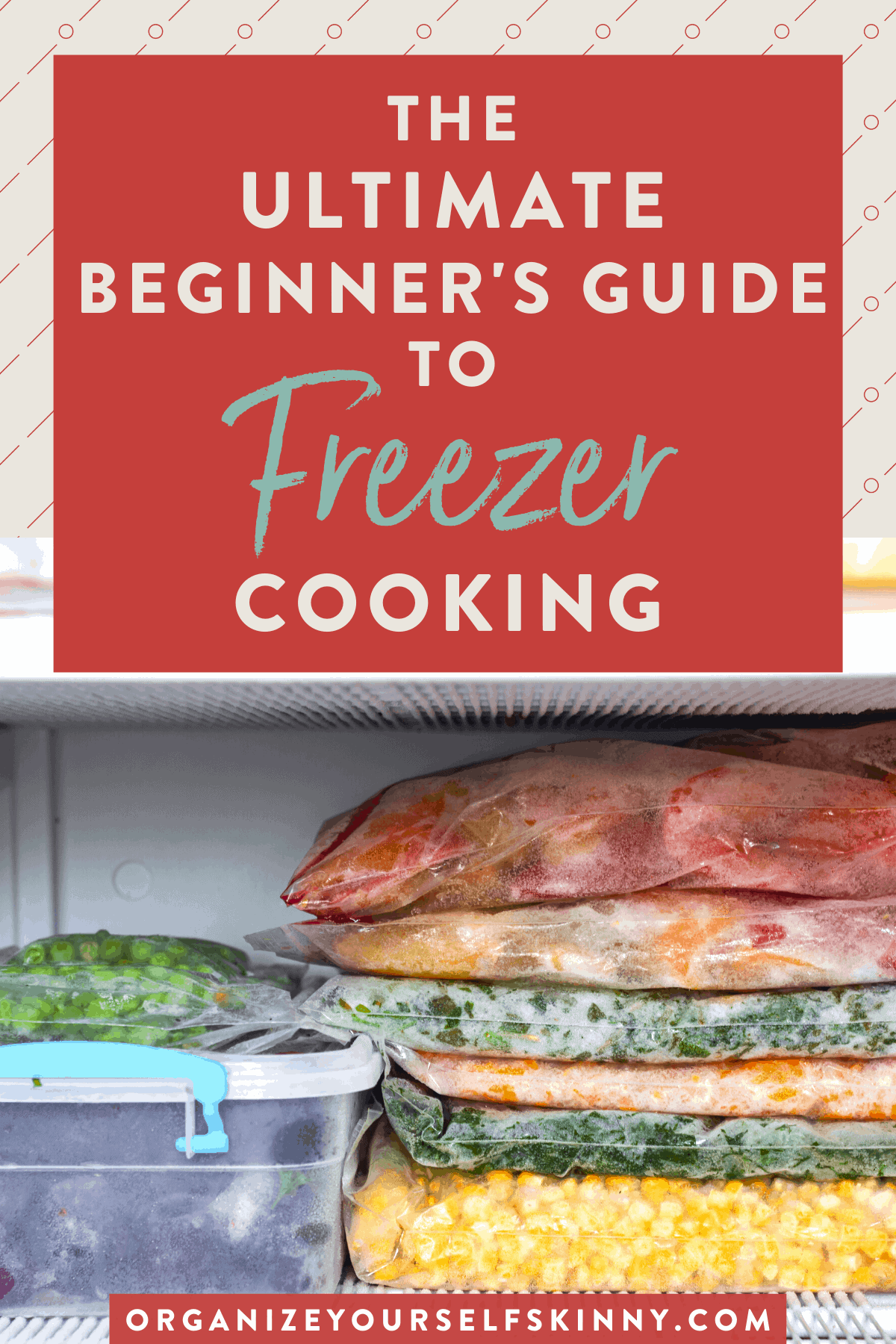 In the midst of transforming back to working mom status after my last maternity leave, I stumbled upon the concept of freezer cooking.
It blew my mind.
In basic terms, homemade freezer meals are preparing meals ahead of time and freezing them for later use. Freezer cooking is a strategy that I have used faithfully to prepare make-ahead meals that are homemade and nutritious to feed my family during the week.
It is the perfect solution for busy families that want to eat healthier weeknight meals instead of the typical high-calorie takeout food (bye-bye takeout pizza!).
Tips And Hacks For A Successful Day Of Freezer Cooking
I believe this style of meal preparation serves as the cornerstone of my commitment to health and weight loss.
It allows me to have control over the ingredients in my foods along with keeping portion sizes and calories in check! Planning and preparing meals ahead of time for freezing is one of the first steps in losing weight.
To get you started, I created this list of tips and hacks to serve as a helpful beginner's guide for making homemade freezer meals!
Schedule Two Blocks Of Time For Meal Prepping
The first time block is to shop for all the ingredients and the second is to prepare and cook everything.
If you absolutely can't find the time during the week or weekends to freezer cook, your next best bet is to cook double or triple batches of meals you are already making.
I personally prefer to cook every 2-3 weeks. That way I am only doing serious grocery shopping and cooking twice a month. With my busy schedule, that's all I can handle.
Create A Menu 3-4 days Before Shopping And Cooking
Start by cooking recipes you know well. When cooking meals in large batches to freeze, it is safe and smart to begin with the tried and true recipes that you've prepared multiple times and your family likes to eat.
When you are just starting out, it is not the time to experiment with several new recipes, so I would recommend picking out 3-4 favorite recipes to get started.
As you get the hang of freezer cooking, you can add more recipes to your menu plan. The more you practice this method, the easier it will get. You will find the groove that works for you in no time!
Clean Out The Freezer
Before you start cooking batches of dinners to last the next 2-3 weeks, you need to make sure there is room in the freezer.
When I first started out, I used to forget to clean out the freezer and it never ended well.
Many people think that, in order to freezer cook, they need a large deep freezer but that's actually not necessary. I have a large deep freezer and even on my heaviest cooking days, I don't come close to filling it up.
For the most part, as long as my fridge freezer is cleaned out and organized, I have plenty of room to store all my meals.
Use Freezer Storage Containers And Bags
This may seem like common sense but, I can't tell you the number of times that I would make huge amounts of food and could not find the lids or ran out of freezer bags. The lesson I learned from those experiences is to always check my storage supplies prior to cooking.
I primarily use disposable containers and freezer bags from brands such as Gladware® and Ziplock®. These products have worked perfectly for me.
In my research on freezer cooking, I have come across people using other methods of storing foods such as tinfoil, casserole dishes, or freezing in glass jars.
Be very careful with glass because water expands when it freezes!
Organize Your Recipes By Ingredients
Before I begin prepping, I first put all the ingredients for each recipe out on the table. This way I can make sure I have everything I need to begin and finish a recipe without having to send my husband back and forth to the store numerous times to pick up the missing ingredients.
Prep All Of The Ingredients
Clean, trim and chop all the of the protein, vegetables, and fruit. I would also shred the cheese needed and whatever else needs to be prepped ahead of time.
I have found this to be the easiest way to move seamlessly through each recipe and have 2-3 different meals cooking at the same time.
Put Together A Good Music Playlist And Start Cooking
When it comes to choosing a day, I always use my Sundays to do my freezer cooking. I start around 9:00 am and usually end at 3:00 pm or 4:00 pm.
I love to have my music playing in the background and just get to work enjoying my day of cooking.
The Best Homemade Freezer Meals To Try
Now that you have all of my freezer cooking strategies, it's time to start cooking!
When it comes to choosing which meals to make ahead of time and freeze, I like to consider two things:
What is going on in my life in the upcoming weeks
What's in season and on sale at my grocery store
Here are some of my favorite homemade freezer meals for beginners!
Breakfast
Pecan and Chocolate Chip Breakfast Cookies
Meats and Poultry
Fruits and Vegetables
If you are wanting to have whole meals put together, check out some of the best freezer casseroles to have on hand!
Types Of Containers To Buy To Store Freezer Meals
I'm sure you've noticed by now how much I LOVE the glass containers I use for meal prep. If you are looking for some other options or aren't comfortable freezing meals using glass containers, here's a list of the ultimate meal prep containers to use!
True and tested 😉
Making some of these homemade freezer meals can really help you through a crazy busy week! Freezer cooking can be so helpful to stay on a healthy track and avoid takeout. Share a picture and tag me on Instagram or Facebook if you decide to make this!