Over the last couple years I've experimented with many different meal prep containers and today still use a variety. Do I have a favorite? Yes and no. It depends on the food I'm storing. Some containers are better than others for certain recipes.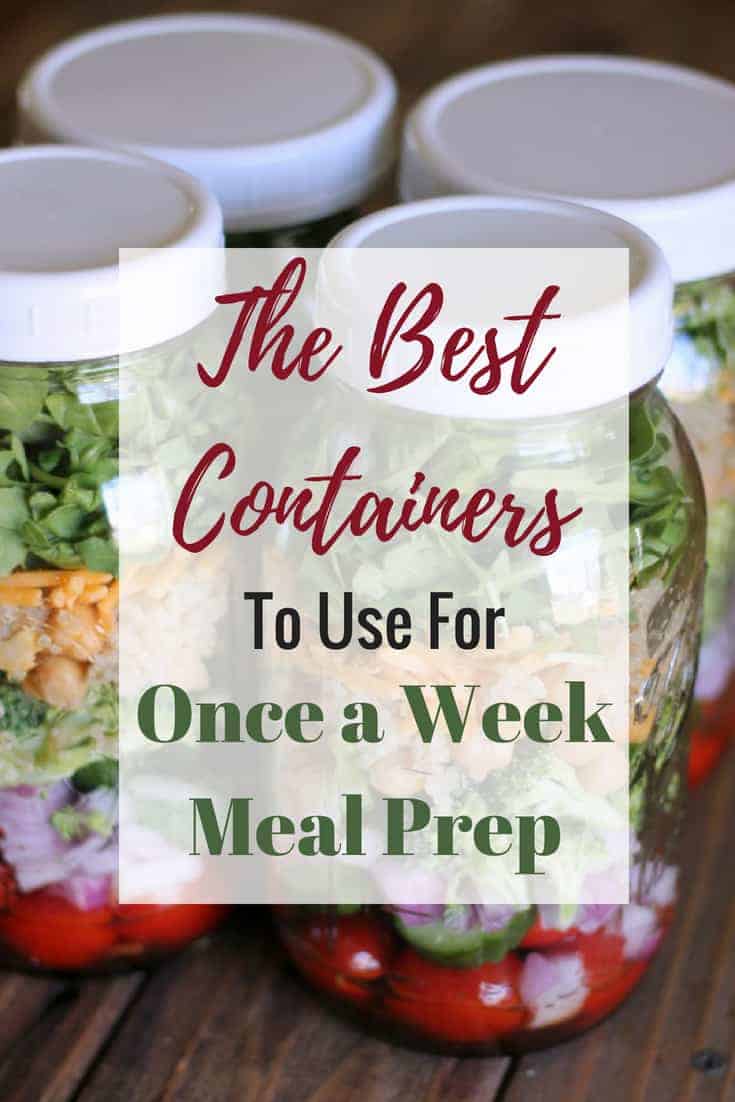 Once a week meal prep is one of my top strategies for maintaining a healthy lifestyle. If you've followed Organize Yourself Skinny for any amount of time you've probably seen me write about meal prep in one way or another. In my experience, it's the only way to assure healthy meals are available during the busy week.
Each week I post my meal plan which provides make-ahead tips and instructions for the food we are eating. You can also find detailed instructions in each of the recipes I post. Basically, you can find meal prep information scattered around every corner of OYS.
Over the last year, I wrote a couple in-depth blog posts about once a week meal prep. This first post gives a glimpse into my food prep day and then I put together this beginner food prep guide. Both have lots of great tips and recipes. If you want to see the inner workings of a food prep day from start to finish then I recommend reading both of those posts.
While each of those posts have tons of information I still get lots of "how to" questions about prepping meals ahead of time. It's clear you want more tips, information, and recipes. Not just the general "meal prep will help you lose weight" information or pictures of the food I prep ahead of time. You want details and tutorials. I got you! You can expect to see more posts covering the details of meal prep.
Let's start with the most common question I get about meal prep – What containers should I use?
Below are the containers I use most and the recipes I like to use them for. You might find something works better for you. Not a problem. I am all about sharing ideas and you adapt them to meet your lifestyle.
Keep in mind, these are containers I recommend for once a week meal prep. This means food you prepare on Sunday to eat the rest of the week. I am not referring to long term food storage like with freezer cooking or canning. That's another post 🙂
Here are the containers I use for once a week meal prep.
Mason Jars
I love glass mason jar containers and use them to store all foods. The sizes I use most are 32-ounce glass wide mouth containers and 16-ounce wide mouth containers.
The 32- ounce containers I use mostly for mason jar salads and make-ahead freezer smoothies. You can see my mason jar salad tutorial here and my make-ahead freezer smoothie tutorial here. Keep in mind, you can certainly use a smaller size mason jar container if you wanted to make smaller portions.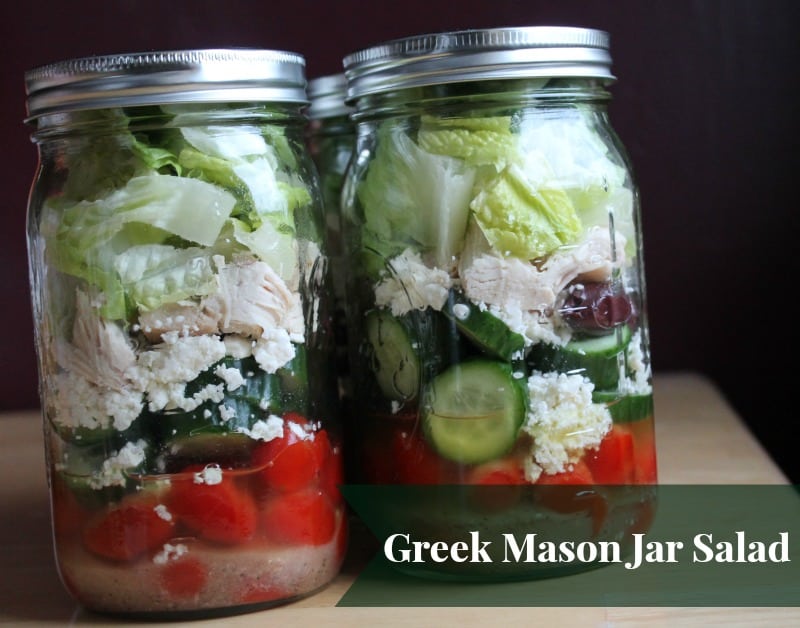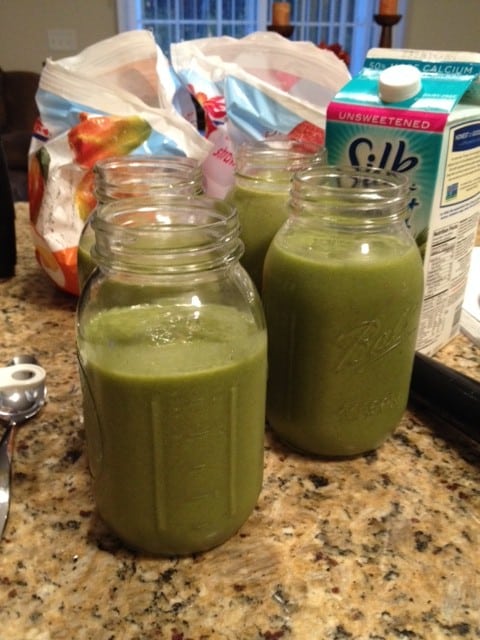 The 16-ounce jars I use for overnight oats primarily. You can see my overnight oats tutorial here.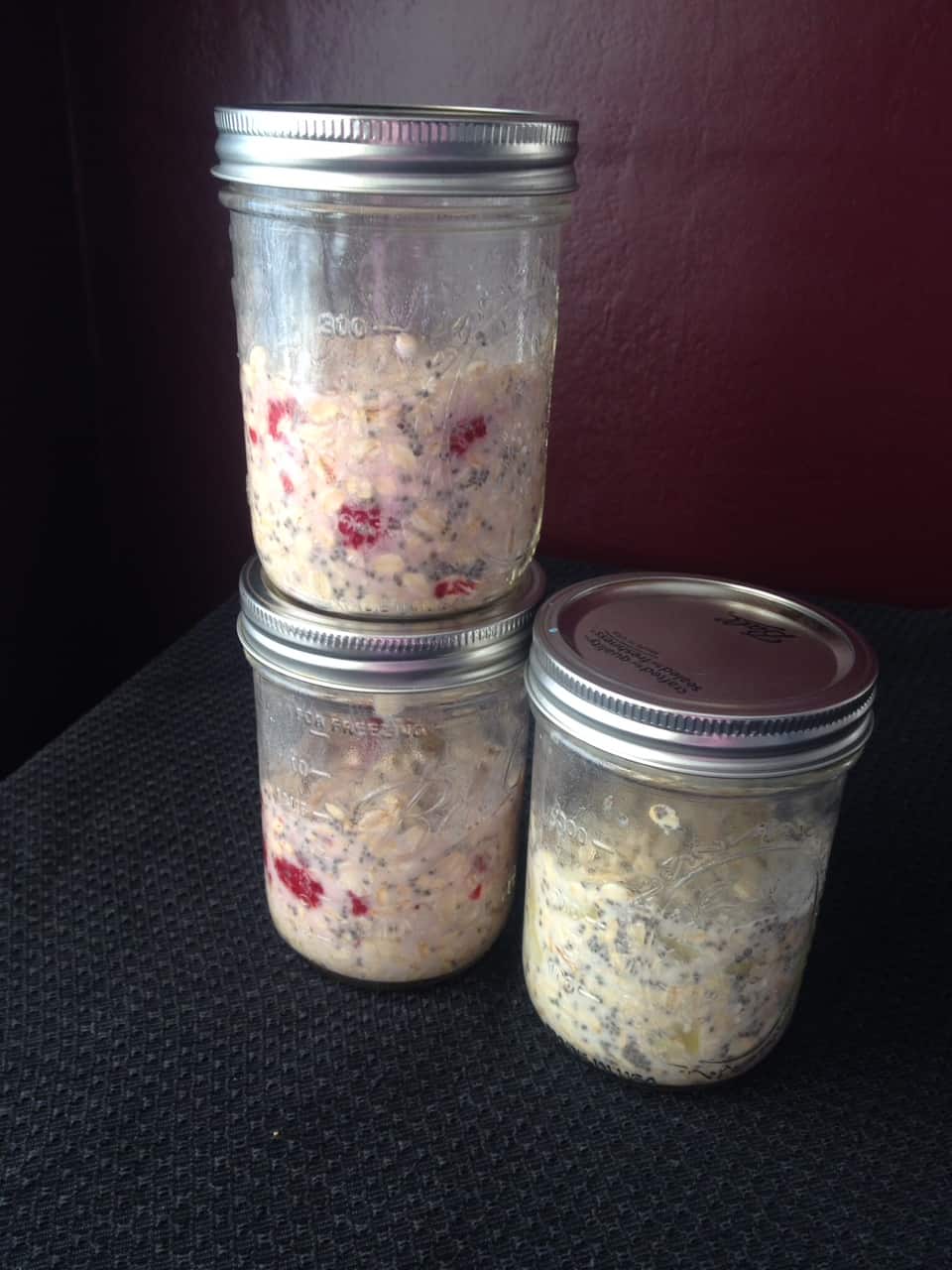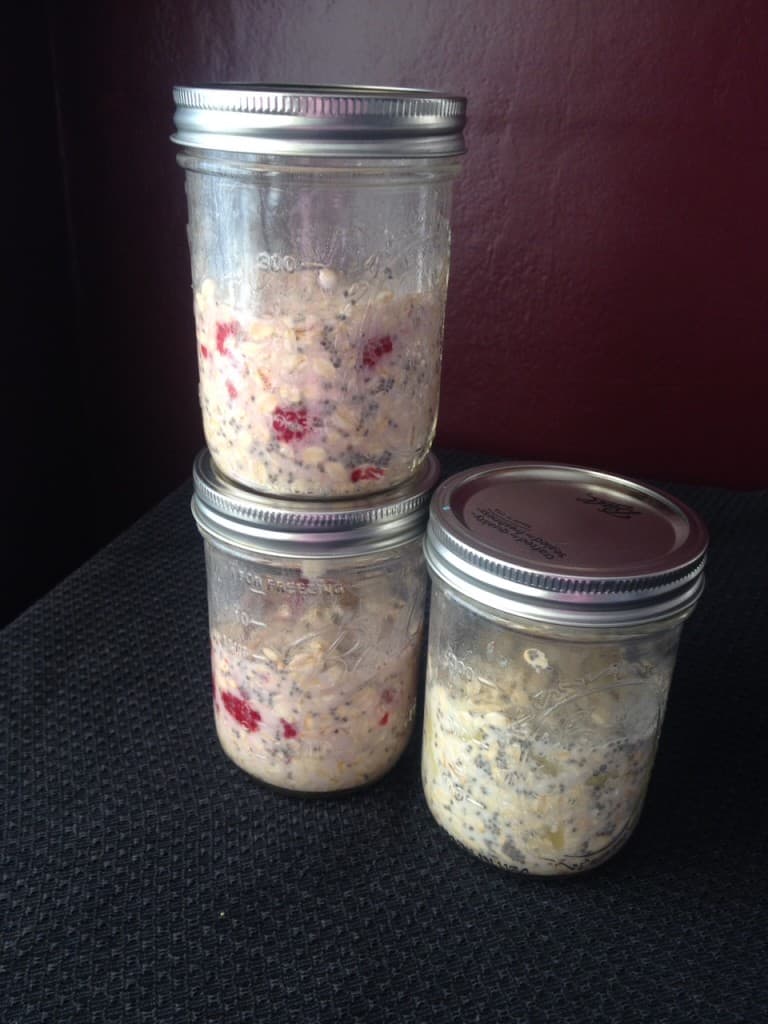 I also store sauce, soups, broth, nuts, fruits, and vegetables in mason jars. I get a lot of questions about fruits staying fresh all week after they're prepped. In my experience, using glass mason jar containers keep fruits, vegetables, and all foods fresh the longest. I don't vacuum-seal anything. All I do is put into a mason jar and close the lids tightly.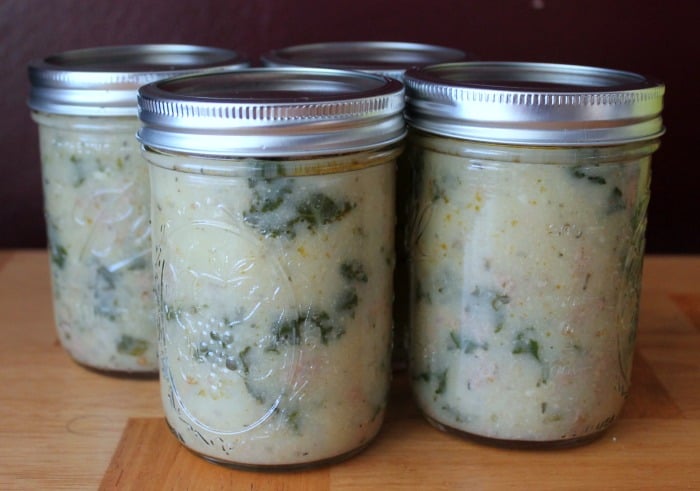 Mason jars can go into the freezer. I have frozen many recipes using glass mason jar containers. The key is to fill to the "freezer" line that is shown on the container.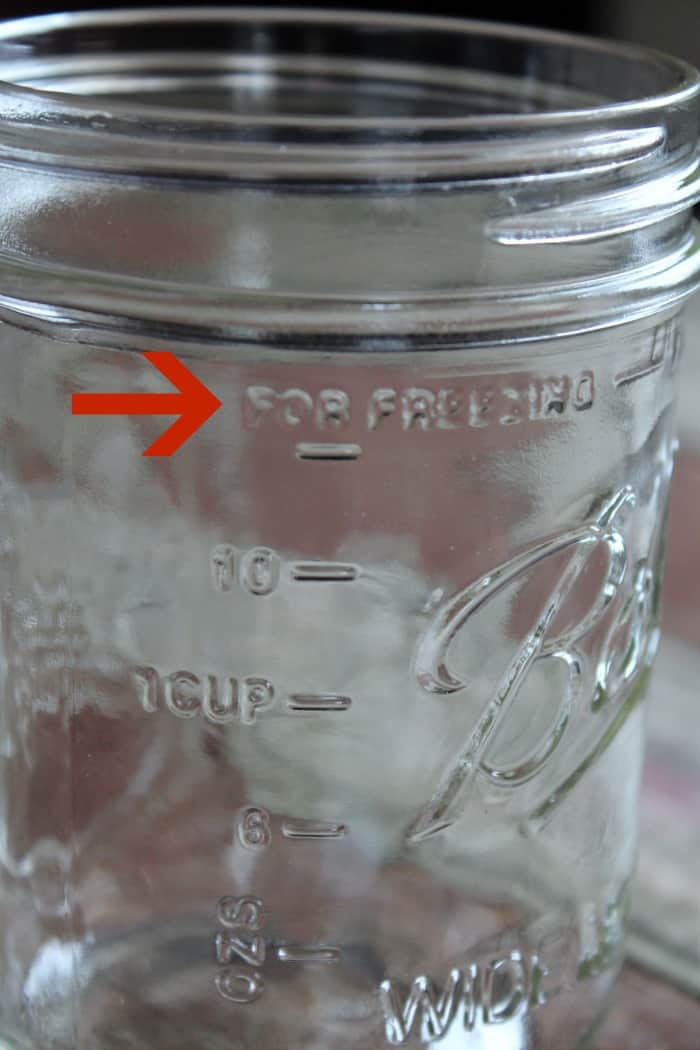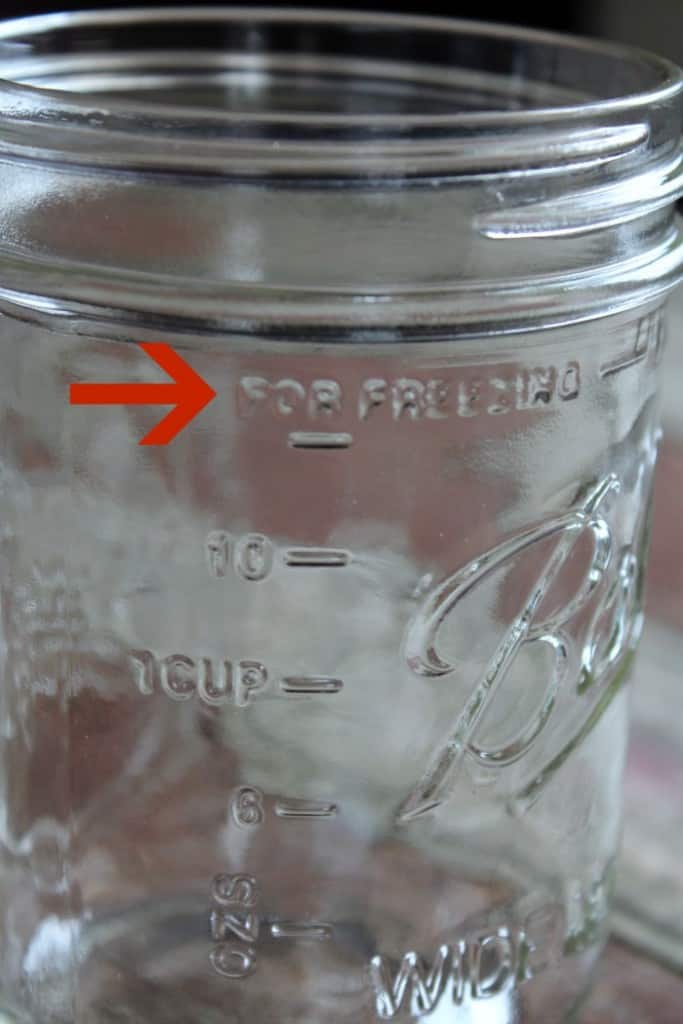 Mason jars can be purchased at most grocery stores, Walmart, and/or Target. They are relatively inexpensive. The only problem is I can't always find the size I'm looking for. If this is the case for you then head over to good ole trusty Amazon. Amazon has all mason jar containers available.
If I had to pick a favorite meal prep container I think I would say mason jars because they're so versatile and I use them all the time. They are great for portion-control and single servings.
I recently discovered plastic mason jar lids like the ones you see in this picture. I highly recommend picking up a package or two because the metal lids that come with the jars will eventually rust. You can find the plastic lids for the wide and regular mouth mason jars here.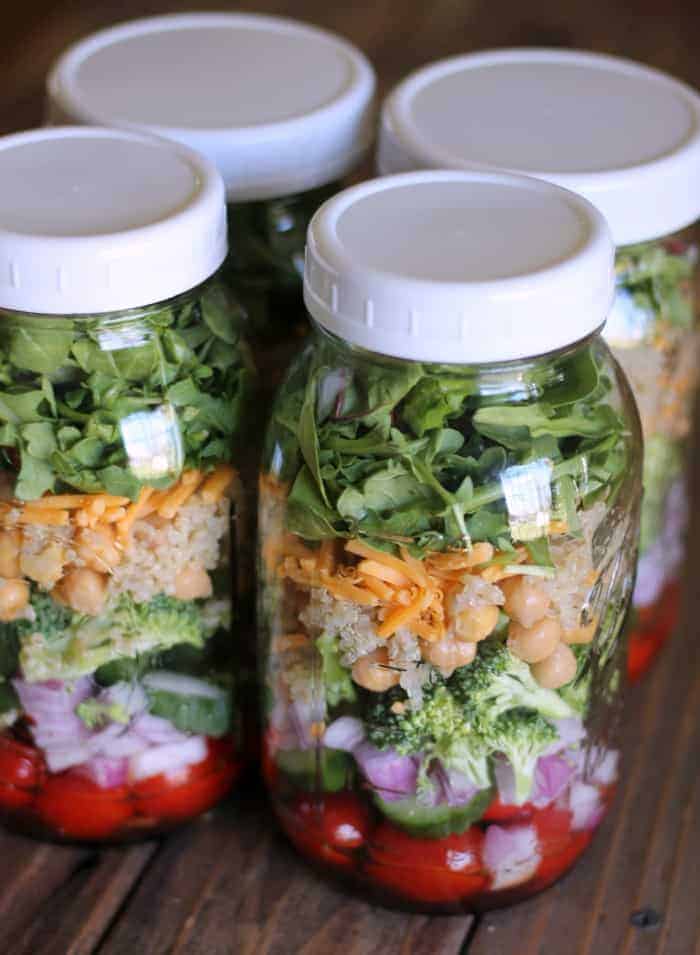 I even use mason jar containers for cute dessert and snack recipes like these.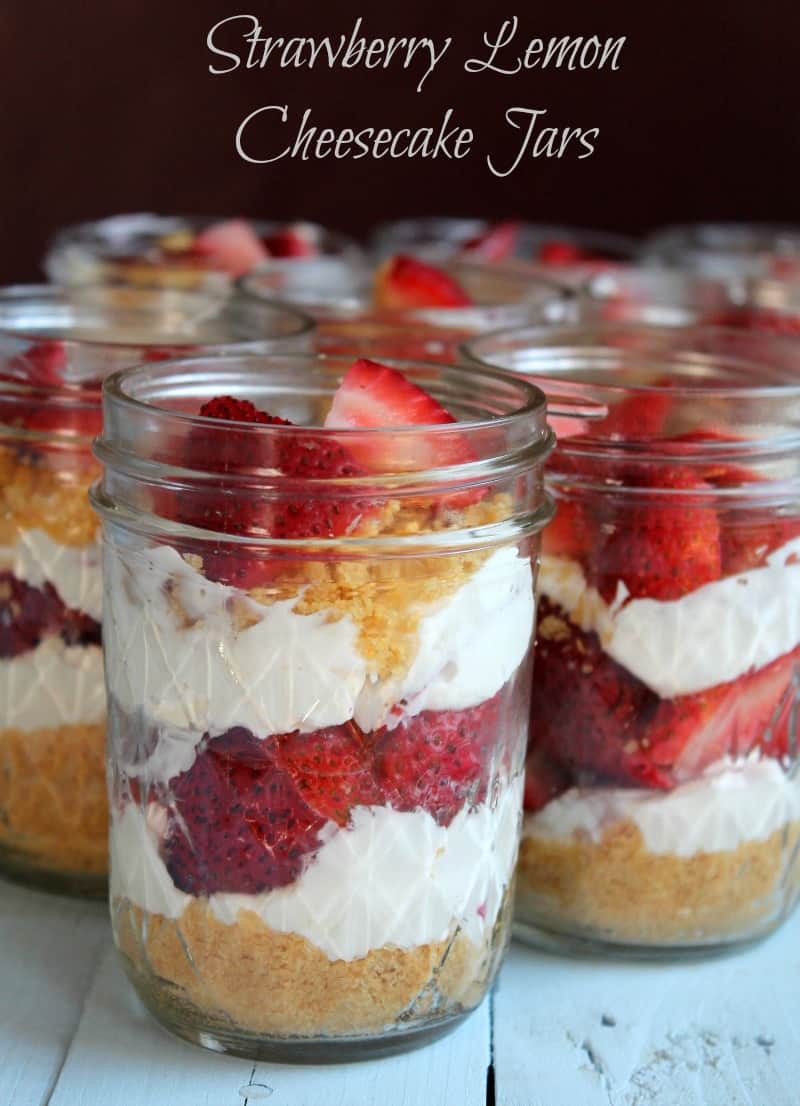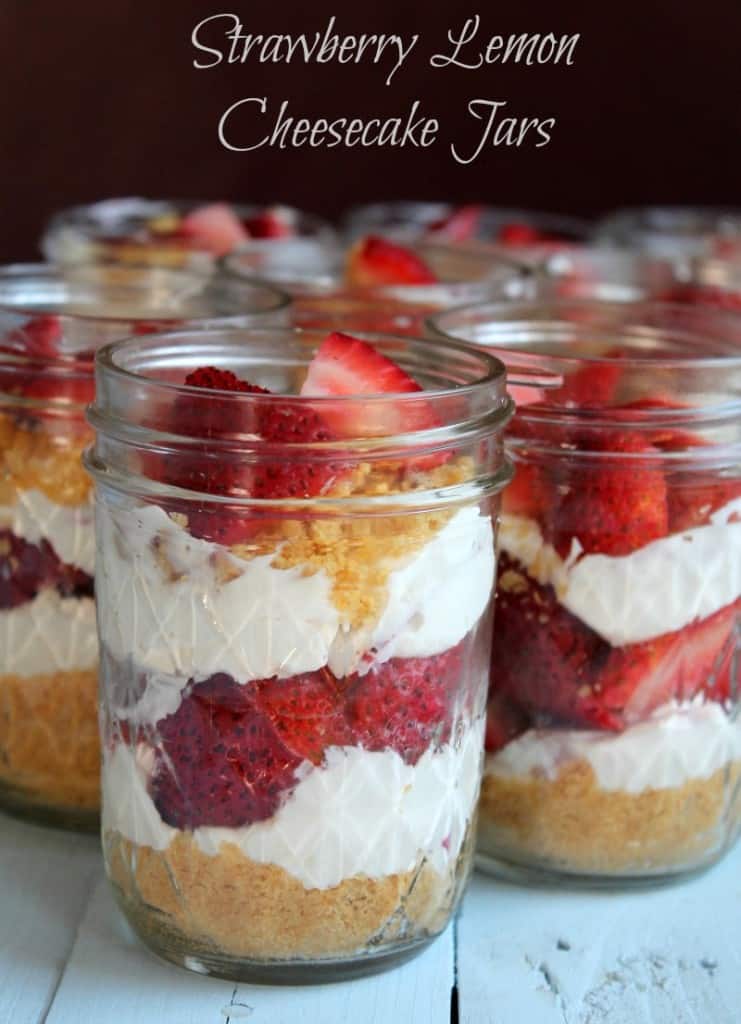 Make-ahead yogurt mini parfaits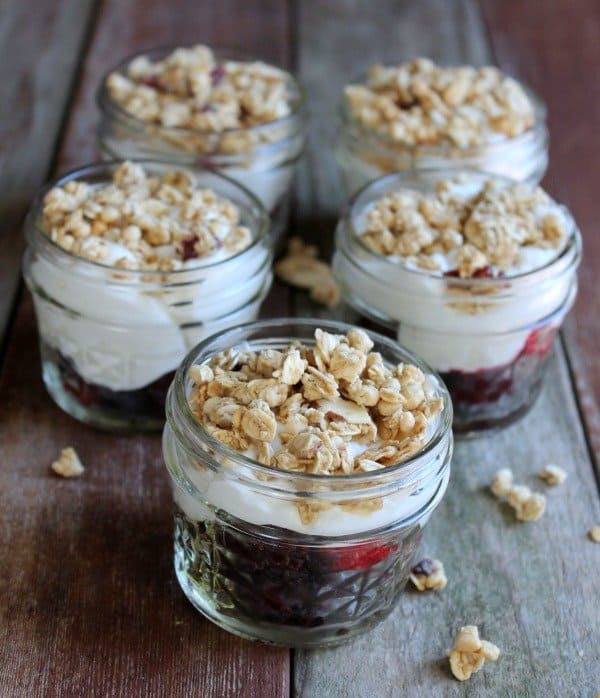 I recently purchased a set of Pyrex Glass containers, because they were on sale at Target, and absolutely love them! Honestly, I wish I started using glass containers sooner. In my opinion, glass containers keep food fresh longer. I never had a problem with plastic containers and still use them but I am slowly moving towards glass when storing fruits, vegetables, and other recipes that I need to keep fresh all week. Plastic containers work great for freezing portion-controlled meals but when I need food to stay fresh in the refrigerator from Sunday to Friday I am turning to these glass containers. Don't throw out your plastic containers because they do work fine it's just if I have a choice I'm choosing glass.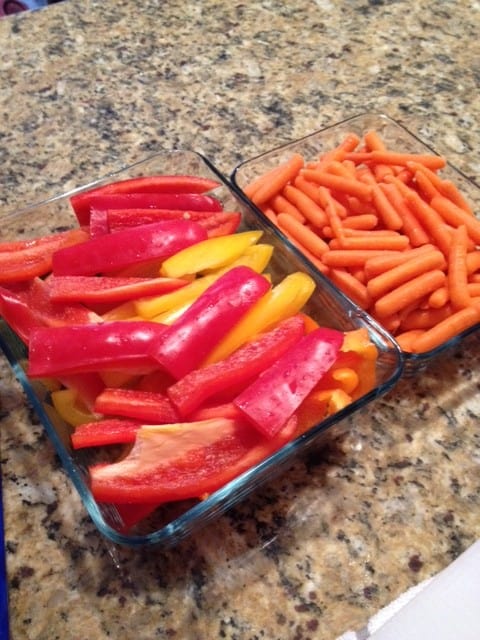 Plastic Meal Prep Containers
I know I just said how much I looooved my new glass containers but…there is still a place for plastic meal prep containers. Personally, I love plastic containers for portion controlled "on the go" meals or freezer meals. I like to see my meals portioned out for the week and the best way to do that is with plastic meal prep containers. They are easy, cheap, and portable. You can throw one in your lunch bag in the morning and then be on your way to work. Dinner is made easy when all you need to do is grab dinner, warm it up, and enjoy. If you struggle with getting your eating habits under control then try adding structure by creating portioned out meals.
The containers I used in the past were basic plastic freezer/storage containers. They worked fine. But then I came across these 3-compartment meal prep containers on Amazon and never looked back. These are perfect for portioning out meals, snacks, and work amazing for having dinners ready ahead of time. It's like creating your own personal healthy TV dinners. They can be frozen, warmed up in the microwave, and put in the dishwasher, They work great for me but even better for the kiddos. Which actually benefits me too so its like a win all around. My kids love going into the refrigerator or freezer and seeing food ready to eat, especially during our hectic week.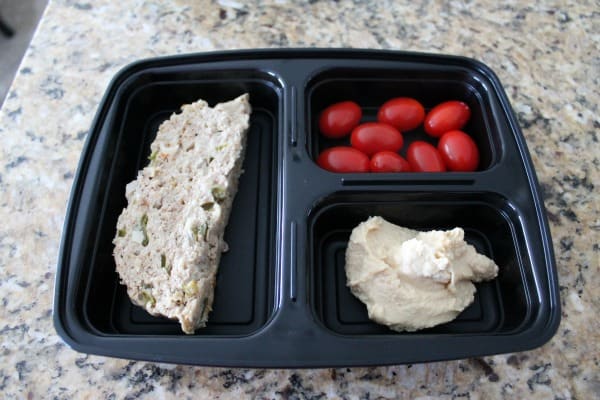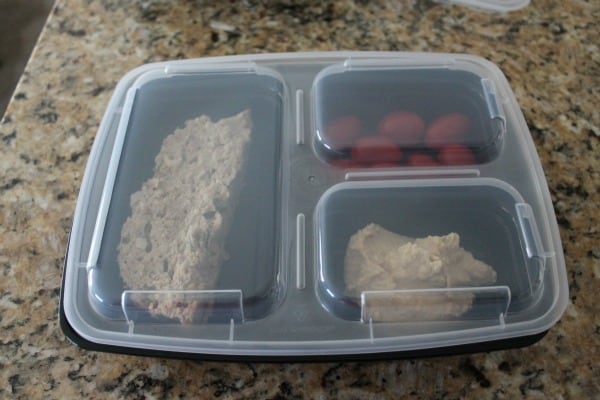 I also, found these meal prep containers and fell equally in love. They have one compartment but still a great size for portioned out meals like pasta, rice, or quinoa dishes. I think these meal prep containers would be perfect for my homemade cajun chicken lean cuisine. They remind me of the freezer containers you find with your favorite diet freezer meal only better quality.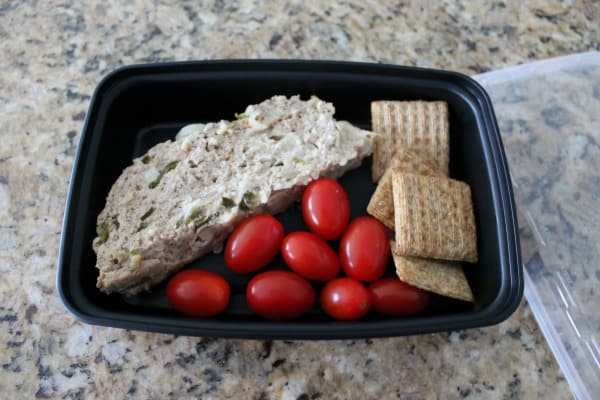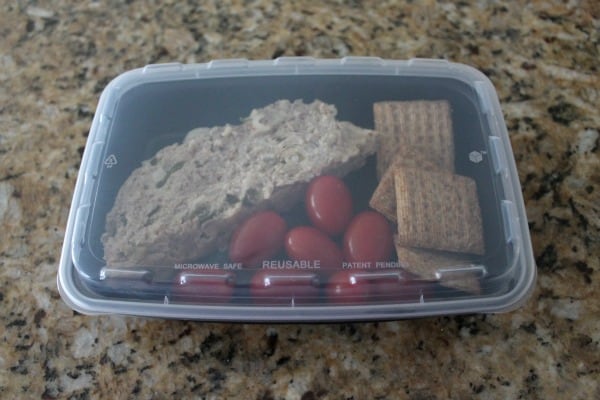 Both of these meal prep containers can be found on Amazon and are inexpensive.
Of course, basic plastic containers will do too. My favorite size to purchase are the dinner or entree size. I find this size works great for most recipes I want to portion out.
I also use plastic snack bags to portion out things like nuts, crackers, cookies, cheese, and other snacks.
Last year I talked about preparing a snack bin in the refrigerator. Basically, all I do is organize all of our snacks for the week in a plastic refrigerator bin. So easy. So basic. SOOOO helpful!
I purchased mine from Target but you can get one from Amazon too. They are inexpensive and work wonders to keep snacks organized and visible in the refrigerator. My kids know what's available to eat and it helps them put their lunches together. I put together a refrigerator snack bin every week.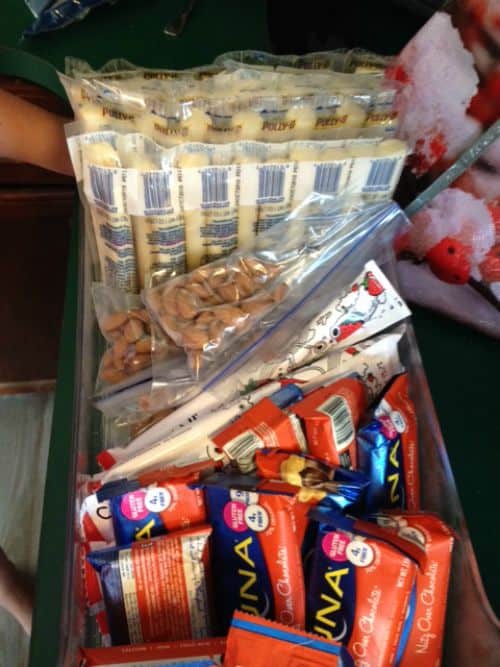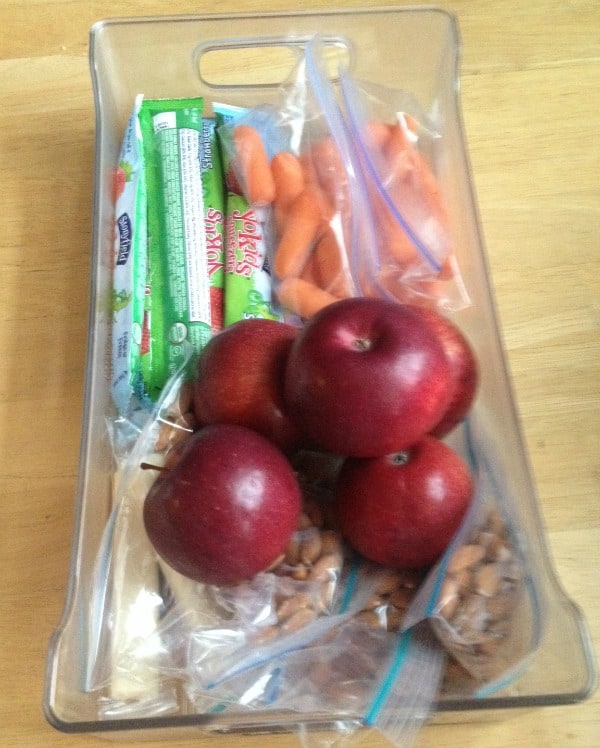 This is what my refrigerator looks like after I prep food for the week. Sometimes it's a little more other times it's less. Like I always say, even a little food prep will make life easier during the week.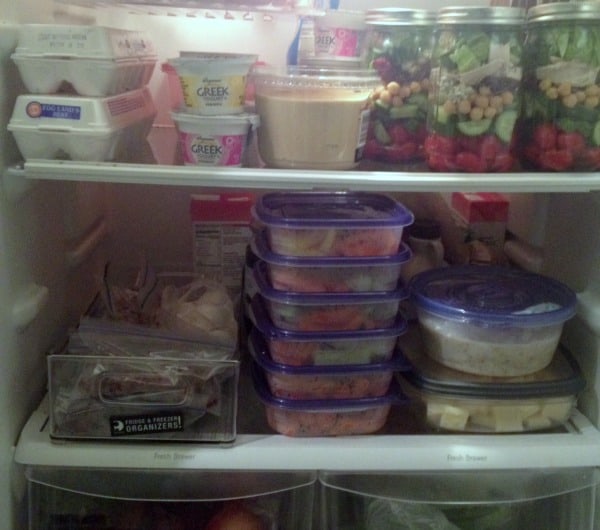 Don't think you need to stock your kitchen with all of these containers at once. Obviously, they take up a lot of space and you might not need everything, Just purchase a few different containers and see which ones you prefer. Now get to food prepping!
Do you have favorite a favorite meal prep container?