Chicken quesadillas meal prep freezer kits take an already easy recipe and make it that much easier! These are essential for busy parents.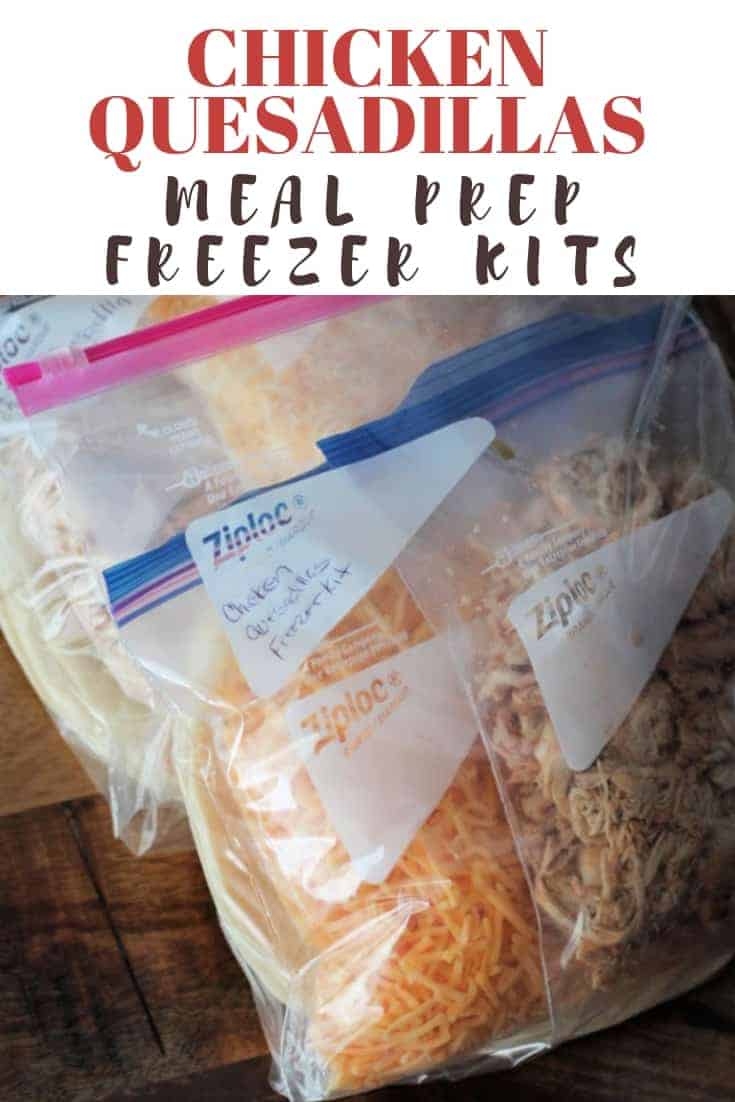 Chicken quesadillas are made quite often in my household. Nobody argues when these are on the menu and quesadillas are cinch to prepare. All I need is shredded chicken, a little cheese, and tortillas and dinner can be ready in under 20-minutes. On nights we don't get home till later quesadillas are a life-saver.
However, even the easiest of recipes can get screwed up. For example, maybe you're running low on, or forgot, the cheese. Or maybe you only have 2 tortillas because someone decided to use the rest for something else. Or you forgot to make shredded chicken?
Does this sound familiar? Trust me, I've been there many times – too many! This is why I needed to come up with a solution. That solution is my Chicken Quesadilla freezer meal kit. Out of all the freezer kits I put together this is the one I make the most.
A freezer meal kit simple means that you freeze all the ingredients together for a recipe into one package. So, everything you need is there for when you're ready to cook it. This guarantees all the ingredients will be there and you won't use it for something else. It's also a great way to have other people in your family cook a meal when you're not home. The freezer kits are labeled and ready to use.
This dinner solution is so incredibly basic, but I find it really helpful so I wanted to share.
Chicken Quesadillas Meal Prep Freezer Kits
This is not necessarily a recipe but more a "how to" for creating a freezer meal kit using your own recipe. I did offer ingredient suggestions, based on what I use, for guidance.
Chicken Quesadilla Freezer Kit
Here are the basic ingredients you'll need. Please note, the amount of ingredients will depend on the size of your family.
Shredded Chicken
Mostly, I use this Slow Cooker Salsa Chicken because it beyond easy to make. I also like this Slow Cooker Mexican Chicken Recipe. However, if you have zero time to cook then consider picking up a Rotisserie chicken. There are many recipes you can make with leftover rotisserie chicken and chicken quesadilla freezer kits are one of them.
Shredded Taco Cheese
If you want to make a few of these kits at once you can get bulk packages of taco cheese from any wholesale store or even aldi's. Use any cheese you like. I've made this with pepper jack and even cheddar.
Tortillas
Again, you can get bulk packages of tortillas at your local wholesale store. You can even use low-carb wraps or any wrap you prefer.
**If you use peppers and onions you can sauté them up ahead of time and freeze as well.
Put shredded chicken, cheese, and vegetables (if using) into separate freezer bags then place together in large freezer bag. Then place tortillas into the freezer bag. All components of the meal should be in one bag. Label and place into the freezer.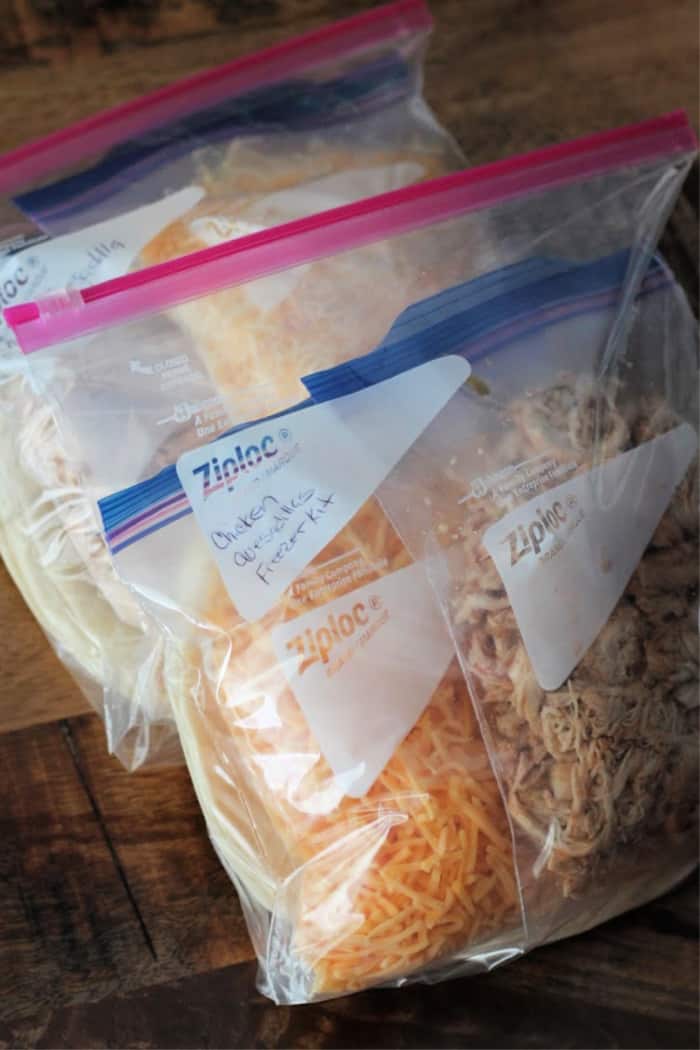 When you're ready to eat take the kit out in the morning (or night before) and let thaw in the refrigerator. More than likely the chicken will not be thaw by dinner time. You can warm it up in microwave or on stove. Prepare quesadillas as you normally would. Serve with your favorite condiments.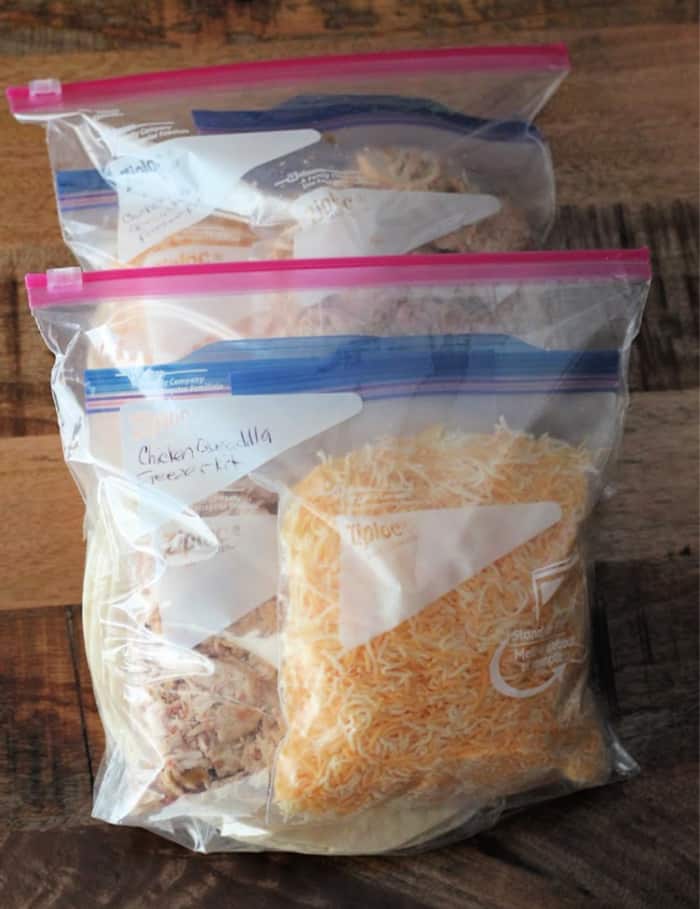 Another freezer kit I make quite often are smoothie freezer packs. If you're a smoothie fan then these kits are a must.