One way I keep meal prep day simple is by picking up a Rotisserie chicken to use in recipes. Sure it's easy to throw chicken in a crockpot to make buffalo chicken, Mexican chicken, salsa chicken, or basic shredded chicken but there are some weekends I don't have the time or don't feel like cooking up a batch of chicken. In this case, I'll head to the store and grab a juicy delicious rotisserie chicken.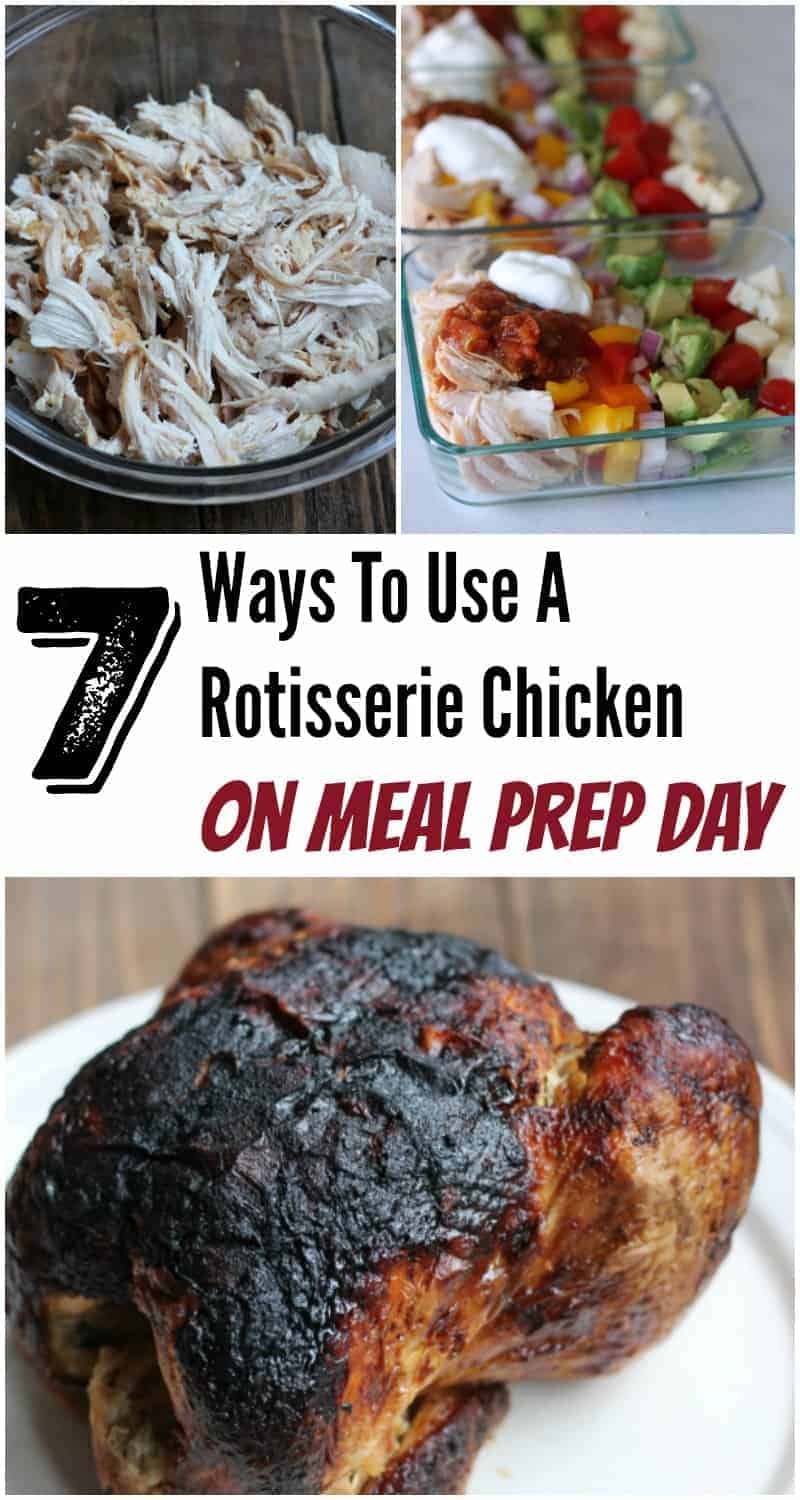 So, what I'm saying is….I'm not above convenience food.
Prior to my meal prep days I would grab a rotisserie chicken on the way home without a real plan. We would just eat it and throw out any leftovers. I never knew the recipe potential that rotisserie chickens have. Now I do!
Before I get into all the different recipes ideas for rotisserie chicken let me highlight a few more reason I love having this convenience food available.
It's cheap.
In my area, Rotisserie chickens cost between $5 – $8. I can get at a week's worth of mason jar salads and another meal out of it. So, when you think about, that only a $1 or so per serving.
It's cooked.
I've mentioned before my dislike for raw chicken – I mean really, who likes raw meat? Yuck! Anyway, using a rotisserie chicken eliminates having to touch raw chicken.
It's also a big time saver because I don't need to wait for the chicken to cook before putting meal prep recipes together.
It's tasty.
You can purchase unseasoned rotisserie chicken and it'll still taste great. However, many stores offer all kinds of seasoned chickens. I've seen cajun, lemon pepper, and others.
It's versatile.
Rotisserie chicken can be used in any recipe that calls for shredded chicken. Salads, soups, casseroles, tacos, dips, wraps, or wherever your imagination takes you.
It's healthy.
There's nothing I like more than healthy convenience food. Yes please! Since it's cooked using a Rotisserie oven there's no added fat with oil or butter. Also, there's no breading so it's low carb. If you prefer organic and natural chickens most stores offer those options too. If you're looking for a low-carb high protein quick option for meal prep a Rotisserie chicken will work great.
Okay, those are the reasons I turn to Rotisserie chickens when I don't have time to cook.
Before I get to the recipe ideas let's first go over some quick meal prep tips for using Rotisserie chicken.
The first thing I do is remove the skin and then pull apart and shred all of the chicken.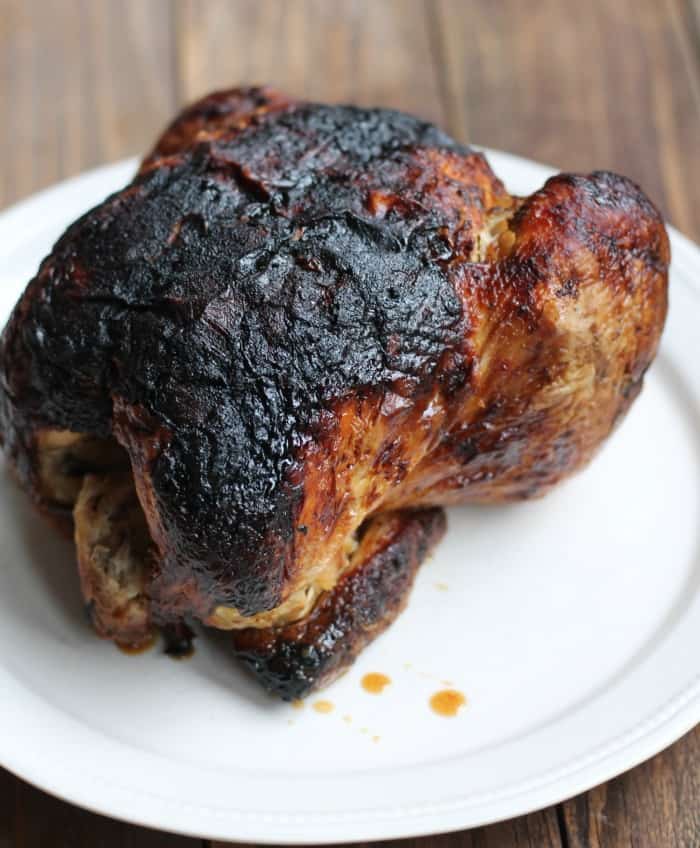 With a Rotisserie chicken you get both white and dark meat. Dark meat has more fat and calories so you can opt not to use it but I use all of it. There's not a lot and I don't like throwing food out.
Typically, I get about 4-5 cups of shredded chicken. Depending on the recipe that can be enough for 5 mason jar salads and 1 or 2 other recipes.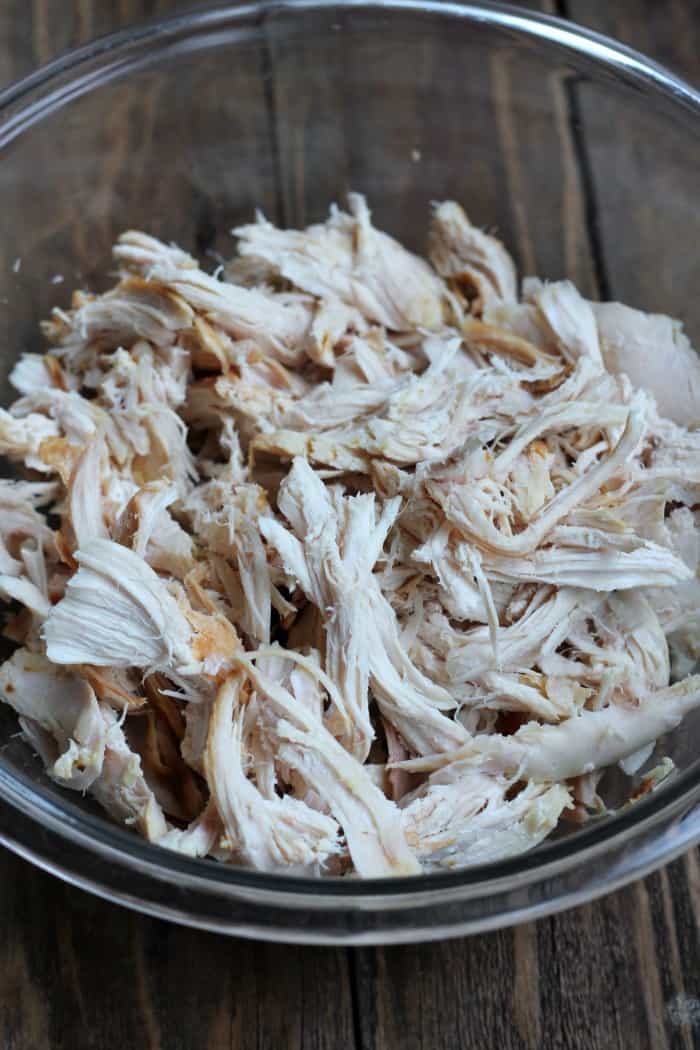 Don't throw out the carcass – this can be used for chicken stock.
After I shred the chicken I put the recipes together.
See, easy peasy!
Alright, let's get to the meal prep recipes I've prepared using shredded Rotisserie chicken.
#1. Mason jar salads
Mason jar salads are the recipes I make most with shredded Rotisserie chicken. When I don't have to wait for chicken to cook it takes me about 30 minutes to make lunches for the entire week. Keep in mind if some of the recipes don't originally call more Rotisserie chicken, not a problem, simple mix the chicken in with the seasons or sauce it calls for.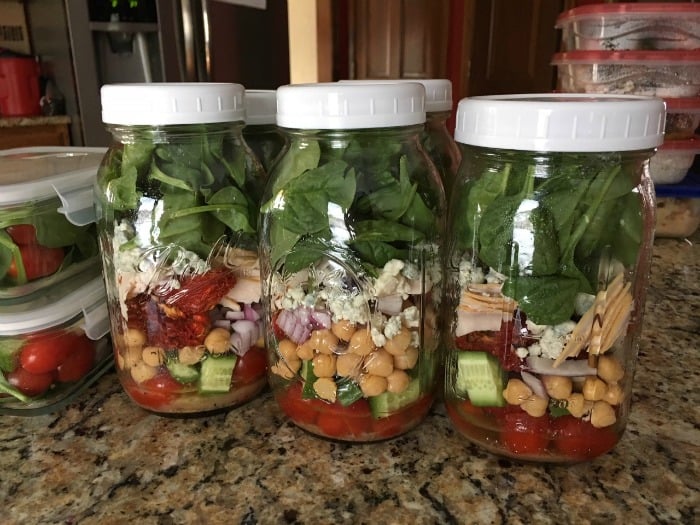 Here are my favorites.
Buffalo Chicken Mason Jar Salad
Southwest Chicken Mason Jar Salad
Barbeque Ranch Chicken Mason Jar Salad
You can download my Mason Jar Salad tutorial and Ecookbook for tips and more recipes ideas.
#2. Make ahead salad bar
If you don't want to put mason jar salads together, yet want salad ingredients available, then store the chicken, along with the other ingredients, separately in the refrigerator. I like to use these glass pyrex containers for storing chicken.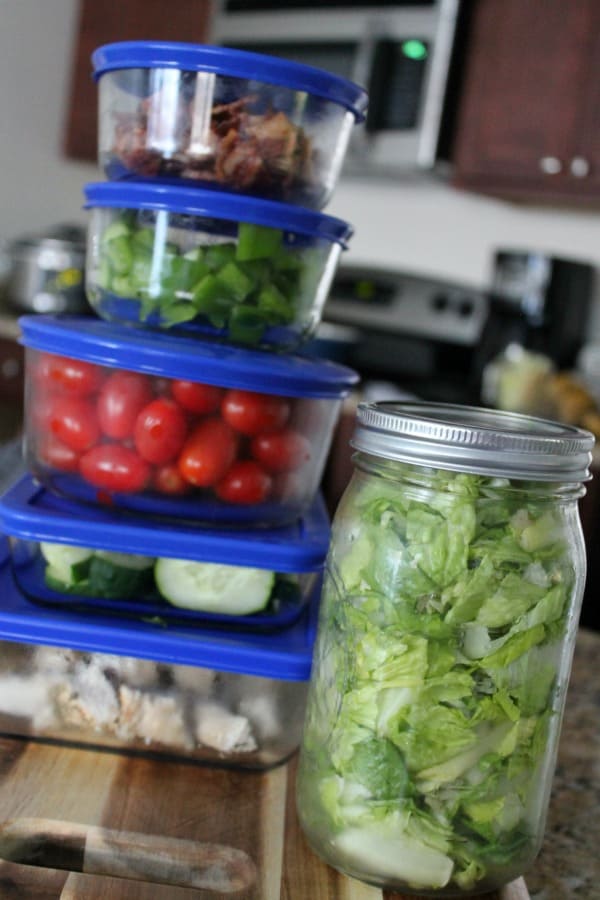 Here's a quick make-ahead salad bar tutorial.
#3. Meal Prep Bowls
I just recently started making meal prep bowls. In a way, they are the same concept as mason jar salads but instead the ingredients are place next to each other in a glass rectangle container. Also, you can mix the chicken with different sauces and place next to quinoa and vegetables – that's just an example. The purpose is to make a 3-5 different bowls to have available all week to eat.
Here's an example of a chicken burrito meal prep bowl I put together.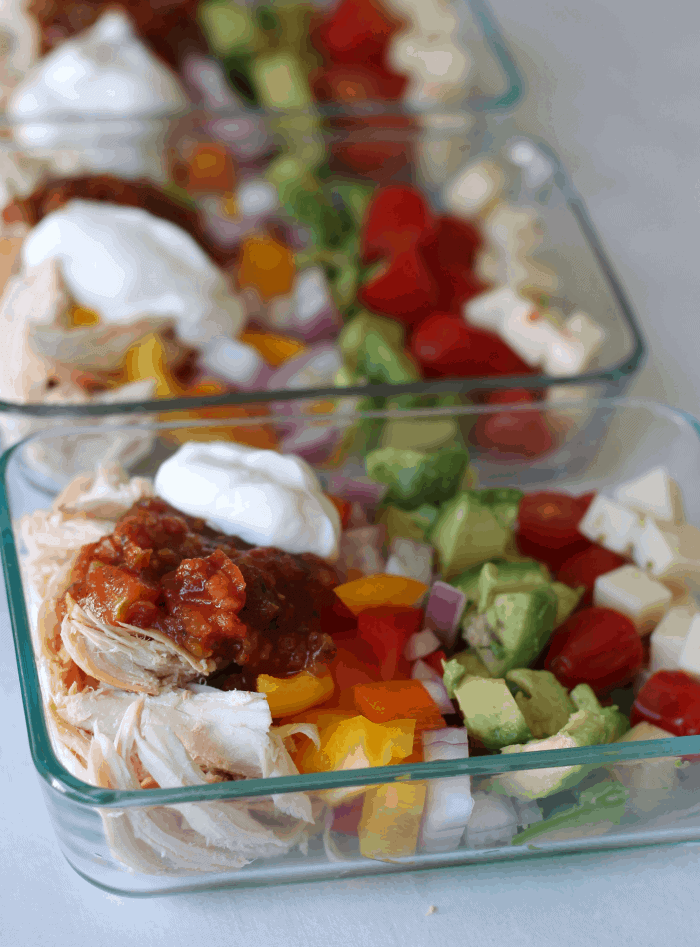 #4. Casseroles or pasta bakes
Most casserole or pasta bakes require 1 ½ – 2 cups of shredded chicken. Therefore, prior to putting together any other recipe you can put aside enough chicken for another meal. Like I said earlier, use Rotisserie chicken in any recipe that calls for shredded chicken.
Here are my favorite shredded chicken casseroles and bakes.
Broccoli and Chicken Pasta Bake
Chicken Parmesan Casserole
Buffalo Chicken Macaroni and Cheese
#5. Soups
Just like with bakes, soups need about 1 ½ – 2 cups of shredded chicken. Although, you're not going to ruin a recipe by adding in a little more or less.
Here are some of my favorite soup recipes that call for shredded chicken.
Tortellini, Spinach, and Chicken Soup
Creamy and Spicy Mexican Chicken Soup
#6. Wraps and sandwiches
If you're looking to keep your meal plan super simple then use some of that Rotisserie chicken to make sandwiches or wraps. Just make sure to have all your sandwich fixings on hand.
Here are two of my favorite chicken salad recipes that can be used in sandwiches or wraps.
#7. Chicken stock
After you remove all the chicken take the carcass and cook it, in a 5 – 6 quart stock pot filled with water, for 3-4 hours to make a homemade chicken broth. If you want add onions, carrots, and spices to flavor it up. After it's done remove the carcass and let the stock cool. Then strain into mason jar containers and freeze. 
Wow that's a lot of option for just one Rotisserie chicken!
Think about it, an $8 Rotisserie chicken can provide a week's worth of lunches, a couple dinners, and a bunch of homemade chicken stock! Not only does it make meal prep easy but it's cost effective too! Bonus!
I know using a Rotisserie chicken for meal prep isn't a new groundbreaking concept. But many readers ask me for time-saving meal prep tips and just in case you haven't thought of this one yet, I thought I'd share.
What are your ideas for using Rotisserie chicken? Do you have any tips, tricks, or recipes?