For today's salad recipe, I decided to give a new spin to one of the classics: greek chicken salad in a jar. This delicious chicken salad recipe has all of your favorite fixings and toppings to enjoy on the go!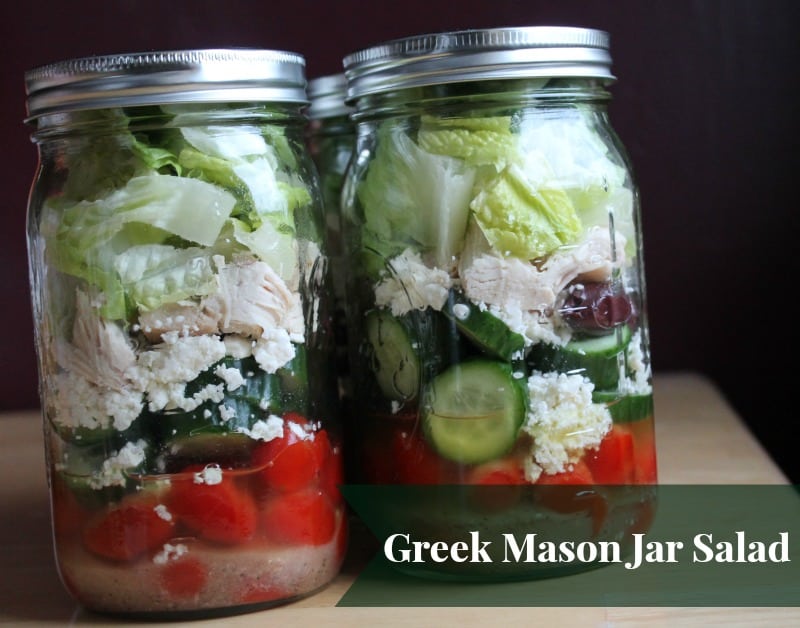 I can't believe how much I love making mason jar salads. Seriously! When I first discovered them on Pinterest, I thought it was just another cute food thing. But I was wrong.
When I take the time on a Sunday to make ahead a bunch of salads for lunches, my week always goes better.
Each morning, I don't even have to think about what to make for lunch. I just grab my mason jar salad, a bowl, and I am off to work. At around noon, I sit back and eat a delicious healthy veggie-filled salad for lunch. I feel great!
This week, I want to share with you my Greek chicken salad recipe.
This is a classic greek salad filled with tomatoes, cucumbers, greek olives, feta, chicken, and romaine. For the dressing, I used Newman's Olive Oil and Vinegar in a bottle.
It is so good! Honestly, everything about it is absolutely delicious. As with many of my mason jar salads, I love the way the tomatoes and cucumbers marinate in the dressing. Yum!
Greek Chicken Salad In A Jar
Here are the ingredients you need to make this delicious salad at home!
Newman's Own olive oil and vinegar dressing
Cherry tomatoes (halved)
Mini cucumbers (sliced)
Greek olives (pitted/sliced or chopped)
Feta cheese (crumbled)
Rotisserie chicken (chopped or shredded)
Romaine lettuce (chopped)
To make these salads in a jar, I used 5-quart sized wide-mouth mason jars.
How To Make Greek Chicken Salad
For this salad recipe, I am going to break everything down in layers for you.
Dressing
For the first layer, You are going to want to start with the dressing. Layer however much you need at the bottom of the mason jar. This is so the salad isn't soggy when it comes time to eat it. If you want to reduce calories, try using less dressing.
Tomatoes and Cucumbers
After the dressing, layer in some halved cherry tomatoes and sliced mini cumbers so they can marinate in the dressing and bring the salad a ton more flavor.
Cooking Note: I used to add red onion to this salad but don't anymore. Why you may ask? Well because I am old and for some reason, red onion tends to upset my tummy now. Totally serious. #oldpeopleproblems
So, I leave them out but if they're your favorite, definitely throw some in with the tomatoes and cucumbers!
Olives
I don't know about you but I'm very particular about my olives. I always like to splurge a little bit and get the best kalamata olives for this greek chicken salad.
Toss a couple of your favorite chopped up olives over the top of the tomatoes and cucumber.
Cheese
This is one of my favorite layers.
I mean, who does not like feta? I think what I like the most about feta cheese is a little goes a long way. There are two reasons why you only really need a little bit:
It is a stronger tasting cheese
It crumbles so it distributes throughout the salad.
So keep that in mind when you are adding feta cheese into the mason jars.
Chicken
The next layer of this salad in a jar is the chicken.
To make the preparation for this salad super easy, I always lean towards using a rotisserie chicken. You could cook up some chicken breasts or use some of the shredded chicken you might have meal prepped earlier in the week instead. But, for me, I like to be able to just shred some rotisserie chicken and call it a day.
You can always skip this layer and leave the chicken out if you prefer it!
Lettuce
And the final layer: the lettuce.
For this recipe, I went with romaine lettuce you can always swap it out with spinach or spring mix salad.
Cooking Note: I get asked all the time about the lettuce getting soggy. I have been making these salads years and I will tell you I never – not one time – got soggy lettuce. The dressing stays at the bottom of the jar and the tomatoes and cucumbers function as a barricade of sorts.
As long as the dressing does not touch, the lettuce you are good to go.
Watch The Video Tutorial On To Make This Mason Jar Salad
I put together a quick video to show you how to make a mason jar salad. This is a quick (less than 2 minutes!) video that's worth watching:
More Salad In A Jar Recipes
Over the last year, I have made a variety of different mason jar salads. Here is a list of my tried and true recipes!
Get instant access to my mason jar salad recipe e-cookbook here! I share 19 of my best mason jar salads along with tips, tricks, and tutorials. Share a picture and tag me on Instagram or Facebook if you decide to make this!

Mason Jar Greek Salad
Author:
Organize Yourself Skinny
Ingredients
5 quart size wide mouth mason jars
10 tablespoons Newmans Own Olive Oil and Vinegar Dressing
1 quart cherry tomatoes, halved
5 mini cucumbers, sliced
1 cup pitted greek olives, sliced or chopped
¾ cup crumbled feta cheese
2 cups chopped or shredded rotisserie chicken
5 cups chopped romaine lettuce
Instructions
Divide and layer all ingredients into mason jars. Start with salad dressing, then tomatoes, cucumbers, olives, cheese, chicken, and end with lettuce. Put mason jar top on and store in refrigerator.
When ready to eat pour into a bowl and serve.
Notes
Make Ahead Instructions


These can be made up to 5-6 days ahead of time.
Nutrition Information
Serving size:
1 mason jar salad
Calories:
449
Fat:
33
Carbohydrates:
14
Fiber:
4
Protein:
24
Get Instant Access to my Mason Jar Salad Recipe E-cookbook!
Sign up now to receive your FREE e-cookbook that I created exclusively for my email subscribers! That's you!