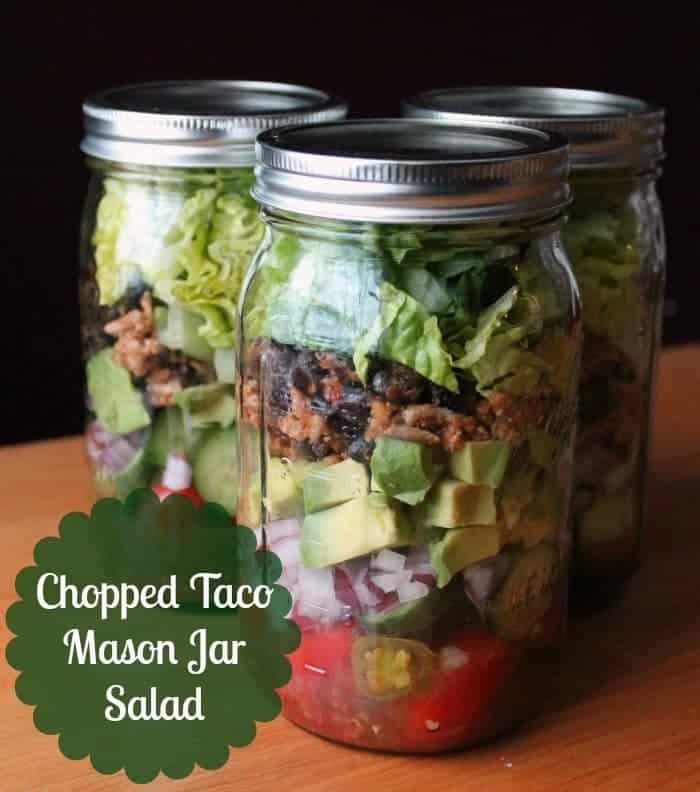 Get instant access to my mason jar salad recipe e-cookbook here! I share 19 of my best mason jar salads along with tips, tricks, and tutorial.
I eat taco salads a lot – mostly, because my kids are obsessed with tacos. I make them weekly and almost always have leftovers. Those leftovers usually make their way to a taco pizza or taco salad the next day. Since we eat some type of taco recipe ALL THE TIME I never really thought about making taco salad for lunches. However, a reader asked me a couple weeks ago on my facebook page if I ever tried to make the chopped taco salad into a mason jar salad. Well no I didn't but…I can.
Last weekend I decided to take on the mason jar taco salad challenge. To reduce the calories slightly from the original salad I swapped out the beef for ground turkey; used plain greek yogurt instead of sour cream; and left out the black olives. For some extra zip I threw in pickled jalapeños and red onion. This salad is super versatile so really you can use any of your favorite taco salad ingredients.
Here's a quick video I made to bring this chopped taco mason jar salad to life.
The results were delicious. When I was putting these salads together I did get a little nervous because I realized that these salads are consumed cold and I was not sure how cold taco meat would taste. I usually warm up the taco meat when I make these salads the conventional way. However, when the salad is mixed together I did not mind the taco meat being cold at all. If you think that will bother you then you can certainly use chicken.
I want to talk about the amount of taco meat to use per jar. My original plan was to make taco meat using 1lb ground turkey and 1 (15 ounce) black beans. Then just divide between all the mason jars. However, after the meat was made it seemed like a lot so I ended up only using 1/3 cup of the meat per jar. When I was eating the salad I thought it I could have used more of the meat. So, use the amount of meat you think would be best. I figured the nutritional information using all the meat so if you use less then your calories will be less.
I would also like to address the avocado question. I have been using avocado's in my mason jar recipes since I have started and never once did I have the problem with them turning brown. Before I add the avocados I squeeze lime on them. That seems to be enough to keep them green. I also think using the glass jars have a lot to do with it too. Not sure why but maybe because it keeps the air out. Regardless, my avocados always stay green.
If you are a taco salad fan then you will love having these salads ready for lunches everyday during the week.
See my other mason jar salads here.

Chopped Taco Mason Jar Salad
Author:
Organize Yourself Skinny
Ingredients
5 wide mouth quart size mason jars
1 lb ground turkey
1 can black beans, drained
1 packet taco seasoning (I use simply organic)
1¼ cups salsa
5 tablespoons plain Greek yogurt
1 quart cherry tomatoes, halved
5 mini cucumbers, sliced
1 small to medium red onion, chopped
2 avocados, chopped
juice from half of a lime
11 ounce jar pickled jalapeños, drained and chopped
5 cups chopped romain lettuce
Instructions
in a medium pan cook ground turkey until no longer pink. Add black beans, seasoning packet, and the amount of water stated in seasoning packet directions. Let taco mixture cool.
Divide ingredients among mason jars starting with salsa then adding greek yogurt, tomatoes, cucumbers, onions, jalapeños, avocados, taco meat, then lettuce. Place lid on and close tight. No need to vacuum seal or anything like that.
When ready to eat, shake real good, then pour into a bowl and enjoy. Can serve with tortilla chips.
Notes
Make ahead instructions



These salads can be made 5-6 days ahead of time.
Nutrition Information
Serving size:
1 mason jar
Calories:
402
Fat:
15
Carbohydrates:
47
Fiber:
13
Get Instant Access to my Mason Jar Salad Recipe E-cookbook!
Sign up now to receive your FREE e-cookbook that I created exclusively for my email subscribers! That's you!