This vegan taco salad is flavorful, hearty, and filled with protein and veggies! You can switch it up with any ingredients you have on hand and customize it to your taste. The best part of this salad is you can make it ahead of time by layering all the ingredients into a portable mason jar salad.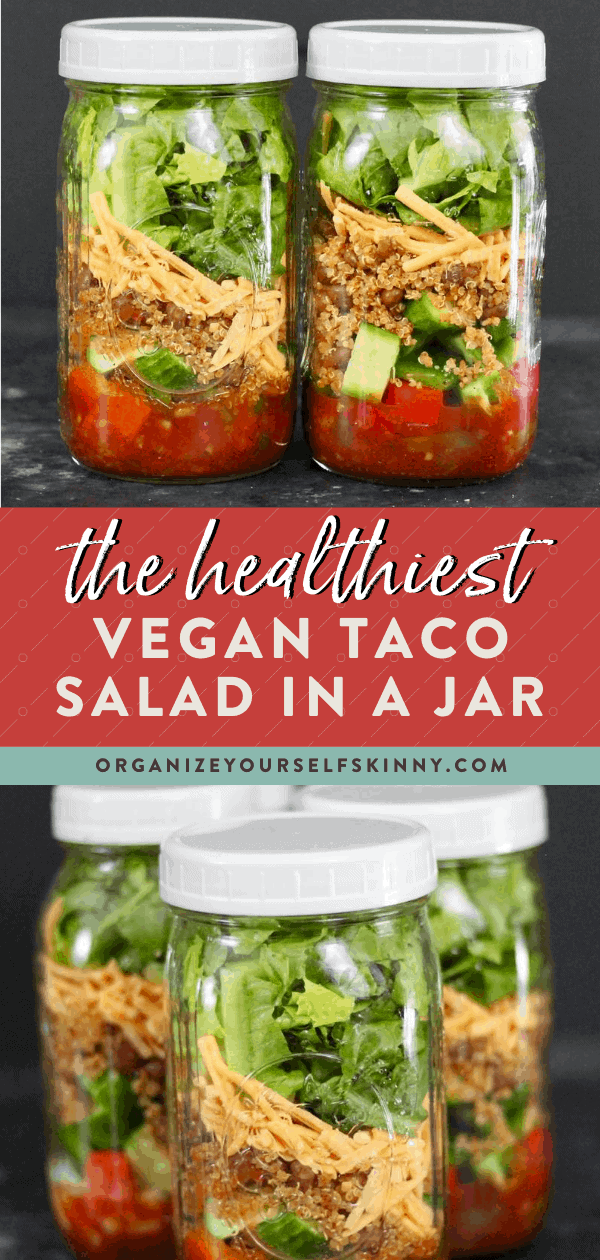 One of the most popular salad recipes on my blog is this taco mason jar salad. Readers love it! And to be honest, I do too.
However, since I posted this recipe 7+ years ago, I've received numerous requests for a vegan taco salad. I can't believe it's taken me this long to create a vegan version. But, better late than never.
I wouldn't consider myself a vegan at all but I do like eating plant-based vegan meals. And, believe it or not, so do my kids. I guess I can thank TikTok and Youtube for that! Haha..but seriously.
Most weeks, I save meats for dinners so breakfast, lunches, and snacks tend to be vegetarian or vegan.
Which brings me to this vegan taco salad.
Vegan taco salad is a great alternative when you want a Mexican inspired lunch without the meat!
Frequently Asked Questions About Vegan Taco Salad
I'm so excited to share this vegan recipe with you but first, let's go over some questions about this salad recipe.
Which is the best vegan protein option for taco salad?
Obviously for the salad to be considered vegan, I needed to remove the taco meat and replace it with something else. I wanted to keep it super easy because I know all of you are like me and don't have time for complicated.
So, instead of seasoned taco meat, I mixed in a couple of tablespoons of taco seasoning and 1-2 tablespoons of taco sauce in with some quinoa as it cooks and then stirred in a drained can of pinto beans. This was easy to make and worked perfectly for the salad!
I like using quinoa because it's high in protein, fiber, and omega 3 fatty acids. So it really packs a nutritional punch to any vegan recipe. For added flavor, I cook the quinoa in vegetable broth and then add a tablespoon or so of taco sauce and a squirt of lime for some extra flavor.
If you don't have quinoa, then you can use brown rice. Actually, any grain will work great! The purpose of the grain is to add bulk to a taco salad just like taco meat would.
Do I have to use pinto beans?
Nope. You can use any kind of bean you like! I personally love pinto beans but you can certainly use:
Black beans
Red Kidney beans
Supplies Needed To Make Salads In A Jar
32-ounce mason jars. I prefer to use wide mouth jars for mason jar salads but the regular mouth will work fine if that's all you have. You can get mason jar basically at Target, Walmart, or any grocery store. But, you can also get mason jars from Amazon.
Plastic mason jar lids. Mason jars come with metal lids but those will eventually rust. I grabbed some plastic mason jar lids a few years ago and I wish I go them sooner. I found these on Amazon.
Vegan Taco Salad Recipe
It's time to meal prep a couple of these delicious salads!
Here are the ingredients you'll need:
Uncooked quinoa, rinsed and drained
Vegetable broth
Pinto beans, rinsed and drained
Taco seasoning
Taco sauce
Lime juice
Salsa
Pickled jalapenos
Vegan sour cream
White or red onion, diced
Bell peppers, ribs and seeds removed and diced
Mini cucumbers, sliced
Vegan taco or cheddar cheese
Chopped romaine lettuce
Tortilla chips (optional)
How To Make A Vegan Taco Salad In A Jar
Now that I have answered your questions and you have all of the supplies and ingredients you need, let's layer this taco salad!
First Layer: Salsa
The first layer of this vegan taco salad in a jar is the salsa. In my original taco salad recipe, I use salsa as the dressing. It works great so I decided to keep it with the vegan version. This is where you can really switch up flavors. I like to use a basic medium salsa but you can use whatever flavor salsa you like. There are so many varieties so you can really get creative!
Second Layer: Pickled Jalapenos
Next, I add in pickled mild jalapenos. Of course, if you like spicy, then use some hot jalapenos. I put this after the salsa layer because they are wet and should be kept away from the greens. You can also use fresh jalapenos if you prefer!
Third Layer: Vegan Sour Cream
For this vegan taco salad, I used a vegan sour cream. I found this brand at Whole Foods and thought it was really good! I love adding sour cream to taco salad because it adds a creaminess to the salsa which is really good. Of course, you can leave the vegan sour cream out altogether if it's not your thing.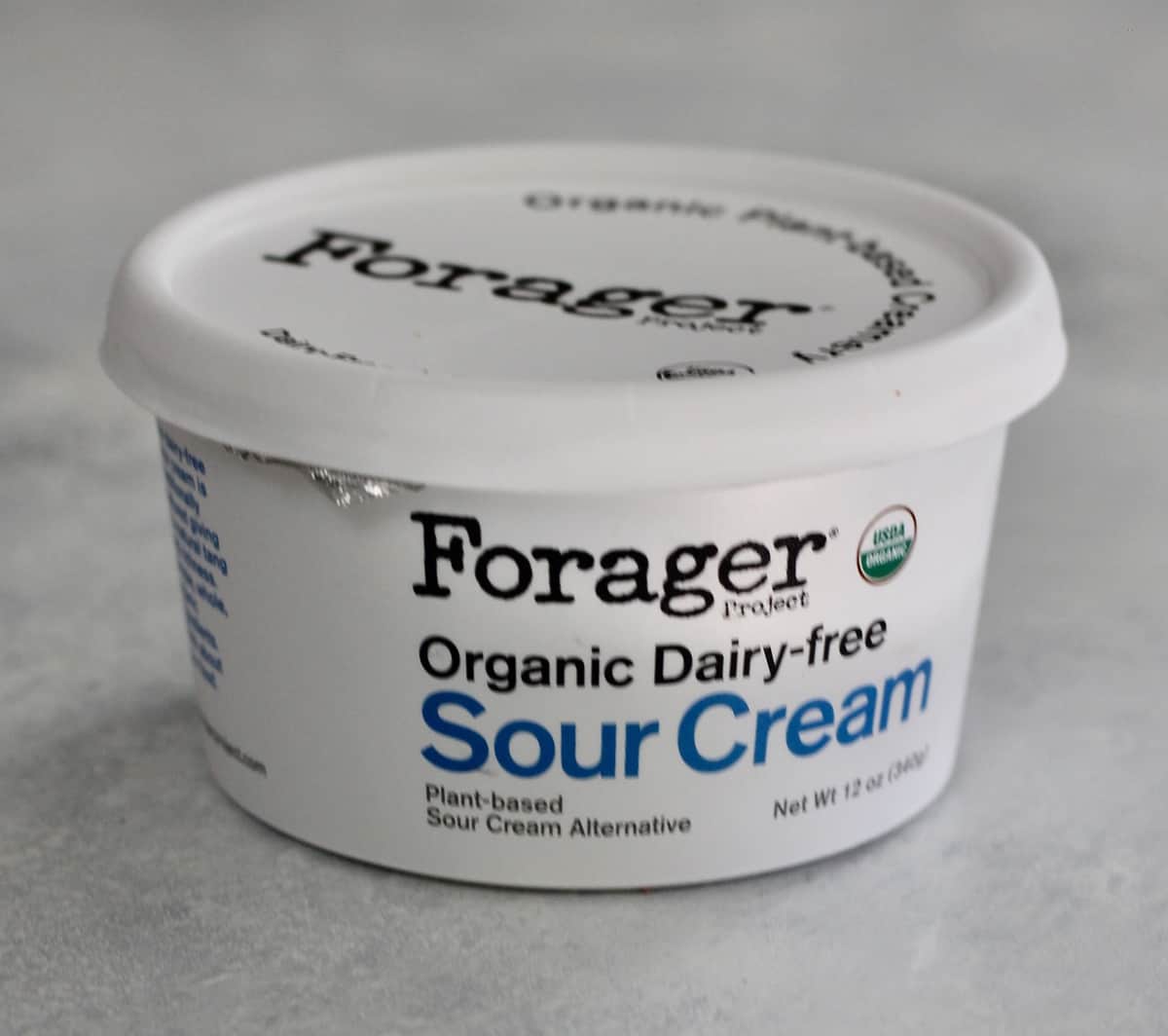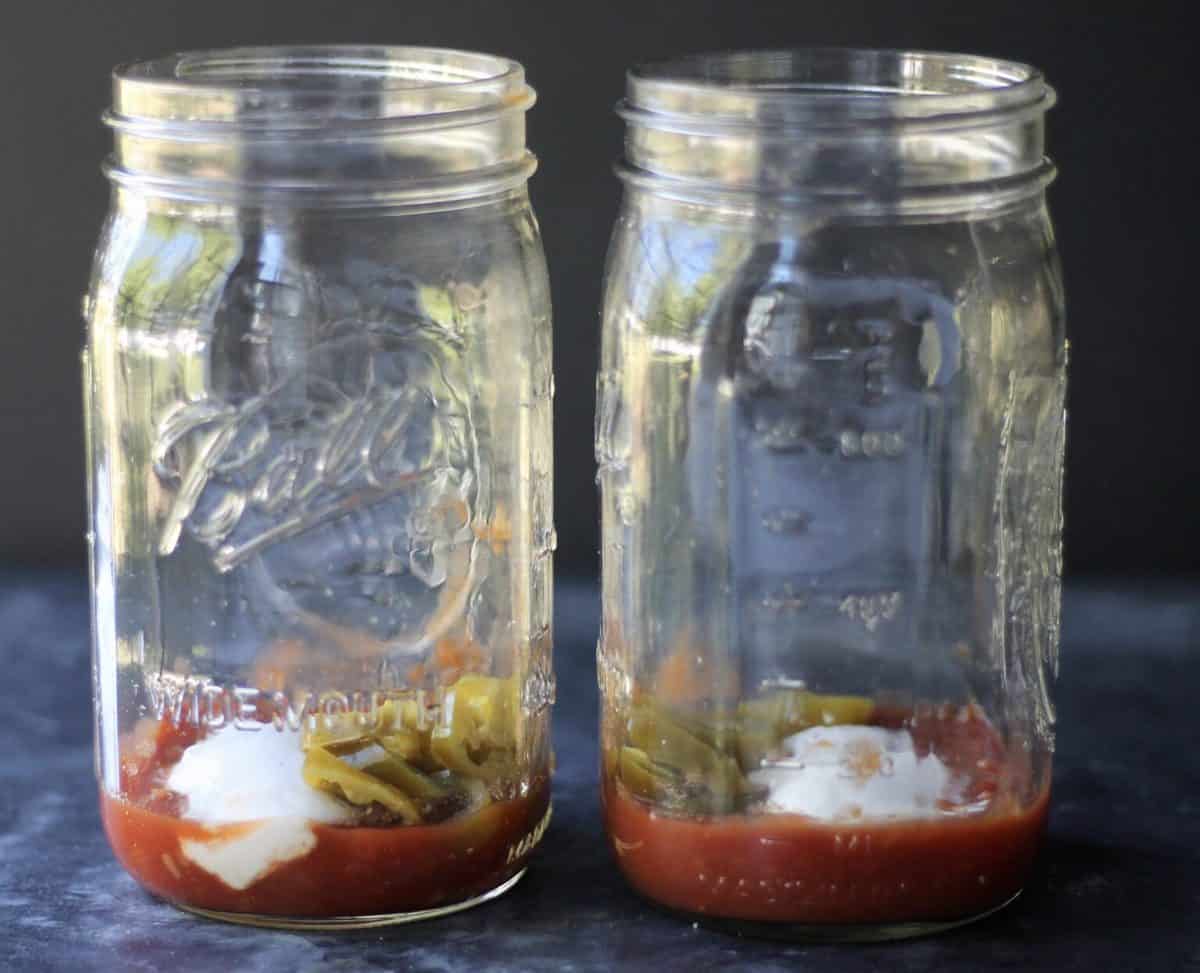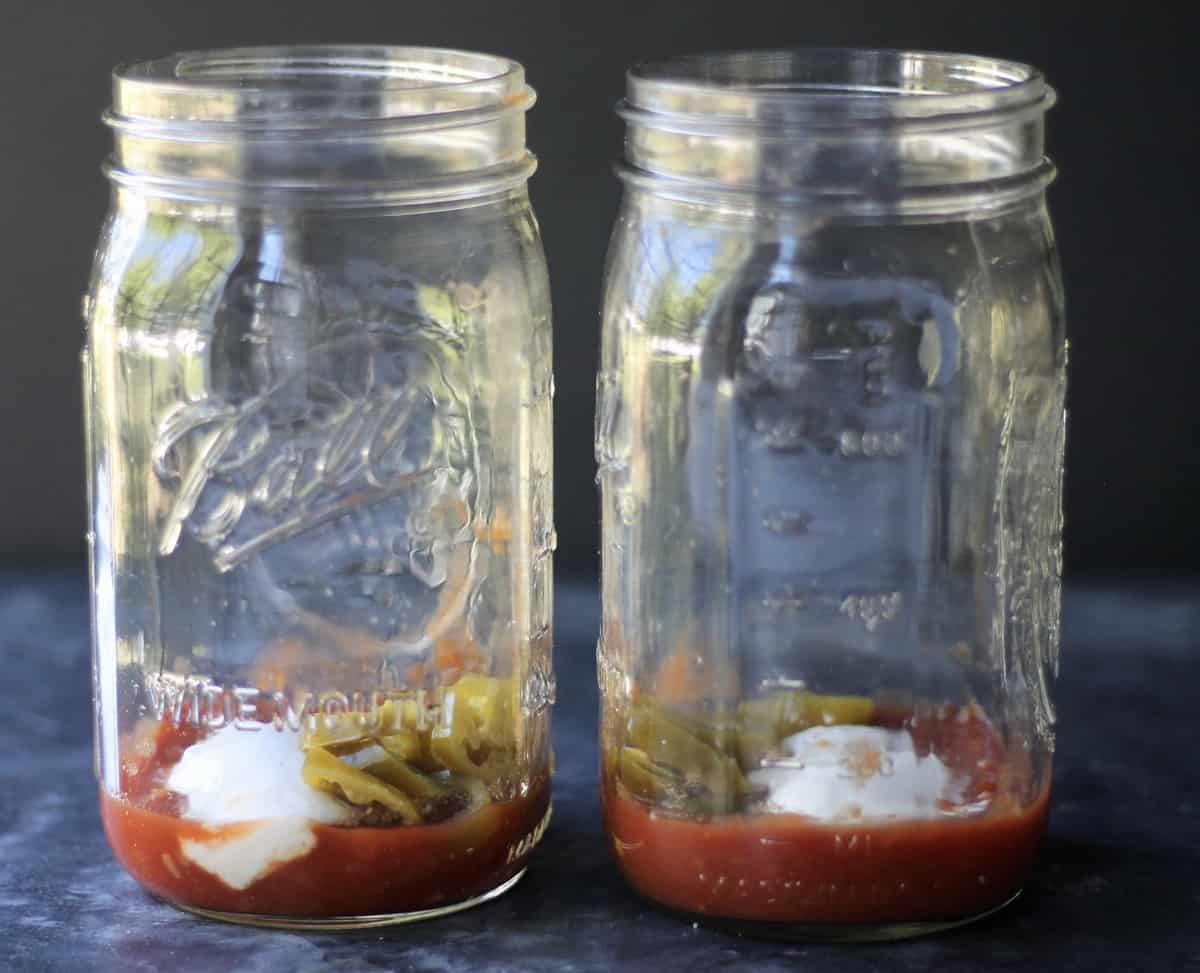 Fourth Layer: Hearty Vegetables
For the next layer, you want to add all of your hearty vegetables. You can add whatever you like!
Personally, I like bell peppers, red or white onion, and cucumbers. Since I'm using salsa in this recipe, I leave the tomatoes out but you can certainly add them in. Just like with other mason jar salads, think of vegetables that would taste good marinated or pickled. Those are the ones that do the best in this layer.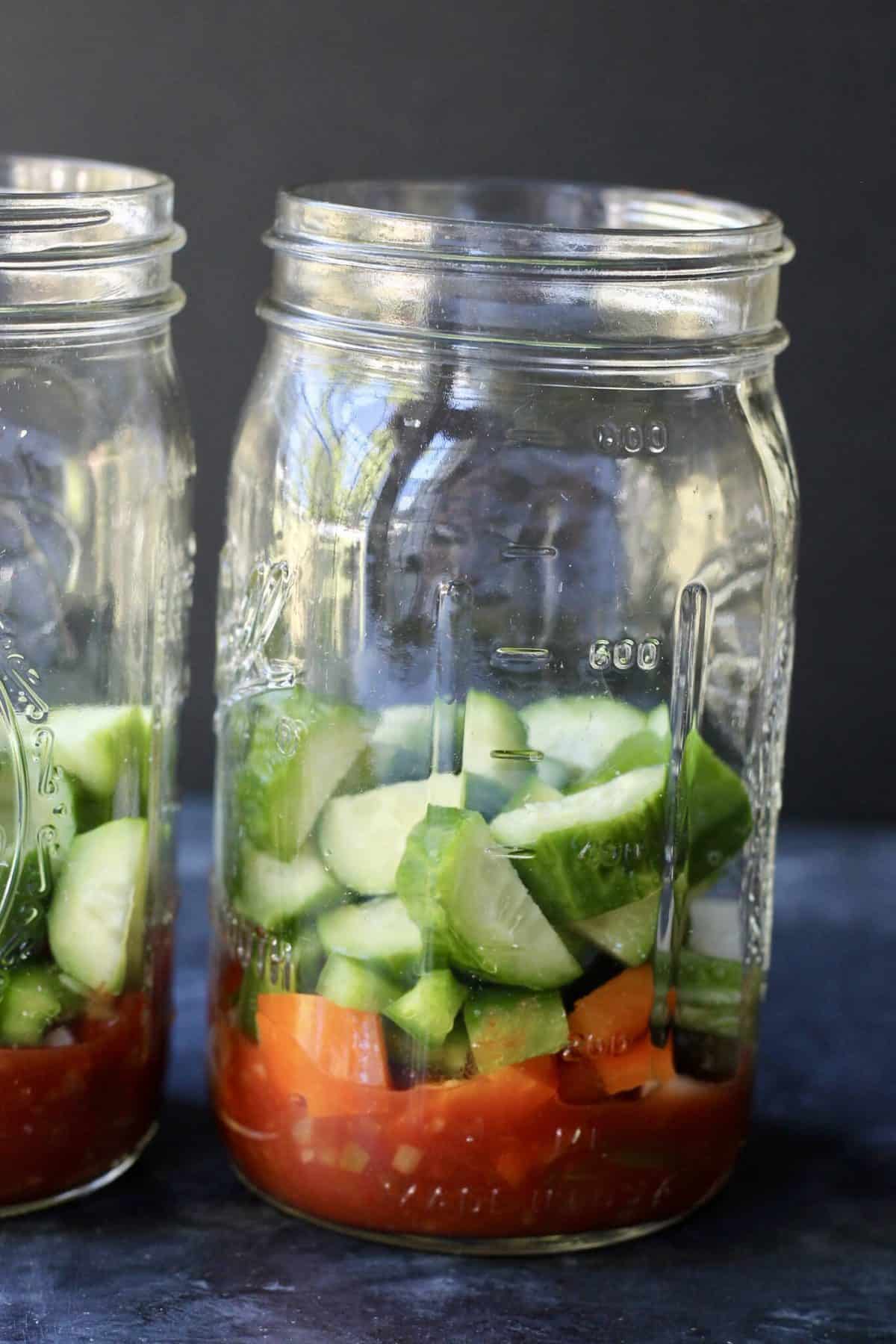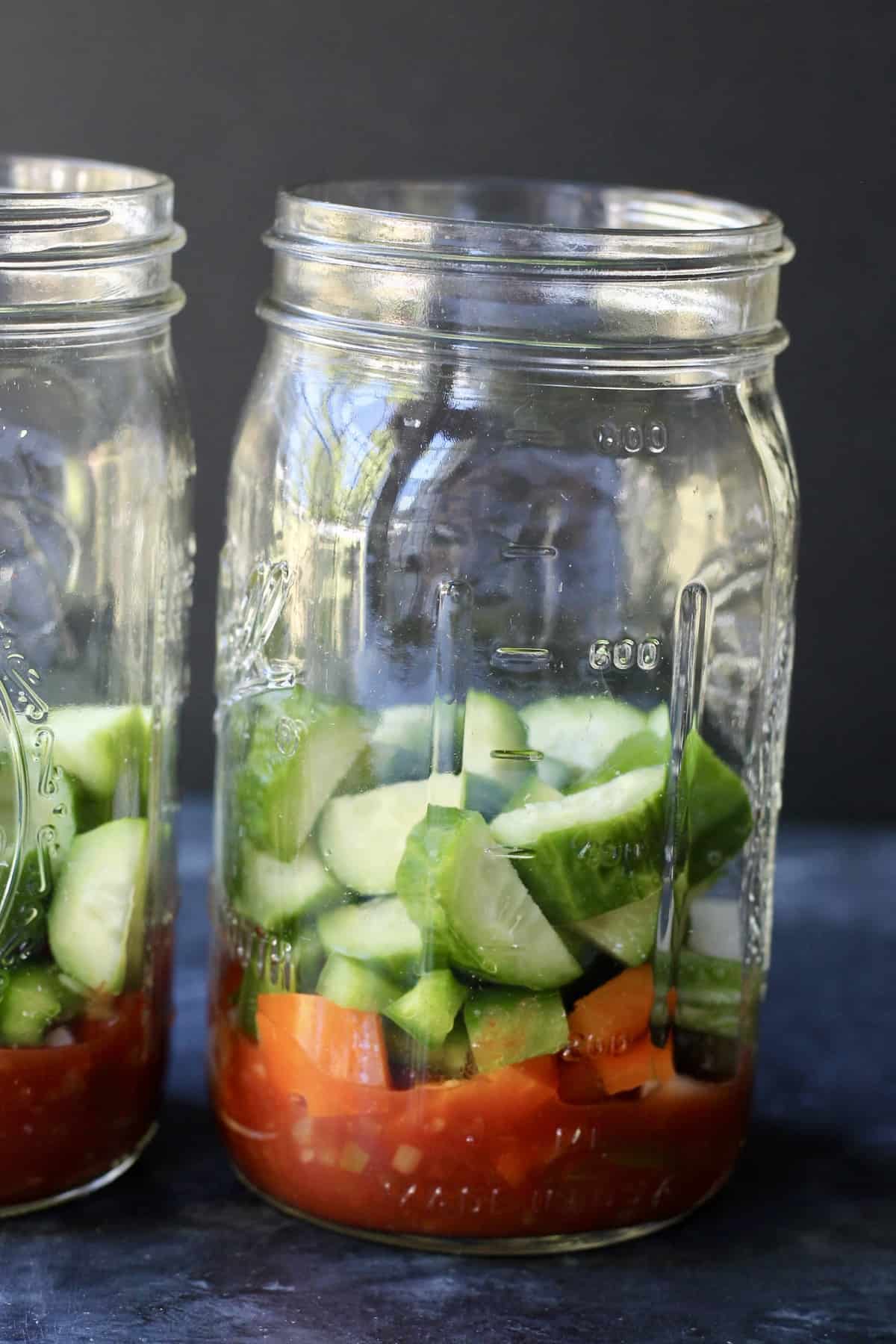 Fifth Layer: Protein
Next, add in the quinoa bean taco "meat" mixture that I mentioned above. I divide the mixture between all of the mason jars – it's about ⅓ cup per jar.
Sixth Layer: Cheese
Now it's time for cheese – well, vegan cheese. Believe it or not, being cheese-obsessed as I am, I actually really like vegan cheese!
My daughter has some issues with dairy and I also try to limit it so I started using vegan cheese here and there. I must say I'm quite impressed.
For this vegan taco salad recipe, I used this vegan cheddar cheese pictured below because that's all I could find at Whole Foods. But, if you can find a vegan taco cheese or pepper jack, I'd use that.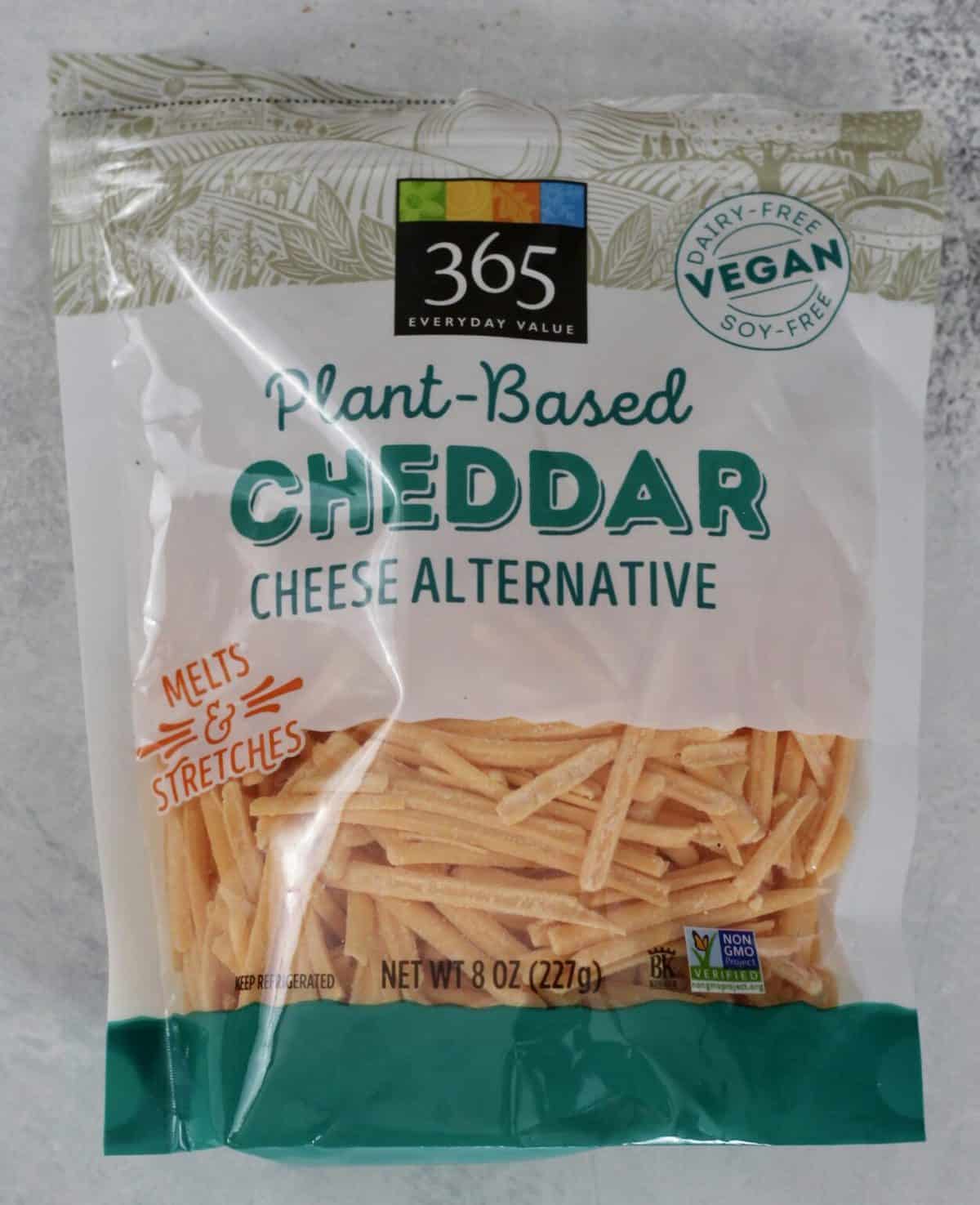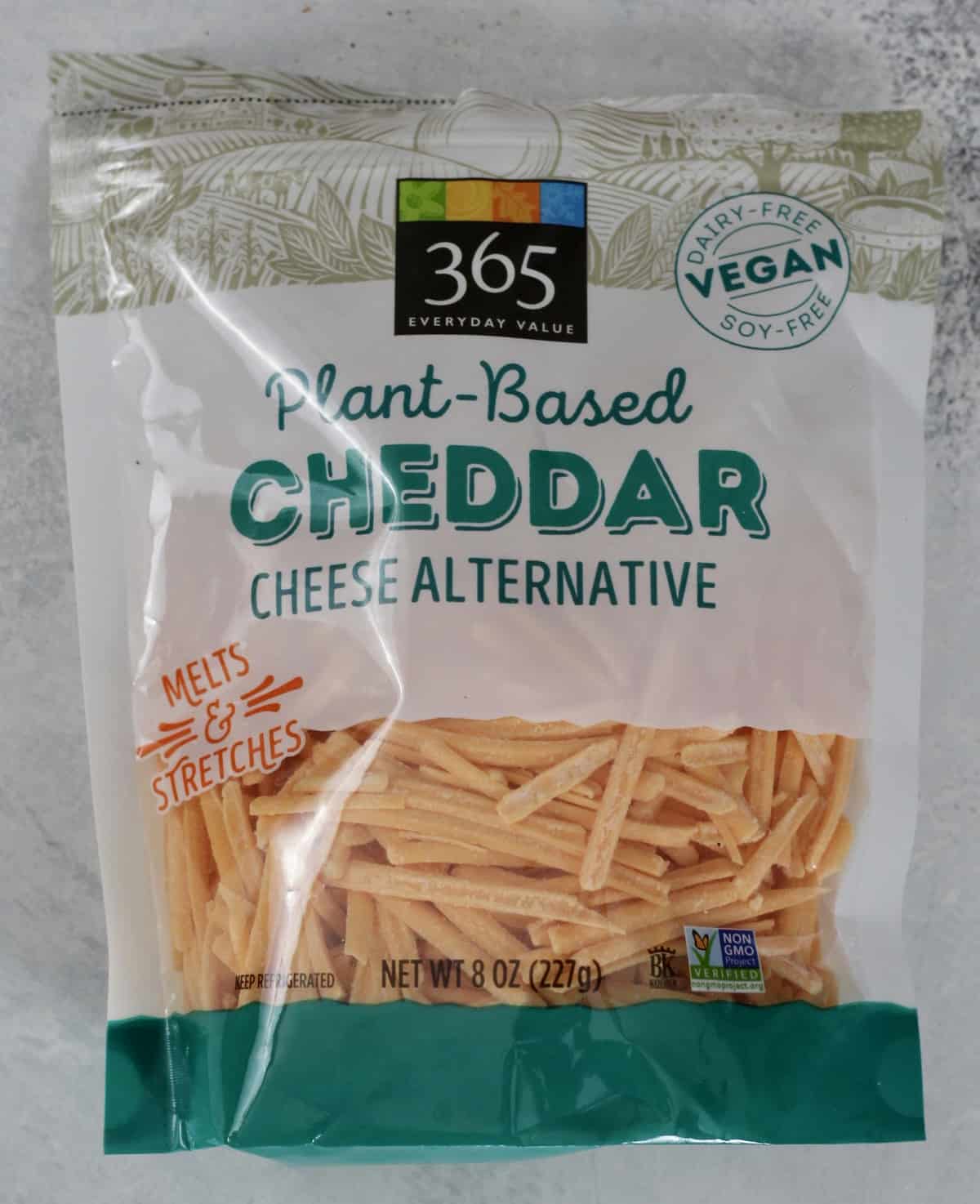 Final Layer: Greens
Last, you want to add the greens. For this vegan taco salad, I recommend using romaine lettuce!
Romaine has the best crunch that works best with this taco salad.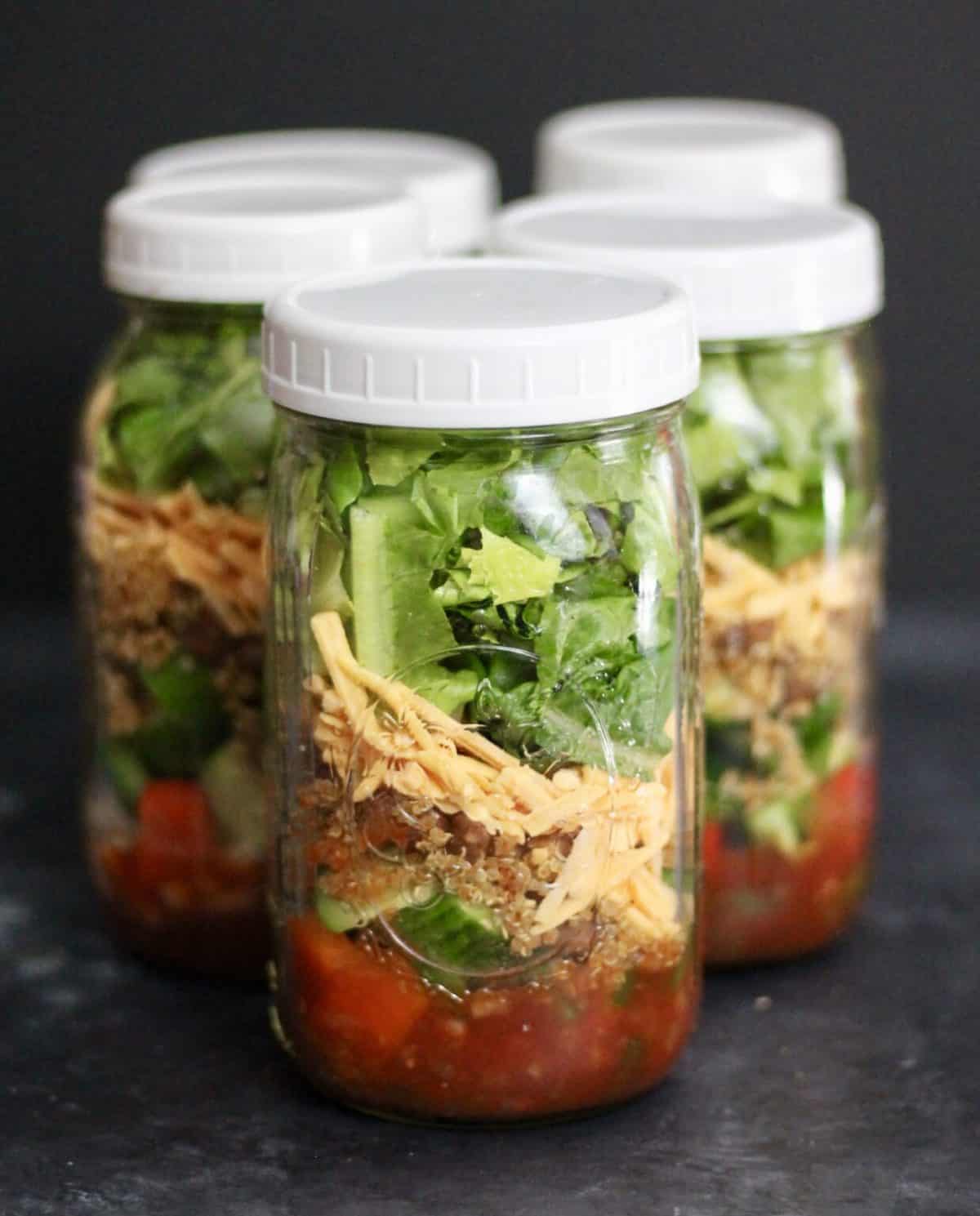 How To Store Vegan Taco Salad
After you layer all of the ingredients, then tightly put the top on and refrigerator for up to 5 days. When you're ready to eat, dump the salad into a bowl, mix it up, and enjoy it!
You can also crush a few tortillas on top of the salad for a little extra salty crunch.
More Salad In A Jar Recipes
If you enjoyed this vegan salad in a jar recipe, check out some of these other mason jar salads I've put together:
Share a picture and tag me on Instagram or Facebook if you decide to try this vegan taco salad recipe!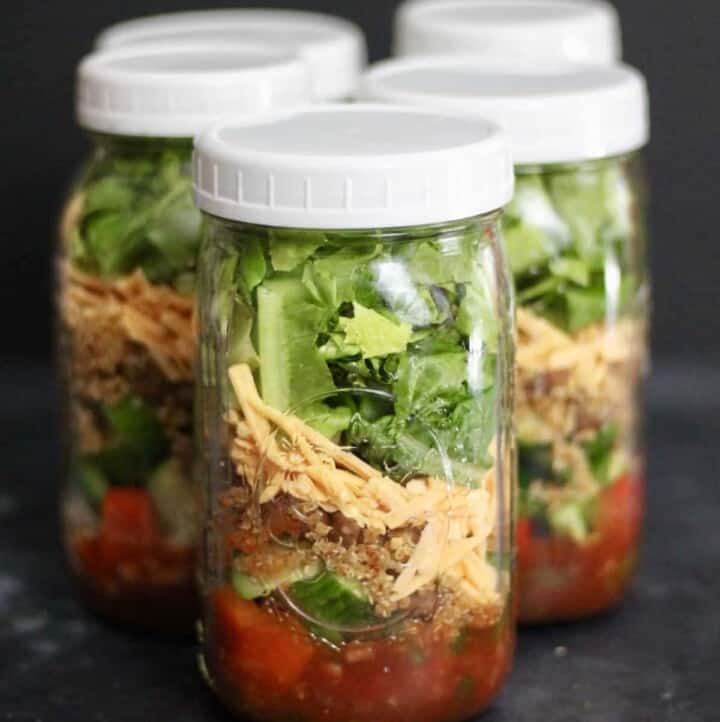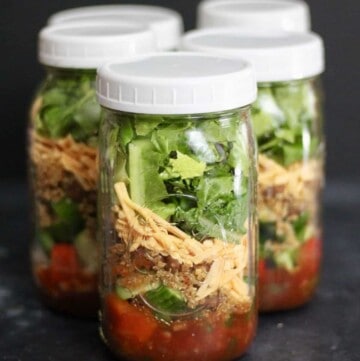 Vegan Taco Salad in a Jar
This vegan taco salad is flavorful, hearty, and filled with protein and veggies! You can switch it up with any ingredients you have on hand!
Print
Pin
Rate
Ingredients
5

wide-mouth mason jars

½

cup

uncooked quinoa

rinsed and drained

1

cup

vegetable broth

1

15-ounce can of pinto beans, rinsed and drained

2

tablespoons

taco seasoning

2

tablespoons

taco sauce

A squirt of lime juice

1 ½

cups

salsa

20-25

pickled jalapenos

10

tablespoons

vegan sour cream

½

of a white or red onion

diced

3

bell peppers

ribs and seeds removed and diced

5

mini cucumbers

sliced

10

tablespoons

vegan taco or cheddar cheese

5

cups

chopped romaine lettuce

tortilla chips *optional
Instructions
In a medium saucepan add the quinoa and vegetable broth. Cover and bring to a boil.

Reduce to a simmer and let it cook for about 15 minutes or until the liquid is absorbed.

Stir in the beans, taco seasoning, taco sauce, and lime juice. Set the quinoa bean mixture aside and let it cool for about 10 minutes.

Divide and layer the ingredients into each of the mason jars. Start with the salsa and then add the jalapenos, vegan sour cream, onions, peppers, cucumbers, quinoa bean taco mix, vegan cheese, and then end the romaine lettuce.

Put the mason jar lids on tightly and then refrigerate.
Nutrition
Serving:
1
g
|
Calories:
354
kcal
|
Carbohydrates:
51
g
|
Protein:
10
g
|
Fat:
9
g
|
Saturated Fat:
7
g
|
Fiber:
12
g
|
Sugar:
12
g