Everything you love about a hearty steakhouse salad layered into a scrumptious portion-controlled salad in a jar! This delicious Steak Salad is full of protein and drizzled with tart balsamic vinegar dressing. Bonus – this meal prepped salad is great for someone who is on a low-carb meal plan.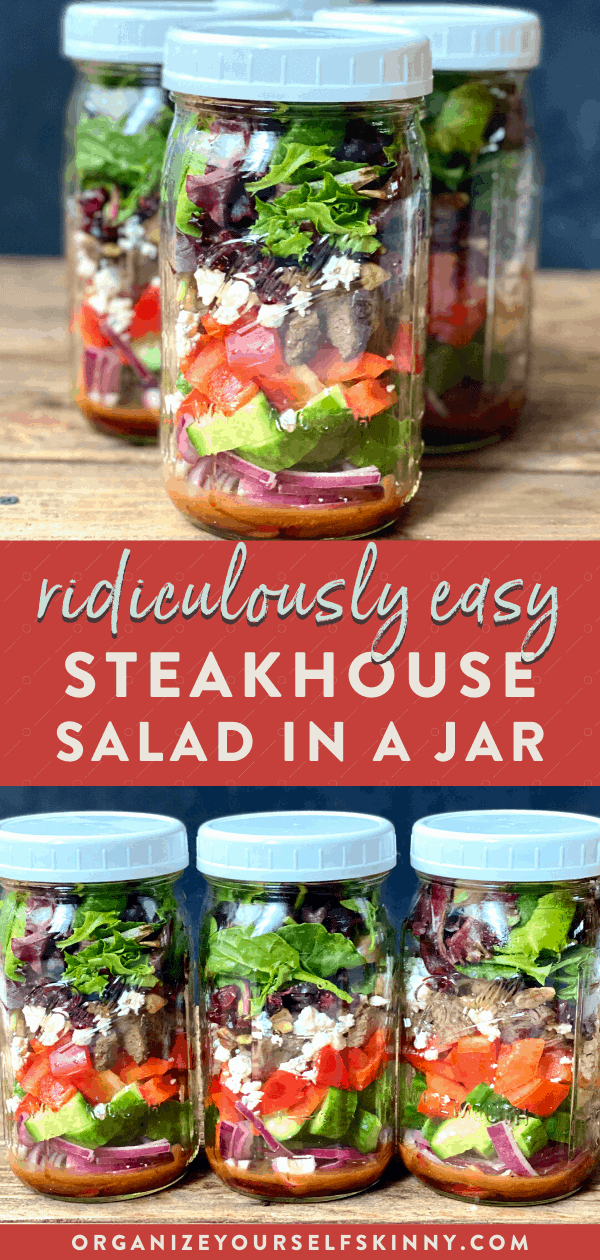 Here's yet another salad inspired by one of my daughter's ultimate favorites!
Every time we go out to dinner, she often decides to get a steakhouse salad filled with mesclun greens, crumbled blue, cranberries, walnuts, and topped with chunks of juicy steak. Most of the time, it's served with a tangy balsamic vinegar dressing that sends the flavor over the top.
Of course, most steakhouse salads cost between $13 and $17 so it's not exactly economical to pick up a salad for my daughter every time she gets a craving. So, I started purchasing the ingredients and making her my version of a "steakhouse" salad once in a while for dinner and sometimes packing one for lunch.
My daughter could seriously eat one of these salads every single day. I kind of don't blame her…it's fantastic!
Well, it occurred to me that I can create a steakhouse salad in a jar by layering all of the ingredients into a mason jar. This would make it so much easier for my daughter to have these salads ready to eat through the week for dinner or lunches.
Not sure why I didn't think of this before because I make mason jar salads for myself every week!
Frequently Asked Questions About Salad In A Jar
Before I jump into the recipe, I want to first answer some basic questions I have gotten about salad in a jar.
How long does a salad in a jar last?
Any time I make a salad in a jar, they usually last us 5 days. It's important to layer correctly (dressing on bottom and greens on top) so that all the ingredients stay fresh and crisp. I've even had salads stored in mason jars last 7 days and still taste great but a general rule is to plan to eat them up within 5 days.
How do you eat a salad in a jar?
I usually give my salads a quick shake and then dump it into a bowl. It's much easier to eat it this way than out of the jar.
Why use mason jars for salads?
In my experience, glass mason jars keep salads so much more fresh than plastic containers. They are also the perfect vessel for layering a salad. If you don't have any mason jars, you can always use a glass container but I would recommend getting a small container to keep the dressing on the side.
How should you layer salad ingredients in a mason jar?
The point of the layers is to create a barrier between the dressing and greens. To find out how I layered this steak salad recipe, you should keep scrolling. 😉
Steak Salad In A Mason Jar
Okay, let's put this salad together! I asked my daughter for help with picking out the ingredients because she is the steakhouse salad expert in this house.
Balsamic dressing
Red onion
Red peppers
Baby cucumbers
Filet mignon
Blue cheese
Raw walnuts
Dried cranberries
Mesclun greens
For this recipe, you will also need 4 (32-ounce) mason jars as well. If you don't have mason jars, you can also use 4 small-medium sized glass containers to store your meal prepped salad.
Note: Most mason jar salad recipes I prepare I can get 5 salads out of. This steak salad recipe make 4 mason jar salads. This is because I use 10 ounces of filet which was the perfect amount for 4 salads in a jar.
How To Make Salad In A Jar With Steak
So, the first thing we are going to want to do is split up all of the ingredients amongst the mason jars.
First Layer: The Salad Dressing
For this particular salad, we went with a balsamic vinegar we love to eat. Most of the time I'll use a bottled dressing – my favorite is Newman's Own – but, for this recipe, I wanted to make it homemade!
Here's the simple homemade balsamic vinaigrette that I made:
1/2 cup extra virgin olive oil
1/4 cup balsamic vinegar
1 tablespoon honey
1 garlic clove, grated
1 teaspoon dijon mustard
Salt and pepper
All you have to do is combine them all together in a small bowl and whisk it together. You can also use another mason jar if you want to make a larger quantity of the dressing. Just pour all the ingredients into the jar and give it a shake before using it.
Cooking Tip: This recipe can be used as a dressing and marinade. Keep leftovers in a mason jar stored in the refrigerator.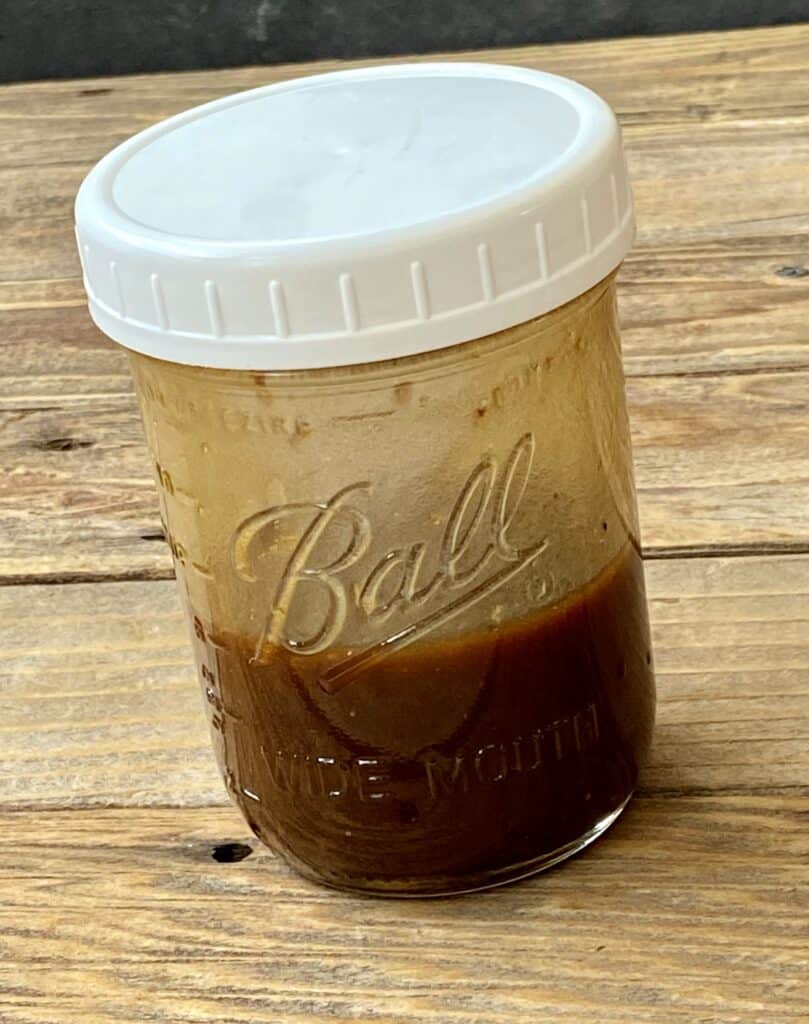 Second Layer: All Of Your Veggies
For the hearty vegetables, we decided to go with some red peppers, red onion, and cucumbers.
Typically, I use tomatoes in this layer but my daughter is not a tomato fan. I suggest putting the red onions first because then they can become pickled in the dressing. SO good!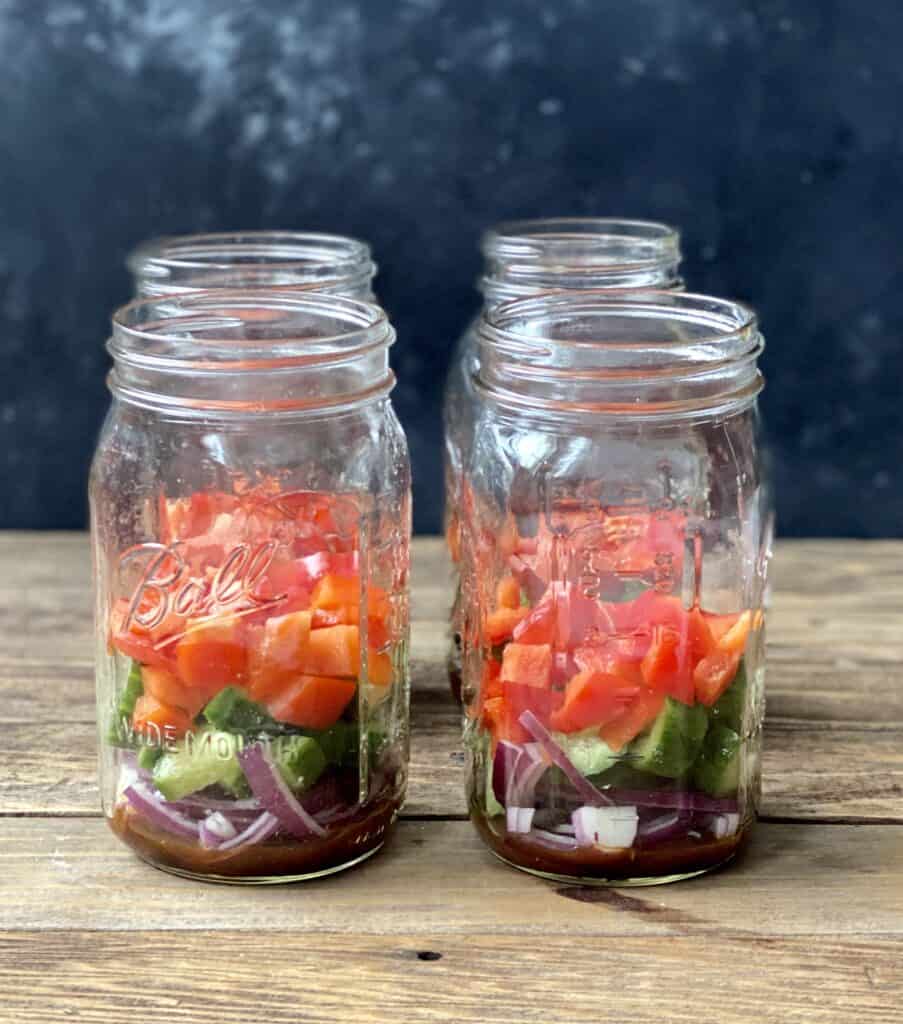 Third Layer: The Best Part Of A Steak Salad…Steak!
Now, the best part – the steak.
Normally when we eat steak at our house, I like to purchase either top sirloin or filet. I don't mind spending a little extra because I'm dividing the steak into 4 meals.
Using my grill pan, I'll cook the steak to medium and let it rest for a few minutes before I cut against the grain so that all the juices don't go everywhere. If you don't have an indoor grill pan, you can also broil it in the oven or cook it on an outdoor grill.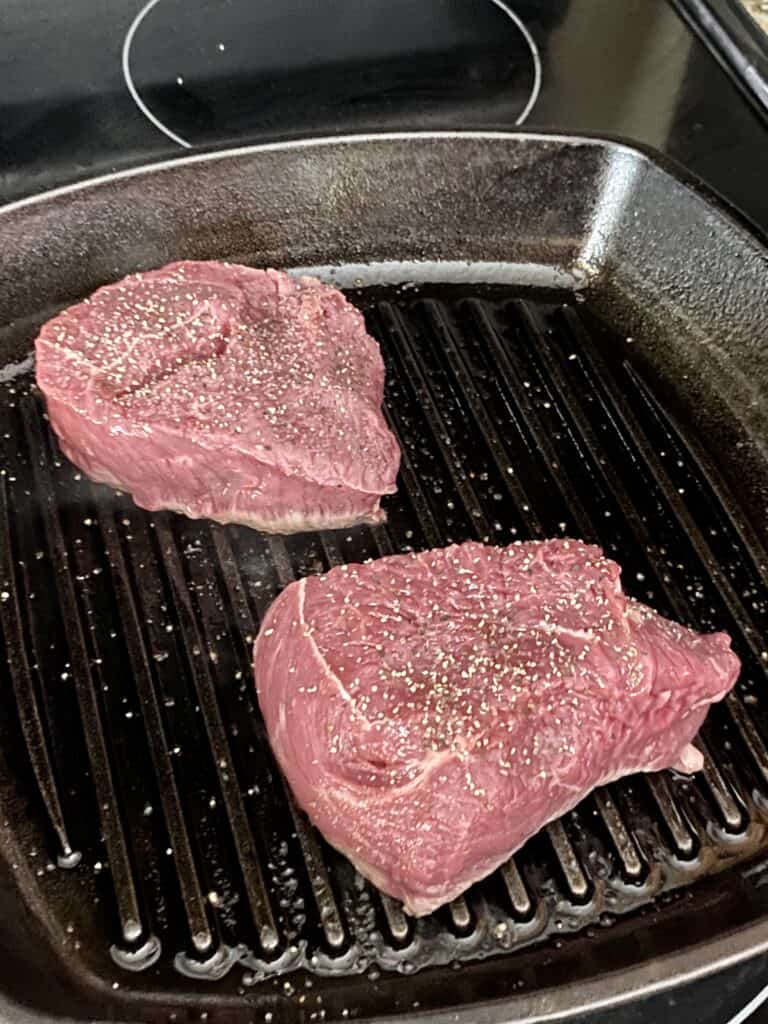 You don't want the steak to be hot when you put this in the mason jars because it will cause the vegetables to soften. After you cut it up, stick it in the refrigerator to chill for a little bit before dividing the bite-sized steak pieces into the individual mason jars.
Fourth Layer: All The Extra Toppings
After the steak has cooled down and been added to mason jars, it's time to add all the extra toppings that will bring this steak salad together.
We added crumbled blue cheese as this is my daughter's favorite cheese to enjoy in a steakhouse salad. And I agree! However, if you're not a fan of blue cheese, then use sharp cheddar or whatever you like. But, in my opinion, crumbled blue is best!
After you add the blue cheese, then you are going to sprinkle in chopped raw walnuts and dried cranberries. All the flavor bombs in this salad are amazing! If you can find unsweetened cranberries, then use those or this is also amazing with dried cherries or dried blueberries.
Final Layer: The Greens
Last but not least, stuff a handful of mesclun greens into each mason jar. If you don't want, or can't find mesclun greens, then use some baby spinach or a spring mix salad. I suppose you could use romaine but I think the other two make for a more authentic and better-tasting steakhouse salad.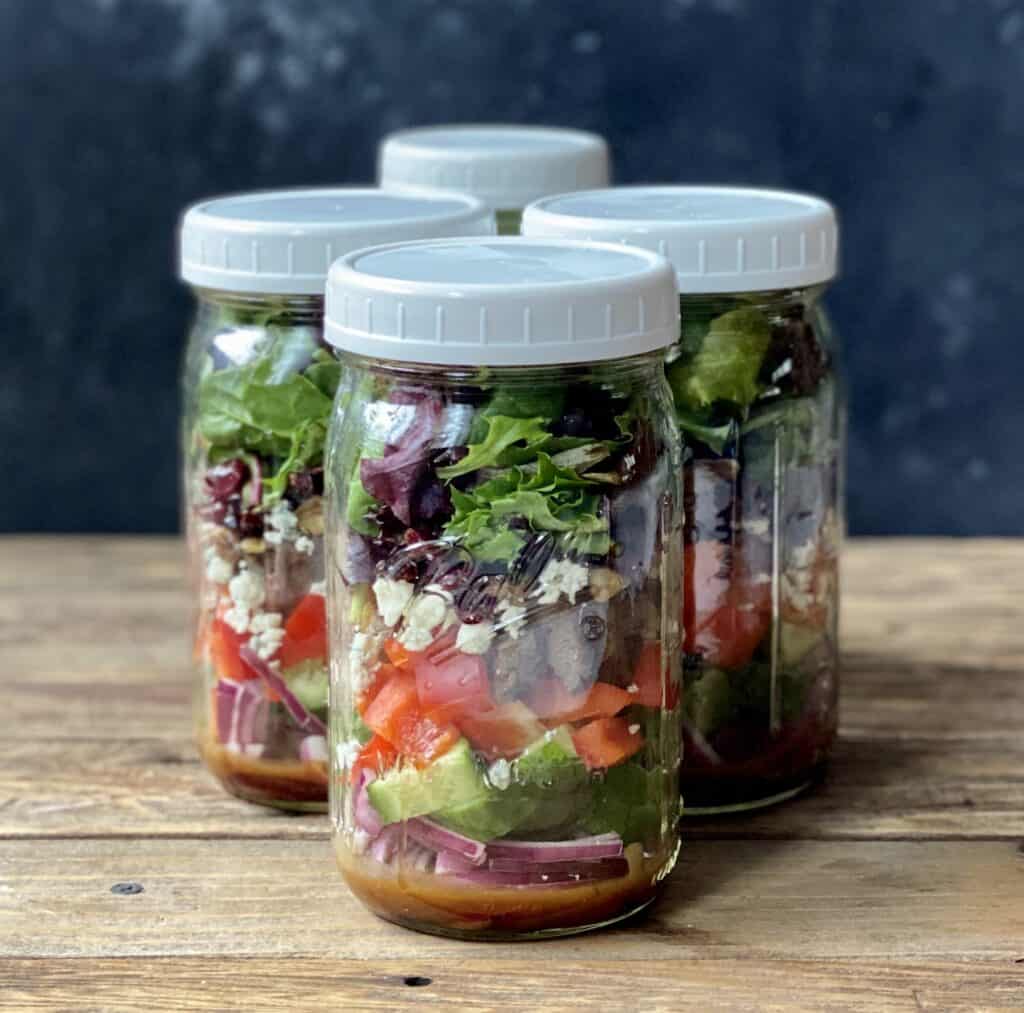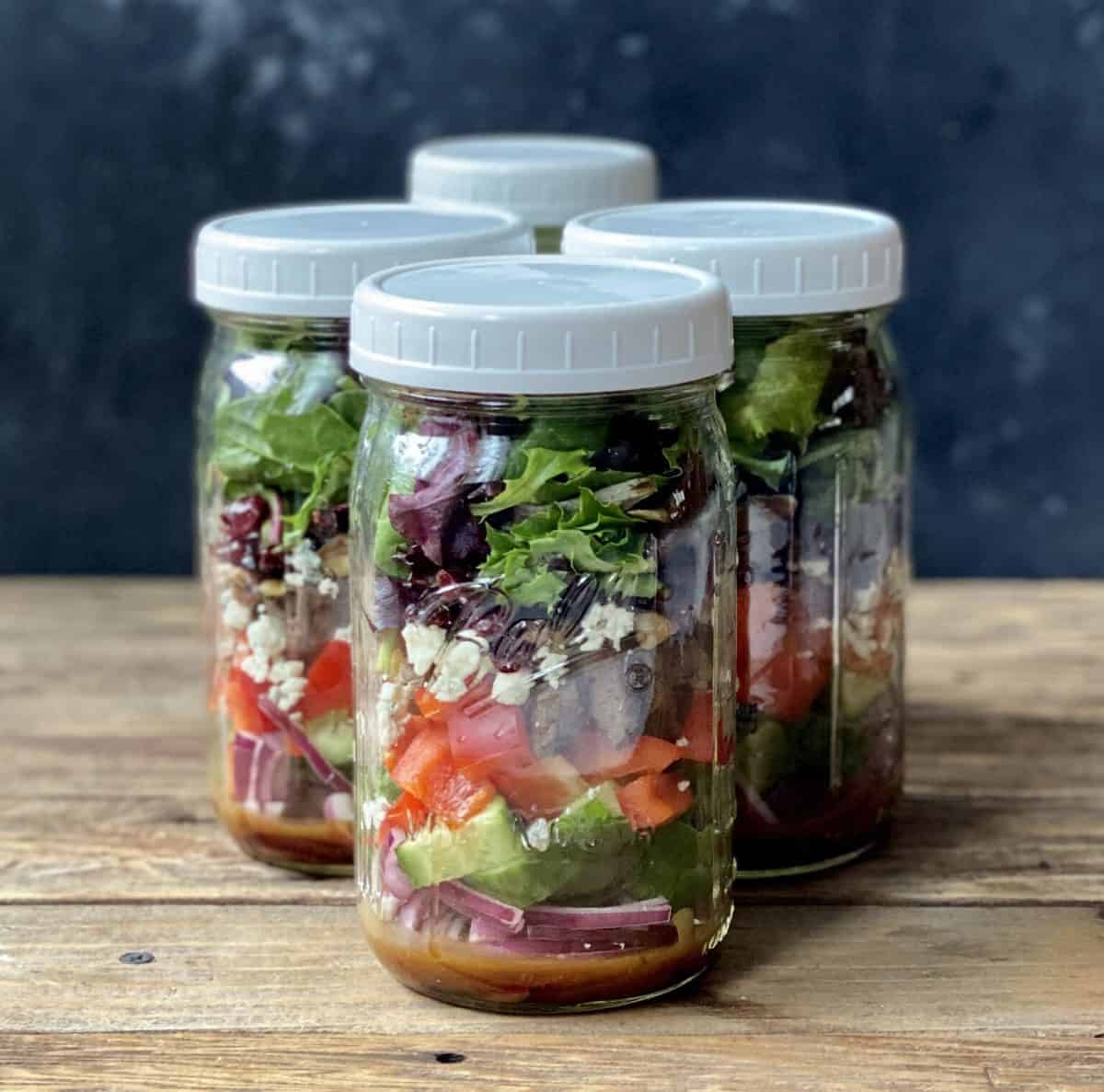 To eat these salads, shake them up and pour them into a bowl when you are ready to eat.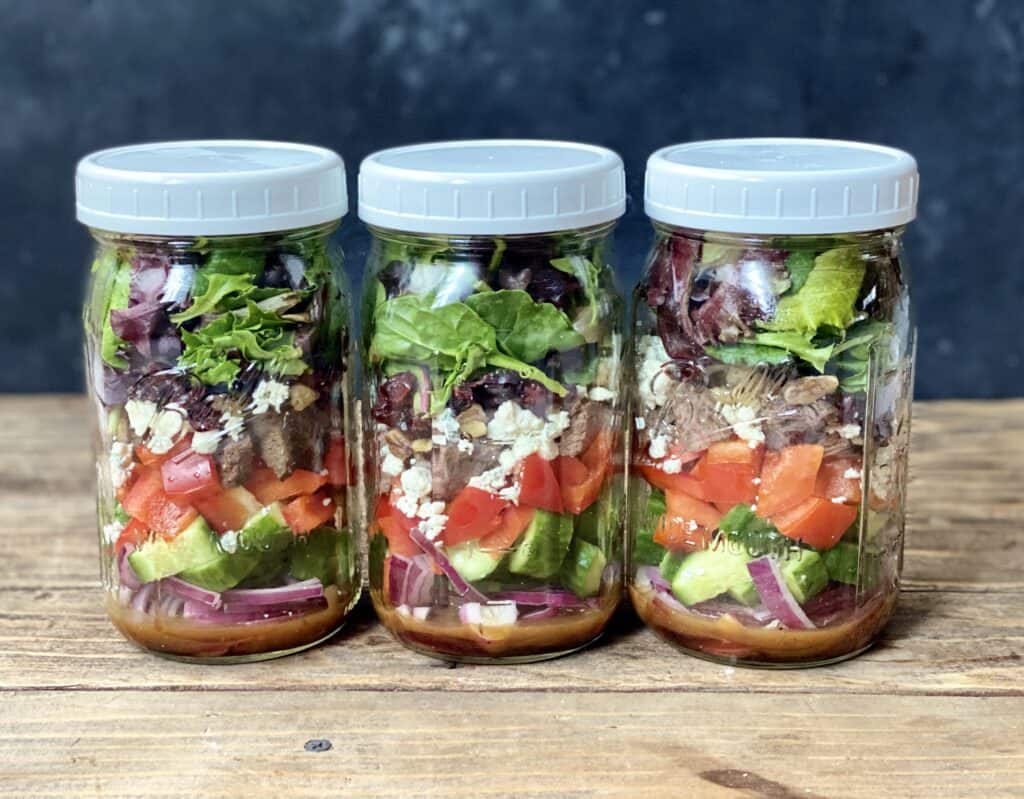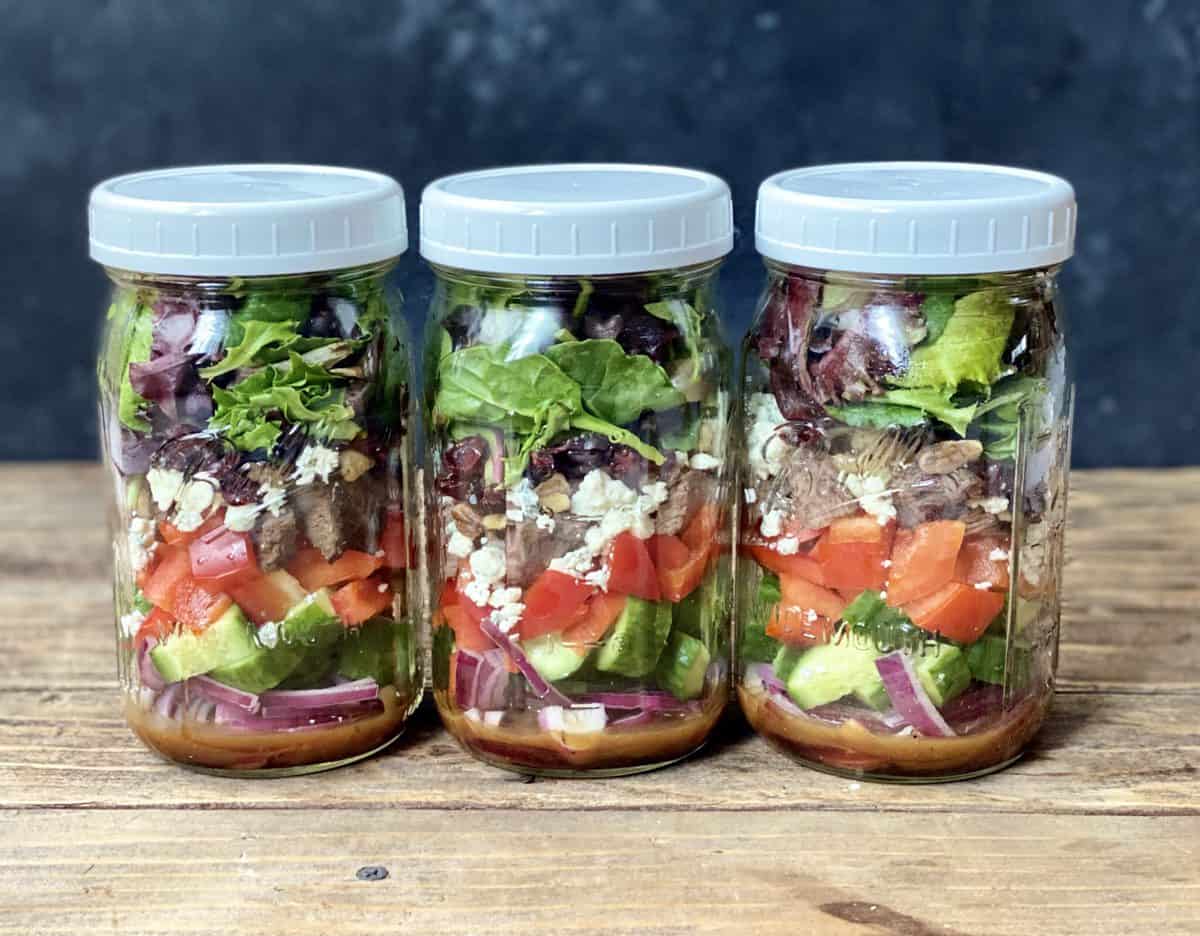 More Salad In A Jar Recipes
Even though we love steak salad at our house, that doesn't mean that all of you eat steak! Here are some more mason jar salad recipes to add to your menu plan:
Make your own Steak Salad at home and curb that craving for Steakhouse salad. Share a picture and tag me on Instagram or Facebook if you decide to make this recipe!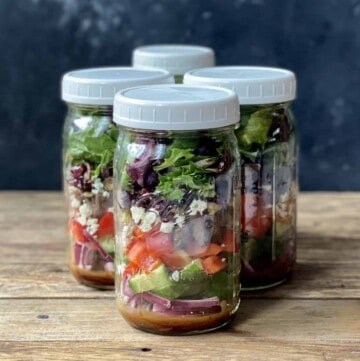 Steakhouse Salad in a Jar
This mason jar steak salad is the perfect way to enjoy your favorite steakhouse salad any time you'd like! Tender steak, crumbled blue cheese, and crunchy veggies layered in balsamic vinaigrette make for an excellent lunch, appetizer, or dinner.
Print
Pin
Rate
Ingredients
4

32-ounce mason jars

8

tablespoons

balsamic dressing

1

red onion

thinly sliced

2

red peppers

chopped

4

baby cucumbers

sliced

10

ounces

Filet Mignon

cooked and cut into bite size pieces

4

tablespoons

crumbled blue cheese

4

tablespoons

raw chopped walnuts

4

tablespoons

dried cranberries

4

cups

mesclun greens
Instructions
Divide all of the ingredients among the mason jars. Start with the balsamic dressing and continue with the red onion, red peppers, cucumbers, filet, crumbled blue cheese, chopped walnuts. dried cranberries, and ending with the mesclun greens. Put the lid on a close tightly. Store in the refrigerator for up to 5 days.
Nutrition
Serving:
1
g
|
Calories:
393
kcal
|
Carbohydrates:
22
g
|
Protein:
26
g
|
Fat:
24
g
|
Saturated Fat:
6
g
|
Fiber:
4
g