All the flavors of a Turkey Ranch Club layered into a delicious low-carb mason jar salad!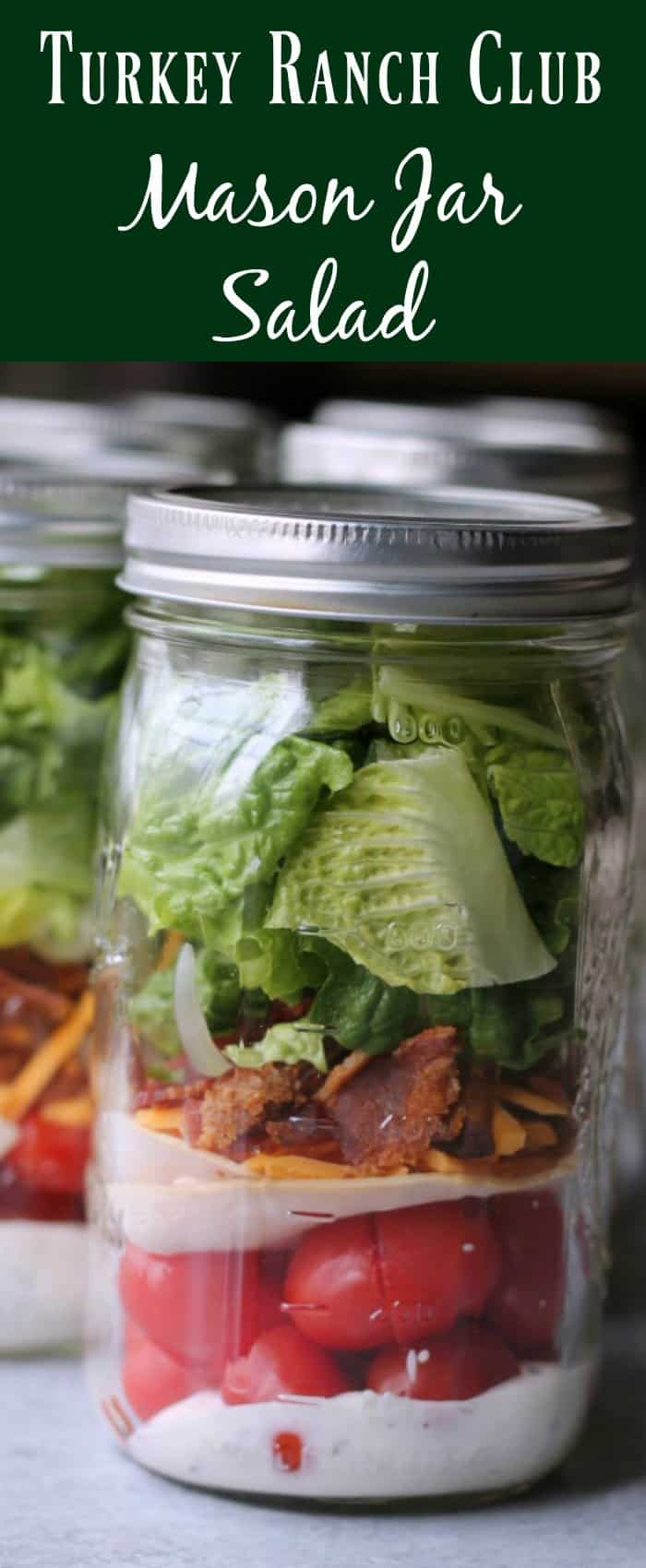 It's no secret that I'm a huge fan of turkey clubs. I'm pretty sure turkey clubs are known nationally (internationally? ) but just in case you're "like what are these turkey clubs Tammy's always drooling over", let me enlighten you. Basically, it's a BLT (bacon, lettuce, and tomato) sandwich with sliced turkey. Sorry if you were expecting more. Ha! I'm a simple girl.
In my second year of blogging (I'm going on my 6th year) I shared a Turkey Ranch Club Wrap recipe. Back then I was just starting to find my way around the kitchen so a wrap recipe was kind of a big deal to me even though it's beyond simple.
Since then, that recipe has been the most popular recipe on my blog. No kidding. It's been shared on Pinterest over 500,000 times. It makes me feel good to be in such good company with fellow turkey club lovers.
Other popular recipes on my blog include mason jar salads. Anyway, I haven't shared a new mason jar salad in a long time and I was thinking about different salad ideas to make for lunch this week. Guess what popped into my head? Yep, a turkey club. Yeeeesss! Why didn't I think to make a turkey club mason jar salad recipe before? It seems so obvious.
Okay let's talk about this recipe. I kept this recipe simple simple simple – just like the wrap. However, you can add more to salad layers if you wish. I think chickpeas would taste great. Onions would add a nice touch too.
I recommend cooking the bacon until it's really crispy. If you can pan fry it then do that. I'm no good at pan-frying bacon. Seriously, I almost lost an eye today making this. After the first couple pieces, I cooked the rest in the oven. After the bacon is cooked lay it on a paper towel to soak off all the grease. After it cools completely crumble into pieces.
For the dressing I use Wegmans ranch yogurt dressing. There are other brands if you don't have a Wegmans near you. Bolthouse Farms is a good one to try.
I used shredded cheddar for this mason jar salad. If you prefer chunks then I recommend buying cheese sticks and cutting one up per jar. This keeps portions under control.
The layers are simple. Start with the dressing next add tomatoes, turkey, shredded cheddar, bacon, and end with the romaine.
This is a great way to get in a turkey club fix without all the carbs from bread.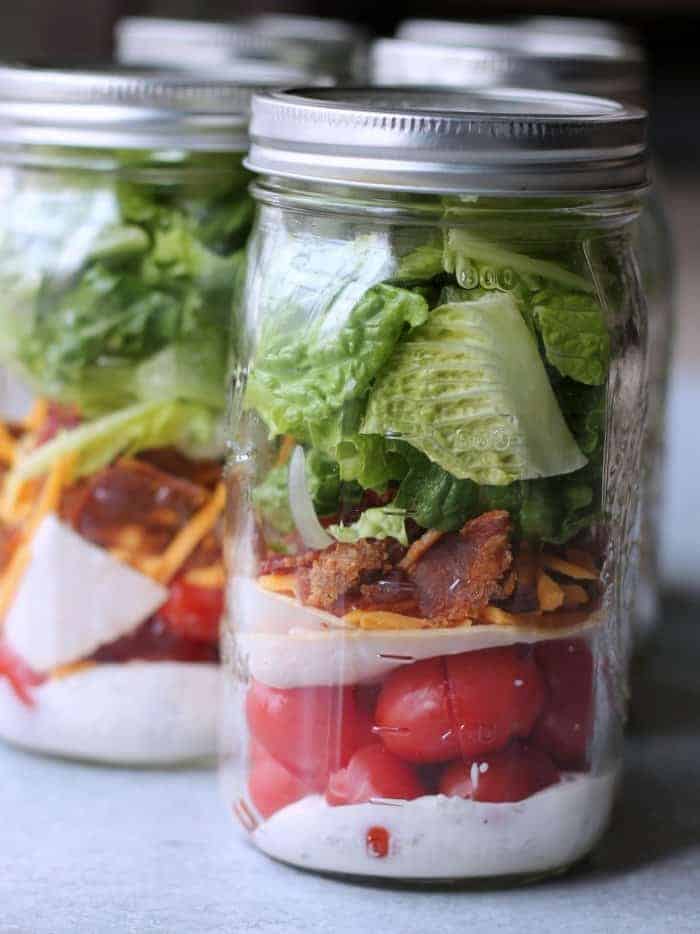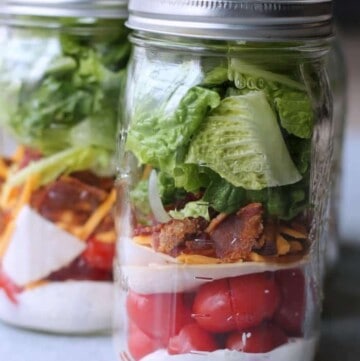 Ingredients
5

wide mouth

32-ounce mason jars

10

tablespoons

ranch yogurt dressing

1

quart

cherry tomatoes

sliced in half

1/2

pound

smoked sliced turkey

chopped

1 1/4

cups

shredded sharp cheddar cheese

5

slices

of bacon

cooked crisp and crumbled

5

cups

romaine
Instructions
Divide all the ingredients among the 5 mason jar containers. Start with the dressing then layer the tomatoes, turkey, shredded cheddar, bacon and finish with romaine. Store in the refrigerator up to 5 days.

When ready to eat shake the mason jar and dump into a bowl or on a plate.
Notes
Sugar: 9
Make-ahead instructions
These salads can be made up to 5 days ahead of time.
Nutrition
Serving:
1
g
|
Calories:
315
kcal
|
Carbohydrates:
19
g
|
Protein:
22
g
|
Fat:
16
g
|
Saturated Fat:
6
g
|
Fiber:
3
g