Making the best avocado toast is actually one of the easiest recipes to throw together for breakfast or snacks! You can keep it super simple by mashing some avocado and spreading it on toast or fancy it up by layering other ingredients on top. BUT, don't judge avocado by its tasty looks—it's actually very healthy too! It's filled with healthy fats, protein, and fiber to keep you full and satisfied until lunch.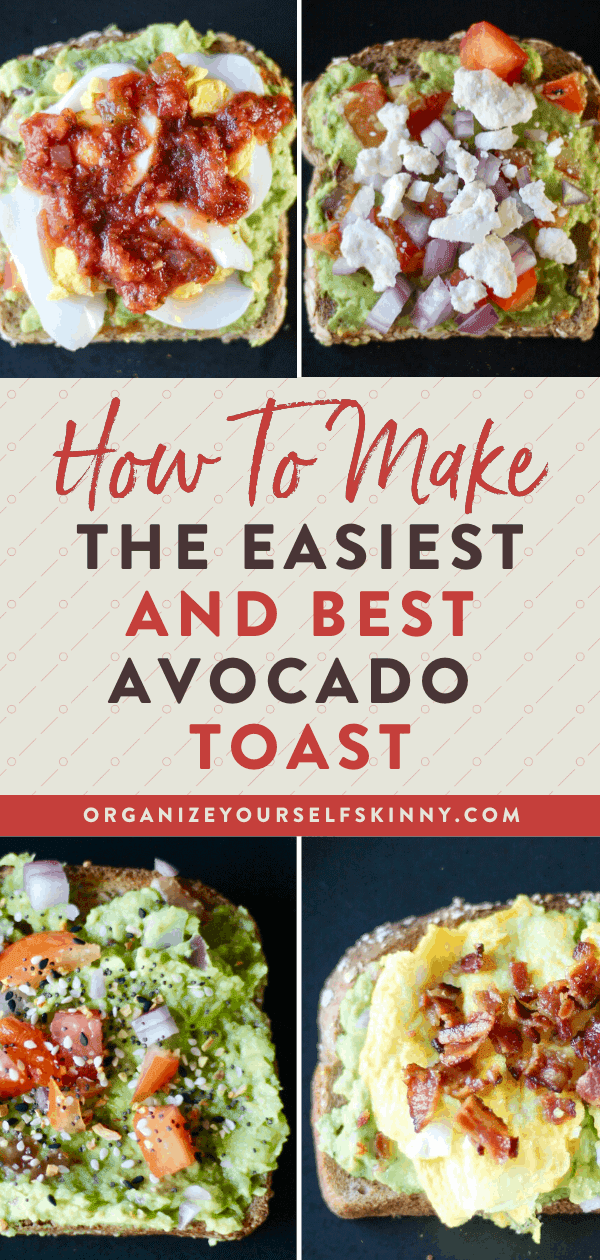 We make A LOT of avocado toast in my house.
Thanks to Tik Tok (yup, we went there), my kids are obsessed with making all different varieties of avocado toast and they even want to put it on hearty healthy bread. Even though Tik Tok drives me batty, I really can't complain in this instance, considering my kids are eating a nice healthy breakfast 4+ times a week.
Now if only Tik Tok could put some videos together on cleaning rooms…can someone get on that, please? Thanks!
Anyways, since we are making so much avocado toast, I'd like to think I'm an expert in some way. We've put together our favorite basic recipe that we use for all of our toast creations. We've also tried many different bread combos to try to narrow down the best avocado toast!
Tips On How To Make The Best Avocado Toast
In this post, I'm going to share some of the avocado toast ideas we've tried out. Before I jump into those, I want to share some tips I've learned.
Where to Find and Pick The Best Local Avocados
Let's start by picking out an avocado!
Now, I live in Buffalo, NY so obviously we don't have fresh avocados growing in our backyard. However, most grocery stores have them in stock, especially during their bloom season. Of course, some have a better selection than others.
In my experience, Whole Foods has the largest selection of avocados and they always have a variety of ripeness. So whether you want a ripe avocado to use today or an avocado to eat in a few days, you can find what you're looking for there.
I can't say that about Wegmans, Aldi's, or other grocery stores in my area.
Tip: If I'm looking for an avocado to use within 1-2 days, pick an avocado that's on the dark side and has some give when you squeeze it. It will be tender to the touch and not mushy.
You don't want it to be too soft because that means it's overripe but you also don't want it to be green and hard because then it's not ripe enough and will take a few days to ripen up.
How To Cut An Avocado
Take a sharp knife and cut the avocado all the way through until you hit the seed and then around the avocado from top to bottom. Gently pull the avocado apart.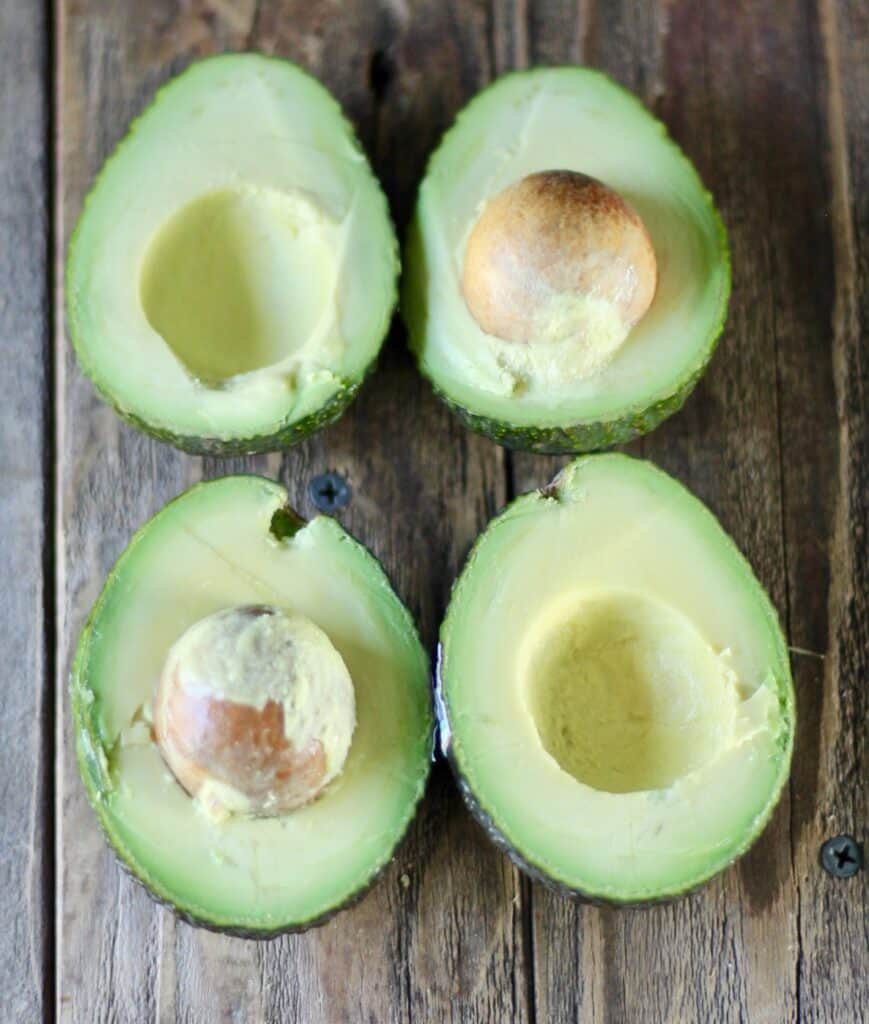 When the avocado is perfectly ripe, the avocado slices will come out easily. When it's not ready, then it will be very difficult to remove the avocado from the peel.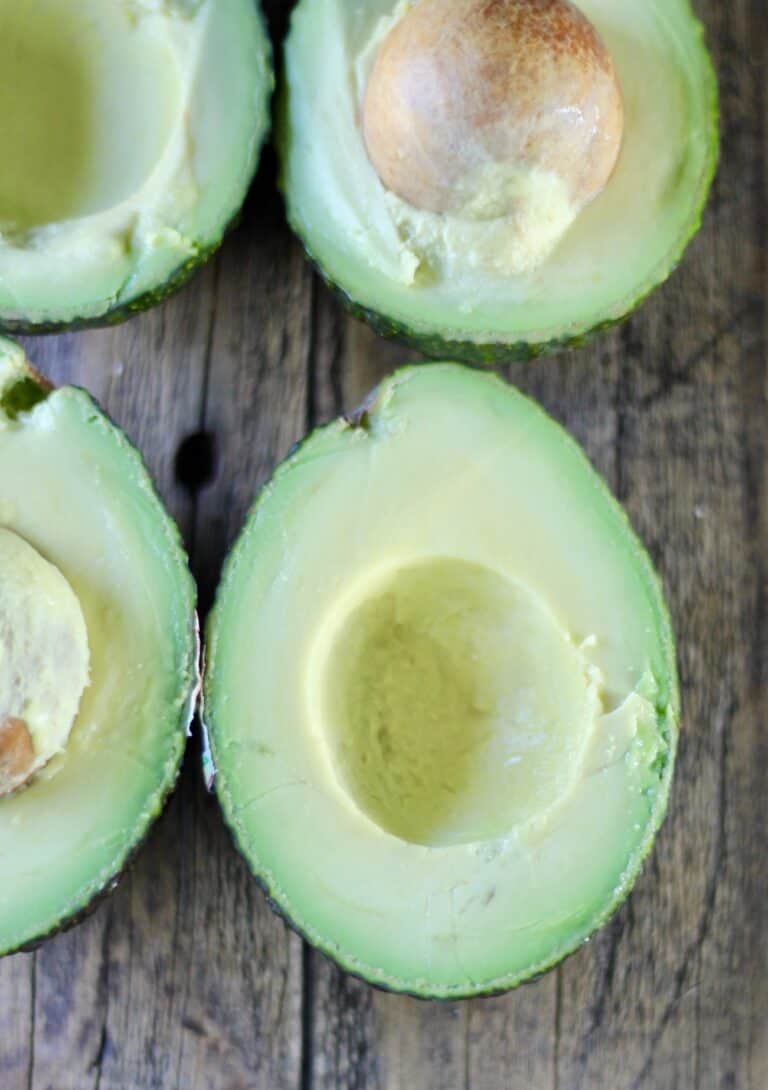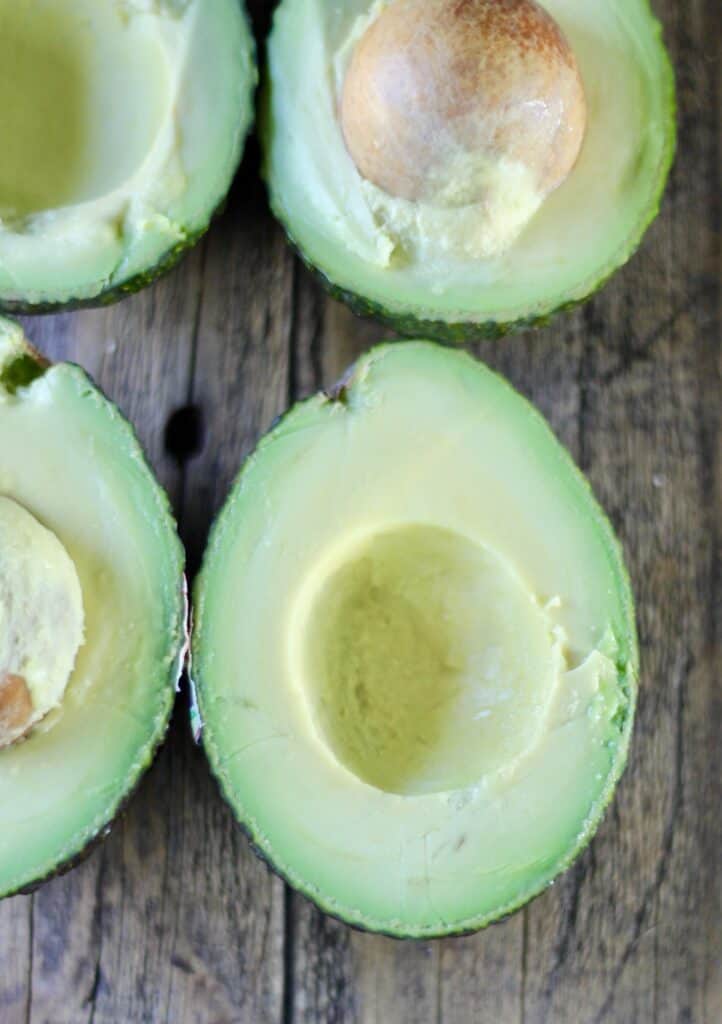 How To Remove An Avocado Seed
There are a couple of ways to remove the seed of an avocado.
Method #1
First, you can hit the seed with a chef's knife. Then, you give it a twist and remove the pit.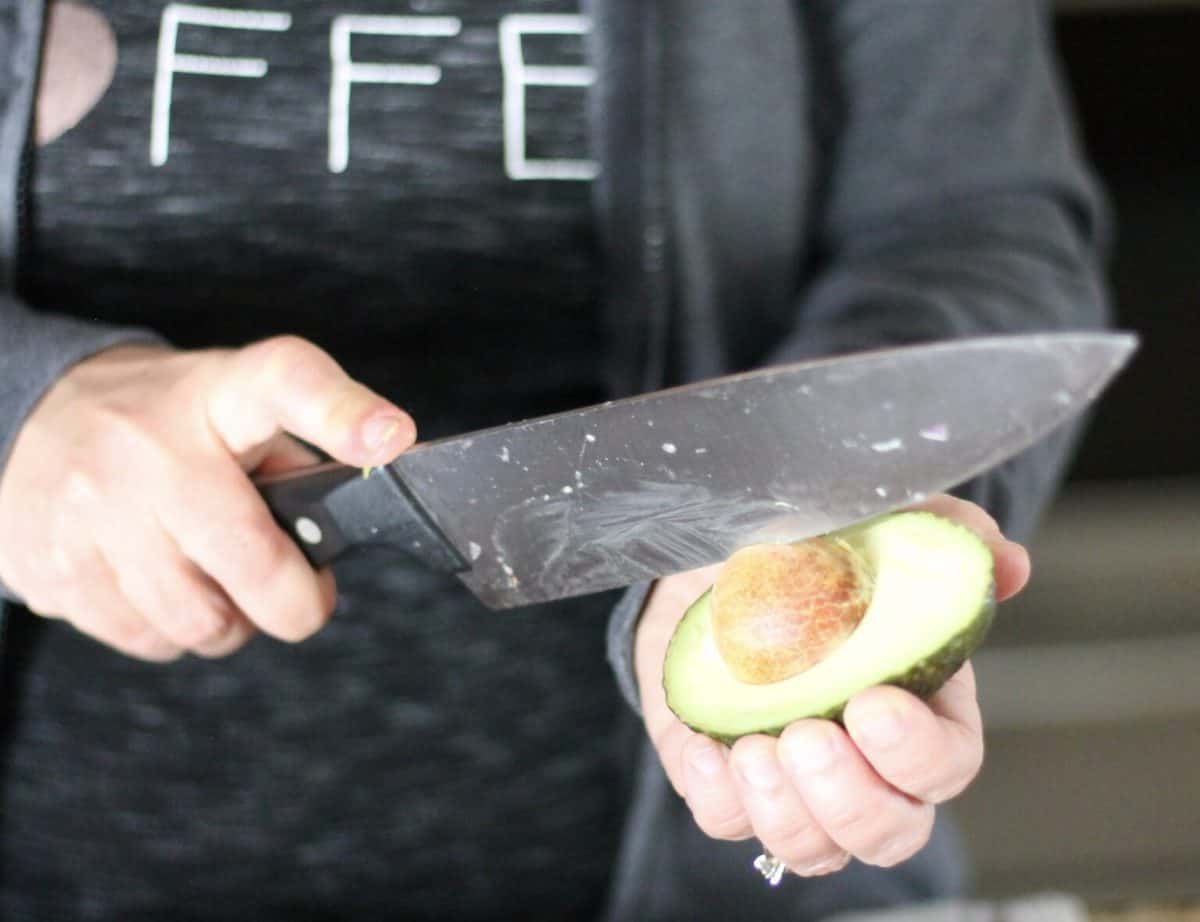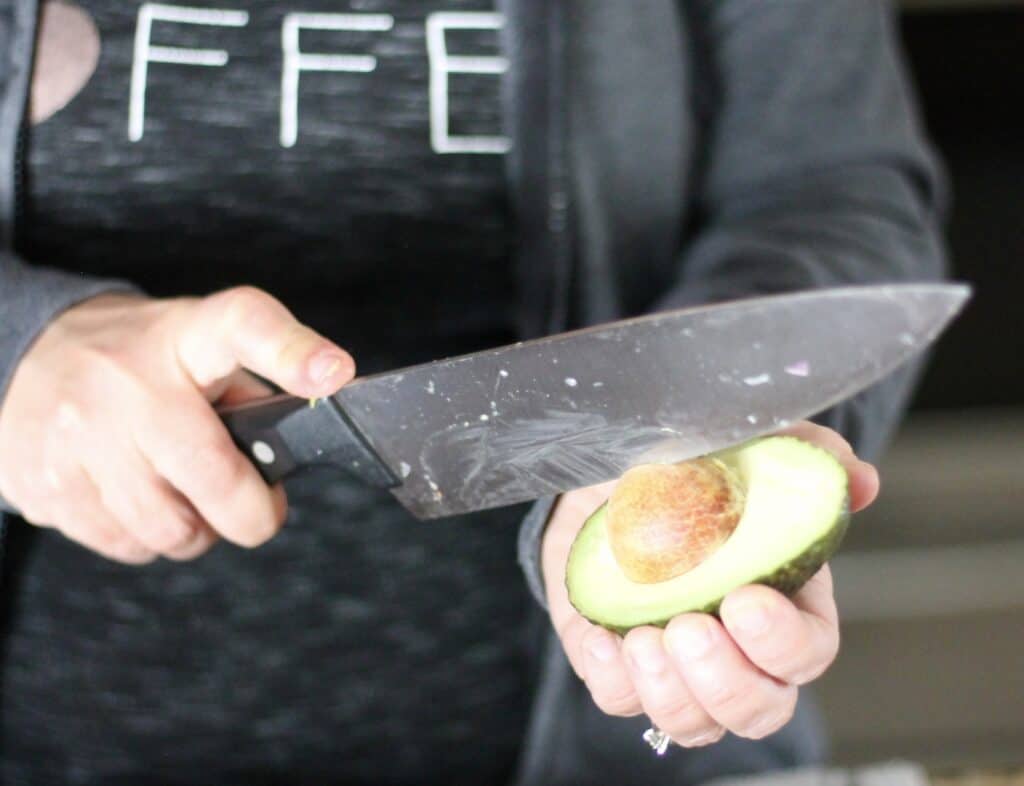 To get the pit off the knife, give it a couple of light whacks on the cutting board and it'll come off.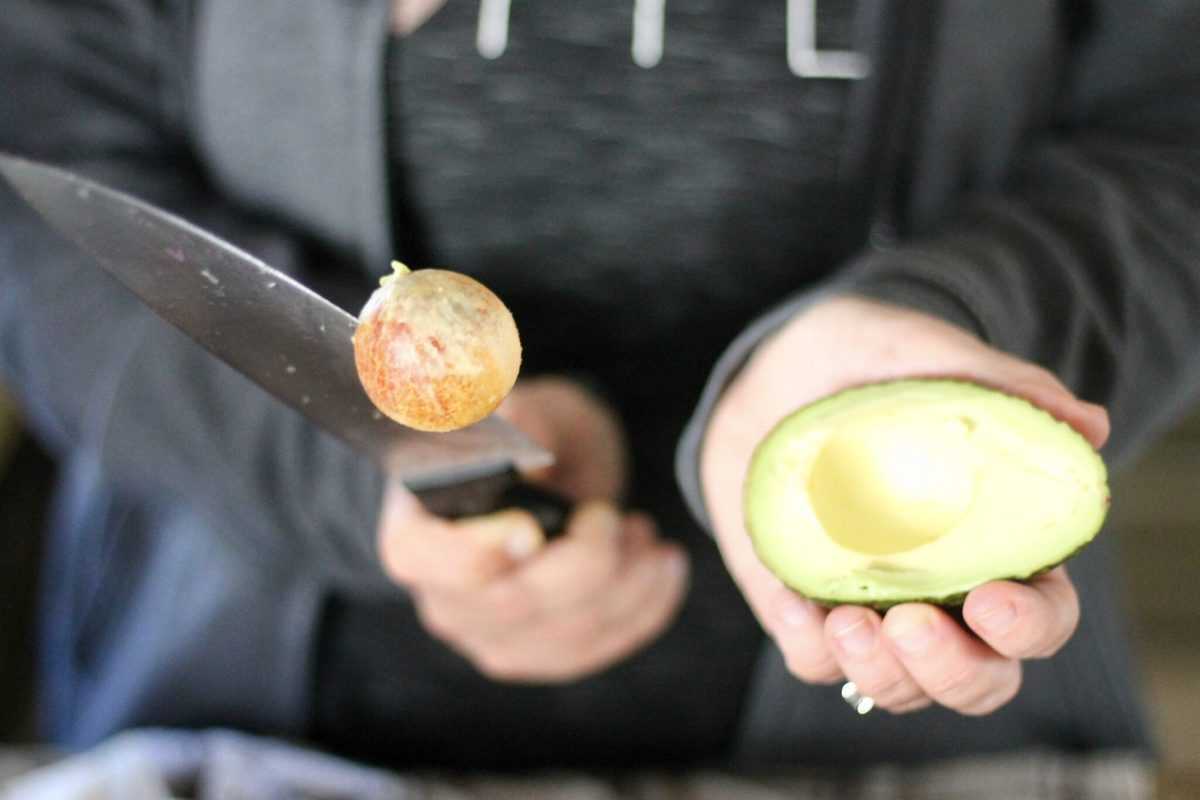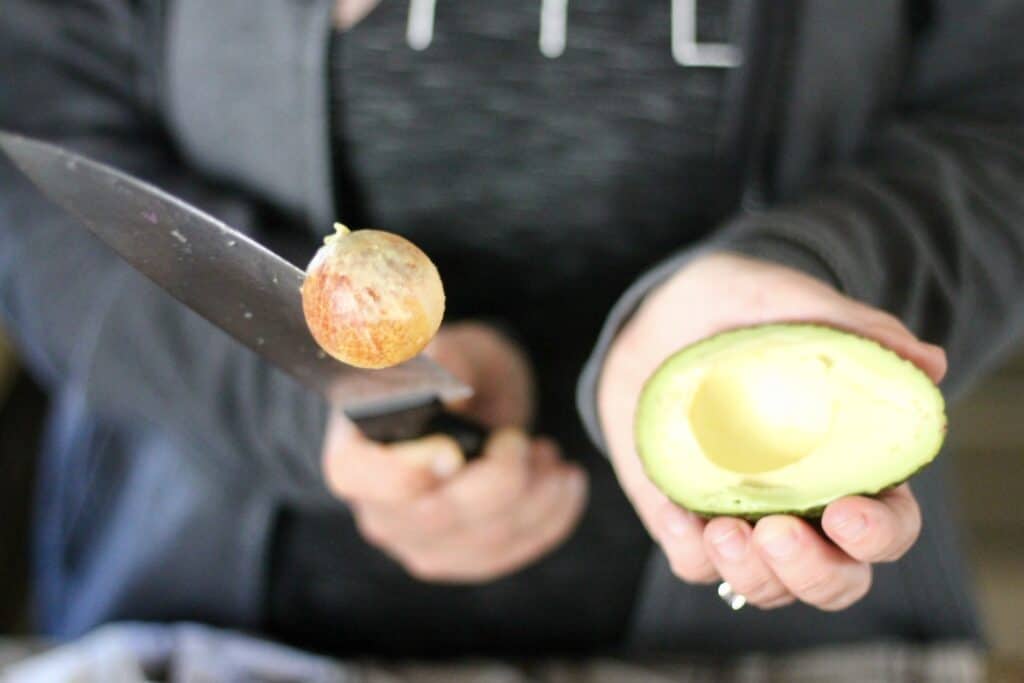 Method #2
Now, I don't let any of the kids remove the pit that way. That'd be a recipe for disaster. Instead, I have them use a spoon to remove the pit. Gently slide the spoon around the pit and then apply a little pressure to pop it out.
How To Remove The Avocado From Its Peel
Now that you have the pit out, it's time to remove the avocado from its peel. To do this, I typically use a spoon. Just slide the spoon in between the peel and the avocado and scoop it out.
That's it!
Type Of Bread To Use
Another important part of avocado toast is…well…the toast. Considering avocado toast is supposed to be healthy, I highly suggest choosing a healthier bread. You want to stay away from white bread.
The kids love using a hearty wheat bread for their avocado toast.
Personally, I use Ezekiel sprouted bread! This bread is found in the freezer section at your local grocery store and needs to stay in the freezer until you toast it because it has no preservatives so it's likely to spoil faster.
I also like putting mashed avocados on English muffins. I like Ezekiel English muffins or 100 calories whole wheat Thomas English muffins!
Frequently Asked Questions About Avocado Toast
Here are some frequently asked questions I get from my readers:
What Can I Do With Leftover Avocado? Can I Freeze It?
If you only want to make one piece of avocado toast and/or don't need a whole avocado for whatever reason, you can freeze the avocado. I'm embarrassed to say that I've wasted many avocados before realizing I can do this.
This all you need to do:
Remove the pit and skin.
Place into a freezer bag in pieces. You don't need to mash it up because then it sticks to the bag when you try to thaw it out.
Put it in the freezer.
When you're ready to use it, take it out of the freezer bag and let it thaw in a bowl. You can also stick it in the microwave for 10 – 15 seconds at a time until it's thawed.
After it's thawed, mash it up and continue with avocado toast recipe.
Will Mashed Avocado Keep In The Refrigerator?
The short answer is no.
I recommend only making what you're going to use that day. Avocado tends to brown quickly.
However, I have been able to keep it somewhat fresh by using a bunch of lemon juice and storing it in a glass container. So there is a possibility to have it for the next day but I recommend just making it fresh or freezing the avocado.
The Best Avocado Toast You Can Make At Home
This is the basic recipe that we use as the foundation for all the different layers. Most of the time, this is all we use on our avocado toast unless we are feeling fancy.
Here are the ingredients you will need to make a basic mashed avocado toast!
The first thing to do is to mash the avocado. You'll use a whole avocado and a fork or a potato masher to do this. Also, you can make it as chunky or smooth as you want. Spread it on your toasted bread and sprinkle on some salt and pepper.
That's it!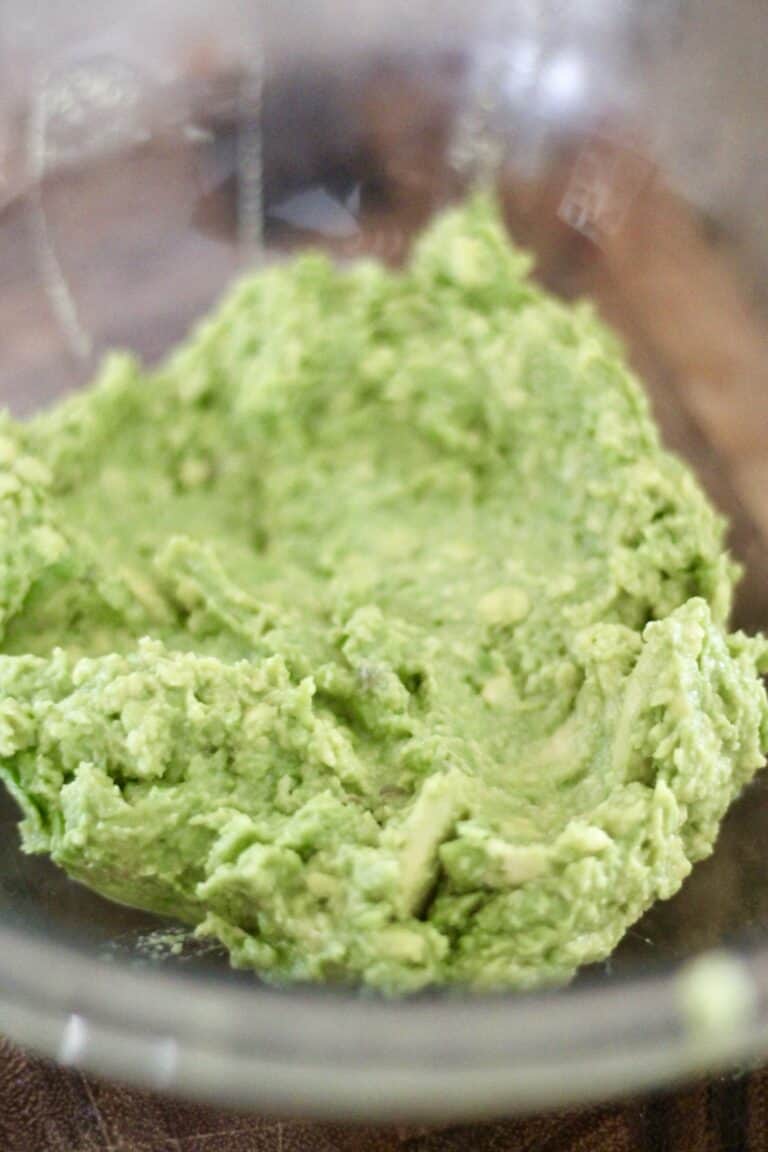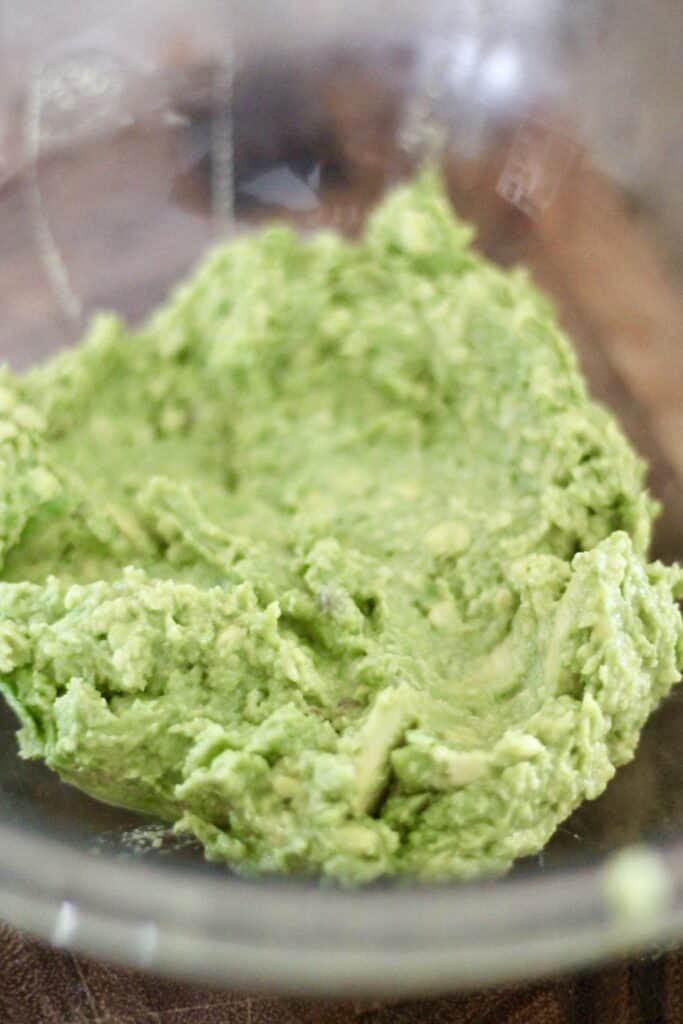 Everything But The Bagel Avocado Toast
To make this kind of avocado toast, follow the basic recipe above and then add some finely chopped red onion, tomato, and juice from half a lime and lemon. Season with a little salt and pepper.
I used about 2-3 tablespoons of onions and 1/4 of tomato to make this toast. This recipe is very versatile so you can use more or less depending on your taste!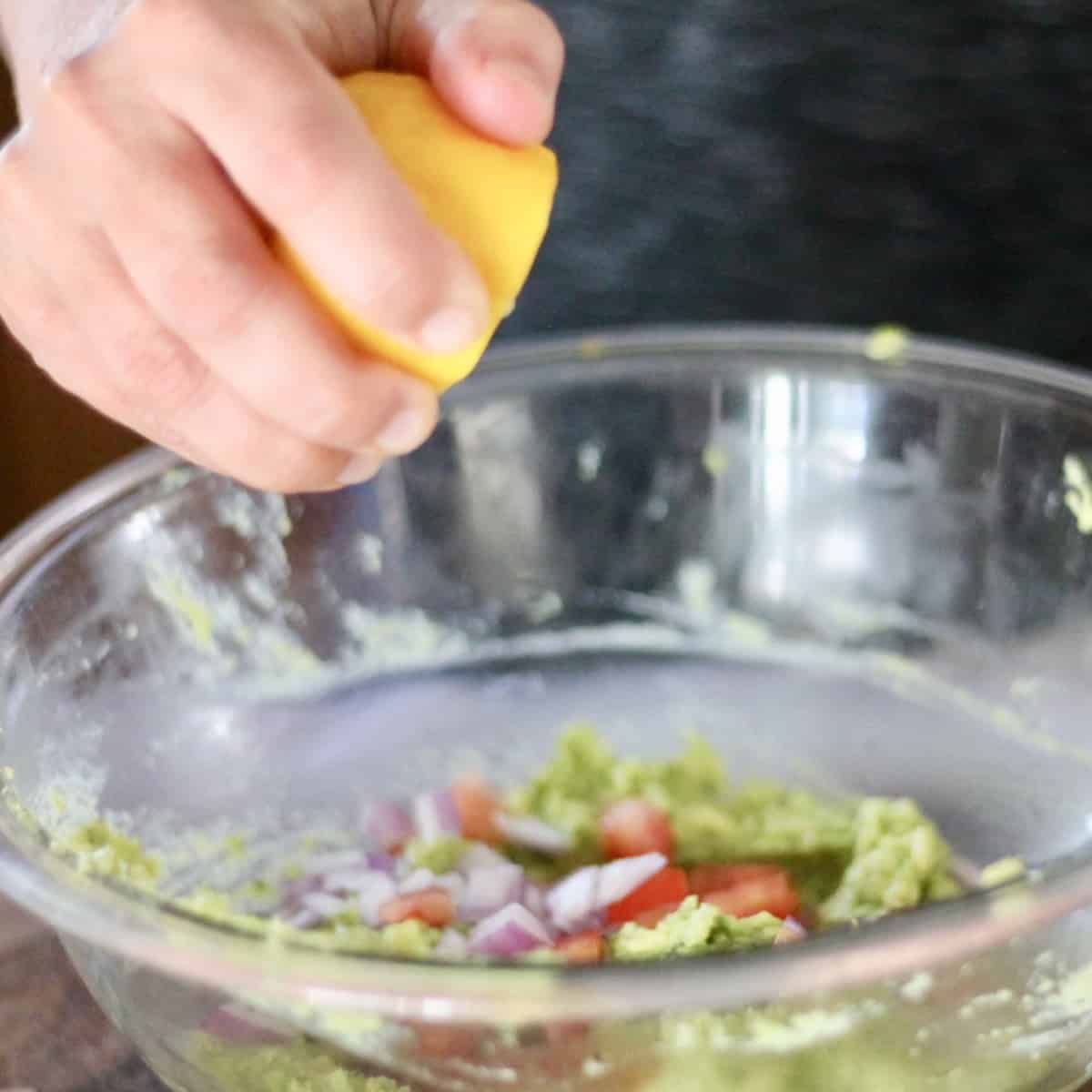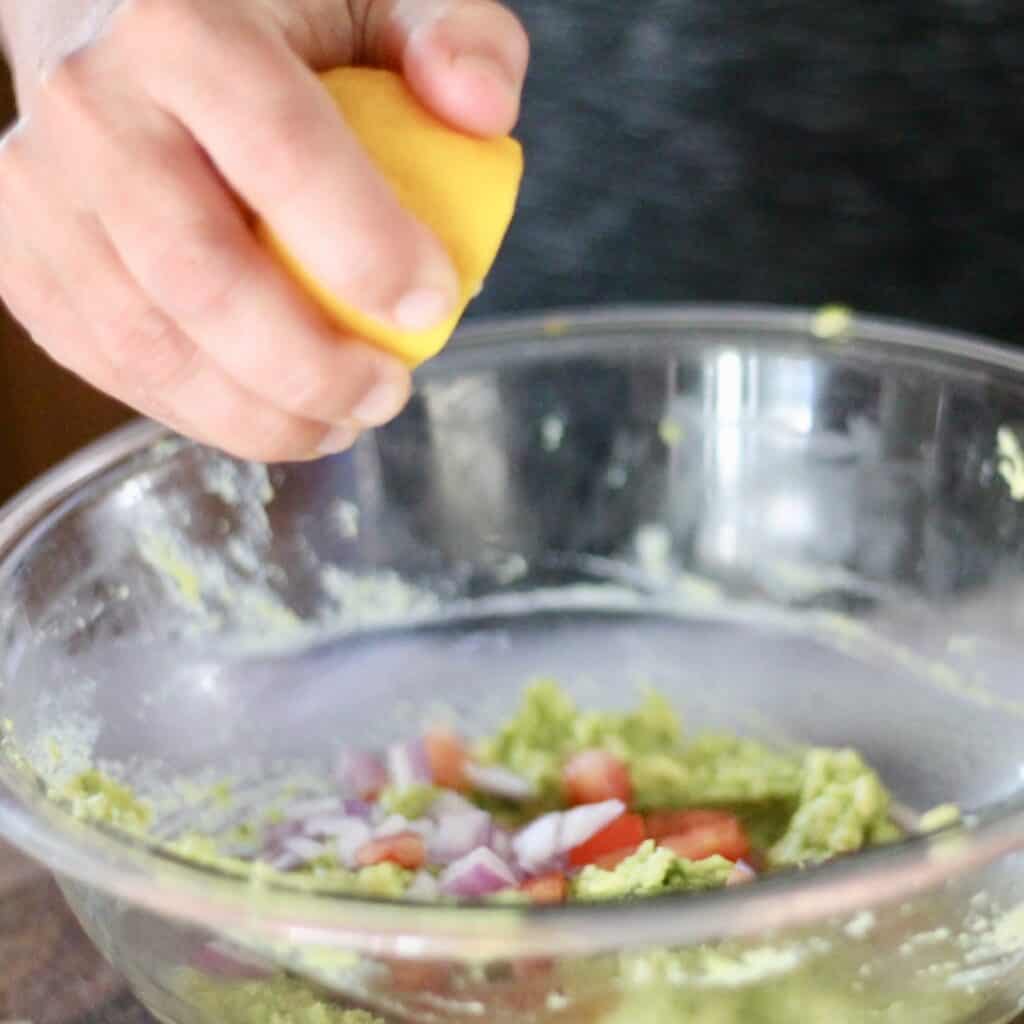 Spread it on some toasted bread and sprinkle freely the Trader Joe's 'Everything But The Bagel Seasoning'.
This is one of our go-to avocado toast recipes and the best recipe in our opinion!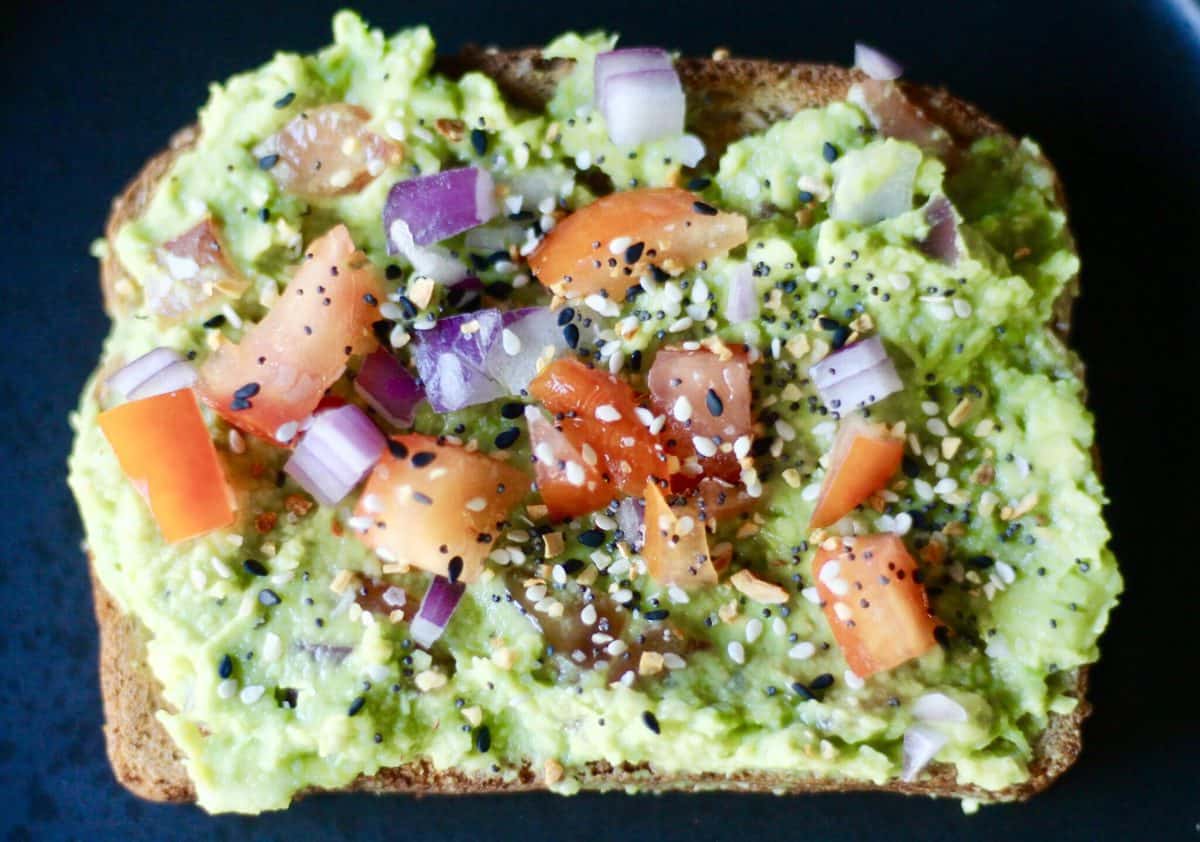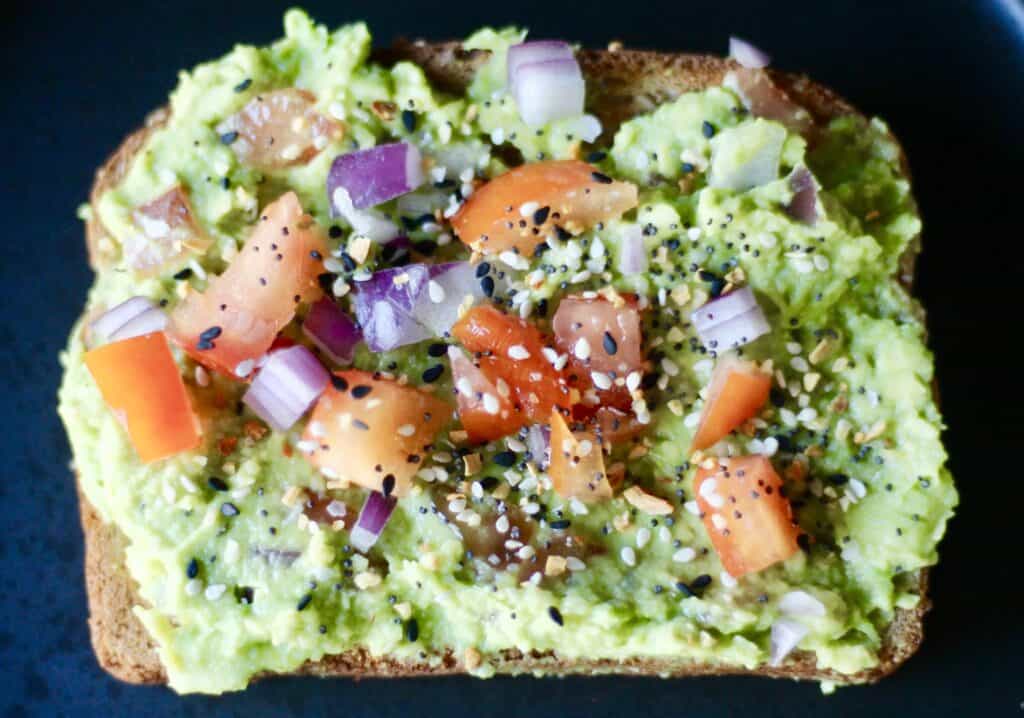 Bacon And Egg Avocado Toast
Adding some eggs and bacon is a delicious way to layer up your avocado toast. This adds more protein and in a way makes it feel more like a complete meal.
I simply scramble an egg with a little salt and pepper. Then, I put the eggs on top of the avocado mash and sprinkle some chopped up bacon over the top. This meal comes together easier when you have bacon cooked ahead of time!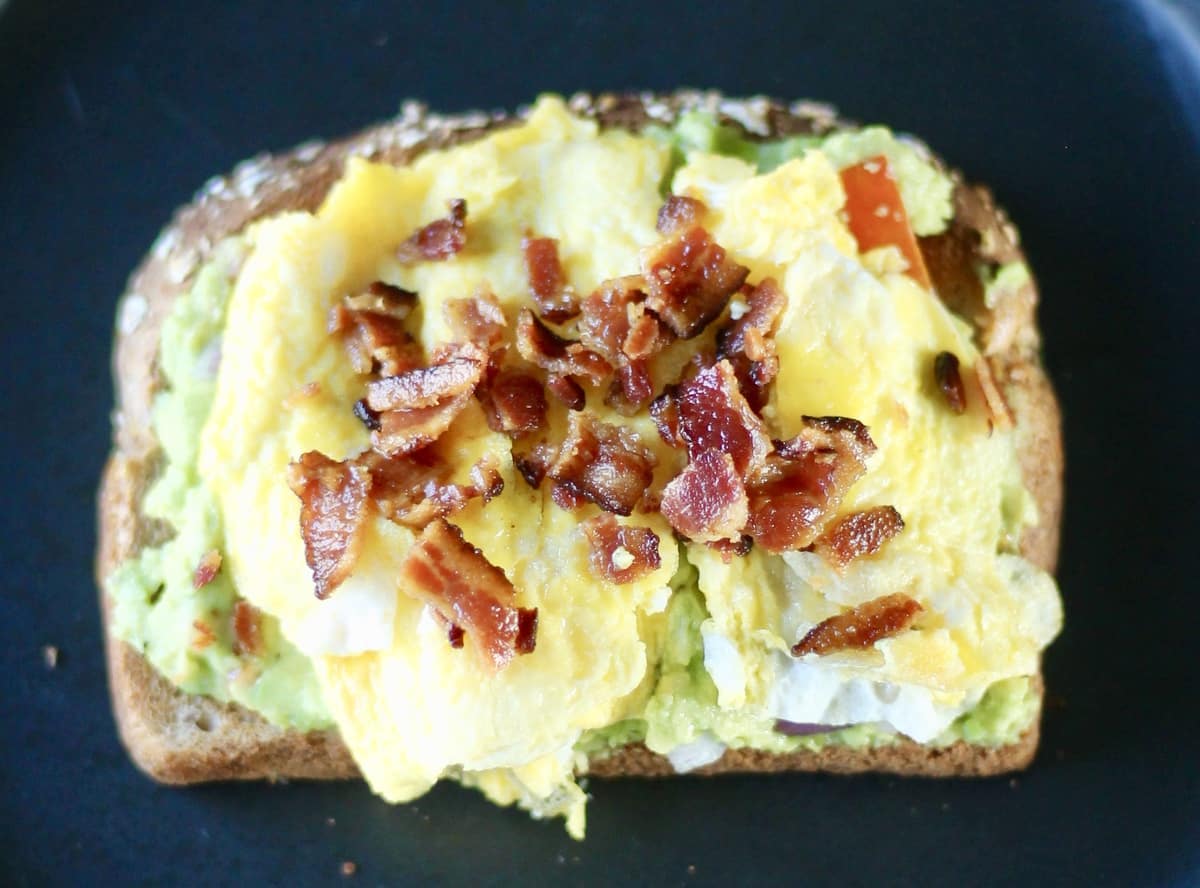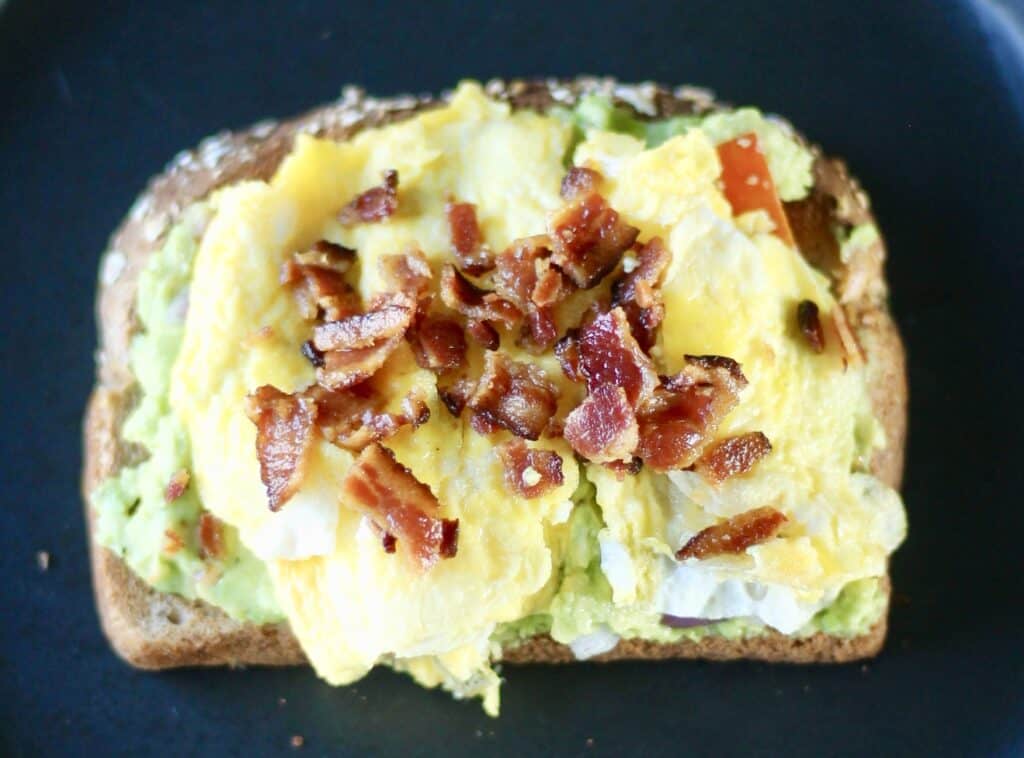 Avocado Toast With Crumbled Feta Cheese
This is another easy simple avocado toast idea that is very similar to the first basic recipe.
The biggest difference between the two is that you don't add the 'Everything But the Bagel Seasoning' and instead, add a tablespoon of crumbled feta cheese.
Feta cheese makes everything delicious in my book!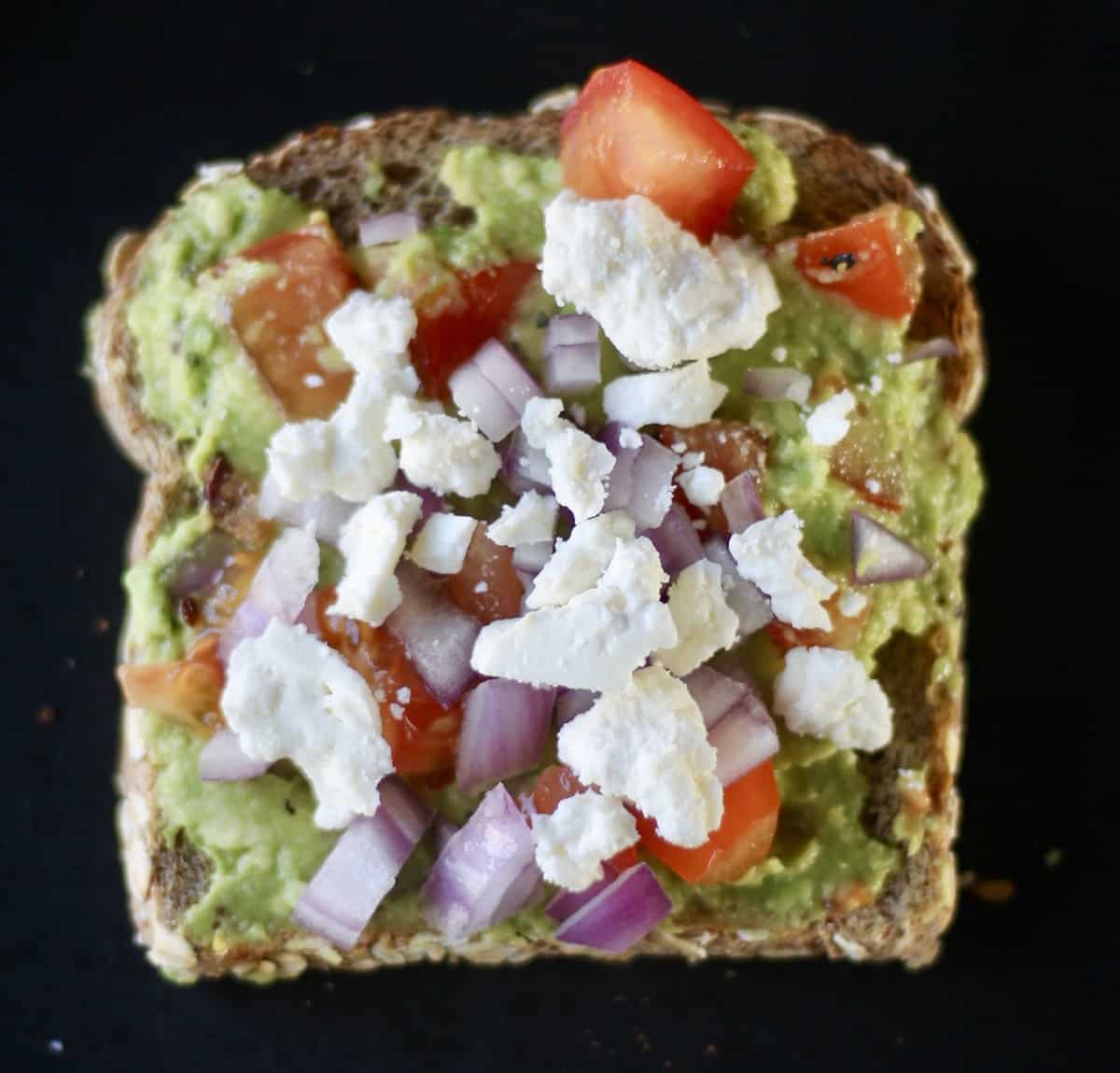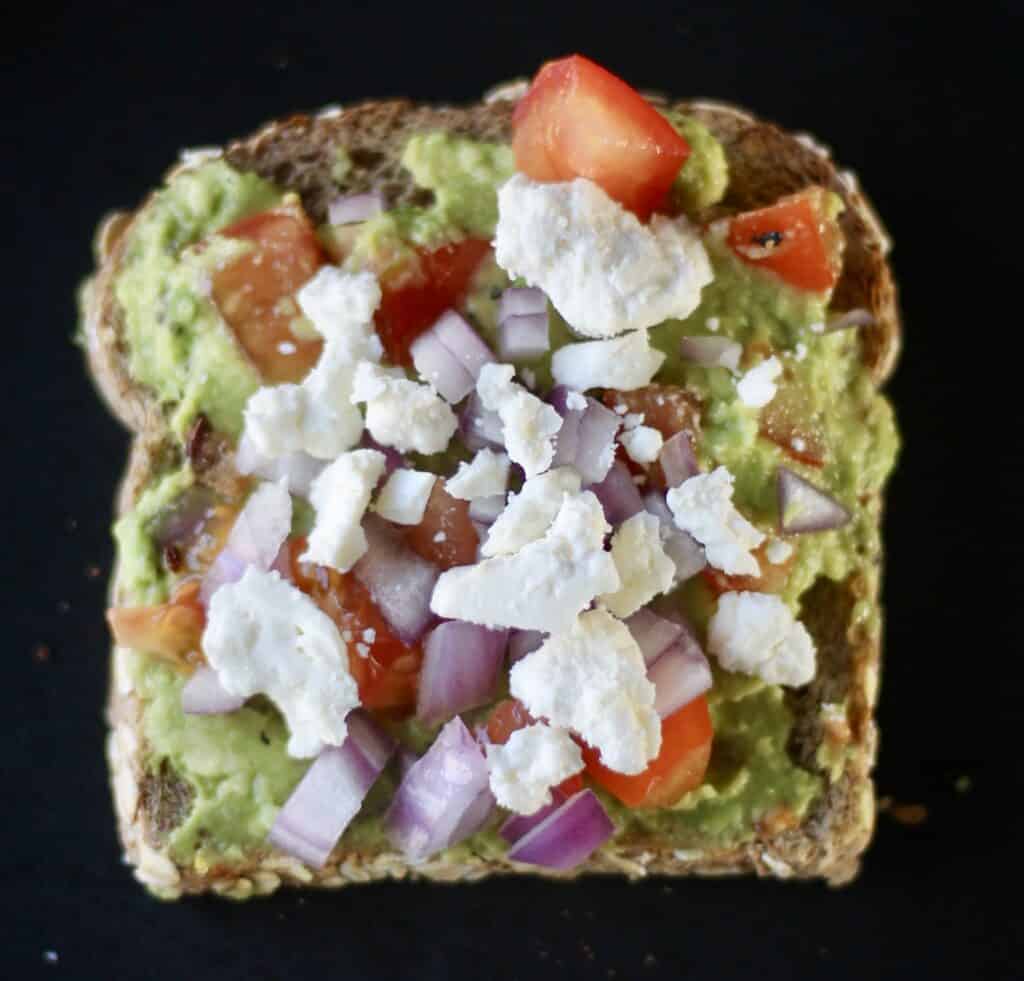 Spicy Salsa Avocado Toast
This last avocado toast idea was born out of leftover hard-boiled eggs and some salsa I had in the refrigerator from my baked salsa chicken.
Slice up a hardboiled egg and lay it over the top of the avocado and add a tablespoon of salsa. You can also add a couple of dashes of hot sauce for a little spicy kick.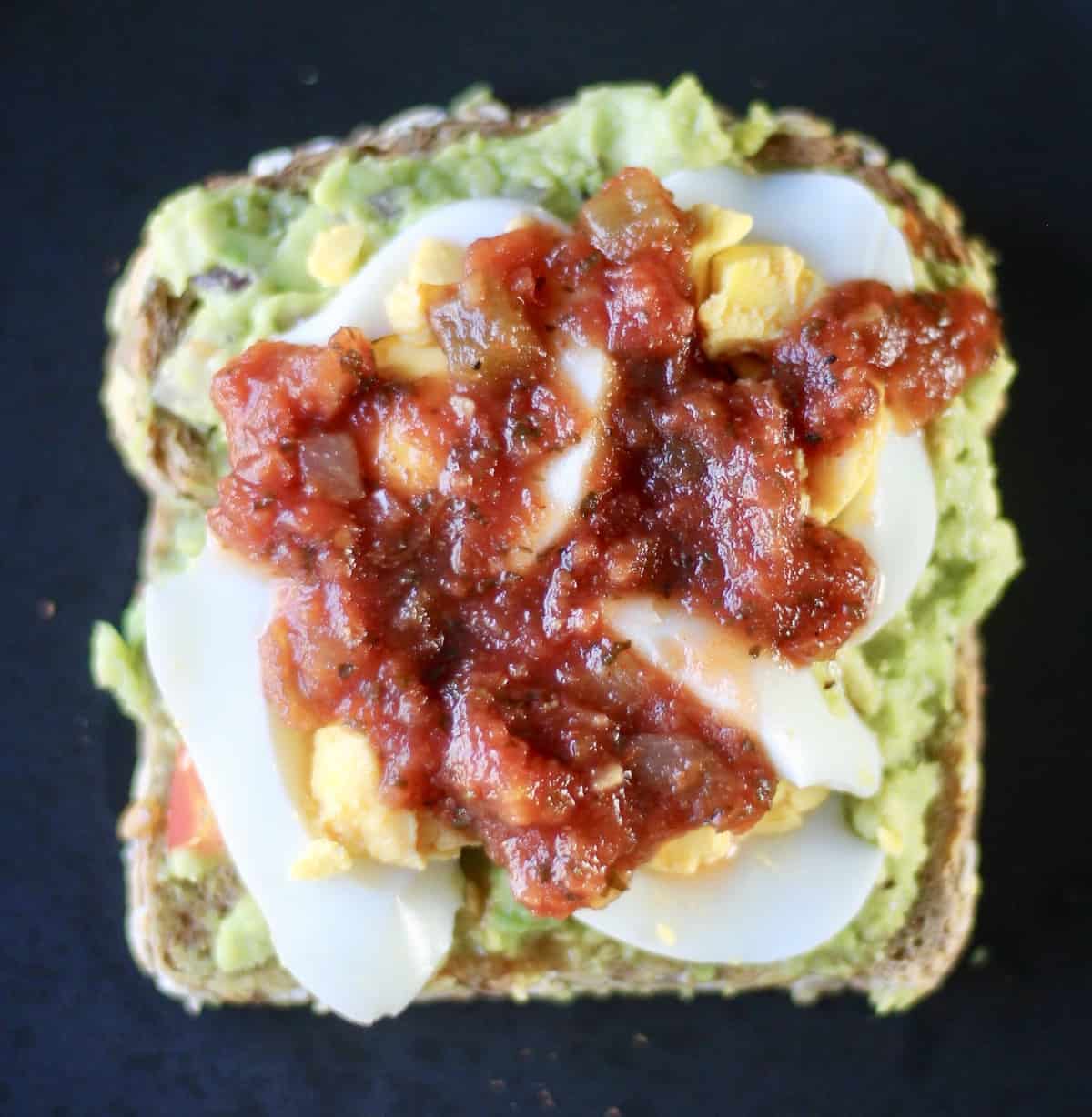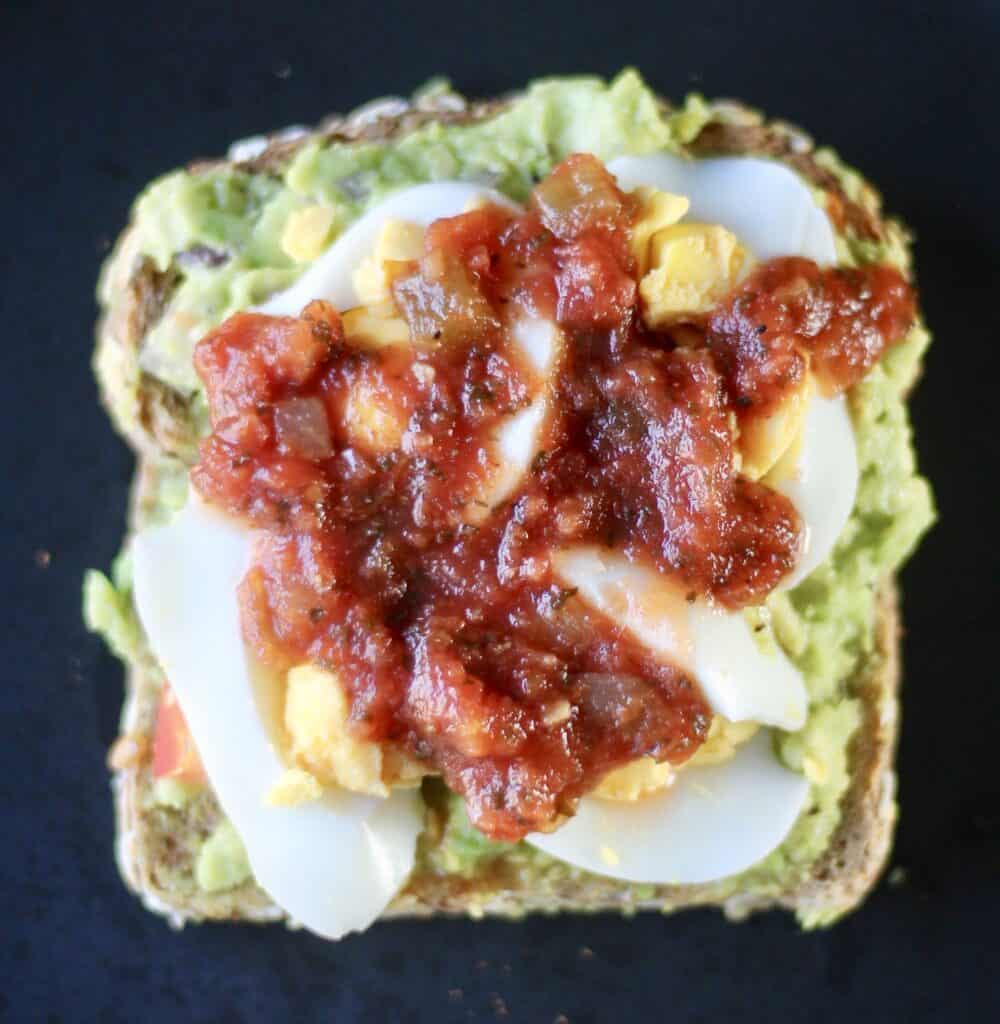 More Breakfast Recipes
These are just a few avocado toast ideas I had. Really, the recipe variations are endless! Just do a quick scan on Pinterest to see all the different ways to make avocado toast.
If you loved this recipe, check out some of my other really yummy breakfast recipes!
Learn how to make the best avocado toast right in your home. Share a picture and tag me on Instagram or Facebook if you decide to make this!