This easy to prepare egg bake is filled with kale, swiss chard, baby spinach, and delicious chicken sausage. It's low-carb, high protein, and can be made-ahead of time to enjoy for breakfast all week.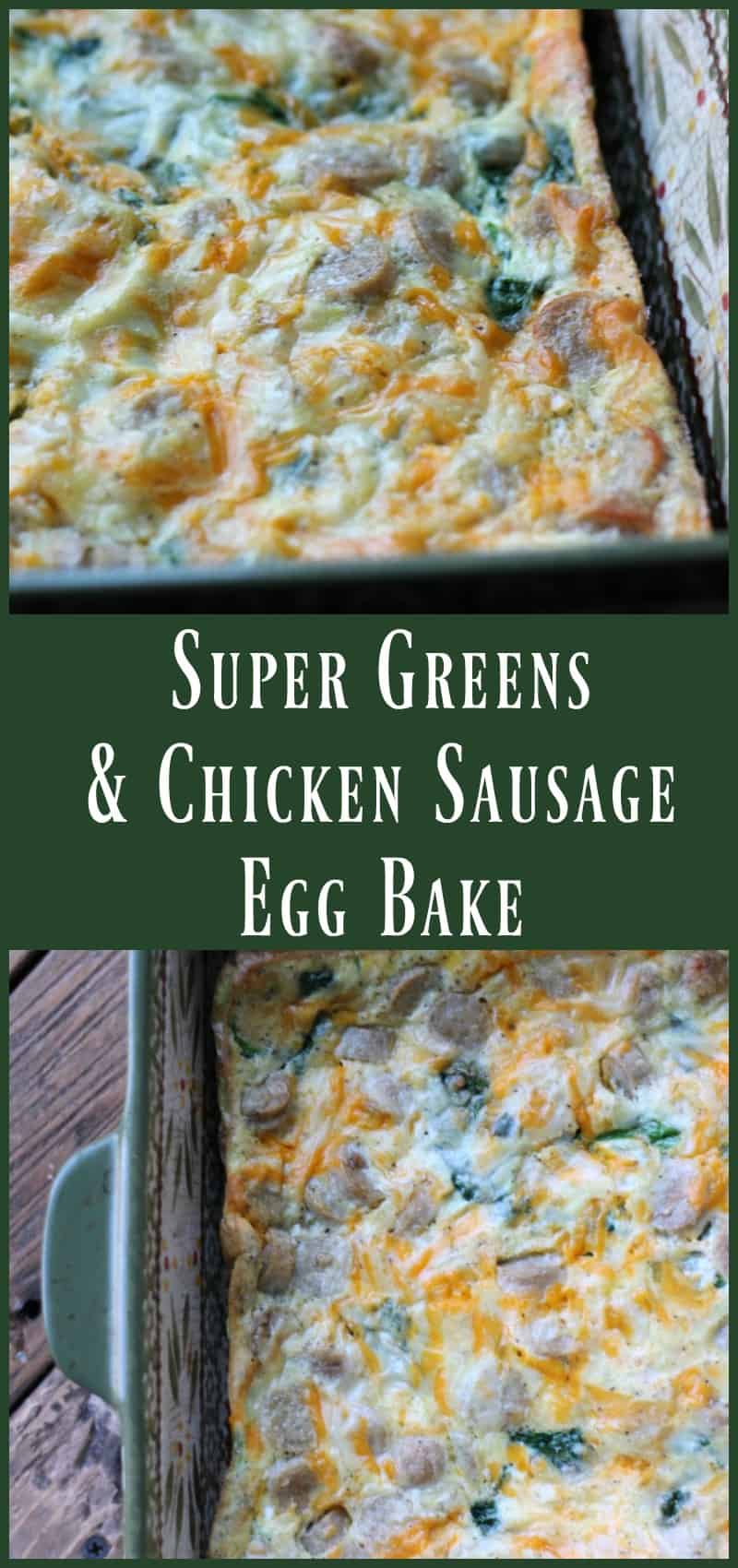 I love egg bakes. Last week I made a portion-controlled Greek egg bake using a muffin pan. Using a muffin pan is great but sometimes it's easier to create an egg bake in a 9 x13 pan so there's no worry of ingredients spilling over the top. It still can be portion-controlled by cutting into squares.
This recipe includes chunks of sausage and tons of greens so I opted to make it using a 9 x 13 pan instead of a muffin pan. It worked perfectly.
Okay let's talk about this recipe. Egg bakes are like a blank canvas. You can add any ingredient to the base and it will turn out great. Whatever ingredient you enjoy in an omelette you can create into an egg bake. I've even put quinoa in an egg bake before and it was scrumptious. So get creative.
This egg bake was inspired by a container of "super greens" I bought from Wegmans. By the way, in case you didn't know, super greens consist of kale, spinach, and swiss chard. At least that's what the box said. I originally bought the greens to use in my smoothies but I forgot to get frozen fruit…of course. Anyway, I just so happened to buy chicken breakfast sausage too. I was planning to whip up an egg white omelette with cheese and sausage. Instead, I decided to make things easy and just throw the greens, sausage, and eggs into an egg bake. Bam.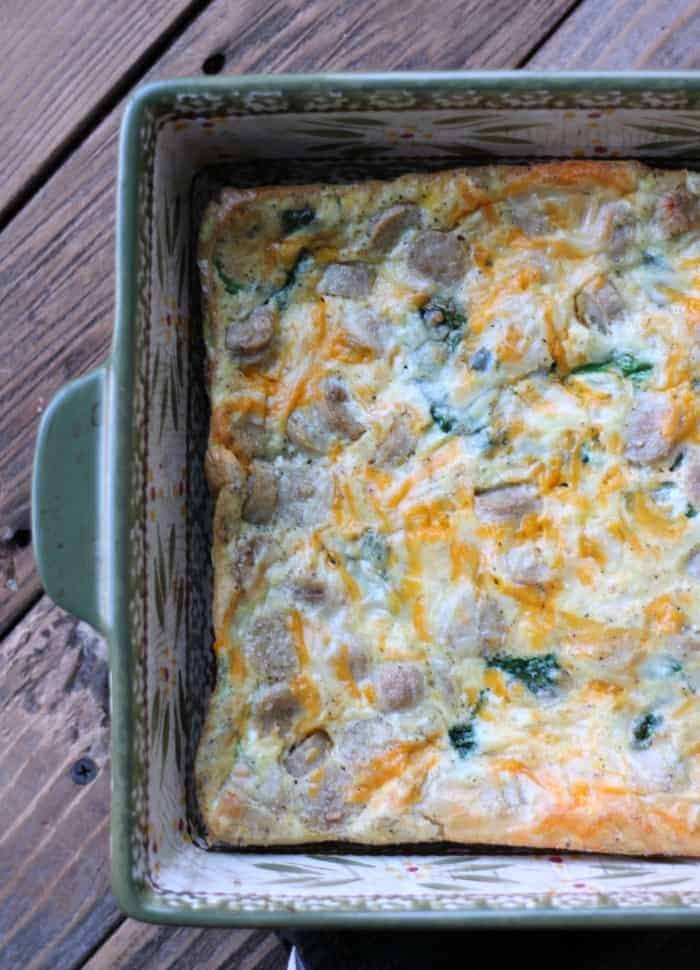 This recipe was very impromptu so I didn't get a lot of pictures. Next time I make this I will get more step by step pics. But truly it's so easy. The only extra step is sautéing the greens in a little olive oil before mixing it in with the eggs. If I felt lazy I bet I could've thrown the greens right in and it would've cooked fine.
I like the Alfresco Chicken Sausage. I prefer the Country Style for this recipe but also like the Apple Maple too. It depends if you like a sweeter taste or not. This sausage is fully cooked so all you need to do is slice it into chunks and add it into the egg bake.
I sprinkled the cheese on before it went into the oven. I used cheddar because cheddar makes everything better. You can use any shredded cheese you like.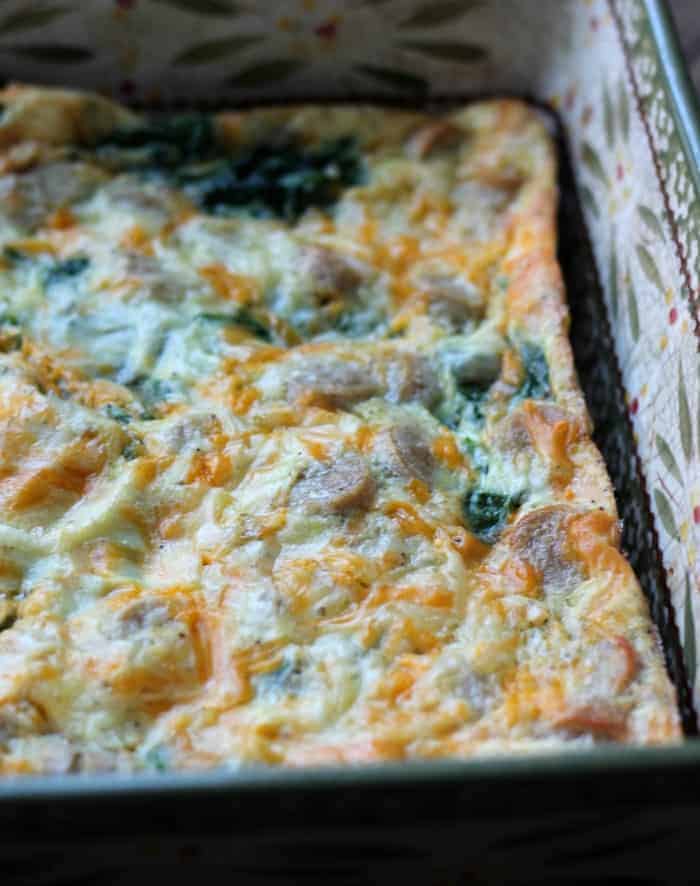 It bakes for about 30 minutes in a 375 degree oven. Once the egg bake is set in the middle it's done.
After it cooled I cut the egg bake into 10 squares and stored the egg bake portions in the refrigerator. I used my glass pyrex containers for storage.
The egg bake heated up perfectly. I put it in the microwave for 1 min 30 seconds and it was great. It was wonderful having breakfast already made this week. Also, I should mention this is low-carb and high protein. I ate 2 for breakfast and felt satisfied all morning.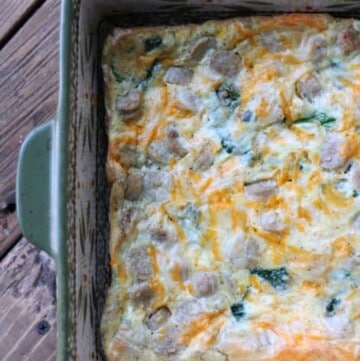 Ingredients
1

tablespoon

olive oil

1

5-ounce package super greens

8

large eggs

4

egg whites

1/4

cup

1% milk

1

teaspoon

granulated garlic

1

teaspoon

onion powder

1/2

teaspoon

salt

1/2

teaspoon

ground pepper

1

8-ounce package Alfresco chicken sausage (7 links), cut into thick slices.

1

cup

shredded cheddar

cooking spray
Instructions
Preheat oven to 375 degrees.

In a large skillet heat the olive oil over medium heat and sauté the greens until they are wilted. Set aside.

In a medium to large mixing bowl whisk together eggs, milk , granulated garlic, onion powder, salt, and pepper.

Stir in the greens.

Poor egg mixture into a 9 x13 baking dish that's been sprayed with cooking spray.

Sprinkle sausage slices and shredded cheese evenly over the egg mixture.

Bake for 30 minutes or until set in the middle.

cut into 10 squares and serve hot.
Notes
Sugar: 2
This recipe can be made completely and stored in the refrigerator for up to 5 days and frozen up to 3 months. Warm up in the microwave for 1-3 minutes or until hot.
Nutrition
Serving:
1
g
|
Calories:
179
kcal
|
Carbohydrates:
4
g
|
Protein:
17
g
|
Fat:
11
g
|
Saturated Fat:
4
g