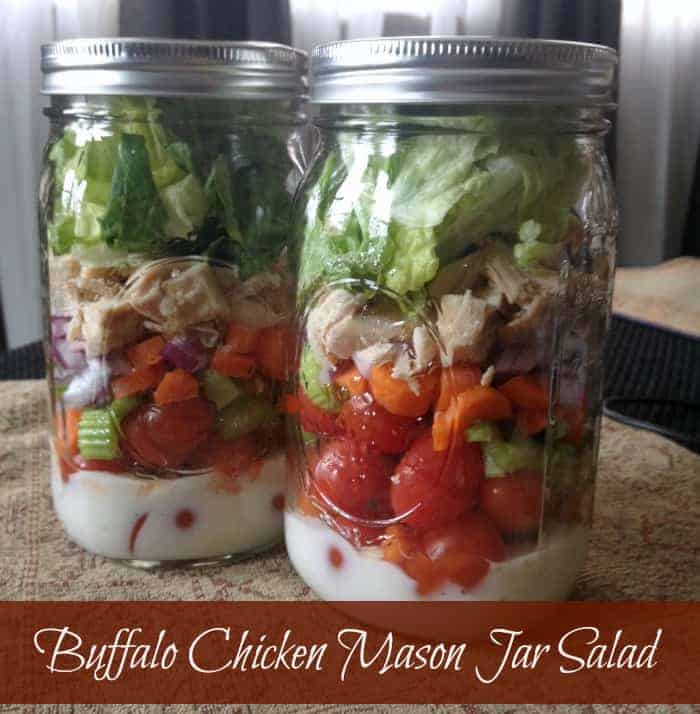 Are you sick of Buffalo Chicken recipes yet? I hope not cause we are kind of obsessed here in the B-lo with our buffalo chicken and will find a way to fit it into everything we eat.
So in the spirit of hot sauce and blue cheese I give you my new Buffalo Chicken Mason Jar Salad recipe. As I was daydreaming about this salad I came to the conclusion that there are many different ways one could make a buffalo chicken salad. First let me tell you the recipe I decided on and then I will give you a few variations to work with.
Let's start with the chicken. Like always I wanted easy so I decided to use a rotisserie chicken for the chicken part of this salad. For variations, you can make your own chicken any way you like. I think breaded, baked, and chopped would go good in this recipe. You can also make your own shredded chicken in the crock pot. Or just use whatever chicken you have leftover. Really any of it would work.
I also wanted to keep the calories under control so instead of using a regular blue cheese dressing I opted for a yogurt blue cheese dressing. Yogurt blue cheese dressing is a great substitution because it still taste just as delicious and it has half the calories of the "real" stuff. You can find many varieties of yogurt dressing in the produce section of the grocery store.
For the vegetable portion I of course used carrots and celery. I recommend chopping them up small because they are easier to eat that way. I also decided to use tomatoes and red onion too. Now these are not traditional vegetables in a buffalo style meal but I thought they would help bulk up this salad – and I was right they did and were very good with the yogurt dressing.
Originally, I thought about mixing the hot sauce with the chicken like I do in my Buffalo Chicken Wraps but I thought it would lend to much moisture to the salad making the romaine wilt or get slimy. So I added the hot sauce to the dressing part of the salad and it worked out great.
If you wanted to add blue cheese crumbles as well that would be good and give it a nice tang. Like I said I wanted to keep this salad on the lower calorie side so I did not add any additional cheese. However, I don't think it would be to bad to add 1 tablespoon of crumbles – I just may do that myself next time.
You can make this salad as spicy as you want by adding or decreasing the amount of hot sauce. I used 2 teaspoons each salad and that seem to give it just the right kick for me. But if you like it spicier then add a bit more.
I used about 1/2 cup – 1 cup of shredded chicken per salad. I used 1 cup to figure out the calories. If you use less or more that will change the nutritional information.
Check out all of my mason jar salad recipes.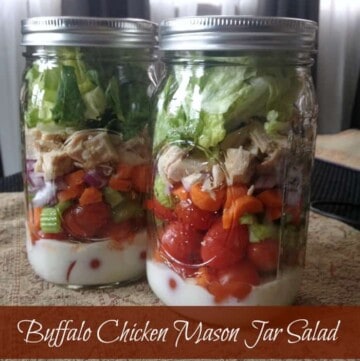 Ingredients
5

wide mouth quart size mason jar salads

10

tablespoons

blue cheese yogurt dressing

10

teaspoons

hot sauce

preferably Frank's hot sauce

1

quart

cherry tomatoes

halved

1

red onion

chopped

5

large carrots

halved and chopped

5

large celery stalks

halved and chopped

3-4

cups

shredded chicken

5

cups

chopped romaine lettuce
Instructions
Divide ingredients among mason jars starting with dressing then following with hot sauce, tomatoes, onion, carrots, celery, chicken, and ending with romaine.

When ready to eat shake salad in jar then pour into a bowl.
Notes
Make Ahead Instructions
These salads can be made up to 5 days ahead of time.
Nutrition
Serving:
1
g
|
Calories:
355
kcal
|
Carbohydrates:
21
g
|
Protein:
45
g
|
Fat:
12
g
|
Fiber:
8
g
|
Sugar:
9
g