Prepare some of these family-favorite freezer casseroles to have on hand next time you are in a time crunch or just don't feel like cooking. Pull from the freezer, stick it in the oven and you'll have a meal in just under an hour!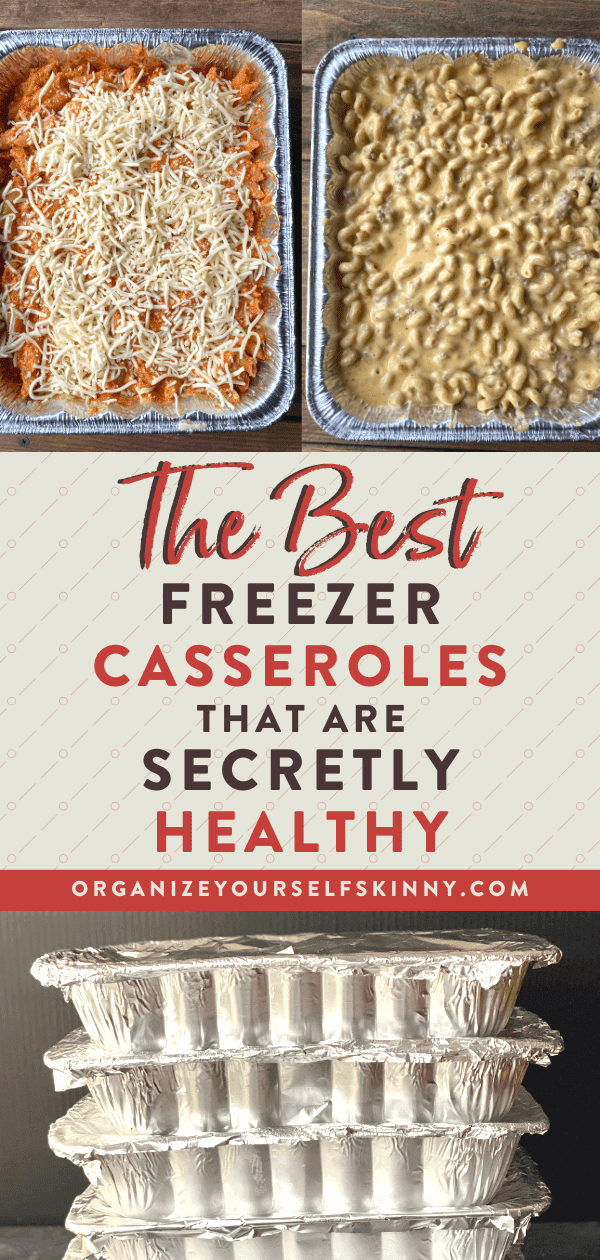 When I first started preparing freezer meals, I had never made any type of casserole dish before. At that time in my life, my girls were really little and putting together a big casserole just didn't really make sense.
And now, a decade later, my daughters are incredibly active teenagers who eat like 250-pound football players! Plus, I have a beast of a husband and 2 more stepdaughters added to the mix, so making a big pan of homemade macaroni and cheese or baked ziti meets our needs nowadays.
When everyone is over at our house, it's so much easier to whip together a big casserole to feed the entire family. Everything is in one pan and clean up is a breeze!
How To Lighten Up A Casserole Dish
When you think casserole, healthy doesn't usually come to mind. Of course, it's not as healthy as eating grilled chicken and spinach but there are ways to lighten up a casserole.
Use Whole Grains
I like to use either whole grain pasta, brown rice, or quinoa in all of my casseroles. Whole grains add more fiber, protein, and nutrition, unlike their processed white counterparts. They also keep you satisfied much longer.
My favorite whole grain pasta brand is Delallo. You can find it alongside all the other pasta in your grocery store. There are times I can't find all the pasta I need in whole grain. In this case, I just make sure to purchase a high-quality pasta brand like Delallo.
If you're gluten-free, you can even swap the whole grains for something such as gluten-free pasta. The consistency might be a little different but it's still delicious.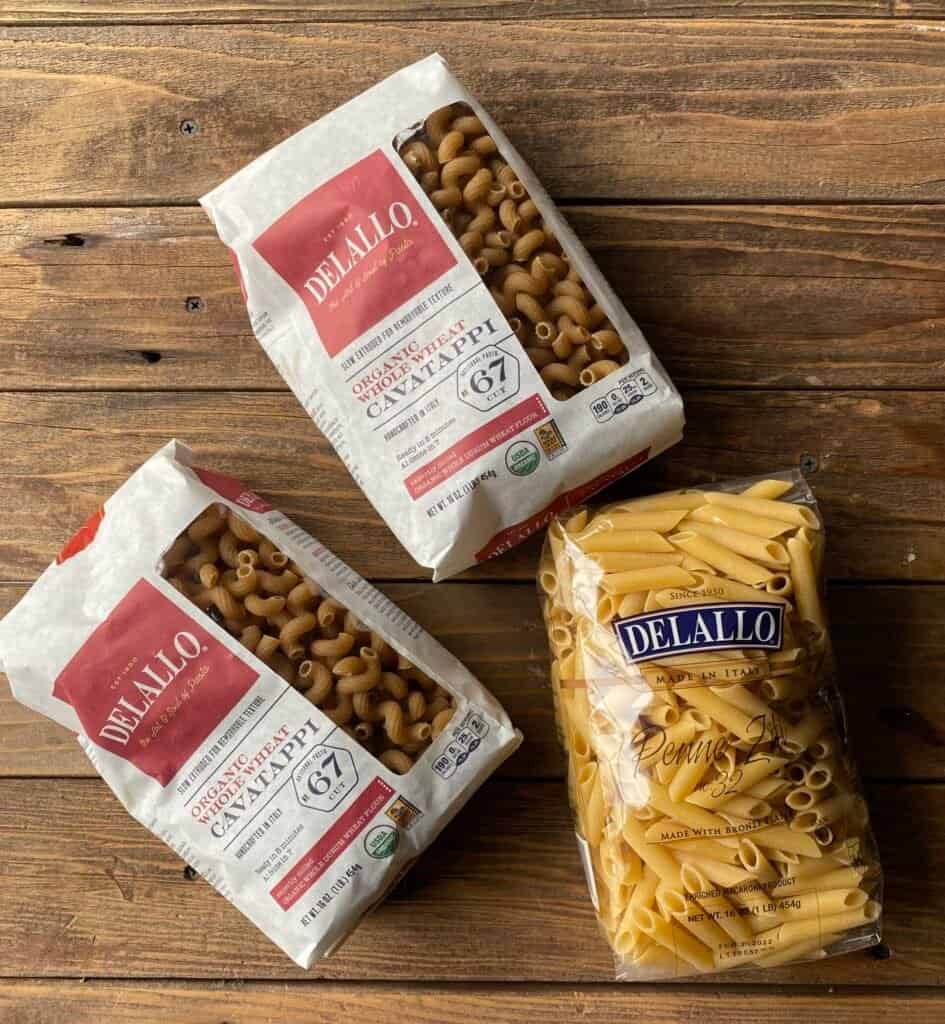 Don't Use Canned Condensed Soups
I never use condensed soups because they're usually full of fat and sodium that I really don't need.
Instead, I create a sauce using milk, flour, spices, and a little butter and cheese. If you don't want to use flour, you can use tapioca flour or other gluten-free flours to thicken the sauce. This sauce is creamy and creates the same thick consistency as a can of condensed soup, but I get to control what goes in it.
If you want to reduce some of the dairy intake, I've used unsweetened coconut milk MANY times in these casserole recipes. There is virtually no difference in taste or consistency. In fact, my oldest daughter prefers that I use coconut milk because she tends to get tummy aches when she has too much dairy.
I haven't used vegan cheese in casseroles, but that's an option if you want to keep a casserole completely dairy-free!
Use Ground Turkey Instead Of Beef
I use both interchangeably in many recipes including casseroles, and the same goes with turkey sausage over pork. I know ground turkey tends to get a little drier and doesn't have as much flavor as the beef, BUT if you cook ground turkey the right way you won't be able to tell the difference!
Frequently Asked Questions About Freezer Casseroles
Now, that you have some of my favorite tips for making a healthy casserole, I wanted to take a moment and answer a few questions some of my readers have been asking me.
What Supplies Do I Use For Freezing Casseroles?
My favorite containers to use for freezing casseroles are disposable aluminum pans. I love being able to stick the pan in the oven to bake and then just toss them out when I'm done.
Zero clean up!
I also like using these pans because I can easily give them to a friend or family member in need. Usually, I'll get some of these disposable aluminum pans at a grocery store, or if I know I'm going to make a bunch of casseroles I'll buy them at bulk from my local warehouse store.
I typically don't use my glass casserole dishes because I don't like to tie them up in the freezer, and I also get concerned about glass breaking in my freezer or oven.
What Kind Of Size Pans Do I Use?
I prefer to make freezer casseroles in a 9 x 13 dish because I'm typically making this to feed my entire crew. However, if you're only cooking for 1-2 people, you can freeze in a small 8 or 9-inch square pan.
Regardless of the pan size, freezing the casseroles is the same process.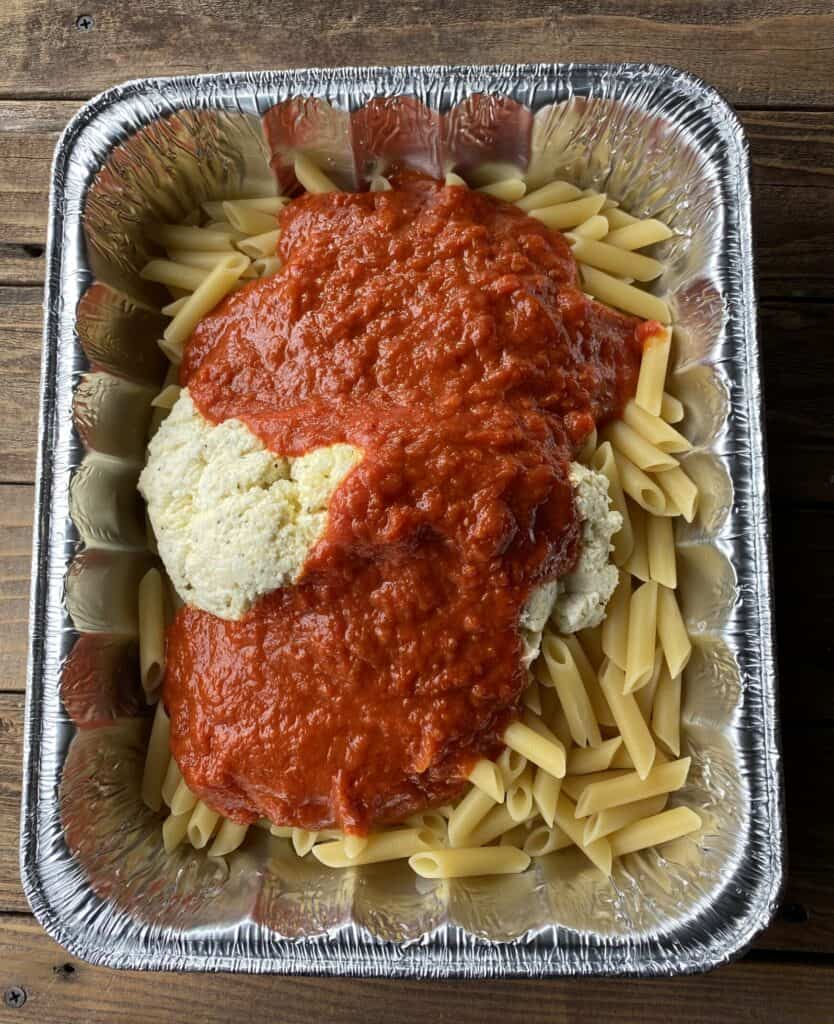 How Do I Assemble A Casserole?
Assemble all of the ingredients into an aluminum casserole pan, cover with foil, and label. That's it!
If you're making two smaller pans, then just divide the recipe into 2 smaller pans. Basically, you are preparing the casserole to put it into the oven, but instead of baking it right away, you are going to freeze it.
Make sure to let the casseroles cool slightly before putting it in the freezer.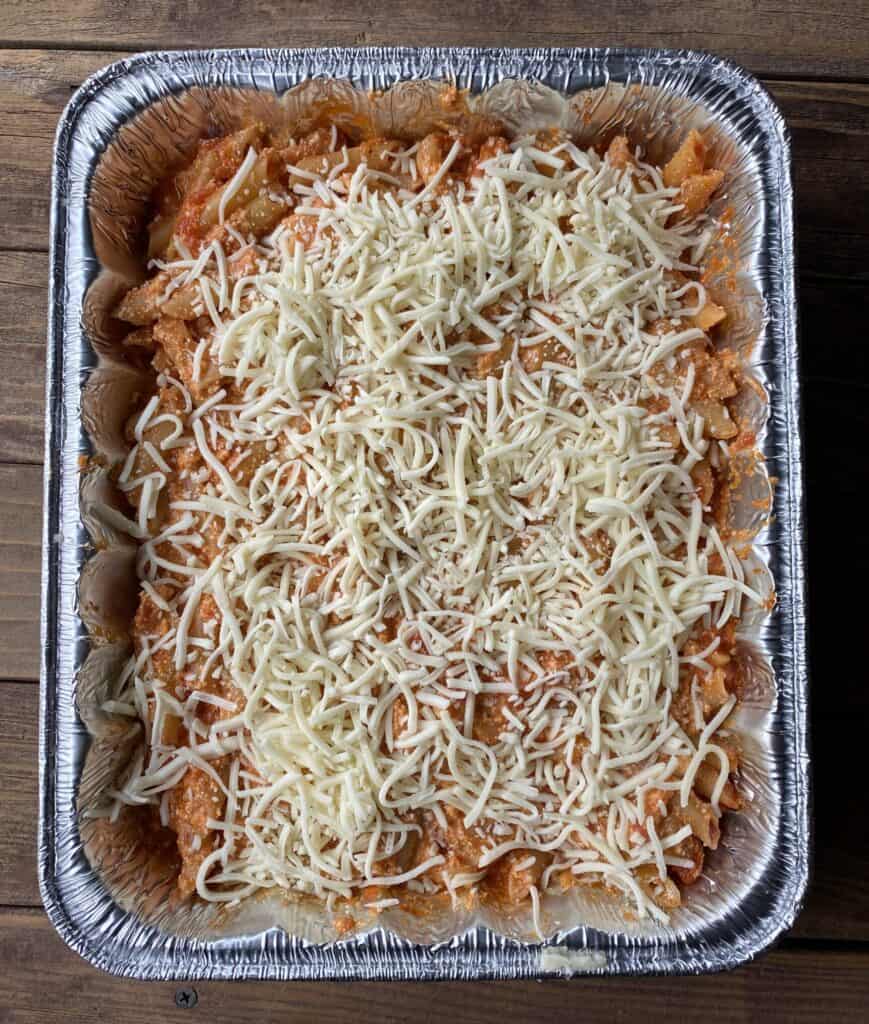 If you don't have the freezer space for a bunch of ready to bake casseroles then you can do a couple of different things.
You can create a freezer dinner kit – Prepare and freeze the recipe components separately.
You can also mix together all of the ingredients and put them into a freezer bag. Lay the freezer bag flat to freeze, and then once it's frozen place it wherever in the freezer.
How Do I Cook A Frozen Casserole?
A casserole that has been frozen in a disposable pan can be cooked directly from the freezer. I will admit this does take more time because it's frozen, but it's so convenient.
With most of my casseroles, it can take a good extra hour to cook. For example, when I cook a baked ziti (not frozen), it takes about 65 minutes at 375° to cook completely. Frozen- it can take over 2 hours at 375°. This isn't a big deal if you plan for it, but it's not ideal if you need a quick weeknight meal.
If you can, I recommend thawing out the casserole dish in the refrigerator for at least a day or so. This will reduce cooking time tremendously!
Also, keep the casserole covered as it cooks. This helps thoroughly cook the casserole without burning the top. Take the foil off in the last 15 minutes and let it cook until it gets nice and bubbly. This is the same even if you're cooking from frozen.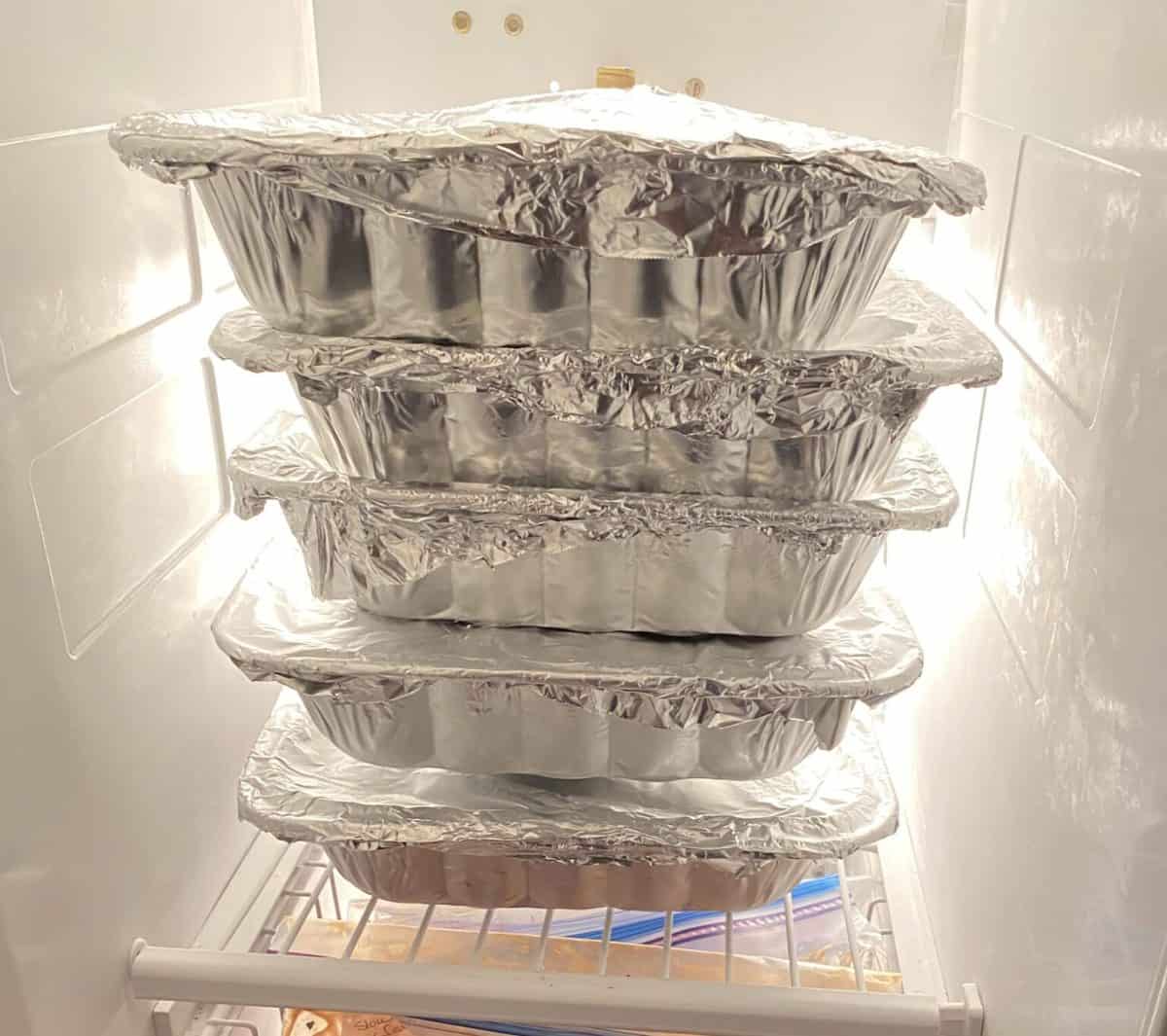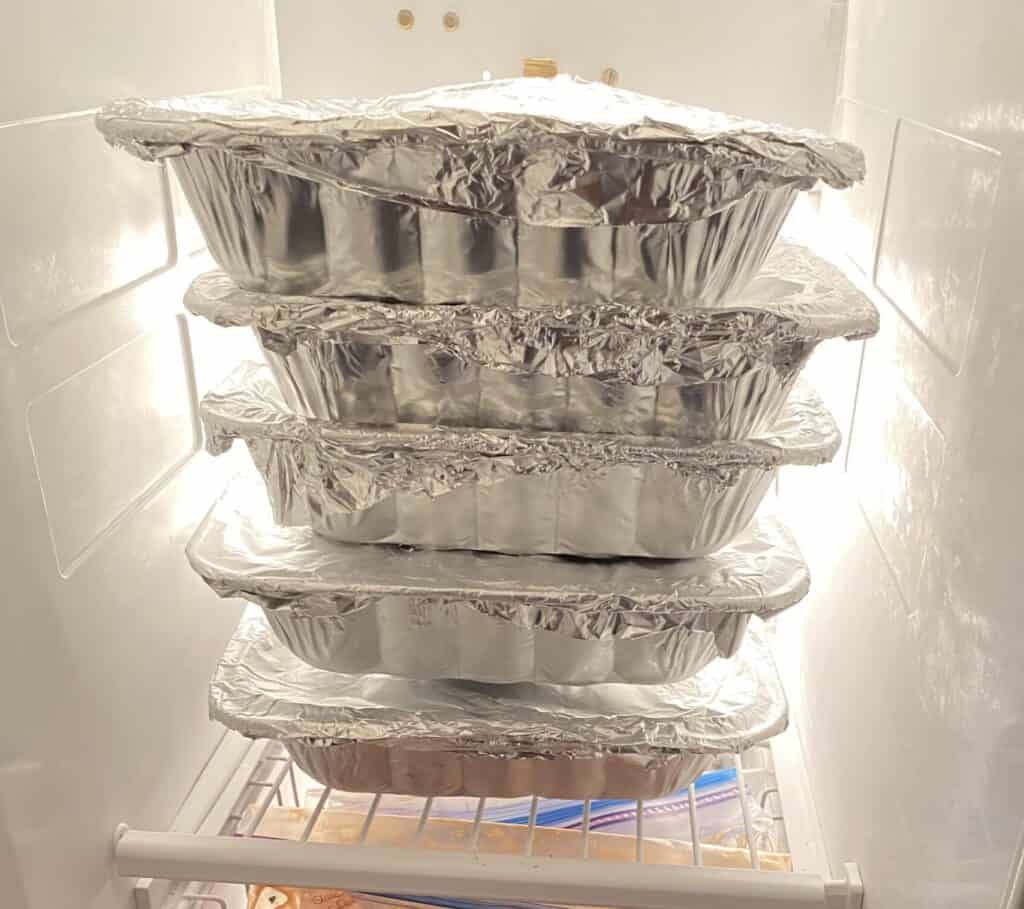 The Best Freezer Casseroles That Are Secretly Healthy
Okay, time to start cooking! I want to share some of the go-to casseroles that I make all the time for my family.
Each one freezes well and cooks perfectly!
This cheeseburger bake is about as family-friendly as you can get. Seasoned burger mixed with whole-grain noodles and a creamy cheese sauce. Yum! It's like a hamburger helper but so much healthier.
I often make this with unsweetened coconut milk to keep dairy to a minimum but you'd never know. You can also make this with ground turkey to reduce the fat but my kids love ground beef in this recipe, so I use lean ground beef.
I serve this with a salad or roasted broccoli.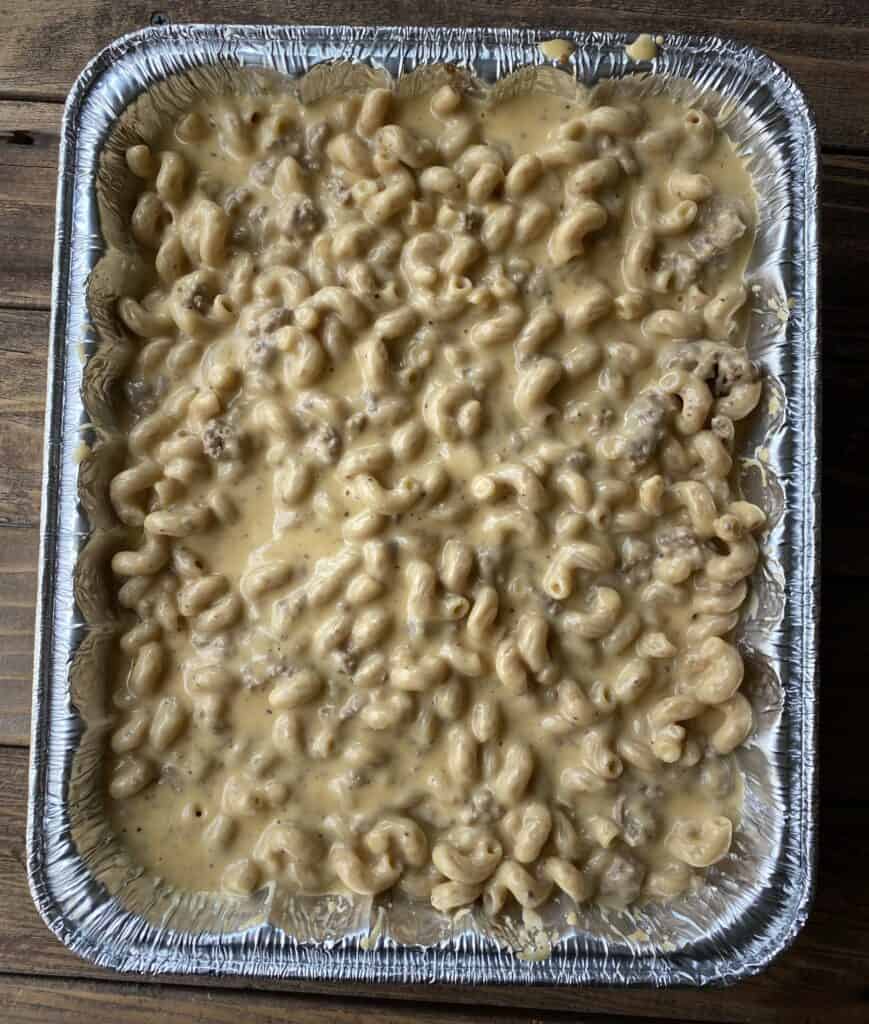 This is another family favorite I make all the time!
Often I'll cook the chicken 1-2 days ahead of time because it cooks in the slow cooker. Then, I'll use half for this Buffalo Chicken Macaroni and Cheese and the other half for Buffalo chicken subs, wraps, or salads.
Again, I serve this with roasted vegetables or a big leafy green salad.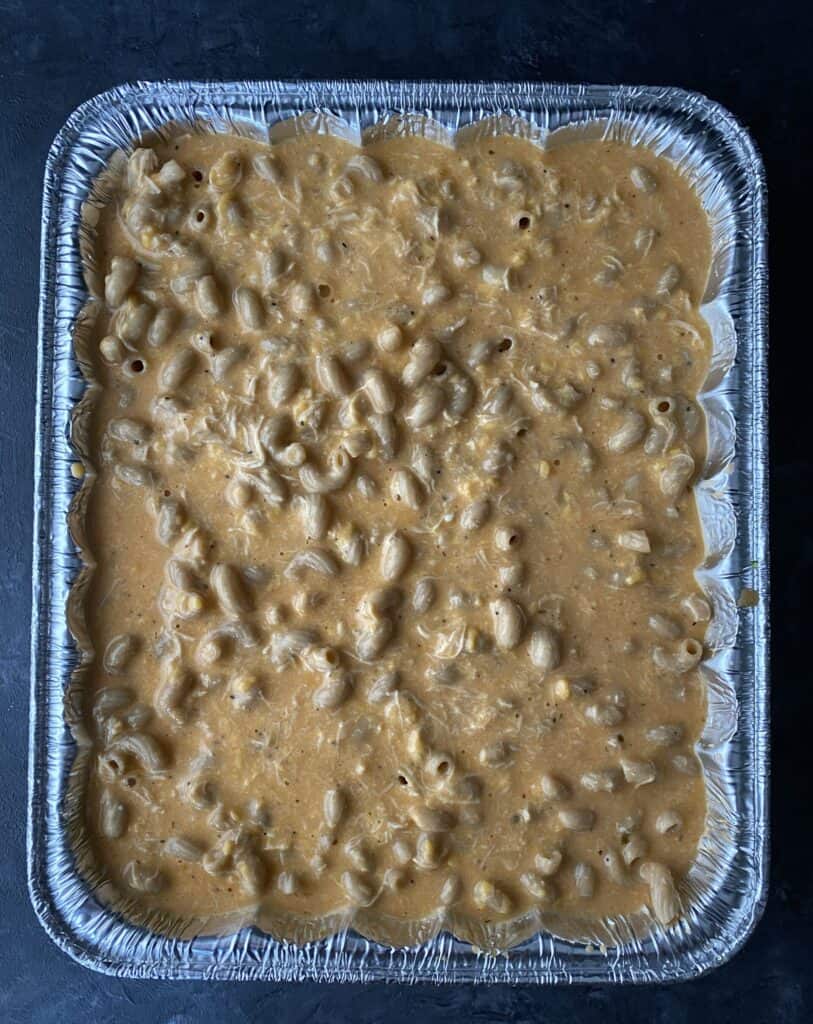 This the easiest of the freezer casseroles I make because if I'm using a jarred tomato sauce, the only ingredient I need to cook is the pasta. I also need to mix up the ricotta cheese mixture but that's super easy!
I use part-skim ricotta cheese, grated parmesan cheese, egg, and a bunch of Italian spices to make this delicious pasta dish. Once the pasta is made and the ricotta cheese mixture is put together, I mix it all together – cover and freeze.
This is my most basic version of baked ziti but you can certainly add cooked crumbled Italian Sausage, seasoned ground beef, or even cooked vegetables like spinach, mushrooms, or zucchini.
Cooking Tip: My advice with vegetables is to make sure all the liquid is strained out before mixing in with the other ingredients.
I serve this with a caesar or mixed green salad.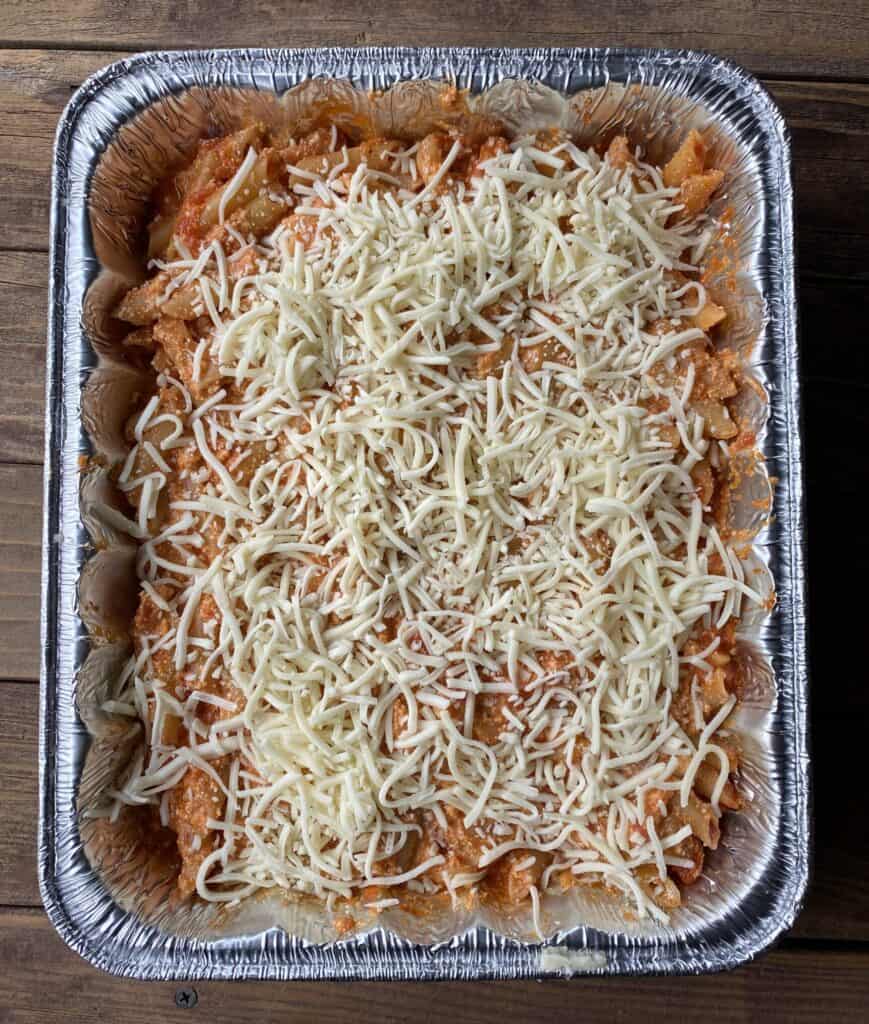 Quinoa is one of my favorite ingredients to use in bakes. It's gluten-free, protein-packed, and is so easy to cook with. You can substitute quinoa in any recipe that calls for brown rice.
For this freezer casserole, I typically use chicken but this time around, I used a 13-ounce package of smoked turkey sausage. I sliced it into small pieces and then cooked it till it was brown and crispy. Then, I cooked the mushrooms and onions making sure to drain the vegetables so I didn't add a bunch of unnecessary liquid to the bake.
Also, I cooked the quinoa, meat, and vegetables the night before so the next day all I needed to do was make the sauce and put the casserole together and freeze.
This goes great with a side of roasted Brussel sprouts.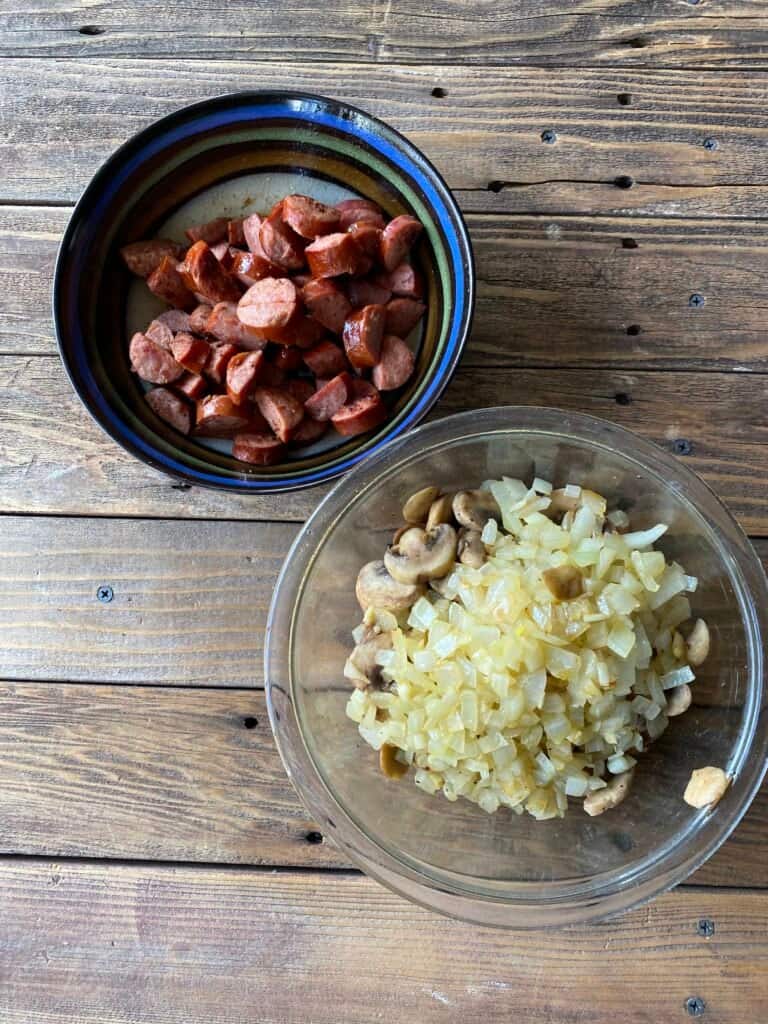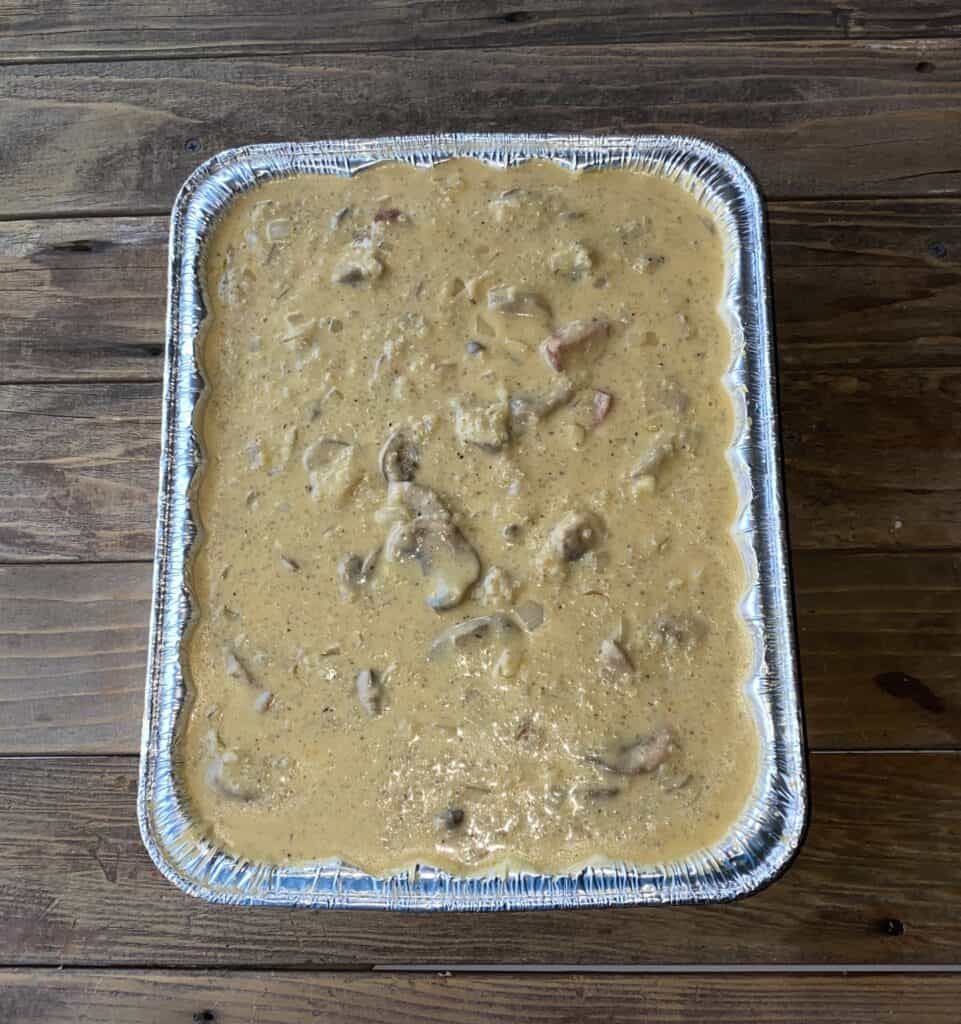 This classic is filled with lean protein and nutrient-rich broccoli. For this easy freezer casserole, I followed this pasta, broccoli, and chicken bake, but substituted it for 4 cups of brown rice in place of the pasta.
Also, I boiled the chicken and when it cooled down enough, I shredded it with two forks. I did this the day before I put the casserole together.
Cooking Tip: If you don't want to cook the chicken or if you want to save extra time, you can purchase a rotisserie chicken, shred up the chicken and use that instead of taking the time to cook your own. You need about 2 – 3 cups or so of shredded chicken for this recipe.
I blanch the broccoli prior to going into the casserole as this helps keep the broccoli green and from getting too mushy as it cooks in the casserole.
Another cooking tip is to cut the broccoli into bite-size pieces to make it easier to eat. I use about 4 – 5 cups or so of broccoli. We love broccoli so I add a ton of it, but you can lessen the amount or only use half and substitute another veggie like mushrooms
Then, prepare the cheese sauce and mix everything together, cover, and freeze.
That's it!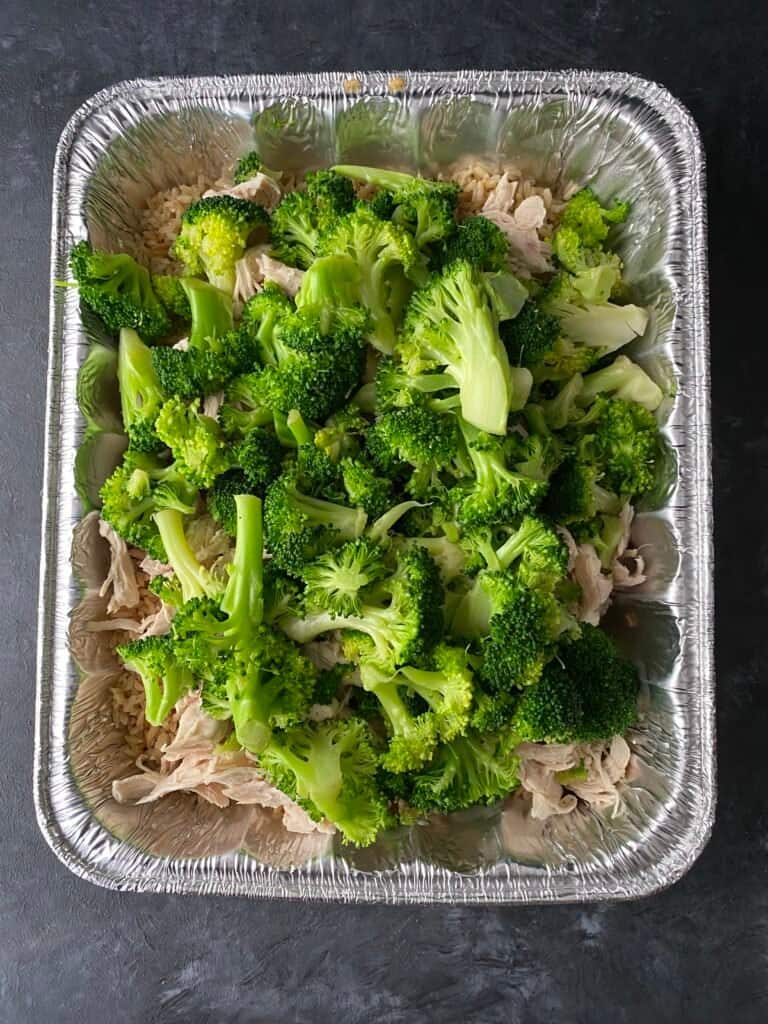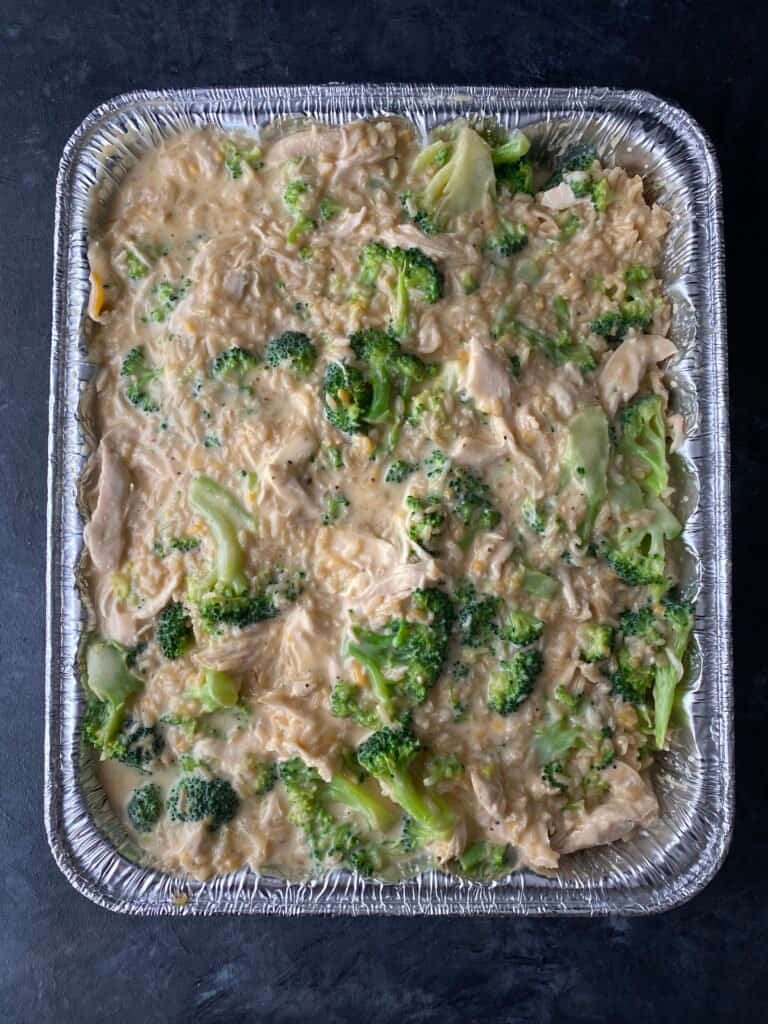 More Helpful Tips To Make The Best Freezer Casserole
Here are some more helpful tips to make the best casseroles to stock your freezer.
Cook Your Ingredients in Stages
Freezer casseroles do take longer to prepare than many make-ahead freezer meals because you need to cook the grains and oftentimes, prepare the meat and a cheese sauce of some sort separately.
To make it easier on myself, I'll take time one day to make the pasta, rice, and quinoa for the casseroles. I'll also prepare some or all of the meats. For example, seasoned beef for the hamburger casserole, slow cooker buffalo chicken, shredded chicken, and other meats can all be prepped while the grains are cooking. Then, the next day whip up the sauces and mix all the casseroles together.
Use Whatever Pasta Shape You Like
If there is a specific type of pasta you love above others, switch them out!
For example, if you're making a buffalo macaroni and cheese and all you can find is whole wheat corkscrew pasta, that'll work fine. The only time I stick to a certain pasta shape is when I'm making baked ziti. I prefer ziti or penne for this dish but really any short pasta will do.
Again, the key with any pasta in these casserole dishes is to undercook. You only want to cook the pasta for 5 minutes.
Eat The Casserole Within 3 Months
Freezer casseroles will keep for up to 3 months. The goal is to get them on the meal plan and eat them up way before then, but just in case you forget about them 3 months is a good rule of them to work from.
Wait Till It Cools
Don't put the casserole into the freezer when they are very warm or hot. This is how ice crystals form and freezer burn happens.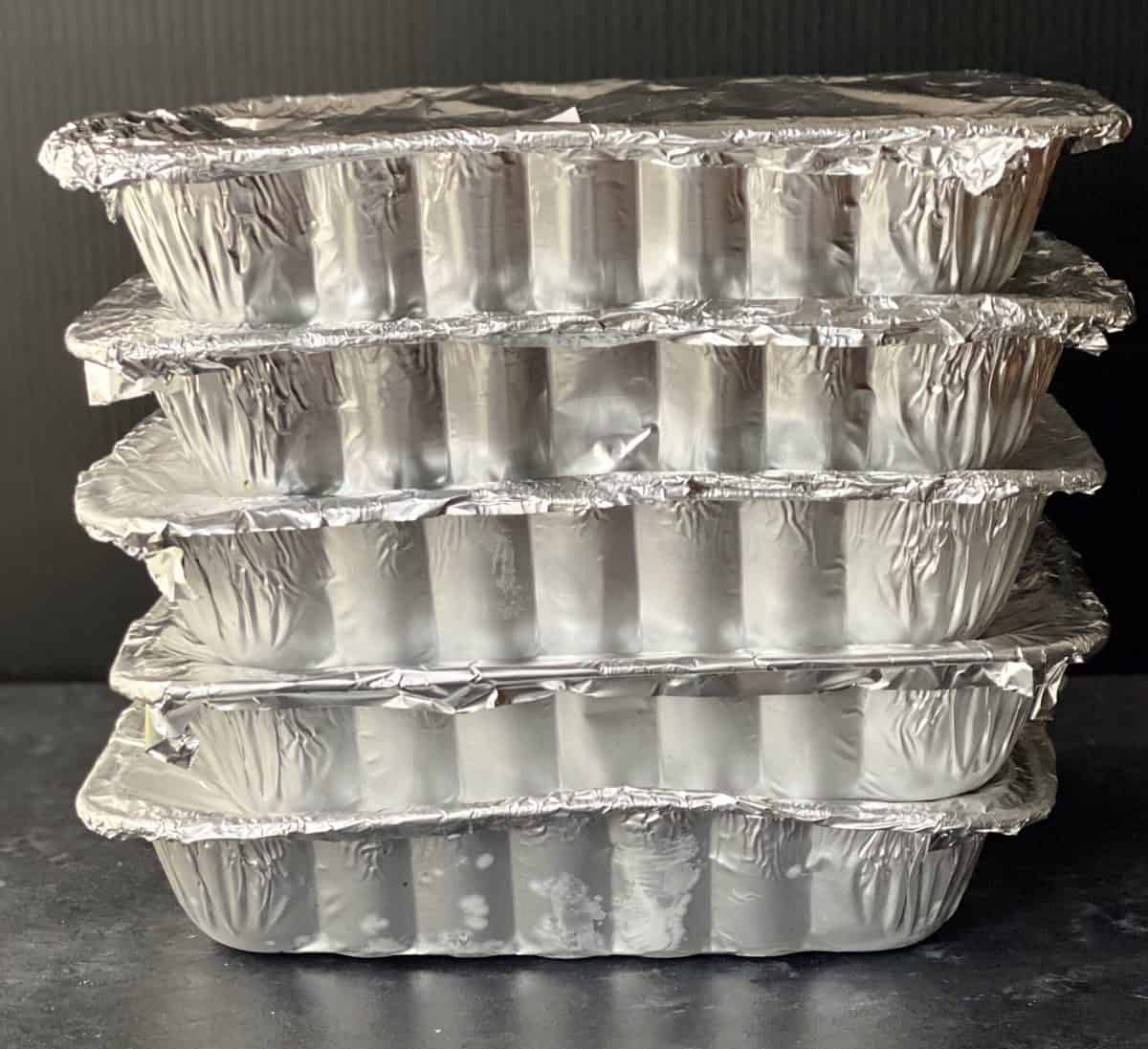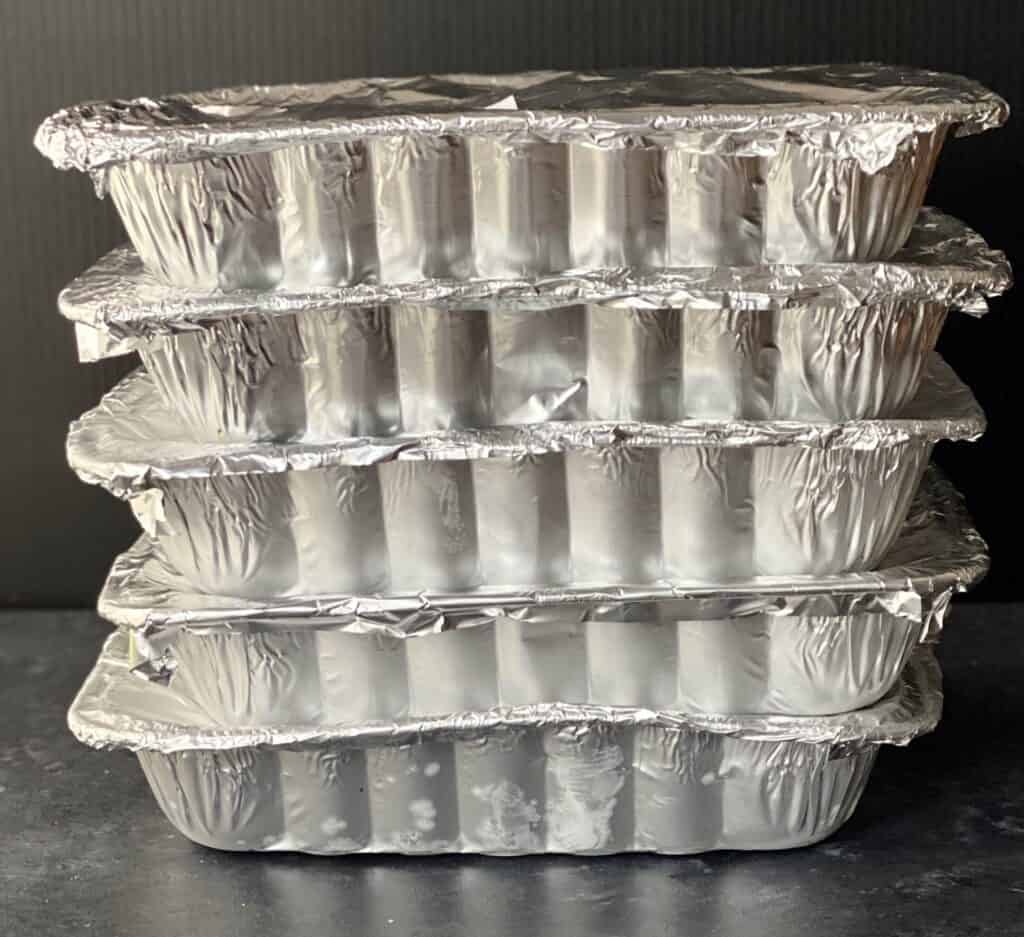 Put together some of your favorite Freezer Casseroles to have on hand for those nights where everything is just bananas! Share a picture and tag me on Instagram or Facebook if you decide to try any of these.