Swapping ground turkey for beef is a great way to create a delicious healthy recipe lower in fat and calories but still big on flavor. Here are my best Ground Turkey Meal Prep Recipes and cooking tips to help you prepare flavorful, juicy ground turkey recipes ahead of time.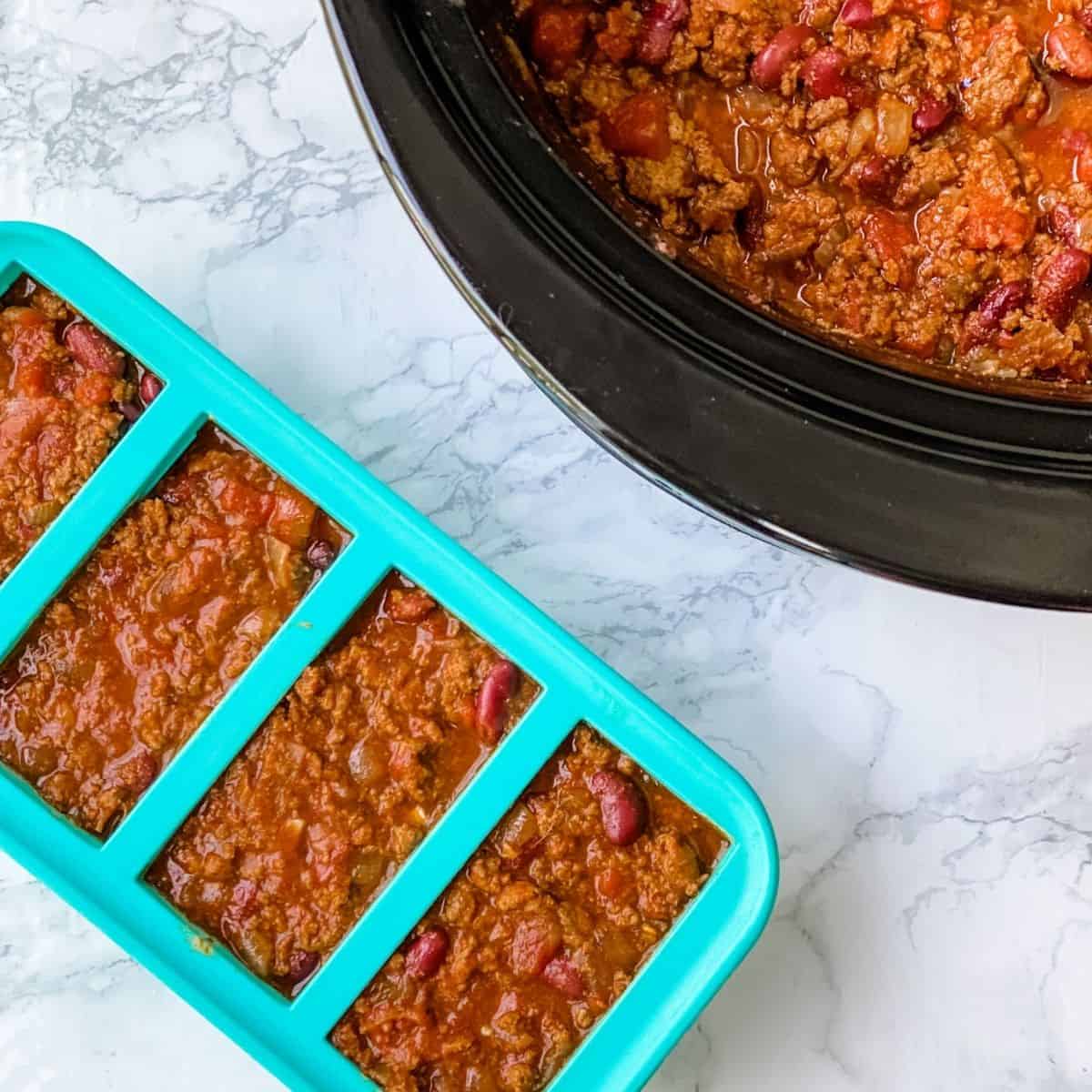 This post contains affiliate links. I am an affiliate for Amazon Associates and other brands and earn a small commission on qualifying purchases. You're by no means obligated to use my links but, if you do, thank you for supporting Organize Yourself Skinny.
When I first started on my weight loss journey, one of the first healthy substitutions I made was ground turkey in place of ground beef. I cut the fat and calories in many of my favorite recipes without sacrificing the flavor.
Turkey Burgers, Slow Cooker Turkey Chili, Crockpot Turkey Tacos, and Turkey Zucchini Meatloaf with Feta are just a few of my favorites. Need more ideas? Check out all of my healthy ground turkey recipes.
Jump to:
Reasons you'll love cooking with ground turkey.
You can substitute it in any recipe that calls for beef, and with my tips, even die-hard beef lovers often can't tell the difference. And it's super easy to cook.
It's healthy. Ground turkey is a great high protein, low fat, low carb, and low-calorie option making it perfect for when you're trying to lose weight. It's also dairy-free, gluten-free, whole30, paleo, and keto.
It's incredibly versatile! Use ground turkey in everything from burgers to soups to fried rice recipes.
It's great for meal prep! There are so many options to prepare ground turkey recipes ahead of time.
Where to Shop for Ground Turkey?
When making recipes, I recommend purchasing organic ground turkey for the best flavor and results.
You can purchase organic ground turkey from Wegmans and Whole Foods. If you don't have easy access to organic ground turkey, I recommend checking out ButcherBox, an online meat delivery company. They sell all different cuts of meat, including ground turkey. You can see my ButcherBox review for more information.
How to Cook Ground Turkey
I've been cooking with ground turkey for over a decade and have learned many tips and tricks to prepare the best tasting ground turkey recipe.
Here are my ground turkey cooking tips.
Before cooking a ground turkey recipe, make sure you completely thaw it out if it is frozen. Cooking this meat frozen will water it down and make it harder for the flavor to set in fully.
If you are making turkey meatballs or meatloaf, then make sure to include a parade. A panade is a milk and bread mixture (you can also use gluten-free bread). One of the biggest complaints people have with using ground turkey is that it dries out quickly, and a panade will fix that. It works with ground beef, too, but it is essential in lean ground turkey recipes. Using a parade will result in a super moist turkey meatloaf or meatball. I use about 2-3 tablespoons and one slice of bread per 1 lb ground turkey.
Season, season, season. Ground turkey is the blandest meat on the planet; I will admit it. But with the correct ground turkey seasoning, you can transform it into a flavor-rich meal. Want to know my secret ingredient for a "beefier" tasting ground turkey recipe? Worcestershire sauce. Add 1-2 tablespoons to the ground turkey as it cooks or before you mix up a meatloaf or meatballs, and you get yourself one meaty-tasting ground turkey recipe. I also use a blend of salt, pepper, garlic powder, and onion powder in most recipes.
Don't overcook the recipe. I will say that this protein can dry out very quickly if overcooked, and I recommend you keep an eye on it. I know this tip goes without saying, but overcooking ground turkey is the best way to ruin it. If you're paranoid about serving raw meat, get a meat thermometer, and it will help tremendously.
All of these cooking tips will also work from ground chicken recipes.
Ground Turkey Meal Prep Recipes
I rely heavily on ground turkey when meal-prepping food for myself and my family. It's one of those ingredients that everyone likes, and I can cook it in batches to quickly add a source of protein to a dish.
These are our favorite healthy ground turkey recipes; I'll give each meal prep and cooking tips.
Ground Turkey Tacos
This is where my love for ground turkey started. We eat tacos ALL the time at our house, so substituting ground turkey for beef was a great way to start cutting down on some calories.
To meal prep taco meat, all you need to do is cook up 1lb (or the amount to feed your family) using your favorite homemade taco seasoning and then store it using glass meal prep containers. You can even throw in some black beans for extra protein.
I find glass containers to work best in keeping taco meat fresh longer.
When you're ready to eat, warm it up in the microwave for about 30 secs. Don't worry! It still tastes fresh as if you just cooked it. Of course you'll need to remember the taco condiments like taco cheese, salsa, sour cream, chopped tomatoes, and onions for taco night!
I also love to batch cook taco meat for the freezer to make dinners during the month even easier. Cook up a bunch of taco meat and then divide it into the amount you want to use for dinners and place them into freezer-safe Ziploc bags to place in your freezer. You can also freeze into portions using Super Cubes.
If I know what I will be using the meat for, I will take it further and make a taco dinner freezer kit. You put the amount of taco you want, tortilla shells, and shredded cheese in this kit, so you have everything ready for dinner. See more information about make ahead dinner kits.
By preparing taco meat ahead of time, dinner can be ready in under 15 minutes!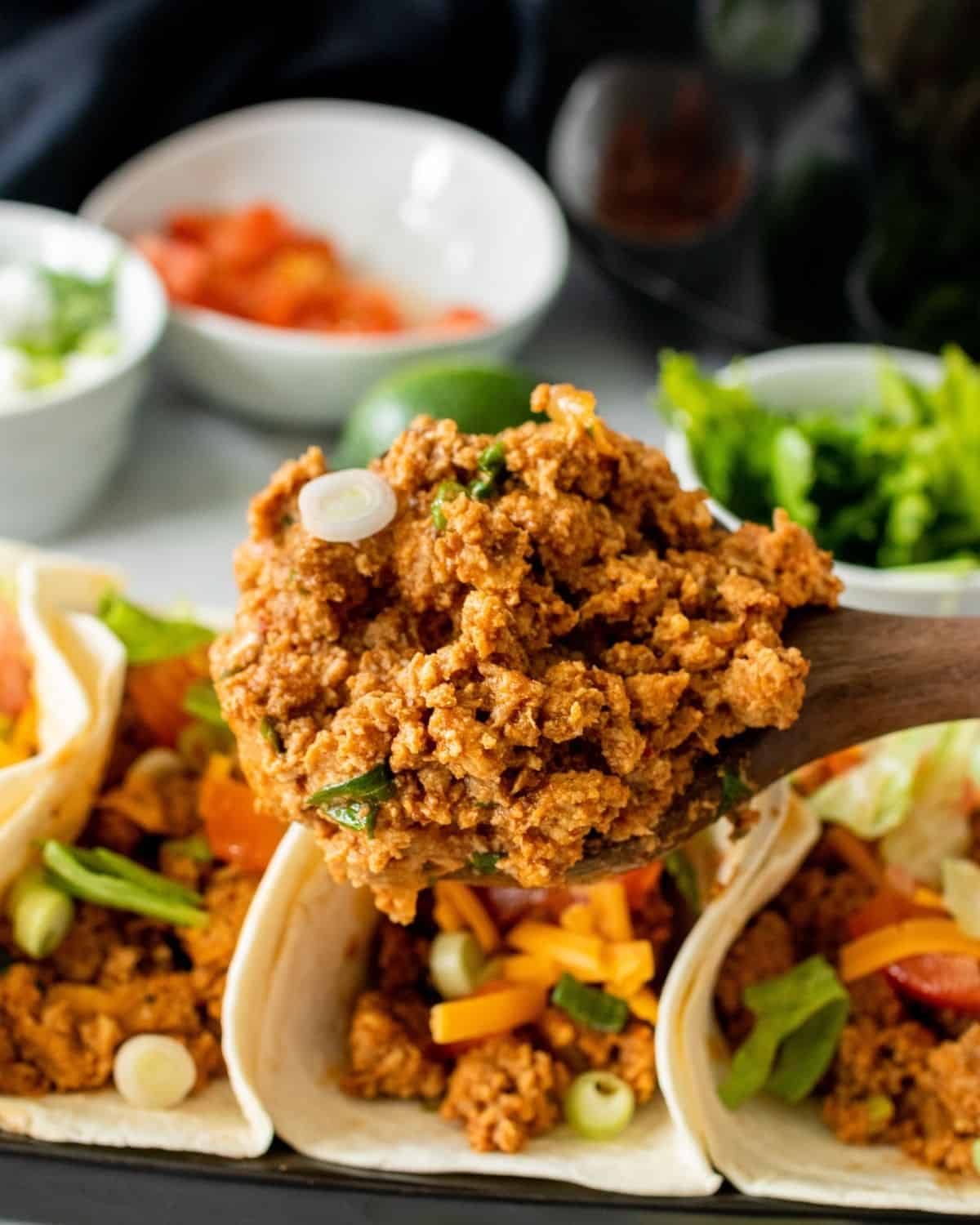 Ground Turkey Meatloaf
Turkey Meatloaf is an excellent meal prep recipe. And it's so easy to make; the recipe variations are endless. One of my favorite low-carb dinners is a slice of turkey meatloaf and some roasted vegetables.
I tend to meal prep meatloaf a couple of different ways:
Cook it entirely ahead of time, cut it into slices, and store it in the refrigerator. When I'm ready for dinner, all I do is warm it up in the microwave. It's super delicious every time!
I'll assemble the meatloaf and then put it in the refrigerator to cook early in the week. If I do this, I make sure to have it on the meal plan for Monday or Tuesday. Just stick it in the oven and cook for 60 mins at 350 degrees.
Freeze it: cooked or raw. To freeze it uncooked, flash freeze it on a sheet pan and wrap it in plastic wrap and foil. When ready to cook, let it thaw out in the refrigerator and cook it according to the instructions. Take a look at some more tips and instructions I shared on freezing meatloaf!
Remember to grab vegetables for the night meatloaf is on your meal plan. We love to steam green beans, roast broccoli, or even warm up a can of corn.
Favorite turkey meatloaf recipes:
Bacon Cheeseburger Meatloaf
This Bacon Cheeseburger Meatloaf is everything you love about a juicy burger but lightened using lean ground turkey. It's delicious, cheesy, and topped with bacon to seal in all the flavor and juices! This turkey meatloaf recipe is one of the best you'll ever make!
Check out this recipe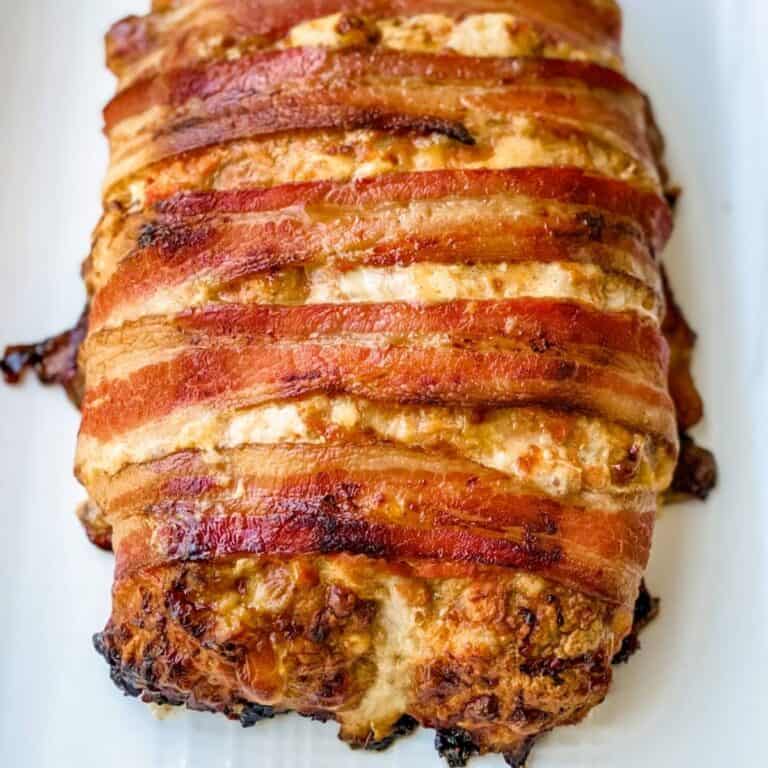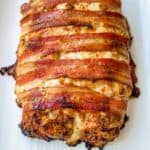 Greek Meatloaf
This Greek Meatloaf takes spinach, feta, olives, and tomatoes to create a delicious Mediterranean meatloaf bursting with flavor. It's low carb and lightened up using ground turkey. Make it ahead for an easy healthy dinner during the week or freeze.
Check out this recipe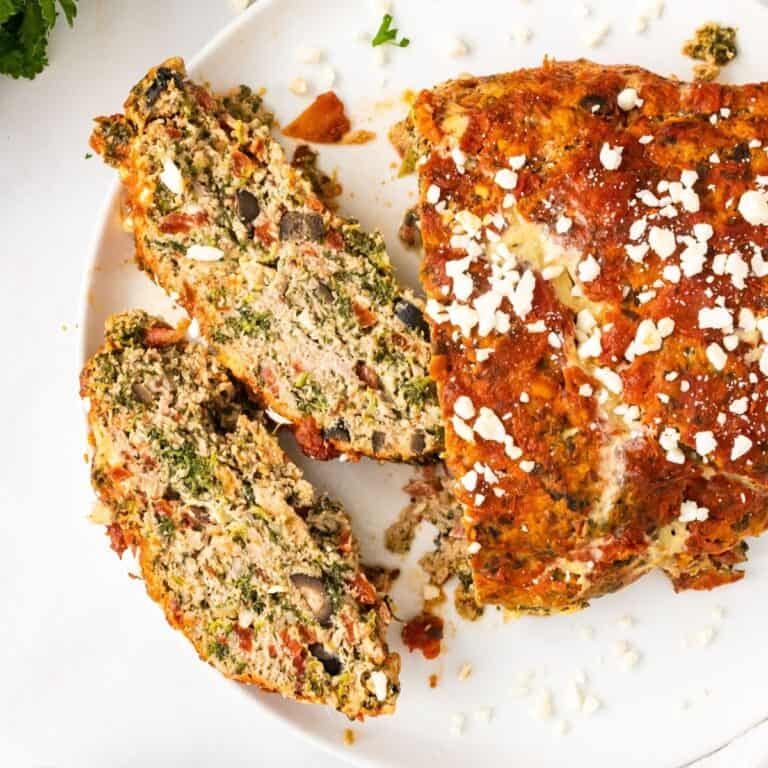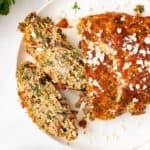 Italian Meatloaf
This 5-star Italian meatloaf recipe includes ground turkey, poultry sausage, marinara sauce, mozzarella cheese, and Italian seasonings. It's like eating a giant meatball! Truthfully, this might be the best turkey meatloaf you'll ever have! Make it on Sunday for the week or freeze for dinner later on.
Check out this recipe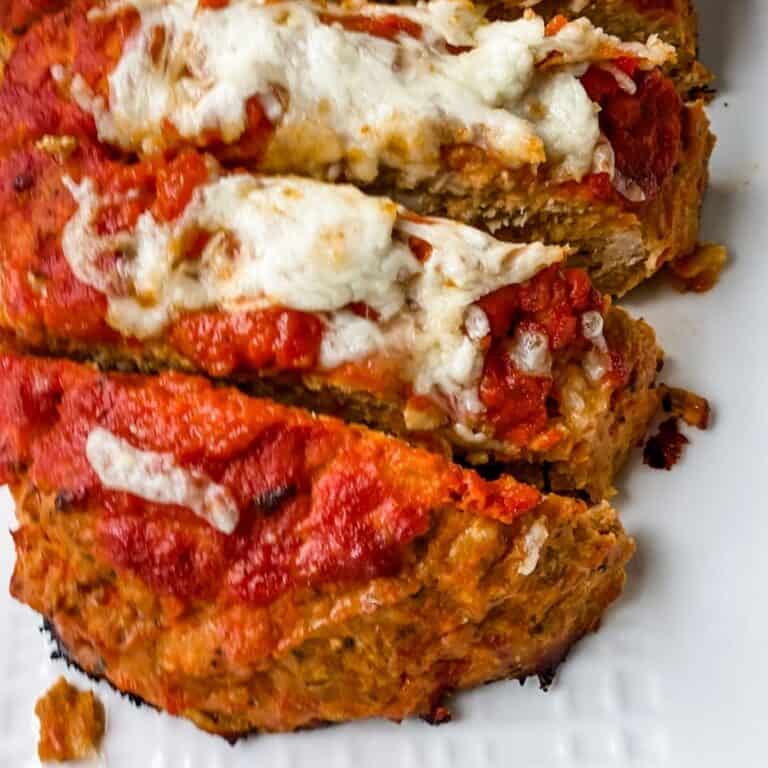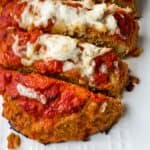 Ground Turkey Meatballs
Another meal prep favorite is turkey meatballs. I'm not kidding when I say that every person who tries my meatballs says these are the best meatballs they have ever had.
These turkey meatballs are super flavorful as well as tender and juicy. People are surprised when I tell them I make my meatballs with ground turkey.
To prepare ahead:
You can cook the meatballs, cool them, place them into freezer bags and freeze them. Then use them in recipes later on, like turkey meatball subs, or throw them in spaghetti sauce for a quick dinner.
Or bake the meatballs and finish cooking in the sauce. Afterward, store the meatballs and sauce in glass meal prep containers and refrigerate or place them into freezer bags and freeze for dinners later.
Other turkey meatball recipes
Ground Turkey Stuffed Bell Peppers
Stuffed peppers are one of my favorite recipes to prepare for the week.
You can assemble the ingredients and then place them in the refrigerator until the cooking day.
Or cook the stuffed peppers entirely and store them in airtight containers and refrigerate them to reheat and eat all week.
Freeze assembled stuff peppers before cooking or cook and freeze to have dinner ready to heat up during the week. Here are all of my tips on freezing stuffed peppers.
Our favorite ground turkey stuffed pepper recipes.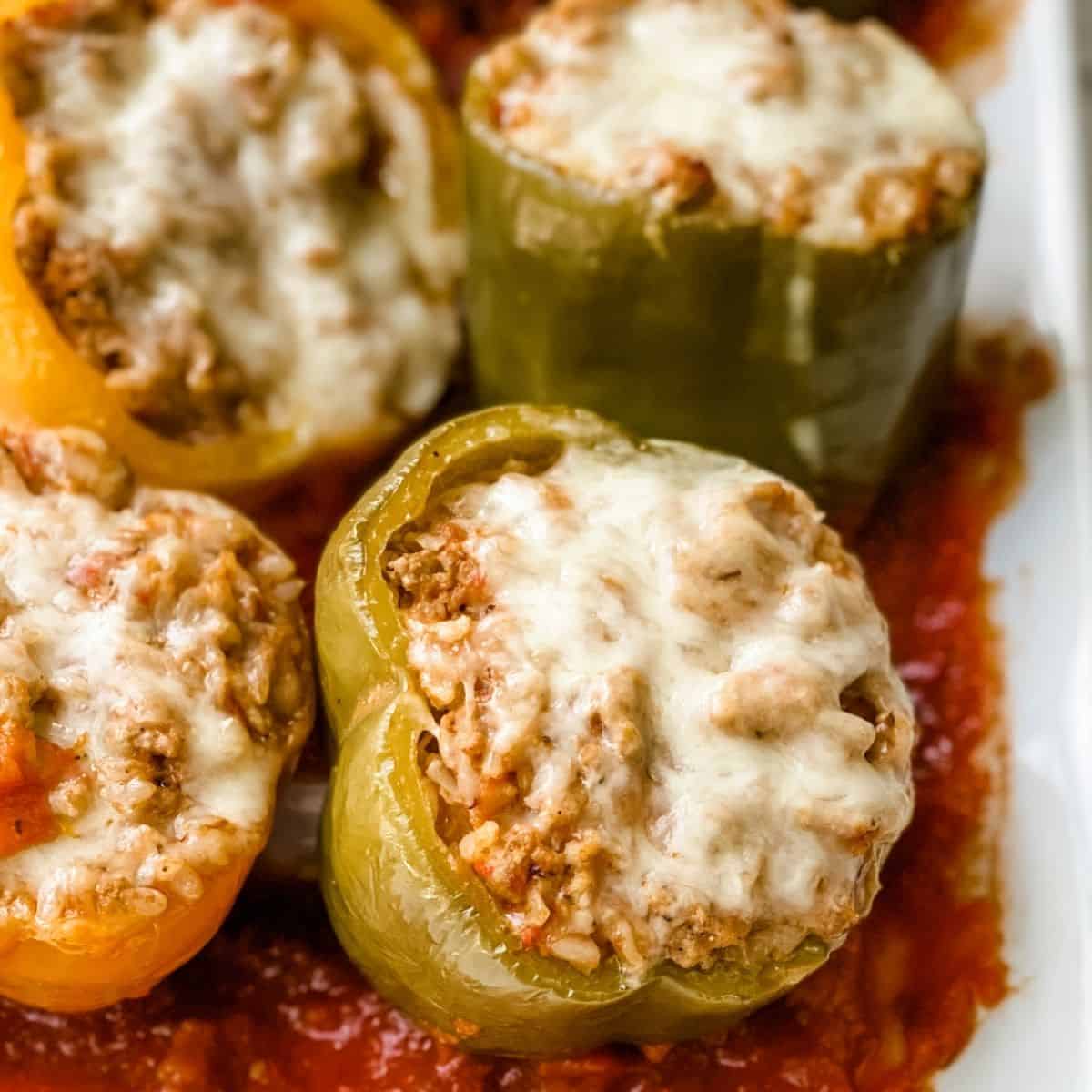 Soups and Chilis
I love to make soups and chilis with ground turkey, and this is a great way to stretch a 1lb of ground turkey and add a serving of lean protein to a one-dish meal.
Soups and chilis are great to make on Sunday for the week or freeze for dinner later. Check out my tips on how to freeze soup. Remember to grab shredded cheddar cheese, tortilla chips, or other chili extras for the night you plan to eat it.
Here are some of my favorite ground turkey soups and chilis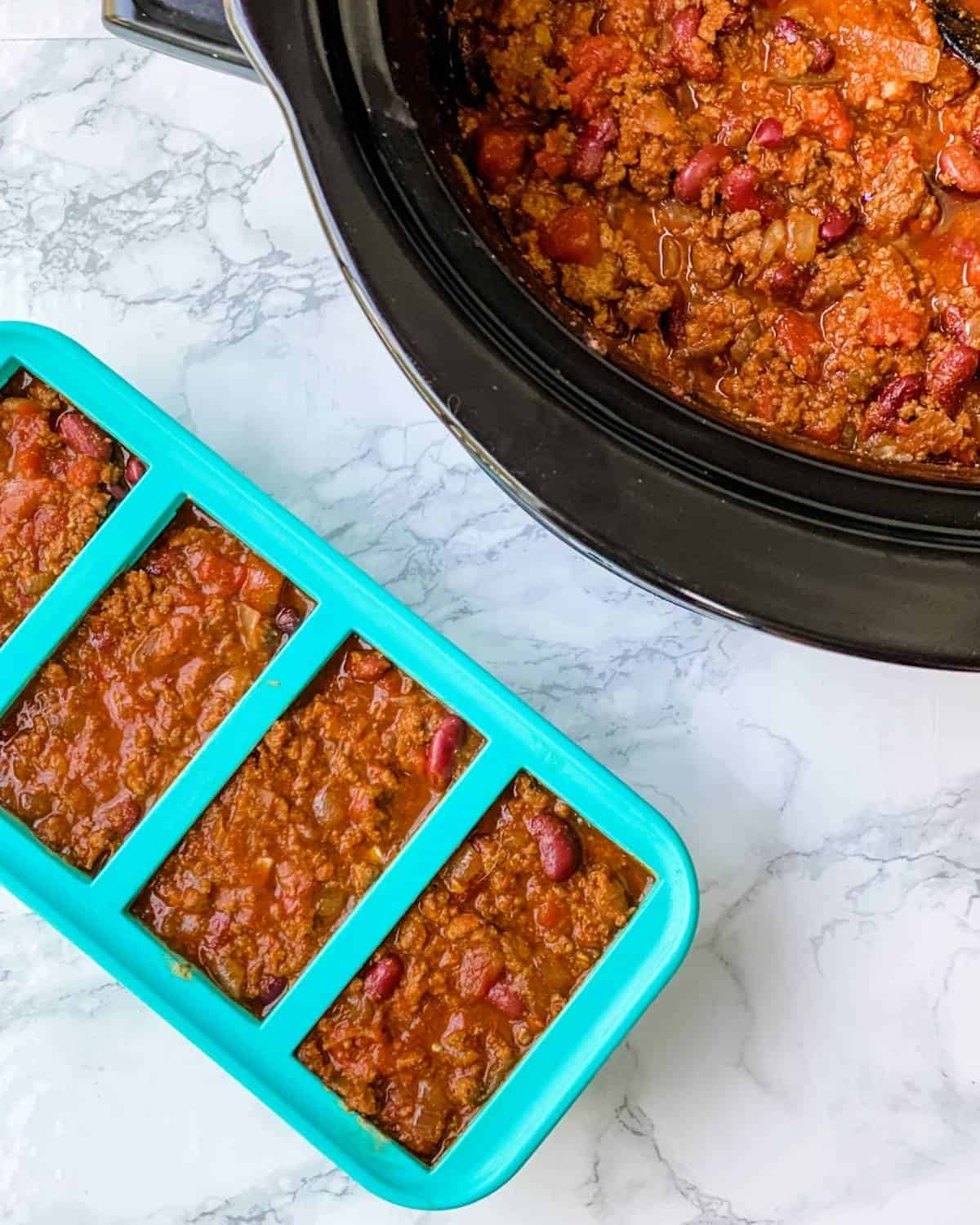 Ground Turkey Meal Prep Bowls and Mason Jar Salads
You wouldn't think ground turkey would work well in meal prep bowls or mason jar salads, but it does. This Taco Salad in a Jar is one of the most popular recipes on my blog, and everyone raves about it – including me. It's super tasty and will fill you up.
These Turkey Taco Meal Prep Bowls are also super simple and equally as good.
Both of these recipes I eat cold, and they taste delicious. Also, in all the years I've made both of these recipes, I've never had an issue with the taco meat lasting me all week.
If you're concerned about the freshness of the meat in the refrigerator all week, then I would recommend making smaller portions or fewer bowls and salads.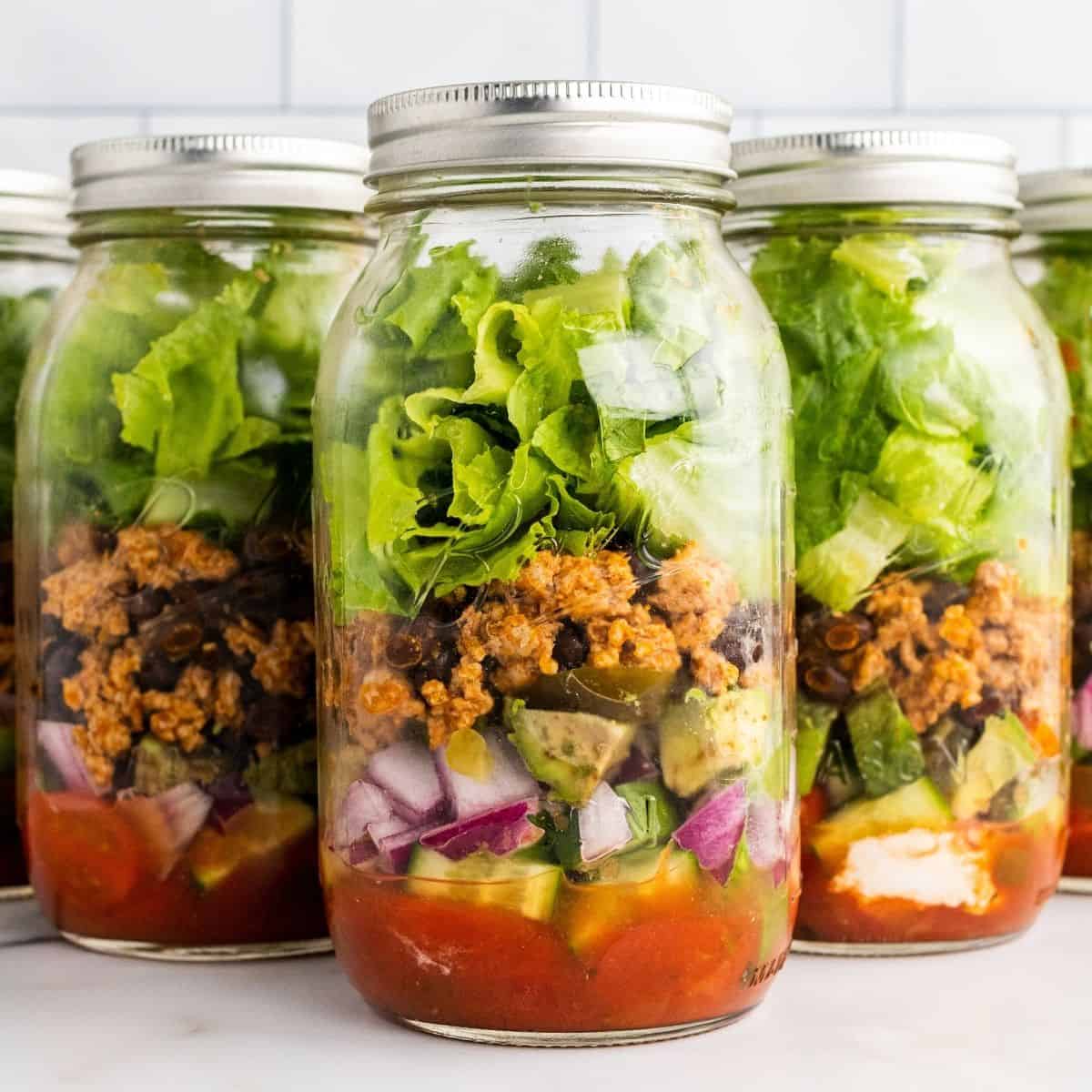 Ground Turkey Fried Rice
My favorite ground turkey stir fry is ground turkey fried rice, I prefer to use brown rice or quinoa in my fried rice recipe, and both are delicious. You can even use cauliflower rice to keep the carbs low.
This can be made entirely ahead of time and stored in the refrigerator for a quick dinner that week.
You can also store this recipe in glass containers to have portion-controlled meals for individualized servings.
Here is the recipe for my Ground Turkey Fried Rice!
Ground Turkey Burgers
The last meal prep recipe I want to share is turkey burgers!
Turkey burgers are easy to throw together during the week, but you can also do some preparation on Sunday to have them ready for the grill.
Form into patties and store in the refrigerator for 1-2 days. If you make these during your Sunday meal prep, I will put them on the menu to eat early in the week.
Cook the turkey burgers thoroughly on Sunday to warm up during the week.
Freeze the turkey burger patties. You can see my tips for how to freeze turkey burger patties. I recommend entirely thawing them out before grilling to assure you get the internal temperature of the meat up to 165 degrees.
Of course, make sure to purchase hamburger buns, and all of the extras, for the day turkey burgers are on the menu.
Our favorite turkey burger recipes.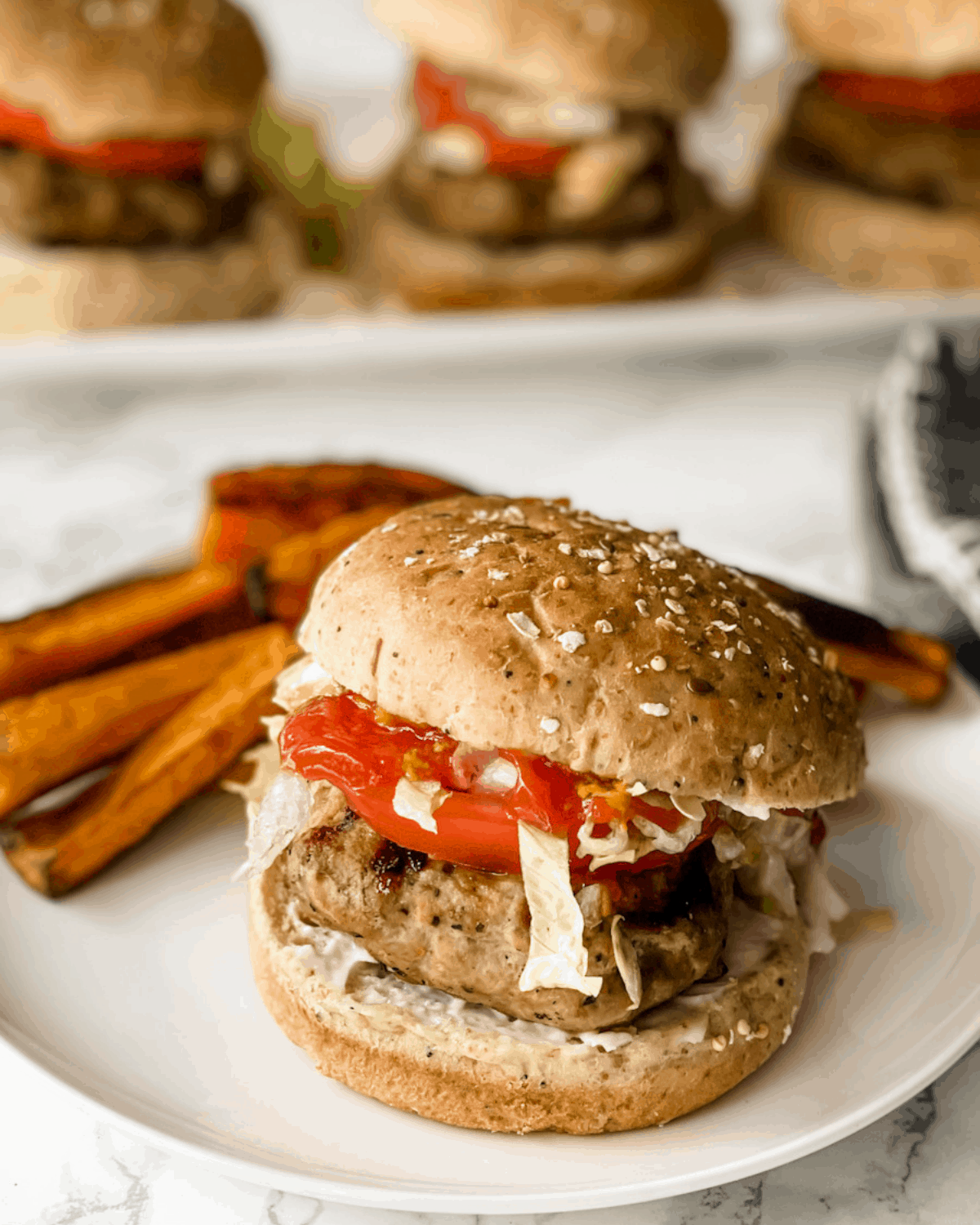 More meal prep recipes
Or check out my how to meal prep for the week post. See all of my meal prep posts.
Make one of these ground turkey meal prep recipes next time you are meal prepping for your week. Share a picture and tag me on Instagram or Facebook if you decide to try one!