Hot sauce and blue cheese give these buffalo turkey burgers amazing flavor and a swift spicy kick! If you're searching for something different to add to the grill this summer, then here you go. You can even skip the bun and keep these tasty turkey burgers low-carb. These can also be prepared ahead of time to be ready for the grill, or you can even cook them days before to heat and eat all week.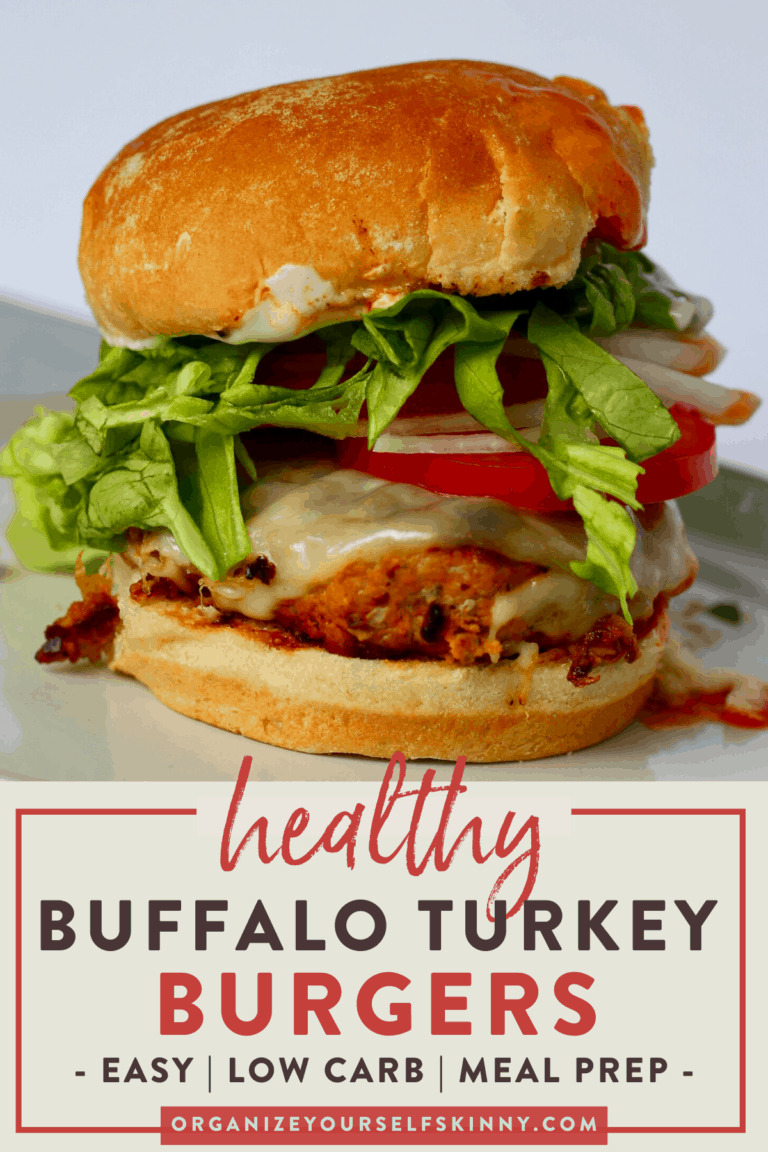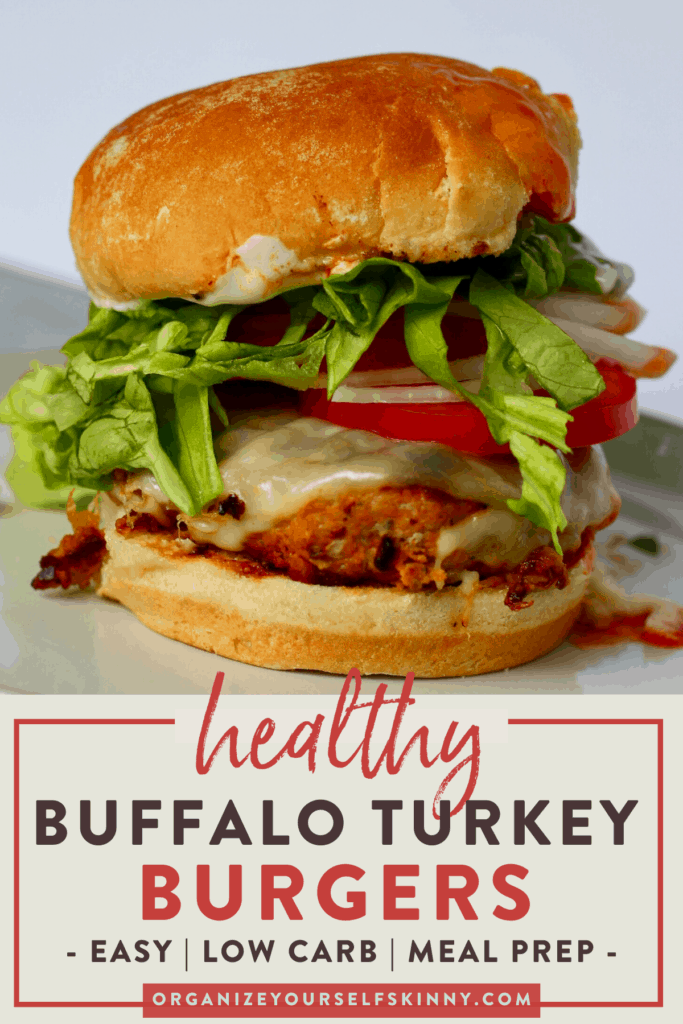 It's no secret that I'm a buffalo girl. Fully born and raised in Buffalo, NY… which means I love all things soaked in hot sauce and dipped in blue cheese. YUM! I've made many buffalo inspired foods (like this buffalo mac and cheese) over the years but never infused the flavors into a turkey burger.
Well, I was totally missing out because adding some hot sauce and crumbled blue cheese to a turkey burger is one of the best ways to bring excitement to a boring turkey burger!
Frequently Asked Questions About Buffalo Turkey Burgers
Before I jump into the burger recipe, let's go over some questions I've gotten from some of my readers:
What's The Best Ground Turkey To Use?
I sound like a broken record but I feel it's important to say.
The higher quality the ground turkey, the better your burger will be. I prefer to purchase organic ground turkey at a local grocery store. I can usually find organic ground turkey at Whole Foods or Wegmans. I also order it from Butcher Box Meat Delivery when they have it available.
Most of the ground turkey I purchase is 90% lean but you can get it more or less lean depending on your preference.
Can I Make This Recipe With Beef?
Yes, of course! Beef would work great. You can even follow my healthy burger recipe to make the perfect beef burger.
Simply sub out the ground turkey for the beef and keep the rest of the ingredients the same. When I make beef burgers, I prefer to cook them medium-rare or medium to keep them nice and juicy but definitely cook them to your desired temperature.
What If I Can't Find Blue Cheese Crumbles?
If you can't find blue cheese crumbles at your local grocery store, you can substitute them for gorgonzola crumbles. I find both of these cheeses in the gourmet cheese section of the grocery store, but I've also seen packages near the salad area.
If by some chance you can't find either, then leave out the cheese and use some extra blue cheese dressing on the rolls or to dip the burger in.
Can I Use Any Hot Sauce?
In Buffalo, NY, the ONLY hot sauce is Frank's Hot Sauce. Now, I know some people don't have access to it at grocery stores but you could order it online if you want. However, if you can't get it, then use whatever hot sauce you can get your hands on.
What Are Some Options To Make This Burger Low-Carb?
These burgers are a great low carb option on their own. If you want to keep them that way, then I recommend skipping the bun.
You can either eat the burger patty as is without the bun, or you can use something like a lettuce wrap or a delicious portobello mushroom. If you just want to reduce the carbs, then I recommend eating the burger open-faced.
I usually eat it on its own and love it! It has so much flavor you really don't need a bun to take away from it.
Delicious Homemade Buffalo Turkey Burgers
Let's get to the recipe! Here is the list of ingredients you will need for this turkey burger recipe:
Ground turkey
Franks hot sauce
Crumbled blue cheese
Garlic powder
Onion powder
Salt
Ground black pepper
Provolone cheese
Blue cheese yogurt dressing
Sliced onion
Sliced tomato
Shredded lettuce
Burger buns (optional)
How To Make Turkey Burgers Buffalo-Style
I kept this buffalo turkey burger super simple.
In a large bowl, add the ground turkey, crumbled blue cheese, Frank's hot sauce, garlic powder, onion powder, salt, and pepper.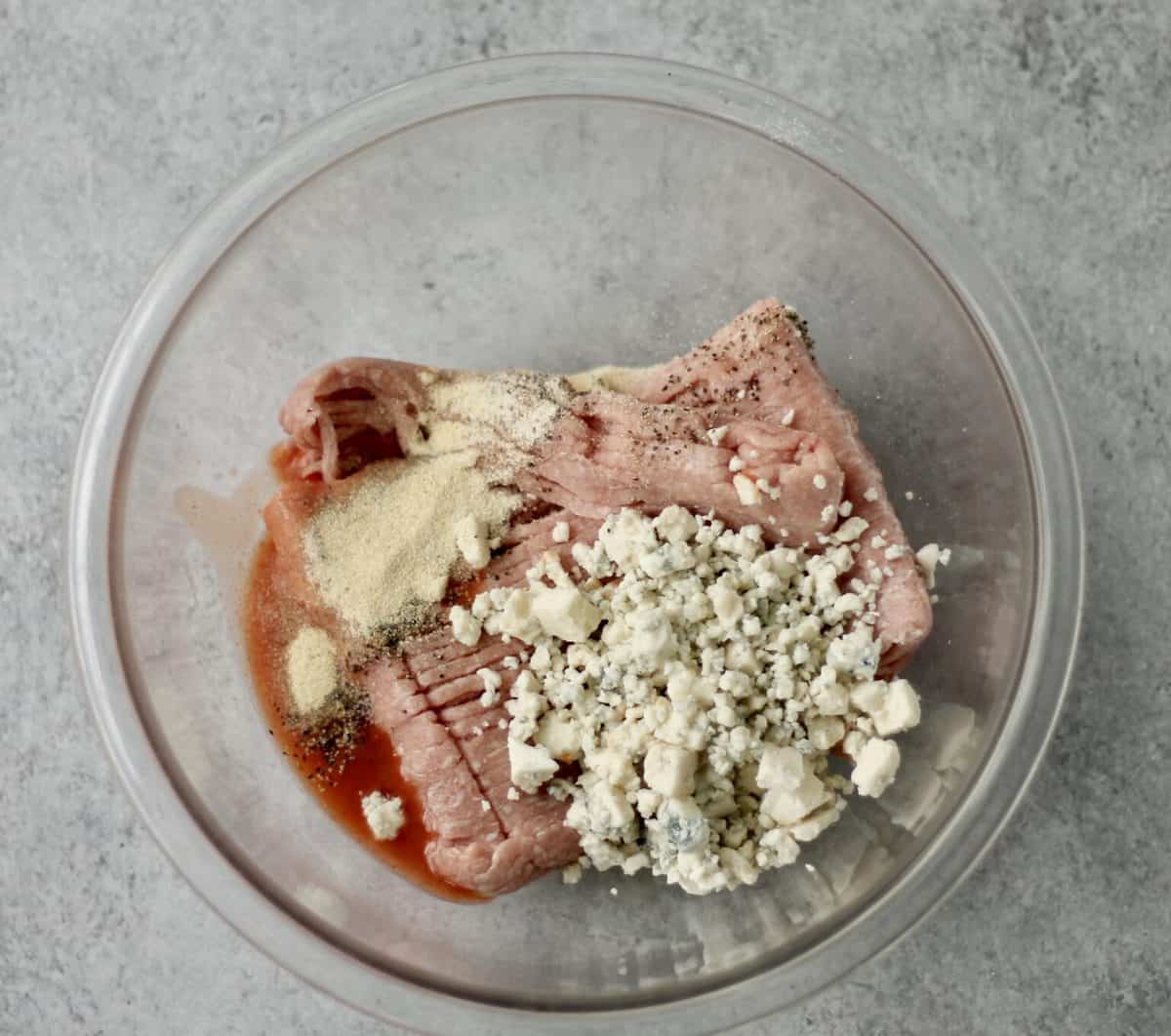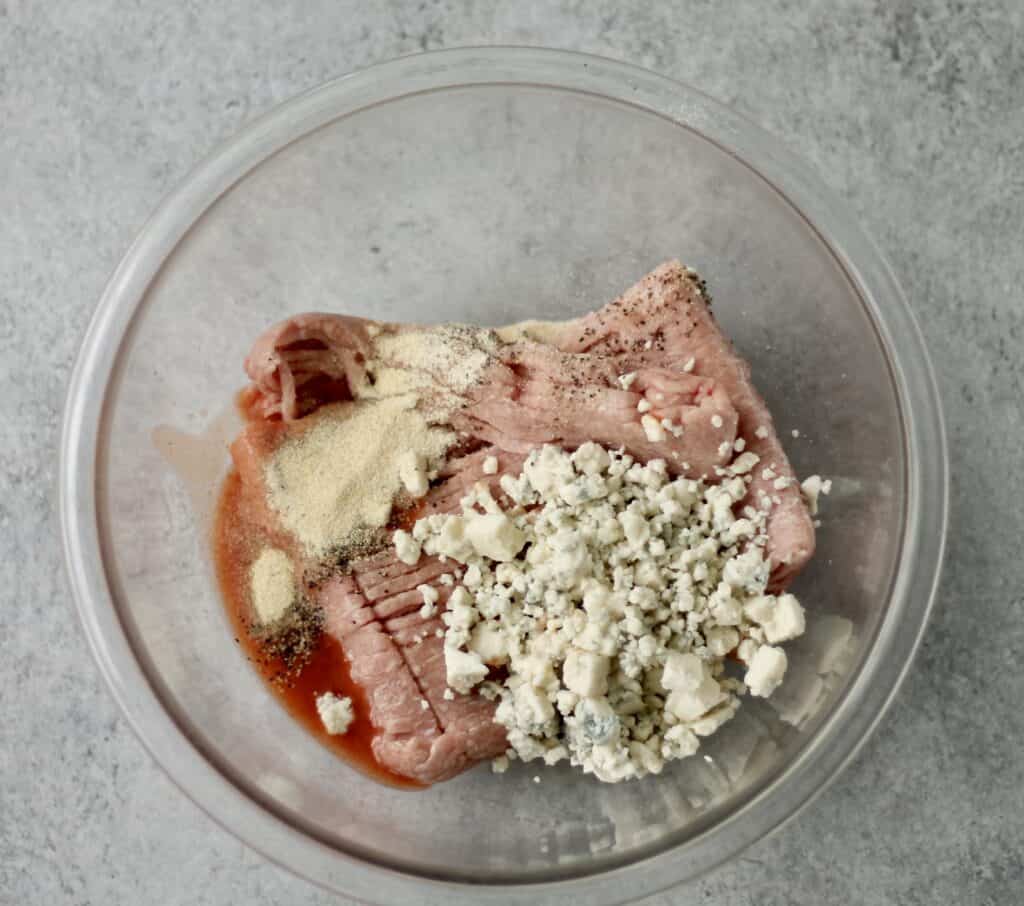 Then, mix all the ingredients together.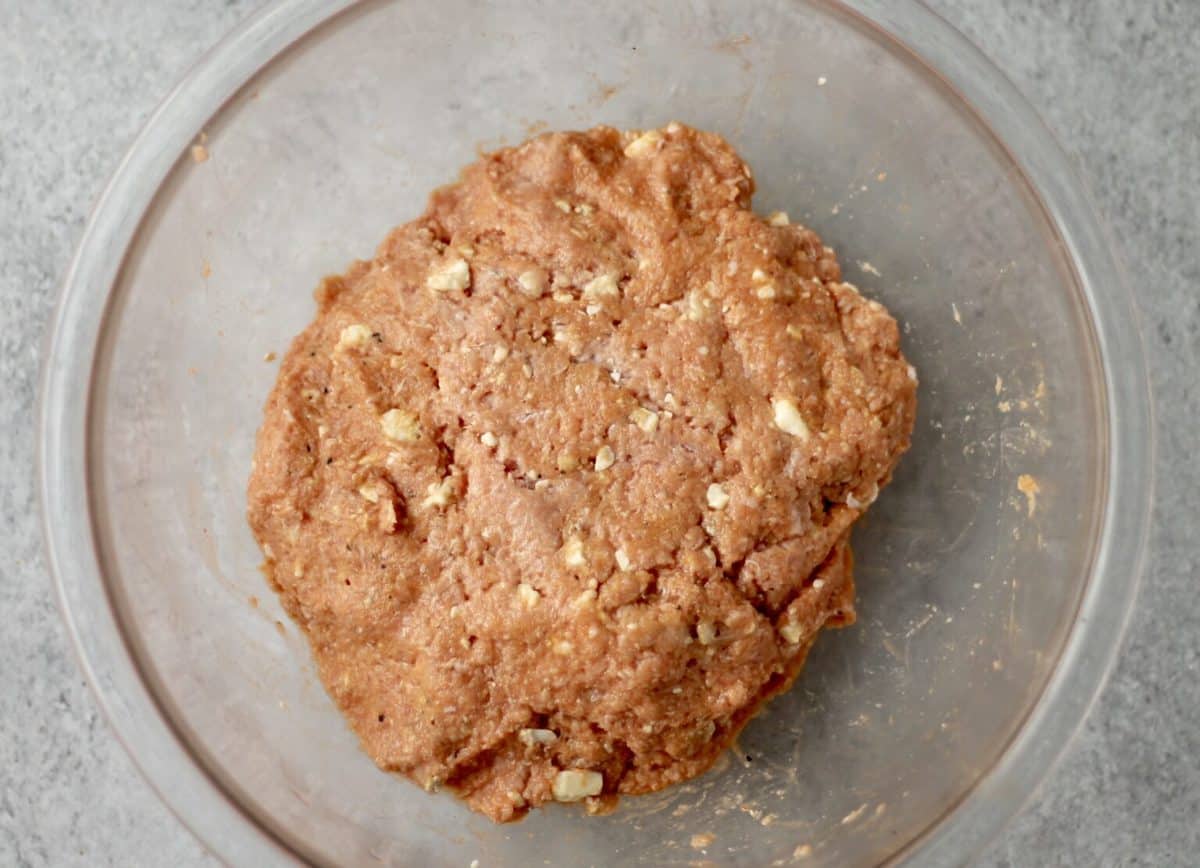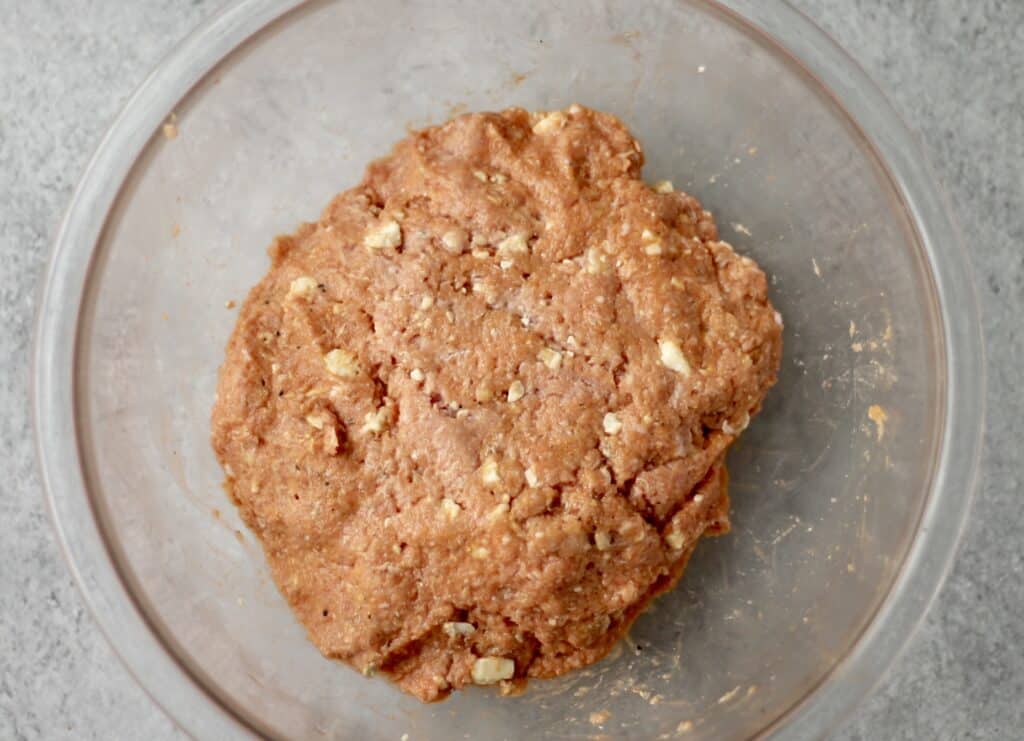 After everything is combined, form the ground turkey into 4 patties.
Cooking Note: You can easily double or triple this recipe to make a few extra patties to freeze or if you have a few people coming over.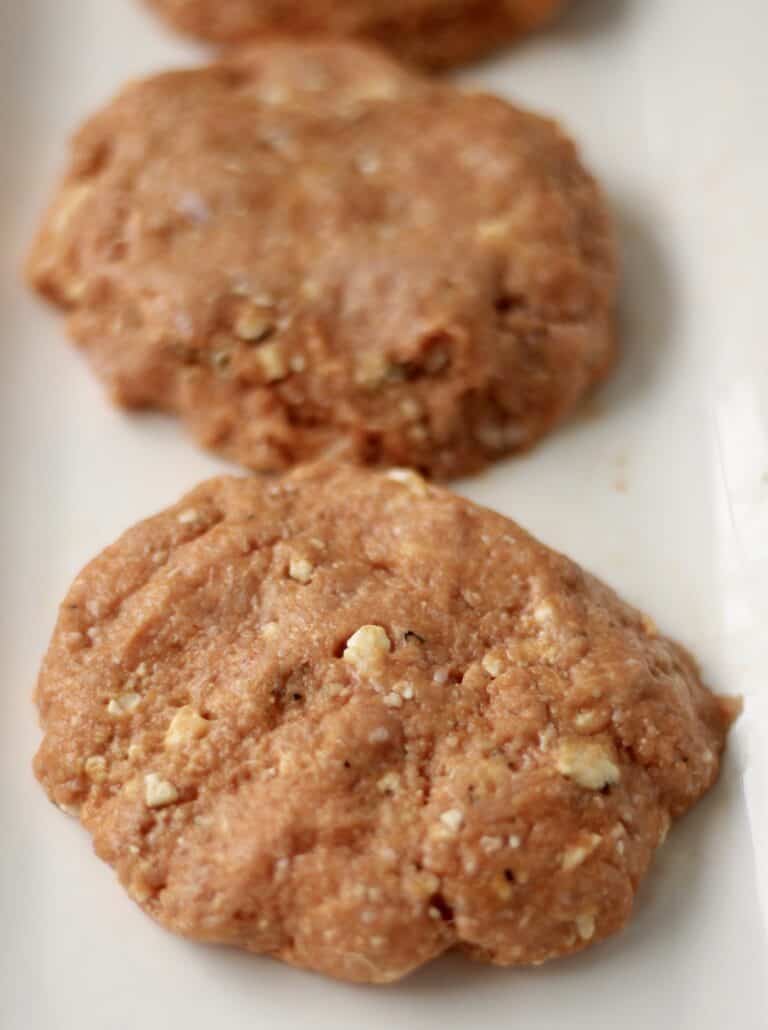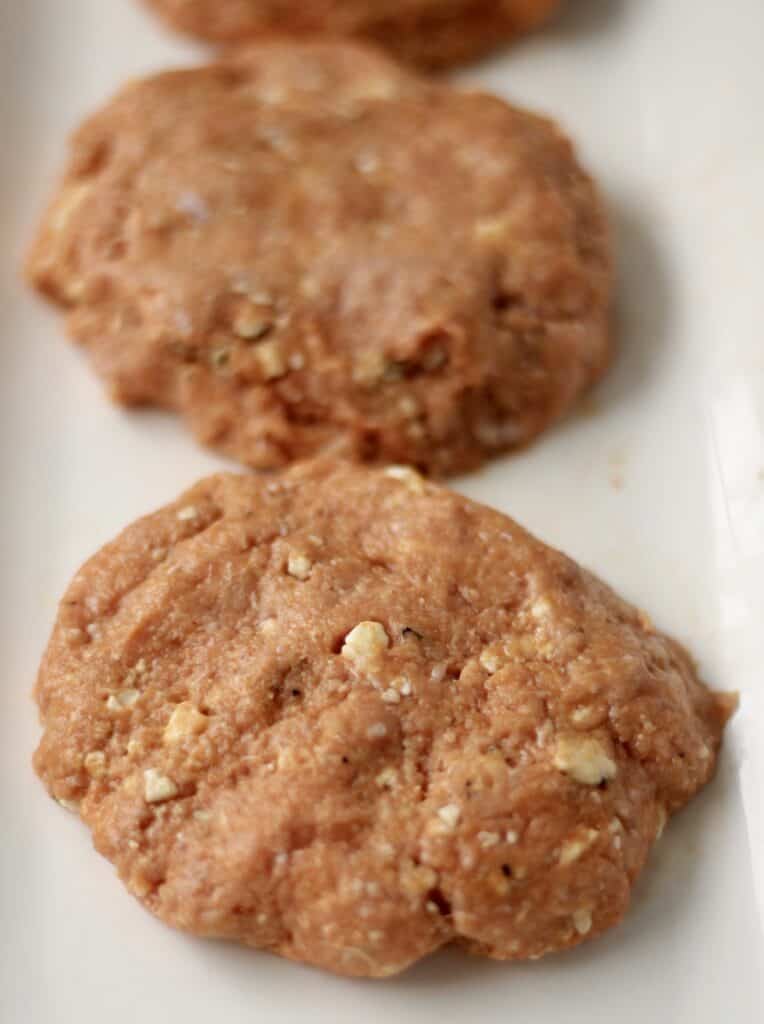 Cook The Turkey Burgers
When it's time to cook the burgers, make sure your grill is at medium-high heat.
These turkey burgers need to have an internal temp of 165 degrees which means they are completely cooked. This is where a meat thermometer comes in handy!
Turkey burgers should never be cooked less than well done. I usually cook the burgers for 5 minutes on each side but that could be a little different depending on the thickness of your burger and the heat of your grill.
When the burgers have about 1 minute left to cook, I add a thin slice of provolone cheese. I love provolone cheese on buffalo burgers.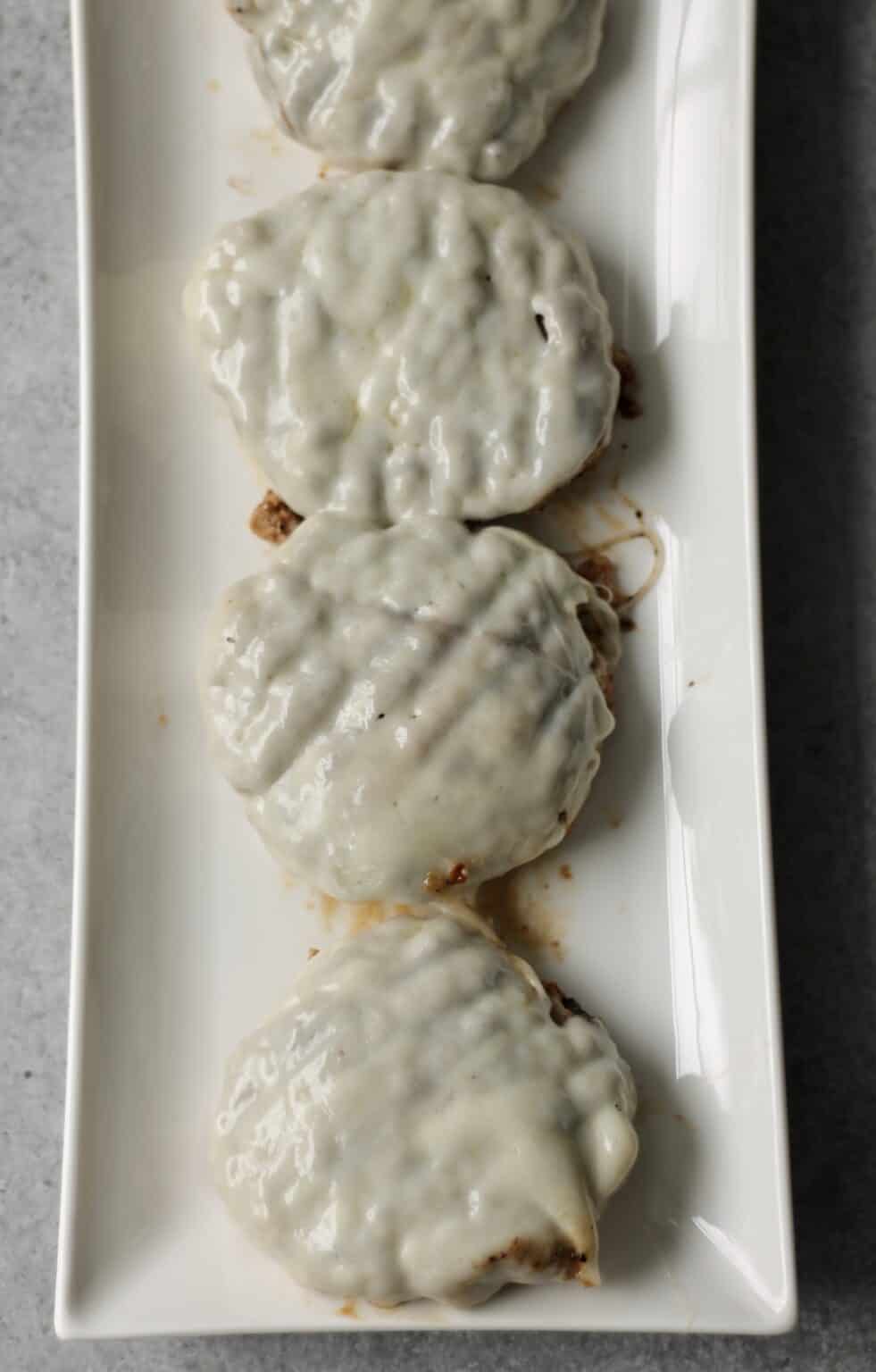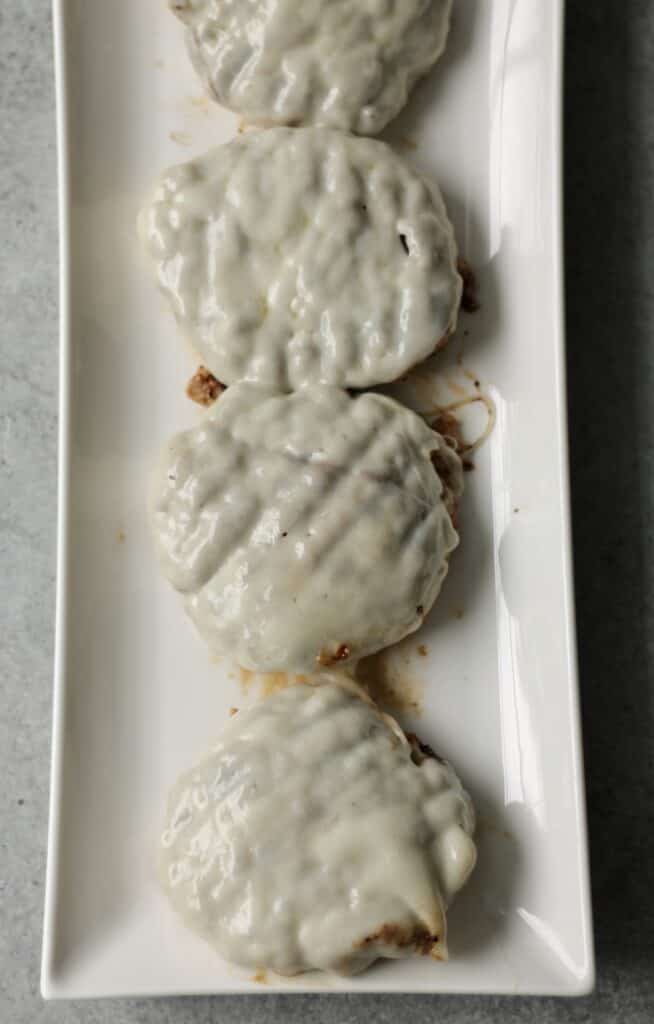 Add All Of The Toppings
After your turkey burgers are fully cooked and the cheese is melted, it's time to add all the burger extras.
Again, you can keep this low carb by ditching the roll and using a lettuce wrap or eating it as is. You can also lower the carbs and just enjoy it open-faced.
Either way, you want to add a little blue cheese yogurt dressing to the roll or have it on the side for dipping. Of course, you can use regular blue cheese but the yogurt dressing is lower in fat and calories (and still just as good.)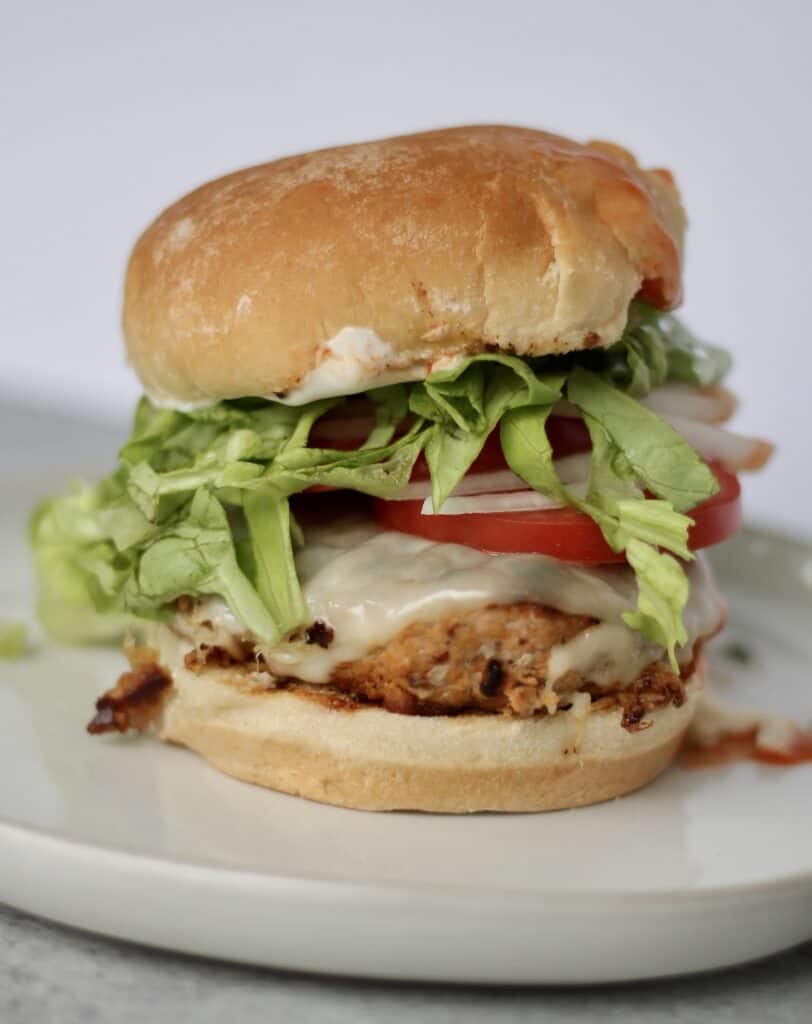 What To Serve With Buffalo Turkey Burgers
Originally, I thought about adding carrots and blue cheese to the burger but I didn't want that crunch. However, I think a crunchy broccoli salad with shredded carrots and small chunks of celery would taste great with this burger.
If you're craving the classic burgers and fries meal, I highly recommend making roasted sweet potato fries. So yummy! You can also serve a side of roasted vegetables like carrots and asparagus or a summer salad.
How To Make This Burger Recipe Ahead Of Time
You can make these turkey burgers ahead of time in a couple of different ways.
First, you can prepare the burgers ahead of time and keep in the refrigerator for 2-3 days until you're ready to grill them. Store them in a glass meal prep container and use parchment paper in between the burgers to keep them from sticking.
Second, you can freeze them! Just prepare the burgers, put parchment paper between them, place in a plastic freezer bag, and then freeze. You can see more instructions on freezing burgers in this post. The only thing to remember with freezing turkey burgers is I recommend thawing them completely before throwing it on the grill to make sure they cook completely and evenly.
Third, you can cook the burgers completely ahead of time and store them in the refrigerator. I do this a lot. This way, all I need to do is heat and eat when I need a quick low carb lunch or dinner.
More Turkey Burger Recipes
If you loved this Buffalo Turkey Burger recipe, you HAVE to try some of these other turkey burger recipes!
If you love buffalo wings dipped in blue cheese dressing, you are going to love my take on a Buffalo Turkey Burger! Share a picture and tag me on Instagram or Facebook if you decide to make this!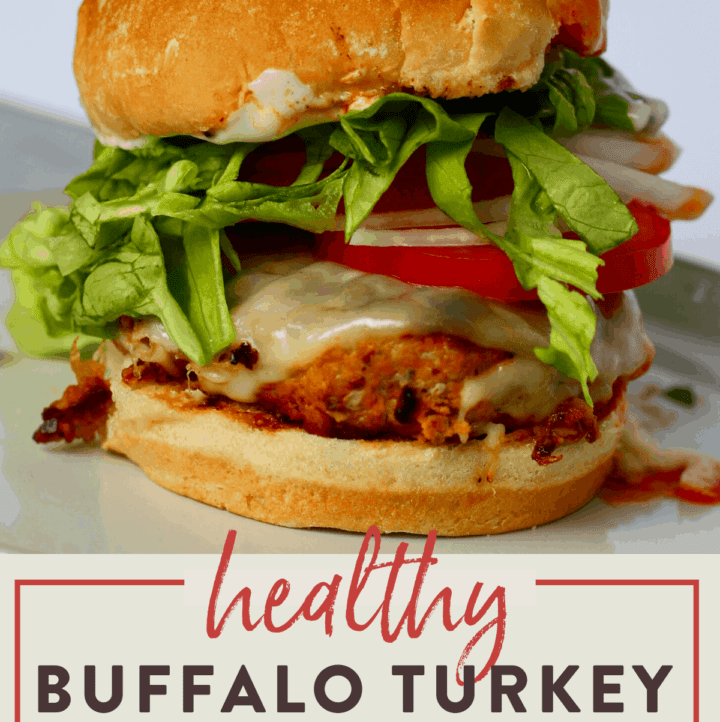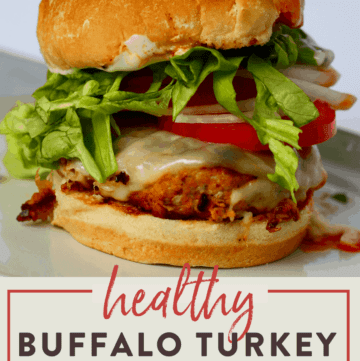 Buffalo Turkey Burger
These buffalo turkey burgers are so flavorful! Perfectly seasoned ground turkey patties are topped with provolone, blue cheese and a healthy dose of Frank's red sauce.
Print
Pin
Rate
Ingredients
1

lb

ground turkey

1/4

cup

Franks hot sauce

1/2

cup

crumbled blue cheese

1

teaspoon

garlic powder

1

teaspoon

onion powder

1/4

teaspoon

salt

1/4

teaspoon

ground black pepper

4

slices

provolone cheese

blue cheese yogurt dressing

Sliced Onion

Sliced tomato

Shredded lettuce
Instructions
In a medium bowl mix together the ground turkey, hot sauce, crumbled blue cheese, garlic powder, onion powder, salt. and pepper.

Divide into 4 sections and then form into patties.

Turn grill onto medium-high and let it heat up for 5 minutes.

Place the burger patties on the grill. Cook for 5 minutes on each side. The internal temperature should read 165 degrees when it's cooked completely.

Add a slice of provolone cheese onto each of the burgers. Let the cheese melt.

Remove burgers from the grill and let sit for a minute.

Put the burgers together. if you using a bun then add the blue cheese yogurt dressing the bun and the rest of the ingredients.
Nutrition
Serving:
1
g
|
Calories:
250
kcal
|
Carbohydrates:
2
g
|
Protein:
24
g
|
Fat:
17
g
|
Saturated Fat:
8
g