Everything you love about jalapeño poppers stuffed into a lean delicious turkey burger!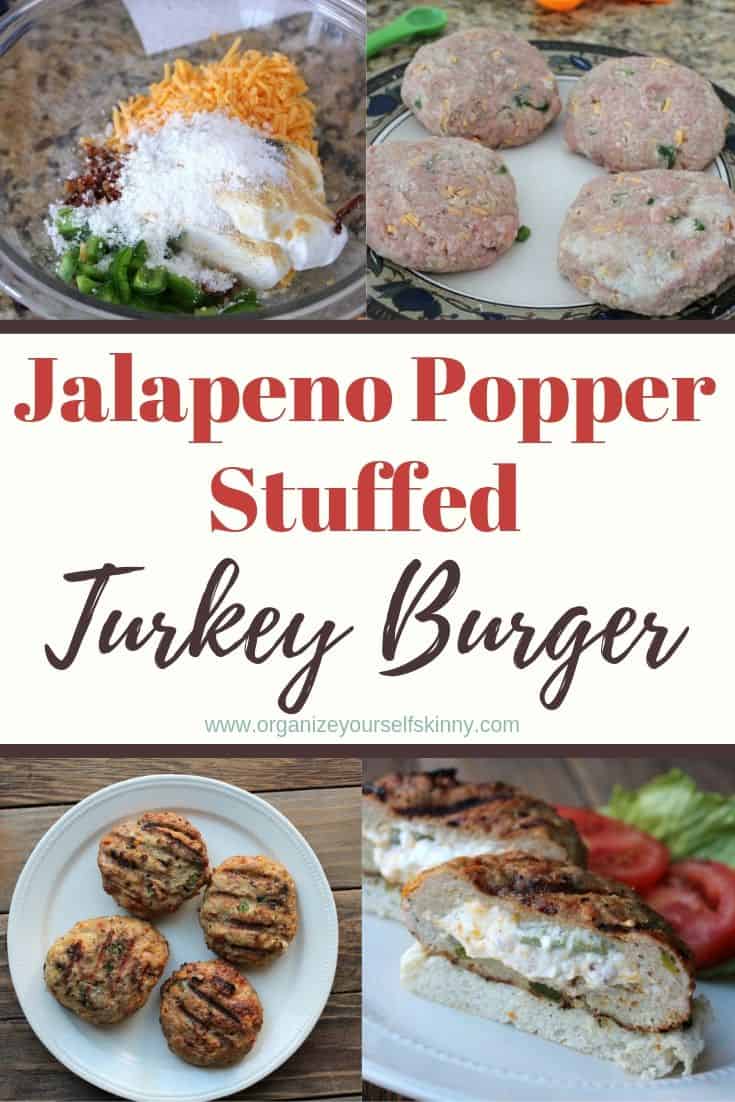 If you have a ground turkey hater in your life then I'm confident they will be won over with this juicy turkey burger STUFFED with all the flavors of a jalapeño popper. Don't know what those flavors are? Let me educate you. A jalapeño popper is a jalapeño (of course) stuffed with cream cheese, sharp cheddar cheese, wrapped in bacon. and then baked or fried!! OMG! Obviously, the food I make is not fried buuuuut as good a fried jalapeño popper is I've discovered that you can get the same satisfaction from a healthier version. Yup!
This healthier jalapeño popper filling first debuted when I made these stuffed chicken breasts – by the way that recipe is equally good. I used the same filling, with a few minor tweaks, with these turkey burgers.
Let's go through the recipe.
Here are the ingredients. I always do my absolute best to find the highest quality ingredients, especially meats.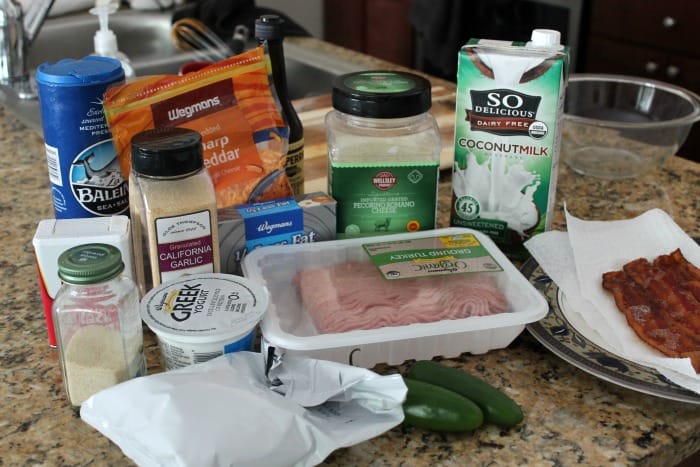 I started with making the burgers. The first thing I did was combine 1/4 cup panko bread crumbs with 2-3 tablespoons of unsweetened coconut milk. You can use any milk but all I drink is coconut milk so that's what I had. This step is a must because it gives moisture to the turkey burgers. One of the biggest complaints people have about ground turkey is it gets dry. A panade made out of milk and breadcrumbs or milk and bread will fix that. I mentioned this many times before when I talked about cooking the perfect turkey meatloaf.
You want to add enough milk until it becomes a paste. I use my hands to mash it together.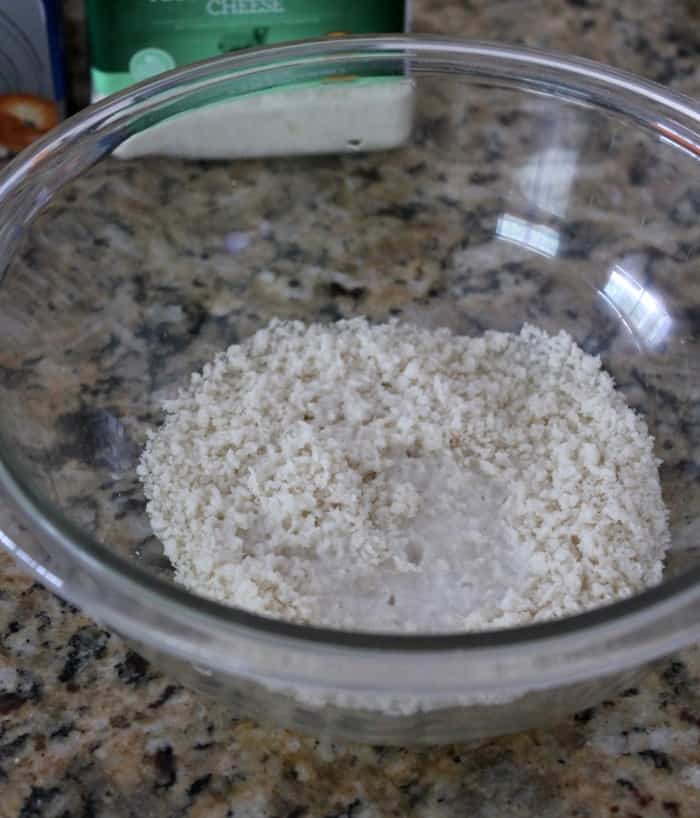 Then I add the seasonings, 1/4 cup of sharp shredded cheese, and 1 seeded and chopped jalapeño pepper. When I was dreaming up this recipe I didn't think to add the cheese and jalapeño pepper to the meat but I'm glad I did because it was great. In fact, if you didn't want to stuff it with the cream cheese filling it would taste great just like this.
I want to highlight the worcestershire sauce in this recipe. Don't skip it. In my opinion, worcestershire sauce gives ground turkey recipes a very meaty tasty flavor.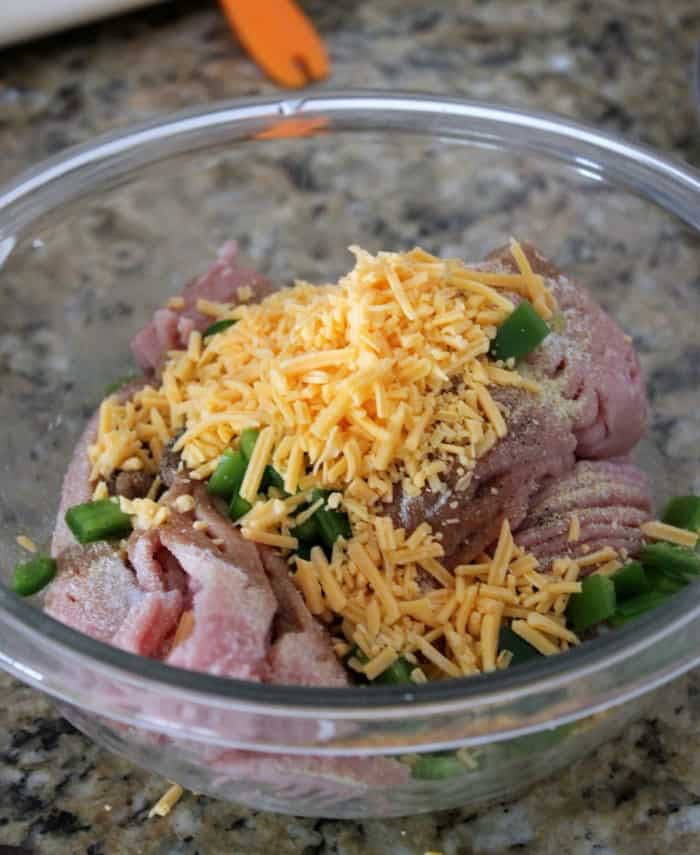 Then I mixed it all together and flattened it down.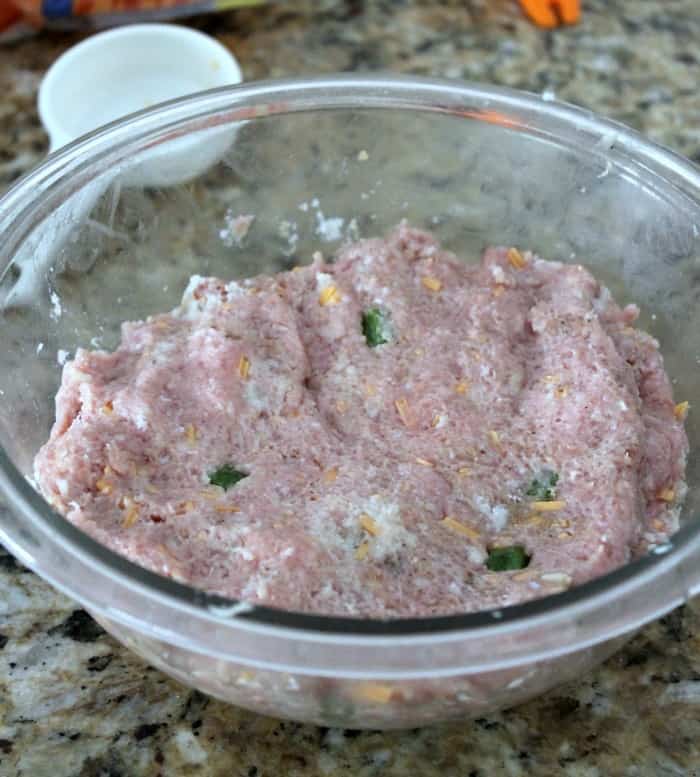 Next I divided it into 4 sections. You will get 4 hearty burgers out of this. You might be able to get 5 burgers if you wanted. Actually, if you can get 5 burgers that would be great because there's definitely enough cheese filling for 5 burgers…I will talk more about that in a second.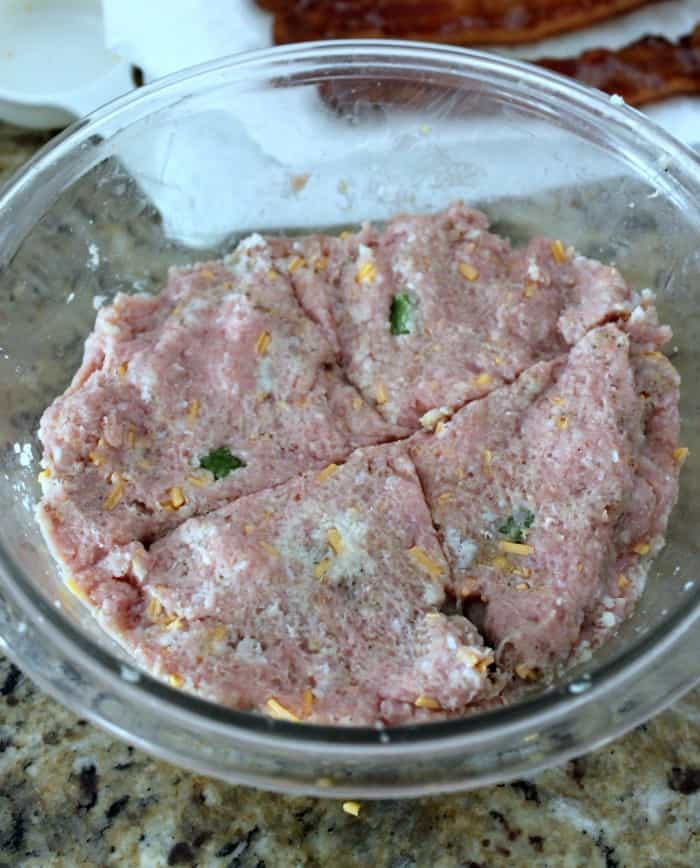 Form the turkey into 4 patties and set aside for a moment.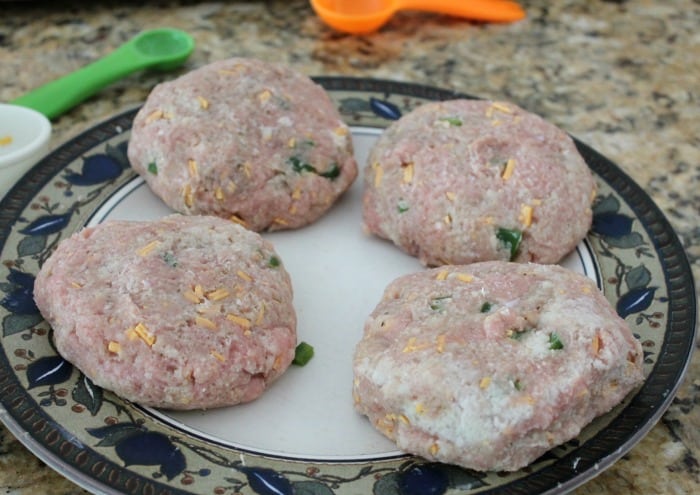 Time for the filling. Take the soften cream cheese, greek yogurt, shredded cheese, chopped jalapeños, crumbled bacon, and spices and mixed together.
Yum! I used about 2 – 3 tablespoons of filling per burger. I ended up with enough left for another burger. You can always freeze for a future burger or toss it. I hate to throw food out but I didn't want to stuff the burgers too much.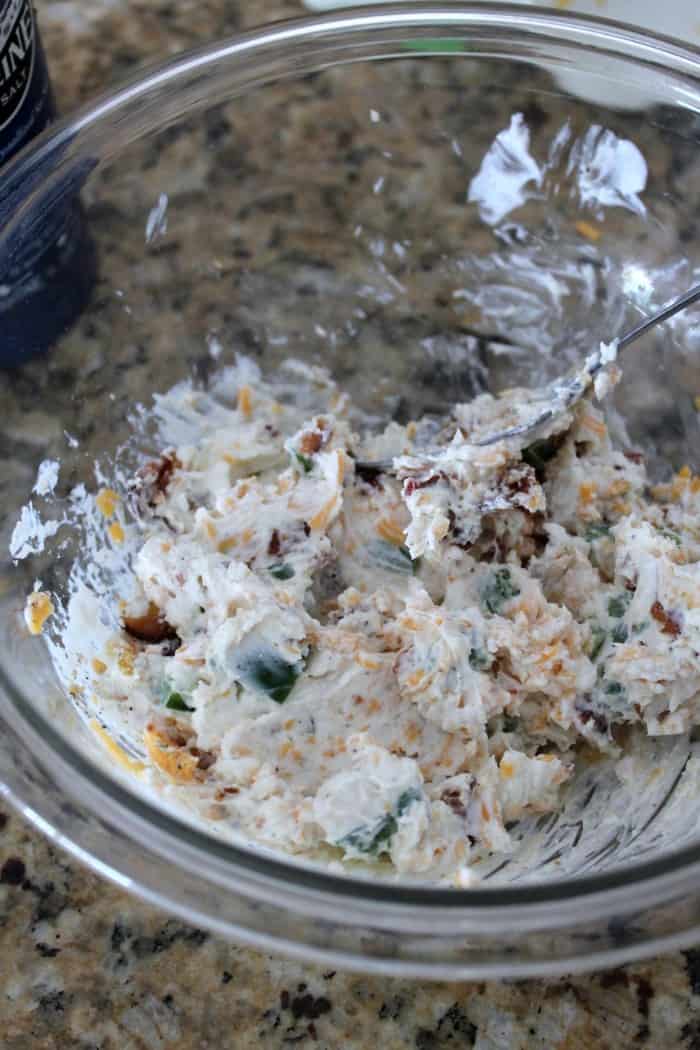 The one picture I didn't take was the one of me stuffing the burgers. Duh! Next time I make these I will for sure get that picture because obviously it's important. Anyway, what I did was take each burger and break it into twos. Then I flattened those out with my hands, scooped 2-3 tablespoons of filling into the center, and then placed the other half on top and sealed the edges.
This is what the burgers look like after they were stuffed with the filling. The most important step here is to make sure the burger is sealed. You don't want filling oozing out all over your grill.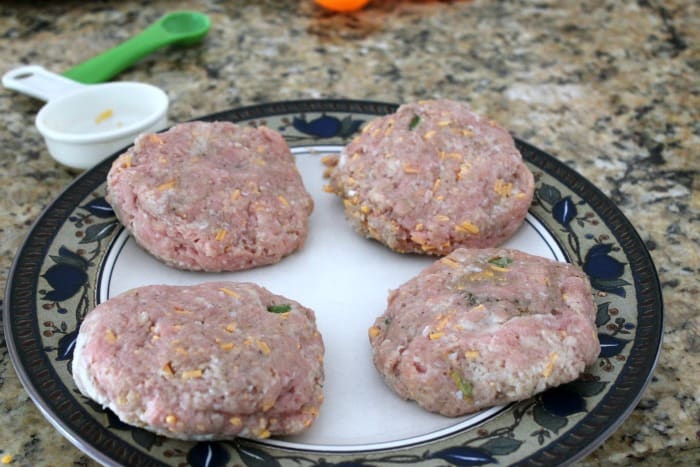 Then onto the grill the burger went. If you don't have a grill you could always use a grill pan.
Not the best picture but you get the idea. I cooked each side for about 7-8 minutes. You want to make sure the burger is cooked through. The meat should reach 165 degree Fahrenheit temperature. If you're unsure then I recommend using a meat thermometer.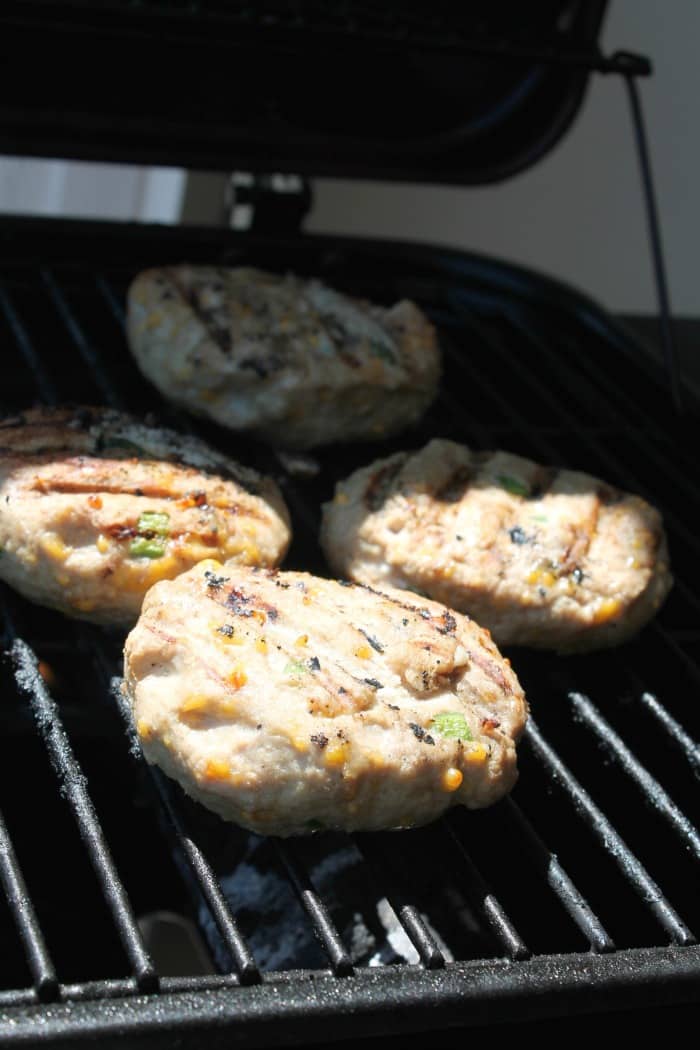 Look at these beauties! I'm not gonna lie I was impressed that the burgers stayed together and didn't ooze out any filling. I think 2-3 tablespoons of filling is the perfect amount.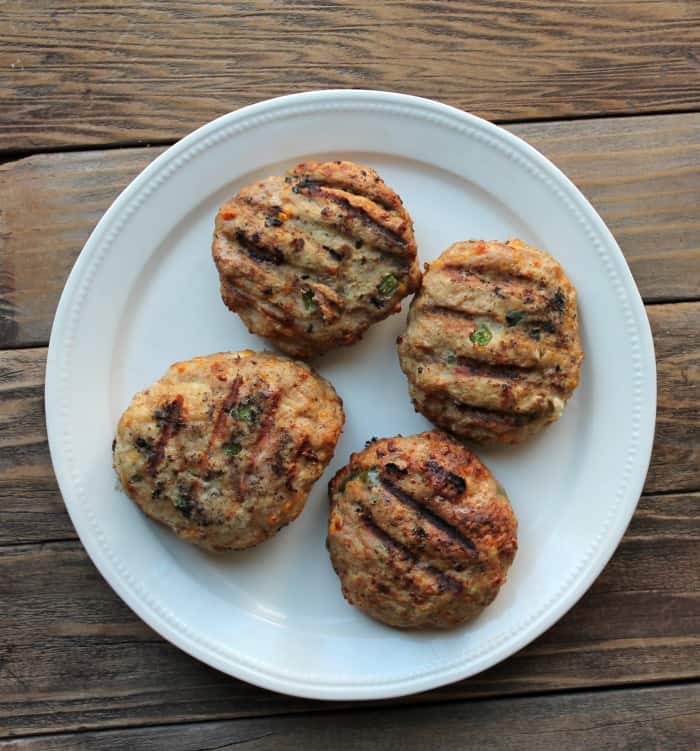 I could not wait to take a bite out of this burger. Seriously, look at this! I can't imagine any burger lover turning down this Jalapeño Popper Stuffed Turkey Burger.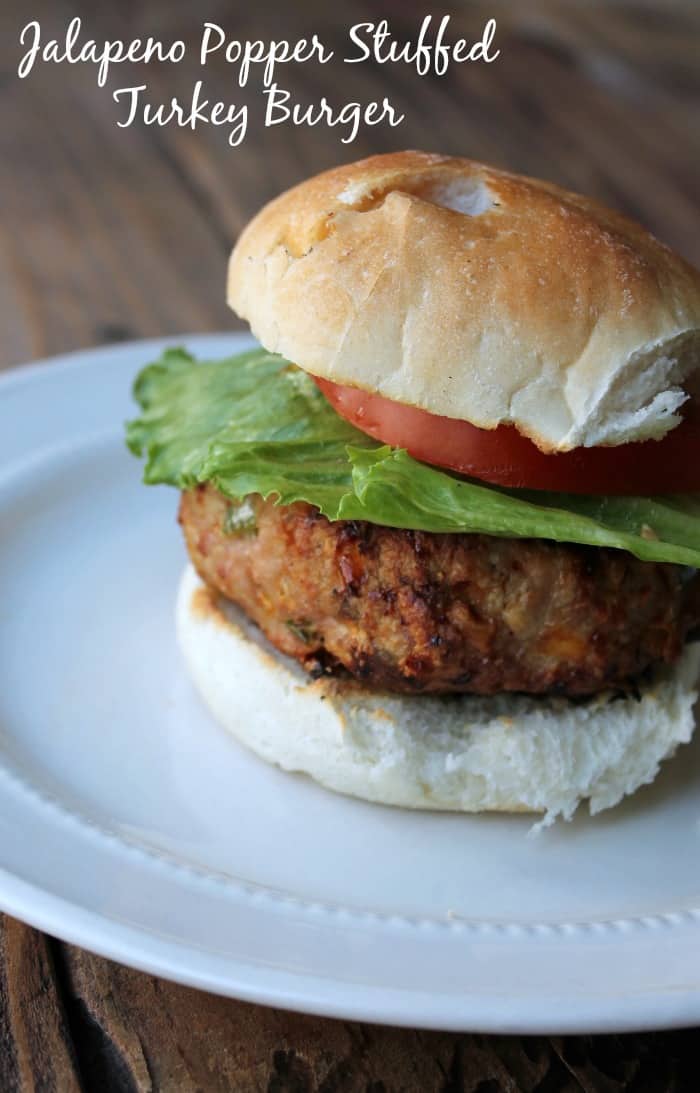 I enjoyed mine open-faced because who needs the extra calories from all that bread? Not me! Look at that cheese!! Oh mama! Each turkey burger is only 376 calories and in reality it's probably less because I accounted for all the cheese filling even though I didn't use it all. If you eat it with a bun you can add on another 80 – 100 calories and if you eat it opened-faced then add on another 40 – 50 calories.
Just a quick note. The filling is hot and will ooze out when you take a bite. So be careful when you eat this burger. I recommend giving it a minute or two to sit or enjoy it with a fork. Either way this is definitely the burger to have this summer!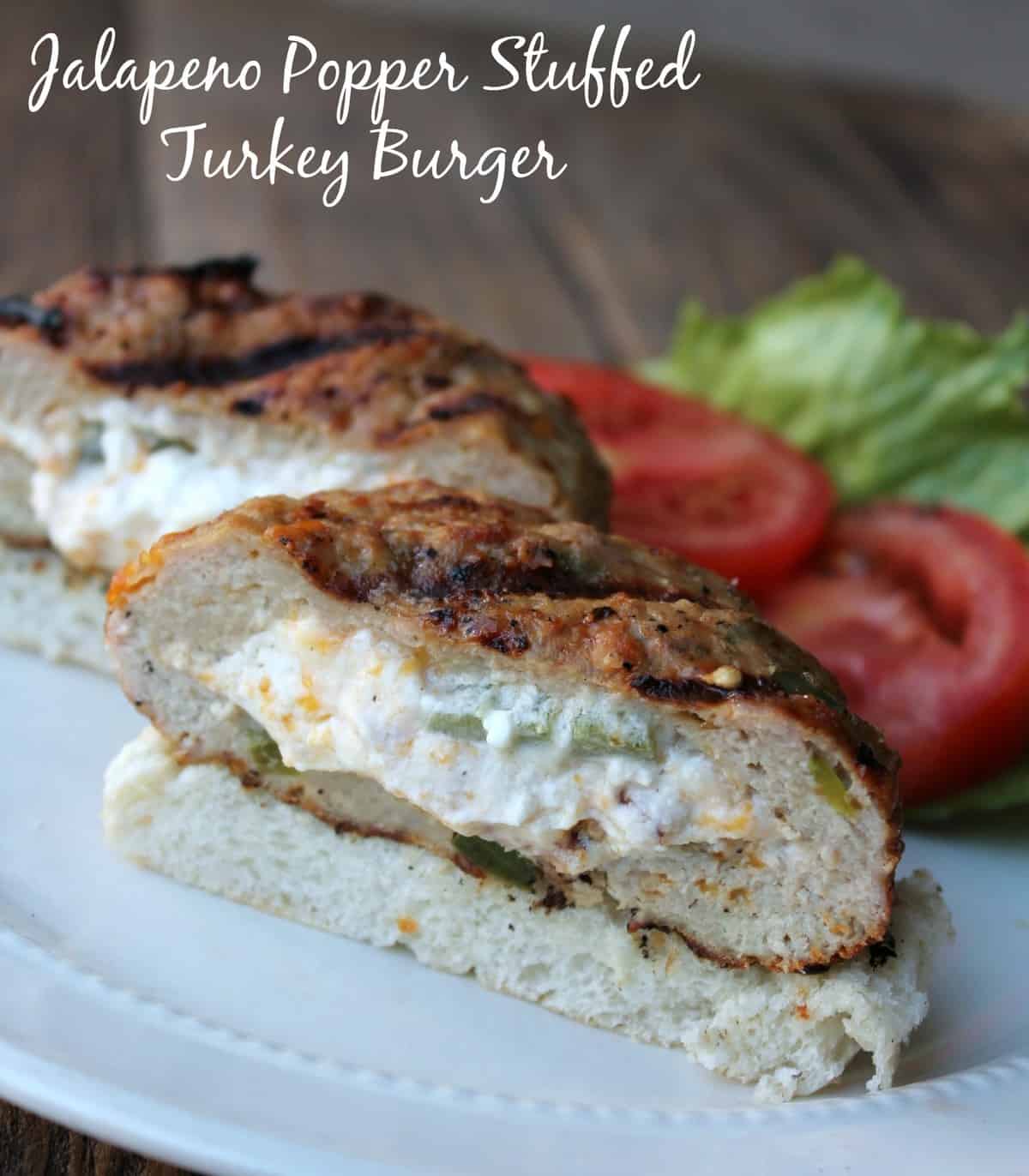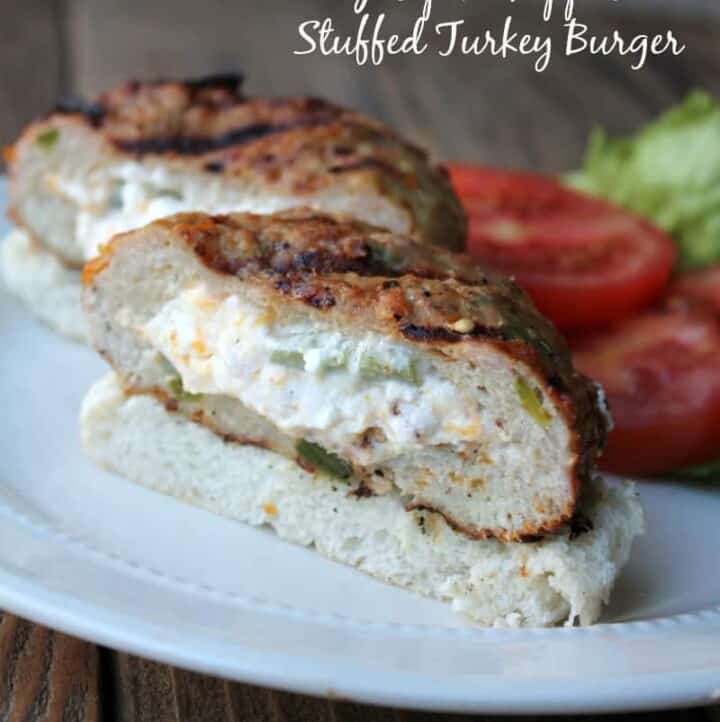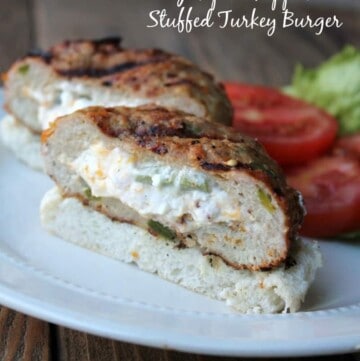 Ingredients
The burger

1/4

cup

panko bread crumbs

2-3

tablespoons

milk

1

lb

ground turkey

1

teaspoon

onion powder

1

teaspoon

granulated garlic

½

teaspoon

salt

½

teaspoon

pepper

1

tablespoon

worcestershire sauce

1

jalapeno pepper

seeded and chopped

¼

cup

shredded sharp cheddar cheese

The filing:

4

ounce

low fat cream cheese

softened

1/4

cup

grated parmesan

2

tablespoons

plain greek yogurt

½

teaspoon

granulated garlic

½

teaspoon

onion powder

¼

cup

shredded sharp cheddar

1

jalapeno

seeded and chopped

2

slices

cooked bacon

crumbled
Instructions
In a large bowl combine the panko and milk until it forms a paste, add more milk if needed.

Add to the paste the ground turkey, onion powder, granulated garlic, salt, pepper, worcestershire sauce, jalapeño, and shredded cheese. Mix together until all the ingredients are combined.

Divide the turkey mixture into four sections. Take each section and form a patty. Set aside.

In a medium bowl combine the cream cheese, greek yogurt, grated parmesan cheese, granulated garlic, onion powder, shredded cheese, jalapeño, and bacon. Mix until all the ingredients are combined.

Take each turkey patty, divide into twos, and flatten out using your hands. Put 2-3 tablespoons of cheese filling into the center of one half and then place the other half on top and seal the edges. Do the same thing with the other patties.

Place burgers onto a grill heated to medium high and cook for 7-8 minutes on each side or until the internal temperature reaches 165 degrees.

Remove the burgers from the grill and let sit for a couple minutes. The filling will be hot so be careful biting into it. You could always eat it with a fork.
Notes
sugars: 3
Make-ahead instructions
The filling for the turkey burgers can be made up to 3 days ahead of time. Burgers can be assembled and stored in the refrigerator up to 2 days ahead of time. You can also make the burgers completely ahead of time and store in the refrigerator for a quick lunch. Warm up in the microwave for 2 minutes.
Nutrition
Serving:
1
g
|
Calories:
376
kcal
|
Carbohydrates:
11
g
|
Protein:
33
g
|
Fat:
23
g
|
Saturated Fat:
10
g
|
Fiber:
1
g